Tuna is delicious and nutritious – and when it comes in a can, it's also inexpensive and convenient.
But how do you know that your canned tuna is the good stuff? Buy the wrong products, and you could be supporting unsustainable fishing practices that deplete fish stocks and harm other sea-life. You could even be consuming unhealthy amounts of minerals like mercury.
We're going to help you make the right choice by reviewing the 10 best canned tuna products we've found. And our buying guide will help you know what to look for when you're out shopping.
So let's get started!
At a Glance: Our Top 5 Picks for Canned Tuna
The Best Canned Tuna Brands Reviews 2020
1. Safe Catch Elite Lowest Mercury Solid Wild Canned Tuna Steak
If you're concerned about mercury levels in your tuna, Safe Catch is a good brand to look out for. They test every tuna fish for levels of mercury before it's processed.
Their Elite line gives you the lowest level of mercury of any of their products. There's a maximum of 0.1 parts to a million parts of canned tuna. It's a great choice for anyone needing to watch mercury levels in their diets – including pregnant women and athletes.
It's also fished in a sustainable way, using poles and lines rather than nets. This avoids needlessly killing other types of sea-life in the search for tuna. Amongst other things, that means it's dolphin-friendly.
It's entirely free from genetically modified organisms, certified by the Non-GMO Project. And if you're on the Paleo Diet, you may be relieved to know that it's paleo-certified too. There are no grains, legumes, dairy, preservatives, or artificial colors here. It's also kosher and gluten-free.
Each can holds 5 ounces of skipjack tuna and has an easy-to-open lid. You can buy it in packs of either six or twelve cans.
So is there anything about this tuna that you should watch out for?
In short, no. It is more expensive than other brands, but you're paying for the intensive testing and quality control. If you want the confidence of eating low-mercury tuna, it's absolutely worth it.
The only real niggle we've found is with the packaging. The ring pulls can occasionally come off before the lid does. Just keep a can opener to hand and the problem is solved.
Pros:
Tested to ensure ultra-low levels of mercury
Sustainably caught by line and pole
Kosher, gluten-free, verified by the Non-GMO Project and paleo-certified
Cons:
More expensive than other brands – but you're paying for the strict testing regime
The ring pulls have been known to come off before the lids do.
2. Safe Catch Wild Albacore Canned Tuna
If you're watching your mercury levels and prefer albacore tuna to skipjack, you'll like this product from Safe Catch. The flavor is milder than skipjack tuna, so if you prefer your fishless, well, fishy, it's a good choice.
As with Safe Catch's other products, every single fish is tested for mercury levels. The threshold is higher here than for the Elite tuna – 0.38 parts mercury to every million parts fish. But that's still low. Average contents are 2.5 times lower than the level at which the US Food Development Agency requires action.
All the fish are caught in the wild by line and pole. That means there's less risk of harm to other sea-life, including dolphins. And every fish is fully traceable, meaning there's a record of where the contents of every can originated.
Underlining their ethical credentials, Safe Catch is a partner of the Monterey Bay Aquarium Seafood Watch scheme. This gives consumers advice on where to buy their canned seafood so they can be confident it's sustainably sourced.
There are no additives with this – the tuna comes as it is, rather than packed in water, brine, or oil. And it's not pre-cooked before processing, so it retains more of its natural nutritional value. Each can contains 35 grams of protein in its 5 ounces of fish. It's available in packs of either six or twelve cans.
The only real downside here is that, without being packed in oil or water, the tuna is rather dry. If you're used to fish that's been stored in oil in particular, it may not be to your taste. That can be addressed after opening by adding a splash of sunflower or olive oil.
The intensive testing regime used by Safe Catch means their products are pricier than other brands. But if you want the reassurance of knowing your tuna is low in mercury, it's a price worth paying.
Pros:
Contains mercury levels an average of 2.5 times lower than the threshold for FDA action
Every fish is completely traceable from catch to can
Caught in the wild by line and pole, so friendly to dolphins and other aquatic life
Cons:
A bit dry if you're used to tuna stored in oil or water
That testing regime means it's more expensive than other brands.
3. Genova Yellowfin Canned Tuna in Pure Olive Oil
If you prefer the meatier flavor of yellowfin tuna, check out this delicious offering from Genova. The tuna here is stored in pure olive oil for a taste of the Mediterranean.
Genova is another manufacturer that takes sustainability seriously. That includes everything from its fishing methods to treating staff fairly and ethically. It does all of this under the banner of its SeaChange initiatives.
This includes working with local people in communities where Genova operates to improve education and clean up marine environments. They also offer food donations to alleviate hunger.
For staff, they're committed to providing safe working environments. And because every fish is fully traceable from catch to can, they have a strong handle on their supply chain. That means they're able to ensure no part of that chain exploits human beings as modern-day slaves.
When it comes to processing the tuna, SeaChange initiatives are working to constantly reduce levels of water used. Similarly, they're working to cut the amount of waste that goes to landfill.
And last but definitely not least, you can buy this tuna knowing it comes from a sustainable fishery. All fisheries used by Genova are certified by the Marine Stewardship Council.
This is lovely, chunky tuna with a great flavor – but some people may find it a little salty for their taste. And aficionados of Italian tuna may be disappointed that this is packed in standard olive oil, rather than extra virgin.
But these are minor niggles for great, tasty tuna you can be confident is sustainably sourced.
Pros:
Great quality yellowfin tuna
Caught in sustainable fisheries certified by the Marine Stewardship Council
Genova is a company committed to ethical working practices
Cons:
Maybe a little salty for some
The olive oil here isn't an extra virgin.
4. Wild Planet Albacore Wild Canned Tuna (
Our Top Pick

)
Available in a choice of 4-can or 12-can packs, Wild Planet's albacore tuna comes with salt and nothing else. If you're used to tuna that's been stored in oil, you may find it a little dry. But you'll get pretty much 100 percent tuna in every can.
This tuna is caught in the wild, off the coast of New Zealand. Fishermen use lines and poles to catch it, so there are no drag nets to endanger other marine life. It's ranked by environmental charity Greenpeace, so you can be reassured that it meets exacting standards for its operations.
Wild Planet also put a premium on building good relationships with fishermen, treating them fairly and honestly. As pioneers of sustainable fishing, you can be confident you're buying from a firm that operates ethically.
Each can contains 5 ounces of tuna packed with essential nutrients and fatty acids. It's won accolades for its flavor, including taking the Clean Eating prize in the 2018 Clean Choice Awards. And it has a great, chunky texture.
It's kosher, keto-friendly and paleo-friendly. And it's another brand of tuna that's certified by the GMO-Free Project.
There are cheaper brands of tuna out there – but remember, this can is filled with fish. There's no water or oil making up the weight. We think that makes it a pretty good buy.
Pros:
Chunky texture
Award-winning flavor
Sustainably sourced
Cons:
Maybe a little dry if you're used to tuna stored in oil or water
More expensive than some brands – but you're paying for quality.
5. Kirkland Albacore Solid White Canned Tuna in Water
If you prefer your tuna a little moister, Kirkland's canned albacore is stored in water. You can choose between packs of two, three, four or eight cans. Each weighs 7.4 ounces with the water and 5.4 ounces drained. It has the delicate flavor and firm texture typical of albacore tuna.
The fish is caught using lines and circle hooks. These kinds of hooks are designed to catch in the corner of the fish's mouth. That means that if a fish other than tuna is caught, it can be thrown back into the sea. And unlike j-shaped hooks, it's mouth won't be too damaged for it to feed effectively.
All this means that other sea-life won't be killed unnecessarily alongside the tuna.
The fish is processed in Thailand. It's frozen at sea before being canned, so it stays fresh. It does have salt – both sodium and sodium pyrophosphate – added. But at 8% of your recommended daily volume per 2 ounces serving, the sodium content here isn't particularly high.
One thing to note is that we've heard a number of unfortunate tales of cans arriving damaged through the post. If you're buying online, check the retailer's policies on returns. No-one wants to have to try and mail a leaking can of tuna in order to get a refund!
Pros:
Sustainably caught with lines and circle hooks
Stored in water so it stays moist
The delicate flavor and firm texture is just what you'd expect from albacore tuna
Cons:
Contains added salt
Watch out for damaged cans.
6. Blue Harbor Fish Co. Wild Albacore Canned Tuna in Water
Blue Harbor Fish Company makes a range of canned tuna products, including those with added salt, lemon, and even jalapeno.
This version is stored in water, with no added salt. Each can (which has a drained weight of 4 ounces) contains 200 mg of sodium. That's about 9% of your recommended daily value, so it's pretty low.
The fish has a firm texture and a delicate flavor. But despite the water, we've heard some complaints that the tuna remains rather dry. And some people may find the firm texture a little too firm for their liking.
The tuna here is 100 percent line-caught in the wild from a fishery certified by the Marine Stewardship Council. That gives you the reassurance of knowing that it's been responsibly sourced. And that means that it's dolphin-friendly as well.
It's kosher, free from gluten and soy, and verified by the Non-GMO Project. All this, and it's reasonably priced too.
Pros:
Delicate flavor typical of albacore tuna
100 percent line-caught from an MSC-certified fishery
Kosher, verified free of GMOs, and gluten- and soy-free too.
Cons:
Maybe a little dry for some tastes
The texture is very firm, which won't suit everyone.
7. Portofino Solid Yellowfin Canned Tuna In Extra Virgin Olive Oil
If you prefer an oilier texture to your tuna, check out this offering from Portofino. The tuna here is culinary favorite yellowfin.
It's cooked in the can and complimented with a drizzle of olive oil to help keep it moist. The oil is extra virgin and has a great flavor. And there's not so much of it that it drowns the fish. The texture is nice and firm, and the tuna stays intact as you pull it from the can.
Each can holds 4.5 ounces and they come in packs of 12. It's remarkably good value for fish with these credentials. There is some added salt, though, and it's not the best choice for those on low sodium diets. Each can contains 380 mg of sodium.
The tuna here is caught in the wild and dolphin-friendly, although there's not much other information on fishing practices. And there's no evidence of oversight by any of the bodies monitoring sustainable seafood.
It is keto- and paleo-friendly though, free from soy and gluten, and verified by the Non-GMO Project. And you'll be getting 29 grams of protein in every can.
Pros:
Hand-picked fillets of yellowfin tuna
The perfect amount of extra virgin olive oil for a Mediterranean flavor
Wild-caught and dolphin-friendly
Cons:
No evidence of oversight of fishing practices by sustainable seafood organizations
Not the best choice for those on low-sodium diets.
8. Freshé Caponata, Premium Sustainably Caught Canned Tuna
If you like a little something extra with your tuna, check out this canned Sicilian caponata from Freshé. It's made with skipjack tuna, roasted butternut squash, and other vegetables, almonds, and herbs, with a dash of olive oil. You can eat it straight from the can, or it works brilliantly with salad or a baked potato.
The tuna is caught in the wild using sustainable methods that are certified by the Friend of the Sea. This is a non-profit making organization dedicated to conserving marine habitats. All the ingredients are certified GMO-free too.
The can isn't huge – you'll get a 4.25 ounce serving in each one. That's enough for a snack or a small meal alongside other ingredients.
Watch out for the sodium content here. That small can contains 350mg. That's 15% of your total recommended daily volume. If you're on a restricted sodium diet, it won't be the best choice.
But if you're looking for a flavor-filled tuna mix that's sustainably sourced, this is well worth a look.
Pros:
Mixture of skipjack tuna and roasted vegetables makes a great mini-meal on the go
Caught in the wild using sustainable fishing practices
All ingredients are certified GMO-free
Cons:
The cans aren't the biggest – and about half of the contents are vegetables
Contains 15% of your daily recommended volume of sodium.
9. Sustainable Seas, Light Canned Tuna Chunks in Water
The Sustainable Seas offering is made with skipjack tuna stored in water with a dash of sea salt. The tuna is caught by line and pole, so it's completely dolphin friendly. And the method helps to protect other species of sea-life too.
Sustainable Seas are ranked by Greenpeace, the environmental charity, so you can be confident in the brand's eco-friendly credentials. If this sounds familiar from the Wild Planet review, there's a reason for that. The two brands are sister companies, with Sustainable Seas offering products at a lower price point.
Like Wild Planet, the fish here is independently tested to ensure it contains acceptably low levels of mercury. But in this case, there's not a specific threshold for inclusion in the can, beyond meeting FDA regulations.
Each can holds 5 ounces, with about 210 mg of sodium. That's about 9% of your recommended daily volume of sodium. There's also about 31 grams of protein in every can. There are no grains or fillers, so it's suitable for people on paleo and keto diets.
You'll get 12 cans in each pack.
Pros:
Sustainably fished tuna at a lower price point
Independently tested to maintain low mercury levels
Suitable for anyone on a paleo or keto diet
Cons:
Although it's tested for mercury, the threshold quantities for inclusion aren't clear, beyond meeting FDA regulations.
10. American Tuna Sustainable Pole & Line Caught Albacore Canned Tuna
American Tuna uses albacore tuna for its delicate flavor and pale, firm-textured fish.
It's packed in the can raw before being sealed and steam cooked, so all the nutrients stay inside. There's no added salt, so it's a good option for those on low sodium diets. Each can contain a generous 6 ounces of tuna, with a total of only 60 mg of sodium.
The fish are caught by American fishing vessels and canned in the USA. They're captured using the pole and troll method, which avoids catching other sea-life. And American Tuna's operations are certified by the Marine Stewardship Council, so you can be sure of their sustainability.
This is a little more expensive than some brands of tuna. We think it's still good value for what you're getting – sustainably sourced, chunky tuna fillets.
But as with other canned goods, dented cans be an issue if you're purchasing online. Check out the retailer's returns policy to avoid paying for anything that's damaged in transit.
Pros:
Firm, tasty albacore tuna
No added salt – ideal for those on low-sodium diets
Sustainable fishing practices certified by the MSC
Cons:
Fairly pricey – but you get what you pay for
If buying online, watch out for cans that get damaged in transit.
Buying guide
Still not sure which is the best canned tuna to choose? Our buying guide is here to help! Read on for some things to think about before you make your selection.
How is Tuna in the Can Made?
The below video will show you the whole processing.
What kind of tuna?
To start with, think about what kind of tuna you want to eat. The key choices are between albacore, skipjack, and yellowfin.
Albacore is commonly eaten in the US. It has a mild flavor, a pale color, and a firm texture. If you're used to eating albacore, you may find the taste of other kinds of tuna unpalatably strong.
Skipjack tuna is the favorite for most canned tuna in the UK. The fish is darker in color and has a stronger flavor. Depending on where it's caught, skipjack tuna can have very low levels of mercury.
Yellowfin tuna features strongly in Mediterranean diets, as well as being eaten raw in Japanese cuisine. It has a distinctive texture and meaty flavor that works particularly well with olive oil.
Also, check the healthy canned tuna recipes in the world.
Water, oil, salt – or nothing at all?
Tuna comes canned with different substances. The most common are water, salt, brine, or oil.
Oil is a good option if you're planning to add your tuna straight to a salad. And if you like a Mediterranean flavor, extra virgin olive oil is particularly good.
Water will help keep tuna moist, without changing the flavor. The brine will add a salty tang, but watch out for higher sodium levels. The same goes for salt.
Consider nutritional value
Look for options that are cooked in the can, rather than being pre-cooked before processing. That will ensure all the nutrients from the fish stay inside the can.
Watch out for fillers lurking in cheaper brands of tuna. If you're on a gluten-free diet, these may not be suitable.
And check sodium levels too. These can vary dramatically. Tuna stored in brine or with added salt is unlikely to be a good choice for those on low-sodium diets.
Finally, remember that what's inside fish reflects what we put into the oceans. Some brands of tuna are tested independently for their mercury levels. If you want a really low-mercury option, you can't do better than the range of products from Safe Catch.
Shop in a way that helps make the world a better place
Finally, don't buy tuna that isn't sustainably fished. That means avoiding anything that doesn't specifically say it's "pole caught", "line caught" or "dolphin-friendly". And look for products that have been certified by independent authorities like the Marine Stewardship Council.
And remember, that tuna is caught all over the world. In some places, working conditions are very poor. In others, fishermen are even slaves. Support brands that are committed to ethical practices throughout their supply chain.
Ready to choose your canned tuna?
That brings us to the end of our list of the ten best canned tuna options on the market right now. We hope we've helped you in your search for the perfect product.
Our top pick is Wild Planet's Albacore Wild Tuna. Its award-winning flavor, chunky texture and impeccable environmental credentials make it a winner.
Whichever canned tuna you choose, make sure it's sustainably sourced. With everyone doing our bit, we'll be able to keep enjoying tuna for years into the future.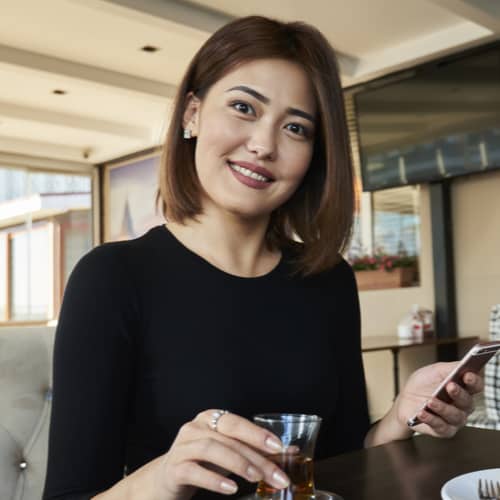 My name is Maia, Editor, and Writer of Lucky Belly. Lucky Belly will be designed to dedicate reviewing kitchen gears and Food. With technological innovation, more and more cooking tools are made to be convenient for the chefs at home. From non-stick pans to easy egg-peelers, I want to be able to test out these products before you spend money on them. Something can sound innovative, but that doesn't mean it works or works better than a more conventional method.