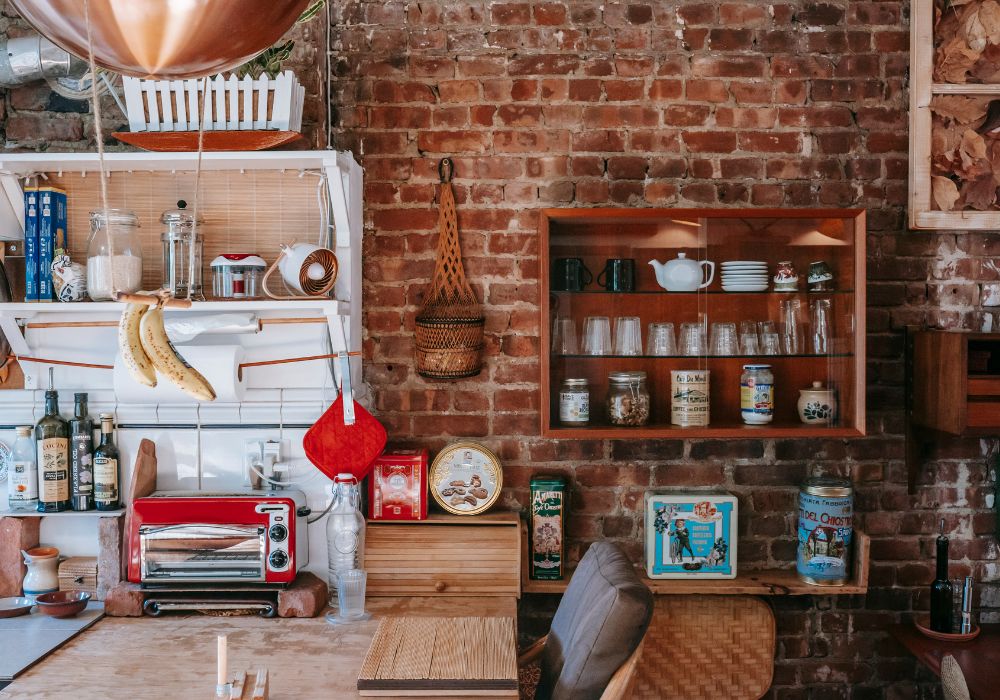 An organized kitchen is the heart of any home, indoors or outdoors. From avid indoor cooking enthusiasts to outdoor barbecue fans, having a well-organized kitchen space is essential for a stress-free and enjoyable culinary experience. This comprehensive article will explore many practical and inventive storage ideas you can easily create.  
Additionally, we'll introduce the BA-AHD-SS BBQ access door, a valuable addition to your outdoor kitchen setup. So, let's dive in and discover how you can transform your kitchen space into a well-organized and functional hub for your culinary adventures!  
10 Indoor Kitchen Storage Solutions 
#1: Mason Jar Magic
Mason jars are versatile, affordable, and incredibly charming. Use them to store various kitchen essentials, such as rice, pasta, nuts, and dried herbs. You can spruce them up by painting the jar lids with chalkboard paint and labeling them accordingly. This simple and elegant solution ensures you can quickly find what you need while adding a rustic charm to your kitchen decor.  
#2: Pegboard Perfection
Installing a pegboard on an empty wall in your kitchen offers a fantastic storage solution for frequently used utensils and cookware. Arrange hooks and shelves on the pegboard to accommodate your pots, pans, and kitchen gadgets to free up drawer space and add a decorative element to your kitchen. You can paint the pegboard in a color that complements your kitchen's theme or keep it natural for a classic look. Remember to hang some S-hooks for oven mitts, towels, and measuring cups.  
#3: Magnetic Marvels 
Magnets can work wonders when it comes to kitchen storage. Create magnetic strips inside cabinet doors or on the side of your fridge to hold small metal items such as knives, measuring spoons, and bottle openers. This clever idea ensures these items are always within reach while keeping your countertops clutter-free. You can also use magnetic spice containers to free up cabinet space and keep your favorite seasonings at your fingertips.  
#4: Brilliant Basket Solutions
Remember to underestimate the power of wicker baskets in your kitchen organization quest. Utilize old wicker baskets to organize and display fresh fruits and vegetables on your kitchen counter, which allows better air circulation and keeps your produce fresher for longer. Use labeled baskets to store snacks, baking supplies, or kitchen towels for a more organized approach. 
#5: DIY Drawer Dividers
Tired of rummaging through messy drawers to find the right spatula or whisk? Create DIY drawer dividers using cardboard or thin wooden pieces. Cut them to fit your drawers perfectly and compartmentalize your utensils, cooking tools, and flatware. This simple and budget-friendly solution will keep your drawers orderly and prevent items from getting tangled. For added flair, cover the dividers with colorful contact paper or fabric that matches your kitchen's aesthetic.  
#6: Hanging Pot Racks
If you have limited cabinet space and a collection of beautiful pots and pans, put them on display with a hanging rack. Choose from various styles such as wall-mounted, ceiling-mounted, or even a DIY ladder pot rack. Hanging your cookware saves cabinet space and adds a touch of elegance to your kitchen. Ensure the rack is securely anchored to the ceiling or wall, and use sturdy hooks to hold your pots and pans in place.  
#7: Under-Shelf Baskets
Make the most of your vertical space in cabinets by adding under-shelf baskets. These wire or plastic baskets hang discreetly underneath your shelves, creating extra storage for small items like cutting boards, baking sheets, or kitchen linens. Under-shelf baskets are easy to install and allow you to optimize every inch of your cabinet space.  
#8: Rolling Kitchen Cart
A rolling kitchen cart is a versatile mobile storage solution for small and large kitchens. You can use it as a countertop for meal preparation, a serving station during parties, or simply a storage cart for kitchen essentials. Look for a cart with shelves, drawers, and a towel rack to store utensils, small appliances, and kitchen towels. You can easily tuck it away in a corner or against a wall when not in use.  
#9: Wall-Mounted Knife Block
Free up counter space and keep your knives within reach with a wall-mounted knife block. You can create a custom knife block by inserting magnetic strips into a wooden board or using a pre-made magnetic knife strip. Attach the knife block to a kitchen wall, away from the reach of children, and organize your knives according to size for easy access and safe storage. 
#10: Tension Rod Organizers
Tension rods are not just for curtains but also handy for organizing kitchen cabinets. Install tension rods vertically to create dividers for baking sheets, cutting boards, or serving trays. This nifty hack ensures your items stay upright and easily accessible, preventing them from sliding around and creating a mess.  
9 Outdoor Kitchen Storage Solutions 
#1: Repurposed Pallet Shelves
Transform repurposed wooden pallets into handy and rustic shelves for your outdoor kitchen. Sand them down, give them a fresh coat of paint or varnish, and mount them on the walls to store plates, glasses, and even potted herbs. Pallet shelves are a great way to save space and add a touch of eco-friendly style to your outdoor cooking area. Add small hooks to hang grilling tools and BBQ mitts for easy access while you cook.  
#2: Upcycled Tin Can Organizers 
 Don't throw away those tin cans! Rinse them out, remove the labels, and create DIY organizers for your outdoor kitchen. With some paint and creativity, these cans can become charming holders for BBQ tools, grilling brushes, and condiments. Attach them to a wooden board or your kitchen island for easy access. Use twine or burlap to wrap around the cans for a rustic touch.  
#3: Pallet Spice Rack
Spices are essential for adding flavor to your outdoor culinary delights. Craft a pallet spice rack by affixing small mason jars to a pallet board. Fill each jar with your favorite spices and mount the rack on the wall near your cooking station. This clever solution keeps your herbs organized while adding rustic spice to your outdoor kitchen. Add a small shelf on the spice rack to hold cooking oils and vinegar to make it more functional.  
#4: Rolling Storage Cart 
 A rolling cart is an excellent addition to your outdoor kitchen, providing both storage and mobility. Construct a cart using repurposed wood or metal, and equip it with shelves and hooks to store grilling essentials like charcoal, skewers, and aprons. The wheels ensure you can conveniently move the cart while cooking up a storm. Add a weather-resistant cover to the cart to protect your essentials from the elements.   
#5: Chalkboard Menu Board
For an outdoor kitchen with a touch of personality and charm, create a chalkboard menu board. Hang a large chalkboard on the exterior wall of your outdoor kitchen and use it to write down the menu for your BBQ parties or family gatherings as a fun element. It also informs your guests about the delectable dishes you'll serve.   
#6: Herb and Spice Planter
Turn your outdoor kitchen into a culinary oasis by incorporating a herb and spice planter. Build a wooden planter box, fill it with soil, and plant your favorite herbs and spices. This ensures fresh and flavorful seasonings are always readily available while adding a touch of greenery to your cooking space. Placing the planter near your grilling area makes picking fresh herbs convenient while cooking.  
#7: Hanging Utensil Organizer
 Keep your outdoor cooking utensils tidy and at arm's length with a hanging organizer. Repurpose an old wooden ladder or build a simple wooden frame with hooks, and hang your grilling tools, tongs, and spatulas. This adds a rustic touch to your outdoor kitchen and ensures that you have everything right at hand when you're grilling up a storm.  
#8: Foldable Table or Shelf
Consider adding a foldable table or shelf if you need more space in your outdoor kitchen. This practical solution allows you to expand your workspace when needed and fold it away when not in use. Use the table or shelf for food prep, holding serving platters, or keeping essential items within reach while grilling. Ensure it's made from weather-resistant materials to withstand the elements.  
#9: BA-AHD-SS BBQ Access Door 
As you venture into the world of homemade kitchen storage solutions, it's essential to consider durable and functional components for your outdoor kitchen. The BA-AHD-SS BBQ access door is an ideal addition to your setup. Made from high-quality stainless steel, this access door provides easy access to the storage area beneath your grill or outdoor kitchen island.   
The BA-AHD-SS BBQ access door showcases a stylish and contemporary design that perfectly complements the aesthetics of any outdoor kitchen. Its strong build guarantees resilience against weather conditions, making it a long-lasting and worthwhile addition to your outdoor cooking area. This access door offers the utmost convenience, allowing you to keep your grilling tools, cleaning supplies, and other essentials neatly stored and readily available whenever required. 
Conclusion 
Organizing your indoor and outdoor kitchen spaces can be a manageable task. You can transform your kitchen into a well-organized and efficient space with creativity, resourcefulness, and these DIY ideas.  
From Mason jar magic to outdoor hanging utensil organizers, there are numerous ways to maximize your kitchen's potential while adding your unique flair. Installing a practical stainless steel BBQ access door lets you keep your outdoor kitchen essentials easily accessible and well-protected. So, roll up your sleeves, grab your tools, and embark on a rewarding journey of creating a smart and savvy kitchen storage space that enhances your culinary experiences and impresses your family and friends. Happy crafting and happy cooking!