What comes to mind when you hear the word 'chili'? You're probably thinking of a slim, extra-hot, cone-shaped vegetable. It's about the size of your pinky and can be red or green. Hatch chile is the stereotypical green type, and it's grown in Hatch Valley, New Mexico.
Some people call it New Mexican chile, or Anaheim Pepper, though the Anaheim variety is a little different. Hatch Chile adds spice and kick to your dish. You can use it in anything from spiced meat to pepper porridge. Let's look at 31 hatch green chile recipes you can try out.
1. Four-piece Salsa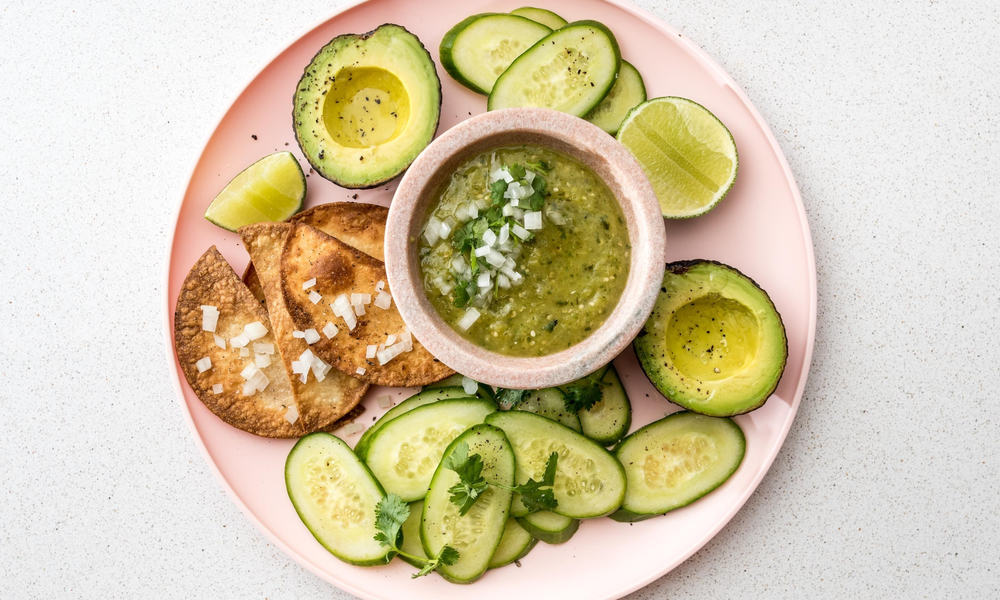 If you're feeling lost, don't be. 'Chile' is how they spell it in Mexico and other Spanish-speaking countries. 'Chili' is the American version, while Europeans mostly call it 'chilli'. Either way, this salsa uses chile, tomatillo, cilantro, and garlic. Broil for 20 minutes then puree to perfection.
2. Mexican Chicken Pie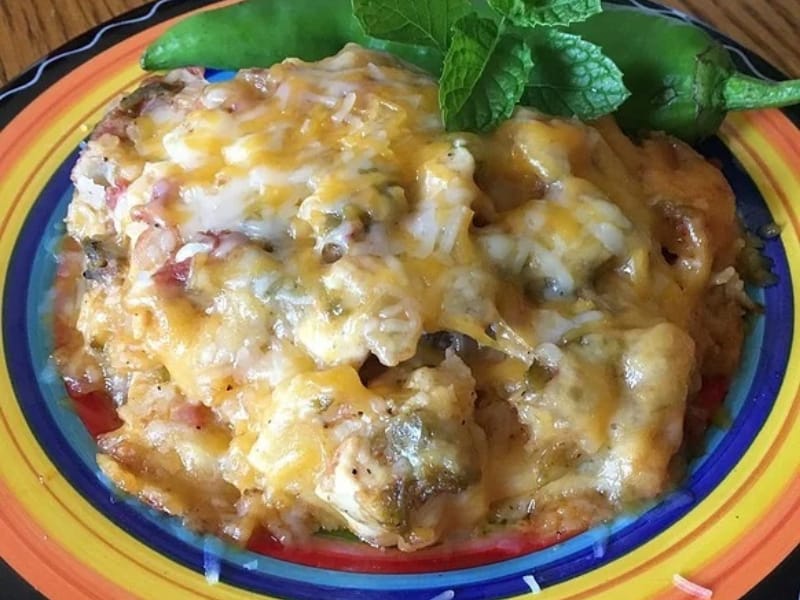 Hatch chile can be anything from 3 inches to 1 foot long. And you want them green and fresh, before they redden and ripen. This enchilada marinates your cooked chicken thighs in a thickened chile-onion sauce, then bakes the dish in alternating layers of chicken and tortilla.
3. Slow Cooker Pork Chile
Chile Verde is a popular pork chili dish. And using a slow cooker takes all the work out of it. Roast your vegetables and puree them in a blender, adding salt and other seasonings. Then pour the puree into your slow cooker, add your pork pieces, and let it cook in peace. It takes 4 hours.
4. Dip it in, Dip it Good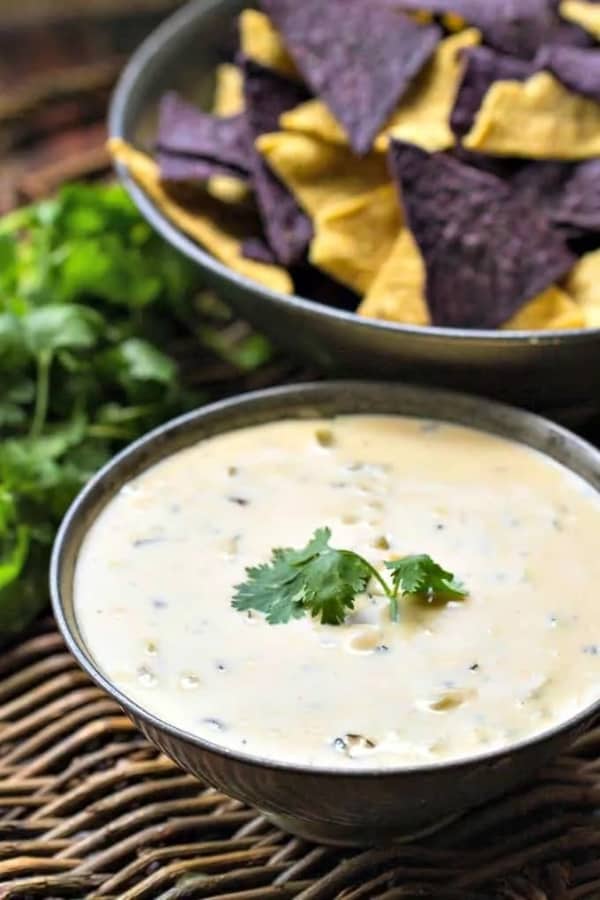 Spice up your favorite Doritos or chips with this steaming hot dip! Get your own bowl so you can double or even triple dip to your heart's delight! It's a Queso dip, which means it's deliciously cheesy. For best results, use a Mexican cheese blend, then stir in your minced Hatch chiles.
5. Chile Soup for the Summer Soul
If you're in a rush, you can buy pre-roasted Hatch Chiles for this recipe. Marinate your shrimp in the fridge to lower your chances of tummy-running. Cook the chile soup separately then add shrimp and corn. Be careful not to overcook – 5 minutes max or your shrimp will turn to mush.
6. Hatch and Honey Chicken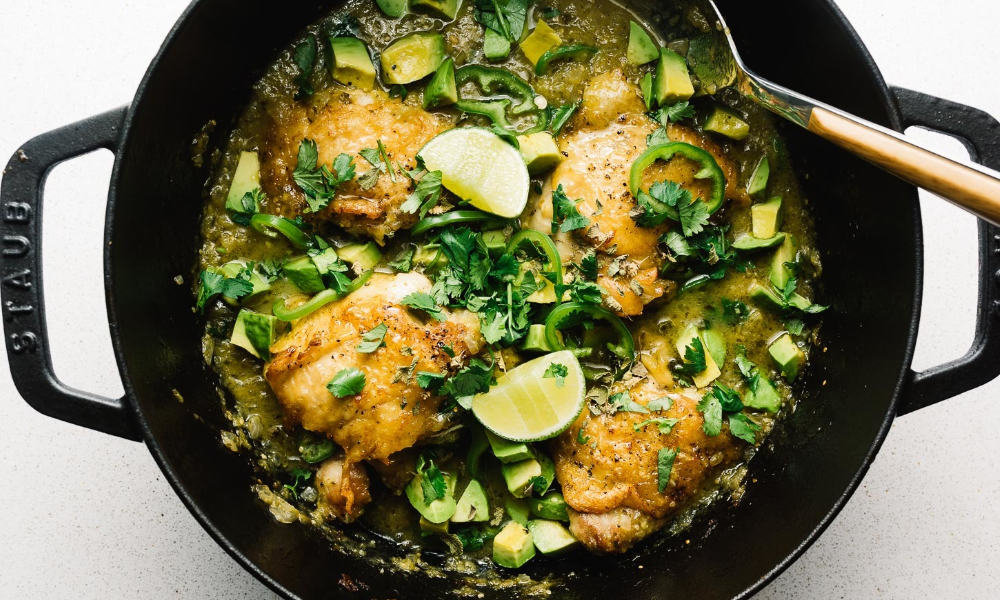 It's oven-baked, so you know it's healthy. Use chicken with the skin on for added flavor. Forst, bake the chicken thighs in their own for about ten minutes. Then stir in hatch chile salsa and chicken stock and bake for another twenty minutes, The honey and avocado come last.
7. Something for the Vegetarians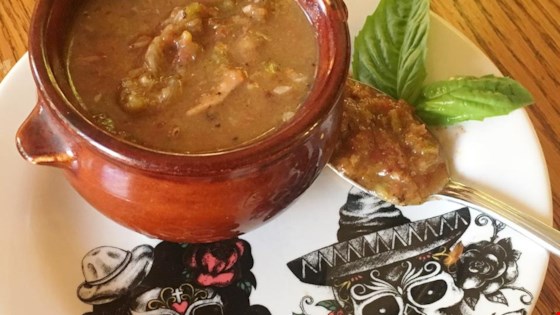 Home-made chili is often a rich, meaty dish, but it doesn't have to be. This veggie variation is popular in Colorado. It uses a pound of Hatch Chile and throws in chili powder for extra spice. The 'meat' of the sauce – pun intended – comes from diced tomatoes and vegetable broth.
8. Sour Cream Enchilada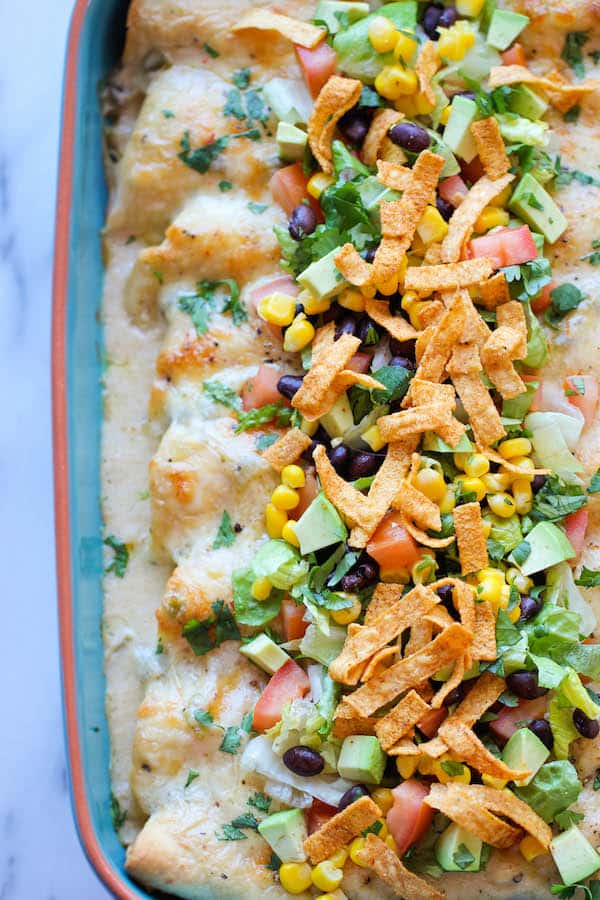 If you're drawn to colorful dishes, this rainbow of white chicken green chile, and golden cheese crust will delight all your senses. Fill your corn tortillas with Monterey Jack cheese and shredded chicken. Soak them in sour cream Hatch Green Chile sauce, then bake for 25 minutes.
9. Cheesy Chile Sandwiches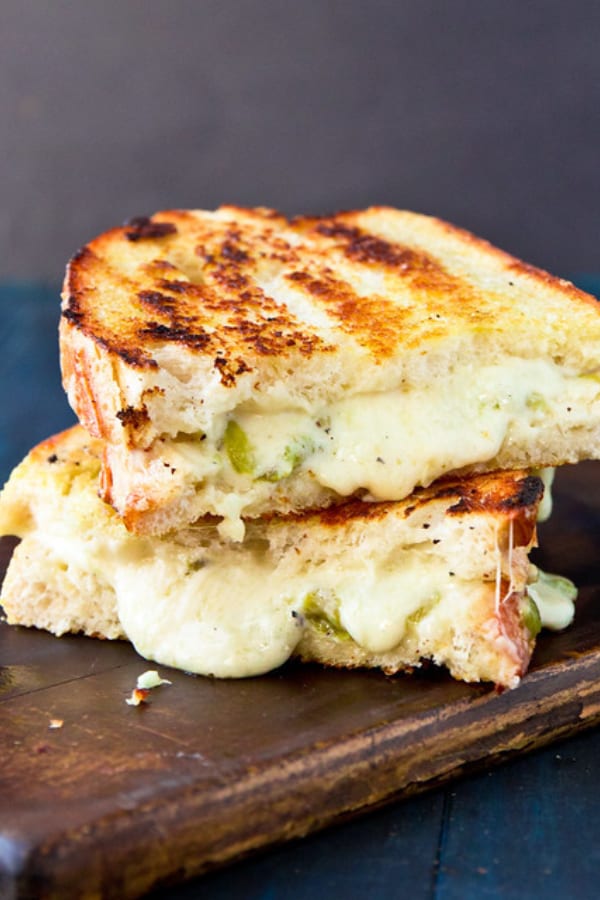 Grilled cheese sandwiches are the best thing since sliced bread, pun intended. For your cheesy mix, use Monterey Jack, horseradish cheddar, light mayonnaise, garlic, and Greek yoghurt. Roast, seed, and chop your Hatch green chiles, then blend them into the cheese. This mixture stays safe in the fridge for up to week. Then you can spread it on your bread and toast at will.
10. Chile Cheese 'n Mac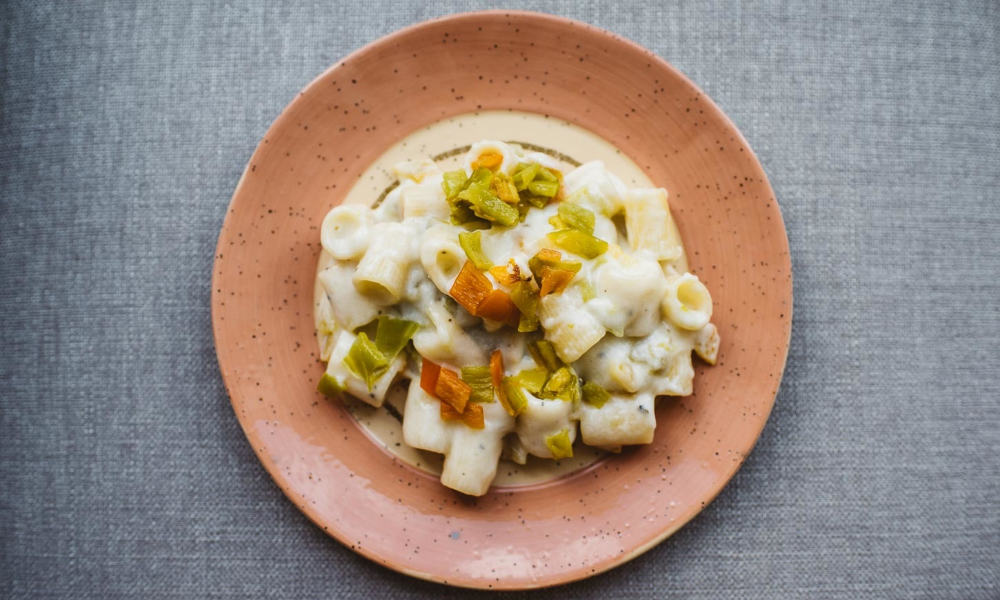 Give your Mac 'n Cheese a special dose of spice. Cook your one-pan mac-and-cheese the way you normally do. Whisked milk is the secret to making your dish extra creamy. Then broil your Hatch Chiles or roast them in a pan. You want them blackened. Seal them in a plastic bag to steam for a bit before skinning, seeding, chopping, and mixing into your mac-and-cheese.
11. Sauce it up
Chili sauce is a common condiment. It adds zest to any meal. So why not make your own hot sauce? Making Santa Fe Hatch Chile Green Sauce is easier that it sounds. Halve the chiles, seed them, and bake them. Put them in plastic wrap to steam, chop them, then simmer them into a sauce with garlic, flour, and beef broth. Low heat and long cooking enhances texture and flavor.
12. Chile Corn Cakes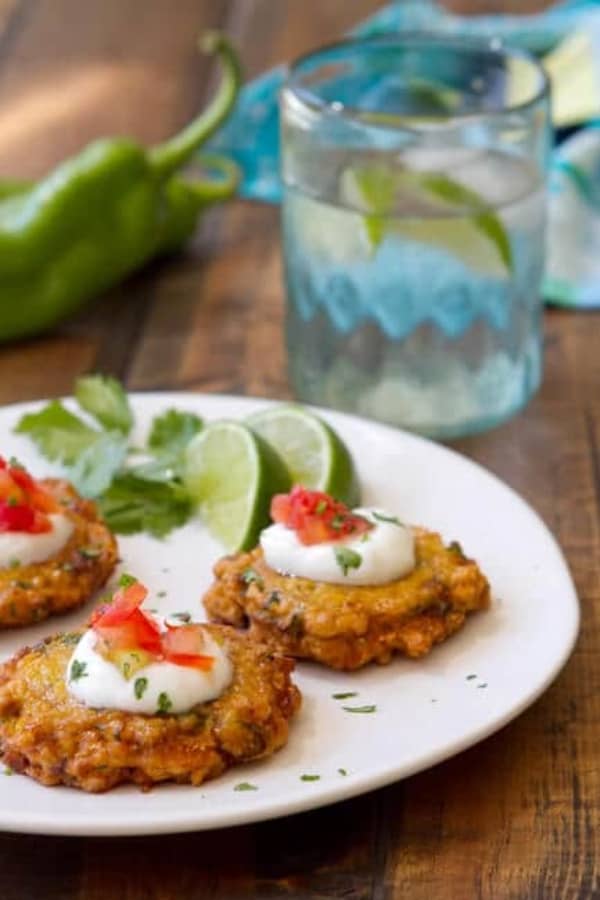 Corn cakes are fried rather than baked, and are more commonly called corn fritters. And they're ridiculously easy to make. Toss your sweet corn, cheese, and chile (pre-roasted) in a food processor. Mix them with beaten eggs to make a batter, then deep fry those until golden brown.
13. Chile Breakfast Waffles
If it's too heavy for breakfast, you can serve it for brunch. Top your cornbread waffles with fried eggs, sunny side up. For your chile, fry you roasted chopped Hatch green chiles with cubed beef shank. Remember, the seeds and ribs are extra hot, so keep them in or remove them as needed!
14. Shucked not Popped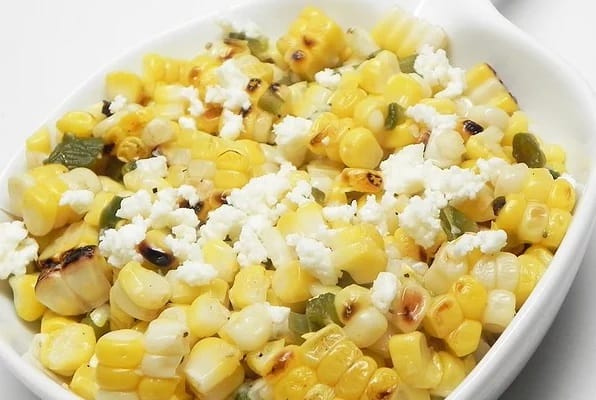 The flavors of corn and Hatch Green Chile complement each other in ways that truly excite your palette. Shuck four ears of corn and combine them with lime juice, goat cheese, and chile. Roast them on a pre-heated grill for 20 minutes or so, then mix, season, and serve.
15. Chorizo Chile Skillet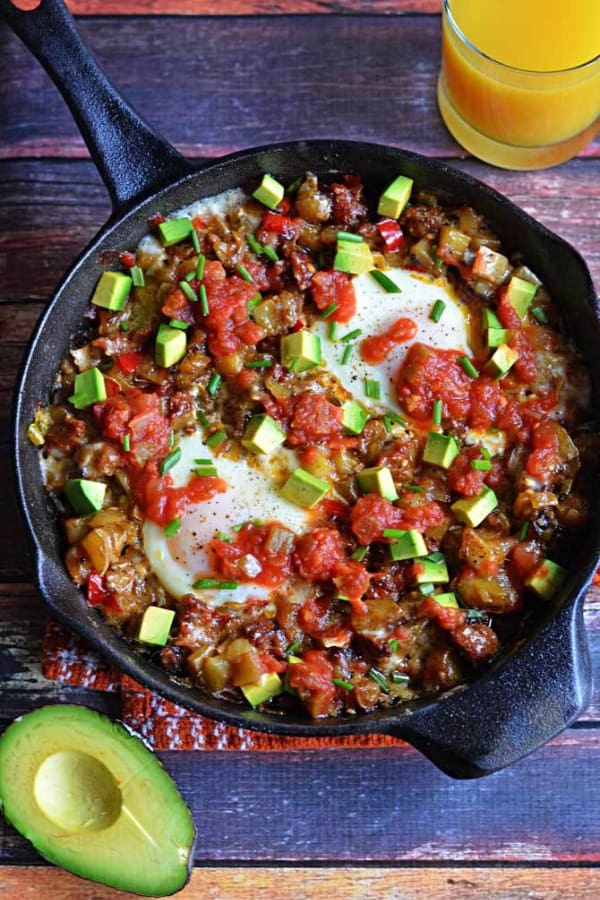 If you're trying to burn fat and build muscle, a heart chili breakfast is the perfect start. It revs your metabolism and sets the tone for your day. This dripping delicious omelet has fillings that include baby potatoes, diced avocado, skinless Mexican Chorizo, chives, cheese, and chile.
16. Hot ' n Spicy Potato Salad
Just because a dish is cold doesn't mean it can't be hot. Potato salads are chilled, but by tossing in some Hatch green chile, you can heat up your taste buds. Chop and seed one hatch chile and mix it into your salad. Remember to steam the chiles so they're easier to seed and skin.
17. Creamy Hot Corn Dip
This dip is so good you could eat it on its own. You can used canned Hatch chiles. Chop tem and mix them with parmesan, Monterey Jack, kernel corn, and mayonnaise. Bake it until the cheese bubbles, and serve while hot. If you opt for canned corn, drain and rinse it before you add it in.
18. Chile Chicken Burger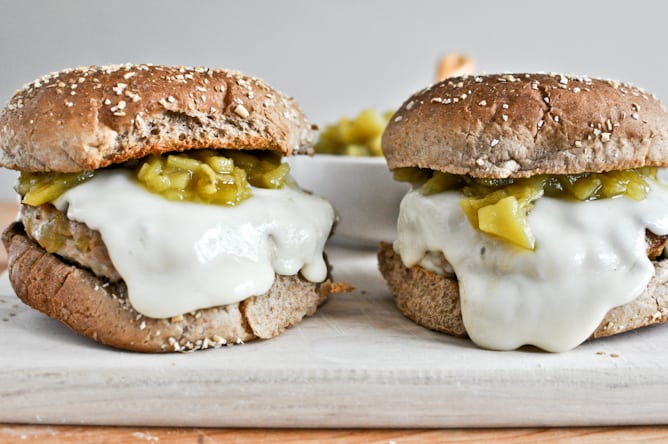 Most burgers are made from chicken fillet, which has a distinct flavor. So if you want to spice it up, add some Hatch green chile to it. The trick is to mix the chiles into the chicken before you fry the patty. This spread the chili flavor more evenly. You can also make a green chile sauce to pour over your burger. For the sauce, mix your chopped chiles with salt, pepper, honey, and lime.
19. Chile Chilaquiles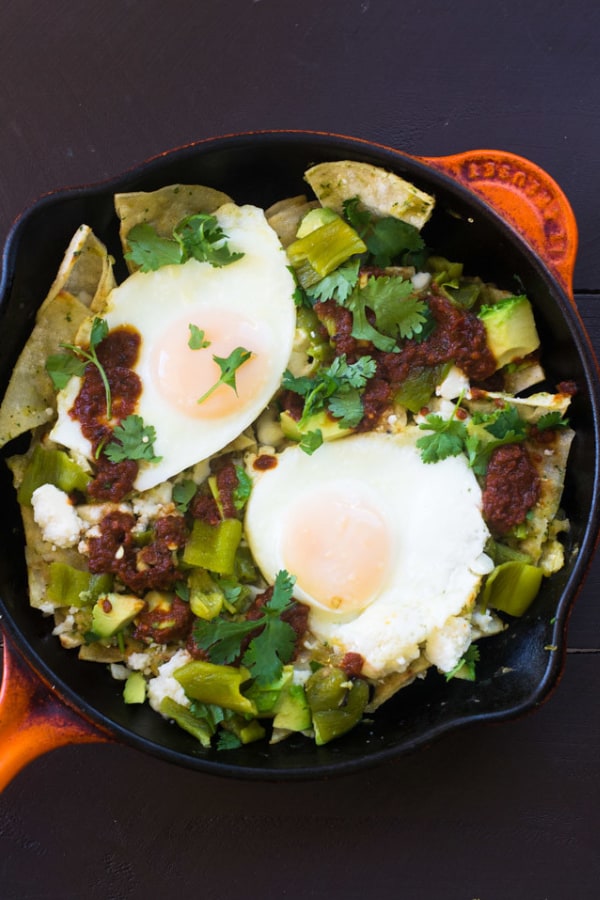 Turn your leftovers into a delicious dish! Cut last night's meat or chicken into strips and soak them in Hatch chile salsa. You could add Hatch red chiles too, for more heat. Soak some tortilla strips as well, and mix it all up. Sour cream, avocado, cilantro, and cheese all add to the flavor.
20. Creamy Chile Rotisserie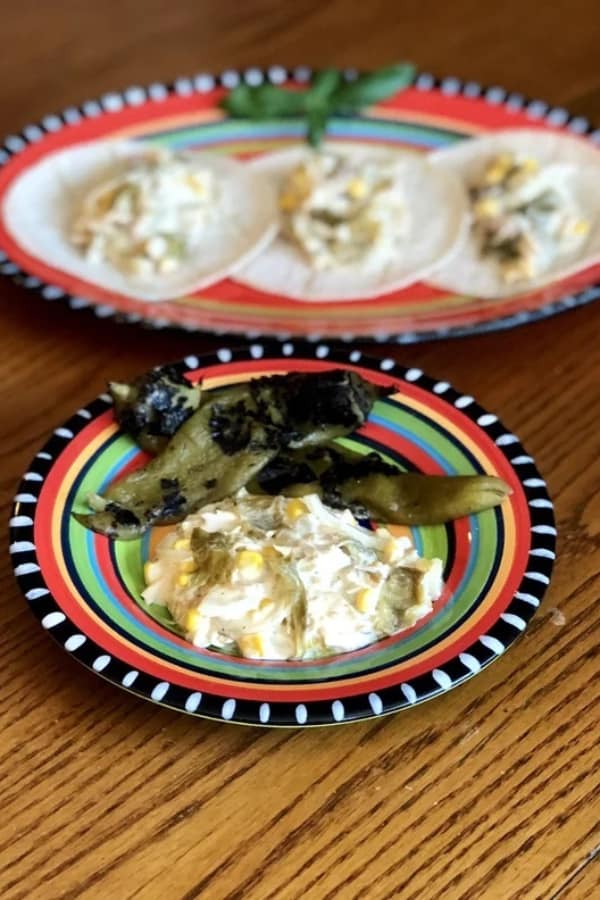 Here's another cool way to use leftover chicken, whether it was barbeque grilles or roasted on a spit. Shred the chicken and shallow fry it in Mexican crema and melted butter. Add chopped, roasted chiles and frozen corn. You can also add cubes or granules or chicken bouillon.
21. Chilling the Chile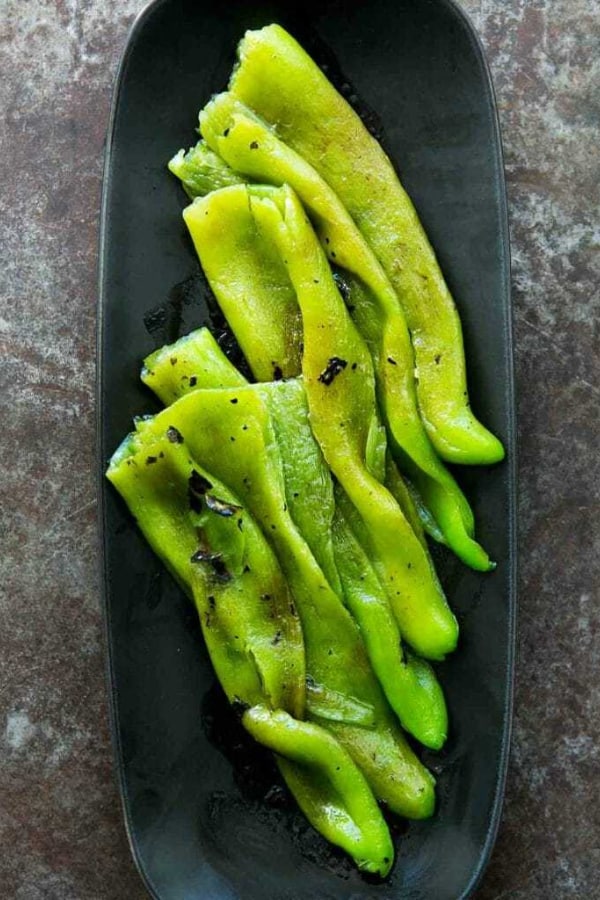 You don't always have to complicate your meals. When you want the unadorned taste of hatch green chile, just douse them in vinaigrette and toast them lightly. You can cook them directly over a gas stove. If you choose that option, don't oil the chiles or you'll burn down the kitchen.
22. Avocado Chile Dogs
It's not just Sonic the Hedgehog that loves them. Spice up that boring hotdog by drizzling it with mole sauce. It's made of peanut butter, chile, honey, bitter chocolate, masa flour or crushed chips, oregano, and chicken stock. Add avocado, Hatch chile, and crumbled cheese to the hotdog itself as well. It makes a pretty garnish, and it gives your hotdog a special flavor too.
23. Chile Cornbread
So far, the starches we've looked at were a side dish to your chile sauce. Now we want a recipe that incorporates the Hatch chiles themselves. Bake your roasted chiles into the dish, together with corn flour, fresh or frozen corn, sugar, sour cream, cheese, eggs, butter, and milk.
24. Seven-layers Deep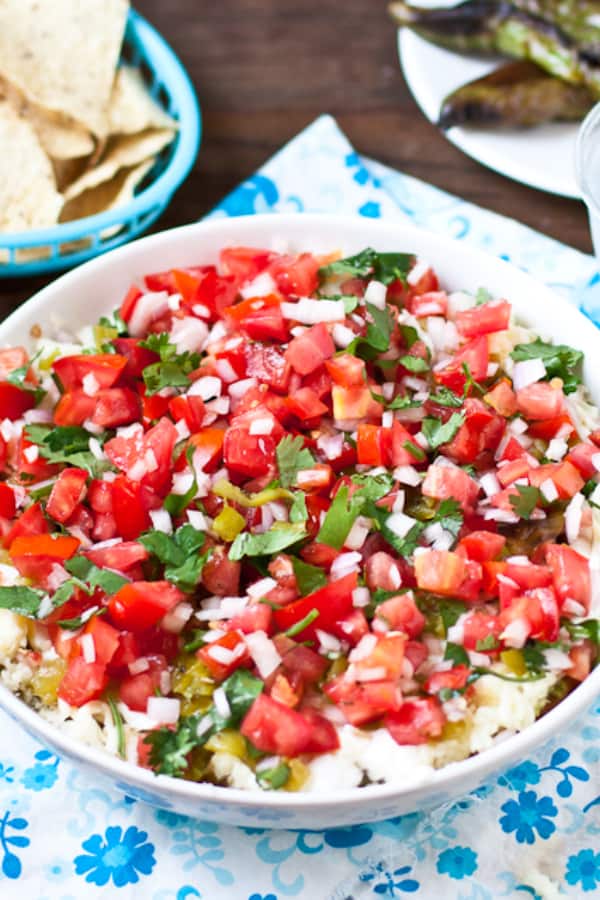 Dip is intended to be quick and simple. But you can tingle your taste buds with layered flavor. In this case, the seven layers involved in this dip include beans, avocado, Hatch chile salsa, cheese, Greek yoghurt or sour cream, more Hatch chiles (roasted this time), and salsa fresca, sometimes called pica de gallo. That last ingredient is basically fresh, chunky, uncooked salsa.
25. Ranchero Chile Casserole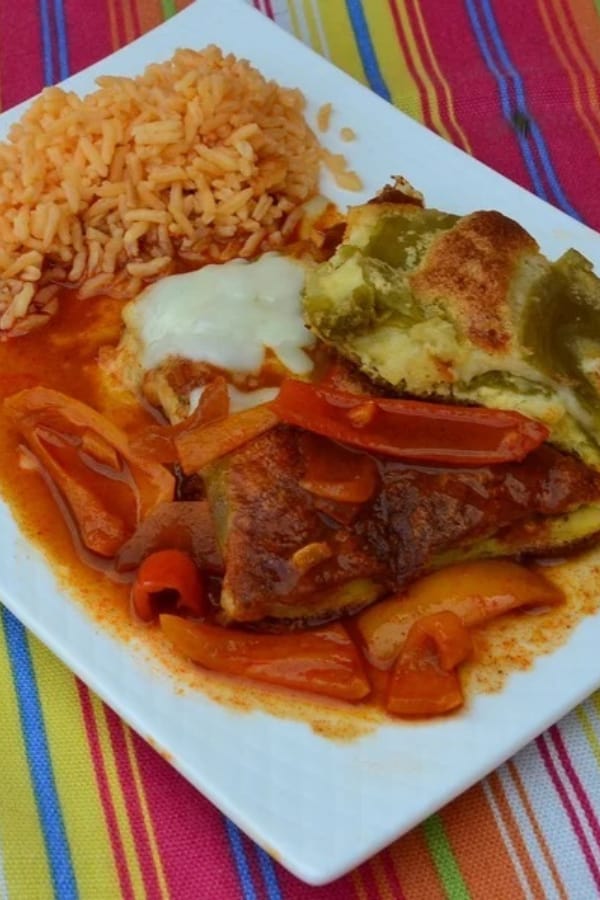 Evaporated milk, whipped egg whites, and Oaxaca cheese gives this simple dish a light, fluffy feel. Alternate your chile layers with your egg-white mixture to even out your flavors. Make a ranchero Hatch chile sauce on the side to serve with your casserole slices.
26. Want Some Wontons?
Samosas. Philly Cheesesteak Triangles. Wontons. Everyone has a name (and a slightly different variant) for these crisp triangular treasures. In this recipe, the Hatch green chile triangles are made Chinese-style in deep-fried dumpling pastry shells or egg-role wraps. They use a cheesy mix of Monterey Jack and cheddar mixed with garlic and cumin with no meaty filling.
27. Chilean Sea Bass Chile
Some people worry about eating this rare fish, sometimes referred to as Patagonian Toothfish. It's rare because it's over-fished, so enjoy it when you find it. The fish is baked on a bed of Hatch chile slices, allowing their steamed goodness to infuse the fish. It's then covered in a sauce of sherry vinegar, mayonnaise, and smoked bell pepper. Top the sauce with grated almonds.
28. Arizona Chile
We've looked at Colorado Chile, so what makes Arizona's version so different? Well, its meaty. Or rather, porky. The base gravy is chicken stock, and the chili is built around boneless pork cubes. It's a thicker chili, using half the amount of stock in Colorado chili. It cooks longer too.
29. Pulled Chili Stew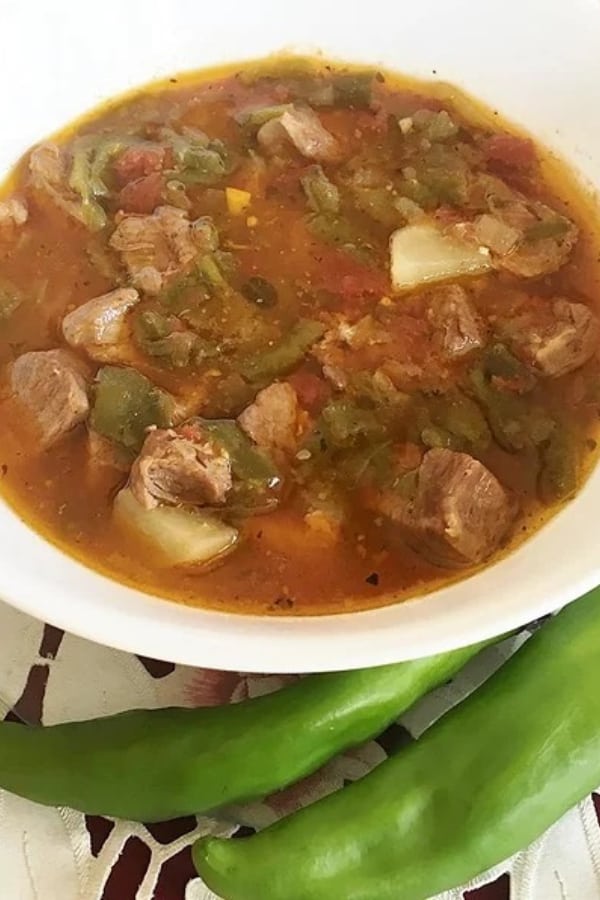 This recipe refreshes leftover pork, but you can substitute any of last night's meat, including shredded chicken, goat, or beef. It's a more soupy meal, with diced potatoes and carrots. Add the carrots last to avoid overcooking them into an icky, gooey mess. If you're re-using beef or goat instead of pulled pork, substitute the chicken broth with beef, goat, or vegetable stock.
30. Chile Cheddar Panino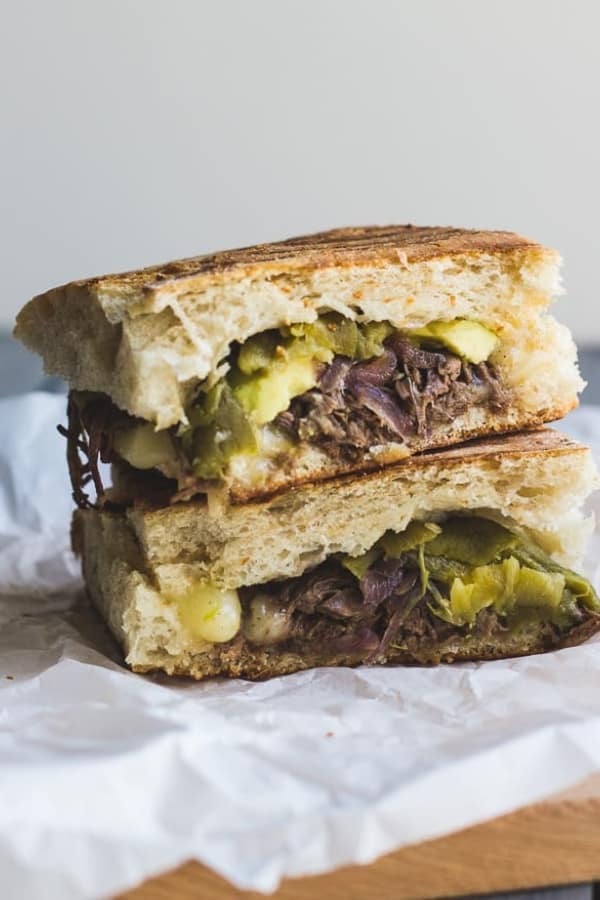 If it's one, it's a panino, but you'll probably want more! These cheesy chili recipe makes up to four Panini. The sandwich base is steak, caramelized onion, avocado, marinara, Hatch chile, and while grain bread of your choice. You can use low-sodium versions of beef broth and soy sauce if you want a healthier sandwich. Nutmeg and bay leaves add a flavorful kick.
31. Golden Crusted Gratin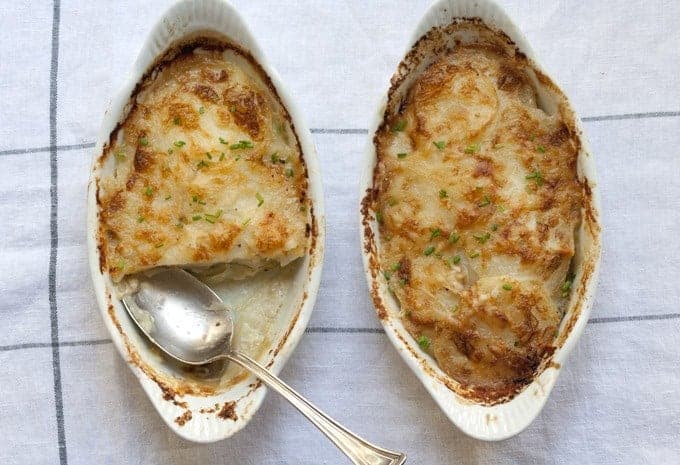 Getting that golden toasted coat is a skill that needs practice. This Hatch Chile potato gratin is baked in layers. Sliced potatoes at the bottom, roasted chile between, ore potato slices on top, and finally, parmesan cheese. You can double or triple the layers of you like. Before baking, the potatoes are simmered in cream and rubbed in garlic for that Dauphinoise flavor.
Keep it Green and Keep it Hot!
For some people, chili is too hot on its way in and even hotter on its way out. But if you grew up around chili, you probably put it in everything you cook! Health-wise, chili is packed with Vitamin C. It speeds up your metabolism and is good for your heart.
If you do find yourself in a chili emergency, the antidote is milk. Drink it down or splash it on your chili-infested skin. Also, try serving a side of yogurt or buttermilk with your hatch green chile recipes. And don't forget to share your chili creations in the comments!
Resources
[ratemypost]