With such a bewildering variety of foods, Thailand is without doubt one of the world's top destinations if you want to give your tastebuds a treat. Thai cooking incorporates a range of fragrant ingredients like lemongrass, galangal, kaffir lime, fish sauce – along with lots of chili – which combine to create intriguing and deliciously exotic flavors.
Thailand is famous for its night markets, and almost any kind of Thai food qualifies as street food since just about everything is available outside. There are hundreds of options we could have included in our list, but to get you started, here are our top 31 Thai street foods you should look out for while you're in the country.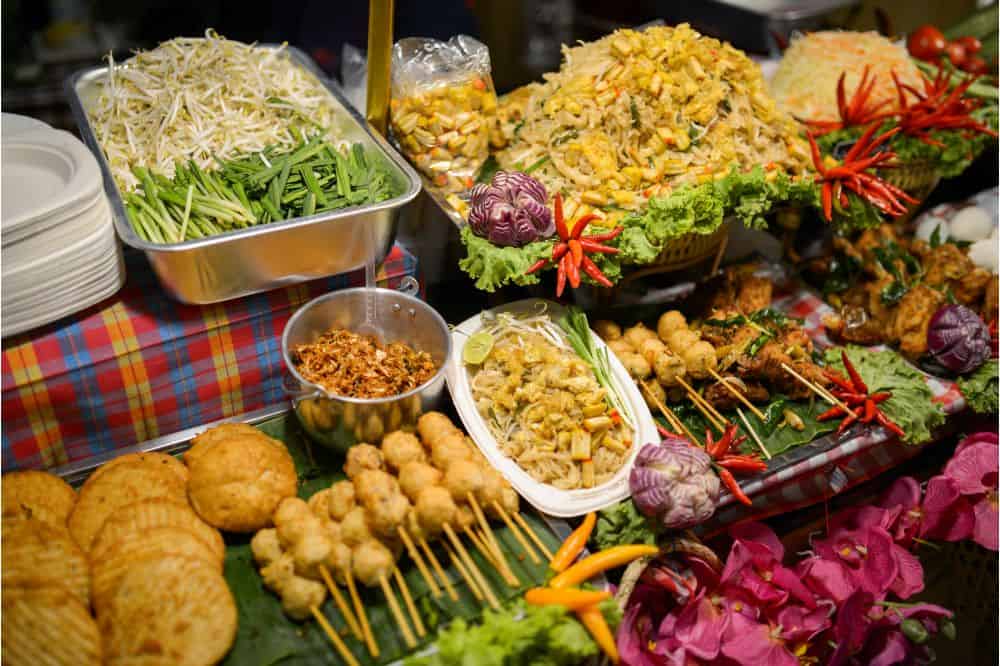 1. Pad Thai
Among the best-known of all Thai street food staples, pad Thai is the ubiquitous dish of fried noodles with tofu, chicken, egg and prawn – sometimes all mixed together. You can find a plate of pad Thai wherever you are in Thailand for next to nothing – just add peanuts, fish sauce and chili, grab a pair of chopsticks and enjoy!
2. Pad See Eiu (Chinese-Style Fried Noodles)
After your first few experiences with pad Thai, you'll probably want to try ordering something a little different, in which case pad see eiu is an option. This is another dish of fried noodles, but this time using larger Chinese-style flat noodles. Pad see eiu is an inexpensive yet hearty dish that will fill you up for hours.
3. Khao Soi (Curry Noodles)
If you travel to the north of Thailand, you can't leave without sampling khao soi, a bowl of egg noodles, usually with chicken, served in a curry soup. This is an unusual flavor for Thailand, and this dish clearly shows the influence of Myanmar just across the border. This dish is now available throughout Thailand, but the best place to sample it is in one of the many roadside stalls in the northern city of Chiangmai.
4. Yen Da Foh (Pink Noodles)
This is one for the more adventurous traveler. It's a bowl of wide noodles served in a pink soup, but you're also likely to find pieces of fermented tofu (which give it the color), fish balls, pork blood cake and squid tentacles all swimming about in there too. A bowl of this for breakfast is a great way to start the day – but some foreign visitors might need to acclimatize to authentic Thai food before they're ready to give it a go!
5. Kuay Teow (Rice Noodles)
If you're not yet ready for yen da foh, a more tourist-friendly option is kuay teow, a soup of rice noodles, fish balls and vegetables. On the table, you'll usually find condiments like fish sauce, peanuts, sugar, vinegar with chilies and chili powder. You simply add what you want to until you find the right balance – so for those who like it hot, you can make it as spicy as you can take!
6. Kai Jeow (Thai Omelet)
A super-simple dish and another street food classic, this is nothing more than an omelet, usually served over rice. It's served at any time of day, so it's ideal if you want a quick and cheap breakfast, but you can also eat it as a snack whenever you're hungry. You can add some sweet chili sauce to give it a bit of flavor – or pour on some fish sauce with chopped chili for more of a kick.
7. Pad Gaprao (Stir-Fried Thai Basil)
A go-to dish whether you're at a night market, stopping off during a long bus journey or just about any other time, pad gaprao is a dish that's always available. Gaprao, Thai basil, is quite different from regular sweet basil and has a distinct aniseed flavor. It is usually stir-fried with chicken or pork, often with lots of chili, and served with rice – if you're especially hungry, ask them to add a kai dao, a fried egg. Note that many people – Thais included – mispronounce this as "grapao" or "gapao", but if you hear this, it's all the same thing.
8. Gai Yang (Barbecued Chicken)
You'll find barbecued chicken throughout Thailand, but it's a particular specialty in Isaan, the northeast region bordering Cambodia and Laos. There, you'll often see chicken being grilled at the roadside – order a piece with a bag of sticky rice to accompany it and you have a simple and affordable but utterly delicious meal.
9. Gai Tod (Fried Chicken)
Fried chicken is popular in many countries around the world, and Thailand is no different, where it is prepared with the addition of some distinctively Thai ingredients, which give it an unmistakably local flavor. As with gai yang, it's irresistible with just a bag of sticky rice to go with it.
10. Moo Ping (Grilled Pork)
Pork is a popular meat in Thailand, and you'll be able to find barbecued skewers in markets, night markets and just about anywhere else street food is prepared. They are often covered in a sweet soy-based sauce – and once you've tried them, you're sure to keep coming back for more.
11. Satay
Satay is popular in several countries in Asia, and although it is probably more associated with Indonesia and Malaysia, it's a Thai classic too. It consists of sticks of meat served with a rich peanut sauce – the most common versions are chicken and pork, the latter being much rarer in Indonesia and Malaysia since they are majority Muslim countries.
12. Pla Pao (Grilled Fish)
With its extensive coastline as well as its many inland waterways, it is no surprise that fish is a big part of the Thai diet. When walking around night markets, you are sure to see grilled fish flavored with classic Thai ingredients such as lemongrass and kaffir lime and covered in a layer of salt for cooking. Simply peel off the skin and enjoy the tender meat – and simple, healthy and delicious snack.
13. Poh Pia Tod (Deep-Fried Spring Rolls)
Spring rolls are another type of street food that is common throughout Asia, and in Thailand, they are usually deep-fried. You can find them filled with meat, prawns or just vegetables along with rice noodles, and they are a great way to fill up whenever you start to feel the first pangs of hunger.
14. Tod Mun Pla (Thai Fish Cake)
Thai fish cakes are fragrant, chewy and delicious. The fish is blended with curry paste and other ingredients before being formed into patties and deep-fried. You then eat them with sweet chili sauce – heavenly as a starter or just as a quick snack whenever you're hungry.
15. Sai Grok Isaan (Isaan Sour Sausage)
Isaan sausages are made from pork and rice and grilled on skewers in the street. They're invariably juicy and flavorful, and when you buy them, you'll be given a bag containing chilies, cabbage and cucumber to eat them with. But don't go crazy with the chilies if you're not used to spicy food…because they're HOT!
16. Som Tum (Spicy Papaya Salad)
Som tum is another north-eastern dish that is now found throughout the whole country. Its main ingredient is unripe green papaya mashed together with fish sauce, salt, sugar, vegetables and more. When you buy it on the street, the vendor will prepare it in front of you – and if you don't like too much chili, you should let them know because this is another dish that's known for its fiery taste.
17. Yam Pla Duk Foo (Fluffy Catfish Salad)
Som tum might be the most famous of Thailand's salads, but you'll find plenty of others to try. This one is a little different, incorporating wonderfully crispy pieces of deep-fried catfish along with fish sauce, lime juice, peanuts and – of course – plenty of chili.
18. Laab (Thai Meat Salad)
North-eastern food has become popular throughout the rest of the country in recent years, and one dish from Isaan that has been adopted by Thais everywhere is laab. It is made from minced pork or chicken with lemongrass, chili and kaffir lime cooked together in lime juice and fish sauce. Traditionally served with sticky rice, this is a dish everyone has to try at least once.
19. Nam Dok Moo (Thai Waterfall Salad)
Laab is commonly found in Thai restaurants outside the country, but if you're in Thailand, don't miss the chance to try the much less famous nam dok moo. The name translates as pork waterfall, and it's another dish from Isaan. It's like laab but includes slices of pork rather than minced meat. And if anything, it's even more delicious.
20. Moo Tod Gratiem (Fried Pork With Garlic)
The appeal of many Thai dishes comes from their simplicity, and moo tod gratiem is a perfect example. Nothing more than deep-fried slices of pork served with plenty of garlic and sometimes a generous helping of chili. Dishes like this are best eaten at lively night markets where you can experience Thailand's lively atmosphere as well as its amazing food.
21. Kao Mun Gai (Chicken And Rice)
Originally a Chinese dish otherwise known as Hainanese chicken, kao mun gai is a popular option you'll be able to find almost anywhere where there are street food stalls. The chicken is boiled, and the fat is allowed to infuse the rice, giving it an irresistible flavor.
22. Gai Pad Met Ma Muang (Fried Chicken With Cashew Nuts)
Thai cuisine has a reputation for fiery spiciness, and it's true that lots of Thai food packs in plenty of chili. However, if you can't take any more heat and you want to give your tastebuds a break, there are still plenty of choices available. This dish of stir-fried chicken with cashew nuts is one option to consider since it is light on spice but big on taste.
23. Gaeng Keow Wan Gai (Thai Green Curry)
Thailand is famous for its range of curries, some of them spicy and some of them a little milder. If you can't take the hottest ones but are looking to explore the exciting combination of typical flavors that feature in Thai cooking, green curry is a great place to start. Incorporating lemongrass, galangal, kaffir lime leaves and Thai basil, if you're new to Thai cuisine, this is a dish that will taste fantastically exotic.
24. Massaman Neua (Massaman Curry With Beef)
As you travel south in Thailand, Islam becomes more prevalent, and massaman curry is perhaps the most famous example of Islamic Thai food – although it's now eaten by Thais everywhere. As a Muslim dish, it is most commonly prepared with beef or chicken. It combines spices more reminiscent of Indian curries with some more traditional Thai ingredients, giving it a special and unique flavor.
25. Malaeng Tod (Fried Insects)
If you take a stroll down Bangkok's Khao San Road in the evening, you'll see stalls of fried insects and scorpions for brave – or perhaps drunk – foreigners to sample. However, insects are not just for tourists, and Thais in some parts of the country eat them too, so it's worth trying them at least once. Grasshoppers come highly recommended – but deep-fried cockroaches, not so much.
26. Roti
If you are looking for a sweet taste after all the savory delicacies – and all that chili – roti is an all-time favorite. Roti was originally a type of unleavened bread that is a staple in northern India, but the Thais have taken it and made it into something completely different. In Thailand, it most resembles a crêpe, and the impossibly skilled vendors cook it up, fill it with bananas, chocolate or any other topping you desire, cover it in condensed milk and chop it up into squares. It's a sugar overload – but you don't eat these to lose weight!
27. Khanom Buang (Thai Mini Pancakes)
A common sight as you explore the streets of Bangkok and other Thai towns are rows of beautifully decorated khanom buang, tiny Thai pancakes. They are prepared with a range of colorful fillings that make them as attractive as they are yummy, and this typically Thai dessert is one you have to sample if you have even a slightly sweet tooth.
28. Kao Neow Mamuang (Mango Sticky Rice)
One of the classic Thai desserts, simply sweet mango served on a bed of sticky rice cooked in coconut milk – as delicious as it sounds, this is one you're going to miss when you have to leave!
29. Tropical Fruit
As a tropical country, Thailand is blessed with a panoply of exotic fruits, and you should make a point of sampling as many as possible before you go home. Some more unusual options include unripe guava or mango, which are served with a bag of chili salt. Also, don't leave without tasting durian at least once. Something of an acquired taste, it is regarded as the king of fruits – but only by those who aren't put off by the incredibly stinky smell.
30. Gluay Tod (Deep-Fried Banana)
So simple but so delicious, deep-fried bananas are a ubiquitous snack in night markets and make a perfect inexpensive snack or dessert. What more is there to say?
31. Cha Yen Thai (Thai Iced Tea)
If you're looking for something to wash down all Thailand's delicious street food, you should look out for Thai iced tea. It's usually served with a generous helping of condensed milk and often comes in a lurid orange color – but the taste is amazing, and it's a distinctively Thai creation that you can't miss.
An Exotic Culinary Journey Of Discovery

Thailand is a country you could visit just for the food, and if it's your first time there, you're in for a treat. Be adventurous and try as much of the local specialties as you can, and your trip will become an exotic culinary journey of discovery that your tastebuds will never forget.

[ratemypost]