A pizza bagel—historically spelled beigel—is a boiled-then-baked ring-shaped bread with pizza toppings, originating in the United States.  Usually, it has a dense, chewy and doughy interior with a browned and crisp exterior.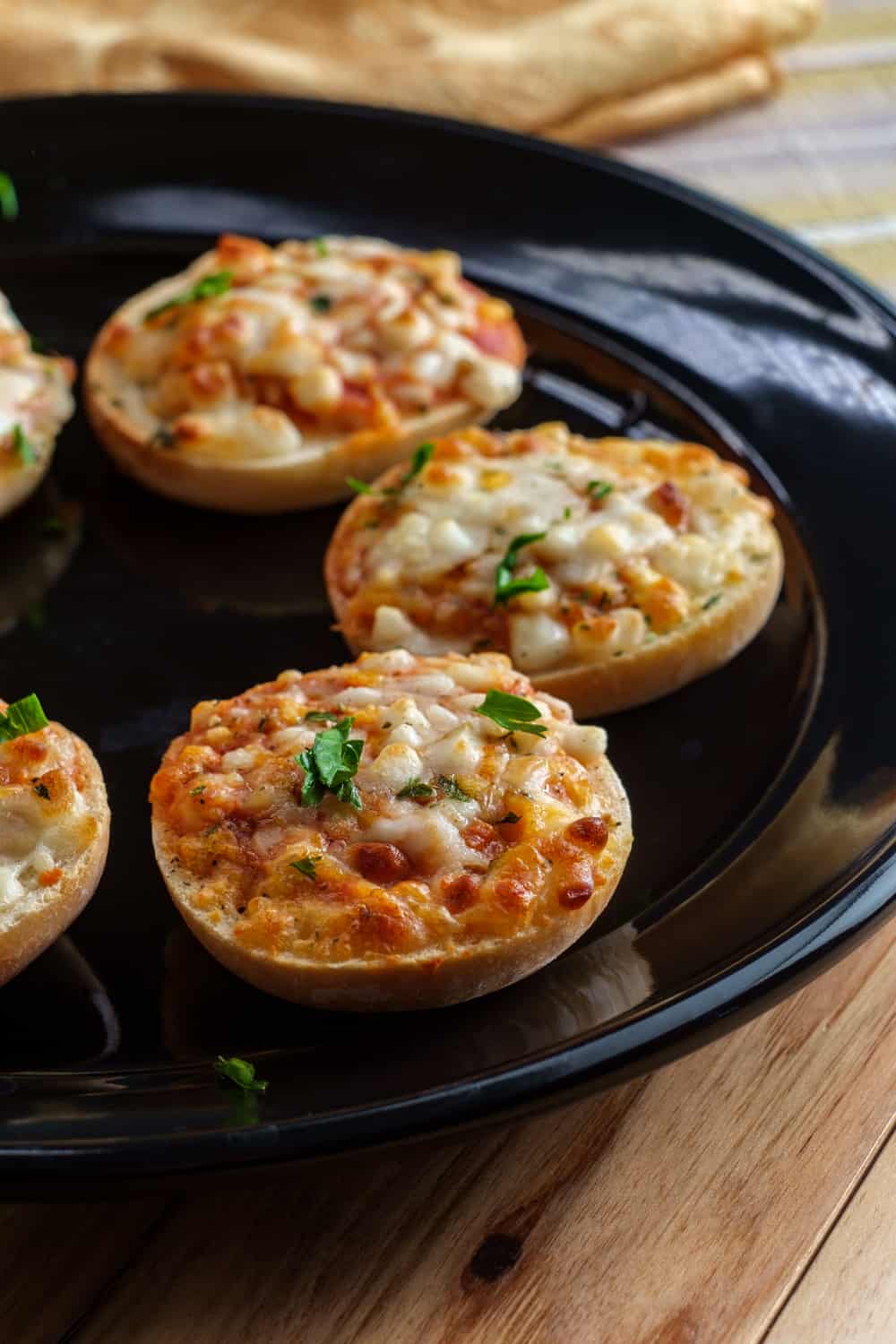 You can top a split bagel with sauce, your favorite toppings, and cheese for a simple and fun snack. Like other quick pizzas, it takes less than 15 minutes to make a pizza bagel. So let's take a look at some popular pizza bagel recipes you can try out at home.
1. Betty Croker's Bagels
Betty Crocker's homemade bagels are easier to make than you actually imagine. You'll need to follow only two steps to whip up these bagels to perfection. But just because they're easy-peasy to make doesn't mean they're not super-yummy! When done, Betty Croker's bagels look great and taste delicious. And guess what? Oh yeah…you can customize the bagels with your favorite toppings!
2. Nick DiGiovanni's Homemade Pizza Bagels
Ever thought of making delicious pizza bagels from scratch?  If so, you don't have to get store-bought pizza bagels when you can watch this video and make your own. Nick DiGiovanni nails it all while keeping his guide pretty short. That means less time watching and more time cooking delicious cheesy pizza bagels to die for!
3. Quick and Easy Pizza Bagels
This recipe comes out delicious when plain bagels are used as the base. If bagels are out of reach, use English muffins or thick slices of French bread. You can make do with store-bought or homemade pizza sauce. The possibilities for the toppings are endless: meats, veggies, banana peppers… you name it. And the resulting bagel will have nice browned edges that will entice everyone.
4. Giant Pizza Bagels for the '90s Kids
Every '90s kid will freak over this supersized bagel bite. This recipe is also befitting for guys who want to try something a tad different. In this video, you'll learn every nitty-gritty detail on how to make giant pizza bagels…incredibly bigger than a regular pizza. Intrigued? Go ahead and check out the video and implement the ideas laid out in it!
5. Luke's Pizza Bagels
This is the perfect pizza bagel recipe for the kids. Luke's pizza bagels are super-easy to make. You just need to follow the right ideas to churn out the perfect bagel. You might also want to experiment with a variety of toppings. You can let the kids dive in and top their own to elevate your creations to an even greater level.
6. Homemade Pepperoni Pizza Bagels
Almost everyone loves homemade pepperoni pizza bagels. Of course, these little mini pepperoni pizza bagels are an excellent addition to your menu. The video delivers a short but detailed tutorial on how to make these pizza bagels the right way. Grab your supplies and have fun making these tasty little bagel pizzas. Be sure to let your kids help you customize them with various toppings of their choices!
7. Ragu's Pizza Bagels
Ragu's pizza bagel recipe is great for those of us who fancy a little more sophistication. Also, it's the kind of recipe that makes me feel hungry each time I think about it. Topped with pitted ripe olives, bell peppers, and cherry tomatoes, this looks like something you'd want to make over and over again. It's hard to get enough of this!
8. Marline Timeless Vibes Pizza Bagels
Many people will relate to the start of Marline's YouTube video. She reminisces about how pizza bagels were her favorite back in college and how she's suddenly craving them now. Her recipe is downright simple and to the point. And the outcome is the wonderful comfort food that everyone will crave. Feel bored? Marline's sense of humor will cheer you up!
9. 3-Minute, 3-Ingredient Pizza Bagels (No Bake!)
This 3-minute, 3-ingredient pizza bagel recipe makes an ultimate quick snack for students. All you need is just a toaster and a microwave… fits the bill for students on a budget right? You can rustle up these super easy pizza bagels in just a grand total of 3 minutes! Heap them with whatever toppings you can find in your student cupboard!
10. Buffalo Chicken Pizza Bagel – 4 Ingredient *Munchies*
Created by Pro Home Cooks, this buffalo chicken pizza bagel recipe requires only four ingredients. It offers an awesome way to play around with toppings…way before you even learn to make the dough and stretch it out. Brothers Green YouTube channel is the true definition of comfy foods. Get ready to indulge in simple recipes that are astoundingly spicy.
11. Pizza Bagels – SuperValu
The photo alone on the SuperValu page speaks louder than the recipe itself. It will lure you to head straight to the kitchen and replicate the actual recipe at home. Now, scroll down to the main recipe instructions. You'll realize they're not difficult to make, requiring no more than six simple steps. Plus, they're so versatile that they can be loaded with any toppings available.
12. Bagel Pizza Bites
The best thing about bagel pizza bites is that they're pretty easy to make right at the comfort of your home. You can even let your kids make their own pizza bagels. This is the ideal recipe for moms and dads whose kids are fussy eaters. Allow them to swing into action and make the food themselves—they'll probably finish it all and ask for more!
13. Pizza Bagels – Don't Go Bacon My Heart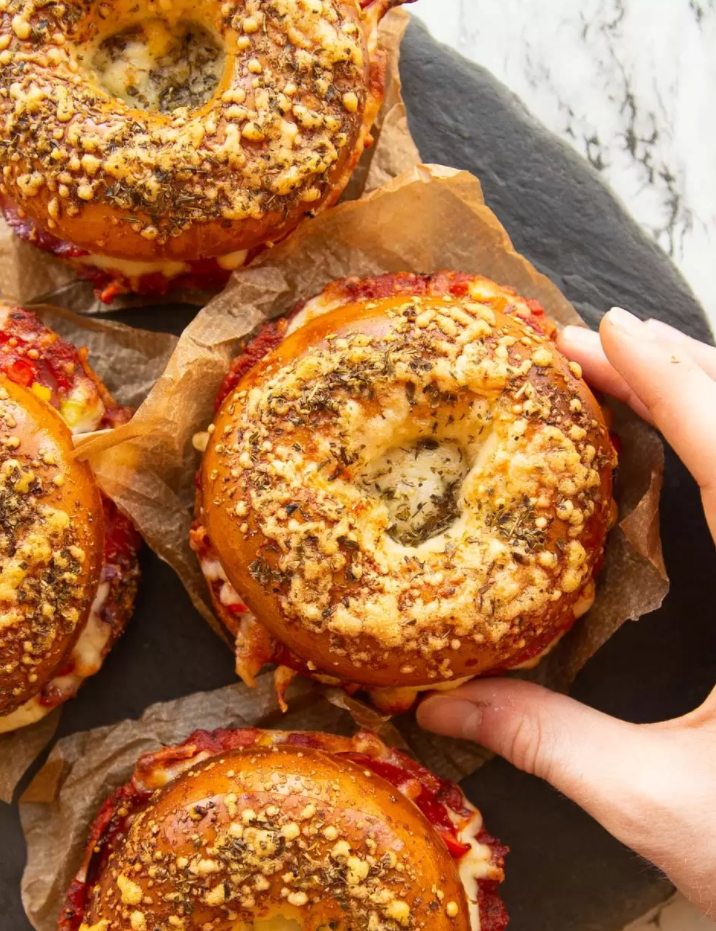 Forget everything you've learned about pizza bagels and get prepared to drool…irresistibly, for that matter! Don't Go Bacon My Heart's pizza bagels are an absolute game changer! As you'd expect, making these pizza bagels is a walk in the park. It requires only a handful of ingredients and four steps to follow. The best part? You can play around with any fillings you want…when you want it!
14. Quick and Easy Pizza Bagel Recipe by The Food Fantasy
This quick and seductive snack is a perfect option to serve at parties. It's also a kids' favorite and fun recipe you can make without an oven. You can cook it using a thick- or heavy-bottom pan or tawa on low heat. Stuff it with an assortment of toppings to ensure everyone gets something they love.
15. Cathy's Lemon Tree Dwelling Pizza Bagels
According to Cathy, pizza bagels are a classic, but you can take them to the next level with a well-thought-out pizza bagel recipe. The secret is to combine the delicious flavors of pepperoni pizza with the buttery goodness of garlic bread. This quick and easy recipe is the ideal choice for lunch or dinner. It's next level crispy…next level flavorful…next level fun!
16. Jessica's Gourmet Pizza Bagels
The title of this YouTube tutorial says it all: How to Make the World's Finest Gourmet Pizza. Produced by Jessica Leibowitz and Ben Yakas, this is arguably the ultimate guide to creating gourmet pizza bagels at home. These guys are creative…and hilarious, too! The bagels they make are nice-looking. But whether they're the "world's tastiest gourmet pizza bagels" is up to you to take a bite and decide.
17. Pizza Bagels – Goodcheapeats.com
When you crave pizza, sometimes it's worth finding that pizza tout de suite. And that's where Jessica Fisher's pizza bagel recipe comes into play. The pizza bagels in this guide won't cost you a fortune to make. You'll spend less than 50 cents per serving—so they allow you to savor a filling meal for next to nothing. What's more, they're better tasting and more nutritious!
18. Pizza Bagels Made in Four Ways – The Cook 'N' Share
As I keep reiterating, pizza bagels are hands down simple to make. And you can create more than a dozen pizza bagel variations on the go. In this video tutorial by the Cook 'N' Share, David Hood demonstrates four different ways to make pizza bagels. They're classic, Greek, Hawaiian, and three types of cheese. The outcome is downright savory…just the way you want it!
19. Easy Mini Bagel Pizzas – Allrecipes
This is one of my favorite quick meals…the possibilities are never-ending. The toppings for this pizza bagel recipe version include a special pizza cheese mix, homemade pizza sauce, and turkey pepperoni. Easy mini bagel pizzas have much less fat but still yummy. You can also get creative and experiment with whichever toppings you desire. This is definitely kid-friendly, too.
20. Pizza Bagel – Definitely Not Gourmet
This YouTube channel goes by the name: Definitely Not Gourmet. So it's obvious they don't specialize in gourmet. That being said, these pizza bagels are stuffed with delicious melted cheese and look yummy. You'll need to scrape out the middle of the bagel bread to create room for the filling. I suggest trying with red pesto instead of tomato paste…10x better!
21. 5-Ingredient Pizza Bagel Bites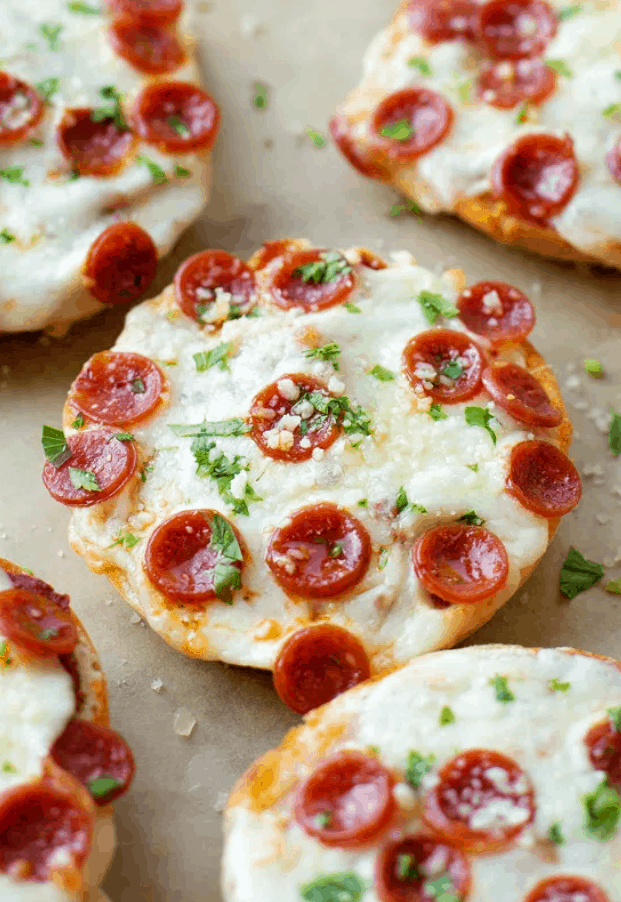 Kids and adults alike rave about these 5-ingredient pizza bagel bites. They're insanely simple and quick to make. This recipe uses mini bagels to produce various bite-sized morsels for a wide range of occasions. To make them healthier, steer clear of store-bought bagels and make your own dough. You can also use turkey pepperoni (not fatty pork) and vegan cheese for a better meal.
22. Easy Pepperoni Pizza Bagels – Quick and Easy Recipes for Kids
Ever thought of involving your kids in cooking rather than just cooking for them? I bet it would be a perfect time to bond with them…and even get to know them better! For that, you'll probably want to start with something simple, like this quick and easy pepperoni pizza bagel recipe for kids. It's pretty simple to do…but take care not to get too crazy with toppings!
23. Whole Wheat Pizza Bagels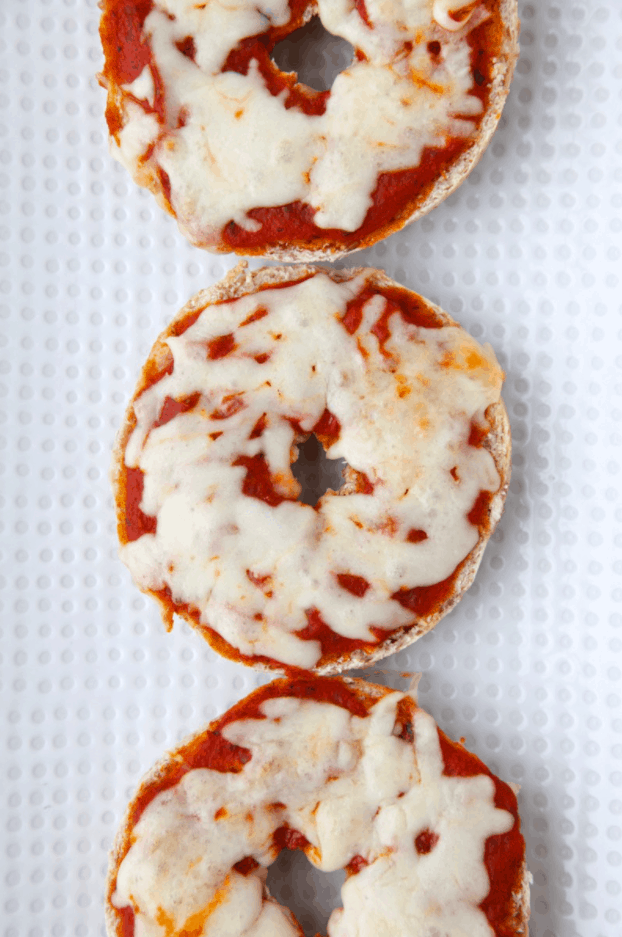 Catherine, a blogger and mother of three, says that she started making these bagels for her kids when they were just transitioning into eating solid foods. There's nothing in these bagels that toddlers won't eat, making them a great option for moms trying to switch foods for their young children. Cover them with a layer of gooey cheese and tangy tomato sauce to soften the bagels.
24. Pepperoni Pizza Bagels at Home Step-By-Step
You really don't need a lengthy guide to learn how to make pizza bagels. This short video tutorial shows how easy it is to make pizza bagels at home. The recipe uses basic ingredients, such as sauce, mozzarella cheese, pepperoni, and Italian spices. Watch the video now to get the hang of it before you dive right in and whip up your delicious pepperoni pizza bagel.
25. Homemade Pizza Bagels – Mightymrs.com
Angela's delectable cute homemade pizza bagels are a favorite diner to devour. They're extremely simple to make at home, and both the kids and adults alike will like them. These bagels are 100% customizable and you don't need to follow this recipe exactly. So feel free to get creative and load them up with whatever toppings you want.
26. Quick Bagel Pizza Bites in 22 Minutes
This recipe reminds me of my childhood years when I used to 'beg' my mom to let me have pizza for an after school snack. She often used this exact recipe to craft some delicious bagel pizza bites in a couple of minutes. They're the perfect option to finish off the amazing day…perhaps after school or after a tedious day at work!
27. Healthy Homemade Pizza Bagels (Gluten-Free)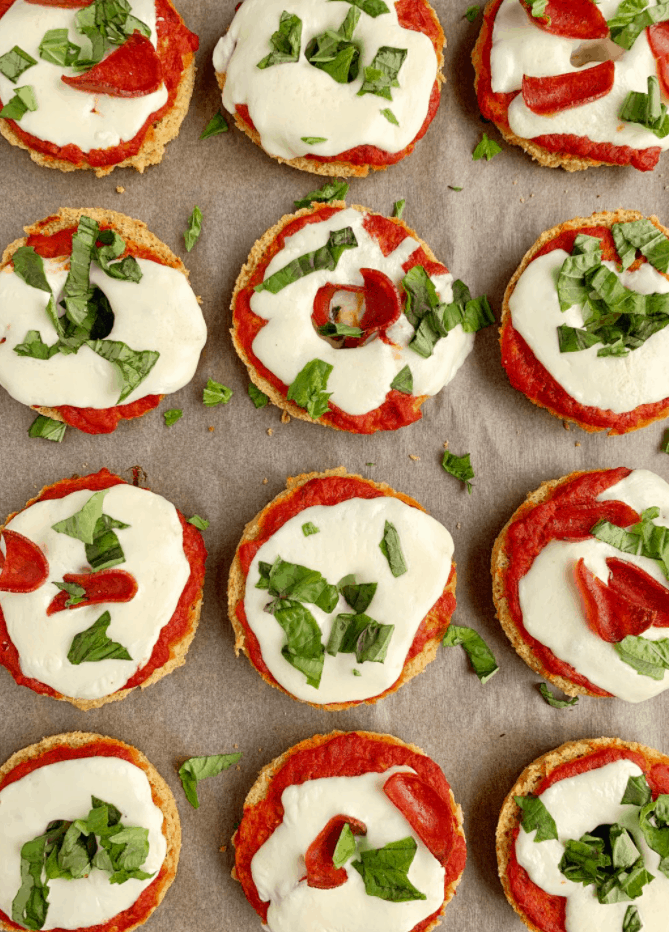 Love gluten-free bagels? Rachel creates recipes comprising "just the good stuff for everyone", as she likes to say. Her healthy homemade pizza bagels are made with only gluten-free and grain-free ingredients…talk of being mindful to people's health! This recipe is, without a doubt, a healthier version of a childhood classic we used to die for!
28. Pizza Bagels – Foodtasticmom.com
If you're all about fun family-friendly recipes, stick to Jill's pizza bagel recipe. You'll feel super in your kitchen…I mean, they're just pizza bagels, but they're pretty tantalizing. Melt a clove of fresh garlic with butter and brush that on first. Then cover it with pepperoni and shredded cheese before dunking in yummy tomato sauce. I know you'll love the outcome no?
29. Cheesy Pizza Bagels
What an amazing combination of ingredients! These grilled cheese bagels by Halal Chef are nothing but lip-smacking. Full of amazing flavors, these bagel bites are the perfect choice for kids' lunch. And as always, they're exceptionally easy and quick to whip up. You can't wait to try this…Masha 'Allah!
30. Easy Pizza Bagels Recipe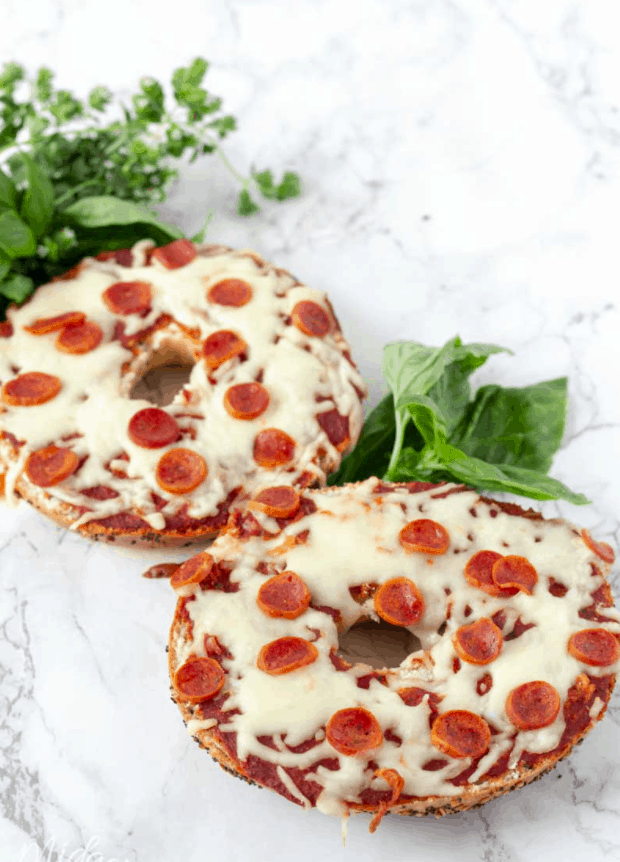 Lauren, a short mom (4 foot 10 to be precise!), doles out the easiest and most amazing recipes that turn the home cook into a home chef. Her pizza bagel recipe literally requires 2 minutes to prep up and no more than 8 minutes to cook. It's one of the quickest recipes ever! Plus, you can tailor her pizza bagel recipe with your favorite toppings for a fun dinner!
31. New and Trendy Pizza Bagel Recipes
Elaine Thompson, renowned chef and co-founder of The Twisted Trucks, takes you through a step-by-step tutorial on how to make a new, trendy pizza bagel right at the comfort of your home. This pizza bagel recipe will be a great fit for your Super Bowl party. It also does the trick around lunchtime…it's super-fast and is sure to satisfy your hunger. It's seriously one of my all-time favorite pizza bagel recipes!
Resources
[ratemypost]