I bet your family members adore overpowering scent coming out of your kitchen. Sometimes, it is enough to make a winning combination of rosemary and cheese to touch all their senses. Plus, every time you are sick and tired of daily problems, the delicious rosemary pizza will encourage positive emotions and relieve you of stress.
1 Rosemary Pizza with Mozzarella
In combination with olive oil and sea salt, fresh rosemary sprigs, covered with delicate mozzarella cheese, will put a spell on you. After every bite, your tongue buds will feel the absolute delight. You can't imagine how quickly the freshly ground pepper can increase the aroma of this pizza. As a result, you will crave for more. Don't say I didn't warn you.
2 Rosemary Three-Cheese Pizza with Garlic
Harsh taste of garlic will wake your appetite and challenge your thoughts. When you bite the three-cheese combination with fresh rosemary, the enjoyment will be at the pinnacle. Not to mention that the sticky cheese spreading from your plate to your mouth will make spectacular sight you can usually see in commercials.
3 Rosemary Pizza with Garlic
Every bite of this miraculous food offers a romantic taste of old times full of garlic, olive oil, and rosemary sprigs. As an authentic food of ancient Greeks and their best philosophers, this pizza is the real 'food for thoughts.' I like the fact it is so simple but at the same time so good. Don't blame me if you change your point of view into a philosophical one. The pizza is to blame!
4 Simple Rosemary Pizza
It is an excellent choice for those who prefer pure mono taste. You will be enchanted with the rosemary aroma dipped into olive oil and sprinkled with sea salt. Not to mention that the fluffy dough will satisfy your hunger fully, and the smell of rosemary will evoke some lovely memories of past times.
5 Rosemary Pizza with Red Onion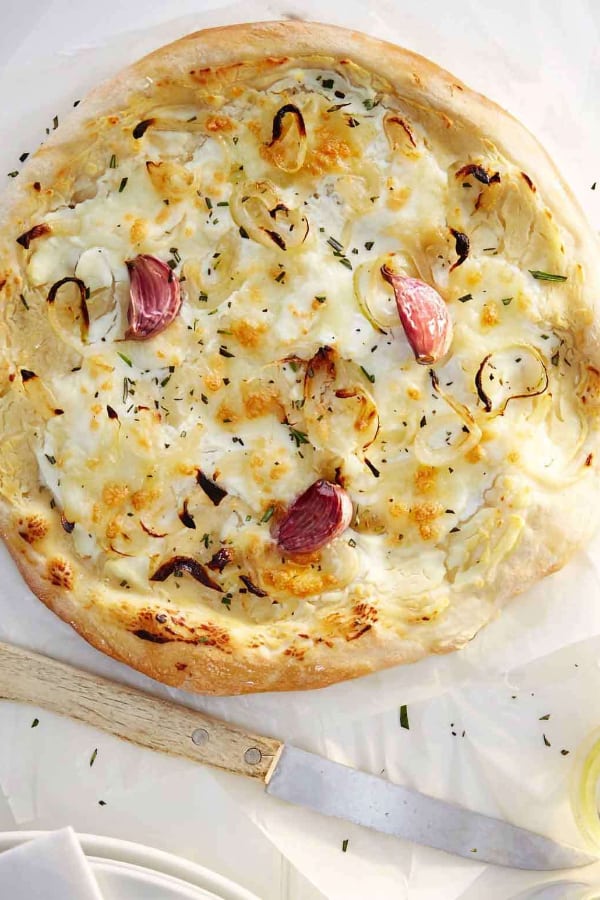 It is the unique opportunity to taste one more ingredient on a pizza besides the rosemary sprigs and garlic. The red onion will provide the longing aroma of the American countryside and your childhood memories. Not only it looks decorative on pizza, but it also tastes delicious.
6 Rosemary Pizza with Mozzarella, and Thyme
One of the best secrets of perfect pizza ingredients is in front of you. Make a magical combination of mozzarella and ultimate spices such as thyme and rosemary, and you will get an ideal solution for rosemary pizza. I am quite sure that it is time to challenge yourself!
7 Mushroom Pizza with Rosemary and Garlic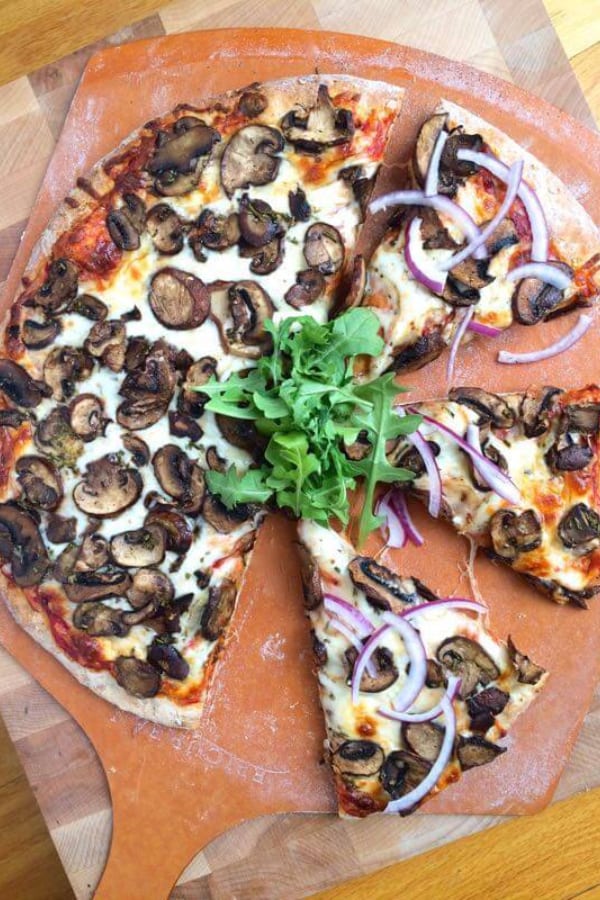 If you like both mushrooms and pizzas, you are the right type of person to try out this delicious rosemary and mushroom combination. Baked mushrooms will melt in your mouth, while the strong aroma of garlic lingers on and stimulates all your senses. If you are hungry, the mushrooms are an ideal choice to provide enough proteins to your body.
8 Rosemary Red Pepper Pizza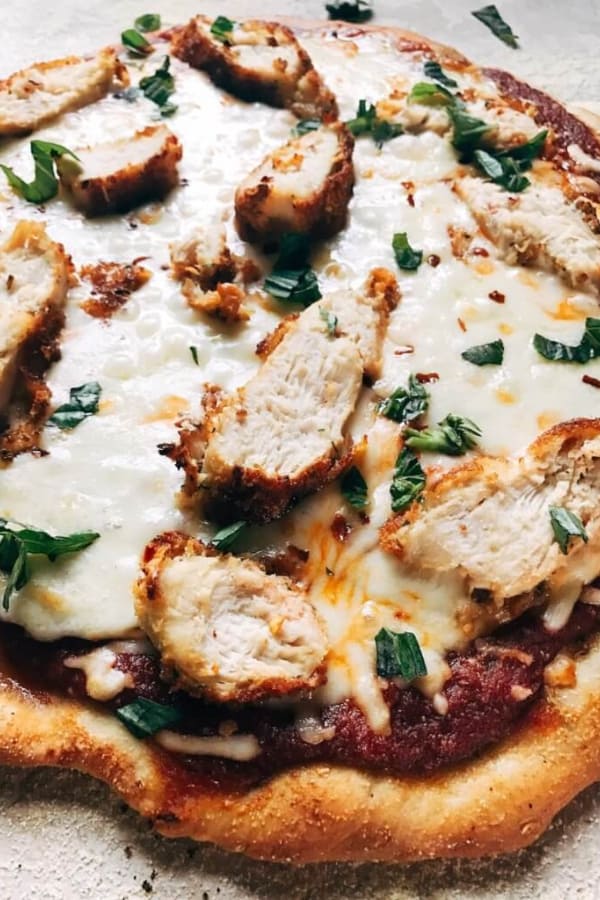 The secret of the rosemary red pepper pizza is in the dough. Other than flour and regular ingredients, you should add red pepper flakes for extra aroma. You can combine this baked dough with the toppings you like for full enjoyment.
9 Rosemary Pizza and Roasted Potato
Potatoes are my favorite food, and as you can imagine, I adore this rosemary pizza. The sweet and salty taste of potato mixed with rosemary will fill out the room where you make your tasty pizza. Your family will enjoy the comforting aroma of baked dough and roast potatoes after a hard-working day.
10 Rosemary Pizza with Broccoli Rabe and Potato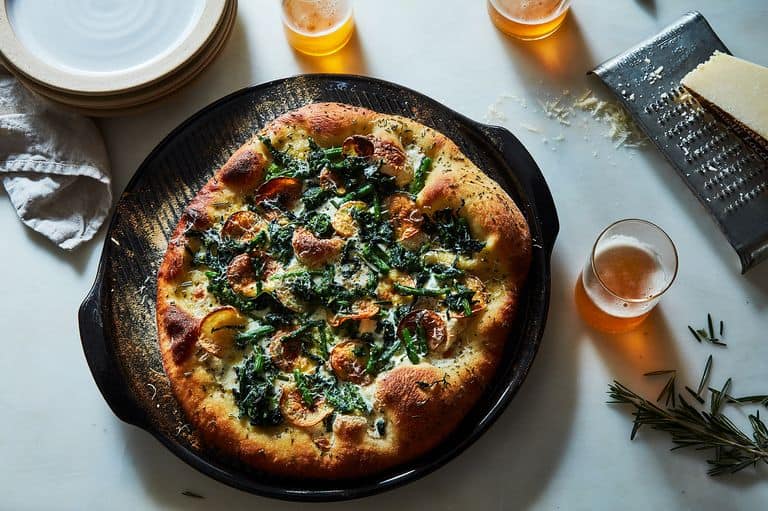 My dear vegetable lovers, this is the pizza you need to try. The preparation process will take a bit longer, but you won't regret it when opening the oven and seeing the pure magic in front of your eyes. The mixture of different tastes of potato and broccoli will explode in your mouth, and make your day.
11 Rosemary Pizza with Bacon and Goat Cheese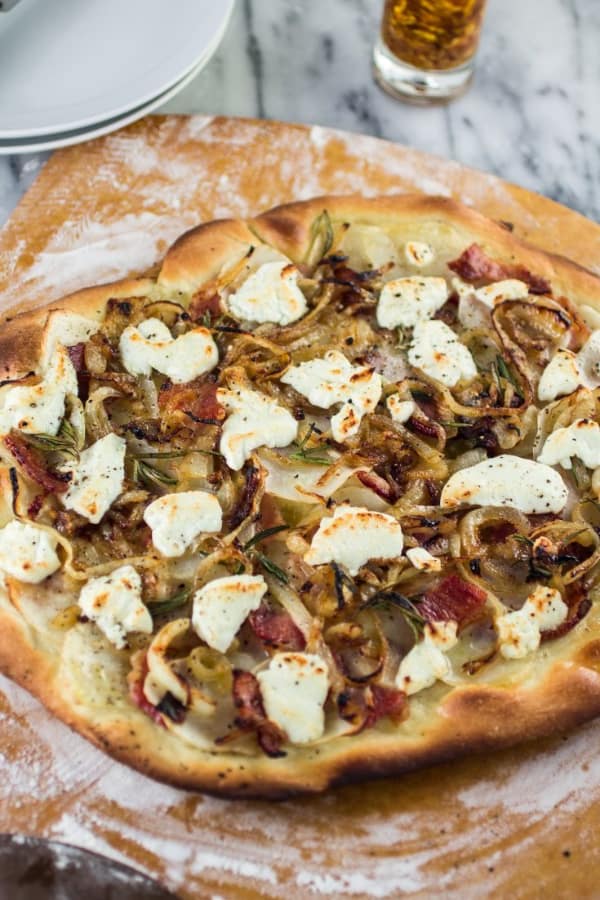 The exquisite taste of the goat cheese mixed with Pecorino grated cheese will make you drool. And when you think the feeling can't be better, you will feel the greasy and smoky taste of thick-cut bacon. The fresh rosemary leaves, in combination with bacon, will highlight and refresh your palate. Bon appetite!
12 Rosemary pizza with Potato and Garlic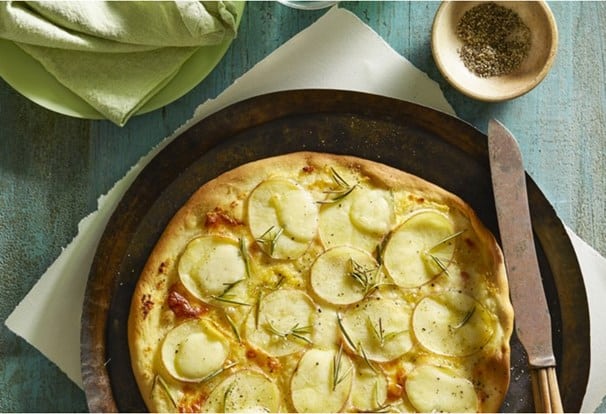 I recommend potatoes, garlic, and rosemary pizza as one of the lightest and healthiest pizzas, which your body can digest quickly. The potatoes on pizza will give you enough energy to replace meat and mushrooms. Plus, two different sorts of cheese will contribute to the richness of the pizza flavor.
13 Rosemary Chicken-Pizza
It is the pizza of choice for you if you like chicken meat as much as I do. What more can you wish? These yummy chicken grilled breasts combined with fresh rosemary, sun-dried tomatoes, and kosher salt in one place are adorable. Wait for a second! There is also briny mozzarella cheese, making this pizza a real dream combination.
14 Rosemary Pizza with Spicy Pancetta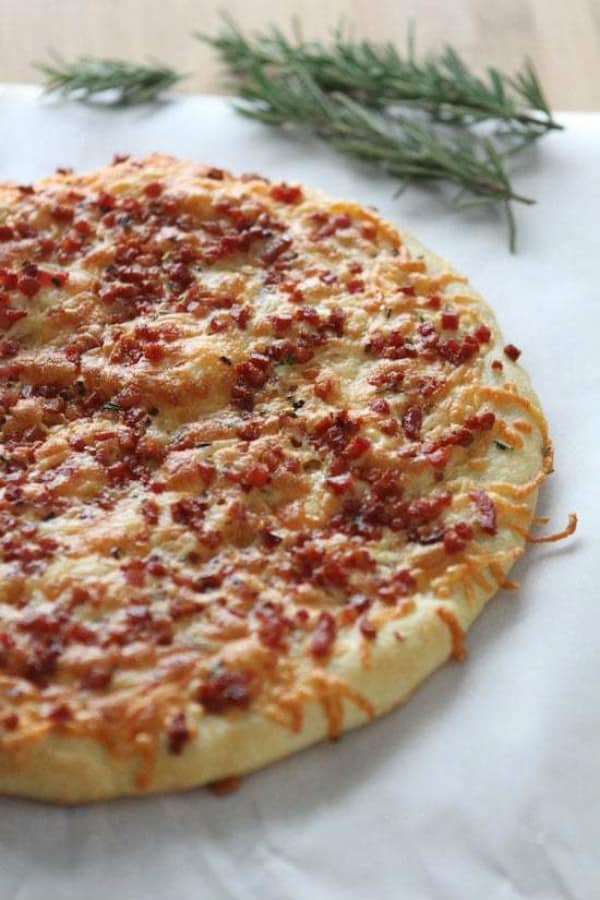 If you enjoy fiery taste coming from red pepper flakes, there is an excellent idea of how to cook it and then put on the dough pancetta. It is an excellent combination for you if you are one of temperament pizza admirers who like feeling flavors bursting in the mouth. Chopped rosemary will add the unique herbal freshness and extinguish the fire a little bit.
15 Rosemary Pizza and Sage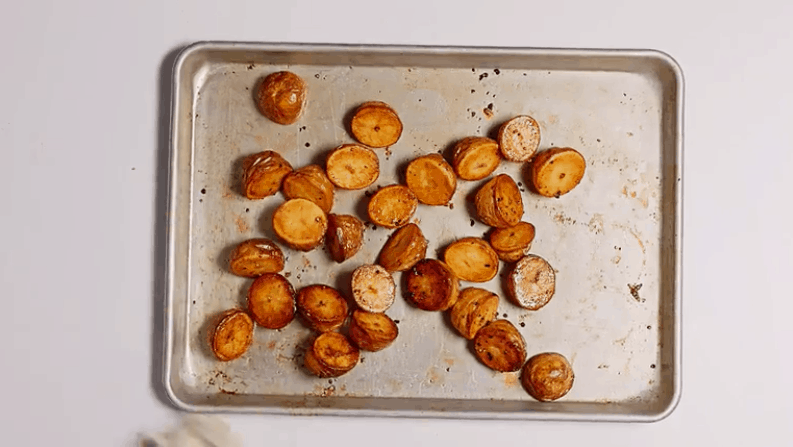 Rosemary and sage are two herbs well-known to humankind for centuries. Not only they are used in healing, but they are also fantastic when combined in cooking. Add the sweet, salty, and mild taste of potatoes to summit the essence of your favorite spices, and enjoy as a true connoisseur.
16 Rosemary Pizza with Potato and Grape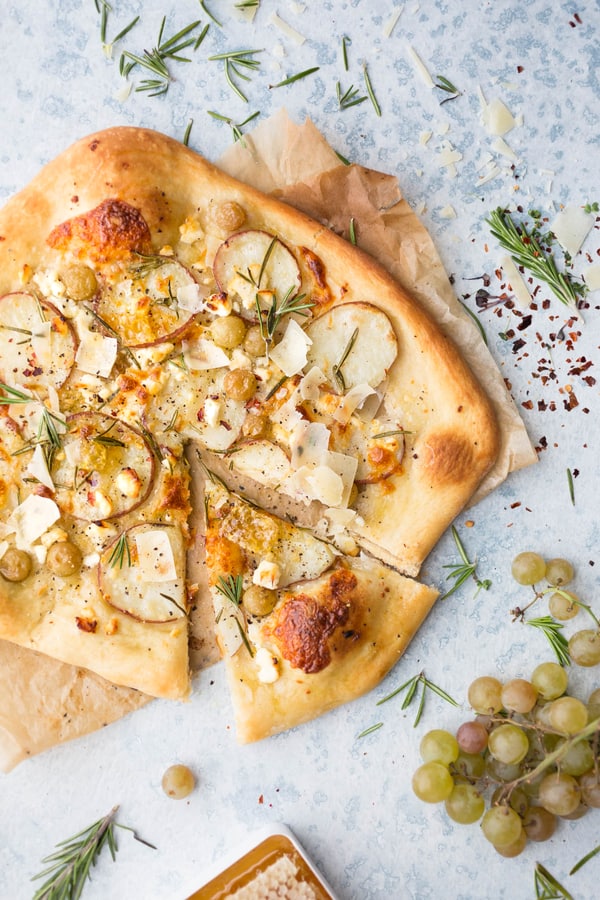 What a strange combination! You can expect that a green seedless grape pinnacle fills up your soul. The vegetarian mixture pumped with vitamins is an excellent combination with the potato, which lows on calories. So, you can relax and enjoy without feeling guilty.
17 Rosemary Pizza with Bacon and Apple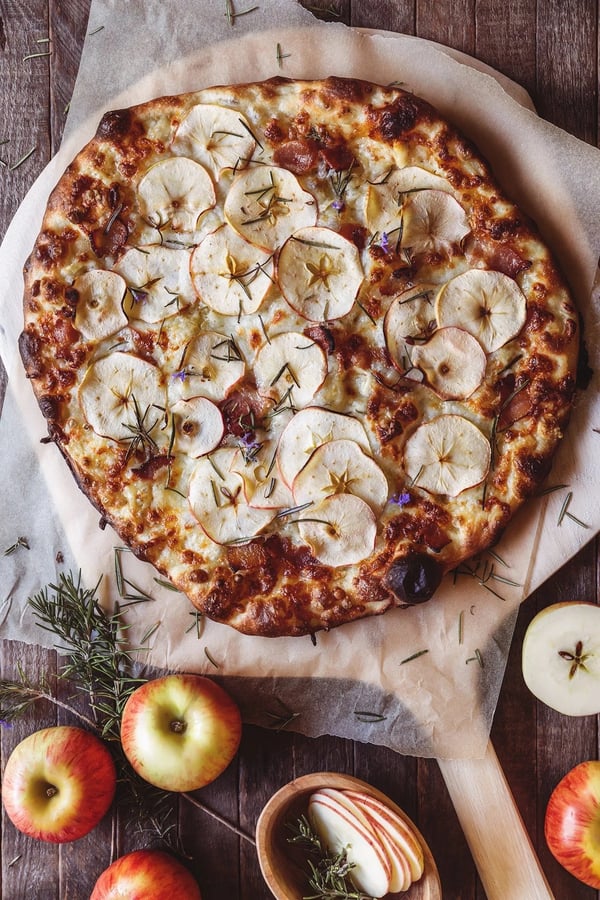 The fruity taste of this meal will give you a different perspective on how pizza should taste. You will feel energized thanks to rich apple flavor mixed with aromatic rosemary. Opposite to the light taste of fruit, there are yummy slices of bacon to satisfy your needs for grease and energy intake.
18 Rosemary Pizza with Goat Cheese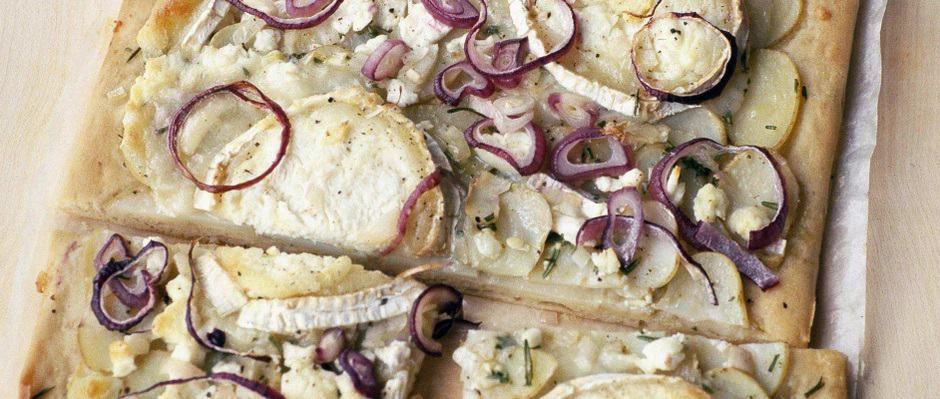 It is a vegetarian version of pizza without any bacon. After tasting it, you will feel the essential flavor of goat cheese mixed with fresh rosemary and olive oil. I can use the 3Cs method to describe this fabulous pizza – it is cheesy, crusty, and creamy!
19 Goat Cheese, Lamb, and Rosemary Pizza
Delicious ground sticky lamb with rosemary is a winning combination. When you add sun-dried tomatoes, you will have a privilege to taste a supreme scent and taste of this fantastic food. The recipe doesn't end here! Red and green bell pepper sprinkled with olive oil and crumbled goat cheese is a potent mixture of smells and feelings you won't be able to resist.
20 Rosemary Beer-Pizza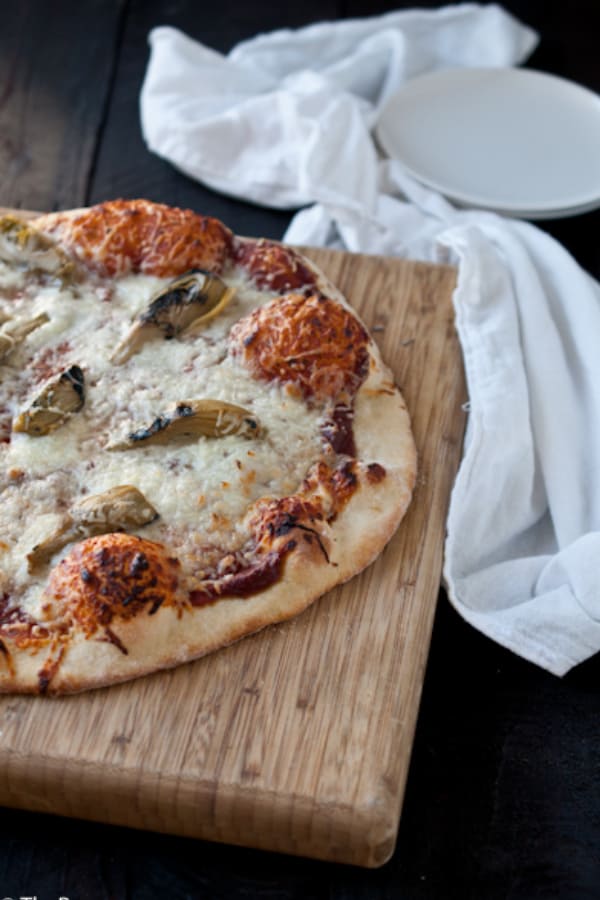 When you add beer to the dough, it gets the yeasty aroma and very fluffy consistency. Therefore, you will get crusty edges of baked pizza dough crunching between your teeth. Add toppings you like the most and play around with unique flavors without a limit.
21 Rosemary Pizza with Cherry Tomato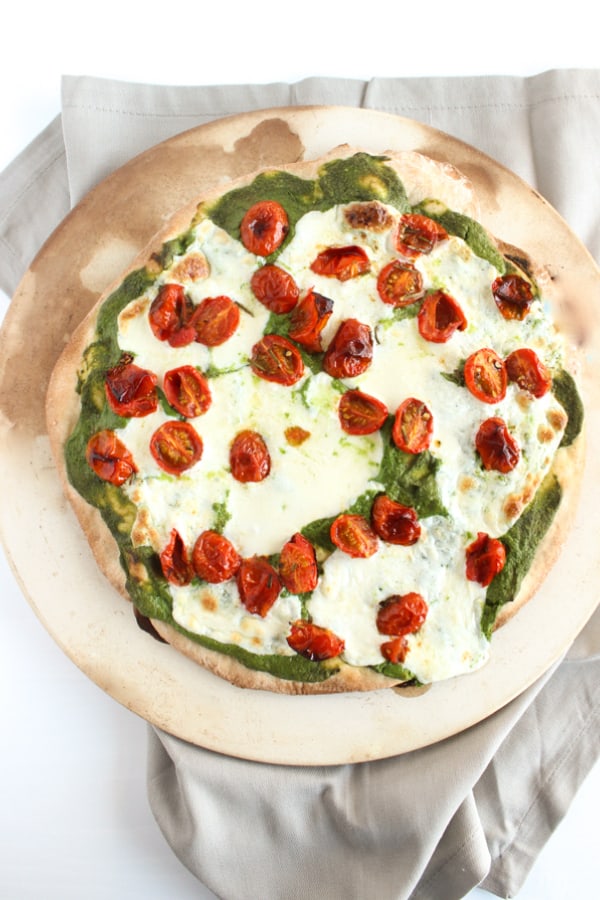 The synonym for the best rosemary pizza is a combination of olives and cherry tomatoes. The old Romans and Greeks highly respected the olive tree and ate olives wherever possible. Learn from their experience and enjoy the fresh aroma of rosemary and tiny tomatoes to fulfill your dreams.
22 Rosemary Grilled Pizza with Charred Corn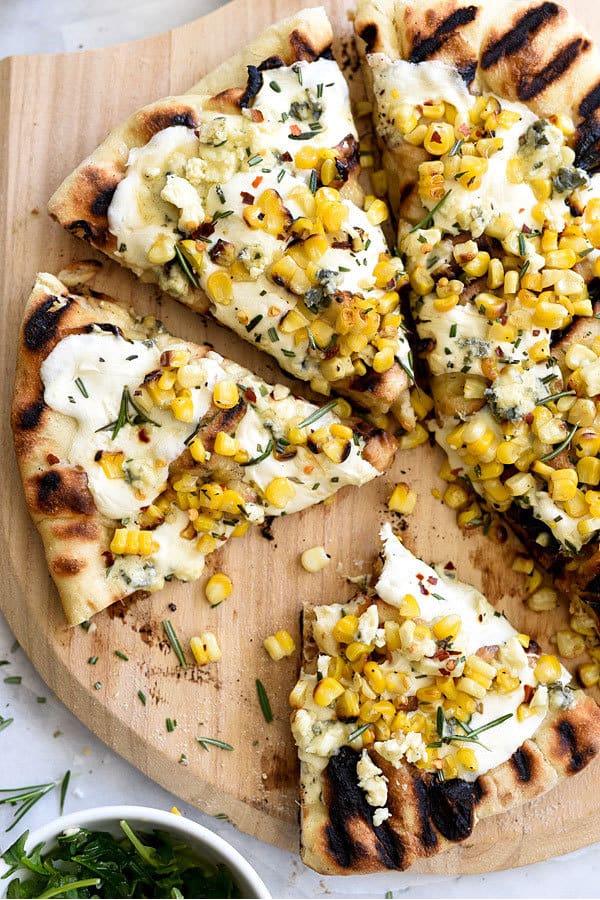 Believe it or not, sweet corn is a perfect sweet and briny ingredient for pizza. Altogether with minced garlic and delicious mozzarella cheese, it will force you to lick fingers after every bite. Gorgonzola will add that unique, strong smell and taste that you will remember long after finishing the meal.
23 Rosemary Pizza and Zucchini
The delicate and juicy texture of zucchini is very popular with young children. All of us like talking about healthy eating habits in combination with the simplicity of the taste and smell. Therefore, this healthy choice of ingredients will put extra light on your yummy zucchini pizza.
24 Rosemary Pizza with Parmesan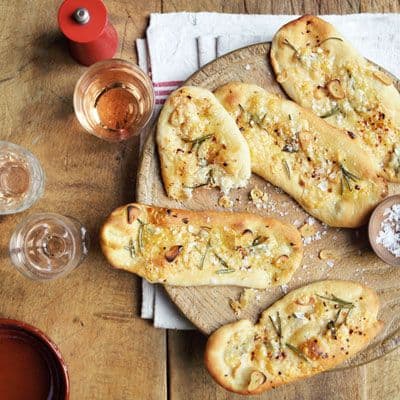 Famous Italian cheeses, Pecorino Romano and Parmesan, enriched with rosemary freshly chopped leaves, are the right choices to make a perfect pizza. The tangy smell of these two kinds of cheese will challenge your tongue buds. Plus, sticky structure and crushed red pepper will contribute to the additional flaky texture.
25 Rosemary Pizza and Lemon
Lemon on pizza! What a good idea. The citrusy scent, combined with red onion rings, will tackle your tongue for more. The whole pizza smell is refreshing and sourly. In combination with cold lemonade, it is an ideal meal for a hot day and high temperatures. Yes, it is also the perfect option for moments of relaxation.
26 Rosemary Pizza with Olive Oil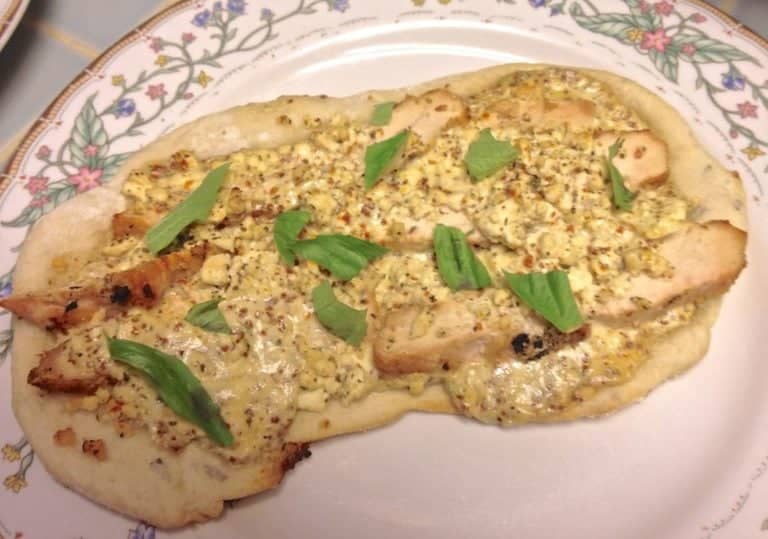 If you are a dough lover and you crave familiar flavors, it is the right pizza for you. I usually add minced garlic on the top, but you should be careful. Its taste can be pretty sharp. Therefore, it is the version without garlic. Enjoy the softness of dough and the slight scent of olive oil and rosemary.
27 Seafood-Pizza with Rosemary
Not only the seafood pizza has a taste and smells of deep blue sea, but it is also very juicy and flaky. It is the ultimate choice for all fish and seafood connoisseur. Rosemary will take away the too strong fishy taste, but it will leave enough of it to dare you to try it.
 Check this recipe
28 Rosemary Pizza and Brie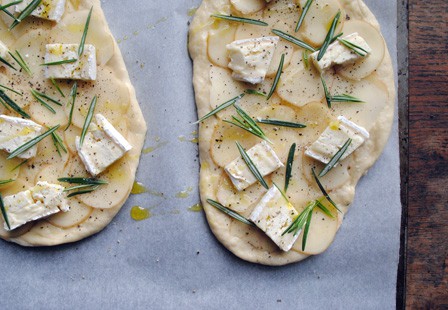 Worldly famous cheese with its delicate smell and taste will make this potato pizza unforgettable. The soft and doughy texture mixed with the cheesy smell and sticky feeling in your mouth will challenge your sense of taste. Moreover, sprinkled with black pepper and flaky salt, the aroma will become more powerful and stronger.
29 Rosemary Pizza with Cheese and Pepperoni
The rich and fiery flavor that is coming from pepperoni will linger on for a long time. On the other hand, three kinds of cheese will give individual layers to your pizza. While eating it, you will feel a surprising taste on your palate. The best thing you can do is to enjoy the richness and complexity of this pizza with someone you love.
30 Rosemary Pizza with Pink and Purple Potato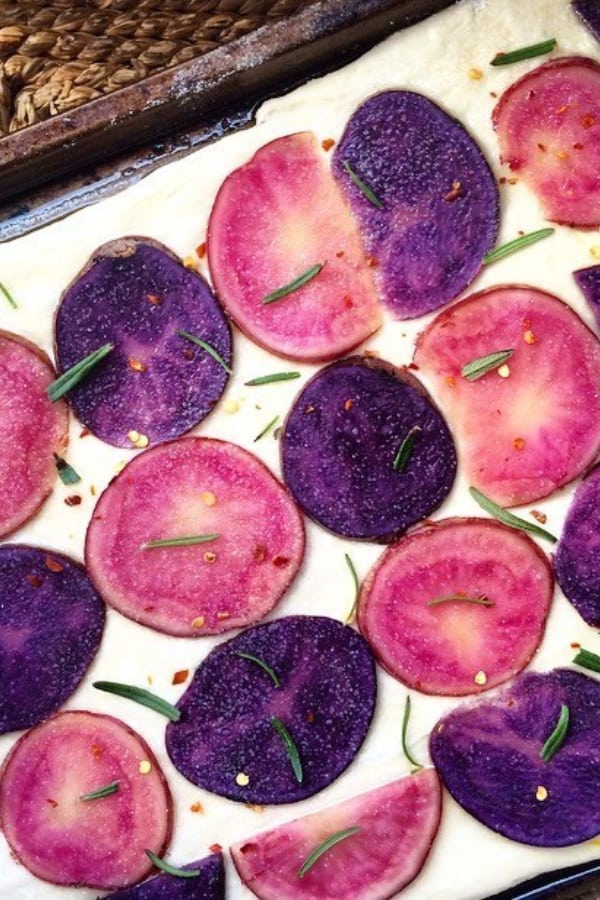 There is a perfect choice for vegans loving pizza. The mixture of purple and pink potato colors sprinkled with rosemary leaves looks like a real masterpiece of contemporary art. Stop staring and start eating!
31 White Rosemary Pizza with Artichoke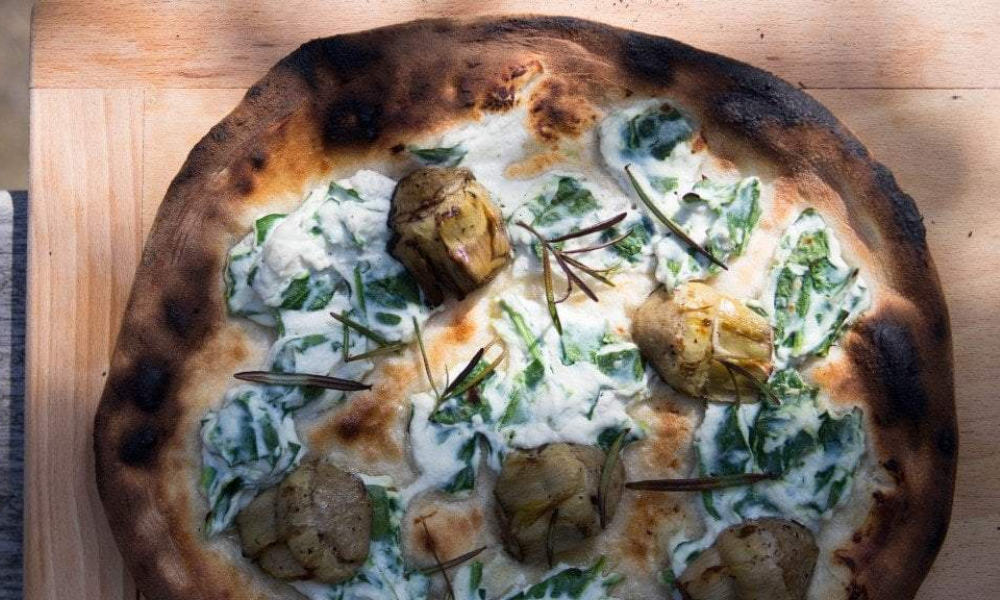 There are so many exotic ingredients in one place that the water starts coming out of my mouth. The name of this pizza comes from low-fat cream covering the dough. Honestly, this green-brown and white combination is a real piece of art you need to taste.
 Check this recipe
32 Rosemary Pizza with Beef Sausage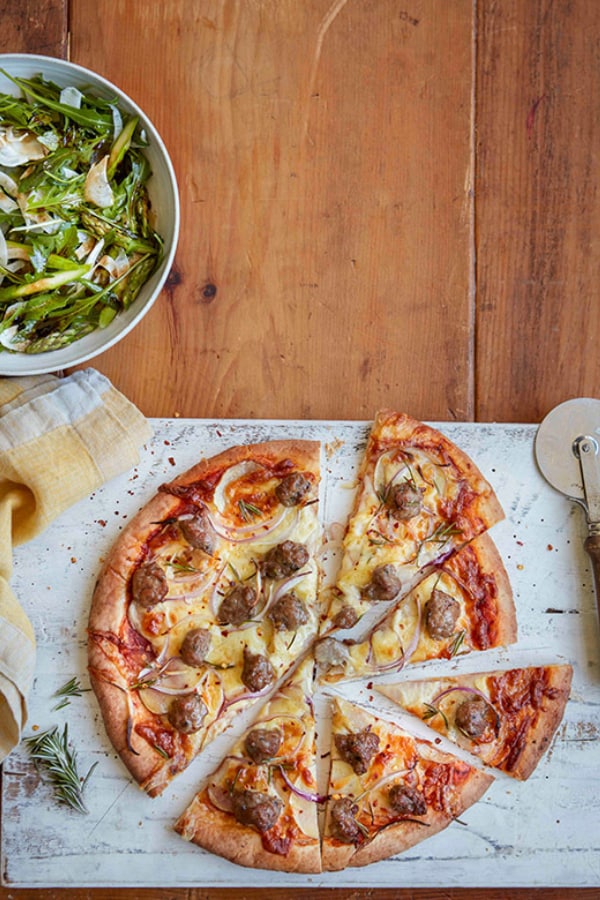 It is always a good idea to put sausages onto or into some food. It is the same with pizza. If you use delicious beef sausages, then you have a winner. The mix of fennel bulbs and asparagus will make a perfect combination with meat. If you are keen on spicy food, you can add chilli flakes or even fresh pepper on your pizza. Yummy!
33 Rosemary Pizza and Honey Blackberry
If you like sweet but not too sweet food, you should try this unique pizza. The honeyed cheese combination melting in your mouth is something special. On the other hand, the seedy texture of blackberries won't let you be lazy and will force you to chew thoroughly. Above all, there is an herbal scent of rosemary to make your meal perfect.
Resources
[ratemypost]