You may have heard the legend, 'In New York, we fold our pizza!' And yes, New-York-Style pizzas have broad bases and thin crusts so can 'roll' or fold them while you eat. So whether you're a fan of their state style or you just like your pizza crusts slim and crispy, you'll love this list we've come up with. So read on to discover the best this crust pizza recipe for your palate.
1. Sean Aslam's Ultimate Crunchy Thin Crust Pizza
High-protein flour is great for thin-crust pizza dough, so use bread flour. Bloom the yeast with sugar and mix the dough for 5 to 10 minutes. Form a ball so the dough rises evenly for an hour or so. Leave it in a warm place until it doubles in size. To get the thin crust, use a small portion of dough and roll it as thin as it'll go. Bake the dough twice but don't flip it.
2. Allrecipes Thin Crust Pizza
For best results, you should bake the pizza base bare before you add toppings, then bake it again once the toppings are arranged. It's also helpful to (partially) cook the toppings, especially if you're using meat or veggies. (Cheese doesn't need to be pre-cooked.) For this thin crust pizza recipe, slice your topping in thin slices to avoid weighing down the crust.
3. Hellen Rennie's No-Knead Thin Crust Pizza
Chefs often praise the pleasure of working with dough. They say it's therapeutic and mindful. But for many of us, it's frustrating because we can't quite get the right consistency. And the more you knead, the more elastic your pizza base becomes. And since you want it thin and stretched, this no-knead recipe takes the pressure off. Toppings are cheese and red sauce.
4. Salty Marshmallow Thin Crust Pizza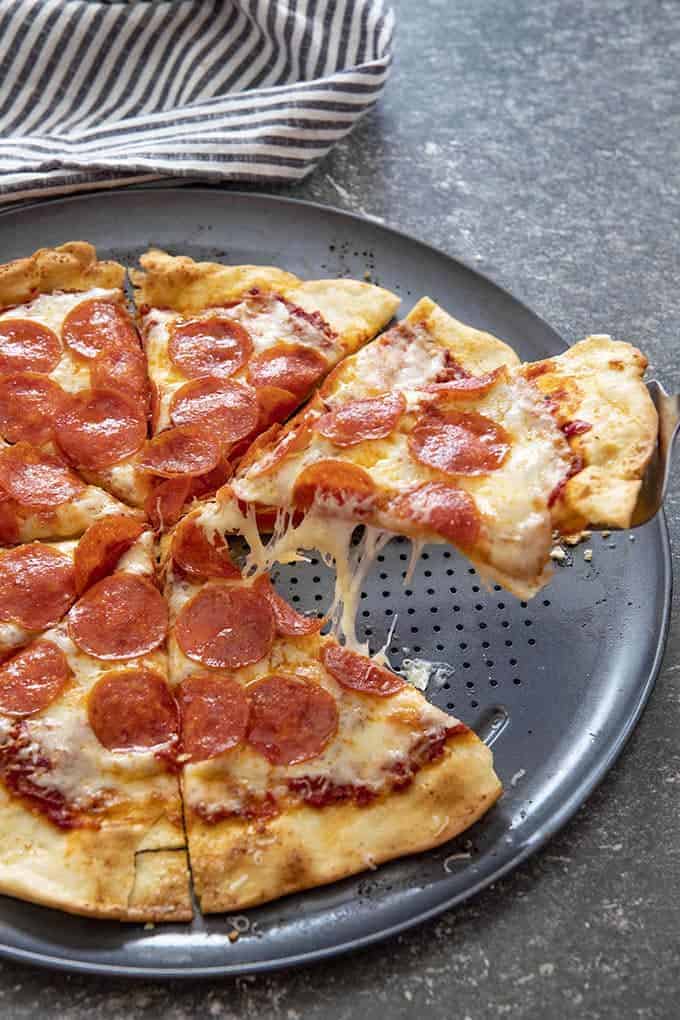 Store-bought dough is supple and bouncy. You don't want that for thin crust pizza because it keeps springing back, making it harder to stretch! So if you're buying, look specifically for thin crust dough. Or just make your own. This easy recipe gets your pizza crust as thin and crispy as a cracker. It's topped with pepperoni and mozzarella but anything works.
5. Rekha's Secret Thin Crust Pizza
When you're kneading pizza dough, it develops gluten and gets puffy. So if you want a slim, streamlined crust, knead less. Or try gluten-free flour. Also, your sauce will need to be thicker, since watery sauce will soak into the base and overpower your crunchy crust. Keep the toppings light as well. The crust uses bread flour and the red sauce has sugar and chili.
6. Kitchn Homemade Thin Crust Pizza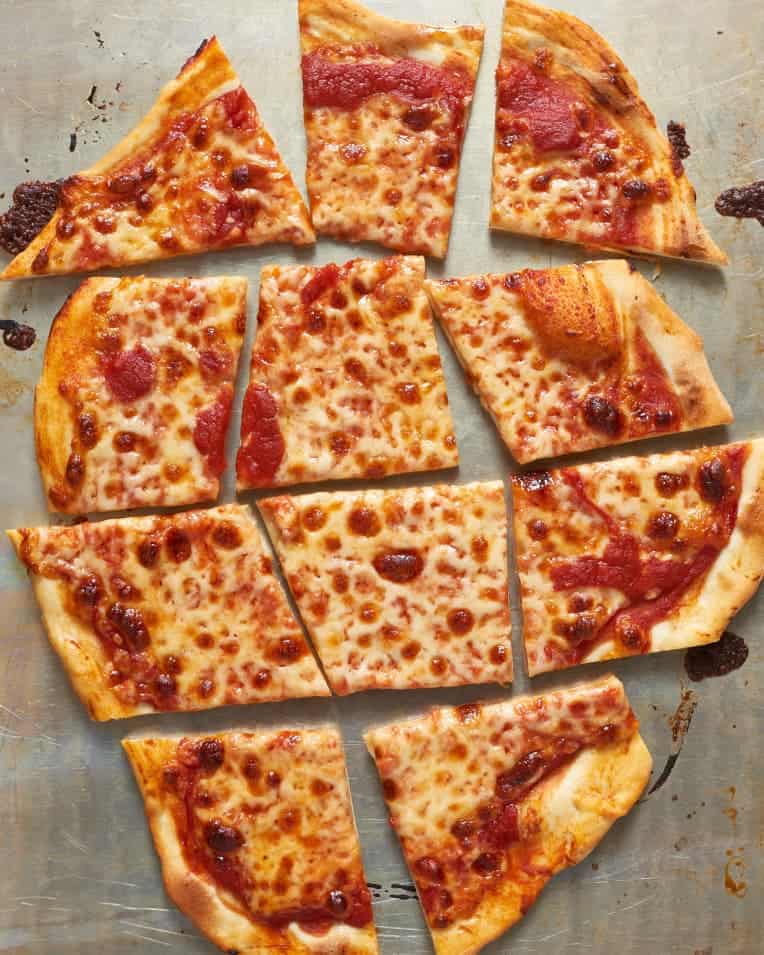 Do you have to use thin crusts immediately you make them? Not really. You can still coat them in oil and keep them in the fridge for weeks. The dough will double in size but if it's not kneaded, it won't get too fluffy and you can still stretch it thin. This dough can be used right away though. Toppings include onions, mushrooms, sausage, and Italian cheese blends.
Click for More Details
7. Homemade New York Style Pizza
If you're baking a thin crust pizza recipe with mozzarella, look for the low-moisture variety. Whole milk mozzarella or other fresh varieties will soak into your pizza base and make it less crispy. Also, New York Style dough needs to rise in a cold place (preferably inside the fridge) for a day or two. This slow proofing makes the dough thin and stable without getting puffy.
8. Heart Pizza Thin Crust Recipe
A lot of us rush to use shredded cheese on our pizzas. It's quick, convenient, and needs less clean-up. But this shredded cheese is coated in waxy cellulose to stop it from clumping in the pack. The coating is harmless, but it affects how the cheese melts, so consider grating your own cheese or using singles. The dough here can be used within half an hour or frozen for later.
9. Thin Crust Suburban Chicago Pizza
Yes, a few Chicagoland residents do – blasphemously – prefer thin crusts. Especially in pubs and suburbs. But how do you know you bought the right mozzarella? Some brands will write 'low moisture' as a primer. But if not, check the packaging. If you can see liquid inside it, it's fresh and 'wet'. Look for mozzarella packs that look drier and have thinner plastic packaging.
10. Dassana's Thin Crust Pizza
Should you use oil or flour to shape your thin crust pizza dough? Depends on your preference. They'll both make the dough less sticky, but flour can make it crisp or dusty. Also, oil makes it easier to roll your dough flat and thin. Dassana uses both. Her thin crust pizza recipe has sweet corn, mozzarella, red onions, green capsicum, and yellow sauce.
11. Cook's Country Thin Crust Chicago Pizza
Roll, flip, or press? Your choice of stretching dough is up to you. But if you're patting it by hand, begin at the sides, not the middle. It's too easy to overstretch the center of your pizza if you make it your starting point. Try this take on Vito & Nick's thin-crust – also from Chicago baked by a different Bryan. It's topped with Italian sausage. In Boston. You're welcome.
12. King Arthur's Thin Crust Pizza
Thin crust pizzas cook quickly. And you'll want to see those leopard spots. So you can use high heat, brick ovens, or kamado-style cookers like the Big Green Egg. Steel baking sheets, grids, grates, and peels are good because of their fast, even, and efficient heat transfer. This super-fast pizza dough has both yeast and baking powder. It's oven-ready in under an hour.
13. Pat's Pizza Paper Thin Five-Day Crust
Proofing dough can be puzzling. After all, the longer it sits, the fluffier or gets, right? Not necessarily. Warm proofing doubles the dough in an hour and is good for thick crusts. Cold proofing takes 24 to 48 hours and 'flattens' the yeast so it no longer puffs up. Pat's Pizza dough takes almost a week to prep. With a winter variant too! And they use breadcrumbs!!
14. Chef Billy Parisi's Thin Crust Pizza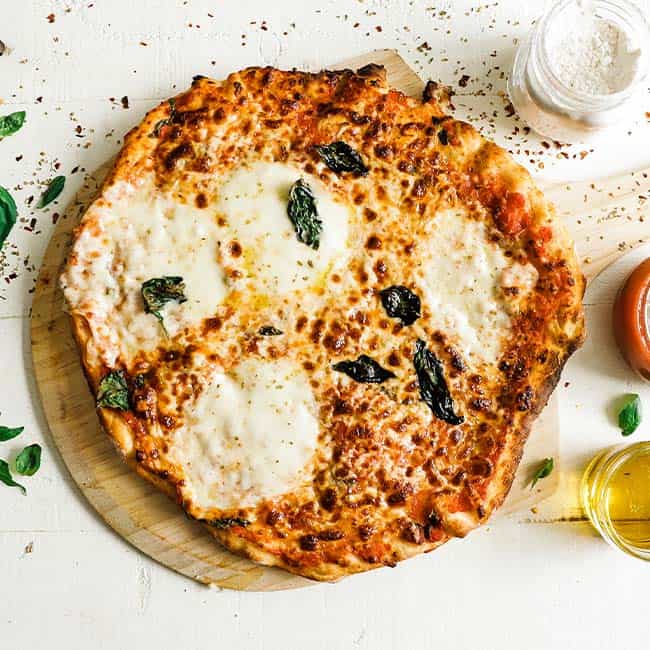 If you're mixing up thin pizza crust in a food processor, use cold butter. It makes your pizza dough crisp and flaky, forming a crumbly pie-like texture. This goes well with a concentrated red sauce that's on the sweeter side. This recipe doesn't have butter in the dough, but the crust is thin throughout and the toppings go right to the edge. And the dough has semolina.
15. Effortless Eats Thin Crust Pizza
When you add sugar to your thin-crust pizza recipe, you won't necessarily taste it in the crust. The sugar is mainly to bloom and feed the yeast. It also balances out your flavors. In this case, the recipe leaves put yeast altogether, keeping the crust crisp and skinny. It does use baking powder though. Dock the dough and bake on a pizza screen before adding toppings.
16. Bake-Eat-Repeat Thin Crust Pizza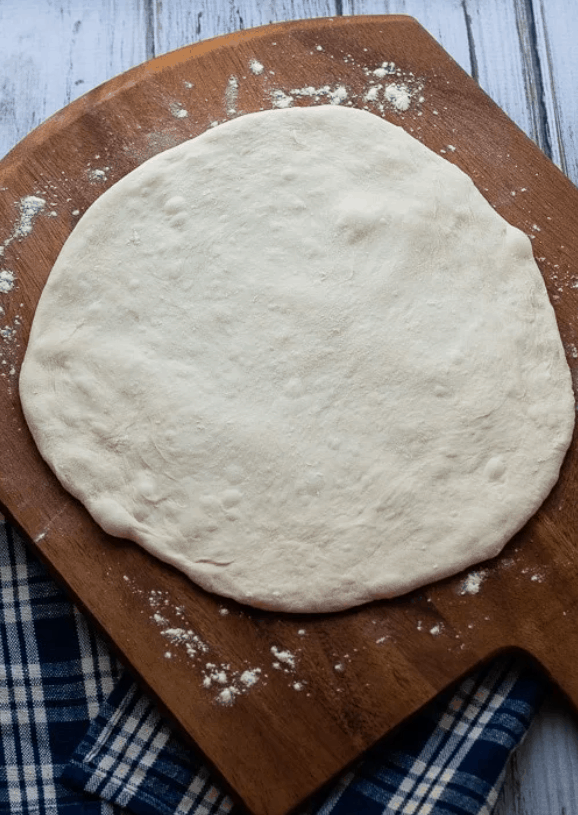 This cold-proofed recipe is perfect for thin-crust pizzas. And – as its name says – it's simple enough to replicate consistently. It's a German recipe by Peter Reinhardt, which explains its reliability and precision. The dough should be poked with your knuckles (rather than rolled). And it needs to cook quick-and-hot so if you don't have a pizza stone, flip your cookie sheet.
17. Gennaro's Thin Crust Italian Pizza
Cornmeal is the go-to for flouring your pizza stone, pizza peel, or even your countertop. You could also try semolina or polenta. But you know what's even better? Breadcrumbs. It keeps your pizza bottom crunchy without forming that dusty texture adding unwanted flavor. The dough is flipped for a maximum stretch then topped with passata, olive oil, basil, and cheese.
18. Budget Bytes Crispy Pizza
The reason pizza screens are so popular for thin crust pizza is that they spread heat quickly without burning the bottom. And unlike pizza stones, they don't need preheating. This dough takes 30 minutes. Remember to use instant yeast, not nutritional yeast. The latter is a deactivated form of seasoning, like salt or pepper. The Aussies even call it seasoning yeast.
19. Vito's New York Style Homemade Pizza
We've met a Vito from Chicago, now here's another from LA. His NY pizza variant is a thin crust with toppings right to the edge. The vents on pizza screens are the perfect 'cheat sheet' for this style. And while the wooden mixing bowl is mostly for show, the honey and semolina are flavor fillers. Vito Lacotelli bakes his thin crust pizza in an electric oven so try that too.
20. Farm Girl Thin Crust Pizza
Do you prefer your pizza crust flaky, foldy, or chewy? Pat's Pizza crust is nine papers thin and stiff enough to hold up. The Weeds and Sardines version is more pie-like. But this version is substantial enough to hollow out your pepperoni. Use dry yeast, double-zero flour, and some sugar. This pizza is best baked on a steel grate to mimic that scorching brick oven effect.
21. Thin Crust Pizza Pie
In some places, 'pizza pie' refers to a calzone or an off-brand hot pocket. In other places, it's just a regular pizza with a flaky base. Whichever naming style you prefer, this is easily the best thin crust pizza recipe you can find. It's by yet another Brian and it's quite easy to follow. He uses a stand mixer with a dough hook, double-zero flour, and milk. Bread flour works too.
22. A Couple Cooks Thin Crust Pizza Dough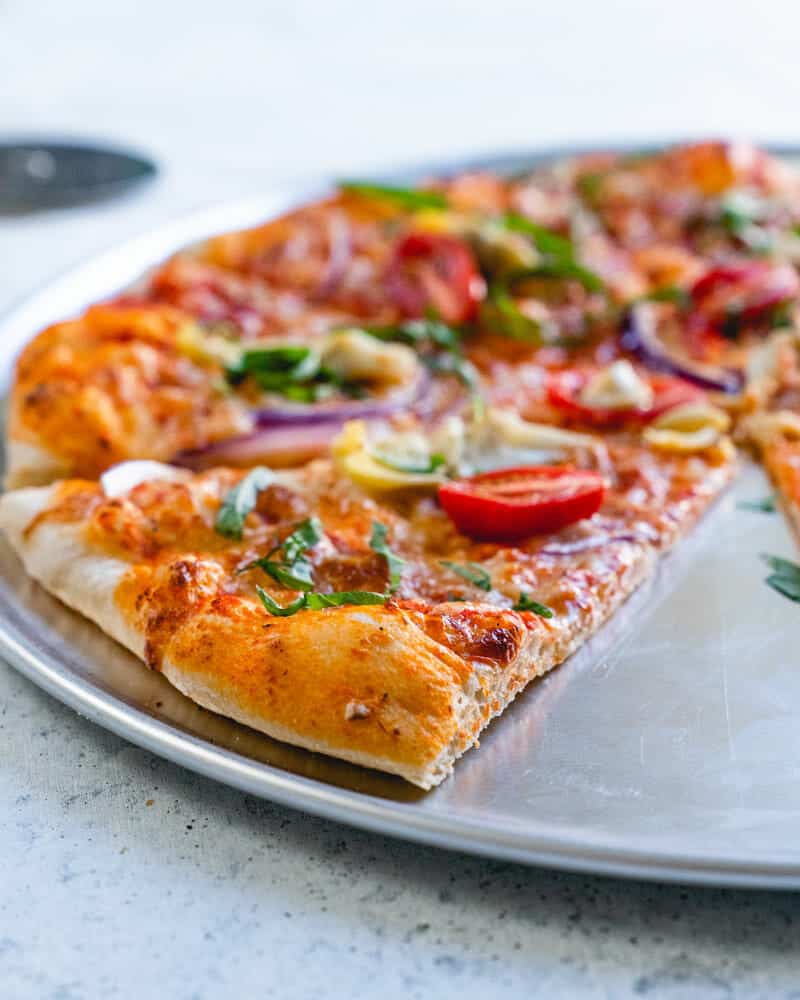 This thin-crust pizza dough is so easy that you don't need to toss, press, or stretch it. You can quickly roll it flat, top, and bake. And all it takes is a 90-second video to learn. You could dust the dough (and the baking sheet) with semolina or you could just bake on parchment paper. But the dough needs to rest and rise for at least an hour (or two days!) before you can use it.
23. Al's Pizza Chicago Thin Crust
If there's one thing we've learned today, it's that Chicago has a good fan base for thin crust pizza. So here's another Warrenville winner. The secret is to dump the dough in a vat of flour and flip both sides to get it well coated, then pass it through a pasta press. If you don't have a pizza press, use a wine bottle or rolling pin. This is a pan pizza so get that season that skillet!
24. Thick 'n Thin Pizza Dough
The base recipe for thin and thick crust may not necessarily be different. Sometimes, you can use the same formula then roll it out thinner/ thicker. Or you could knead the same ingredients then warm-proof for deep pan or cold-proof for thin crust. This Italian recipe works for both thick and thin crust pizza recipes. It's great for Bianca and Margherita pizzas.
25. Gozney's Thin Crust Pizza
This sourdough pizza recipe is distinctly bready in its flavor and texture. But it's still delightfully thin and crisp with cheesy bubbles and a sweet red sauce. So as you work on the dough, remember that you're leaning more towards bread than flaky pie crusts. The dough has a 50/50 mix of double-zero flour and bread flour. Plus you learn a new term – autolysis!
26. Pilgrim's Pizza (Thin Crust)
This simple thin crust pizza recipe is equally effective for pies, stromboli, and calzones. It bakes a little thicker at the rim, so leave a margin to serve as a finger-hold. You can use the dough immediately without rising or resting. But cold-proofing the dough for several days enhances the flatness and crispiness of your pizza crust. Top with light meat or leafy greens.
27. Roman-Style Thin Crust Pizza
Martina's Roman Pizzeria is a treasure trove of thin-crust goodness. It's a quick pizza that takes about two minutes to cook, adding that toasty crunch and flavor. Roman-style pizzas resemble Neapolitan pizzas, but the base is less fluffy. The secret is cold, slow fermentation over an extended period. Crumble your toppings and spread them out to keep them light.
28. How Sweet Eats Thin Crust Pizza
The best thin crust pizza recipes don't need time to rise. So if you can knead it and use it right away, that's perfect. With this recipe, you can! The pizza dough has honey and yeast. Make it with warm water and top it sparingly with basil, red sauce, and cheese. Yes, you can fridge it or freeze it for later, but you don't need to. And you need a smooth sauce to match.
29. Roscioli's Pizza Alla Pala
We've looked at high-end 'fine casual' Roman-style pizza at Martina's. Now let's see the original street style version from Rome itself. They serve the pizza by weight, so they bake it in extended oblong portions that are sliced like deli meats. The pizza is cracker-thin and full of color, a regional favorite. The most popular variants are Bianca, Rosa, and Margherita.
30. Flaky Bakers Thin Crust Pizza
The downside of this recipe is it uses double-zero flour, which isn't always easy to find. The upside is the recipe is so simple you're unlikely to do it wrong. It's a slow-rising cold-fermenting version so make it a few days before you plan to bake it. And the base needs to pre-bake for a bit before you add the toppings. Metal sheet pans work best for thin pizza.
31. Stefano Poro's Pizza Alla Pala
We got a sneak peek at this earlier, now let's look at the recipe in detail. In Rome, residents prefer their pizzas barely topped so they can fully enjoy the flavors – Bianca (olive oil + sea salt) or Rosa (plain tomato sauce). This dough is made with Polselli Superflour, a regional blend specifically made for pizza. The pizza has a thick rim, cheese, and prosciutto toppings.
What's your favorite thin crust pizza recipe? Show us how to make it in the comments!
Resources
[ratemypost]