Street food in Japan is a little different from in some other parts of East Asia. Rather than having fixed night markets that are open year-round of the kind common in Bangkok or Taipei, street food vendors tend to move around the country, following the many and varied local festivals that are held each year.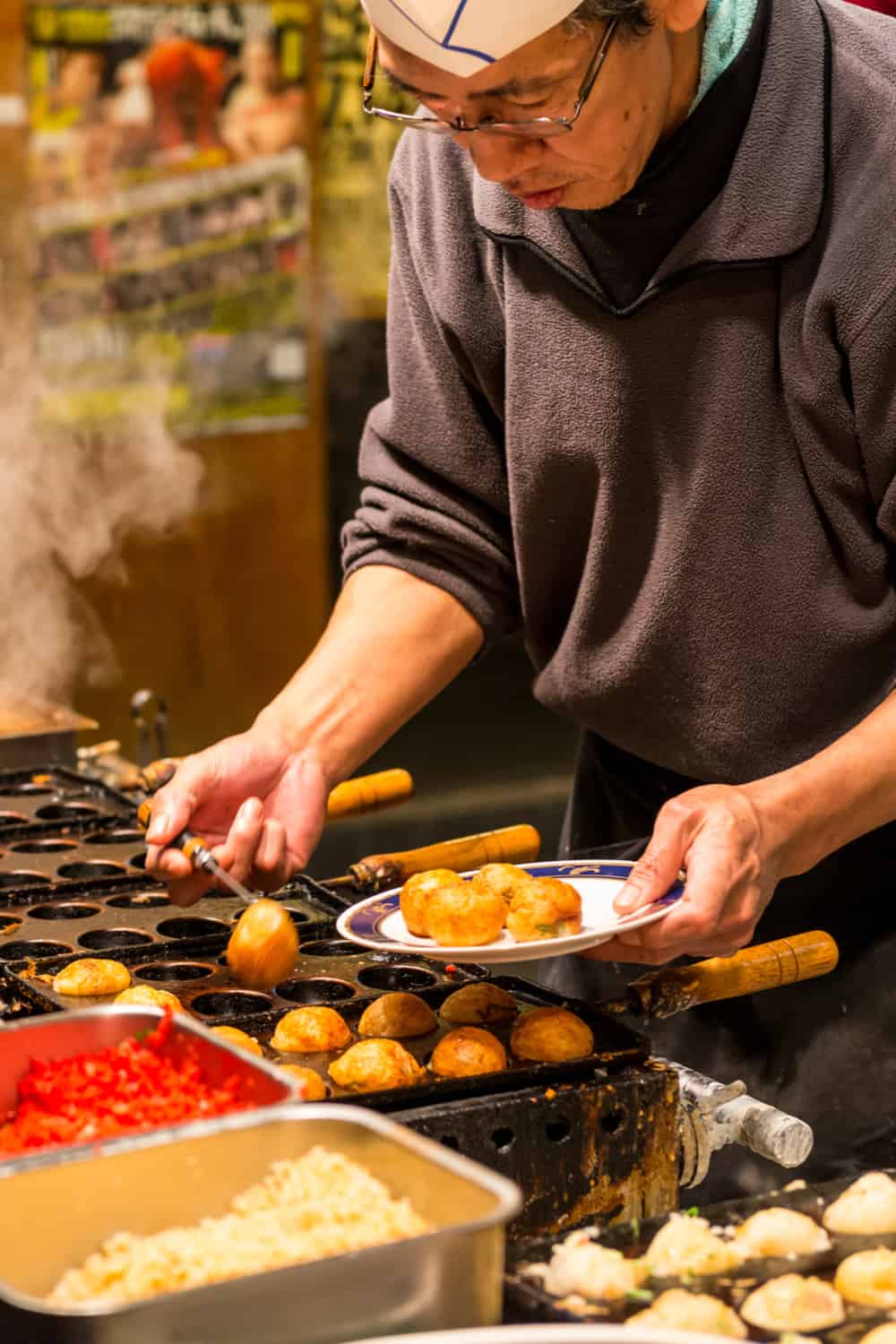 If you are in the right place at the right time, a large number of stalls – known as yatai – pop up serving a huge assortment of invariably delicious snacks and morsels for you to try, and this is an important part of the festival atmosphere.
Japanese food has become hugely popular around the world, but nowhere will you find the same variety as in Japan itself – and while you're there, here are our top 31 Japanese street foods you can't leave the country without sampling.
1. Takoyaki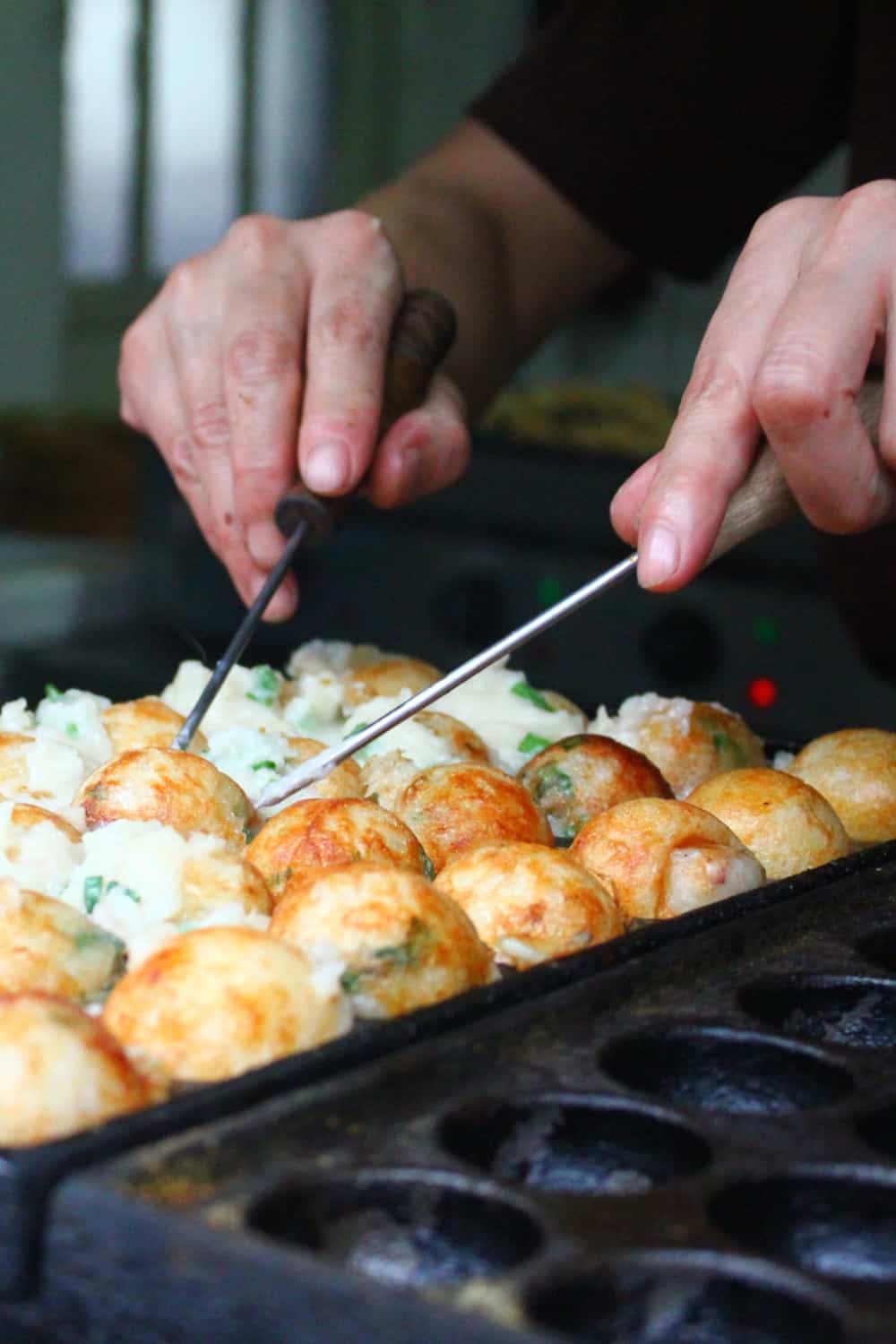 Originally from Osaka and now ubiquitous throughout the country, Takoyaki are fried balls of dough filled with octopus and topped with fish flakes, spring onion and a delicious savory sauce. They are made on special cast iron pans, and it's great fun watching them being prepared in front of you. A Japanese street food classic that can't be missed.
2. Yakisoba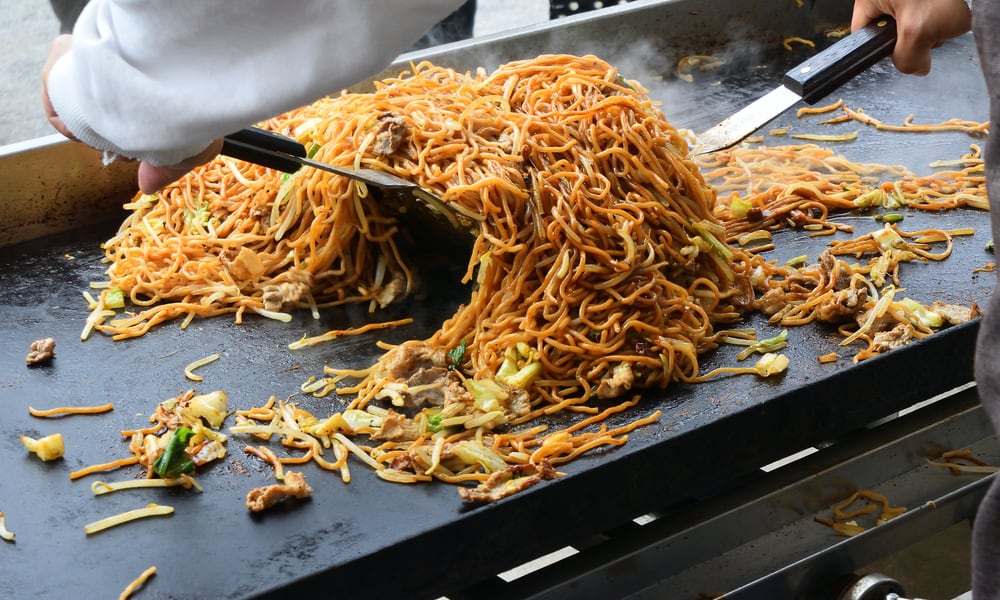 A simple dish that you will find anywhere where there are yatai, this is the Japanese street food take on fried noodles. Typically cooked with pork and cabbage and topped with a sweet-and-savory sauce, fish flakes and seaweed, this is a go-to dish for anyone looking for a quick meal and a great option whenever you start feeling hungry.
3. Yakitori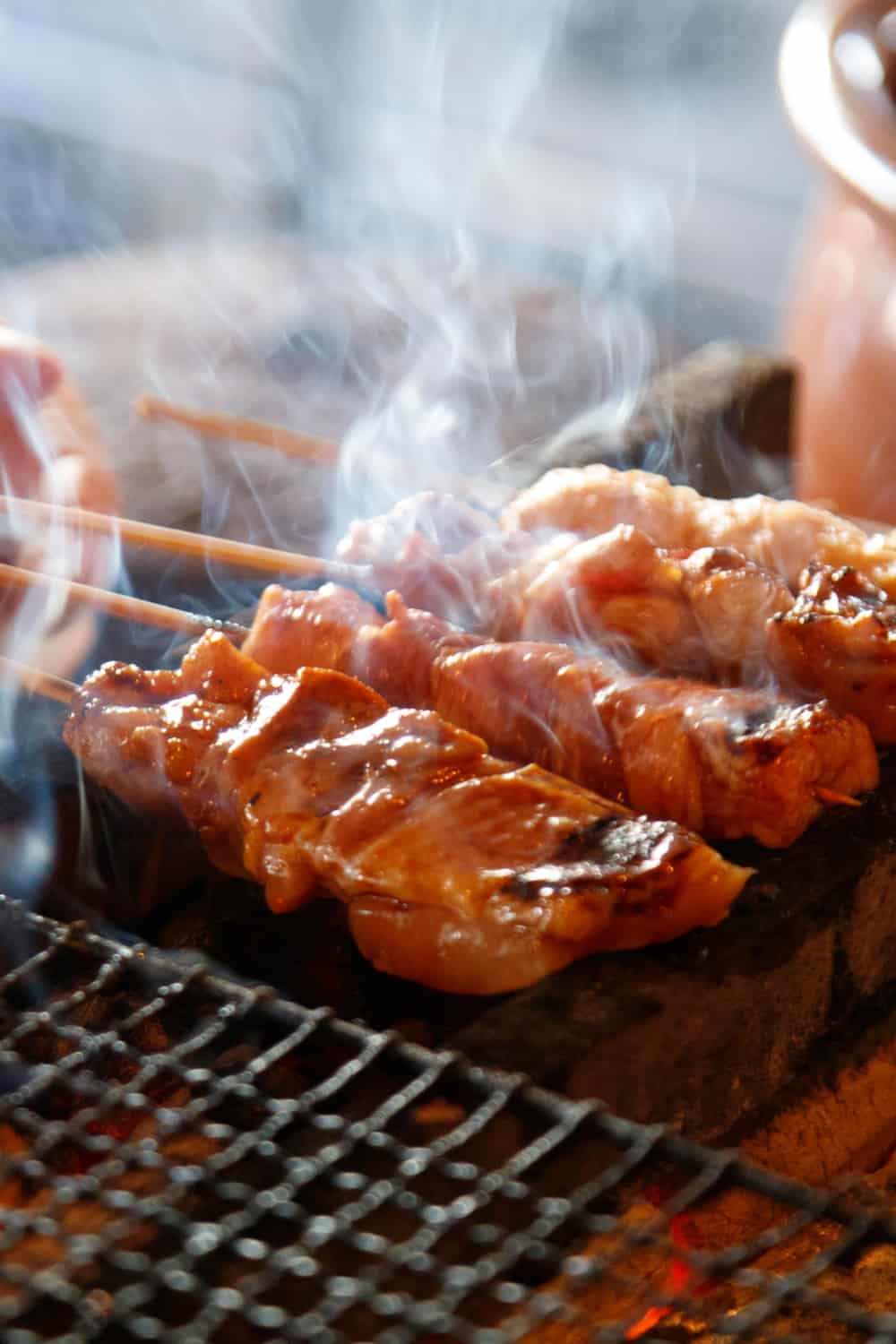 Barbecued skewers of meat are found in any country where street food is served, and yakitori is the irresistible Japanese version. Made from all parts of the chicken and served with a range of typically Japanese sauces, this is understandably among the most popular street food items in Japan – and one you're likely to come back to again and again!
4. Imagawayaki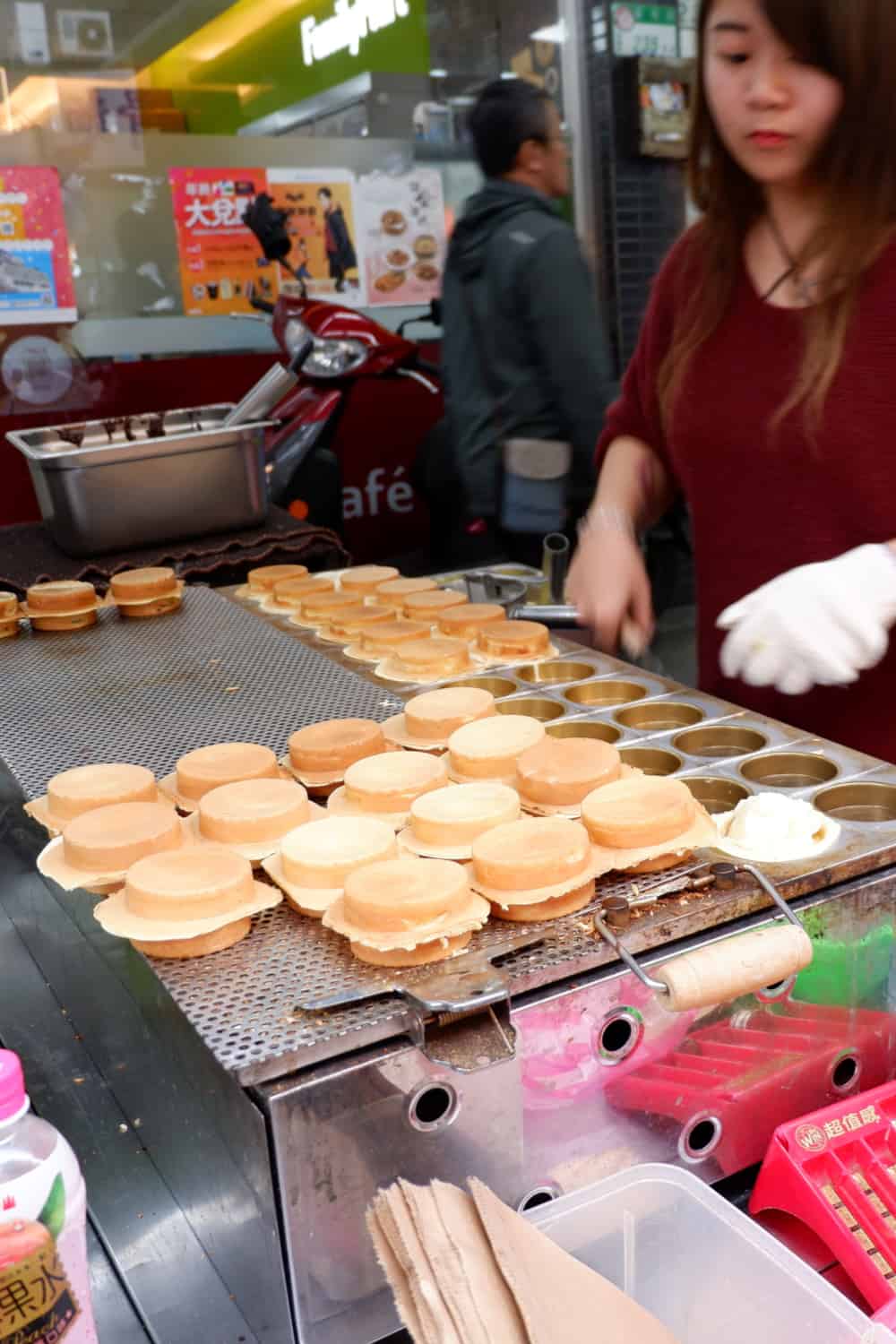 For those with a sweet tooth, one of the first things to try in Japan is imagawayaki, a baked batter with delicious fillings like chocolate, red bean paste or custard. Savory versions also exist, and you will also be able to find them stuffed with meat, potatoes, curry or cheese, making this a street food snack you'll never get bored of ordering.
5. Ikayaki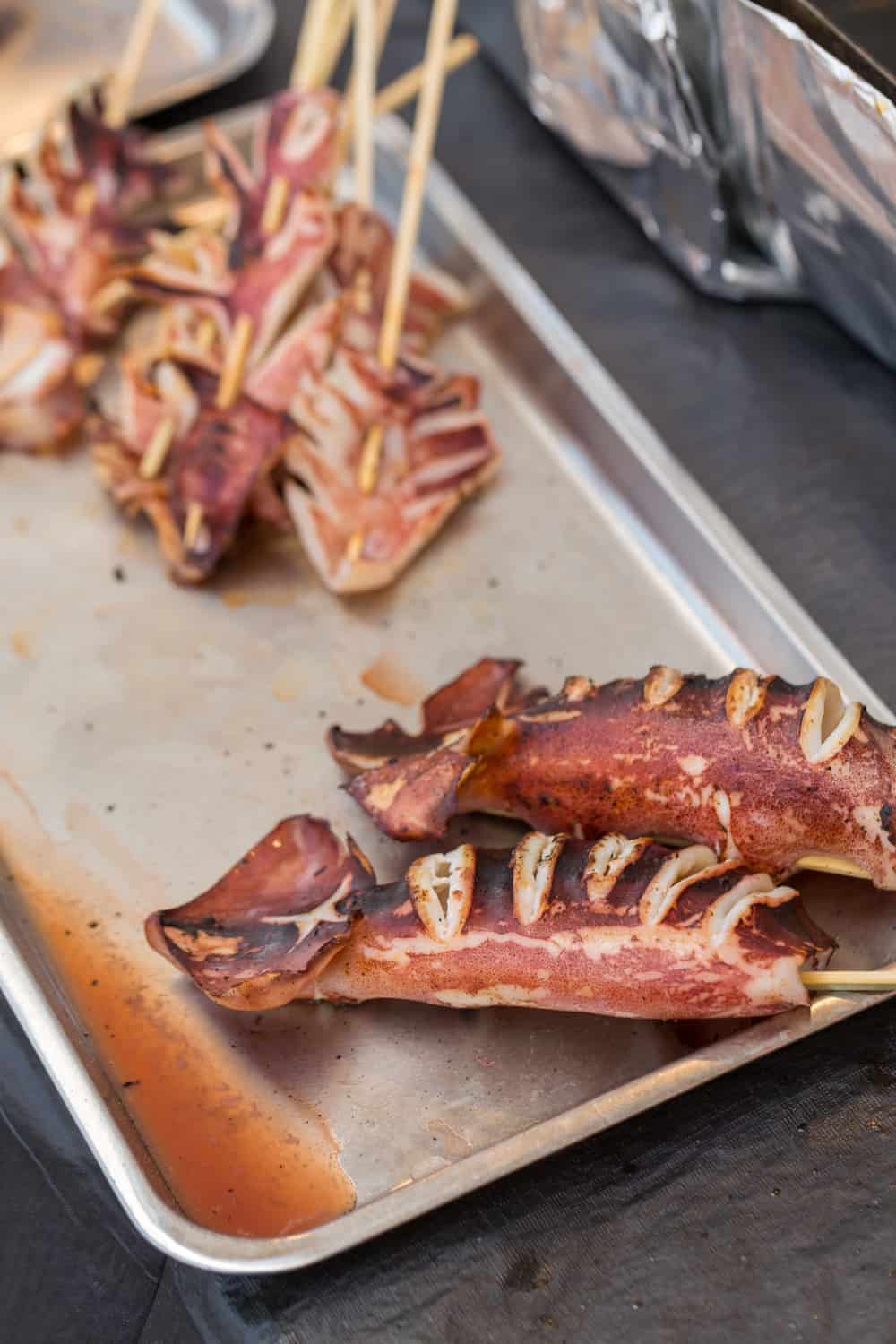 Japanese cuisine is famously well-represented by products from the sea, so it isn't surprising to find plenty of seafood on the menu when it comes to street food too. One favorite is ikayaki, nothing more complicated than a whole grilled squid on a stick. Cooked to perfection and served with soy sauce and lemon, this is another snack you can't leave Japan without trying.
6. Yaki Imo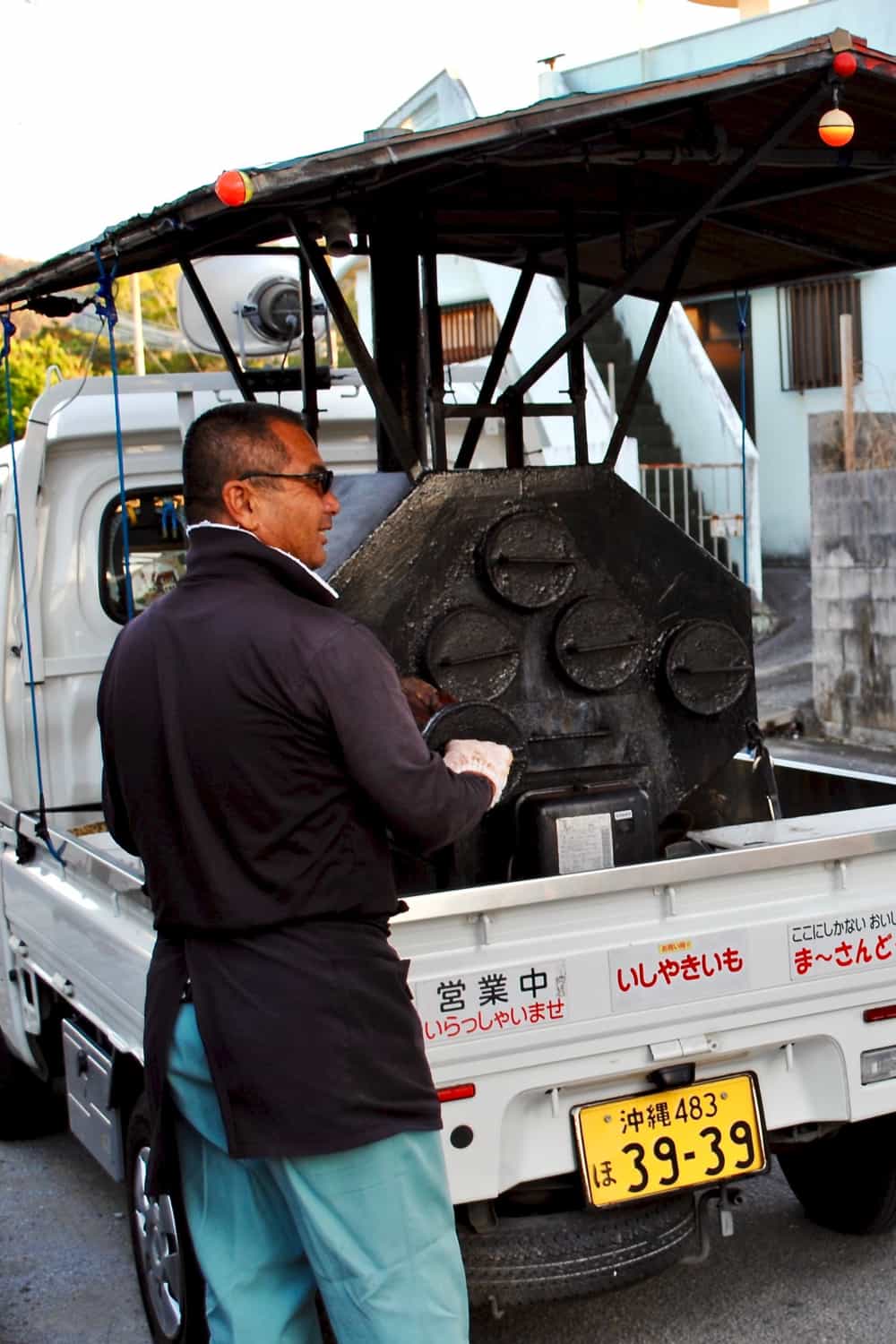 One of the oldest and most traditional of Japan's street foods is yaki imo, the humble sweet potato. Often simply cooked on a wood or charcoal fire, they are especially welcome in winter when they help stave off the cold. This is the kind of comfort food that older Japanese will remember fondly from their childhood, although nowadays it is becoming harder to find.
7. Yaki Tomorokoshi
Japan is far from the only place in the world where people enjoy digging into barbecued cobs of corn, but the version you'll find there takes this classic and gives it a special local twist. Served with miso, butter and soy sauce and especially popular in summer, this is a snack that is probably better for your line than many of the other street foods on our list!
8. Japanese Crêpes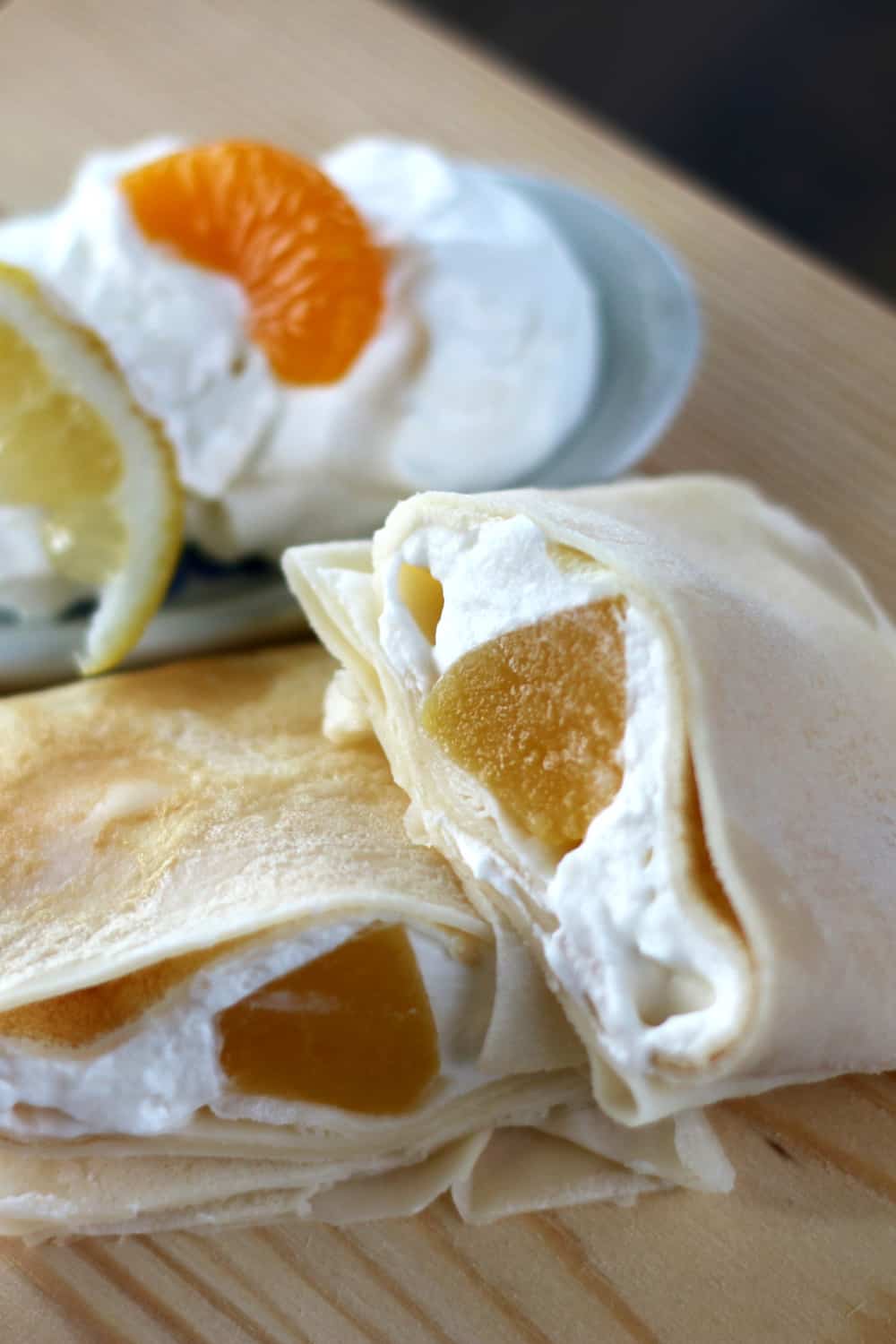 One food that perfectly demonstrates the Japanese propensity for taking international foods and making them their own are Japanese crêpes. They may have originated in France, but the ones you'll find in Japan have a decidedly local flavor. Stuffed with all kinds of sweet goodies and usually full of color, you'll find almost endless varieties to sample.
9. Wataame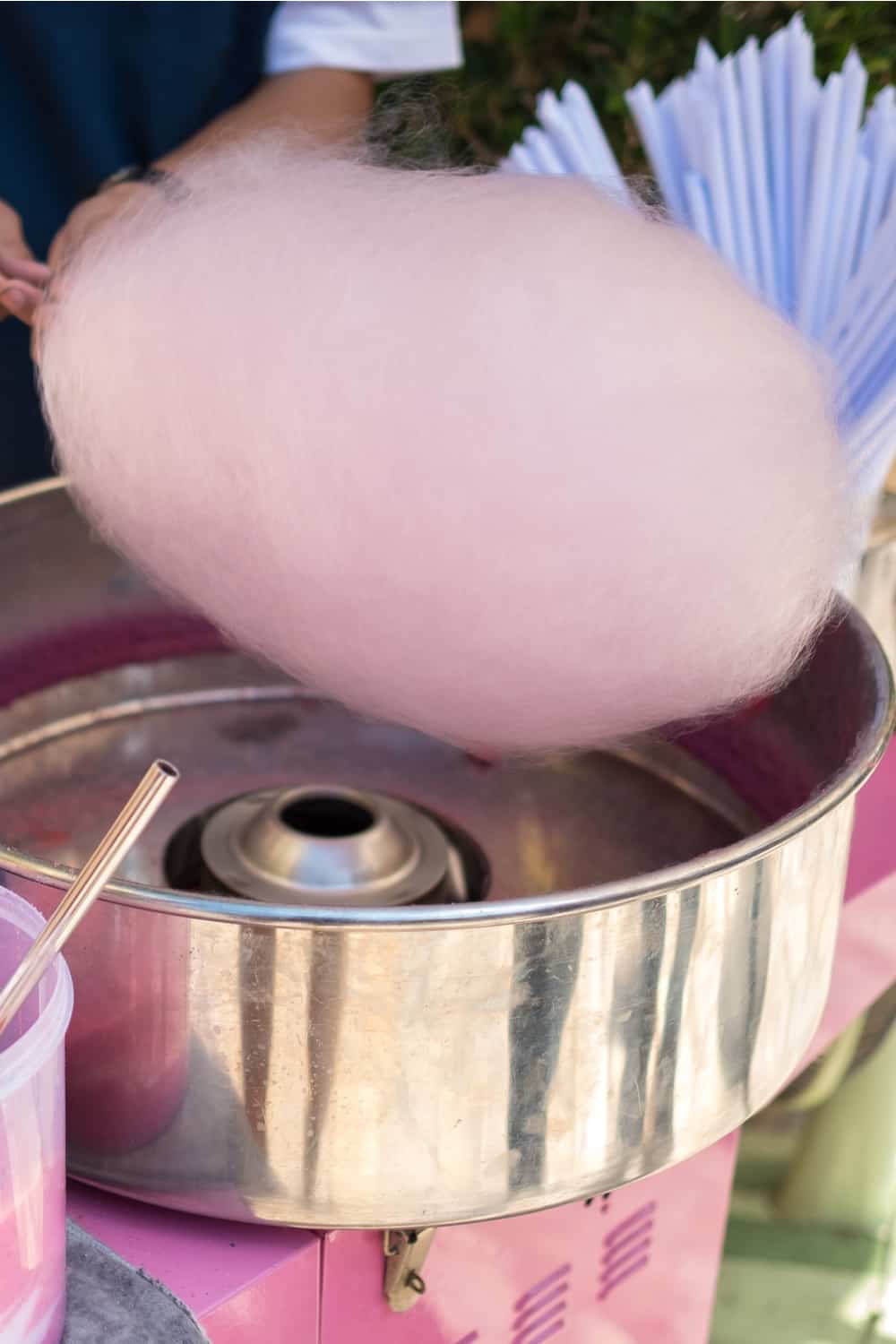 Wataame – otherwise known as cotton candy – is hugely popular in Japan. It's available in a range of lurid colors and is usually sold in bags featuring famous manga characters or J-pop stars. It's a particular favorite with kids – but that doesn't mean adults can't try it too!
10. Mikan Ame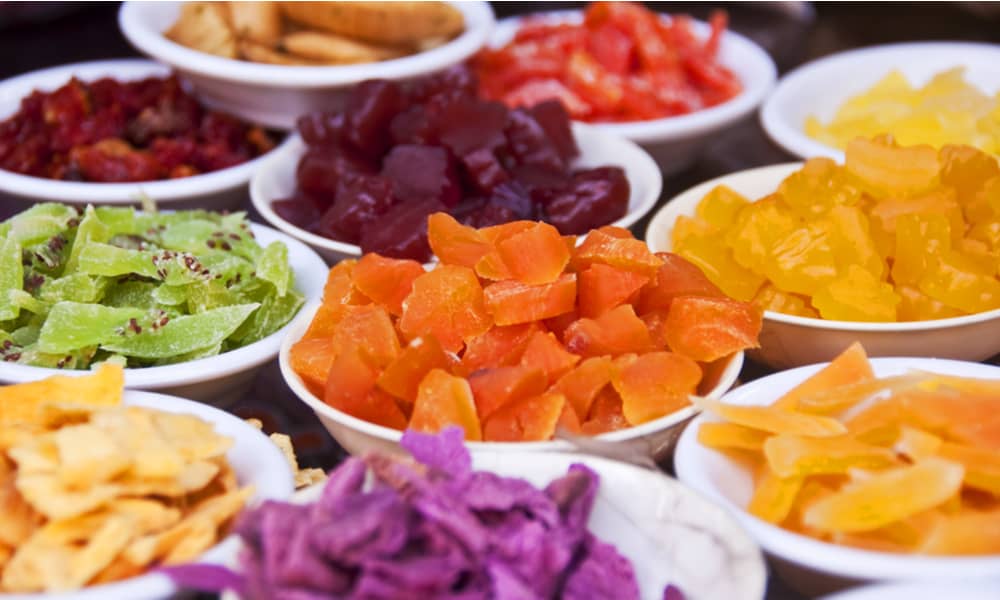 Candied fruit is another type of street food that can be found in almost every country, and the Japanese version is both beautiful to look at and delicious to eat. Look out for mikan ame, a type of mandarin that's native to Japan – it might be harder to find that things like candied strawberries, but if you see it, don't miss the chance to try one!
11. Choco Banana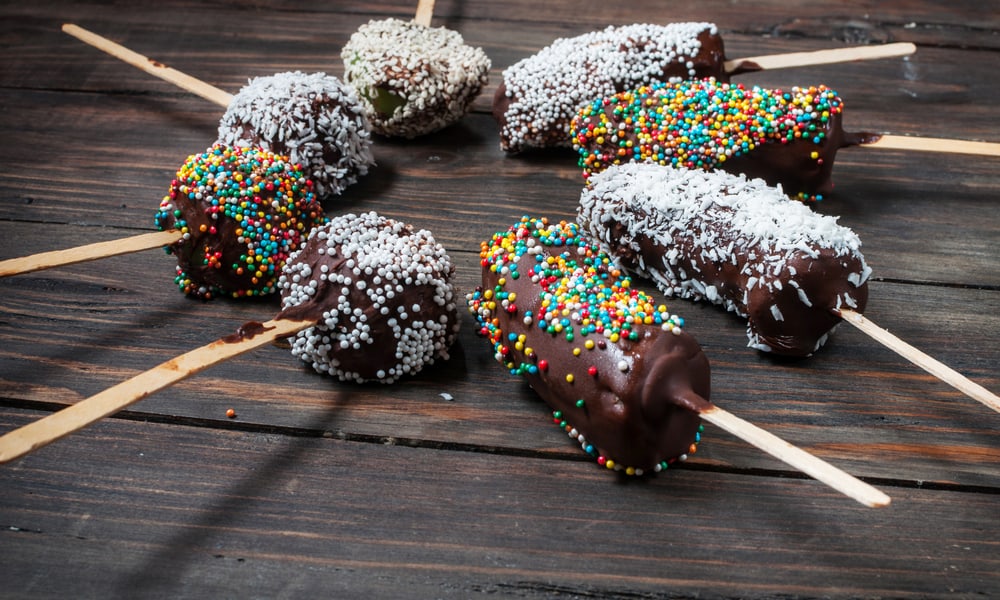 There's not much to say about this one – how can you go wrong with a banana coated in chocolate? You'll see them in all kinds of enticing colors, often decorated with sprinkles or candy. So simple – but so, so good!
12. Kakigori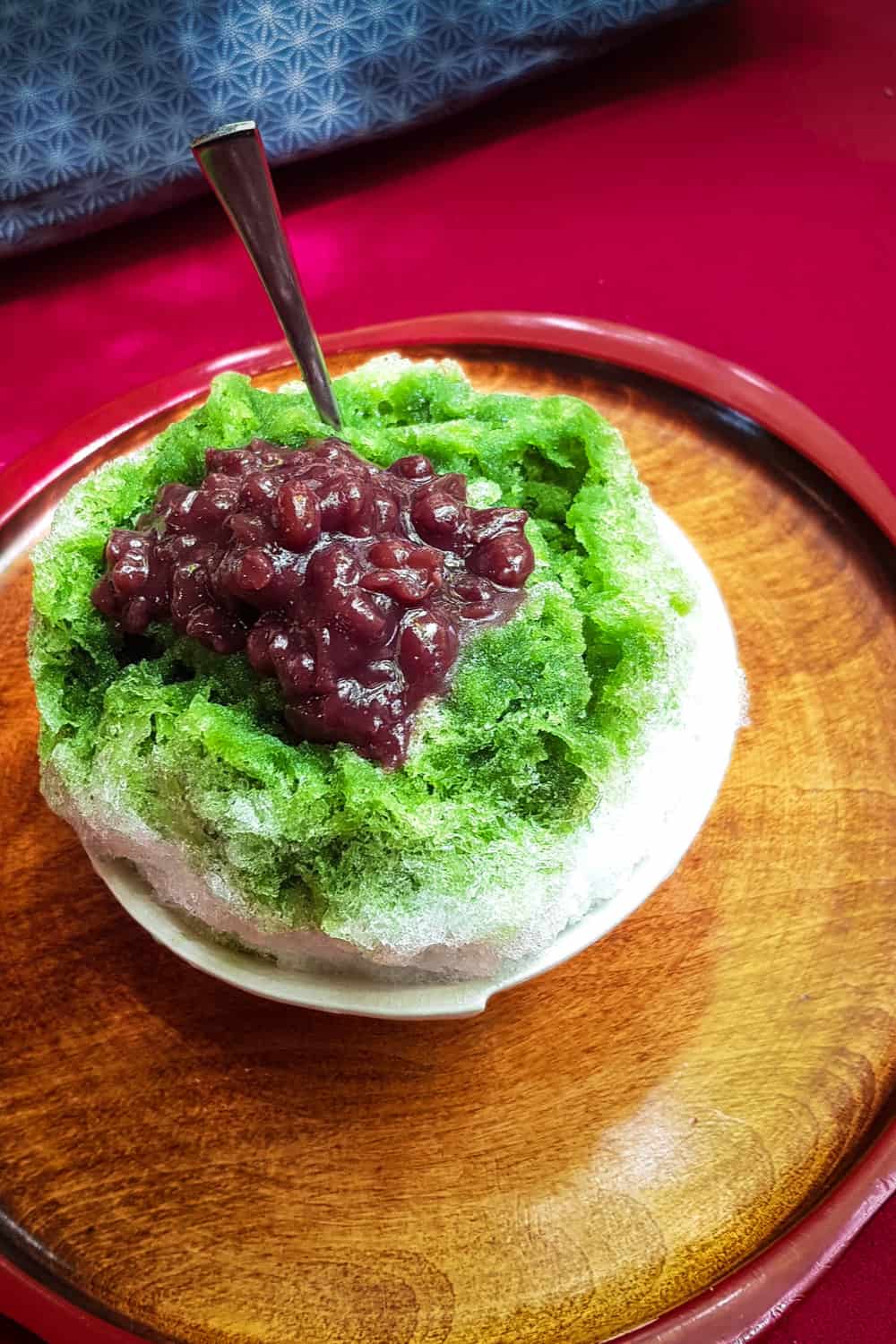 Shaved ice is a popular snack in many countries across East Asia, and the Japanese version is a match for any of them. Topped with condensed milk or delicious syrups of a variety of flavors and decorated with all manner of candy, sweet red beans, jelly, cream and more, this is the ideal treat for a hot summer's day.
13. Kare Pan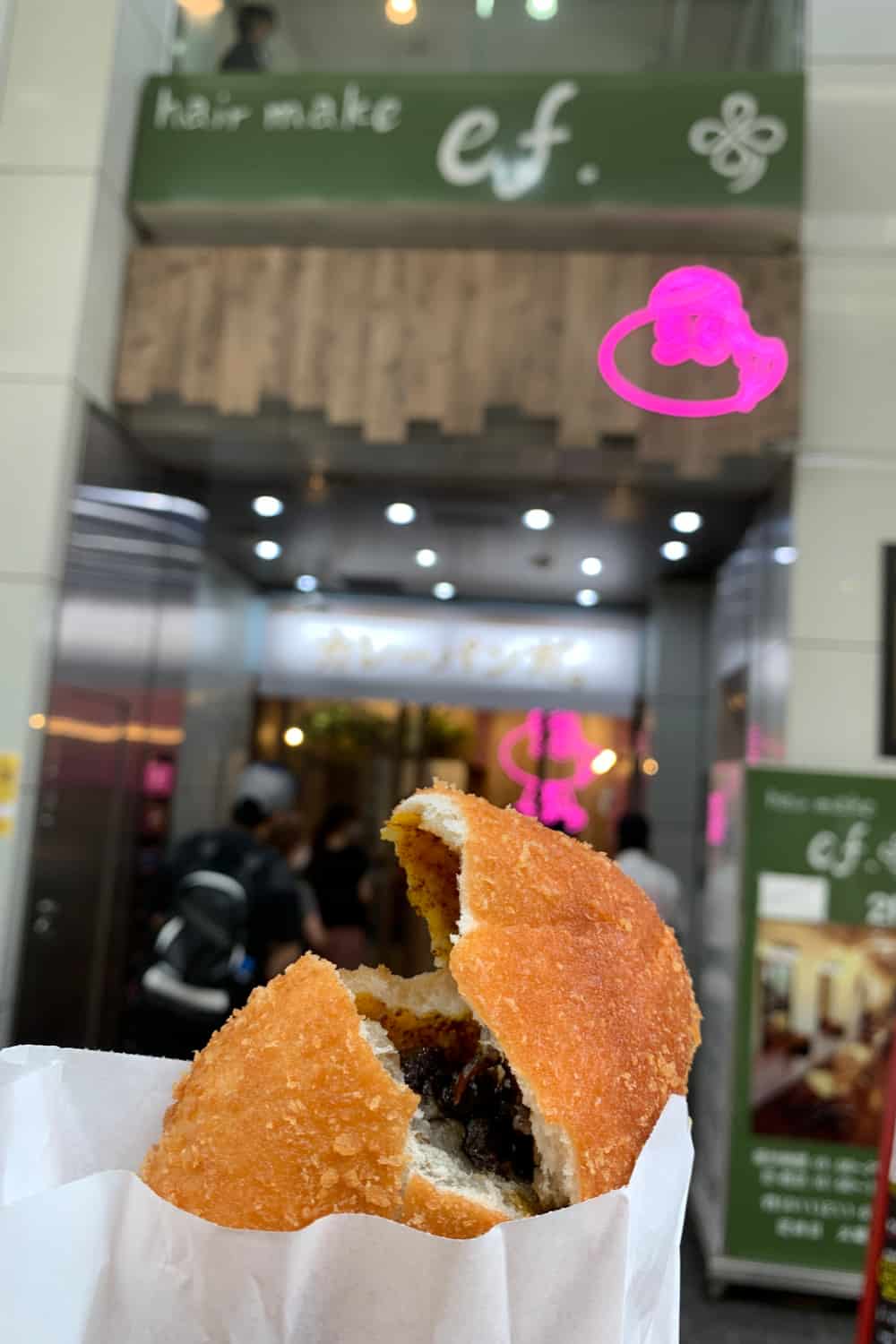 A uniquely Japanese snack, kare pan is a type of deep-fried bread ball with a curry filling. Crispy on the outside but chewy on the inside, a portion of these tasty morsels is sure to hit the spot whenever you feel like a quick and easy street food snack.
14. Gyoza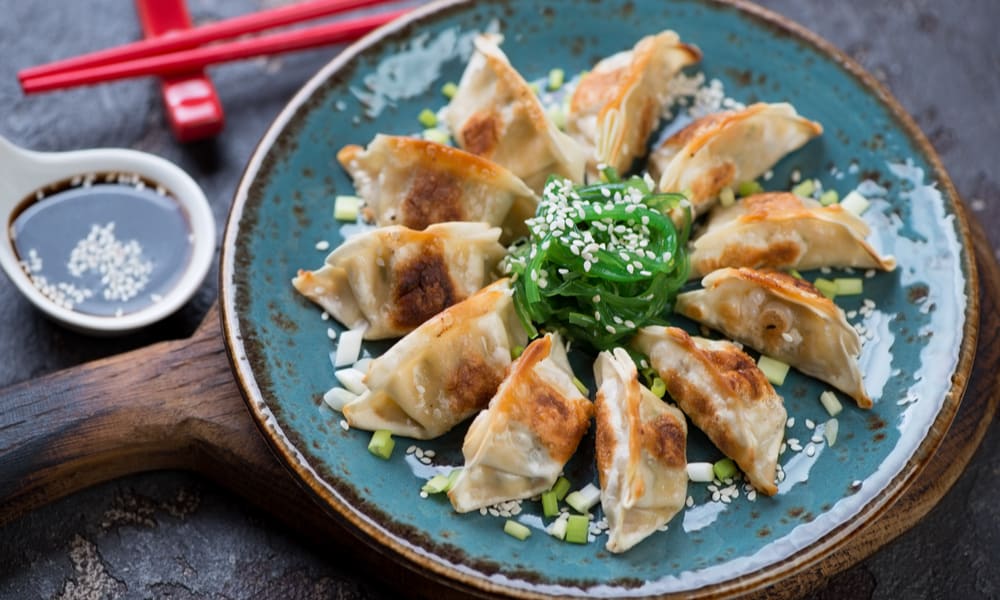 Many countries have their own versions of stuffed dumplings, and in Japan, they're known as gyoza. The Japanese version is usually fried and served with a vinegar and soy dipping sauce. Unsurprisingly, gyoza are now popular around the world – but there's no better place than in Japan itself to taste the genuine article.
15. Korokke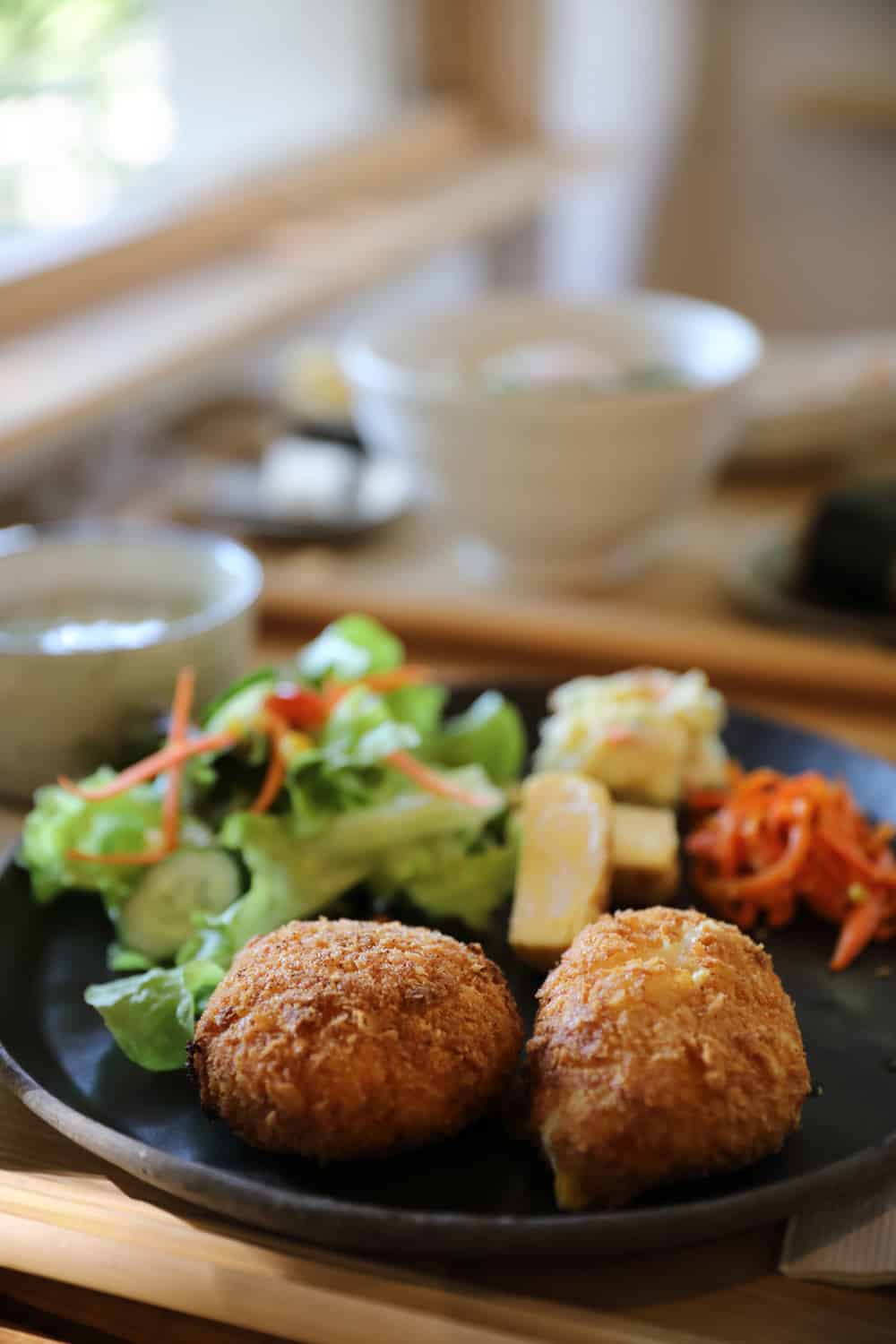 Another Japanese street food with European origins, korokke – from the French "croquette" –are deep-fried balls of potato with a range of different fillings. They might not be the healthiest of options, but you have to try them at least once – just make sure you wait for them to cool down a little before putting one in your mouth!
16. Shioyaki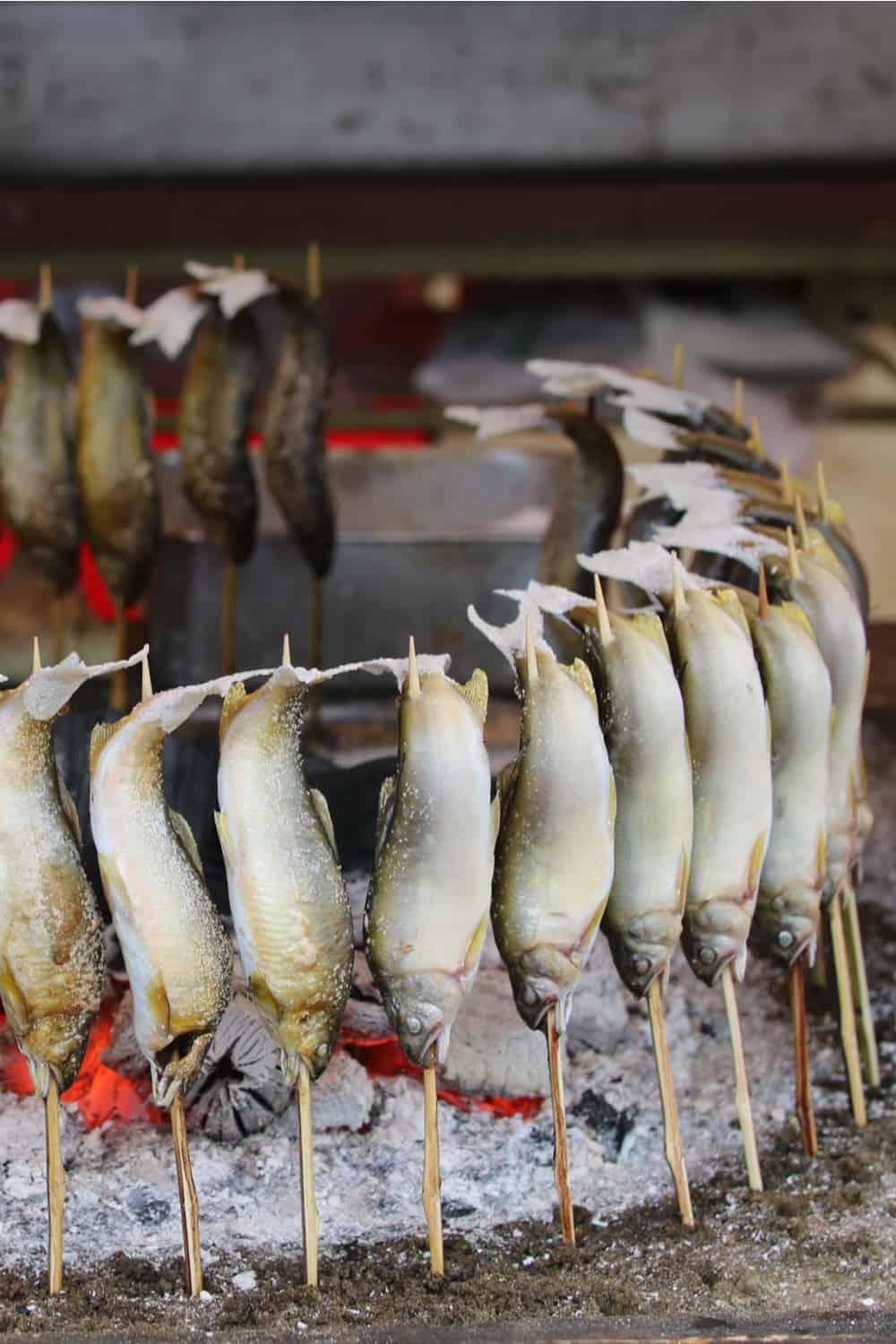 For the more adventurous traveler who wants to sample the most local types of food, shioyaki is a snack that shouldn't be missed. These are essentially baked fish on a stick – often mackerel – served with nothing more than a generous dose of salt. Simple and healthy – and another Japanese specialty to look out for.
17. Dango
Dango are balls of glutinous rice flour served on sticks. The rice dumplings themselves don't have much flavor, but they are served with a range of sauces, both sweet and savory, so you're sure to find a version you love.
Check the Details
18. Okonomiyaki
These are a kind of savory pancakes cooked on a griddle and were originally created as a way of finishing up leftover ingredients from other dishes. The usual way to prepare them is to mix all the ingredients up together before pouring them out to cook – but the batter and the other ingredients can also be cooked separately and then served with a portion of noodles.
19. Taiyaki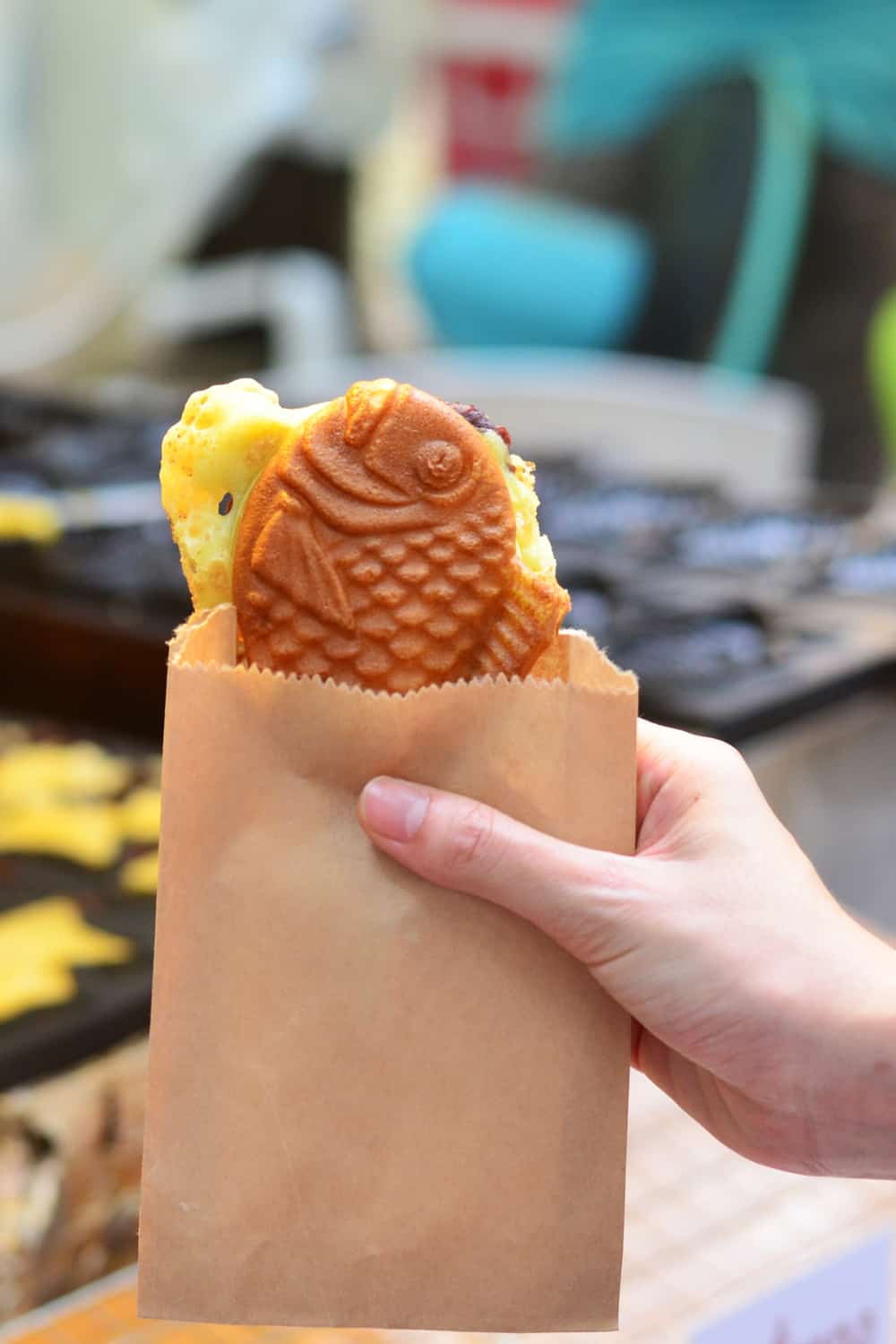 Taiyaki are similar to imagawayaki but are easily recognizable by their cute fish shape. They usually contain sweet fillings like chocolate or custard, but you can also find savory versions stuffed with cheese, sweet potatoes or meat.
20. Senbei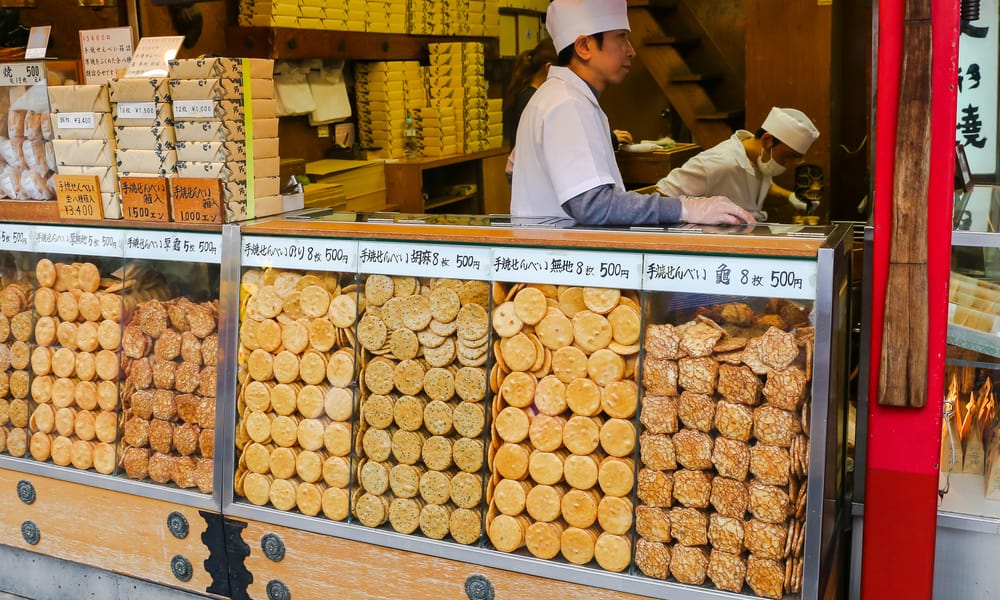 Senbei, rice crackers, are a popular snack food in Japan that is now sold in convenience stores throughout the country. However, the original version is cooked over a charcoal grill, and they are available in a mind-boggling array of flavors. A simple and inexpensive snack – and one you shouldn't miss sampling at least once while you're there.
21. Nikuman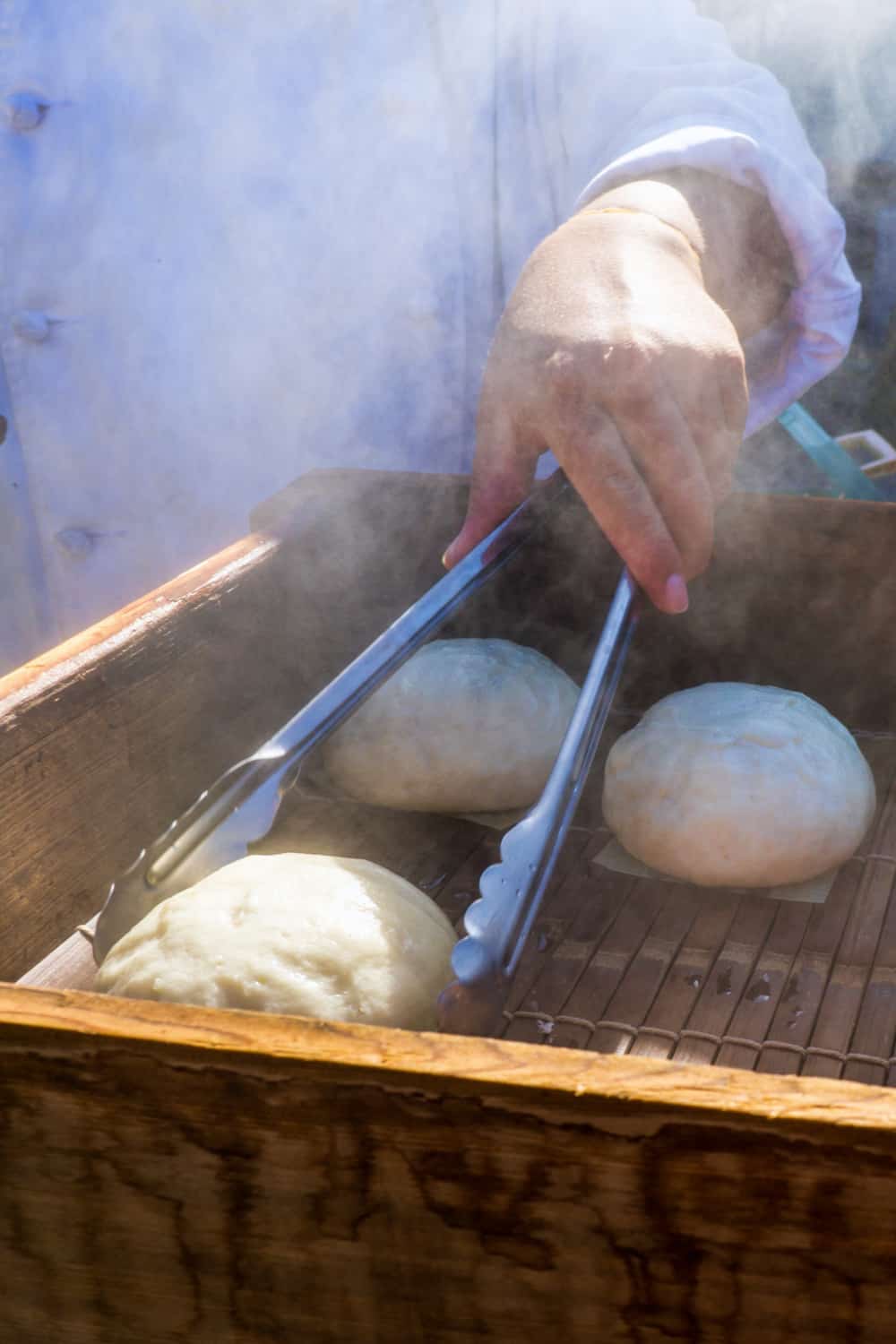 Nikuman are steamed buns that originated in China but are now popular in many East Asian countries. Traditionally filled with pork – although, of course, also available in a range of other flavors – these affordable morsels are a great way to fill up at any time of the day.
22. Bento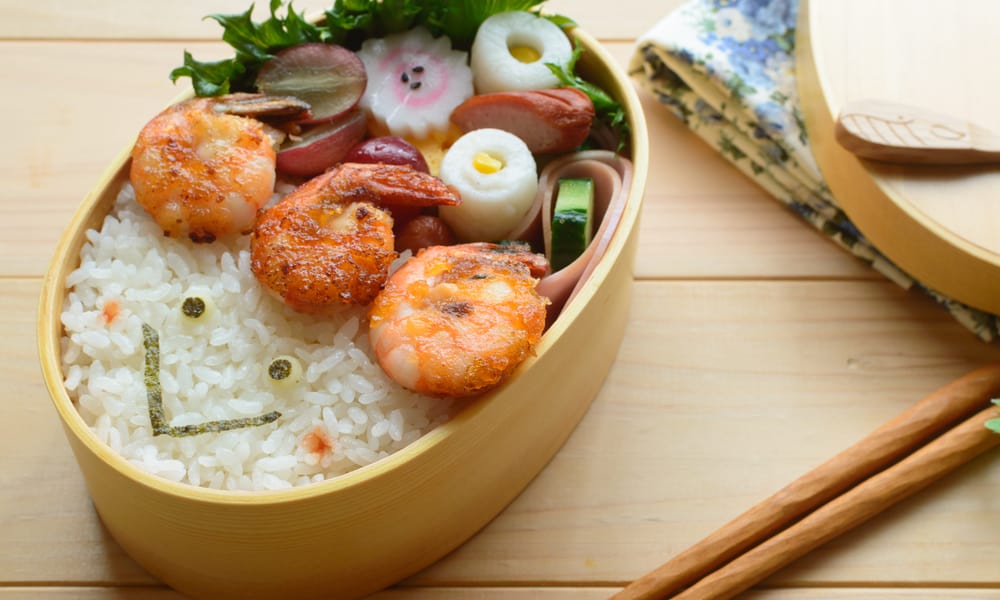 The Japanese have a reputation for putting in the hours in the office, so when lunchtime comes round, they want something quick and convenient to fill them up. The best bento stands sell out quickly, so make sure you aren't too late. However, competition for custom is fierce, which usually ensures a very high quality of food.
23. Onsen Tamago
No visit to Japan would be complete without visiting an onsen – a Japanese-style natural hot spring – and while you're there, you should also make sure you sample onsen tamago. These are eggs that are slow-cooked in the natural heat from the ground and are usually served with a delicious soy-based sauce.
24. Jaga Bata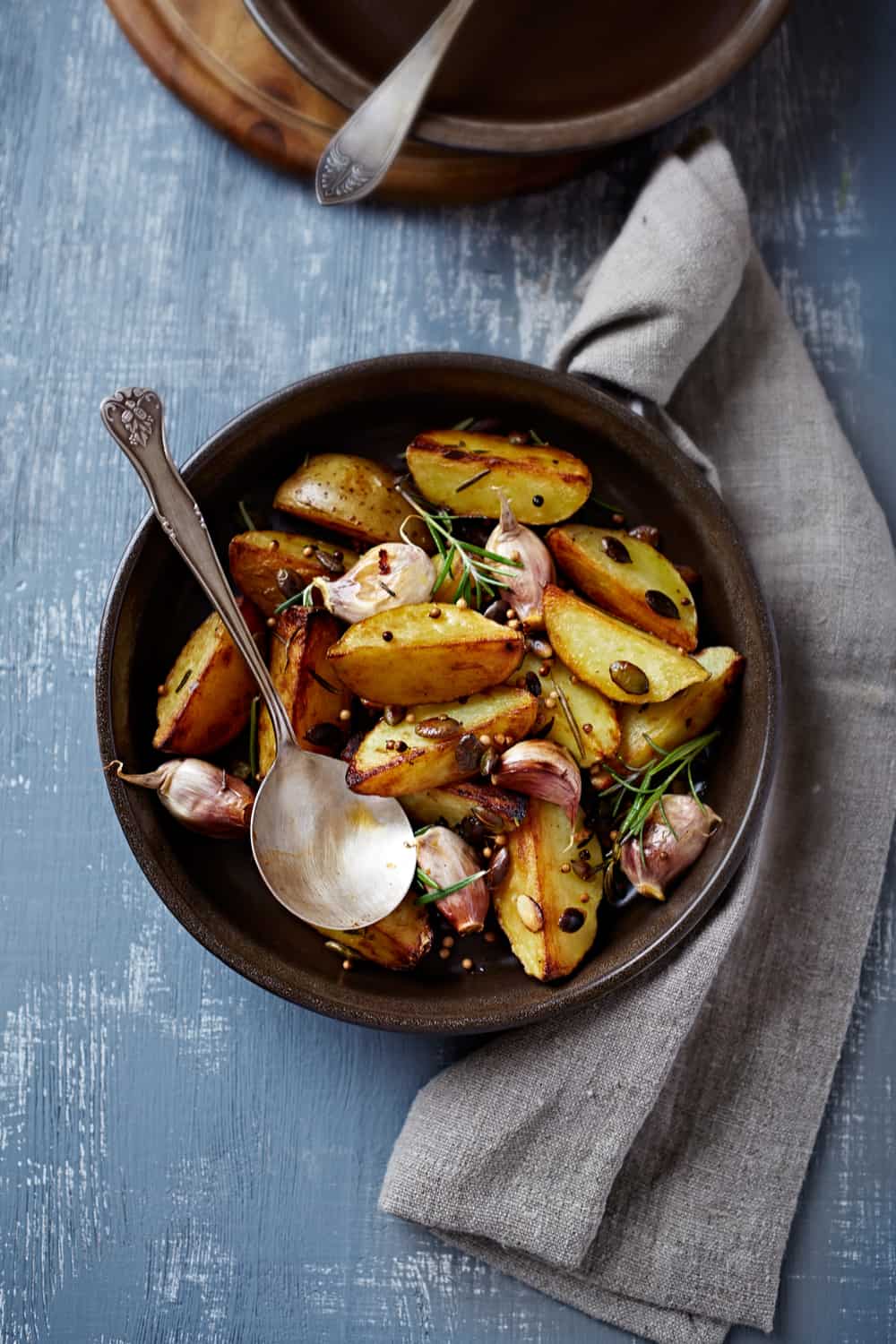 Potatoes may be native to South America, but the Japanese enjoy them as much as anyone. Jaga bata are simply baked potatoes with the skin removed and topped with butter, another simple kind of inexpensive street food that will allow you to fill up without spending a fortune.
25. Curry Rice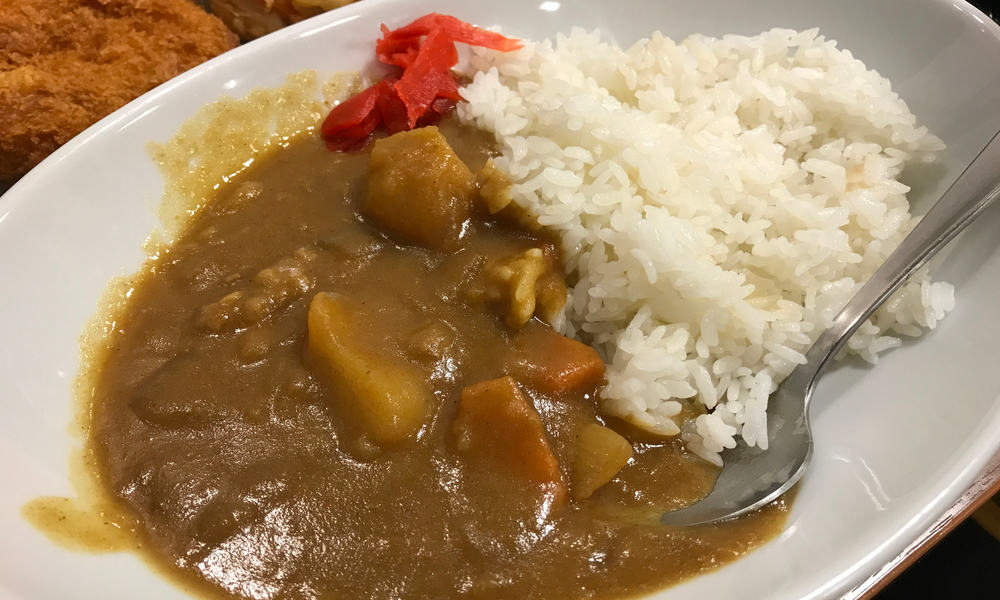 Japanese curry is different to curry served elsewhere. It's milder than most and is found in many street food recipes. Curry with rice is wildly popular and can be found just about everywhere, making it a great option whenever you start feeling like a bite to eat.
26. Ramen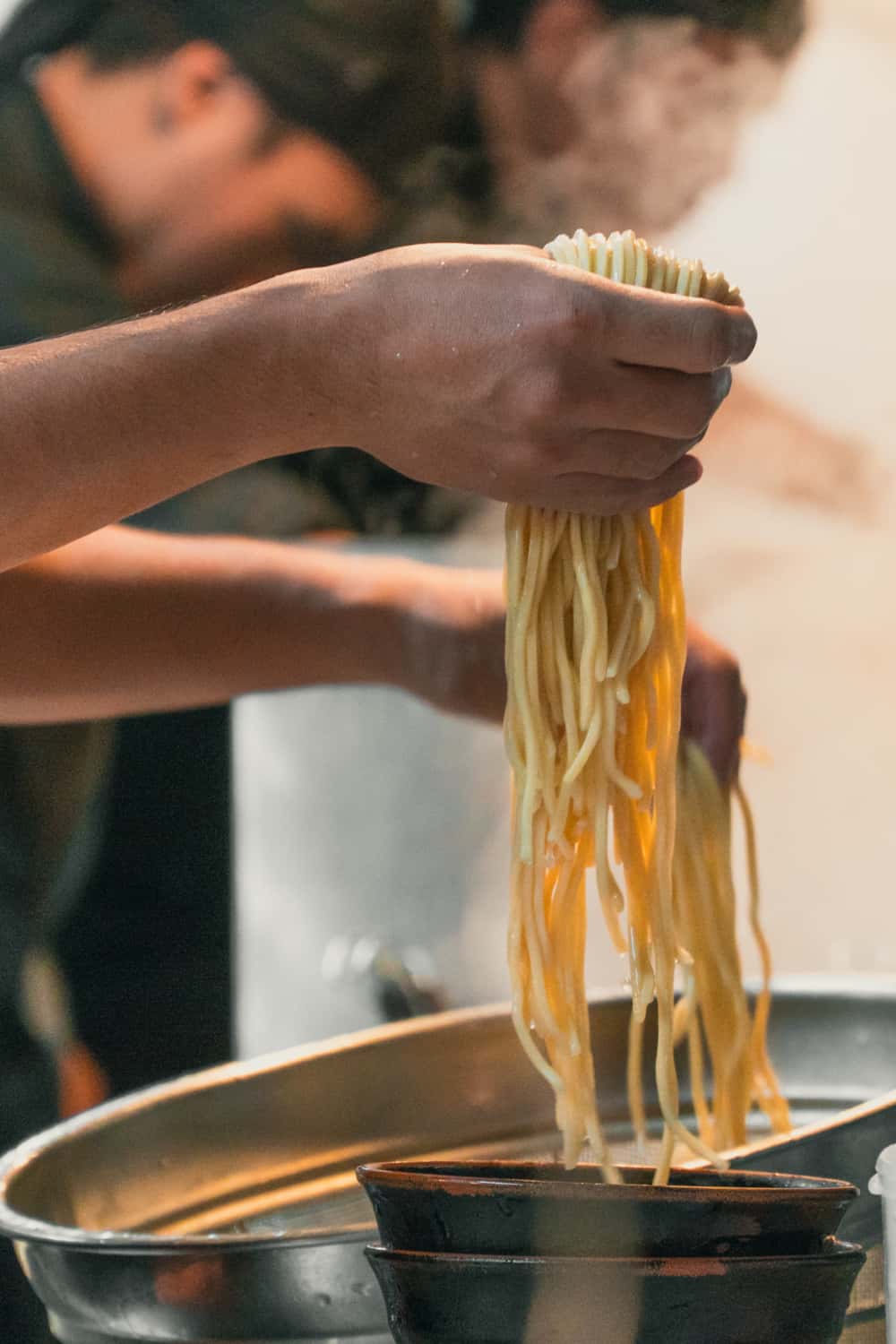 Ramen is one of Japan's most famous culinary exports, and it's almost unthinkable that anyone would visit the country without trying them at least once. In Japan, it's polite to leave a little in the bowl when you finish – so don't make the cultural faux pas of slurping up every last drop of soup, however delicious it is!
27. Bebi Kasutera
Another one for those who love all things sweet, bebi kasutera is a kind of sponge cake based on a Portuguese dessert. They come in bite-sized portions, and you can watch as skilled street vendors prepare them on special griddles. This is a yummy treat you won't be able to get enough of!
28. Oden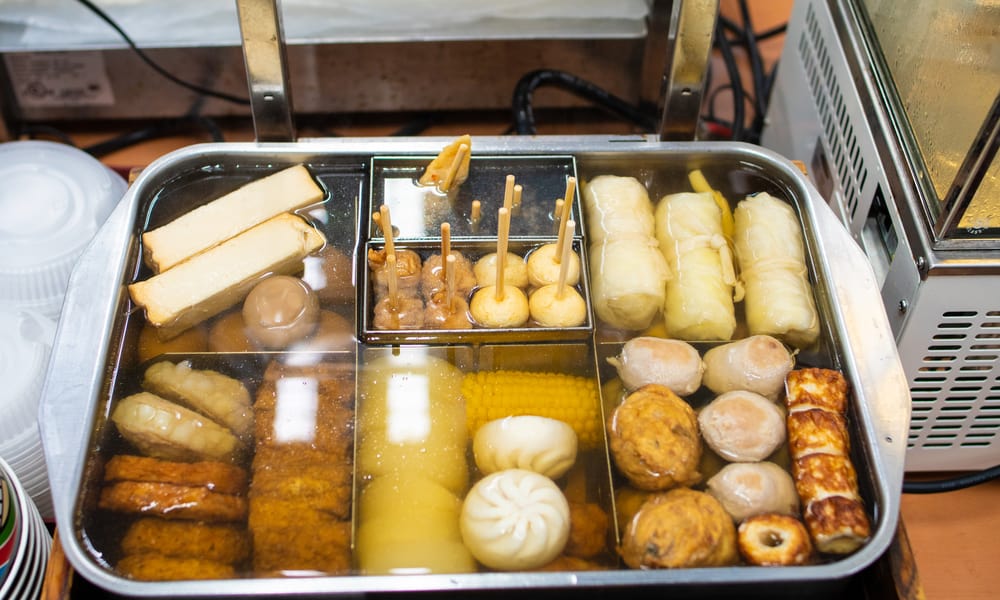 Different types of street food are popular at different times of the year, and oden is very much a winter specialty. It consists of an assortment of meat, fish and vegetables stewed up and served in a light broth. It's the ideal food for a chilly evening, and oden yatai can be fun places to sit and eat at while mixing with the locals.
29. Poteto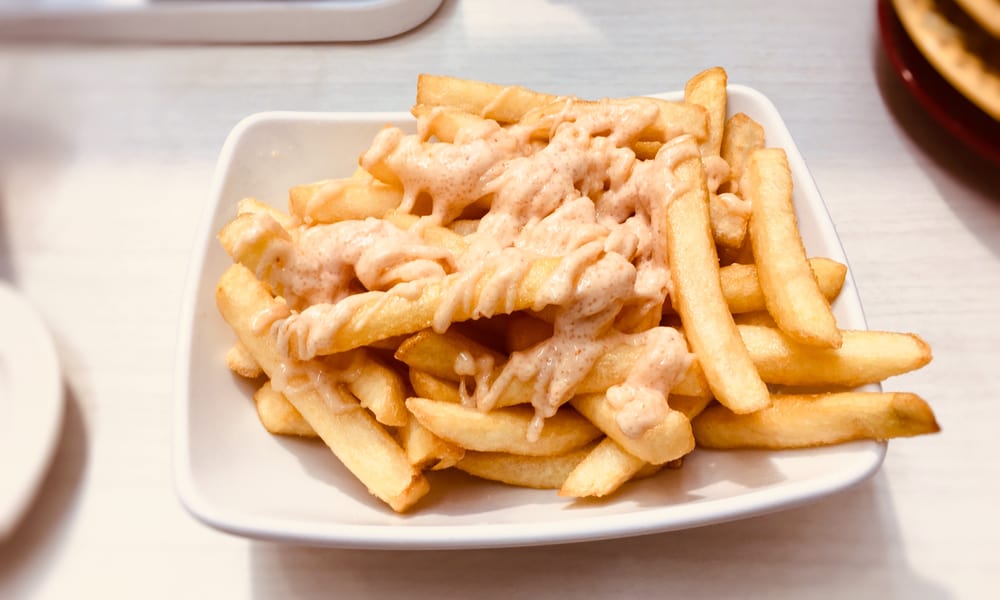 The name of this one might give you a clue about what to expect – yes, it's the ever-reliable potato again, this time simply in the form of French fries. The Japanese love them as much as anyone, and after all the octopus balls and fish on sticks, if you're hankering after something a little more familiar, a portion of fries might be the solution you need.
30. Kyuri
Here's something that might surprise you when you first see it. Kyuri is nothing more than a cucumber on a stick, perhaps flavored with a little miso paste. According to Japanese custom, cucumbers can cool you down, making them a perfect street food snack for warm evenings as you wander from stall to stall.
Check the Details
31. Ramune
After all the tasty snacks and delicious desserts on offer, you're likely to want something to wash it all down – and in that case, the best option is ramune, a carbonated soft drink that is most commonly sold at yatai. You'll easily be able to recognize it by the distinctive bottle, and interestingly, it has a marble sealed in the top – when you open it, you have to push the marble in, which takes a bit of getting used to. These drinks have been around since 1872 when the design of the bottle was patented – and nowadays, they're available in an assortment of refreshing flavors.
A culinary adventure
If you thought Japanese food was no more than sushi, tempura and noodle soup, your first visit to the country will be a culinary adventure that will introduce you to a whole range of unexpected treats.

Some Japanese street food has changed little in generations while other examples are much more recent additions. However, one thing's for sure – you will never have a lack of choice when eating out in Japan.

[ratemypost]