Building an outdoor kitchen can be a rewarding – not to mention useful – project that gives you a space for cooking and even eating in the open air.
For anyone who wants to try building their own, we've had a look online to see what other people have been trying, and as a result, here are our top 21 plans for a DIY outdoor kitchen.
1. How to Build an Outdoor Kitchen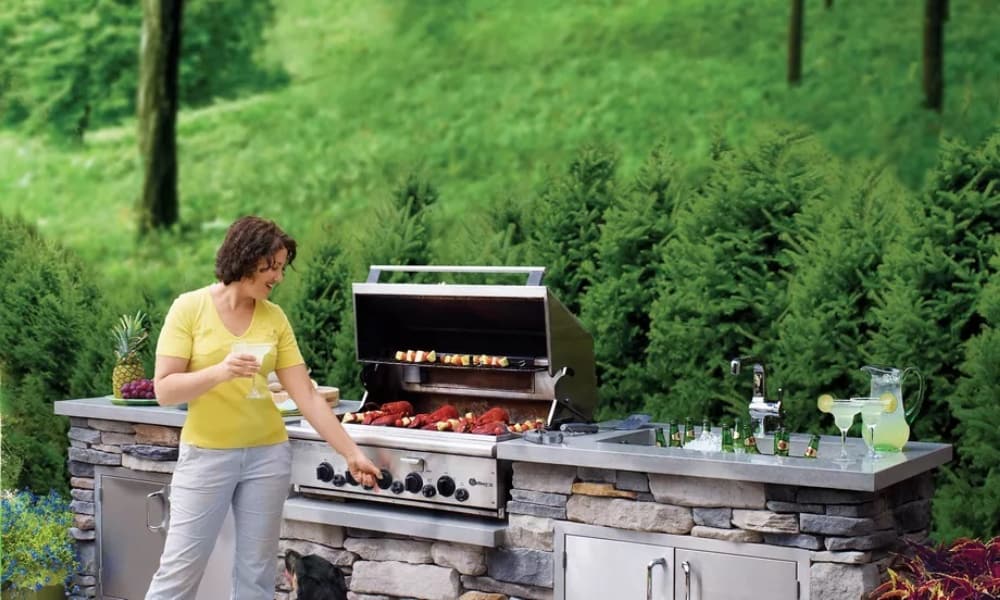 Building an outdoor kitchen might seem like an ambitious project at first, but as this blog explains, as long as you have the basic skills and a few friends to help out, it's not as hard as you might think. They estimate you'll need to spend around $800 on this project, so it isn't the cheapest option – but if you're looking for a well-written, detailed plan that will tell you how to get started, this is one that's worth checking out.
2. DIY Modern Outdoor Kitchen and Bar
In this video, we have a lively and enthusiastic YouTuber who shows us how to build a "massive outdoor kitchen" with a sink, a grill, a fridge, storage and seating. As he tells us, an outdoor kitchen is very specific to the space, so he doesn't give you the exact dimensions – you have to work those out for yourself – but this video will give you the basic steps you need to follow, making it a useful resource if you want to have a go at creating something similar.
3. DIY Outdoor Kitchens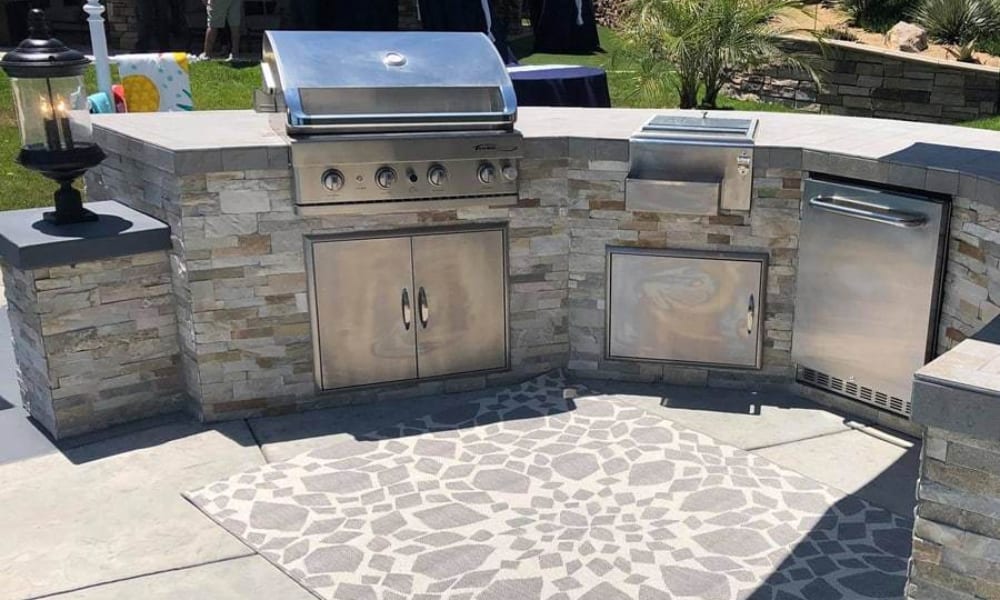 This "plan" is not a plan in the sense of a step-by-step tutorial you can follow for building an outdoor kitchen – rather, it gives you a more general introduction to the concept, telling you about the kinds of considerations you'll face. However, it has lots of important information you'll want to know about if you're thinking about building an outdoor kitchen, so you'd do well to read this guide before you start.
4. DIY Outdoor Kitchen with Built-In Grill Station
Here, we see how this resourceful DIYer turned an awkward and in-the-way grill and incorporated it into a beautiful outdoor kitchen, all ready for the summer. Although the result is highly impressive, the project is relatively simple, so if you have some basic DIY skills and a little bit of determination, you should be able to achieve something similar. Another plan that's well worth a watch.
5. Outdoor Kitchen
There's one thing we don't quite understand about this plan for an "outdoor kitchen" – and that's that, judging by the photos, they don't actually build it outside. That aside, the plan is valid, and this is exactly the kind of thing you could put on a patio or terrace. And if you want to try, this detailed plan will give you all the information you need to build one yourself.
6. Making an Outdoor Kitchen from Start to Finish
In only ten minutes, in this video, you'll be able to watch the entire process of building this stylish outdoor kitchen from start to finish. The video was uploaded by a professional, so you might not be able to copy everything he does, but it's always highly informative to watch the pros at work since we can always pick up plenty of hints and tricks from what they do.
7. DIY Outdoor Kitchen Build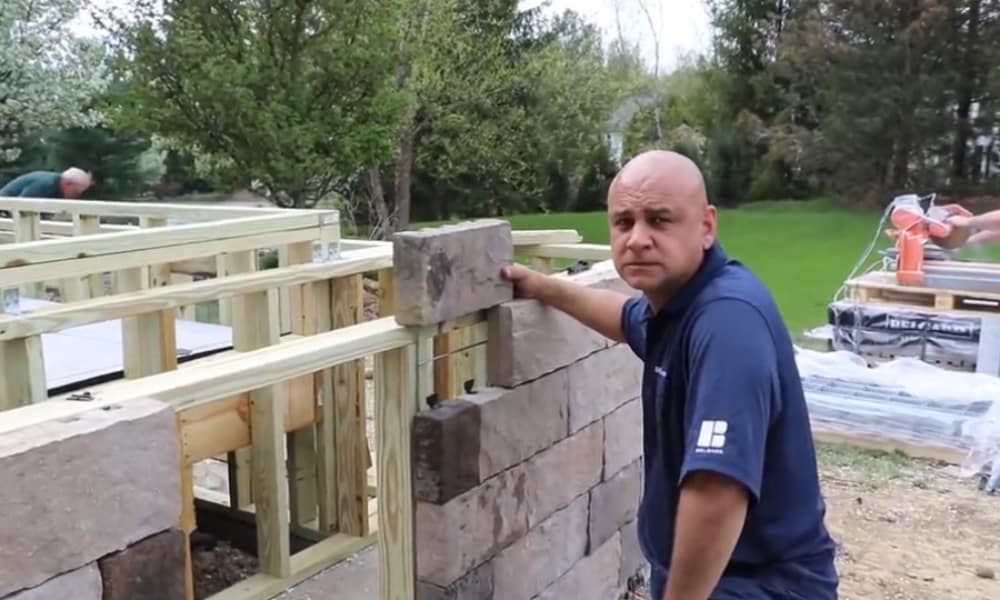 This is an interesting plan – it consists of a time-lapse video showing how the team went about building this outdoor kitchen along with the text of a conversation they had detailing their thoughts about the project. This gives you plenty of insights into what you'll need to think about, making it a useful resource for anyone thinking of trying anything similar.
8. DIY Concrete Countertops
One of the most important aspects of any outdoor kitchen is the countertops, and this video focuses on just that. Of course, you'll have to find plans for the other parts of your kitchen, but at least for the countertops, this video tells you everything you need to know.
9. DIY Outdoor Kitchen: Is This a Project for You?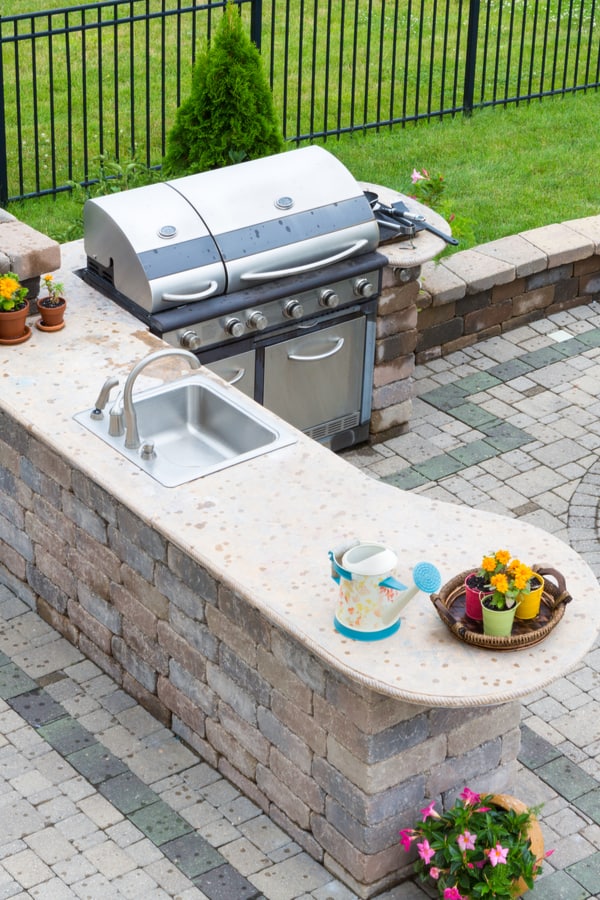 We thought we'd include this article even though it isn't a plan for building an outdoor kitchen since it gives you a detailed discussion of the pros and cons of building one, helping you decide whether this is the right option for you. Building an outdoor kitchen can be costly, even if you DIY it – and this piece will give you all the info you need to make sure you come to the right decision over whether to go ahead with it or not.
Check this tutorial
10. Easy Outdoor Kitchen DIY with Built-in Weber Propane Grill
As we just mentioned, even DIY outdoor kitchens can cost a lot – and at $1900, the one in this video is a prime example. However, this is still a fraction of what it might cost to have one installed by a professional, and if you want to know how to build your own high-quality version, this video gives you all the details on how to go about tackling it.
11. DIY Outdoor Kitchen for $200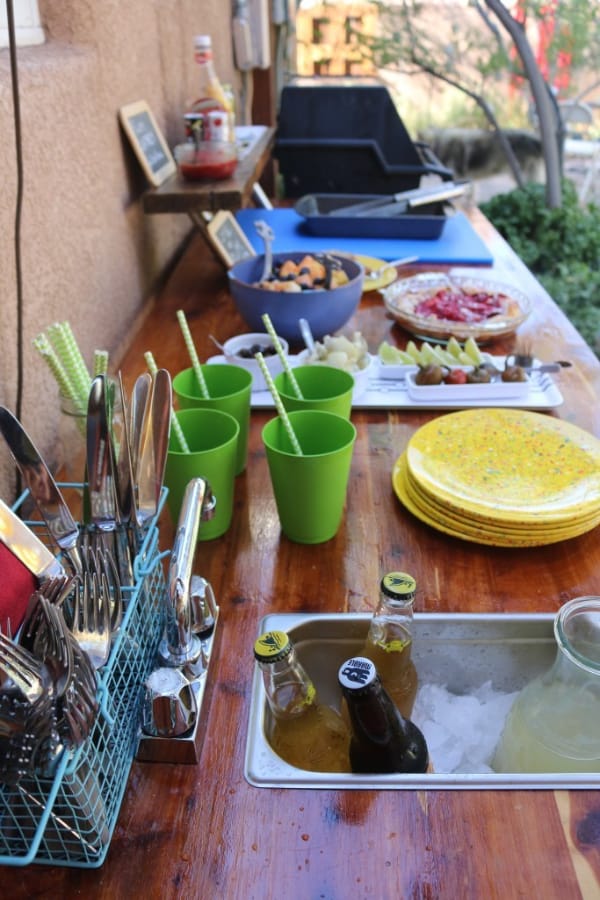 If almost $2000 for an outdoor kitchen is way beyond what you're willing to pay, the version created by this blogger might be more attractive – since it cost only a tenth of the price. It might look a little more rustic and, well, DIY, but it serves its purpose and has its own kind of aesthetic appeal. We enjoyed reading this plan, and we're sure many other DIYers out there who are looking to save a little cash will enjoy it too.
12. Outdoor kitchen build in 20 minutes!
We love the name of this YouTube channel – "Zero to Awesome". And if you want to check out how these guys went from zero to awesome by building an outdoor kitchen in just 20 minutes, this is the video for you.
13. Guy with No Experience Builds Outdoor Kitchen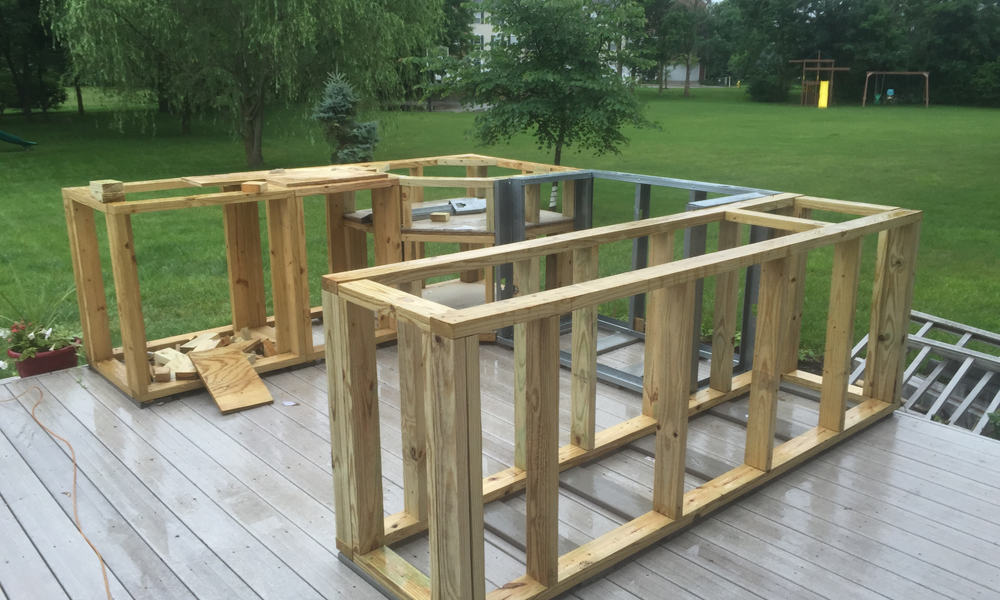 In this plan, you can read all about how this DIY novice build a wonderful outdoor kitchen that quickly became the envy of the neighborhood. It just goes to show what you can achieve if you put your mind to it, something that might inspire you to have a go too.
14. How to Build an Outdoor Kitchen on a Budget
This YouTuber is one of our favorites due to his enthusiasm, charisma and abundant talent. In this video, he shows us how to build an outdoor kitchen on a budget – he's good at what he does, and we're sure most people will be able to learn a thing or two from watching him work.
15. Outdoor Kitchen with Concrete Countertop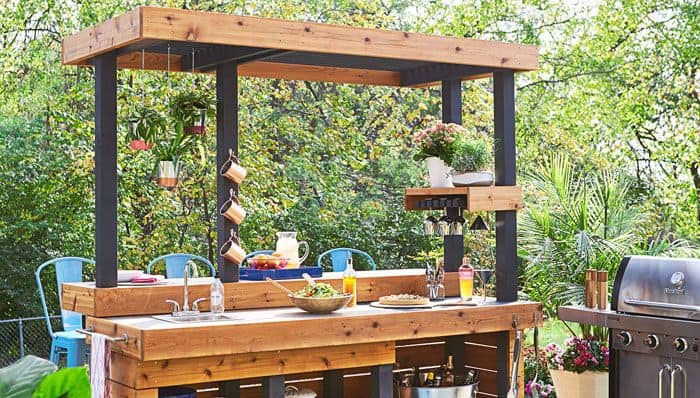 Some plans are easy to follow, but others require a higher skill level to complete. This one is considered an advanced undertaking, so if you're a beginner, it might not be for you. However, if you're feeling confident and looking for a challenge, it could be a great option to attempt.
Check this tutorial
16. Easy DIY Outdoor Kitchen – BBQ Island and Bar
Here's another channel with a great name – this one's called "Let's Wing It"! There are two kinds of DIYer out there: the ones who like to plan meticulously and those who prefer to jump in and get started. And if you belong to the second group, this is a plan you should appreciate.
17. DIY Ideas – How to Build an Outdoor Kitchen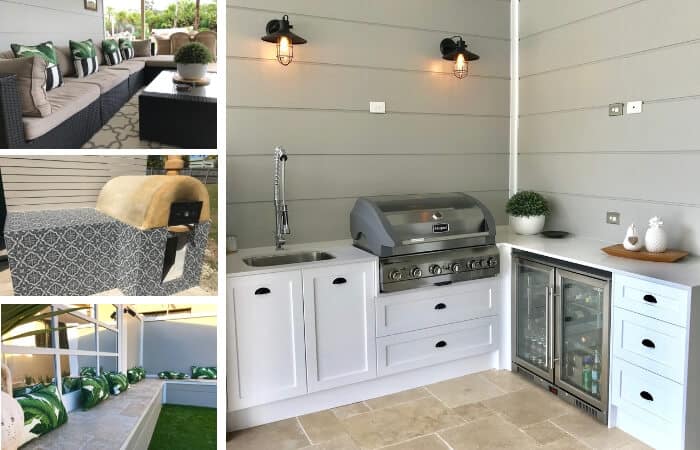 As with a couple of others we've included, this is not really a plan – it's more like a discussion of what you need to think about and a collection of ideas that should help fire your imagination. That means if you are wondering about the kind of thing you can achieve, this will be a useful source of inspiration.
18. How to Make a Stone BBQ Island on a Budget
In this video, this YouTuber shows us the outdoor kitchen he built, complete with grill and work surface. This is the last part in a series, so if you like his work and want to know how he achieved it, you can check out the other videos on his channel too.
19. How to Build Your Own Outdoor Kitchen (For a Fraction of the Cost)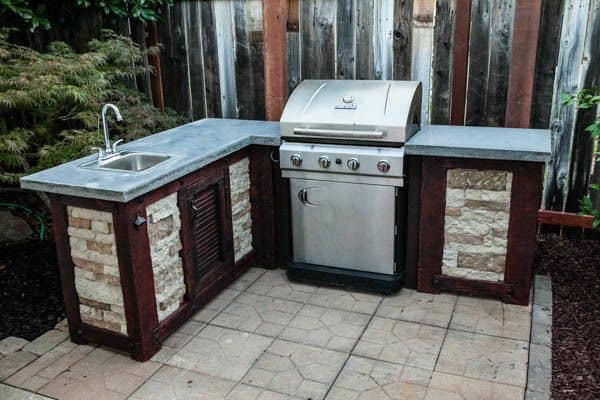 For many people, the whole purpose of DIY is to save a bit of cash, so spending a fortune on an outdoor kitchen would seem to defeat the purpose. This plan, on the other hand, shows you how to make a far more inexpensive version – and if that idea appeals, check it out to see how they did it.
20. Making an Outdoor Kitchen
This is actually another video from the YouTuber who uploaded in #6, but this time he shows us how he built his own outdoor kitchen as opposed to one for a customer. He's a highly skilled worker, and you're sure to learn a lot from him, so this is another video that you need to watch before trying to build your own version.
21. DIY Off-Grid Outdoor Kitchen with Brick Oven and Grill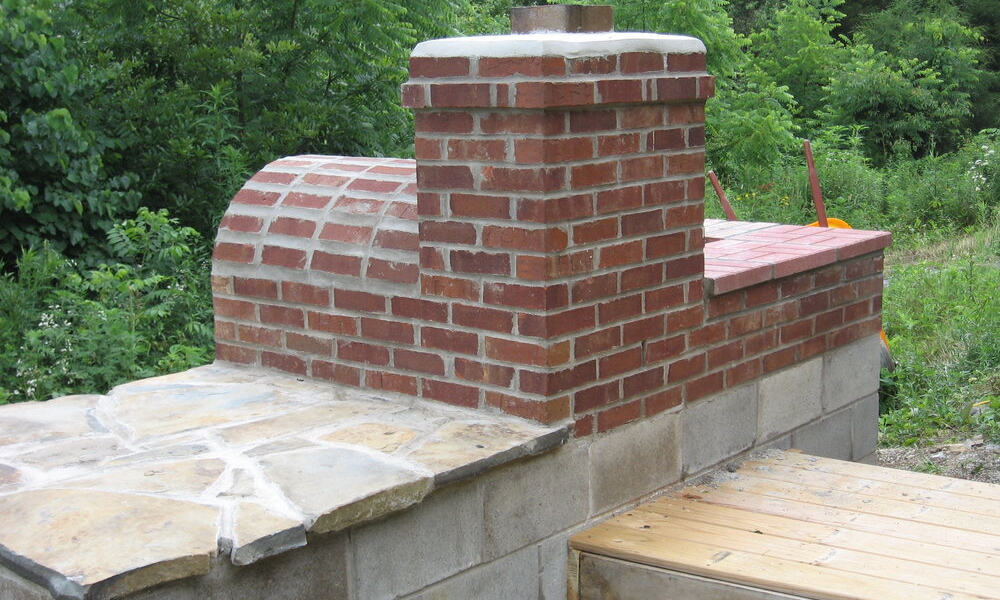 There's something so appealing about off-the-grid living – the idea of being completely self-sufficient and not relying on anybody else to provide the necessities for life. In this plan, the blogger tells us all about how he built his outdoor kitchen, and we're sure this is an idea other people will be keen to copy.
Plenty of great plans to copy
As you can see, there are lots of great plans online that you can copy, some simpler and more budget-friendly and others much more complex and expensive.
We hope you've enjoyed reading and watching these plans as much as we have finding them for you – and above all, we hope we've helped you find the inspiration you needed to get started on building your own DIY outdoor kitchen.