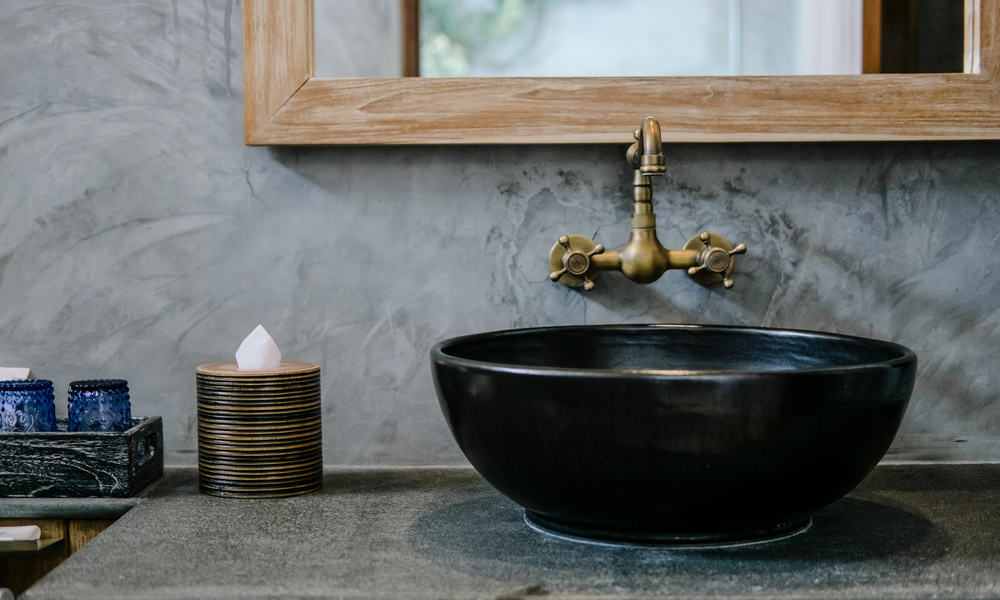 Why spend hundreds of dollars on store-bought bathroom sinks when you can DIY one for much less! Creating a bathroom sink for yourself is easier than you think. What's more, DIYing a sink can be actually quite fun and definitely a lot satisfying.
So, where do you start? Well, we'll give you all the details! From concrete bathroom sinks to creative sink remodeling ideas, we have it all!
This list also has a few toilet tank top sink DIYs – an efficient way of saving water! Let's discuss these 17 fantastic DIY bathroom sink ideas in detail, shall we?
1. I Made a Toilet Tank Sink!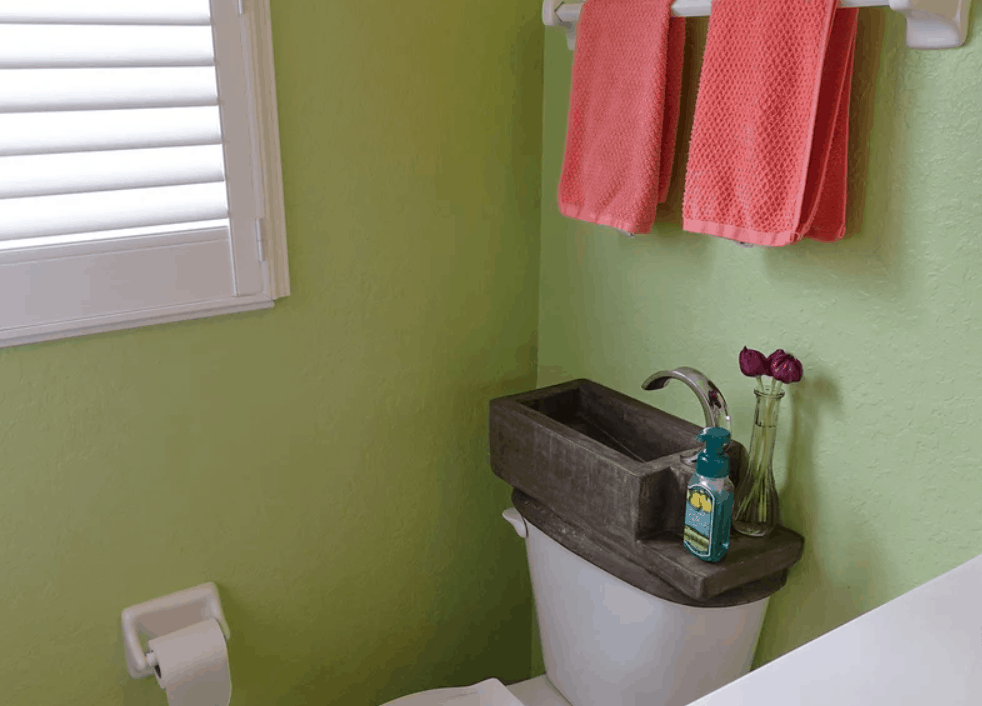 Are you looking to DIY a unique bathroom sink? Here's a written tutorial on a toilet tank sink. The best part of this DIY sink is that when you flush, the water is rerouted to the faucet and then to the toilet tank. Don't panic – the water will be perfectly clean!
Are you intrigued by the idea? Head over to this post by Instructables right away! Every step of the procedure is detailed properly with the help of on-site pictures.
2. DIY Concrete Sink with A Cost of $5 | Black Or White | Which One will You Choose? | SVdesign
DIY a concrete sink for only $5! Want to know how? Here's the video tutorial for you.
The DIY process is so easy that even a DIY noob would be able to complete it. All the materials and molds you'll be needing for the project are mentioned in the video itself. A quick tip for you – remember to coat the mold with vaseline liquid such that the sink comes out easily.
3. DIY Galvanized Tub Sink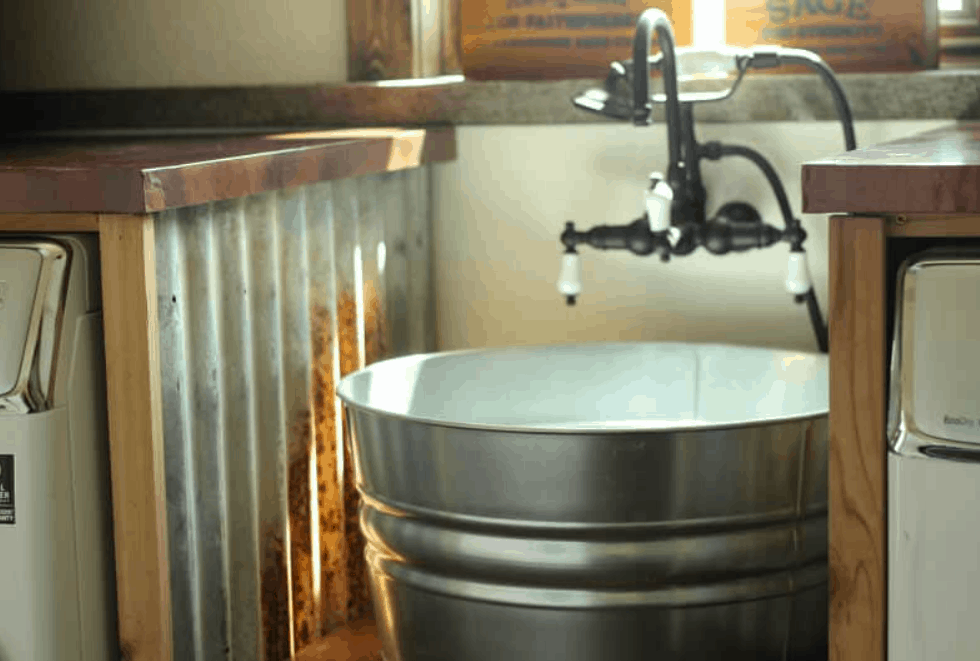 The blogger from The Prairie Homestead, with the help of her husband, DIYed a galvanized tub sink for her laundry room which you can absolutely replicate for your bathroom as well. She saw the idea on Pinterest initially and was determined to DIY one for her remodeled laundry room.
From choosing the tub to the faucet, she has explained all the procedures in the blog. The galvanized tub she bought for $24 was 22″ in diameter. Opt for a different type or size of tub to give your own personal taste to this DIY.
4. DIY Mosaic tile sink | Bathroom sink makeover
Do you want to DIY a unique sink for your bathroom? You can also use this DIY technique to decorate your existing sink. All you need are some colored tiles and glue!
You can choose the tile colors as per your personality. You can go fully vibrant or opt for a simple monochromatic look. Learn this video to learn how to cut tiles and glue them into a pattern. I have to say it – the final result looked absolutely stunning!
5. How to Install a Bathroom Vanity and Sink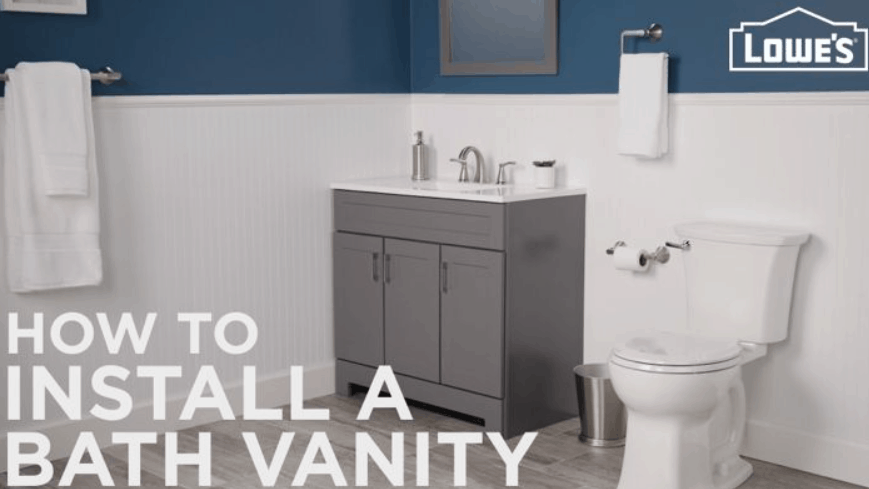 First and foremost, do you know how to install a bathroom vanity and sink? If your answer is no, you might want to read this written tutorial by Lowe's.
You can also shop for various fancy vanities there, be it single-sink or double-sink. The procedure is extremely detailed; so, even if you're a beginner, this tutorial will not disappoint you.
Click for Details
6. HOW TO MAKE PLASTIC/CEMENT INTO AMAZING SINK
Just by using plastic, cement, and PVC, and following this YouTube tutorial by JEvlog 12, you can create an incredible sink.
The Youtuber has demonstrated the entire process in detail. However, you need to have a sink mold for this DIY. A quick tip for you – you can use a cheap, shallow bucket as a sink mold for this DIY!
7. DIY Concrete Sink
This blogger from Instructables DIYed an excellent concrete sink for his master bathroom. All the materials and tools required are listed at the beginning of the tutorial.
Moreover, you can also find video tutorials of the project attached for your ease. As suggested by a commenter in the comment section, instead of buying sink molds, you can easily DIY one in order to make this DIY project more budget-friendly.
8. How to Make a sink using cement | DIY
If you don't plan on building an entire vanity or don't have enough budget, you can simply DIY this concrete sink and stand. The best part is that you don't even need to buy a sink mold!
Do you want to know what alternative idea did the Youtuber use instead of a sink mold? If yes, head over to the video right away!
9. Toilet Top Sink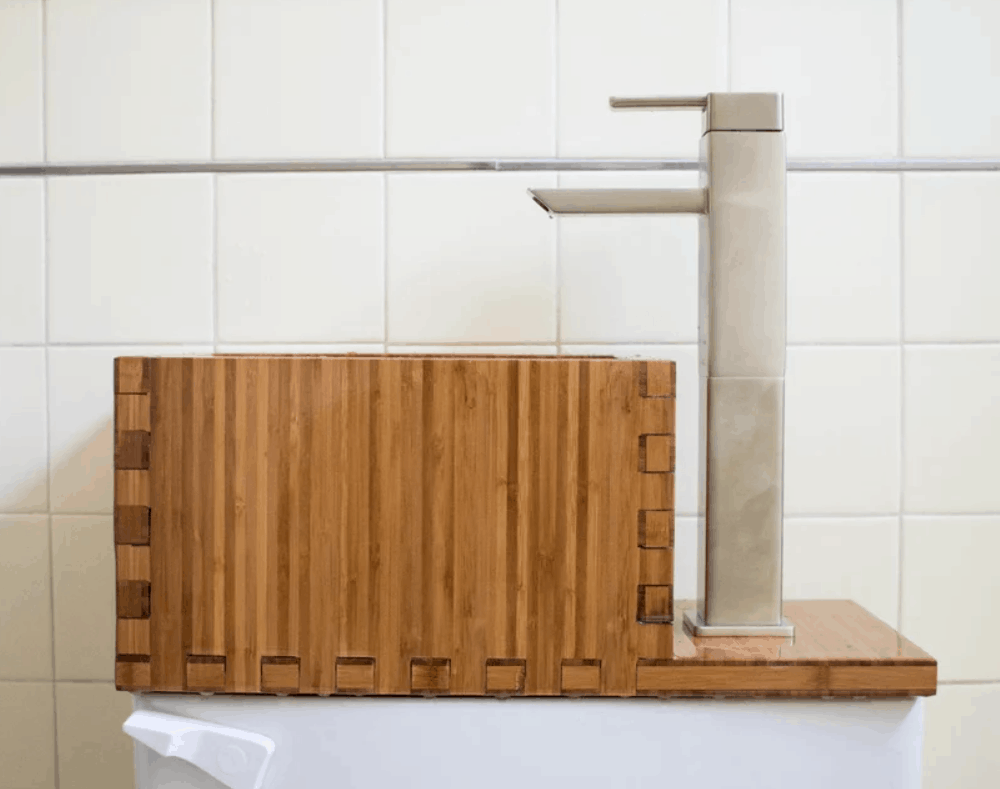 We've discussed this type of toilet top sink earlier. The one that reroutes the freshwater, that fills the toilet tank to the toilet top sink, through the toilet top sink. Thus, filling the toilet tank with used water and saving the water that you'd normally use to wash your hands separately.
Inspired by Japanese technology, this blogger from Instructables DIYed the sink and has prepared a detailed written tutorial for your ease. Head over to the site right away!
10. DIY Stainless Sink from a salad bowl
Do you have an extra stainless steel salad bowl at your home? If yes, here's the perfect way to utilize it. DIY a stainless sink using a salad bowl! Want to know how? This YouTube tutorial will guide you through the process.
This DIY process is quick and easy to do. Yet, the finished product is fantastic!
11. DIY Easy Peasy Copper Bucket Vessel Sink !!!
The title itself suggests that this DIY is incredibly easy to do. If you have any old water pot or pan at your home, you'll all set for this DIY. Even if you don't, these vessels will probably cost you less than all those fancy bathroom sinks available commercially.
And, the best part – this DIY sink looks so rustic and unique that it's sure to catch all the eyes the next time you invite friends and family over!
12. DIY CONCRETE SINK (Part 1 of 2)
DIY a concrete sink/vanity by following this YouTube tutorial by MrFixit DIY. This video is part one of part two series. If you loved the idea and want to complete the entire project, here's the link to the second part.
All the materials and tools required are mentioned in the video. From building the form to pouring the concrete to vibrating the top, the process is demonstrated clearly in the tutorial.
13. How to Install a Bathroom Sink Drain
Do you want to learn how to install a bathroom sink drain on your own? If yes, here's the perfect tutorial for you! If you're planning on DIYing a bathroom sink for yourself, not only should you know how to DIY one, you must also learn how to install it.
In this tutorial, learn all the basics of installing a bathroom sink drain. At the starting of the blog, you can find a video tutorial on how the blogger installed a wall faucet and a vessel sink.
14. DIY Concrete sink & countertop | Small Bathroom Renovation
Why DIY a bathroom sink when you can make a stunning concrete countertop with an integrated sink for yourself? Here's the perfect video tutorial for you!
By using a single drain for two faucets, the Youtuber from Modustrial Maker was able to fit the DIY double Vanity sink in his 42 sq. ft bathroom. You can tweak the dimensions accordingly.
15. DIY Wine Barrel Outdoor Sink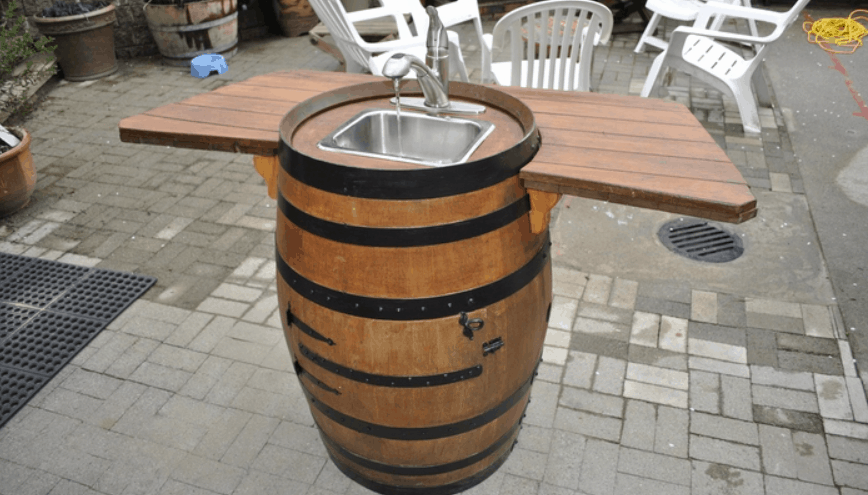 Though the title says, an "outdoor" sink, this DIY antique wine barrel sink by The Owner Builder Network will also make a wonderful addition to your bathroom. All the materials and tools you'll need for this project are mentioned at the starting of the blog post.
Read and follow all the steps detailed in the post to make a stunning wine barrel sink for yourself.
16. DIY Toilet Bowl Tank Sink – Saving water part 1
This unique DIY toilet tank sink is inexpensive DIY and doesn't need any fancy tools to make either. Here's a YouTube tutorial for your convenience. Make sure that you read the comment section of this video, as it can prove to be quite informative.
The channel SimonVideo Electric Unicycle has a lot of electronic item DIYs and reviews in case you're into such stuff.
17. Bathroom Vanity With Vessel Sink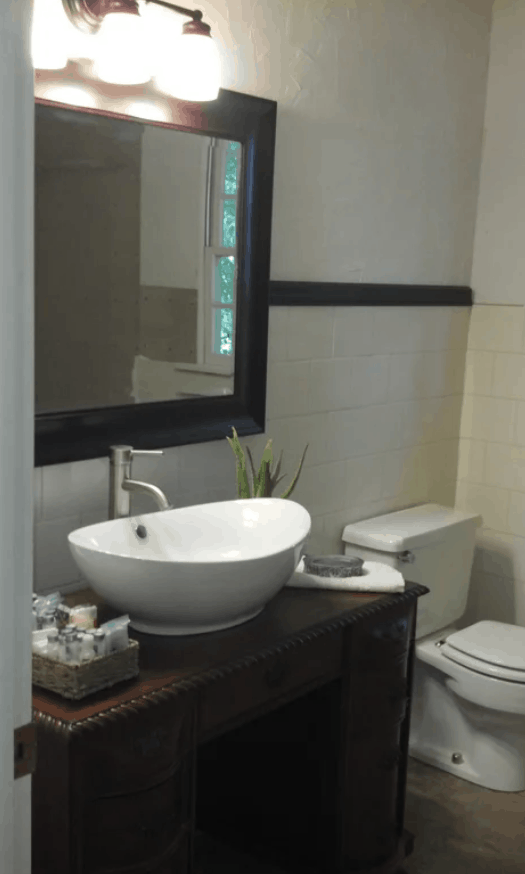 Why DIY a bathroom sink when you can assemble the entire vanity on your own? This blogger from Instructables bought a $50 table from Craigslist, a $50 faucet, and a $75 vessel sink from eBay.
If you want to know how he installed the sink and assembled the vanity on his own, head over to the site right away! This DIY project is absolutely brilliant. Don't believe us? Check the comment section for yourself!
Summary
DIYing something can not only be fun and proper utilization of time, but it can also save you hundreds of dollars. You'll feel tired yet immensely satisfied.
If you're convinced that you can complete any of these 17 DIYs, go ahead! Take help when necessary, but never give up being creative! Which of these 17 ideas did you love the most? Let us know!
Resources