Cold smoking is a wonderful way to add flavor to food without cooking it. If you fancy making your own smoked bacon at home, why not make your own cold smoker to do it?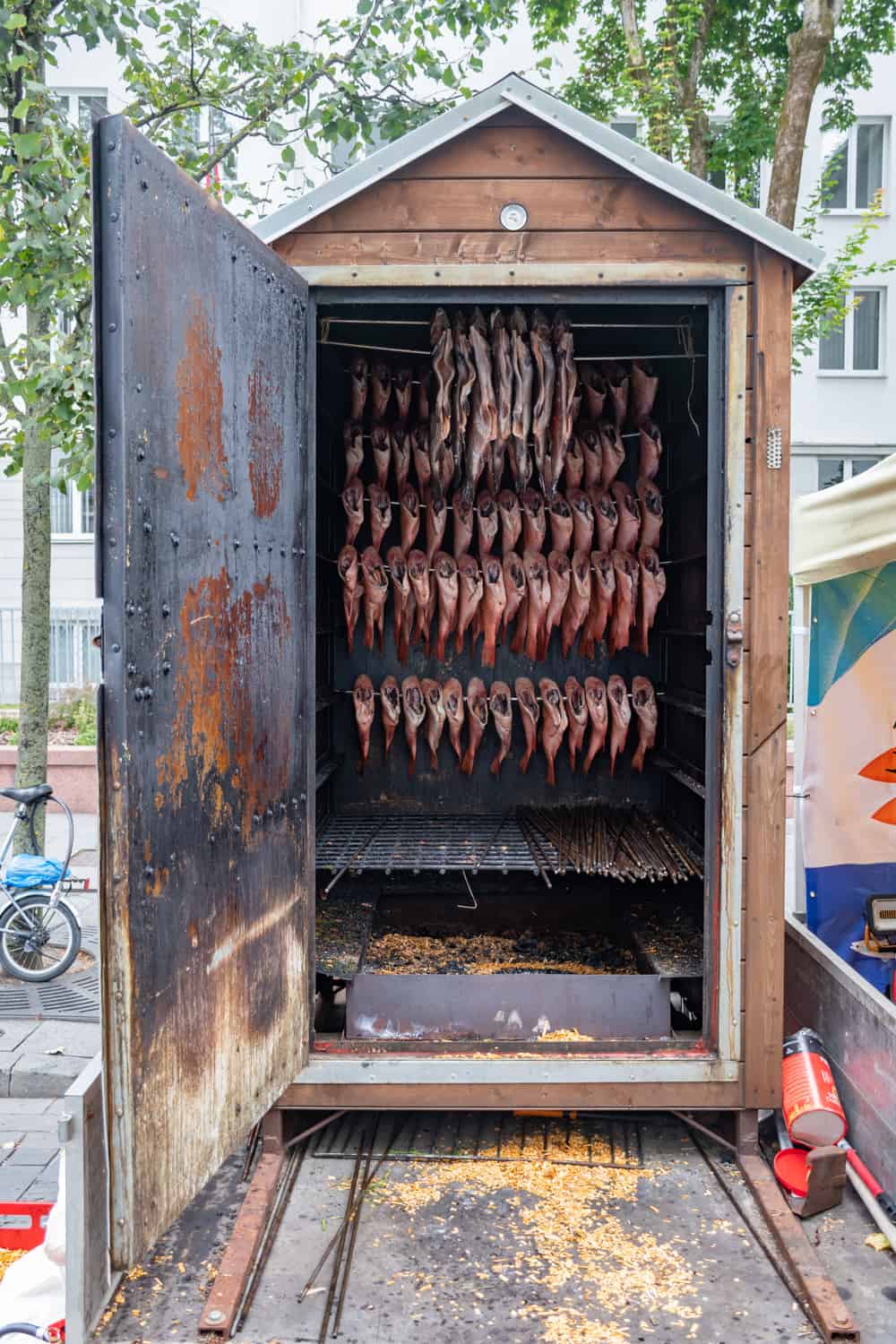 It's not as tricky as you might think. We've found 18 great cold smoker plans to fire your creativity and guide you through the process.
So step this way and find out just how easy it is to do!
1. Building a DIY Cold Smoker at Home
This simple plan is based around some old oven racks YouTuber Glen, of Glen & Friends Cooking, had lying around at home. The other component parts are just as cheap and simple, proving you don't need to spend lots on your smoker. It's made of untreated white pine, and it's compact enough to fit into a small space. But there's still enough space for four racks – plenty of space for smoking your meats and fish.
2. Building a Cold Smoker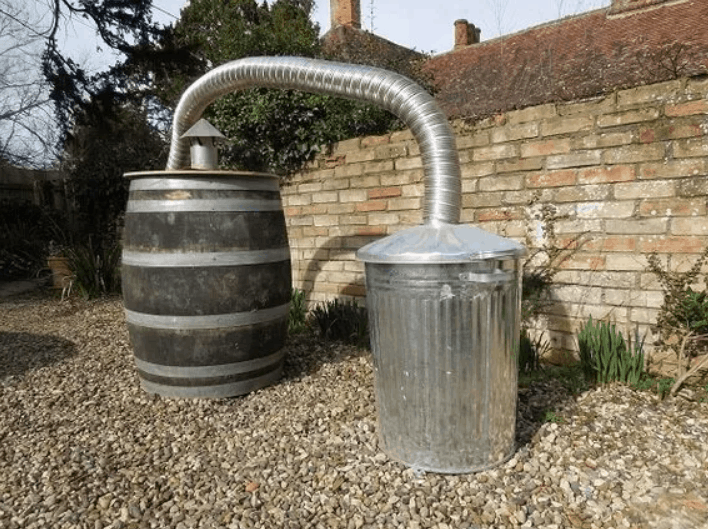 This plan shows you how to build an innovative cold smoker using a cheap metal dustbin and barrel. It covers alternative designs too, so it's a good place to start for an overview of your options. The article goes on to describe the building process. It tells a story rather than giving you instructions to follow, but there's plenty of detail. Together with the pictures, it will give you a good guide to reproducing the design. And there's a picture of a delicious bacon butty at the end to inspire you!
3. How to Make a Cold Smoker at Home
This project uses a ready-made cold smoke generator, but the rest is made from scratch. The plan offers different options for the body of the smoker, depending on how robust you need it to be. It shows you how to light the cold smoke generator, and gives advice on how to use the smoker. And there's useful guidance on different ways to keep the air flowing to avoid the smoke becoming acrid.
4. Smokin'!! DIY Cold Smoker – Design and Build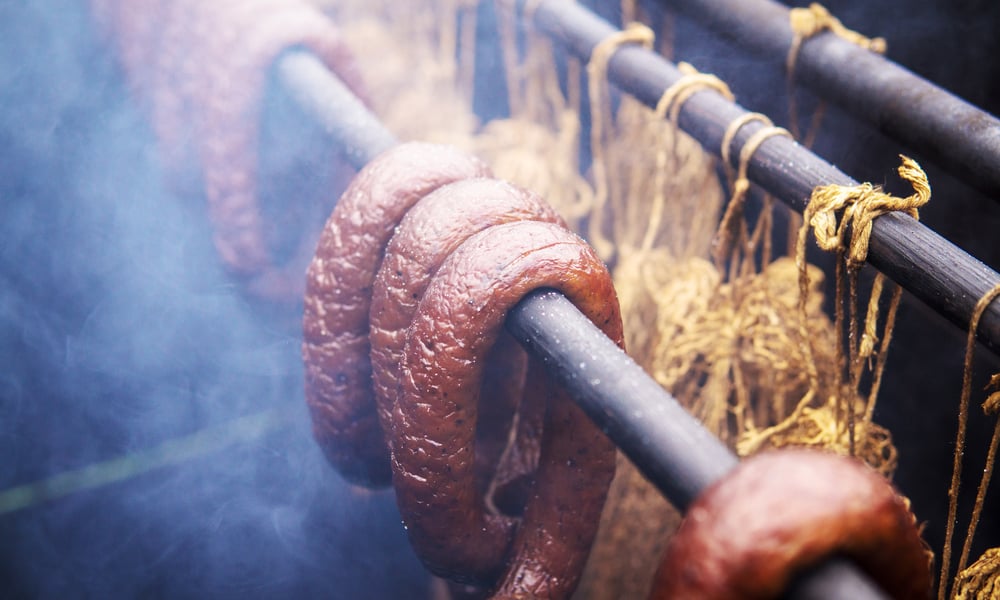 This guide shows you how to build a simple and inexpensive cold smoker. All the tools and materials you'll need are listed before it gets down to business. The build is carefully broken down into easy steps so it's easy to follow. And there are a few photographs to help you on your way. There are different options too, depending on what materials you have to hand.
5. DIY $1 Cold Smoker
If you're looking for an eco-friendly cold smoker that's cheap as chips, check out this brilliant video. This project uses just a cardboard box, toilet roll, and a small box lined with aluminum foil. You won't need any tools either – the door is just taped in place. It works amazingly well for such a simple design. Just line the interior with aluminum foil to keep the temperature down in warmer weather.
6. Build Your Own Cold Smoker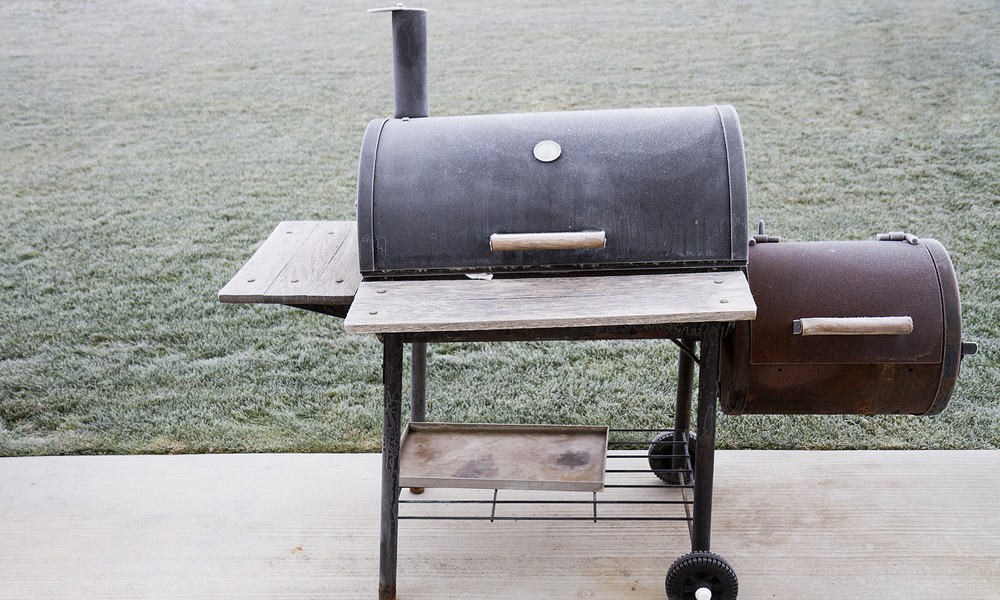 This blog post from UK-based Animated Science is text-heavy, but very clear and simple. And it uses inexpensive Ikea furniture for the body of the smoker. If you want to minimize cutting and drilling, it's a great option. There are just 9 steps involved in putting everything together. And at the end, you get the added bonus of a recipe for smoking bacon.
7. Build a Cheap Coffee Maker Cold Smoker
This ingenious project uses a stovetop espresso maker and aquarium pump. The video starts by showing the smoker in action, and it looks pretty impressive. There's a handy list of materials to help you prepare. And while there are more components here than in some designs, nothing is expensive. The construction process is speeded up on film, but it's still easy to follow. And you can hum along to the jaunty piano music as you watch!
8. DIY Cold Smoker: How to Smoke It If You've Got It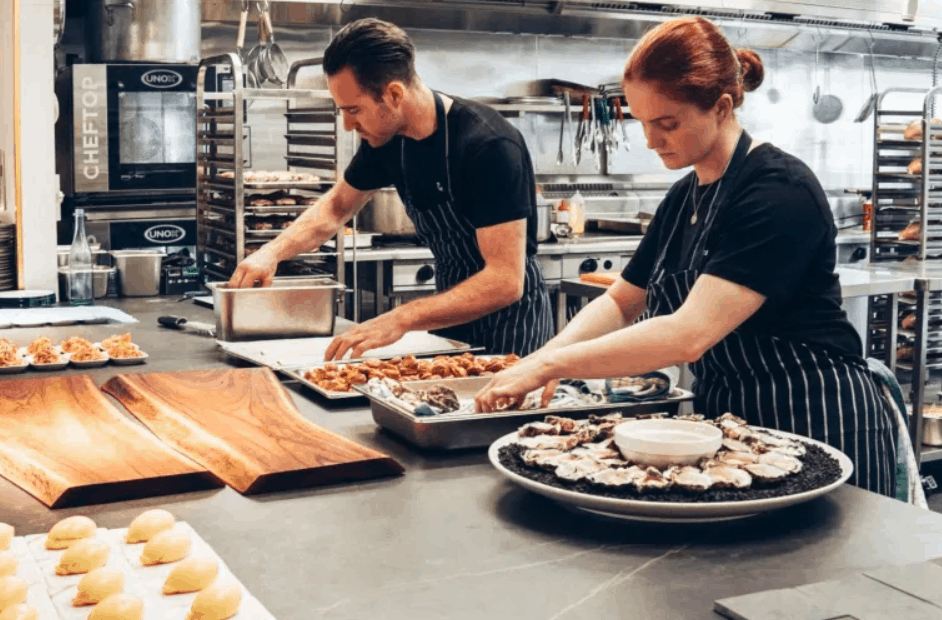 This is a great project if you're looking for a cold smoker for small quantities of food, like salt or paprika. It uses a soup can, a soldering iron, and a few bits and pieces to create a remarkably effective smoker. There aren't any pictures, but the method is described very clearly. And at the end, there are tips for getting the best results when smoking food.
9. DIY $50 Concrete Kamado Smoker
If you don't want to lay out the cash required for a high-end smoker from Kamado, check out this video. It shows a simple method to build one using concrete blocks. And it will cost you about 2 per cent of the Kamado's price! There are lots of extra hints and tips too, covering everything from choosing your smoking fuel to cutting your meat.
10. Miss Betsy's Cold Smoke Generator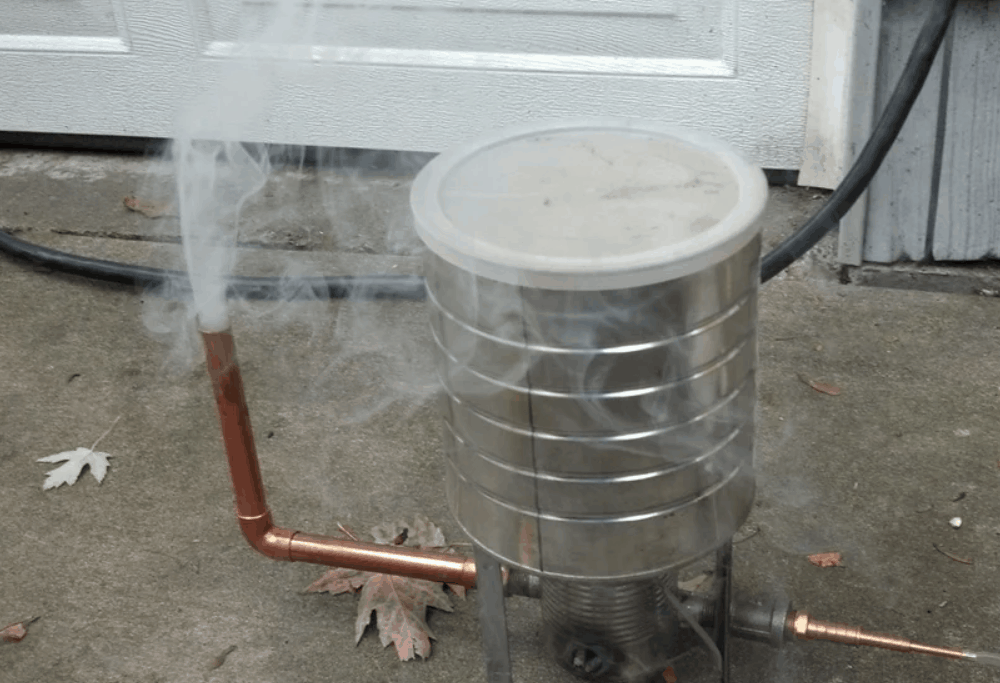 This plan focuses on the cold smoke generator, so you'll need to use it with a smoking cabinet. This is one of the more sophisticated designs of generator out there, but it's still cheap to make. The most expensive element is an aquarium pump, and the body of the generator is made of a coffee can. It looks impressive when it's finished too!
11. $1 DIY Cold Smoke Generator
If you don't want to buy a cold smoke generator for your DIY smoker, this video shows you how to make one. And it will hardly cost you anything to do. All you'll need is an old sieve, a screw and a washer. The video shows you exactly how to make it – it takes just a few minutes. Watch to the end to see how to load it with pellets. And if you can't face making a cabinet, you can use this to turn your outdoor grill into a smoker.
12. DIY Smoker – Our Woodstove Meat Smoker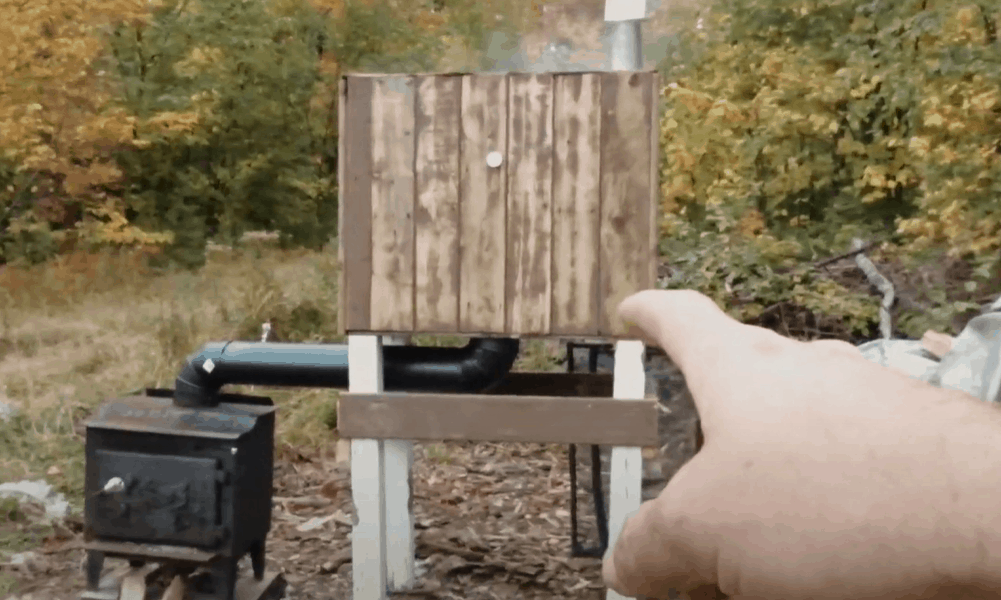 This plan shows you how to make an offset smoker that can be used for either hot or cold smoking.  There's a short text introduction, but all the detail here is in the video. It's made almost completely out of recycled materials, so it's great inspiration for an eco-friendly model. The temperature can be changed for hot or cold smoking using a simple damper.
13. New DIY Cold Smoker/Smoking Cabinet REVEAL!
This video from YouTuber Vanessa, of Grilling with V, shows off an impressive 5-feet tall DIY cold smoker. It's made of plywood and latches to stay closed. Inside there are no fewer than eight removable shelves. And there are two beautifully made vents with covers. The video walks you through the design, but there isn't detailed information on the build. If you're looking for inspiration rather than a "how to" guide, this is a good option.
14. How to Turn an Old Fridge into a Cold Smoker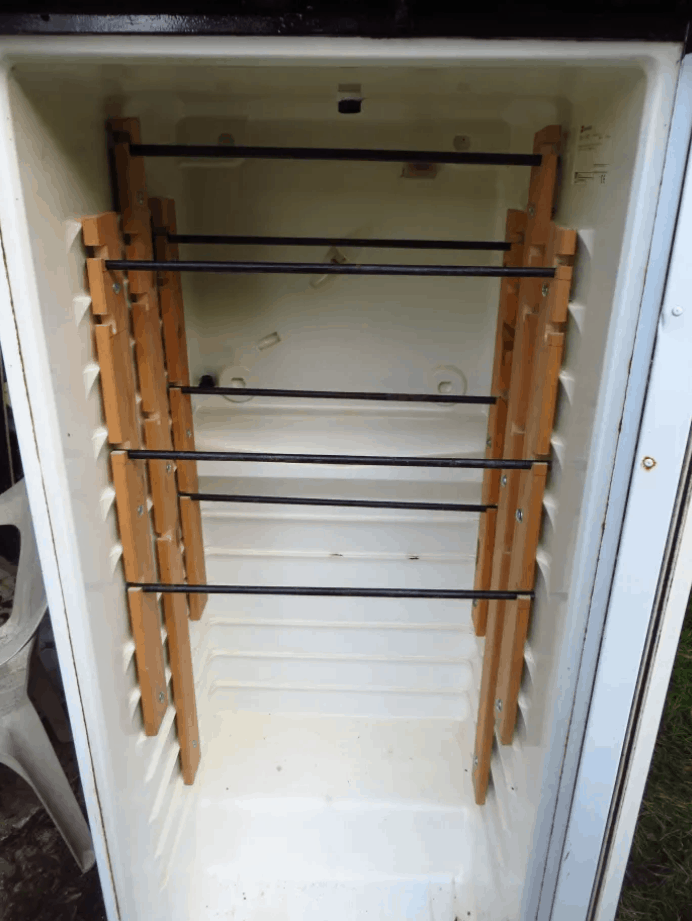 If you're stuck with an old fridge, this is a brilliant plan for putting it to good use as a cold smoker. Blogger Richard sets out everything you need to know. There's an estimate of how long the project will take, a list of tools and materials, and important notes before you start. The method is broken down into nine clearly described steps, each one illustrated with a photo. And there's lots of good advice on the smoking process too.
15. Make Your Own "Cold Smoke System"
This plan starts by whetting your appetite with some of the delicious foods you can create with your cold smoker. It then moves on to showing you how to make a cold smoke generator using a humble kitchen sieve. There's guidance on making sure your sawdust is dry and effectively loading your generator with fuel. And it shows you how to use a simple metal bowl and tea light to complete your system. It's all very easy – and a lot of fun!
16. How to Build a Homemade Cold Smoker for Under $50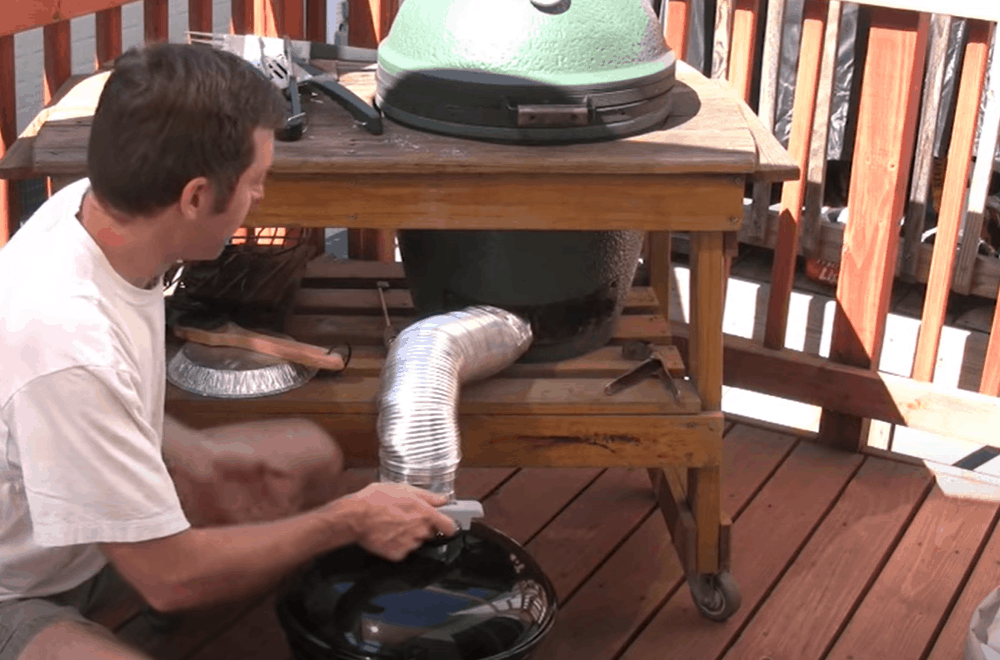 If you've got a charcoal grill, this is the perfect plan to turn it into a cold smoker. All the parts and tools needed are listed upfront. Assembly is broken down into ten steps, and each one is succinctly described. There aren't any photos, but there is a video to take you through it all. And there are alternative steps, depending on whether you're connecting this to Big Green Egg or standard charcoal grill.
17. Cold Smoker for Bacon
This video shows off the results of a project by Kurt's Smoke House to build a cold smoker. This one is enormous – big enough to hang bacon, hams, or a full side of salmon. It stands a mighty 7 feet tall and is 3 feet wide and 3 feet deep. The video walks you through each element of the design, but there's no detailed guidance on construction. It's another one that will provide great inspiration for more experienced DIYers.
18. DIY Cold Smoking in an Igloo (Snow Cave)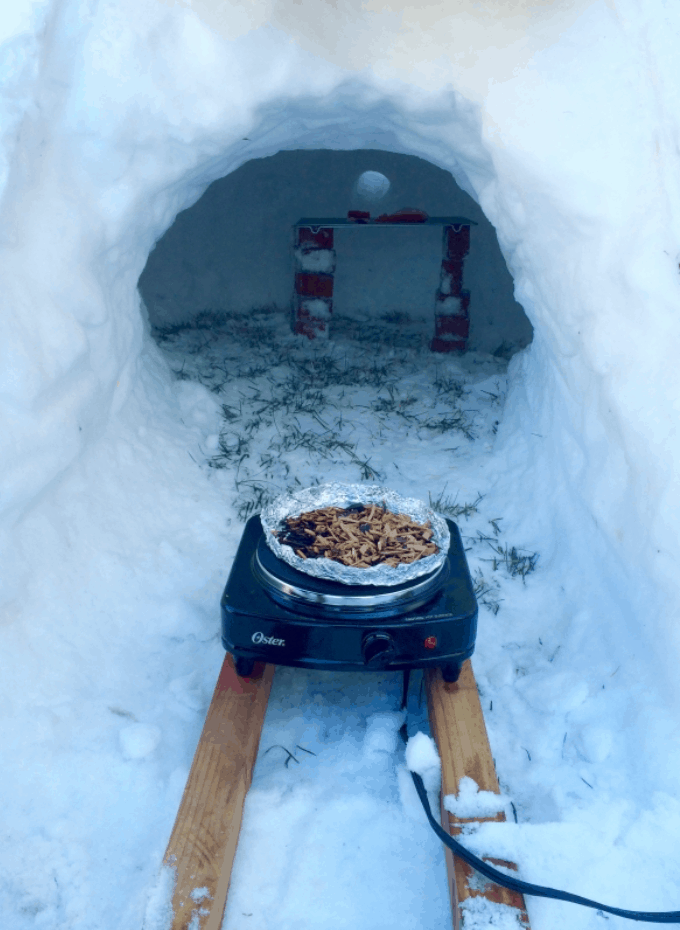 If you live somewhere that gets lots of snow, why not use it to make a smoker?! This plan shows you exactly what to do, and uses nothing more complicated than an electric hot plate. There's even a recipe for smoked fish, designed to work perfectly in the finished product. This one brings a whole new meaning to cold smoking!
Let's get cold smoking!
We hope you've enjoyed our round-up of DIY cold smoker plans! However large or small you need your smoker to be, there are plans to fit the bill. And there are options for everyone, no matter how skilled you are at DIY.
So why not give one of them a go? We hope you're soon enjoying delicious home-smoked food, courtesy of your new cold smoker!