Sitting in a beach bar sipping a cocktail and listening to lilting tropical music is many people's idea of paradise, and even if you aren't lucky enough to live next to a sun kissed beach, at least you may have chance to head to one for a vacation from time to time.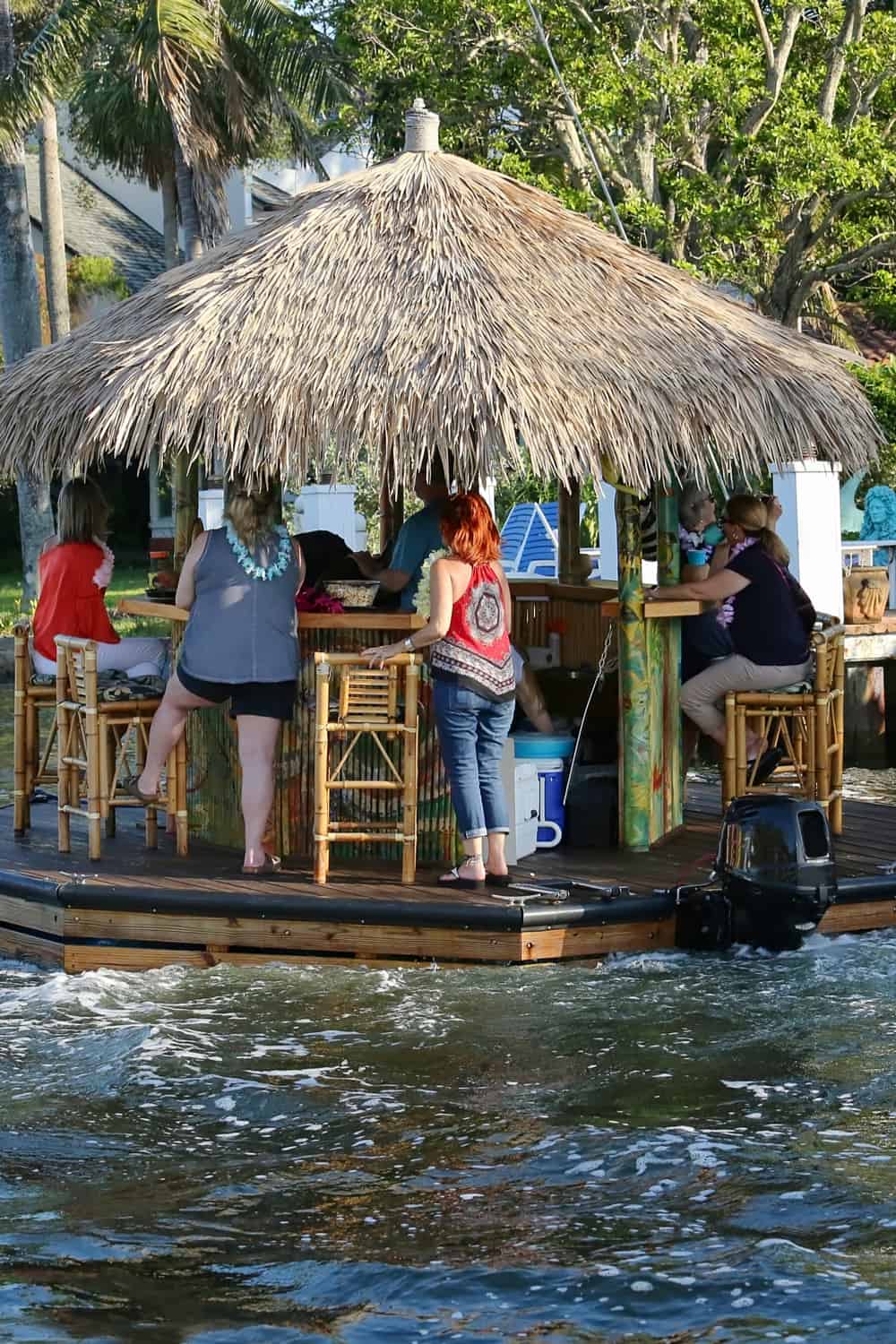 However, it isn't always possible, so if you want to enjoy the charms of the tropics without leaving your home, you can build your own tiki bar, put on some music and just imagine you're there instead – and here are 21 plans that will show you how.
1. DIY Pallet Tiki Bar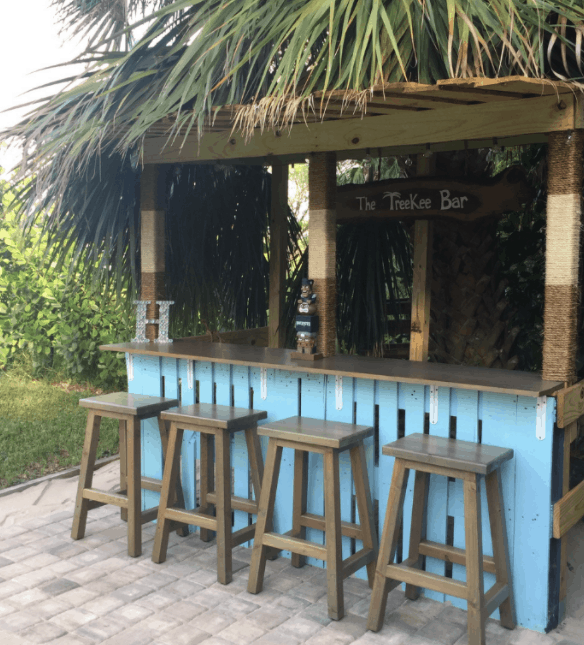 To begin with, here's an interesting idea.
If you want to build a tiki bar, you can save yourself some effort by using what's available to you – like in this plan, where they use their tree for the roof rather than constructing a whole hut.
You might not be able to do exactly the same, but at least it should give you a few ideas, allowing you to create something similar at your home.
2. How to Build a Tiki Bar at Home in a Weekend
Building a tiki bar might sound like a big project, but it doesn't have to be, as you will see in this video.
In it, this YouTuber shows us how he constructed his tiki bar in just a weekend, and as you can judge from the video, it looks amazing.
Want to know how he did it so you can recreate the plan at home? Then check it out!
3. Tiki Bar from Instructables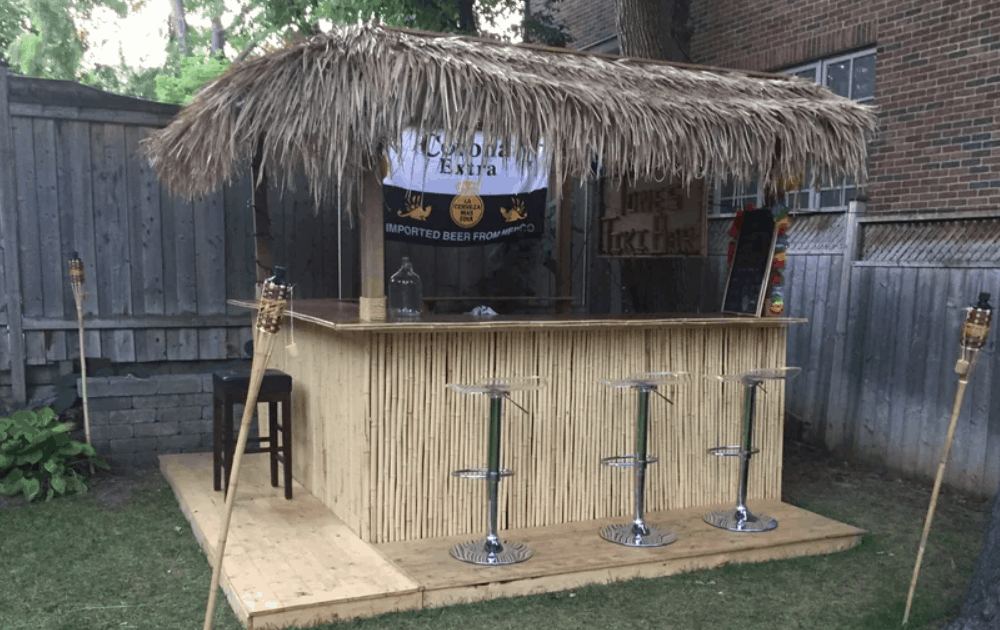 We are big fans of the Instructables website, and it's always one of our first stops whenever we need a plan for just about any DIY job we need to do.
As always, this plan for building a tiki bar includes clear and logical step-by-step instructions accompanied by useful illustrations to help you understand what you should be doing.
And looking at the shot of the completed job, the result will be highly impressive.
4. DIY Tiki Bar – How I Customized My Own Bar
Here's a fun video that shows how this YouTuber created his own Hawaiian-style bar at his home, complete with bar stools, island décor and drinks.
The only problem is, he lives in the UK, so he probably won't be able to enjoy Hawaiian weather that often while using his bar – but it looks fantastic all the same.
5. DIY Tiki Bar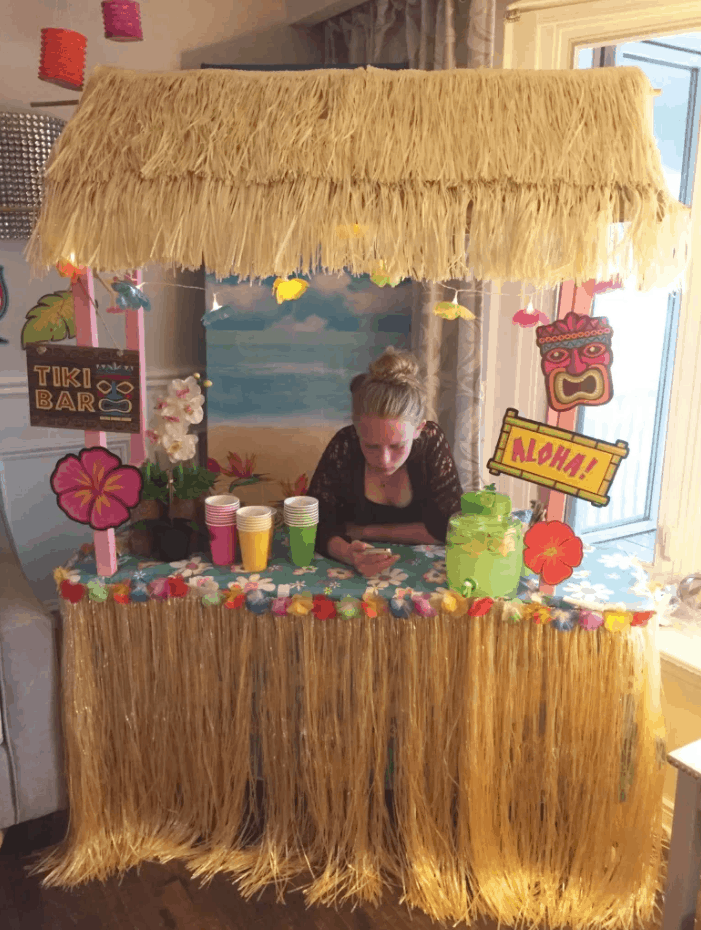 This is a cool idea. Most of the plans for tiki bars we've seen are intended for more permanent outdoor constructions, but this one shows you how to rig up a quick and easy version for indoors.
It would be ideal for a Hawaii-themed party, and you can take it down easily too when the party's over.
6. Tropical Paradise Tiki Bar Assembly
In this YouTube tutorial, you're given all the clear and detailed instructions you need to build a tiki bar at your home.
This is a substantial construction, and you'll need a few basic woodworking skills too, but by following this plan, you will soon have your own tropical paradise bar when you can sip your cocktails.
7. Build a Backyard Tiki Bar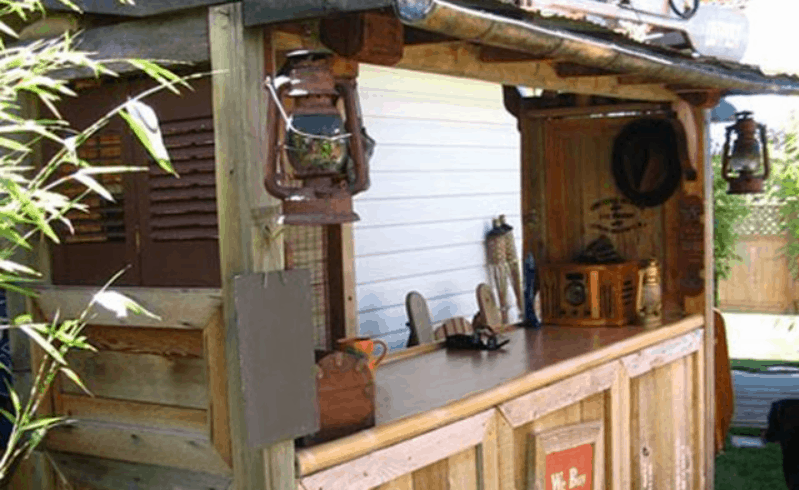 As this blogger tells us, you don't have to live near the pacific islands to sip drinks from a coconut cup in a tiki bar – and if you want to know how to build your own at home without spending a fortune, this plan will give you all the info you need.
8. How to Build an Amazing Patio Tiki Bar and Video Porthole
There are lots of ways you can build a tiki bar at your home, including having a specially made kit sent to you.
However, this YouTuber realized that he could convert his patio for much less money, and in this video, you can see how he did it.
9. How to Build a Tiki Bar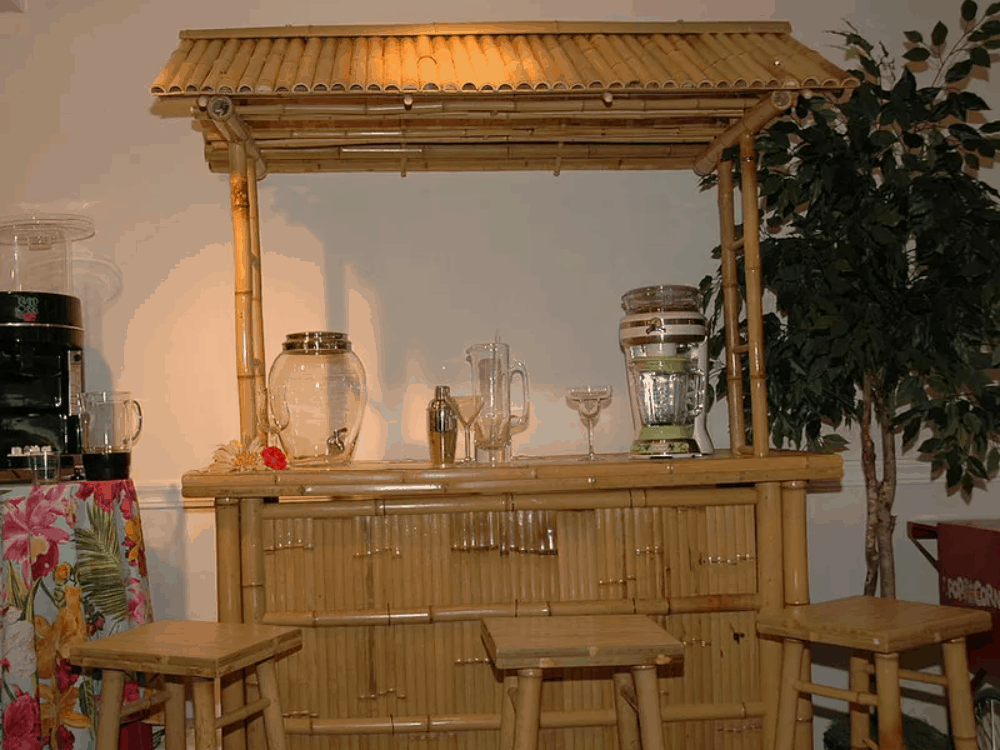 This is a plan for building a classy indoor tiki bar that will be the envy of your guests whenever you throw a party.
It will cost between $200 and $400 to build and requires intermediate skills to complete, but once you've finished, it will be something you can be proud of having built yourself.
10. Build a Tiki Bar from Recycled Pallet Wood
For us, one of the joys of DIY is repurposing old materials that would otherwise be thrown out and converting them into something new, functional and attractive.
That's exactly what happens in this video, where they build a tiki bar primarily from old pallets.
And if you want to do something similar, check it out to see how.
11. Tiki Bar Styles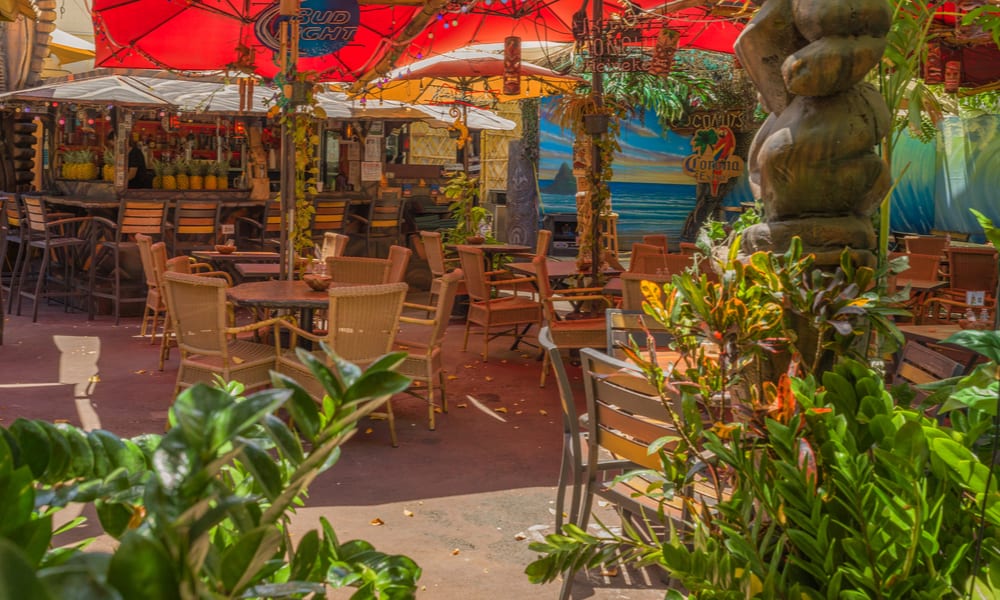 This is not a plan as such, but rather, it's a collection of ideas for tiki bars that should fire your imagination and give you inspiration for the kind you want to build yourself.
Once you find the kind you like most, you can then work out how to construct it – but this site should be a great source of ideas before you start building.
12. Homemade Garden Tiki Bar and Grill Made from Wooden Pallets
Building stuff from pallets is super-fashionable at the moment, and people use them to make anything from cute furniture to vertical gardens and everything in between.
Here's a video that shows you how to build a tiki bar with a grill – so if you have some old pallets lying about, this is something that could be worth considering.
13. How to Build a DIY Tiki Bar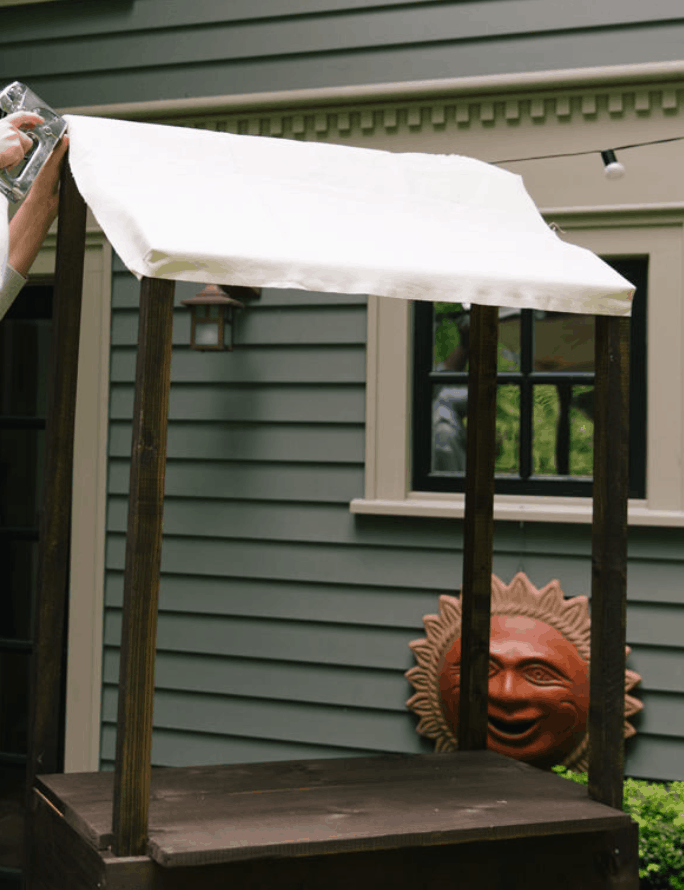 As much as we might love the tropics – or even just the idea of the tropics – unfortunately, we might not be able to be there all the time.
For those of us not lucky enough to live next to a paradisiac beach, the next best option is to bring the tropics to us – and here's a plan that will give you some ideas about how it can be done.
14. Building a DIY Budget Tiki Bar
This is Part 1 in a series of videos showing how these YouTubers built a highly ambitious tiki bar, complete with deck and all.
It's great fun to watch, and there's plenty of humor in their video as well as useful tips.
Check it out – and check out their other videos too to see how it looked at the end.
15. How to Build a Tiki Bar in 18 Easy-to-Follow Steps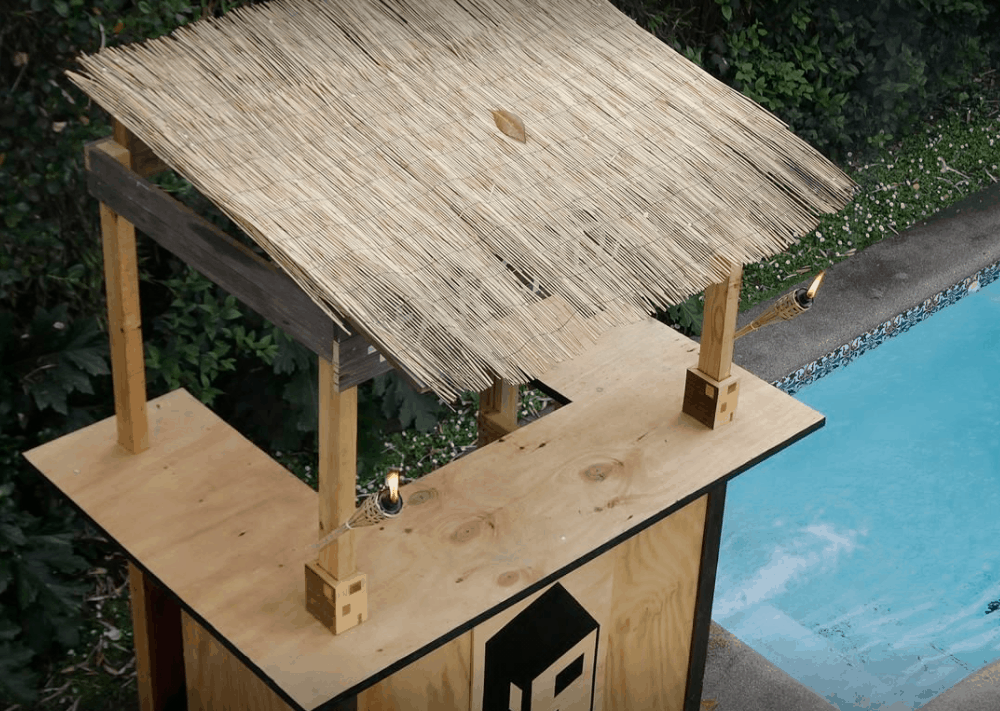 If you're looking for a detailed technical plan for a homemade tiki bar, this one should be of interest.
Along with the instructions, it includes diagrams, measurements and everything else you need to recreate something like this at home.
16. How to Build a Simple Tiki Bar
If you don't have the patience for anything complicated – or have the skills but just lack ideas – this simple tutorial might be the kind of plan you'll enjoy.
It's nothing more than a time-lapse video of how these YouTubers built their tiki bar, and if that's all you need, this video should be well worth a watch.
17. Easy DIY Tiki Bar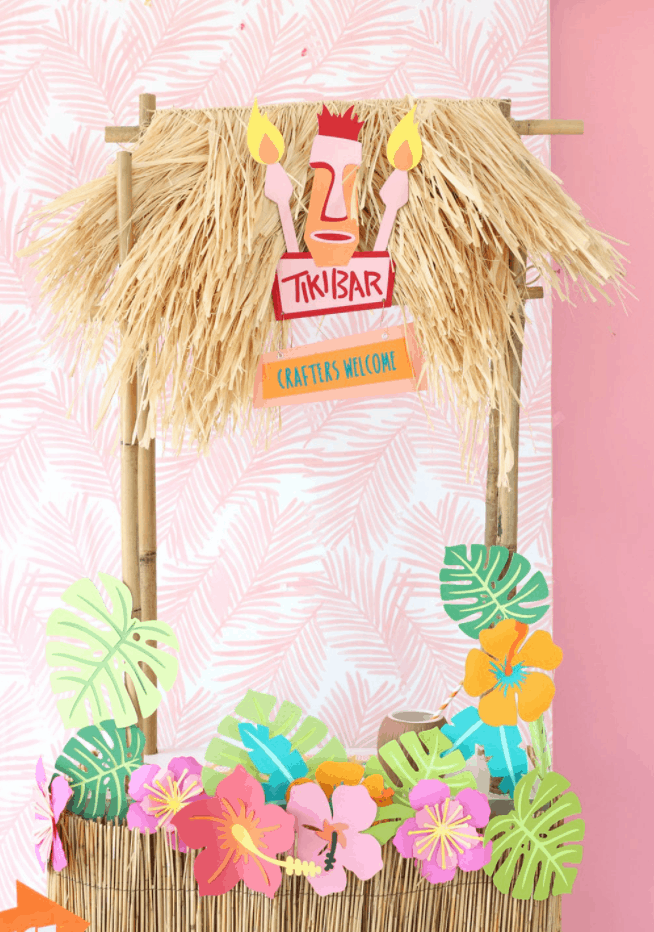 Everyone needs a tiki bar, right?
That's the assertion this blogger makes at the start of the plan, and if it's a sentiment you agree with (we know we do), then this is the plan you need that will show you how to build one of your own.
18. How to Build Your Own Tiki Bar and Hut
Of all the homemade tiki bars we've seen, this one must be the most impressive. It isn't just a half-hearted effort with a bar and a few palm fronds – this guy has gone all-in and built a whole tiki-style hut.
The scope of this project might be beyond some people, but the video is worth watching nonetheless just to see what you can achieve if you really set your mind to it.
19. Tiki Bar Project Plans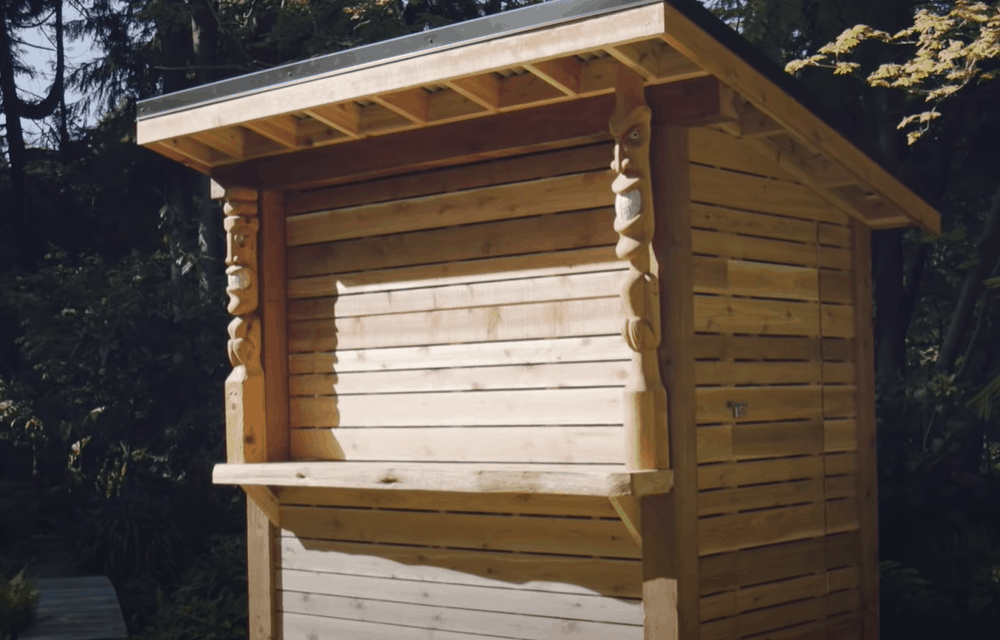 Here's a set of detailed plans that will come in handy if you're looking to build a tiki bar at your home.
There's also a useful video that shows you how it should look, helping you replicate this cool bar yourself.
20. DIY Tiki Bar from Hallmark
This detailed plan is brought to us by Hallmark, and in it, you will find all the details of the materials you'll need and what you need to do to turn them into a tiki bar just like in the photo.
It's a lot easier than it looks too, so why not have a go?
21. How to Make a Shrunken Head for Your Tiki Bar
If you have a tiki bar, you also need a shrunken head to decorate it.
Perhaps not everyone will agree with this statement, but for those who do, here's a video that will show you how to create one.
Oh, and by the way – it's not real!
Plenty of great plans for bringing paradise to you
As you can see, with a little creativity and imagination, you don't need to travel to paradise because you can simply bring paradise to you.
It might not feel quite as authentic as you wanted as you sip your cocktails surrounded by snow in the middle of winter – but it's better than nothing, right?