Pallet wood is ideal for DIY projects because it's easy to get hold of, costs little or nothing and is extremely versatile – so it's the perfect material to use for constructing a homemade bar.
If you're intrigued by the idea of trying this yourself, we've had a look online to see what other people have been trying – so here are our favorite 17 plans for building a DIY pallet bar.
1. DIY Pallet Outdoor Bar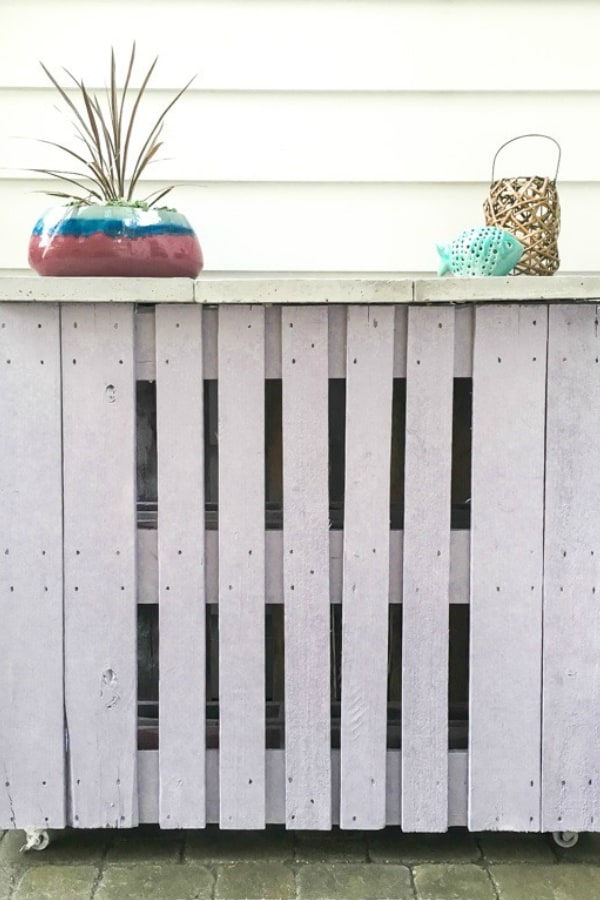 To start with here's a fun plan for a mobile outdoor bar made from pallets. We love the way it's so easy to make, and you won't need to buy any expensive materials to complete it. The wheels are a great addition since they make it practical to move around, so if you need to serve drinks in different areas, you won't need to pick it up and carry it. An ingenious idea and a plan we're sure lots of people will be eager to copy – we approve!
2. Build a Pallet Bar DIY
If you've always dreamed of having a beach bar at your home, this plan for building one from a few old pallets could be just what you need. We especially like the way he decorates the pallets by alternately burning one slat and then covering the next one in sand. This is a highly impressive bar design, and the reggae music in the background sets the mood perfectly, so much so that we're feeling inspired to have a go at building something like this ourselves.
3. DIY Outdoor Pallet Bar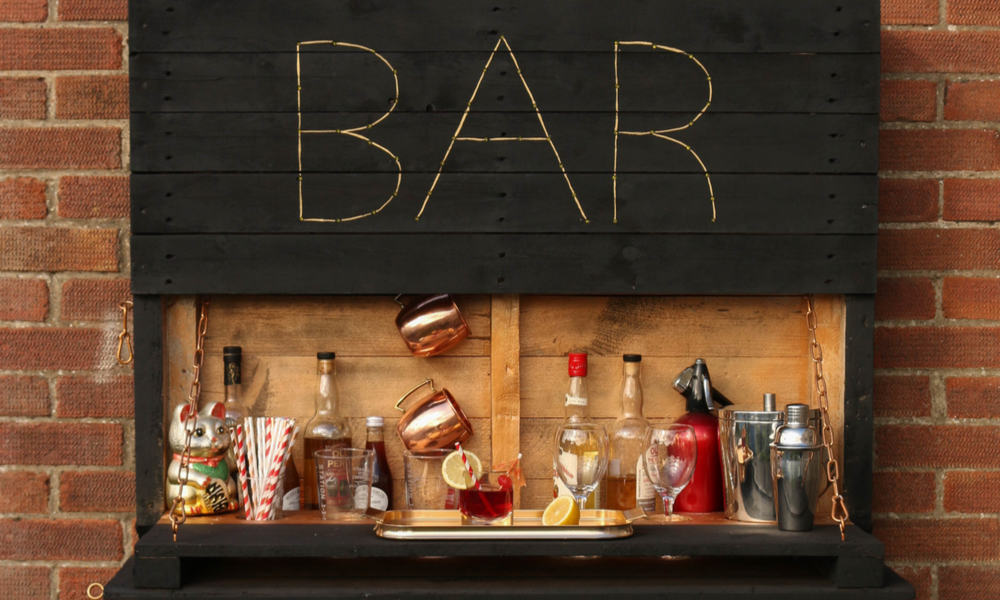 Here's a plan for a wall-mounted fold-out bar that looks amazing! If you don't have lots of space outside, you might not want something too bulky, in which case this design is perfect for you. When you're using it, you can unfold it, but when you've finished, you just close it up again. The blogger thinks it should only take around five hours, so it's a project you could finish in an afternoon, and it won't cost much either – so it's ideal for anyone on a tight budget.
4. Building a Pallet Wood bar
In this video, you'll learn how to make a simple but extremely cool outdoor bar using just two pallets. The DIY work is simple, and we love the style of the bar this YouTuber makes – check out the details like the bell on the counter and the rack for bottles on the side. This is the kind of inexpensive project that's great for novice DIYers – and also the kind of home bar that most people will love owning.
5. How to Build a Wooden Pallet Bar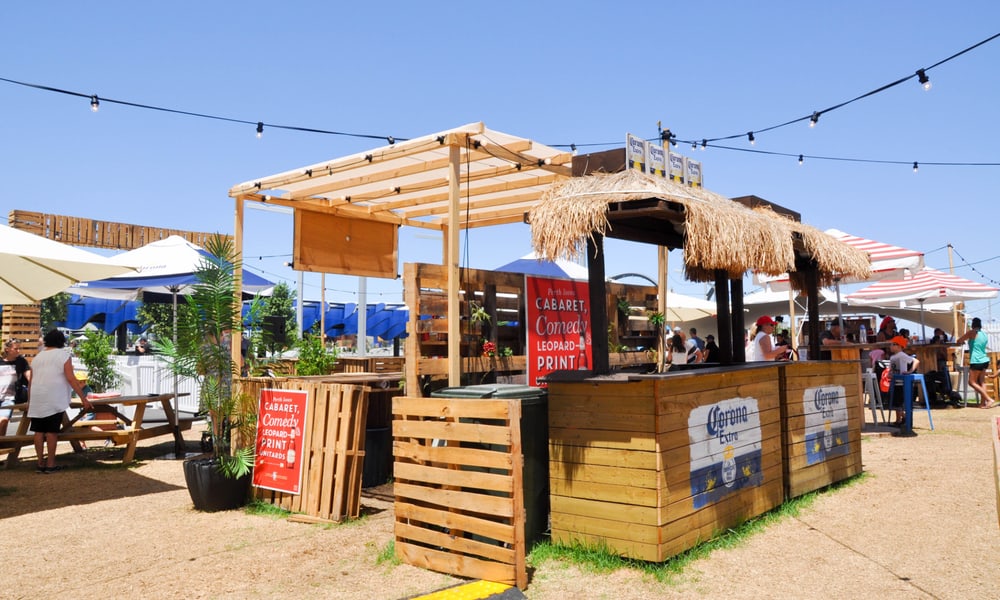 This is one of the more ambitious plans for a pallet bar we've seen – because here, the "bar" we're talking about doesn't refer to just the place where the drinks are served but rather the whole building! Anyone interested in trying this will need a certain amount of available space, but if you want to attempt it, the plan gives you a list of all the materials you'll need and the instructions for putting it together. So if the idea of building something like this appeals to you, why not give it a go?
6. Garden Bar Made from Pallets
If you're fed up with being shut up at home all the time and not having the chance to visit your favorite watering hole, why not build a bar of your own in your yard? To do it, you'll only need a few pallets, which you can acquire for next to nothing – if you even have to pay for them at all – along with a few other inexpensive bits and pieces. This is a simple plan that anybody will be able to copy, and if you go to the same lengths as these YouTubers, you'll soon be the proprietor of your very own private pub.
7. Bar Made from Pallets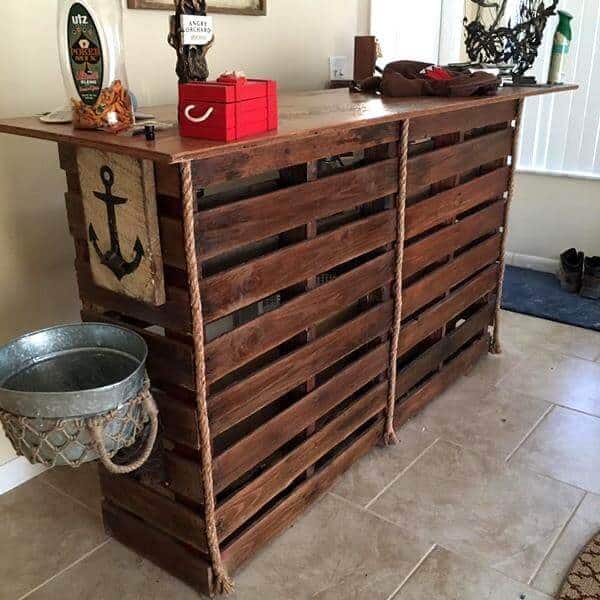 A lot of the plans we've seen for pallet bars are for outdoor versions – but if you don't have an outdoor space available, you can also build one inside your home – and this plan will show you how. We love the nautical theme they've created, but you can choose your own style, making a bar that matches your tastes as well as the décor in your house.
8. Pallet Bar Project
Perhaps what we like most about this video tutorial is that it finds just the right balance between showing us how this YouTuber's bar was put together and giving us the information we need if we want to try ourselves. As you can see, pallets are so versatile, and you can make just about anything from them – so if a homemade bar is on your list of projects to try, check out this plan to learn how to do it.
9. Pallet Bar from Rustoleum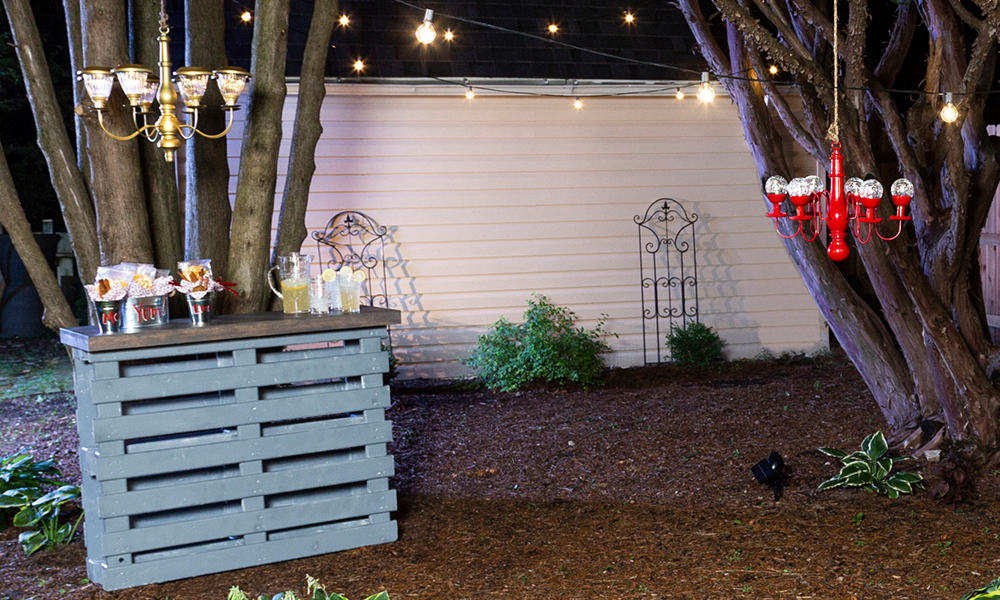 In this tutorial, we learn how to make a highly stylish bar from a wood pallet. We love the photos and videos of the bar when it's finished, and for anyone who wants to make one, this blog includes all the instructions you'll need. This is a simple project that even novice DIYers will be able to complete – and it will hardly cost you anything. Another great plan we enjoyed a lot.
10. How to Make a DIY Bar Out of Pallet Wood
The pallet bar this YouTuber shows us how to construct is large, solid and professional-looking, and if you think you might want something similar, this video is a recommended watch. We love the way he gives you lots of advice about pallet DIY – things like how to choose the pallet and how to remove nails – so you have all the info you need to ensure your project is a success.
11. Man Cave Wood Pallet Bar
If you want to create extra seating space behind a couch, this is a plan that should be of interest. In it, this blogger shows us how he created a cool-looking bar from nothing but pallet wood and a few other supplies. We love the style of this bar, and we're sure lots of DIYers will enjoy having a go at building one of their own too.
12. Pallet Bar from Instructables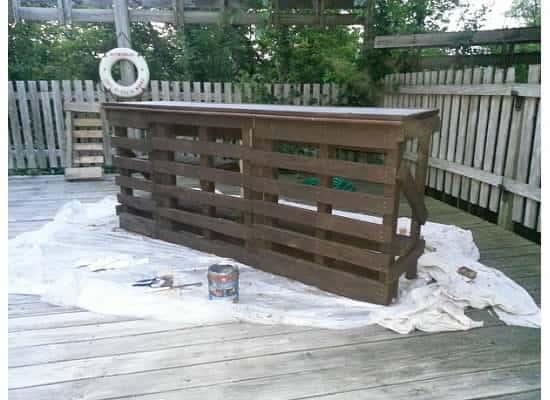 Here's a great plan from the ever-reliable Instructables website, this time for a quick and easy pallet bar. The plan includes step-by-step instructions and plenty of photos to help you see what you should be doing – and as you can see from the pics at the end, this plan will allow you to construct a functional yet attractive bar in no time.
13. DIY Pallet Bar from Auto Tech
There are lots of plans online for pallet bars, and many of them follow the same basic designs, so if you want to build one, it shouldn't be hard to adapt a plan to your own needs. However, if you are looking for ideas to fire your imagination, this YouTube video shows a range of creative possibilities that will help you choose the kind you want to build yourself.
14. Build a Pallet bar – Step-by-Step Instructions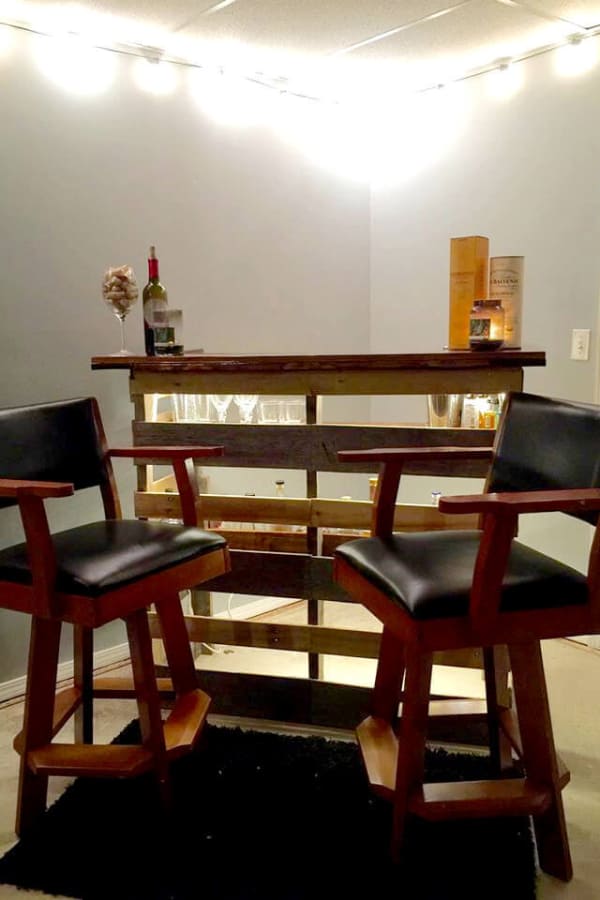 This plan comes from a site dedicated to making stuff from pallets, and we have to say that this pallet bar is among the most impressive we've seen. It's small and compact, but with the finish and the lighting, it looks super classy – and for anyone who wants to try building one of their own, this blog includes all the details you'll need.
15. DIY Pallet Bar from Flippin' Mobile Homes
One of the most obvious advantages of DIY in general – and pallet wood DIY in particular – is that it allows you to make and own cool stuff without spending a fortune on it, so as far a pallet bars go, at around $150, this is one of the more expensive versions. However, judging from the video, we think it's more than worth the investment, and if you're willing to put that much money into your project, you can build something similar too.
16. How to DIY an Outdoor Bar from Pallets
There is no other word for it – the bar in this video is nothing short of amazing. It doesn't look much like a DIY effort, but this YouTuber made it entirely from recycled scraps of pallet wood and other similar items. Making something like this requires a lot of talent, and if you want to know how to do it, watch his video to find out.
17. This Pallet Bar in My Backyard Cost Me Only $112 To Make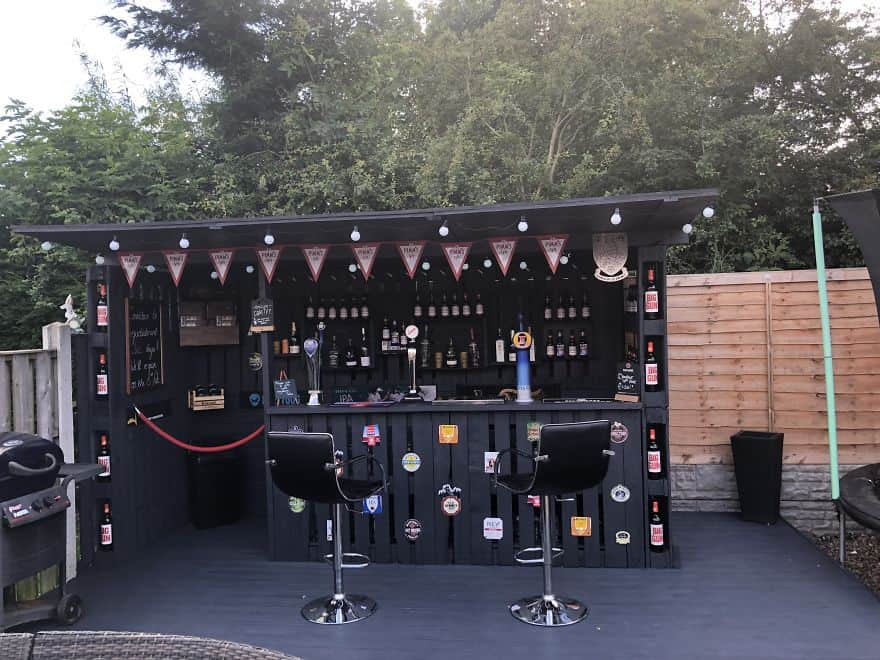 Using just a few old pallets, this blogger from Sheffield in England recreated a traditional English pub in his back yard. We love his attention to detail – as you can see, he's thought of everything, from the beer taps right down to beer mat décor and Pimm's bunting. Another fantastic effort, and something we're sure plenty of DIY enthusiasts will be itching to try themselves.
Loads of great ideas for amazing-looking pallet bars
As you can see, there are loads of ways to build bars from pallets, from small, simple ones to large and elaborate versions.
We always enjoy collecting DIY plans like this because the creativity on display always leaves us feeling so inspired. We hope you've enjoyed reading and watching these plans as much as we have finding them – and above all, we hope you've found the ideas you needed for building a DIY pallet bar of your own.