A buffet table is a wonderful way of storing your crockery and tableware. But buy one new and you could spend a fortune.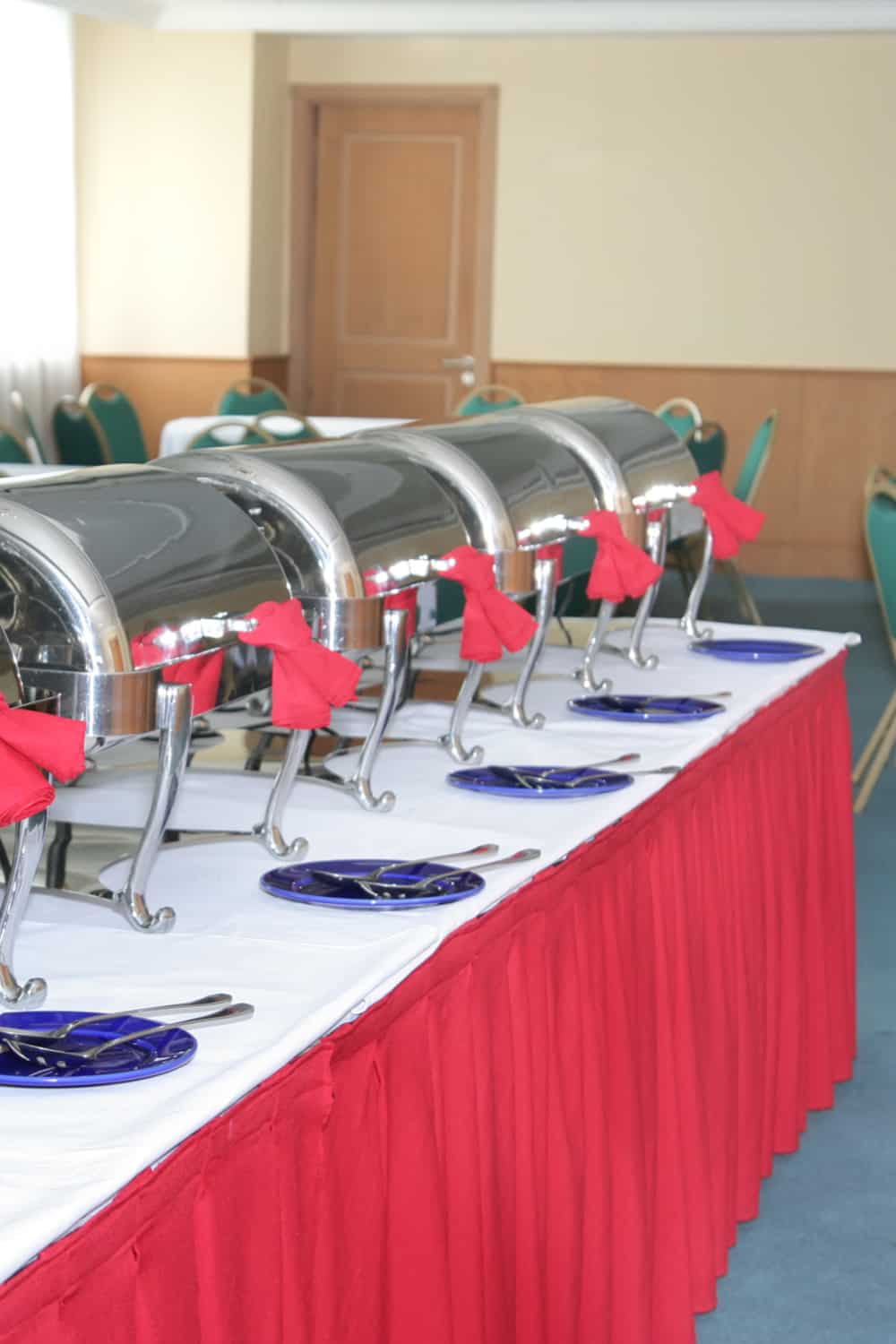 If you're looking for a cost-effective solution, a homemade buffet table might be the answer. And with some time and imagination, you can create something that's perfect for your home.
To help, we've found 17 of the best buffet table plans the internet has to offer. Read on to find all the advice and guidance you'll need for your next project!
1. DIY Sideboard Cabinet (With Storage!)
This video from DIY Huntress takes you through every step to build an attractive buffet table. And there's bags of room inside for storage. The technical drawings are all available on the DIY Huntress website too, so you can follow the plan exactly. Some of the process is speeded up so you get the idea without watching a very long video. The whole thing is just over 15 minutes, and the final product looks modern and stylish.
2. West Elm Inspired Buffet Featuring Jen Woodhouse and Anikas Design Life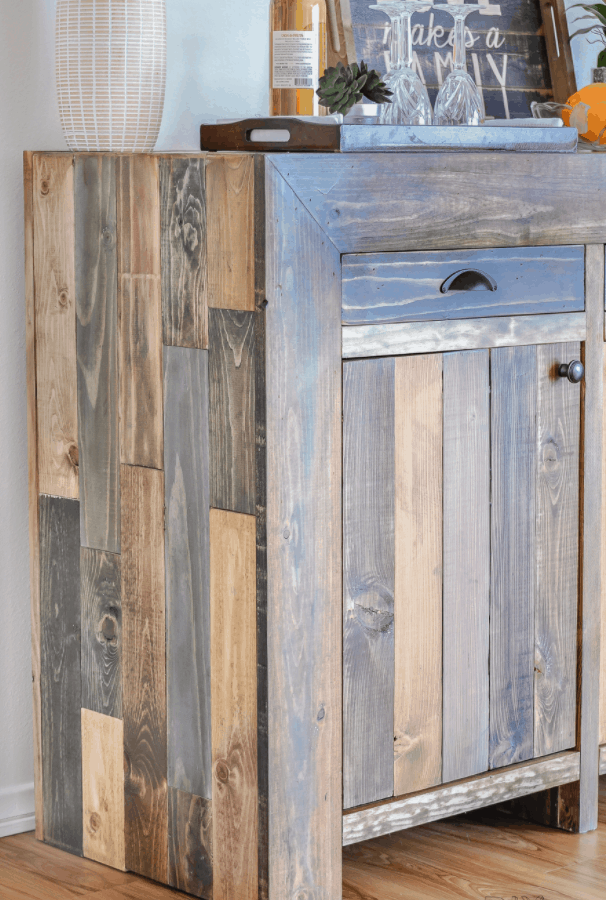 If you love the look of reclaimed wood, check out this fantastic plan from home and lifestyle guru Ana White. This beautiful and distinctive design features two drawers over two cupboards with shelves. Detailed plans can be downloaded as a PDF file. This contains lists of materials, hardware and tools, plus a cut list and detailed step-by-step instructions. Each step is illustrated by technical diagrams with measurements and different views.
3. DIY Buffet Table
If you want to get a quick overview of a buffet table build, check out this video from Thao Studios. Everything here is speeded up so you can see the entire process is under 6 minutes. That does mean that some things happen so quickly it's hard to see exactly what's going on. But if you're a confident DIYer, this has all you need. And it's a great option for those looking for an open-fronted design.
4. DIY Buffet Table with Pallet Wood, Concrete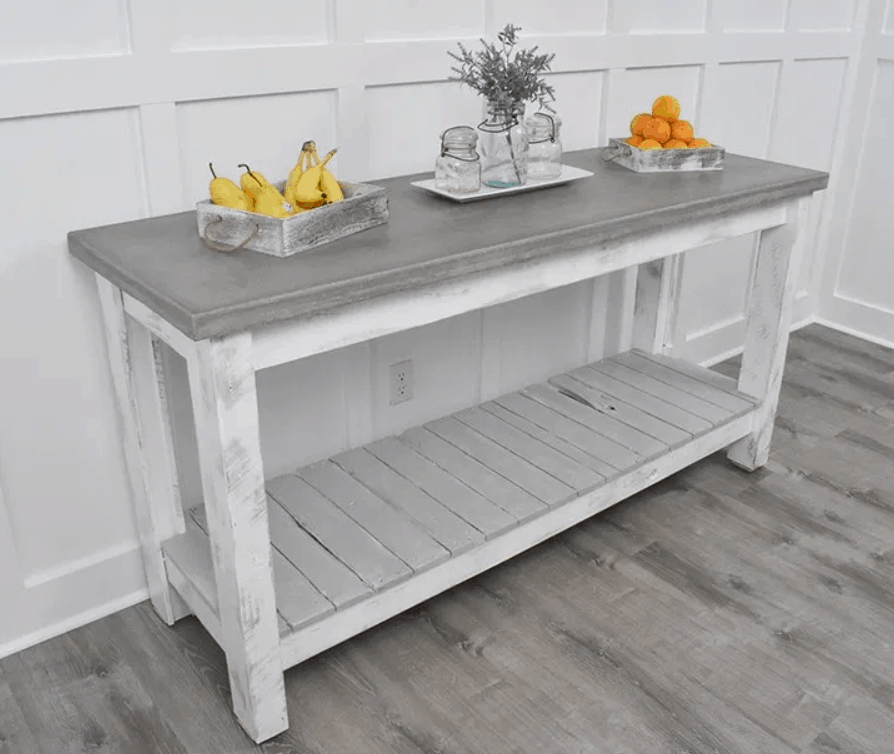 This is a brilliant plan for anyone who loves industrial chic. It uses inexpensive materials to create an open-fronted buffet table that looks a million dollars. It begins with lists of tools, supplies and PPE. Each item has links for where it can be bought online, saving you a search. The steps aren't particularly detailed, but photographs help you see what you need to do. And there's a link to a separate guide to make the concrete tabletop.
5. 082 – Sounds of the Workshop (Buffet Table Build)
This video offers an unusual take on showing you how to build a buffet table. It demonstrates the whole process focusing on the sounds in the workshop! But don't worry, if you want more detail on exactly how to make the very attractive nine-drawer buffet shown, visit the website. There's a link from the video, and all the technical plans can be downloaded as PDF files.
6. DIY Buffet Table
This elegant buffet table can be made in just ten steps. There are two drawers here and no cupboards, so there's less storage space. But it's less bulky than other designs, and less work too. The plan contains lists of tools and supplies, many with links to online retailers. There's also a handy cut list. The instructions are clear, and each one is illustrated with a big photograph to help you follow along.
7. Modern Shaker Sideboard Build
If you love the elegant simplicity of Shaker furniture, you'll love this buffet table design. It's finished in cream paint with a natural wood top, but you could choose any color to fit with your décor. There are cupboards, drawers and open-fronted shelves for versatile storage. There's a link to a separate video showing how to make the Shaker doors. And the comments section includes links to buy all the hardware used in the project too.
8. Easy DIY Buffet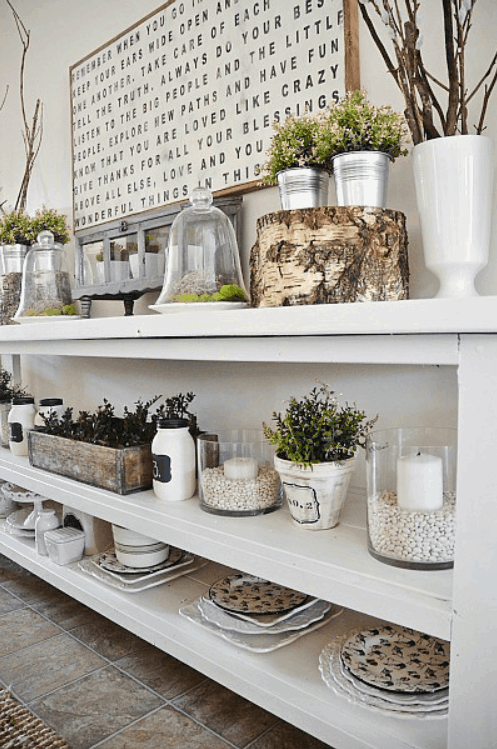 This beautiful open-fronted buffet table screams provincial French chic. The plan includes lists of tools and supplies, many with links so you don't have to search to find them. There's a cut list for all the parts, and the instructions are broken down for each section of the table. You'll also get an estimated cost for your build. You'd never guess from looking at it, but this is very inexpensive to make.
9. Making a Walnut Sideboard/ Buffet Table
If you're looking for a buffet table in a classic design, this is a great plan. YouTuber The Roaring Woodwork shows how to construct a beautiful version in solid walnut. Everything from making the shelves to fixing the hinges is demonstrated in this video. The buffet table here has soft-close doors too, for a really high-end feel. And the comments section offers advice on choosing the right oil for a smooth and robust finish.
10. Farmhouse Buffet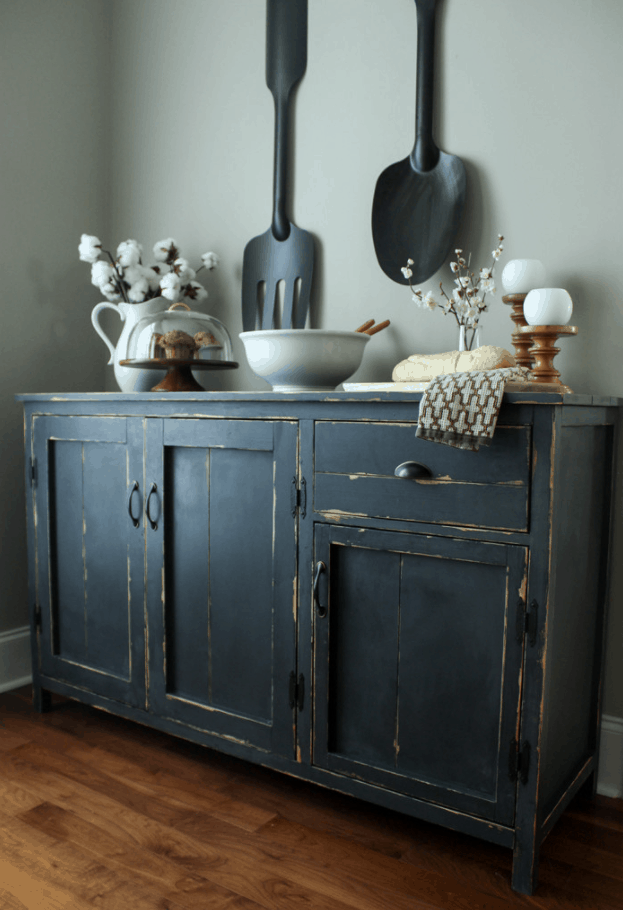 This stylish buffet table from website RogueEngineer.com oozes shabby chic. There are two different sized cupboards plus a drawer, providing versatile storage space. The plan starts by listing everything you need, complete with links to buy your tools and materials online. This is followed by detailed technical drawings, plus a cut list. The directions are simple too – everything is broken down in short, easy-to-follow steps.
11. Shaker Inspired Walnut Sideboard with Sequential Crotch Panels
If you really want to make your furniture from scratch, this could be the perfect video for you! The wood here – walnut and spruce – was harvested from trees in the presenter's yard and his neighbor's. There's even a link to another video showing the walnut tree being felled. The guide talks you through every step of the project. And there's some great advice on choosing and positioning the wood to get the most attractive results from the grain.
12. Build the Genevieve Buffet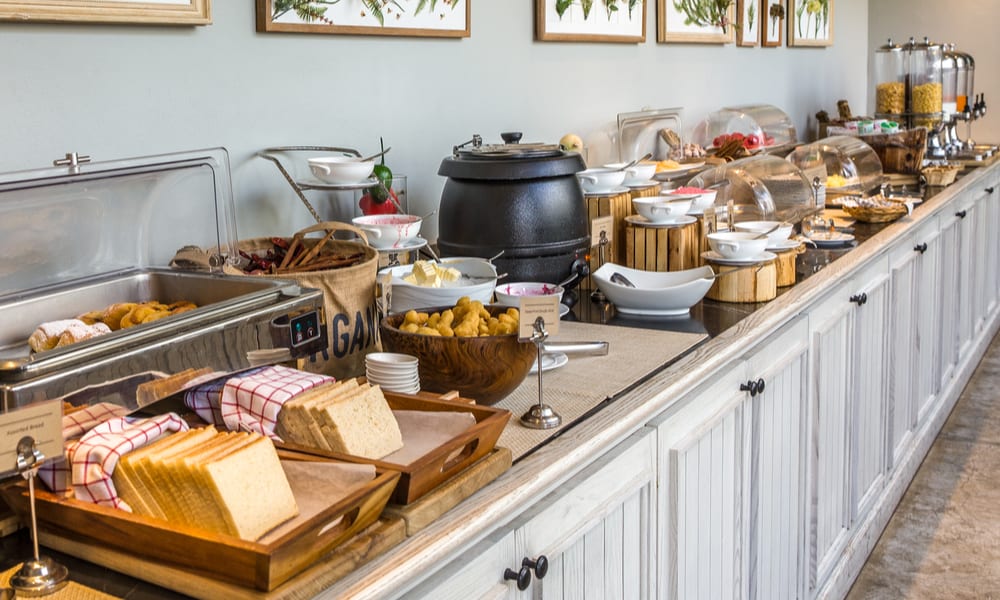 This plan includes everything you need to create an elegant, vintage-inspired buffet table. This one features three drawers and a classically styled splashback. The guide begins with a list of tools and materials, plus a cut list. The directions are broken down into nine clearly described steps, each accompanied by a technical drawing, complete with measurements. And there's scope here to customize the design yourself, particularly in choosing the shape and decoration for the splashback.
13. DIY Sideboard Cabinet – How to Build
This video from Fix This Build That is just 10 minutes long, but packs in lots of information. It shows every step of the construction, with advice on how to get the best results at every stage. Full plans and a materials list are also available at fixthisbuildthat.com. The finished buffet table features two drawers and a cupboard underneath. It's not too big, so while there's plenty of storage it won't take up a lot of room.
14. DIY Farmhouse Buffet Table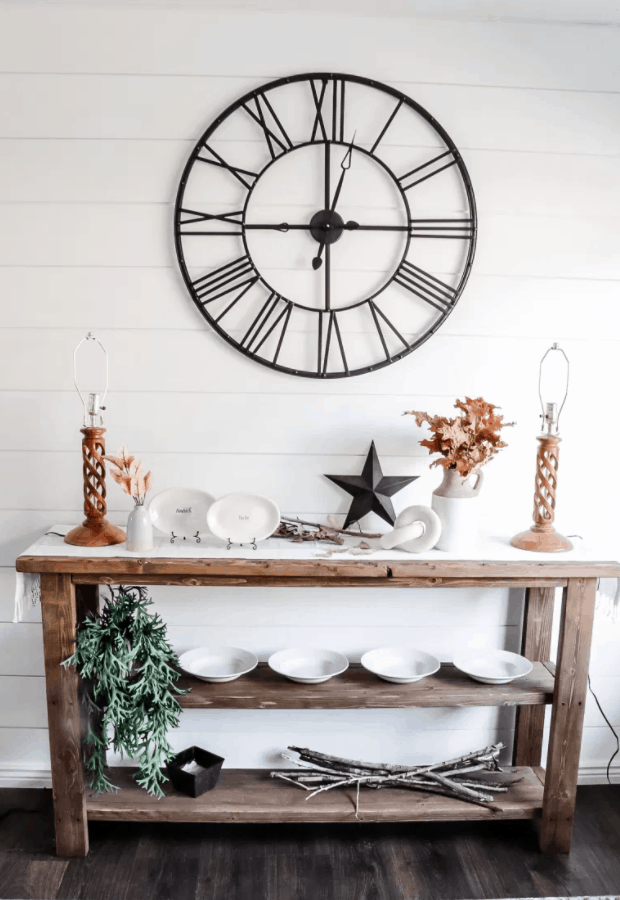 This simple buffet table would look perfect in any farmhouse kitchen or dining room. The plan makes creating it easier than you might expect too. There's a list of tools and materials, lots of which have links to online suppliers. The directions are split into 11 easy steps. There aren't as many photographs on the website as with some guides. There is, though, a link you can follow to get the detailed plans emailed to you.
15. EXTREME IKEA HACK!!! DIY Apothecary Buffet Cabinet
If the idea of building a buffet table from scratch is daunting, why not hack flatpack furniture instead? This video from DIY Danie ingeniously demonstrates using two flatpack cabinets from IKEA to create one huge apothecary cabinet. If you want the same look but don't have as much space, just follow the process using a single flatpack cabinet. You won't need as many tools for this project as for those where you build your buffet table from scratch. An electric drill and flat saw is pretty much all that's required.
16. DIY Reclaimed Wood Buffet Ikea Hack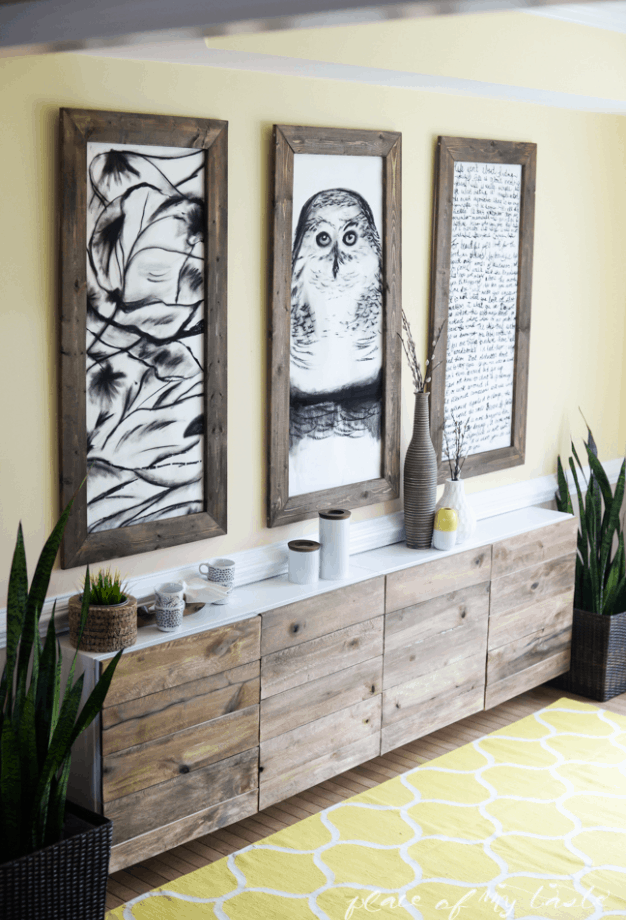 This is another plan that uses an inexpensive Ikea cabinet as the basis for a stunning buffet table. Here the doors are clad in reclaimed wood for an upscale look. It's modelled on a similar design from designer furniture store West Elm, but this one is created for a fraction of the price. This plan is less of a set of instructions than a description of someone else's project, but there's enough detail for you to recreate it. And the clear photographs provide extra guidance on what is a pretty simple build.
17. DIY Sideboard/ Buffet Cabinet – How to Build
This is another great video for relative beginners at DIY, because it doesn't require loads of tools. You'll need only a table saw, mitre saw, pocket hole jig and drill. You can even replace the table and mitre saws with a circular saw if that's what you have. Detailed technical drawings and a cut list are available on the Crafted Workshop website. And all the links are in the video description.
Time to build your perfect buffet table!
Whether you're looking for ideas and inspiration, or a step-by-step guide for your buffet table, you can find it online.
If you're choosing a more complicated design, look for options with detailed technical drawings. Unless you're confident in drawing these up yourself, they'll save you lots of time and energy.
And if you're looking for an easier life, why not upcycle some standard flatpack furniture? As some of these plans show, you can get great results.
Whatever option you choose, happy woodworking – and enjoy using your beautiful new buffet table!