If you're somewhere you can't trust your water supply, a purifier is essential. But they can be very expensive.
You can save a fortune, and be confident of getting pure water, by making your own. And there are lots of places online where you can find out exactly how to do that.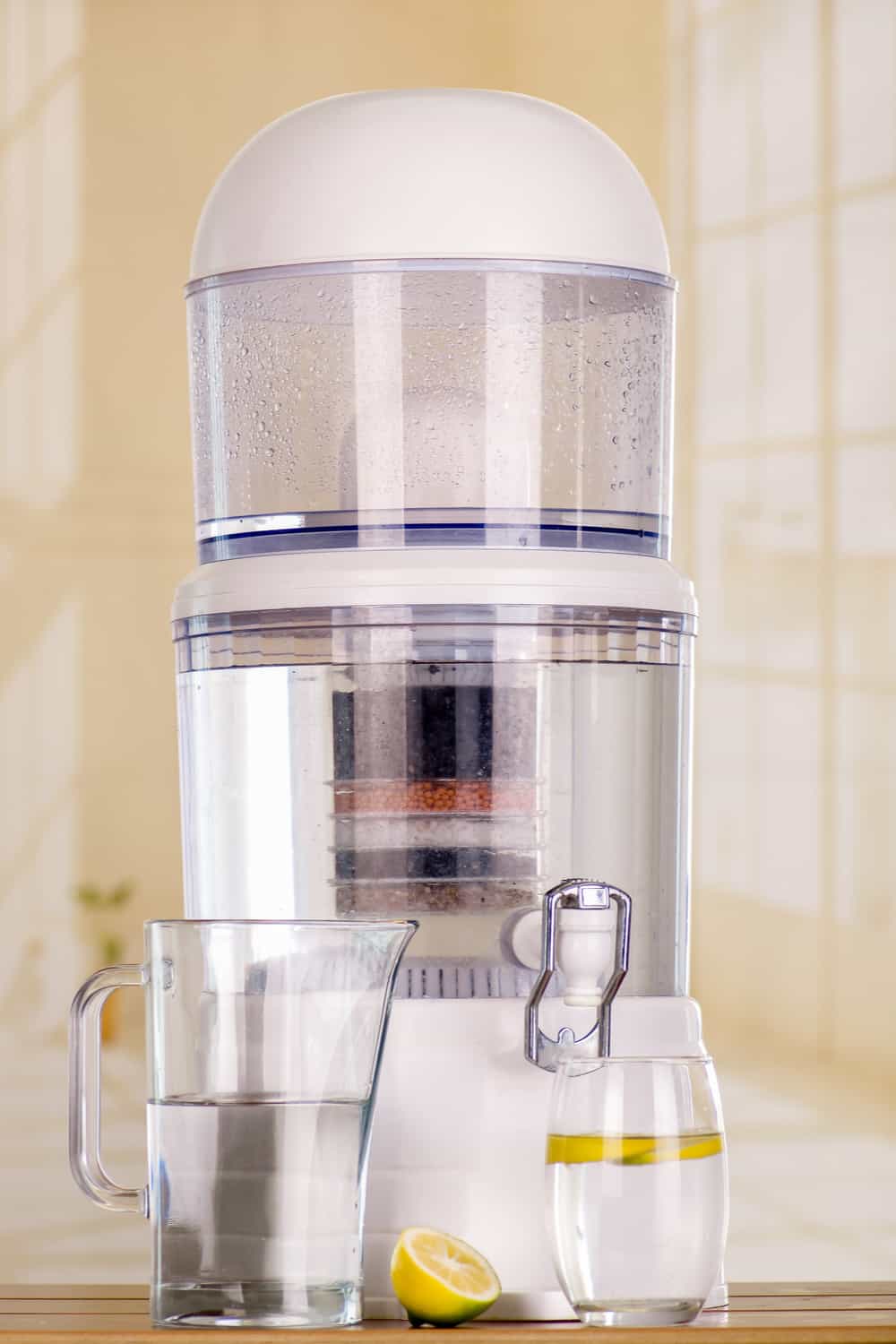 We've rounded up 16 of the best DIY water purifier plans out there. Take a look and find out just how easy it can be to get your own supply of clean water.
1. DIY Water Filter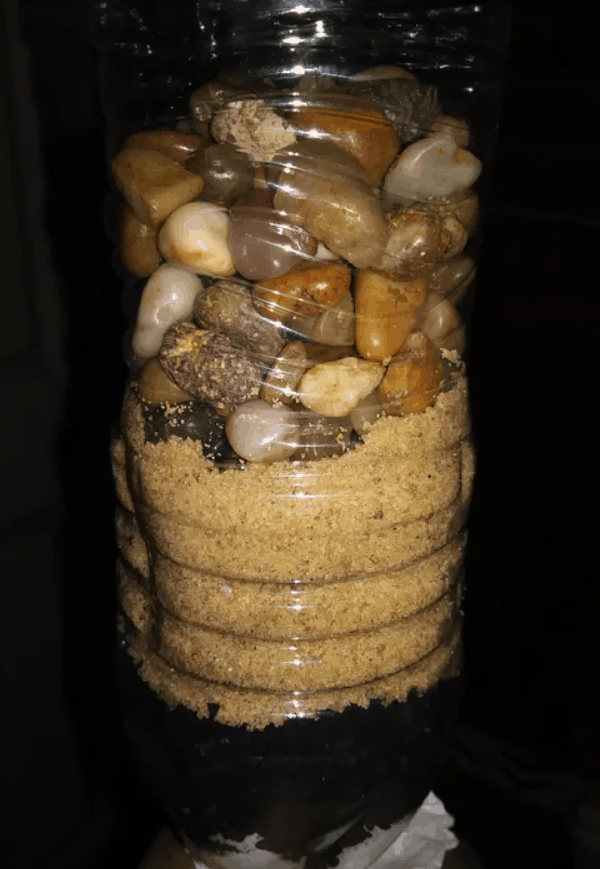 This simple guide shows you how to make a water filter with just a handful of ingredients. There are photographs to show you what your filter should look like every step of the way. And there's even guidance on where to find everything you need, and how much it will cost. Just note that the ingredients section lists all the materials the water will pass through – but not everything you need for the project. Read through to the end before you start so you don't find you're missing something.
2. How to Make a Water Purifier – Homemade
If you're looking for a tabletop water purifier you could use on a daily basis, check out this video from Creative Life. It starts with a "before and after" segment to inspire you with the results you can achieve. Watch brown water transformed to clear – you can even see the total dissolved solids count for each batch.  You'll need a few extras for this one, including an electric drill with various attachments, plastic containers and a spigot. If that doesn't put you off, this is a plan that can deliver brilliant results.
3. How to Build a Bio Water Filter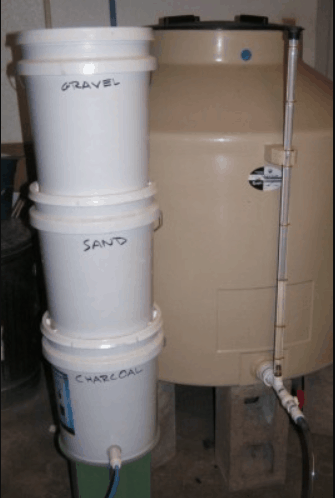 This guide starts by talking you through the advantages of a bio water filter before showing you how to build one. It's heavier on text than pictures, but there is a photo of the finished product. This one uses buckets and plumbing fittings to create a water filter that's capable of handling higher capacities. In fact, it can purify several gallons of water each day. If you're looking for something for whole household use, this could be the project for you.
4. DIY Portable Water Filter at Home
If you're in the market for a higher tech solution, this video from Creative Etc. is worth a look. It shows you how to configure a purification system using shop-bought filters and a UV lamp. If you're prepared to spend some money on the different elements, it's a great way of getting a quality system. And you'll still be paying far less than you would for an all-in-one solution. There's a list of ingredients and equipment below the video. Just note that the first 20 liters of water that pass through the system aren't safe for drinking.
5. How to Make Charcoal Sand Water Purifier at Home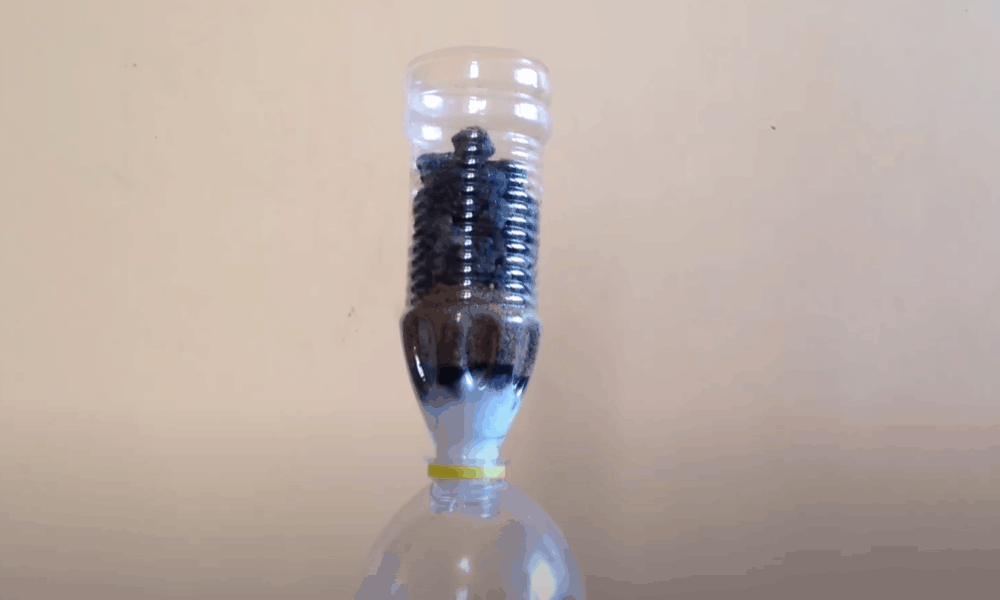 This is one of the simplest DIY water purifier plans we've found. The only ingredients are a plastic bottle, charcoal and either sand or grass. There's also an alternative version using sand instead of charcoal. This isn't the most detailed plan – you're left to guess how much of the different materials to add to the bottle. And we wouldn't recommend drinking the water that comes out of the bottom without boiling it first. But if you want a quick and easy way to demonstrate water purification principles to students, this could be it.
6. How to Make a Water Filter with Sand and Charcoal
This video from MEL Science takes you step by step through another plan that shows how a very simple filter can get great results. This one uses alternating layers of sand and carbon. It's easy enough to be put together in just a few minutes. Note that this is more of a science experiment than something you could use for any quantity of water at home. The filtration process takes a long time, and you'll still have to boil the water before it's safe for drinking.
7. How to Make a Water Filter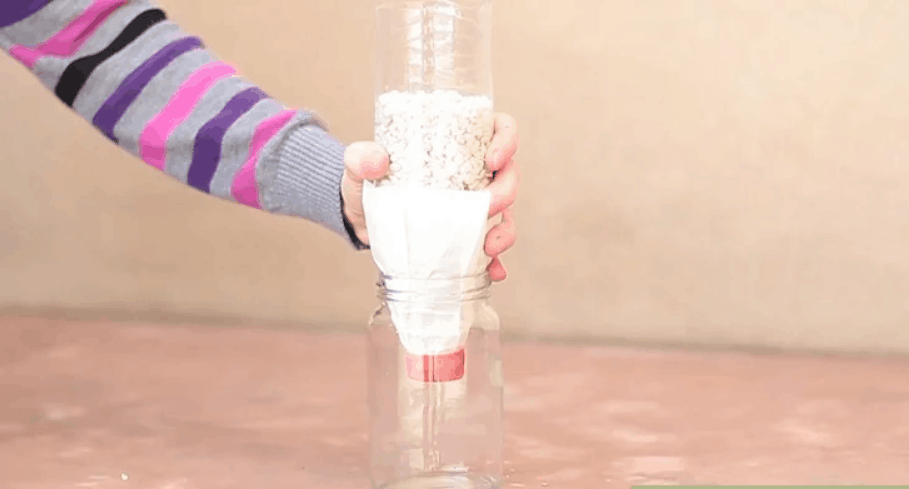 This guide from popular website WikiHow is one of the clearest we've found. It starts by listing every ingredient and piece of equipment you'll need, complete with photos. And every stage of the build is illustrated by its own short video. At the end, there are alternative guides for filters using more unusual ingredients like fruit peel and even a tree branch. Just make sure you boil the filtered water to kill bacteria before drinking it.
8. DIY: Make Swamp Water Drinkable!
This video from The King of Random takes you through how to filter water using sand, small pebbles and charcoal. It shows you how to prepare the ingredients to get the best results. It's a great plan for anyone who wants to add their own individual touch to their project too. There are optional steps and alternative configurations to try, together with a comparison of the results. You will, though, have to sit through a bit of marketing of the presenter's video games.
9. Homemade Water Filter with Diatomaceous Earth
If, like us, you're wondering what diatomaceous earth is, this guide doesn't tell you! But it does show you how to use it to make a water filter. You'll also need a coffee filter, sand and gravel, plus a water bottle to hold everything. Each of the seven steps is explained with text, but there aren't many photos to help. And if you're still wondering – diatomaceous earth is formed from the remains of tiny aquatic organisms. Good to know!
10. Homemade Drinking Water Filter System
If you're interested in seeing someone who uses their home-made filter system in everyday life, this is a great video. Kevin in Paradise takes us through every element of his home system, including a 500-liter silver-lined tank and various filters. If you're looking for something suitable for off-grid living, it will give you plenty of ideas. But all but the most confident DIYers will probably need more detailed advice to replicate it.
11. Making an Emergency/ Makeshift Water Filter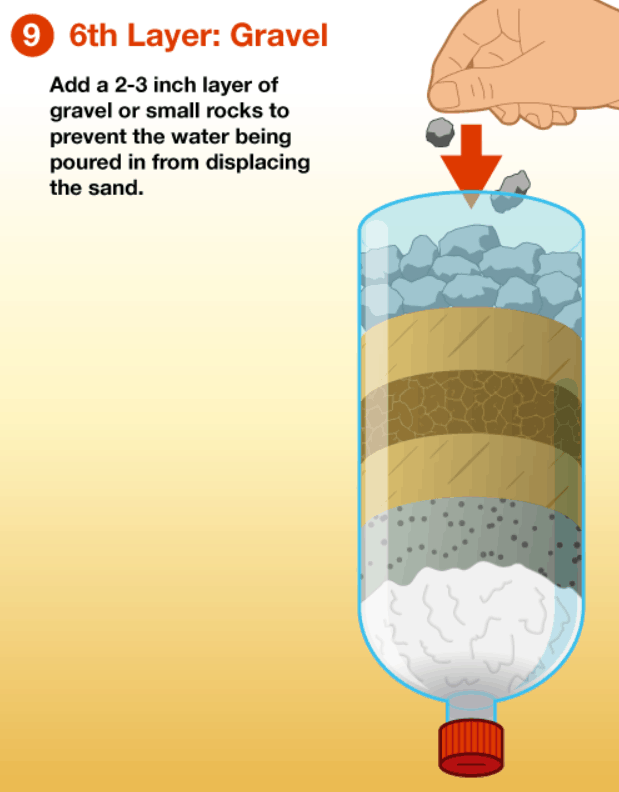 If you're looking for a detailed guide that's still simple to follow, this is a great option. It shows you how to make a filter with no fewer than six different levels. And each step of the process is illustrated with a large, clear picture. The ingredients you'll need are listed up-front, but you'll need to read through the directions to assemble your tools. The good news is, you'll need nothing more elaborate than a hammer and a pair of scissors.
12. The "3-Tuna-Can" Water Purifier!
This guide uses three tuna cans placed inside a plastic bottle to hold each of the filtration layers. The filtration is provided by activated carbon, sand and gravel, together with coffee filters. You'll need to cut down the side of the plastic bottle and drill holes in the tuna cans. It's a quick and easy project to filter small amounts of water, but it's definitely one for adult crafters.
13. Homemade Water Filter Science Project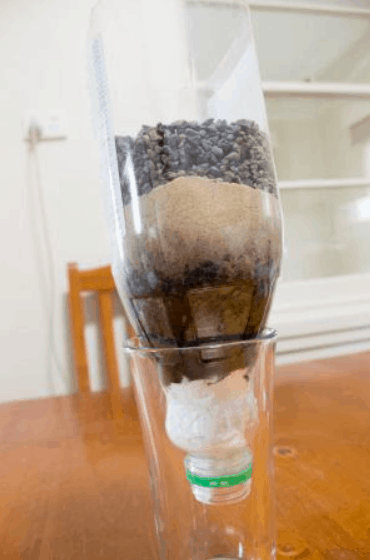 This guide is perfect for parents wanting to introduce their children to the concept of filtration. As well as taking you through the construction step by step, it suggests ways to get your kids thinking about the science. It won't filter lots of water and you'll still need to boil it before drinking. But this is a great plan to let your kids have fun while they learn.
14. Budget DIY Whole House Water Filter System
If you need a serious purifier for the whole house, this video from Indiana DIY offers a very practical plan. It uses the Big Blue filters from Pentair Pentek, and shows you the dimensions and details of the inlets and outlets. It provides advice on the specifications, costs, and the accessories to buy for the best results. There's not a lot of detail on installation – but if you're interested in these filters, it's worth a watch.
15. Make a Water Filter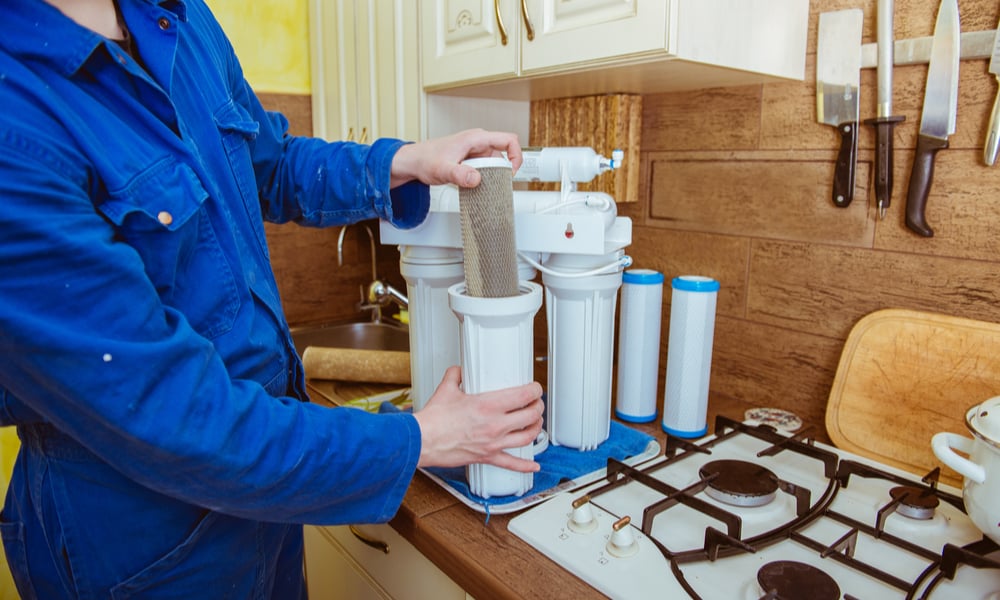 This is a great guide to how to create a water filter using just two buckets and some simple materials. There aren't loads of pictures, but the diagram of the different filter layers is pretty much all you need. Each step is clearly described, and there's useful advice on how to avoid problems. Follow this plan and you'll have a simple but effective filter, perfect for temporary use.
16. The "Compression Coupler" Water Filter
This clever guide shows you how to make a water filter with just activated carbon, window screening and plumbing parts. Even better, the filter can be attached to a faucet, a hose, or even a water bottle. The whole process is very easy. The video shows you how to put it together in real time, in just over 3 minutes.
Ready for pure water?
Whether you're looking for a water purification system for your household, or just a rainy afternoon project for the kids, there are some great guides online! We hope you've found one that gives you exactly what you need.
A few simple ingredients put together in the right way can provide cleaner water in any environment. Just make sure you know whether you also need to boil it before drinking.
We hope you enjoy making your DIY water purifier!