Are your bathroom countertops ugly? Are you trying to find out the replacement option? If your answer is yes to any of these questions, this post is for you!
Planning on replacing your bathroom countertop with a brand-new one seems all fun and cool until you hear the prices. So, instead of buying a countertop, why not DIY one for yourself? Read on to find out 16 fabulous DIY countertop ideas!
1. DIY Bathroom Vanity and Countertop Makeover
This video tutorial by Erin Spain guides you to DIY a stunning bathroom vanity and countertop on a budget. By following this amazing tutorial, you can renovate your old drowsy bathroom into a vibrant one.
All the products required for you to complete the project are listed in the description box, along with the links from where you can purchase them. The procedure for this DIY makeover is so elaborative in the tutorial that even a DIY noob can follow along!
2. DIY Wooden Countertop for Your Bathroom
Suppose your bathroom countertop is outdated and you are interested in renovating it with a wooden countertop. In that case, this site will provide you with all the necessary help you'll need for the setup.
The list of the required materials and the step-wise instruction are elaborated in this tutorial. All the necessary tips and precautions that you must take beforehand are also explained in detail. All you need to do is to follow the site along and DIY yourself a beautiful wooden countertop.
3. DIY EPOXY COUNTERTOP // Bathroom Countertop Makeover
When it comes to countertops, how could anyone leave fancy epoxy countertops! The best part is that they're relatively easy to DIY. This video tutorial by BYOT guides you to DIY an epoxy countertop. The Youtuber uses Total Boat Epoxy and Black Diamond Pigment for the purpose.
The lists of materials and tools required for this project are listed in the description box. Follow this tutorial to transform your bathroom countertop completely!
4. DIY WOOD BATHROOM COUNTERTOP: AN EASY WAY TO CHANGE YOUR VANITY IN 1 WEEKEND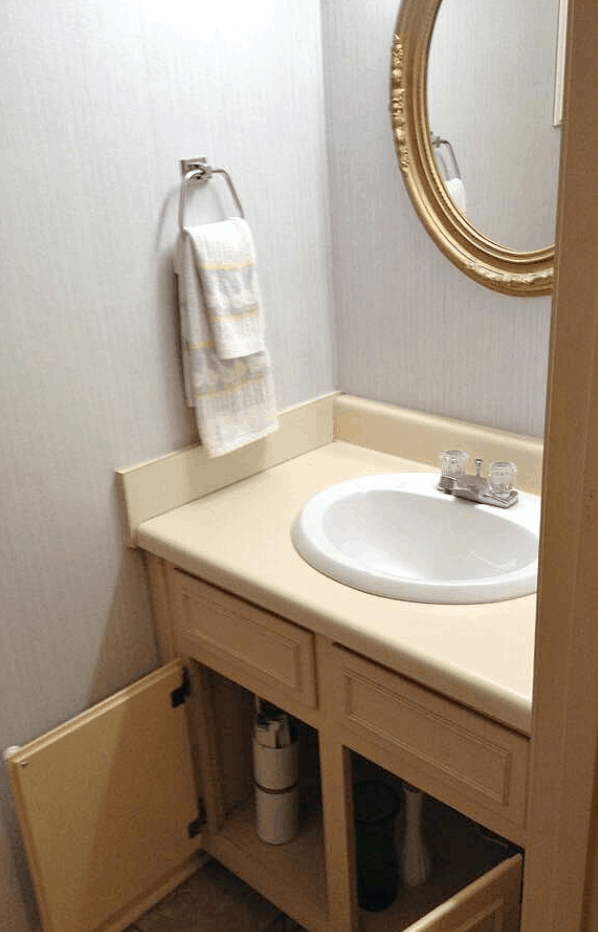 This site guides you to make a wooden bathroom countertop under the budget of $50! And what's more, the blogger completed the project within a weekend!
The blogger further also claimed that the project is easy to do and has guaranteed the best result. The list of materials and tools, along with the step-wise procedure, are elaborated in the blog. You just need to follow along to DIY a stunning wooden countertop for your bathroom.
5. DIY Marble | Bathroom Countertop Makeover
What are your views on marble countertops? If your answer is 'I love them!', this video tutorial by Chicago Style Icon is the perfect tutorial for you.
The Youtuber guides you to transform your old and boring countertops into a beautiful marble masterpiece just by using some supplies and a bit of patience. All the materials required for this DIY are listed in the description box of the video tutorial.
6. DIY Vanity Makeover: Concrete Overlay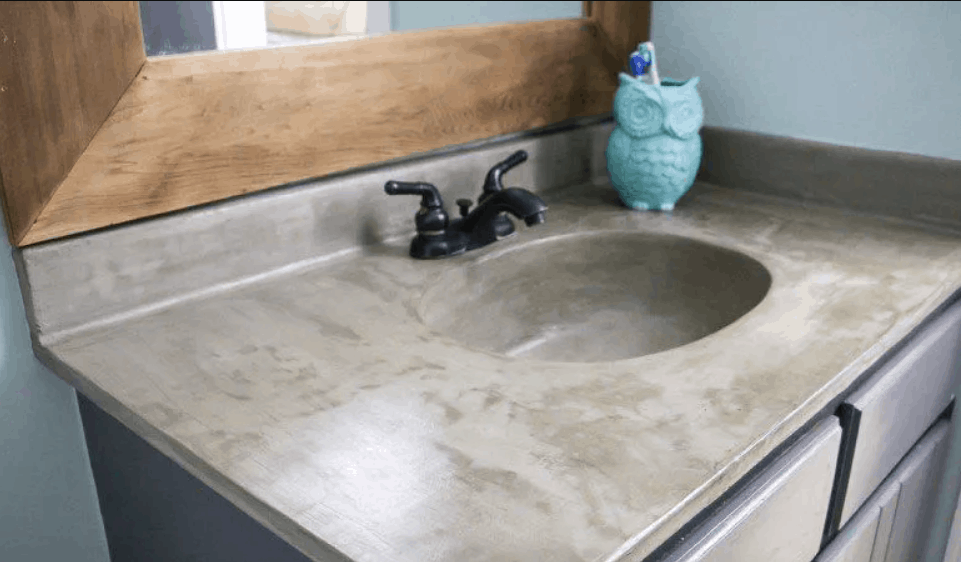 Are you planning on giving your bathroom a makeover? The vanity is where you should start! This site helps you transform your outdated bathroom counter with concrete under an affordable budget of less than $50.
All the materials required for this DIY project are listed on this site, followed by the step-wise instruction to transform your bathroom vanity. The blogger further provides his readers with additional tips for maintaining and updating the vanity once the DIY is complete.
7. Rustoleum Countertop Transformation | DIY Bathroom Makeover
The Youtuber Valerie Aguiar demonstrates how you can use Rustoleum Appliance Epoxy Spray to transform your countertop. For just under the budget of $7, the Youtuber transforms her yellow and ugly countertop into a white and shiny, stunning countertop.
The Youtuber shares all the necessary steps she followed, along with some additional tips that she learned on the way. A quick tip for you – you can choose any colored epoxy spray to give a brand new color and vibe to your bathroom countertop.
8. How to Build a DIY Bathroom Vanity From Scratch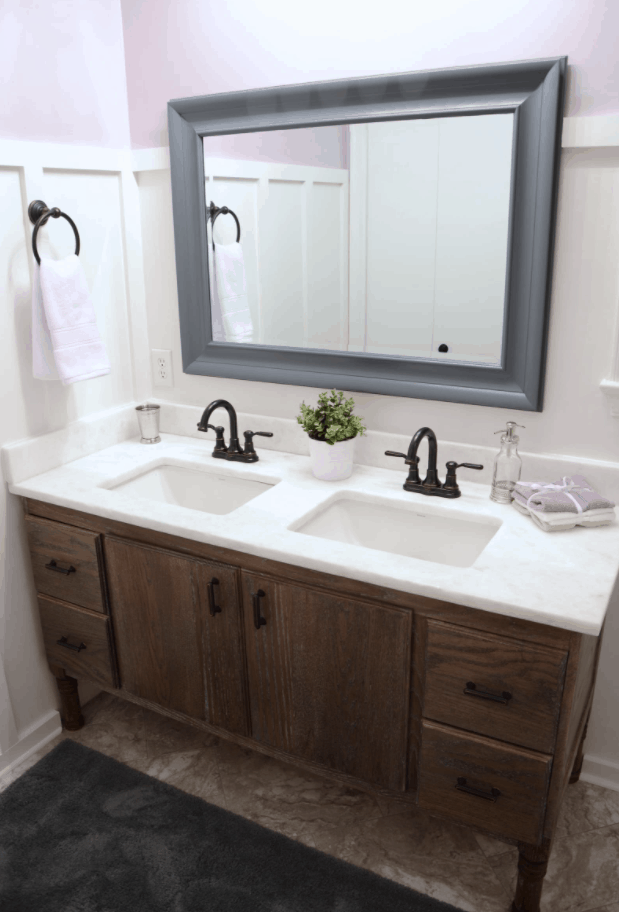 If you have extra wood lying in your backyard, follow this tutorial to make an amazing bathroom countertop. The job is easy – just nail and screw the pieces of wood together, and you're done!
The resources required to do the project are listed on the site, along with their affiliated link. Follow along the step-by-step instruction mentioned on the site and transform your bathroom just like that!
9. Dr. Gene James- DIY Replacing a Bathroom Countertop
If you have old-fashioned countertops in your bathroom and you might want to transform it with granite. If that's the case, this video tutorial by Dr. Gene James might prove to be very helpful for you to complete the DIY project.
He further advises you to take all the necessary preventive action before, during, and after work. It took about 3 hours and $100 for him to complete the project. So, estimate accordingly!
10. HOW TO UPDATE A COUNTERTOP WITH CONTACT PAPER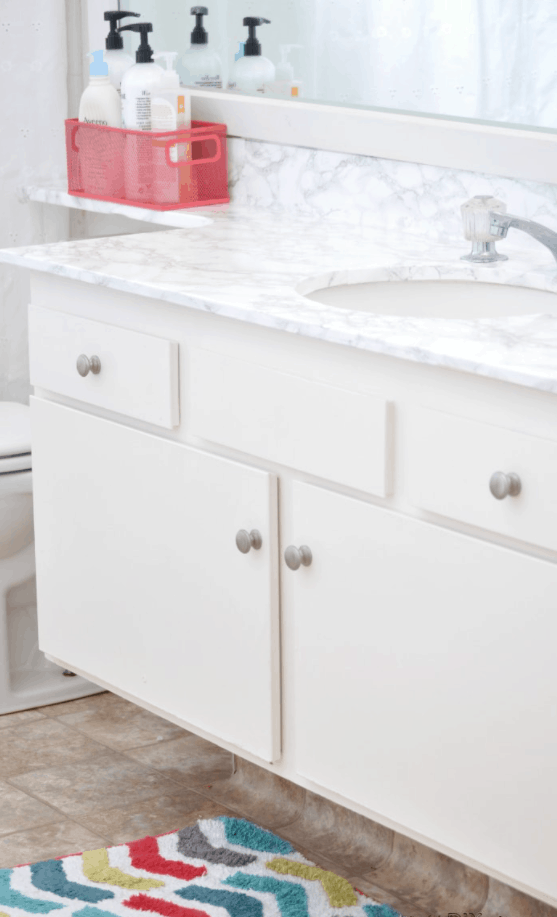 If you live in a rental room, everything is temporary.  This DIY temporary bathroom makeover using contact paper will be the best option for you in such cases. This site teaches you how you can use faux marble to transform your bathroom countertops completely.
The step-wise instructions which you need to follow to transform are elaborated quite impressively. For the major issue- on how to cover the edges and areas around the sink, the blogger has attached a small tutorial video for you.
11. Stunning DIY Bathroom Countertop – Fun, Easy & Inexpensive || Alumilite
If you are looking for a simple, easy and inexpensive way to DIY a bathroom countertop, this tutorial is the best option for you. Youtuber Nikki creates a stunning bathroom countertop in this tutorial using Clear Cast Resin, Alumidust, Alumilite dye, and an MDF board.
She created this cool and unique countertop by layering a white resin base, marbling color, and phosphorescent epoxy resin. The products are listed in the description box. The best part is that this DIY project costs you less than $60!
12. How to Build a DIY Floating Wood Vanity For Less than $30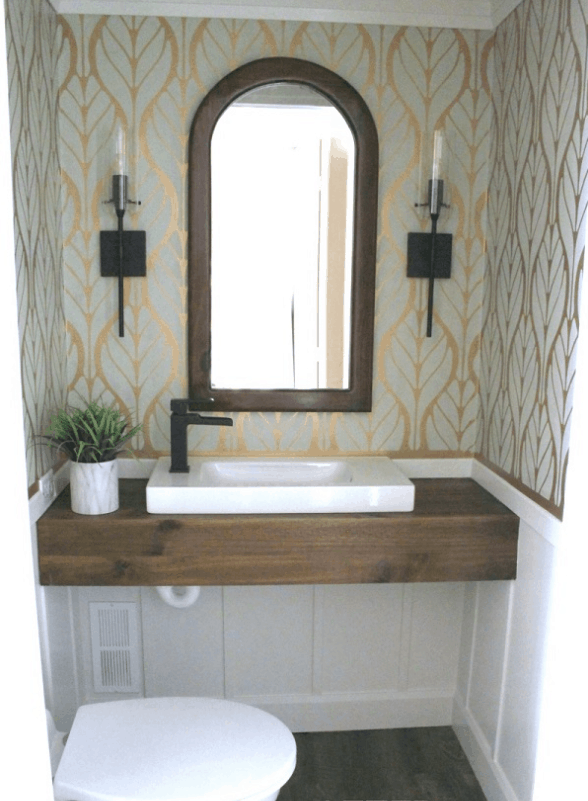 If you have a small-spaced bathroom and wish for a stunning yet spacious transformation, a floating wood vanity would be the best option for you. This tutorial serves as an excellent guide to build a floating wood vanity for just under $30!
All the materials and tools needed to complete the task are listed in the blog. If you're interested to learn more such fantastic homemaking DIYs, make sure you follow tutorial blogs on Frugal family times.
13. How to Make a Simple Single Sink Bathroom Vanity (The Top)
Are you worried that you must replace your bathroom countertop just because it has broken? If that's the case, and if you are looking for some serious solution, this video tutorial is for you.
This video tutorial by Moonpie Creation demonstrates how you can create a beautiful bathroom countertop using black iron pipe and oak top along with the splash guard made of oak. If you are to use power tools to complete this task, make sure you use them under expert supervision.
14. DIY Painted Bathroom Countertop and Sink
If you are thinking of giving your bathroom a makeover under as minimum budget as possible, this written tutorial by 2beesinapod is the one you should follow. This tutorial guides you to DIY painted bathroom countertops and sinks with ease just for under $28.
The blogger further warns you to read the product direction carefully before use and then follow the procedure as explained on the site. The pros and cons of this DIY are explained on the site by the blogger itself.
15. DIY Vanity Makeover (On A Budget!)
Here's a DIY vanity makeover idea by Living Letter Home. You just need to spend a little money to buy paint, faux marble countertops, and some new cabinet hardware. Follow the instructions given on the site to make complete this DIY vanity makeover project.
The blogger further gives you a few extra tips to seal the deal in a good fashion. If you're a DIY fanatic and want to learn more exciting bathroom makeover ideas you can always visit this site for more creative ideas.
16. How to install CONTACT PAPER COUNTERTOPS for a gorgeous marble look
If you're not a big fan of hardcore DIYs, this simple, quick-fix DIY is for you! Install a contact paper countertop in your bathroom to give a stunning marble look.
This DIY is extremely easy and quick to do. THE DIY MOMMY has plenty of exciting DIYs in case you're interested.
Summary
From quick-fix DIY like the use of contact papers to building a countertop on your own, we've provided you with 16 brilliant bathroom countertop DIY ideas.
Now, all that's left for you is to build a countertop that best matches the vibes of your bathroom, and most importantly – your skill level. Which of these 16 DIY ideas did you love the most? Let us know!
Resources