A recent party trend is the candy buffet, and it has quickly established itself as a beloved custom at all kinds of celebrations, from kids' parties to weddings.
It's easy to make your own version, but you'll probably be looking for inspiration – so here are 17 plans for DIY candy buffets that will show you how to do it right.
1. How to Set Up a Gorgeous Wedding Candy Buffet: Easy Step-by-Step Directions
As this blogger writes, the candy buffet is a trend that's unlikely to disappear anytime soon. It's not just as simple as covering the table with an assortment of treats, though. To do it right, you need to come up with a cohesive theme to create the desired effect – and this plan teaches you how to do it. You'll find details on choosing the color scheme, selecting the candies and finding the right display containers – so in short, it has everything you need for creating a memorable candy buffet of your own.
2. DIY Candy Buffet Table for Your Party
Here's a fun video that will give you a few ideas about how to lay out your candy buffet. This YouTuber's suggestions won't cost you lots of money, but by borrowing her ideas, you'll be able to create something as beautiful as her spread. We think it looks gorgeous, and if you agree, why not try recreating something similar at home?
3. DIY How to Set Up a Candy Buffet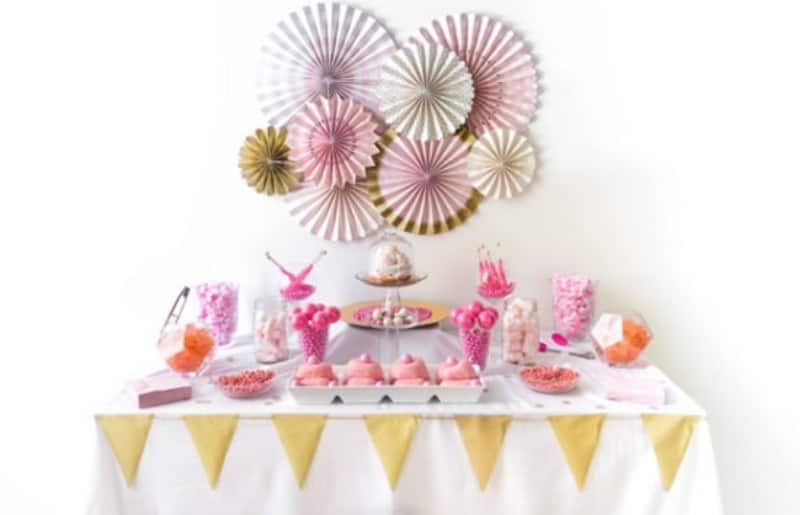 In this blog post, we learn how to set up a stunning and adorable candy buffet for a baby shower. It gives you suggestions for a range of things to consider, like the background, the colors and the trimmings – as well as the candies themselves, of course. We love the attention to detail in everything they've done, and the photos are sure to give you plenty of inspiration for the kind of thing you want to try yourself.
4. DIY Dollar Tree Candy Table Decorations
Candy buffets are not just about the candies themselves – otherwise, you could just leave a few bags of Haribo on the table and let people help themselves. Rather, a good candy buffet should be an artistic creation that will wow your guests when they see it. A big part of this is the decorations you use on the table, and if you want something that will leave an impression but that won't cost you a fortune, check out this video for ideas about how to do it using nothing but Dollar Tree supplies.
5. How to Make a Candy Buffet
Whenever we want to know how to do just about anything we can think of, WikiHow is always one of the first places we look. If you don't know this site, it's a collection of how-to guides for practically anything you can imagine – including how to set up a candy buffet. This plan is full of the kind of useful information you need for your buffet including pointers on decoration as well as advice on practical matters like making sure you buy the right amount of candy. So check it out if you're in need of guidance!
6. Honeydukes Candy Buffet DIYs
https://www.youtube.com/watch?v=ZyZ5CKJGQ1k
This video is essential watching for fans of Harry Potter since it teaches you how to make a super cute Honeydukes-inspired candy buffet that kids and adults alike will fall in love with. As well as choosing the most appropriate candies, you'll also find out how to make themed decorations and even a few magical-looking treats. This is one the most creative candy buffets we've seen – give the video a watch to see if you agree.
7. How to Plan a DIY Candy Buffet for Your Party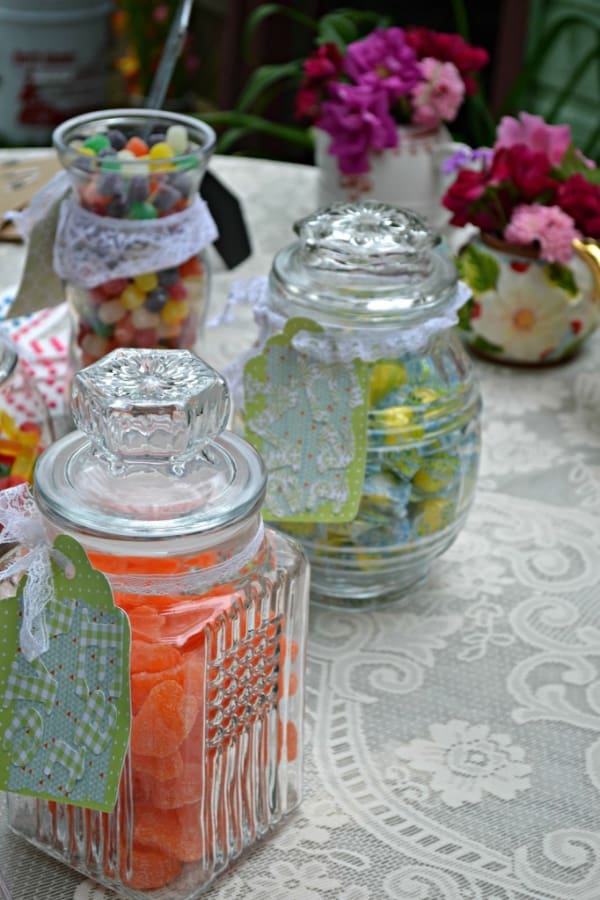 When deciding how to set up your candy buffet, one of the first steps is choosing a theme. The one this blogger chose for hers was Alice in Wonderland, so you can probably imagine how fantastical it looked when it was finished. Of course, you can choose any theme you like, so you don't need to copy her ideas exactly – but the cute details she included are sure to fire your imagination and get you thinking about all the possibilities you can try.
8. DIY Candy Buffet for Weddings or Special Events
It's possible to pay a professional to take care of your candy buffet, but the prices can be sky-high, and if you want to save yourself some money, you can easily DIY it. However, for something like a wedding, you need it to look perfect, so this video of a YouTuber sharing her experiences of preparing the candy buffet for her wedding is full of invaluable tips and suggestions. If you know how to approach it, you can do a great job yourself, and this tutorial will help you get it right.
9. How to Set Up A Candy Buffet (Step-by-Step Instructions)
If you're short of ideas for the kind of candy buffet you'd like, check out this blog for inspiration – this classy buffet looks stunning, and we're sure lots of people would love to have something similar at their next party. What's more, it's easy to recreate a buffet like this without professional help, and this blog includes a step-by-step guide that will teach you how to do it.
10. How to Make a Candy Buffet
This is a short but informative video that teaches you how to set up a stylish candy buffet for a wedding. She gives us lots of useful tips like choosing glass or crystal containers in a variety of heights and shape for the most impressive visual effect. She also shares ideas about choosing the candies and decorating the table as well as more practical suggestions like keeping everything covered for hygiene reasons until the last minute. It's always useful to listen to what the pros have to say because they're the ones with the experience – and in this video, you can learn from an expert.
11. The Ultimate DIY Candy Bar for Your Wedding
It's easy to DIY a candy buffet, but it requires planning and preparation if you want it to make a big impression. With loads of ideas about decoration, candy selection and more, this blog will help you achieve the best results. It also has suggestions for choosing a suitable theme along with some more practical suggestions like providing party bags for guest to take some home when they leave. We enjoyed reading this plan a lot because it's full of great ideas – highly recommended!
12. DIY Candy Buffet Decorating Ideas for Wedding
If you're planning to set up a candy buffet, you might be looking for creative inspiration rather than a written guide for how to do it. In that case, you should appreciate this video because it is made up of a slideshow of some of the most amazing candy buffets we've seen. You might not want to copy any of them exactly, but these creations are sure to get you thinking about the kind of thing you'd like to make when it's your turn to try.
13. DIY Candy Buffet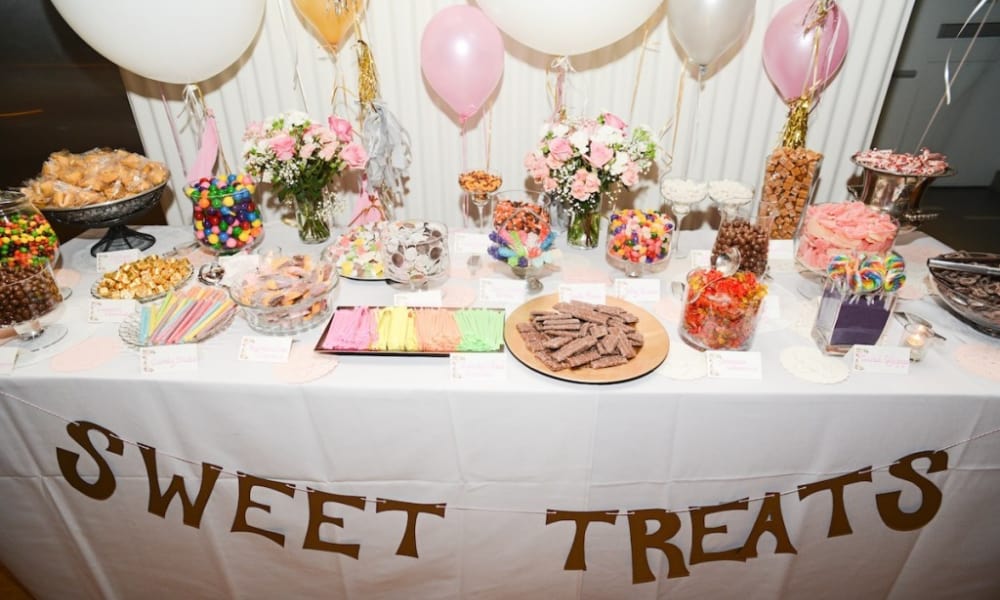 The first thing you'll see when you open this blog is the photos of a stunning candy buffet that was laid out for a wedding. We love the classy touches such as the stylish balloons and the adorable décor – along with the delicious-looking candy. However, as the blogger writes, you don't need to wait for a wedding to do something similar since candy buffets are suitable for any kind of party or gathering – and if you're looking for information about how to do it, this plan has all the details you need.
14. 6 DIY Candy Buffet Décor Ideas
Here's another video that's sure to give you some fresh and exciting ideas to consider when preparing your candy buffet. These suggestions will allow you to make an attractive yet inexpensive buffet that will delight the guests at your party – so give it a watch and see which ones you want to attempt yourself!
15. Easy DIY Candy Buffet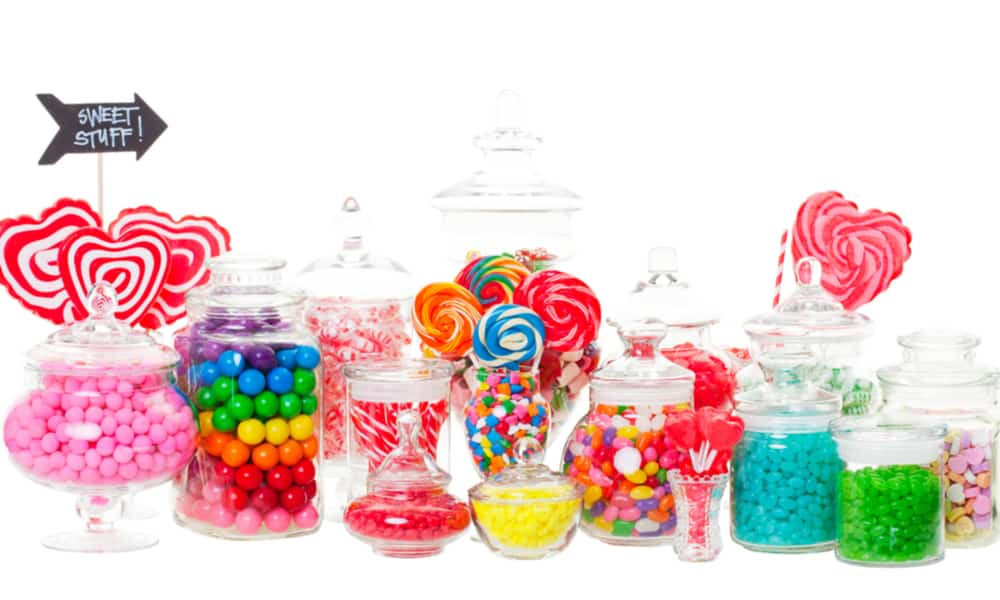 For large and important celebrations like weddings, you might want a fancier design for your candy buffet – but for kids' parties or the like, something simple is more acceptable. However, that doesn't mean it shouldn't be beautiful or imaginative – and this blog post will give you all the ideas you need for creating something simple yet fun that everyone at the party will adore.
16. 5 Tips for a Candy Buffet
If you're trying to think of a theme for your candy buffet, you can follow the seasons – and if you want ideas for a fall-themed version, this video is for you. We love the way it uses fall colors to create the desired effect, and when they see it, your guests are sure to be highly impressed.
17. DIY Holiday Candy Buffet
Here's another seasonal-inspired candy buffet, this time a wintertime Christmas version, so if you're planning a festive party, this is a design you're sure to love. We especially like the way this YouTuber has managed to keep everything classy and stylish, and we're certain it's an idea plenty of others will be keen to recreate themselves.
Plenty of creative ideas for candy buffets
As you can see, there are so many ways of creating a gorgeous candy buffet, and we're sure you can't wait to try.
We've enjoyed looking for these plans, and we're keen to have a go ourselves. We hope you've enjoyed reading and watching these plans too – and above all, we hope you've found the ideas you needed to create a beautiful DIY candy buffet of your own.