Making coffee mug holders is a simple yet rewarding project, and they can make adorable gifts or attractive decorative items for your own home.
We've had a look online to see what other people have been trying – and if you want to have a go too, here are the best 17 DIY coffee mug holder plans we found.
1. DIY Coffee Mug Rack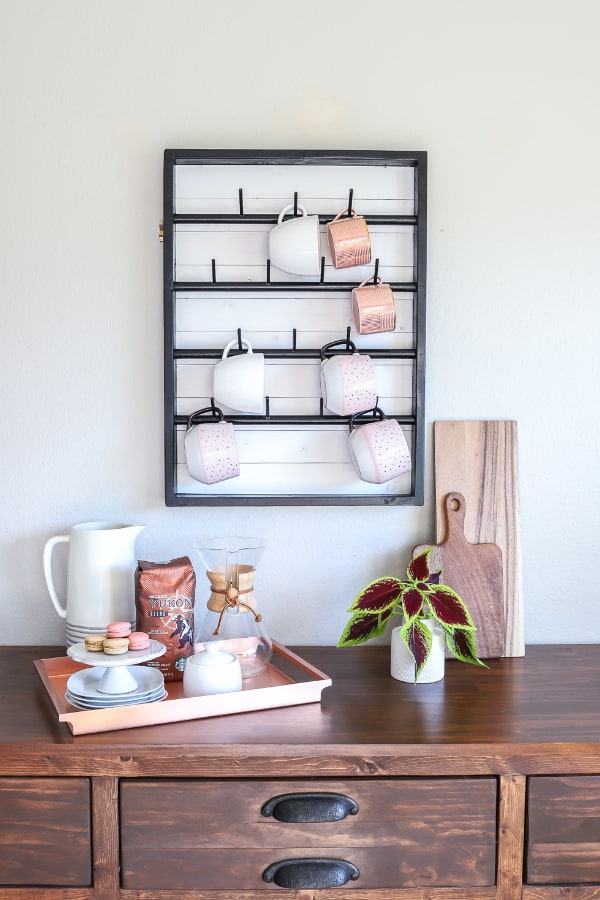 As this blogger tells us, when space is limited, it's important to make the most of every available bit of storage, and a wall-mounted mug rack can play a big part in that. Furthermore, the one this plan teaches you how to build is super cute too – we love the simple design that is both functional and elegant at the same time. It's also simple to make, so if you want something similar, check out the blog for details on how to do it.
2. DIY Coffee Mug Rack for Wall
If you're looking for a fun project that will keep you occupied for a while and you have some scrap wood lying around, this fun tutorial will teach you how to construct an inexpensive but attractive wall-mounted mug rack. It's an easy design that anyone will be able to recreate at home, and the result is highly impressive. We're sure lots of people will be keen to try making something similar, and the best part is, it will hardly cost you anything.
3. DIY Coffee Mug Holder Gift Idea
As an alternative to a wall-mounted rack for coffee mugs, you can make a free-standing one that will look great on your kitchen countertop. In this video tutorial, we learn how to make one for under $10 – it's a perfect idea for a gift or you can just make it for yourself! It's easy to make, and you only need a few basic tools to complete the job, so it's a good option even for DIY novices to attempt.
4. DIY Coffee Mug Rack without Power Tools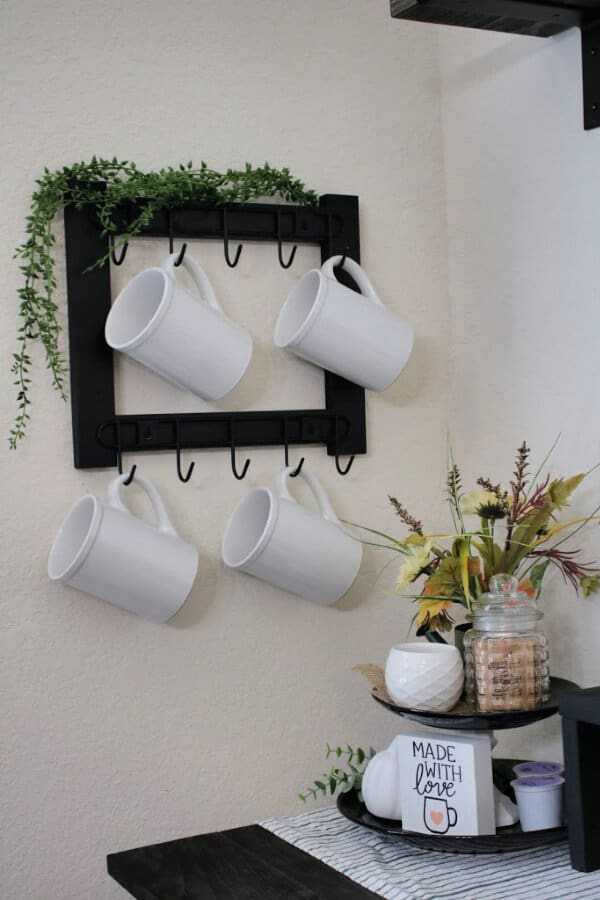 In the plan above, we learned how to make a simple coffee rack with only a few basic tools – but in this tutorial, we find out how to create a version that requires no power tools at all. The mug holder she makes is a small wall-hung version that can help keep your kitchen free of clutter while also adding an attractive element to your interior space. Since it was made from old scrap wood, it cost very little to construct, making this a great idea for anyone who wants to add extra storage without spending lots of cash.
Check the Tutorial Details
5. DIY Dollar Tree Mug Holder
Speaking of low-cost projects, here's another plan that's worth a look, this time showing you how to build a coffee mug rack using Dollar Tree materials that cost a grand total of $3. This plan just goes to show that you don't need to spend lots of money to make something that looks great, and having a mug tree like this in your home will also help increase your storage options. Another interesting tutorial and one that's well worth a look.
6. DIY Coffee Mug Holder
If you want to make a coffee mug holder, the holder itself can be simple and understated, allowing the mugs themselves to take center-stage, as you can see in the pictures on this blog. In it, we read about Jennifer, a Starbuck's mug fanatic who has amassed an impressive collection – and the mug holder she DIYed lets her display them in all their glory. This is an idea we liked a lot, and if you want to make something similar, you'll find all the details you need in the plan.
7. Pallet Coffee Cup Holder
Here's an interesting video tutorial that teaches you how to build an easy, inexpensive mug holder from pallet wood. It starts by giving you a list of the required materials, and the talented DIYer then goes on to demonstrate everything you need to do to complete the project. It's fun to watch as she works and the mug holder quickly begins to take shape. This is one of the easiest ways we've seen of turning an old pallet into a functional coffee mug rack, and if that's what you need, why not have a go yourself?
8. DIY Coffee Mug Holder Wall Mounted Rack
The mug holder this YouTuber shows us how to build is a little more ambitious than many of the others we've seen, but with some basic DIY know-how and a bit of determination, most people will be able to replicate his plan at home. We're sure you'll agree that the finished rack looks spectacular, and if you appreciate this kind of style, you'll find all the information you need in the video to build one of your own.
9. Coffee Cup Holder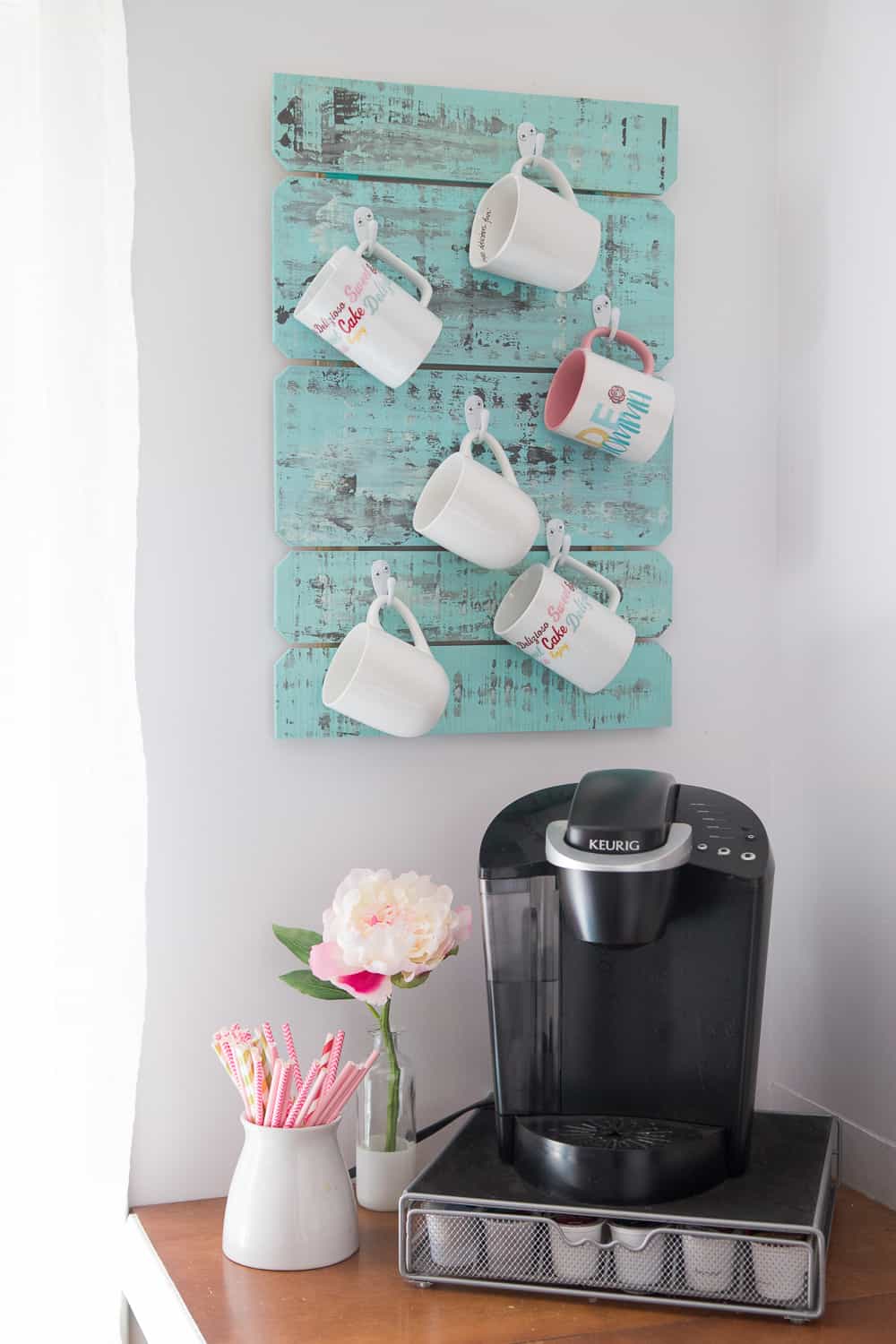 The thing that makes this mug holder stand out is the blue paint that gives it an attractive rustic style. However, there's more to achieving this effect than simply giving it a coat of paint, and in this plan, the blogger reveals the secrets to creating this original look. This is one of our favorite plans, and this is another one that proves you don't need to do anything too complicated or difficult to achieve stunning results.
10. DIY Coffee Mug Rack Build
In this plan, we see a DIYer building a simple mug rack from 1×4 – but as he suggests, if you don't want to spend money buying materials, you also make something similar using scrap wood from a pallet. You'll need a few power tools for this plan, but nothing that most keen DIY enthusiasts won't have access to. One of the great things about this plan is the perfect balance between explanation and demonstration, meaning it will be easy for anyone to follow this plan and build something similar at home.
11. DIY Coffee Mug Holder with Hometalk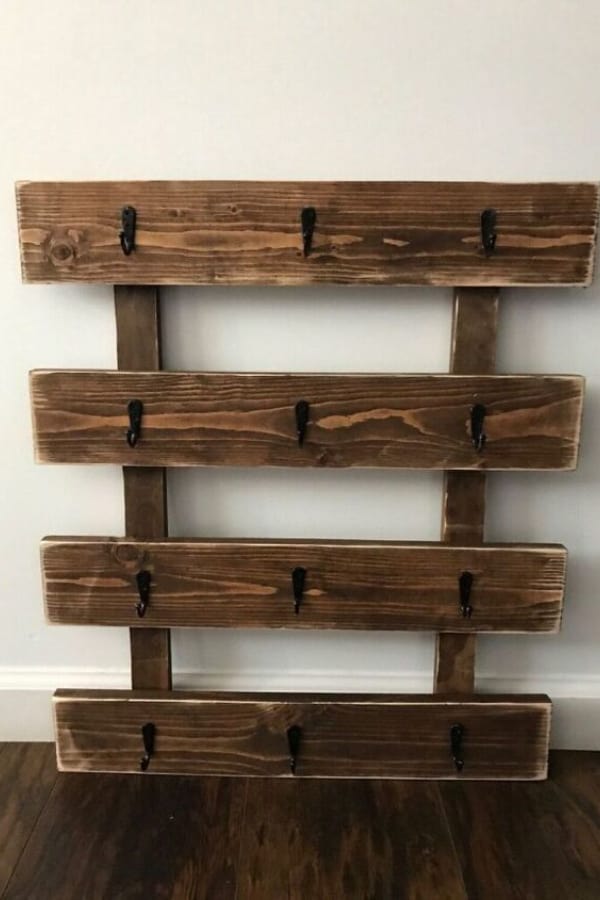 If, like this blogger, you need somewhere to store your favorite coffee mugs, the simplest and most inexpensive solution is to DIY a mug holder. The one we learn to make in this plan is classy and minimalist, and we love the old-style charm. The plan gives you a list of everything you'll need to complete the rack, and the instructions are clear and easy to follow – so this is a great plan for anyone to try, even if you're a DIY beginner.
12. DIY Coffee Mug Holder from Scratch
We love the concept of this video. At the beginner, this YouTuber tells us that he isn't the most accomplished handyman – but that he wants to show that this is no barrier to him building something functional and attractive that he can be proud of. It's interesting listening to him taking us through his thought process as he plans the project – and then it's fun to watch as the mug holder he sketched out takes shape. Another recommended plan, especially for those who aren't confident in their DIY skills!
13. Easy DIY Coffee Mug Rack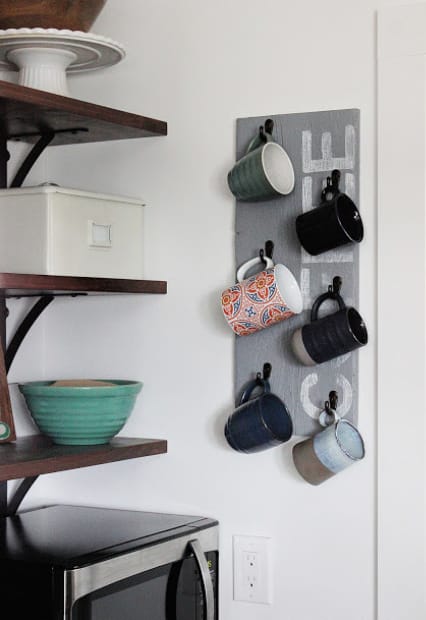 Making a coffee mug rack can be an extremely easy job, and in this plan, you learn how to make one from nothing more than a scrap of wood, some hooks and some stencils. The key to making something like this is not having amazing DIY skills but rather having a clear idea of what you want to create. And if you're having trouble thinking of ideas yourself, blogs like this are here to help!
14. How to Build a Super Easy Coffee Mug Holder
In this video, this YouTuber takes you through the process of building an easy rustic coffee mug holder. We love the way she's so good at explaining everything so it's easy to understand, making this a great project for DIY beginners who want something simple that will develop their skills – and if that sounds like you, why not give it a go?
15. DIY Pallet Coffee Cup Holder
Pallet wood is so inexpensive and versatile, so it's no wonder that in recent years it's become a favorite medium to work in for DIY enthusiasts everywhere. Making pallet mug holders is a popular project, and here's another great plan that shows you how to do it – give it a read if you think you might be interested in trying!
16. Woodworking Projects – DIY Coffee Mug Holder
While searching for mug holder plans, we've seen a lot that are very similar – so it's quite refreshing to see someone trying something much more original. In this video, this YouTuber shows how he made a coffee mug holder from a piece of tree branch, so as long as you access to the necessary tools, this really is a project that will cost you nothing. Intrigued? Then check it out to learn more.
17. $8 Mug Organizer
The name of this channel tells you everything you need to know. It's called Bargain Bethany, and as you can probably guess, the Bethany in question specializes in DIY projects that cost little and can save you plenty of cash. In this video, she makes a gorgeous coffee mug holder, and if you want to see how she did it, give her video a watch for more info.
Plenty of creative ideas to copy
As you can see, there are lots of interesting and creative ways to make coffee mug holders, so whatever your DIY experience, you're sure to be able to find a plan that's suitable for you.
We always enjoy searching for DIY plans online because it always inspires us to have a go ourselves. We hope you've enjoyed reading and watching these plans too, and above all, we hope we've helped you find the ideas you needed for your next DIY project.