Why buy expensive grills that come with a grill station when you can DIY a cost-effective grill station yourself? The best part of DIYing your own grill station is that you can customize the size of the station and design them accordingly.
You can DIY a spacious grill station or you can make small, compact, and easily movable ones, the choice is up to you!
Now, if you've made a smart decision of DIYing a grill station, let's look at some fabulous DIY grill station ideas available on the internet.
1. DIY Outdoor Kitchen Built-in Grill Station
This DIY outdoor kitchen built-in grill station design is stunning. The Youtuber from Mr. Build it, further added a pergola on top of his grill station which amplified the beauty of the overall look.
He explains everything in detail in this video including the supplies he bought for the project. Moreover, you can find the tools used in the description box. If you're into such creative DIYs, you must check out Mr. Build it on YouTube.
2. Rolling Outdoor Island Building Plans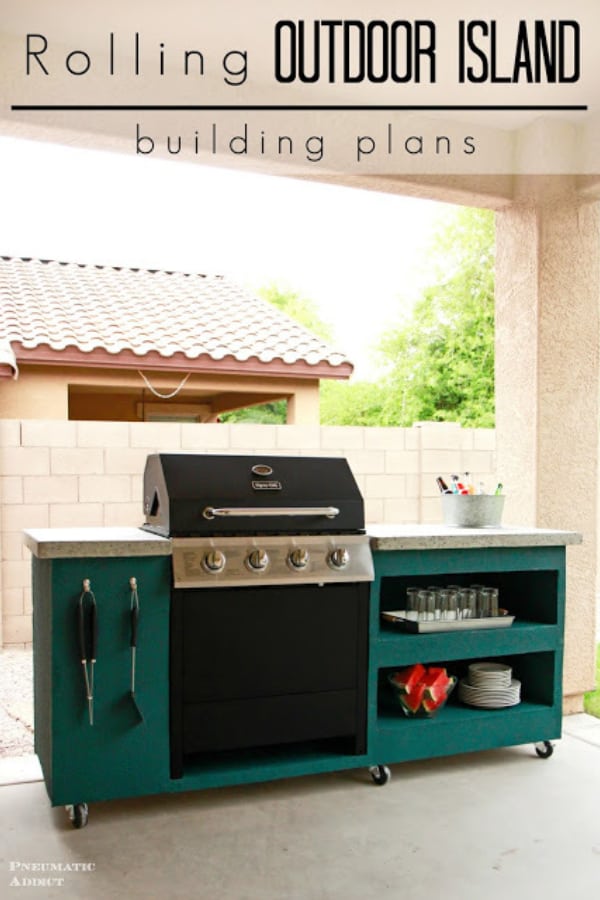 We all love straightforward plans with no unnecessary bluffs, don't we? This outdoor island is fantastic at it has an in-built grill and also is easily movable. It is also quite spacious and has enough space to accommodate a few dishes.
All the material and tools required are mentioned in this plan and the step-by-step instruction is very clear and thorough.
3. Easy DIY Outdoor Kitchen | BBQ Island and Bar | How to Build Grill Station
These Youtubers from Let's Wing It DIYed a BBQ island because they wanted an area to grill as well as enjoy with their guests. They completed this project for under $500 and it took them 2 days to finish the DIY.
The result is absolutely stunning. However, make sure to customize this project plan such that it fits your grill.
4. The Perfect Barbeque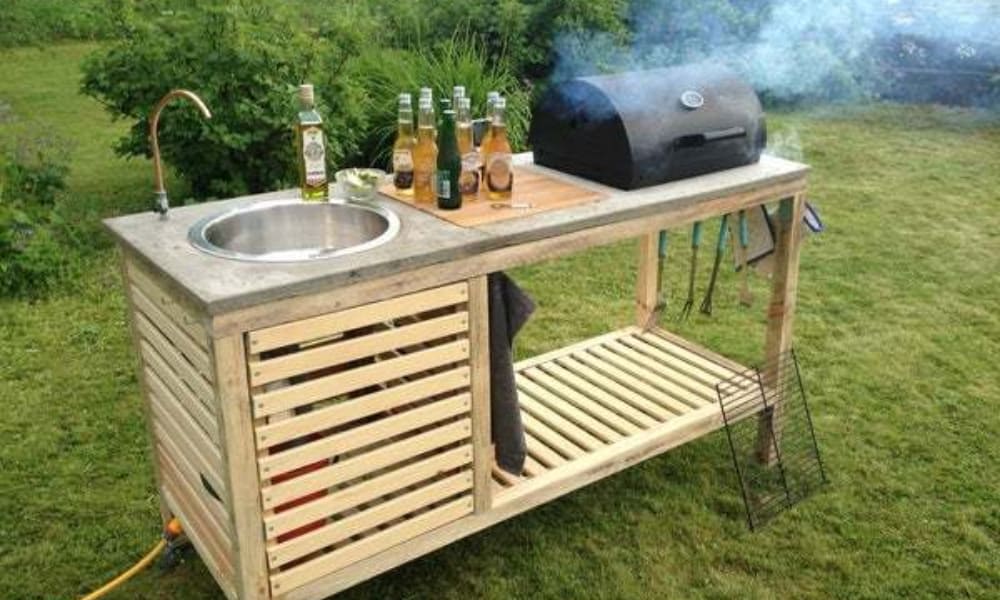 Make this movable grill/barbeque stand for under $600! The major supply for this project is wood pallets. Moreover, the grill machine and a sink are in-built onto the station.
Dimensions and project plans are not elaborated on in this written tutorial. However, if you've good knowledge of woodworking, this step-by-step guide should be enough for you to get started with this project.
5. Blackstone Grill Station
Just as for the previous tutorial, we'd not recommend this tutorial for you if you're completely new at woodworking.
However, Just Fooling Around is definitely not just fooling around and has an astounding collection of DIYs on their channel.
6. Building a Grill Station with Concrete Countertops
This DIY grill station features a concrete countertop. The grill for which the station was designed in this tutorial is stainless steel propane grill from Home Depot.
So, if you have the same grill you can proceed on this DIY without a second thought as most of the dimensions are mentioned on the description box and the video is incredibly descriptive.
In case you're interested, HomeMadeModern has an exclusive set of creative DIYs that mostly include woodworking.
7. Big Green Egg: Concrete Top Table Plans
Do you own a Big Green Egg grill? If yes, here's the easiest DOY grill station tutorial for you. All the supplies necessary are listed on the blog post and the illustrations and pictures will make this DIY experience for you quite simple.
If you don't believe us, you can check the comment section yourself. The 'Thank yous' and compliments will definitely inspire you to DIY one.
8. How to Make a Brick Grill – DIY Temporary Brick Hibachi Grill
Earlier, when we said you can design your grill station to be as compact as you want, we weren't lying. In this tutorial learn how to make a temporary grill using bricks. What's more, you don't need gas to use this grill at it uses charcoals.
DIY this 5-mins grill anywhere you want and your entire yard/garden can be considered as the grill station.
9. Grill Station – Tutorial build with granite and 4×4 posts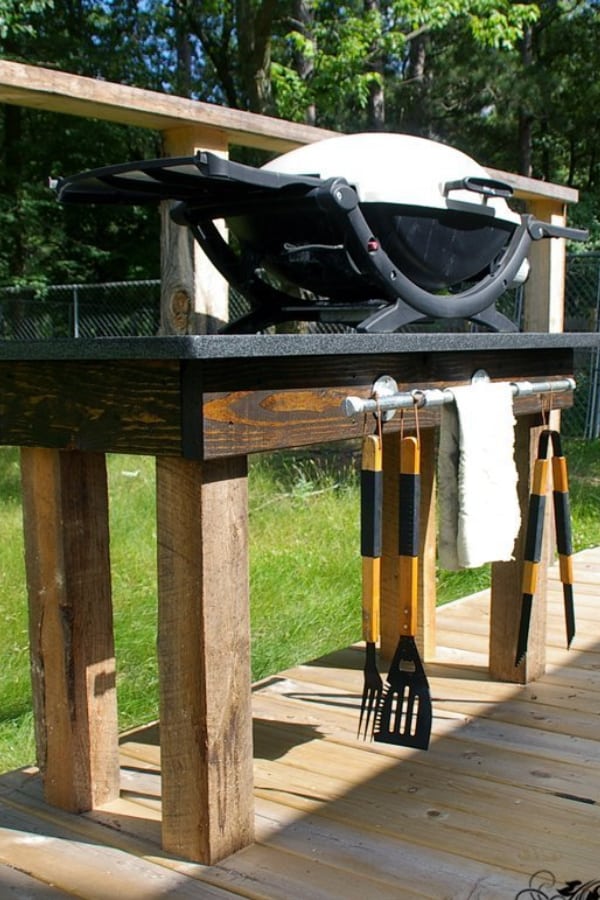 This outdoor grill station is small yet awesome. Small size automatically means less cost, less effort, and less DIY time. All the comments on the comment section of this blog post seemed encouraging.
The downside of this written tutorial is that the instruction is written in paragraphs. All the dimensions and supplies are written in the paragraph itself. All you need to do is give this blog post a good read.
10. Build with Roman – How to Build a Willard Grill Station w/ Kamado Pad – Tips and Tricks
This DIY grill station features a 32'' summerset sizzler grill that does not have an infra-red burner. The major supplies for this project are concrete blocks.
If you're not very skilled at woodworking or if you're a lazy DIYer, this project is perfect for you as it requires minimum effort and time. You can find some interesting DIYs, that use stones, on Romanstone Hardscape.
11. DIY Portable Outdoor Grill Station and Bar Combo
If you were in search of a video tutorial with free project plans attached to the description box, we've finally found one.
Watch this short 'how-to' to gather ideas and follow the plan, the link to which is mentioned on the description box, thoroughly to DIY an excellent portable outdoor grill station and bar combo.
Real Cedar – Design Inspiration & DIY Plans has an excellent set of attractive and creative DIYs, primarily using cedar lumbers.
12. BBQ at Home: How to Build a DIY Grill Station
Rather than an actual DIY tutorial, this blog post is more of an in-depth guide for DIYing a grill station. From the type of grills to information on how to design your own drill station, this post covers it all.
Even if you've decided on which tutorial to follow, we'd highly recommend giving this blog at least a read as you'll learn how to customize these DIY grill station designs effectively.
13. DIY Weber Grill Cart BBQ Station
If you're a fan of charcoal grills and own a charcoal Weber grill, scroll no further – this tutorial is for you!
This Youtuber Darbin Orvar completed this project for under $100, including the supplies and a new set of grill tools. How affordable is that? The video is pretty elaborative and you can find the cut list on the video's description.
14. Gio's DIY at Home – Grill Station / Island
If you're a beginner at woodworking, or simply at these kinds of DIYs, you can give this tutorial a pass.
However, if you're just in need of inspiration and brief instruction on the procedure, this short YouTube tutorial by Gio's DIY At Home might cater to your need. Remember that no dimensions, cut list, or supply list are mentioned in this tutorial.
15. Mr. Goats' Father's Day Gift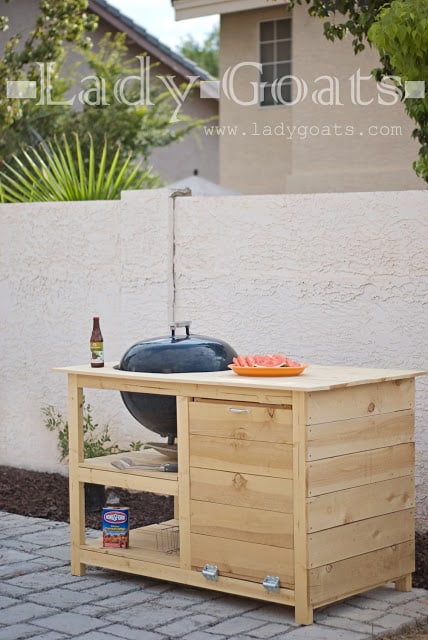 This DIY grill station for charcoal Weber grill is small yet stunning. The drawer feature at the bottom portion makes this DIY unique.
The project plan is divided into three sections; shopping list, cut list, and step-by-step instructions below each illustrative figure with dimensions. Thus, this DIY tutorial is very easy to follow along.
16. BBQ table DIY – Outdoor grill station for Kamado Joe or Big Green Egg table & concrete countertop
Here's another Kamado Joe or Big Green Egg grill station tutorial. The Youtuber, at the beginning of the video, clearly mentions the adjustments you'll have to make while DIYing the station for Big Green Egg grills.
This grill station accommodates two Kamado Joe Classics and features a concrete countertop. If you loved the idea of making a grill station for two grills, you must check the tutorial out.
17. How To: Custom-Build The Ultimate Outdoor Kitchen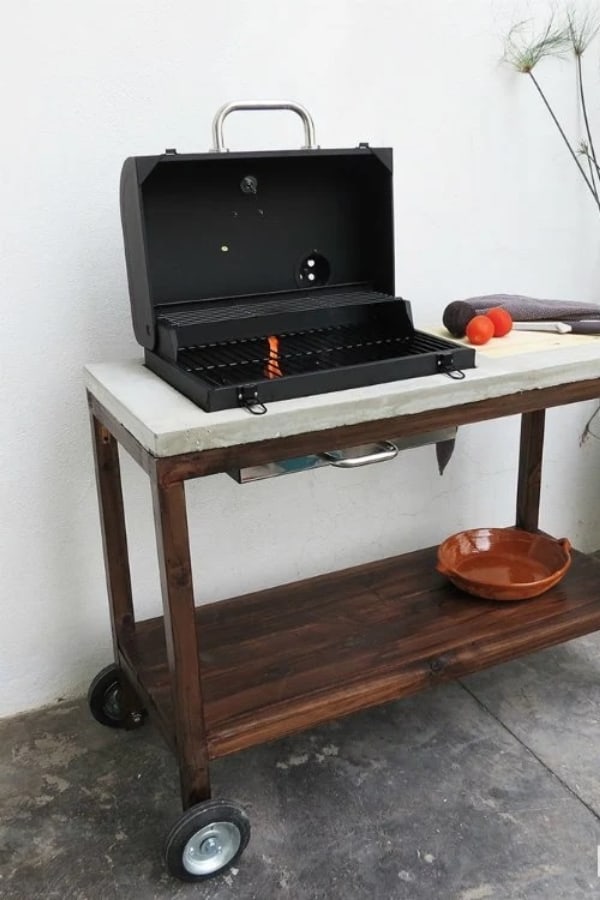 This DIY grill station might be the easiest and simplest grill station you can ever make. Basically, it is a small cart with a concrete countertop and an in-built grill.
If you're a beginner, we'd recommend this tutorial for you as it is quite long and every small detail is pointed out. If you loved this DIY grill cart design, this simple DIY should be a no-brainer for you.
18. DIY Grill Cart
Unlike the previous grill cart, this grill cart is two-story and also features a paper towel roll rack and a sliding hot plate. The Youtuber from HomeMadeModern explains the process quite well and makes the DIY look incredibly simple.
If you've made your mind that you want to make this DIY grill cart, you can find a more detailed tutorial on their website.
Summary
From small movable grill carts to heavy concrete and stone outdoor grill stations, we've covered almost all types of DIY grill stations. If you're a beginner to these types of home-making DIYs, you can start small rather than not trying at all.
Grilling is not always about eating. Sometimes, it's about spending fun times closed ones and a grill station serves as a perfect outdoor mini-kitchen for such occasions. So, get your supplies ready and start the project right away!