Though there are many fancy advertisement methods available these days, sandwich boards haven't lost its charm yet.
Sandwich boards are an excellent way to put a message across to the audience, and chalkboard sandwich boards, especially, are incredibly useful for advertisements. But if you're newly starting a business, ready-made sandwich board prices might shock you as it might cost you around $100.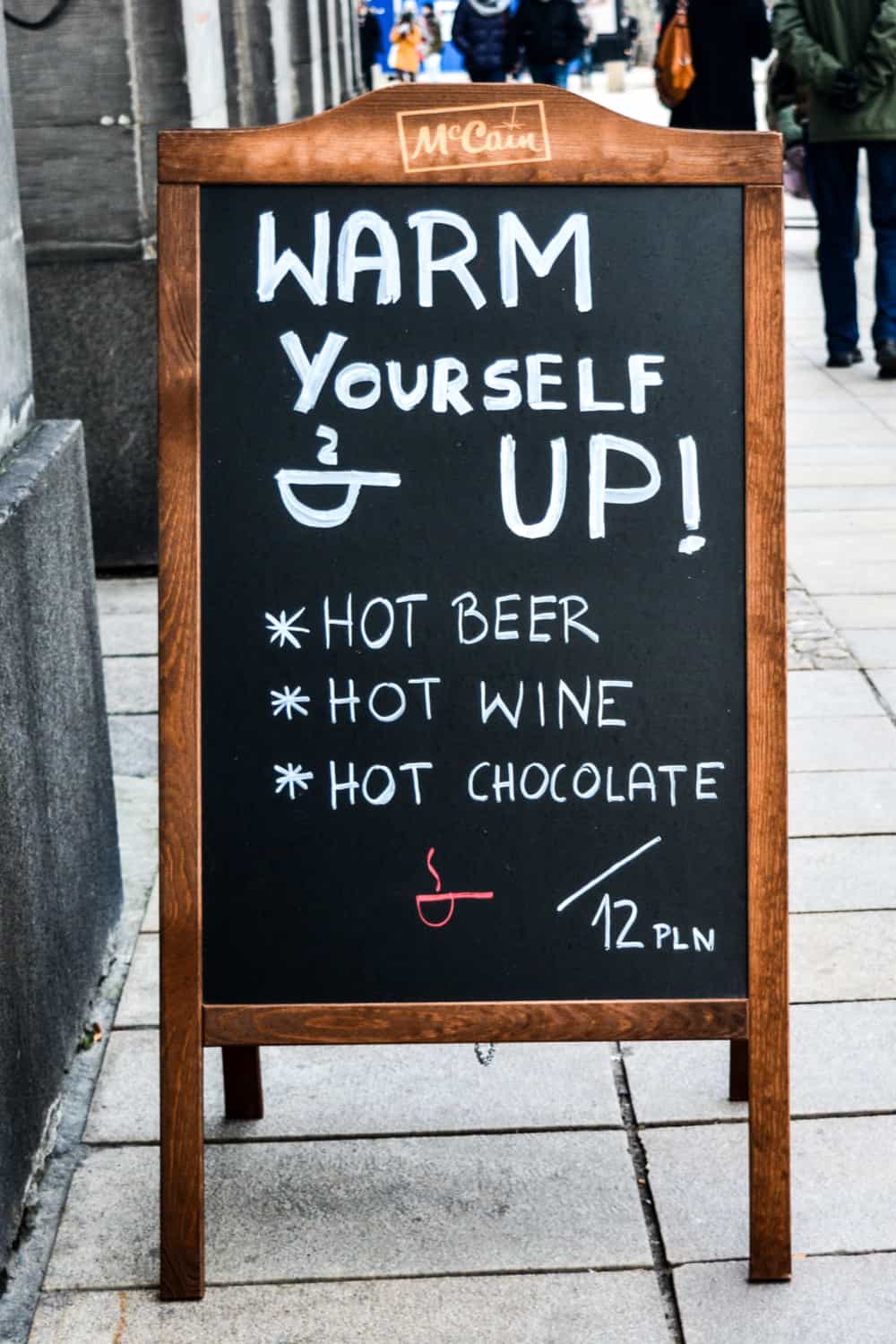 To relieve your cost burden, we've listed some easy 18 DIY sandwich boards ideas that you cost significantly lesser for you. What's more, you can even use some of these boards for a wedding party or any events or parties you're hosting.
1. DIY CHALKBOARD SANDWICH BOARD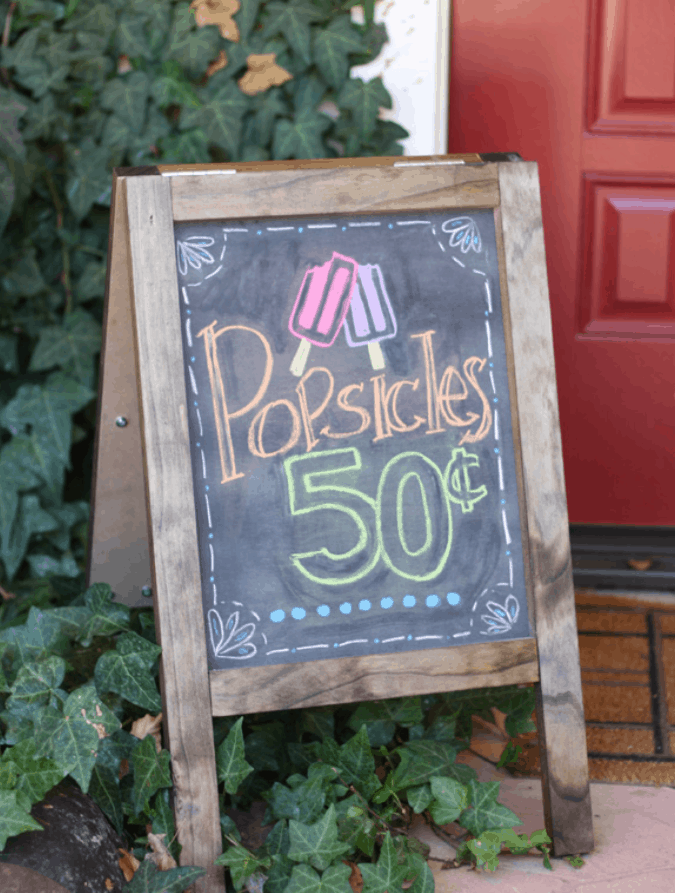 Sandwich chalkboards serve many purposes. You can write different messages or menu specials on it every day. Learn how to make one by visiting this blog post. All the supplies that you need for this DIY project are listed.
If you're someone who loves to DIY frequently, Today's creative life offers you a variety of captivating DIY projects.  
2. DIY Contractor Sandwich Board Sign (FREE PLANS)
This Youtuber made a sandwich board styled contractor sign to display his logo. You can carve your logo onto the board similarly, of it you don't have the carving machine, you can always paint the logo or glue a logo sticker instead.
On the description box, there's a link to a site where you can download his pdf plan consisting of measurement in both imperial and metric dimensions.
3. How to Build a Sandwich Board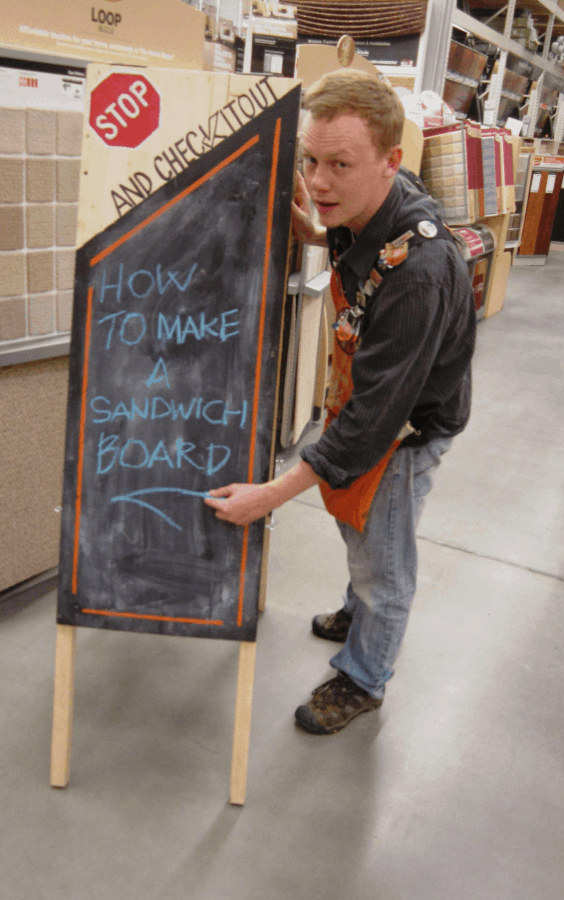 If you want to build a tall sandwich board, this written tutorial is for you. There are no unnecessary bluffs on this post. You can find tools and materials lists and straightforward procedural steps.
This DIY project is estimated to cost under $50, whereas it takes over 4 hours to complete it.
4. Chalkboard Easel Menu Board – Menards
You can make a cute decorative DIY chalkboard sandwich board by following this tutorial video. This DIY board is incredibly handy as one side is a chalkboard, and the other side can be used as a bulletin board.
If you're interested in making decorative, home improvements, and space optimization DIYs, many such tutorials are present on both the YouTube channel and the website of Make It with Menards.
5. DIY Chalkboard Easel for $15
Make an adorable farmhouse styled 19 inches wide and 30 inches tall chalkboard sandwich board for $15.  All the supplies and tools are listed in the description box.
However, the Youtuber recommends using regular chalk on the board and not a chalk pen as the pen left marks on the board, and she had to paint it again.
6. How to Make A Sandwich Board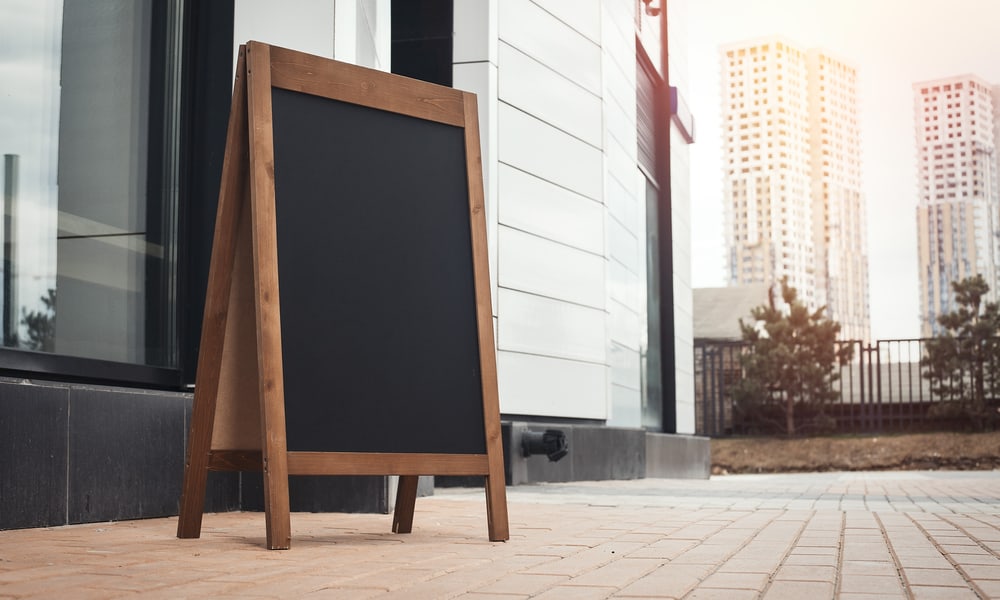 If you want to DIY a simple sandwich board, this tutorial might be handy for you. Though the procedure is written in bulky paragraphs making it harder to understand, you can find some fantastic tips in the 'Alternatives' section.
One such alternative is that you can substitute chalkboard paint with dry erase paint as well. Our Pastime offers you many other DIY and craft ideas in case you're interested.
7. DIY Coworking: Make a Sandwich Board Sign for $20
Though not precisely a demonstrative DIY tutorial, you can find this YouTube video very useful as the Youtuber explains everything she did to make this sandwich board sign for her coworking space. She also provides information on all the materials in detail.
Most importantly, she lists all the cheapest supplies options available for you to make this DIY sandwich board as affordable as possible.
8. DIY: SANDWICH BOARD ON A BUDGET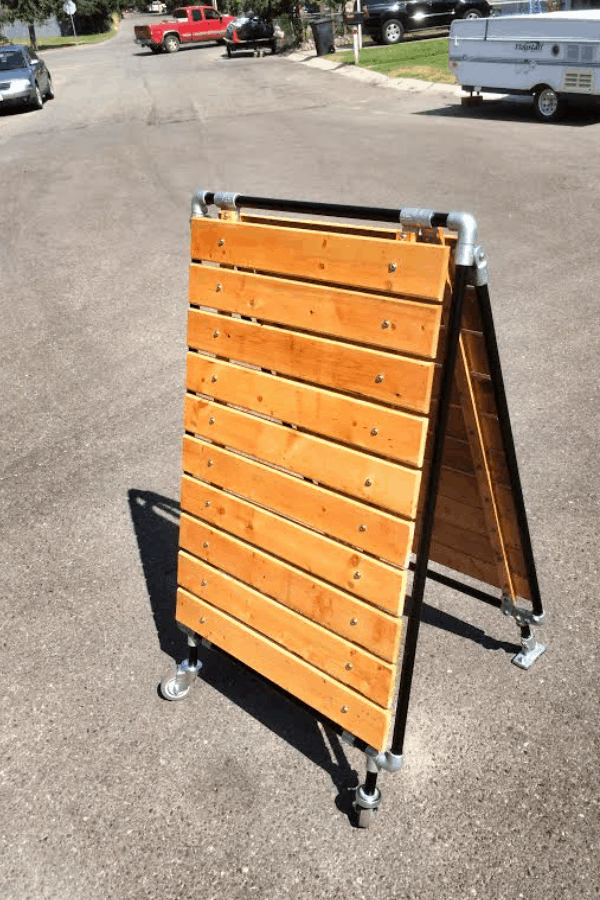 This DIY sandwich board must be the fanciest one you've ever seen. The wood is arranged into a pallet, and an aluminum logo of the shop is attached to it.
If you don't need to change the message in the sandwich sign frequently, you don't need a chalkboard sandwich sign. If that's the case, you should definitely go for this DIY sandwich board.
9. DIY Wood Sign
If you want a decorative piece of sandwich board for popping your branding or using it on events and parties, you might love this DIY sandwich board idea. There's also enough chalkboard space to add your message.
Most importantly, the Youtuber has listed tracing paper under the supplies list on the description box, but don't get confused. She uses transfer paper, not tracing paper, to transfer the writings onto the wood.
10. How to Build a Sandwich Board, or an "A" Sign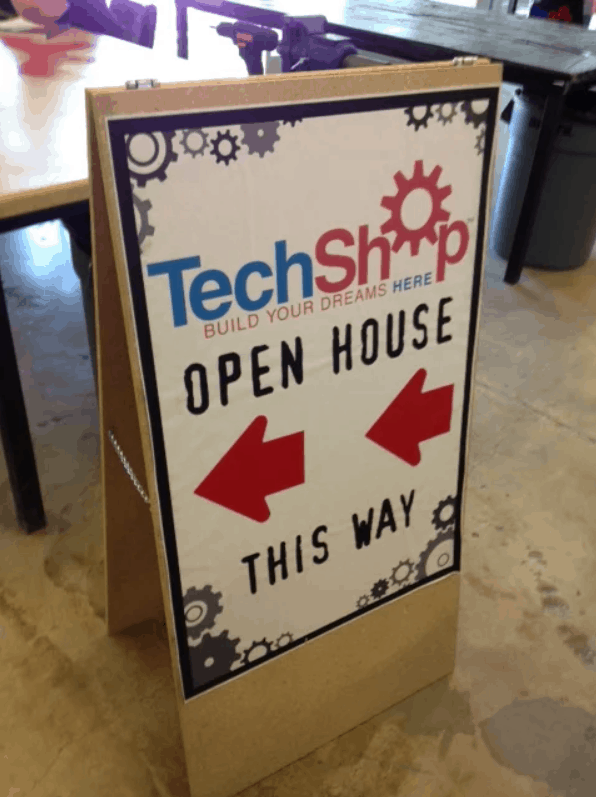 Instead of wood, this blogger used particle boards to DIY a sandwich board. All you need is sheets of particle board, two chains, hinges, and screws. After you're done, you can attach any printed graphic contents on the panels, or you can paint it yourself.
Instructables has many such excellent DIY contents, cooking hacks, educational crafts for students, and many more.
11. Chalkboard sandwich board from reclaimed lumber
The Youtuber of CasselmanCanadaI used reclaimed lumber to make a chalkboard sandwich board and sold it for $80. He mentioned that it took around 5 hours to complete this project.
He efficiently used drawer pulling knobs on the top, which provided additional decorative value to the board. The idea of using seatbelts to protect the panels from spreading too far instead of chains is awe-inspiring as well.
12. How to Make a Sandwich Board
If you're looking for a super cute DIY chalkboard sandwich board to use in parties or weddings, this tutorial is a no-brainer for you. The pink, black, and white color combination is very stunning, and the decoration using flowers makes this DIY A-one.
All the supplies are listed on the post, and a tutorial video is attached as well. Numbers of commenters have complemented this cute idea.
13. DIY A Frame Sign
The DIY sandwich board on this tutorial doesn't even look like a DIY. The finished product looks so fantastic and store-bought, and the color combination is gorgeous as well.
The Youtuber also shows you a super captivating way of painting the logo or your message on the sign. The only disadvantage of this DIY is that it is difficult to change the message already written on the board.
14. How to make sandwich board signs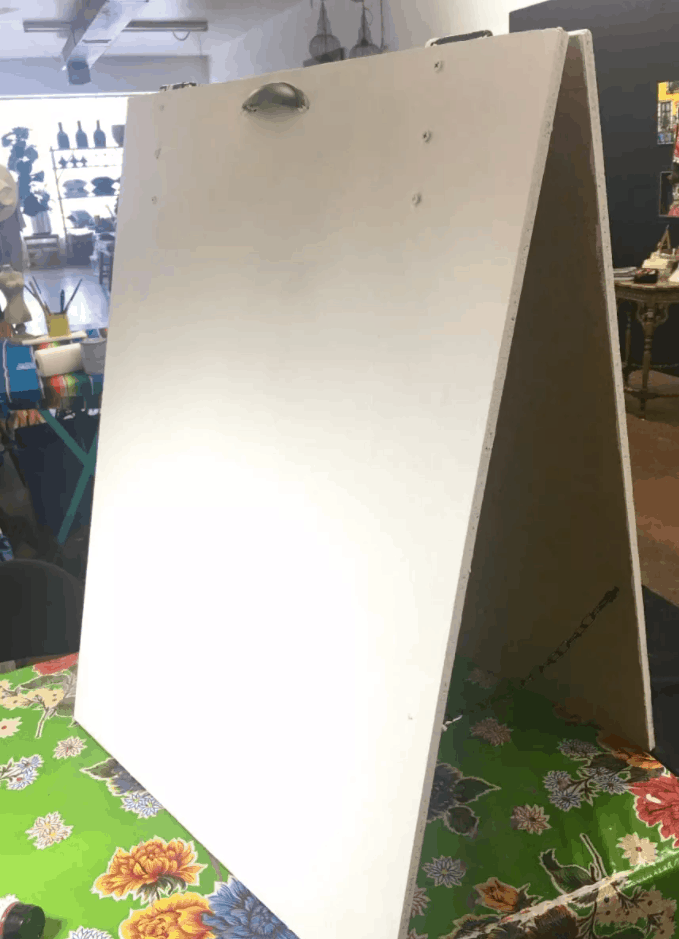 With this DIY technique, you will not have to do extreme woodworking as once you attach the two panels using the hinges; your sandwich board will be ready. Cutting wood and making wooden frames is not necessary.
Once you're done, you can decorate the board any way you like. For more such amazing DIYs and crafts, surf The Crafty Chica.
15. How To Make A Folding Street Sign | Easel Pro
If you want a classy yet straightforward sandwich board DIY, this video is for you. However, you'll need a carving machine to complete the project.
The legs on the wooden board are very creative as it gives a lifted look to the sandwich board without having to do tiresome woodworking to make a wooden-legged frame.
Even if you don't have a carving machine, you can always decorate the wooden boards as per your own taste.
16. DIY Sandwich Board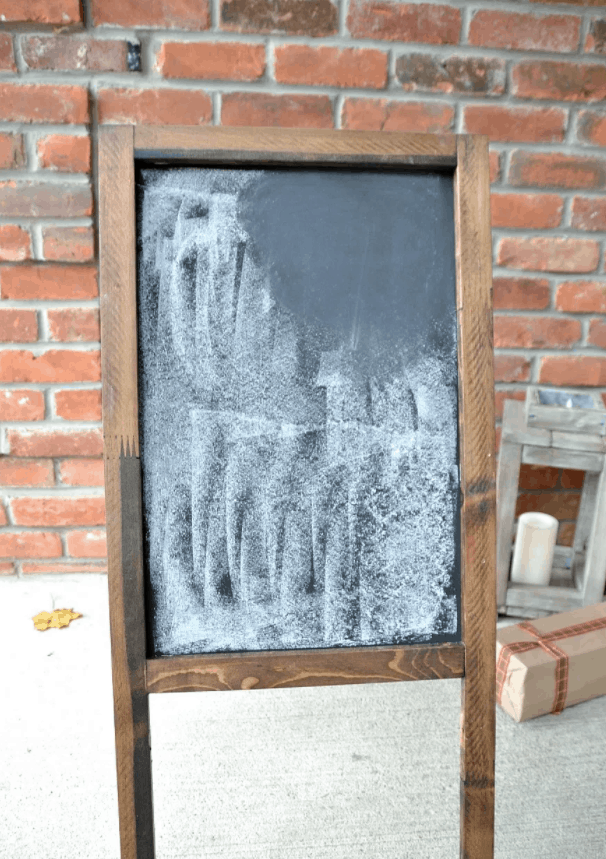 If your messages are going to be lengthy, it's obvious that you'll need a longer chalkboard sandwich board. Well, if that's the case, you might want to follow this DIY tutorial.
You can DIY this sandwich board for around $21. All the supplies you need, the cuts you should make, and the steps you should follow are written clearly, leaving no room for confusion.
17. How To Make An A Frame Sign | Woodworking
Though the Youtuber created a great professional-looking sandwich board for his client, he uses many woodworking tools and equipment in this tutorial.
He also explained the process very clearly and mentioned the purpose of every step, but only proceed to watch this video if you have professional woodworking tools. If you love making wooden DIYs, you will love this guy's YouTube channel; i.e., Robin Lewis Makes.
18. HOW TO MAKE A DIY SANDWICH BOARD CHALKBOARD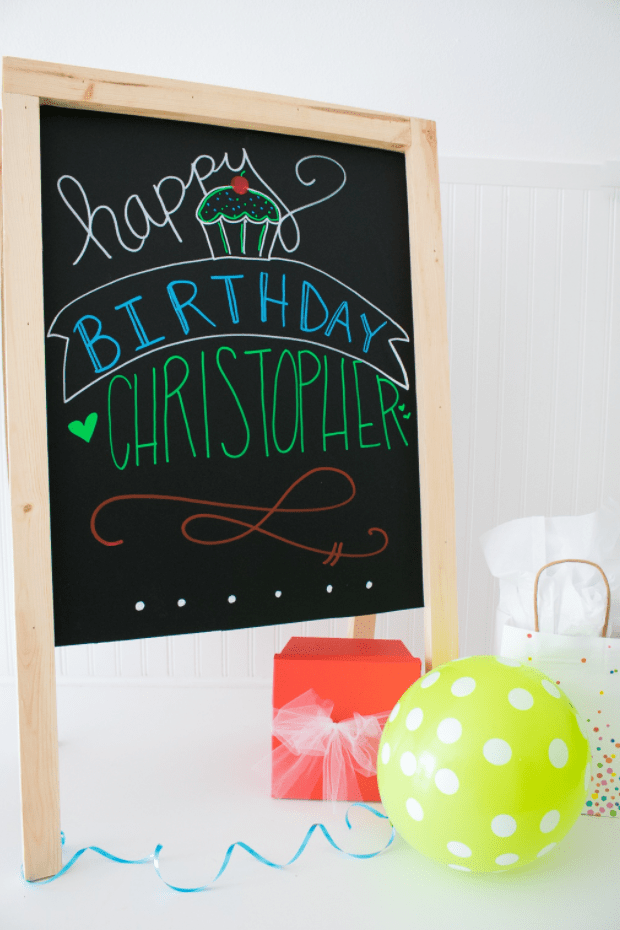 Here's another decorative DIY chalkboard sandwich board idea for you. All the supplies, along with their shopping links, is listed at the beginning of the post. Using colorful liquid chalk markers to decorate the board is also a very creative idea.
Moreover, if you love cute decorative and party ideas, you might want to go through different blog posts on Making the World Cuter.
Summary
Different occasions and business types demand different types of sandwich boards. So, if you want a sandwich board for advertisement purposes, choose the best DIY sandwich board idea that helps your business stand out.
However, if you're planning on making a sandwich board for an event you're hosting, choose a fancy and decorative one and modify it to match the theme of the party.
The skills required are beginner to intermediate level for most of these DIYs, and once you put your mind into it, you'll create a sandwich board in no time if you have the right tools.