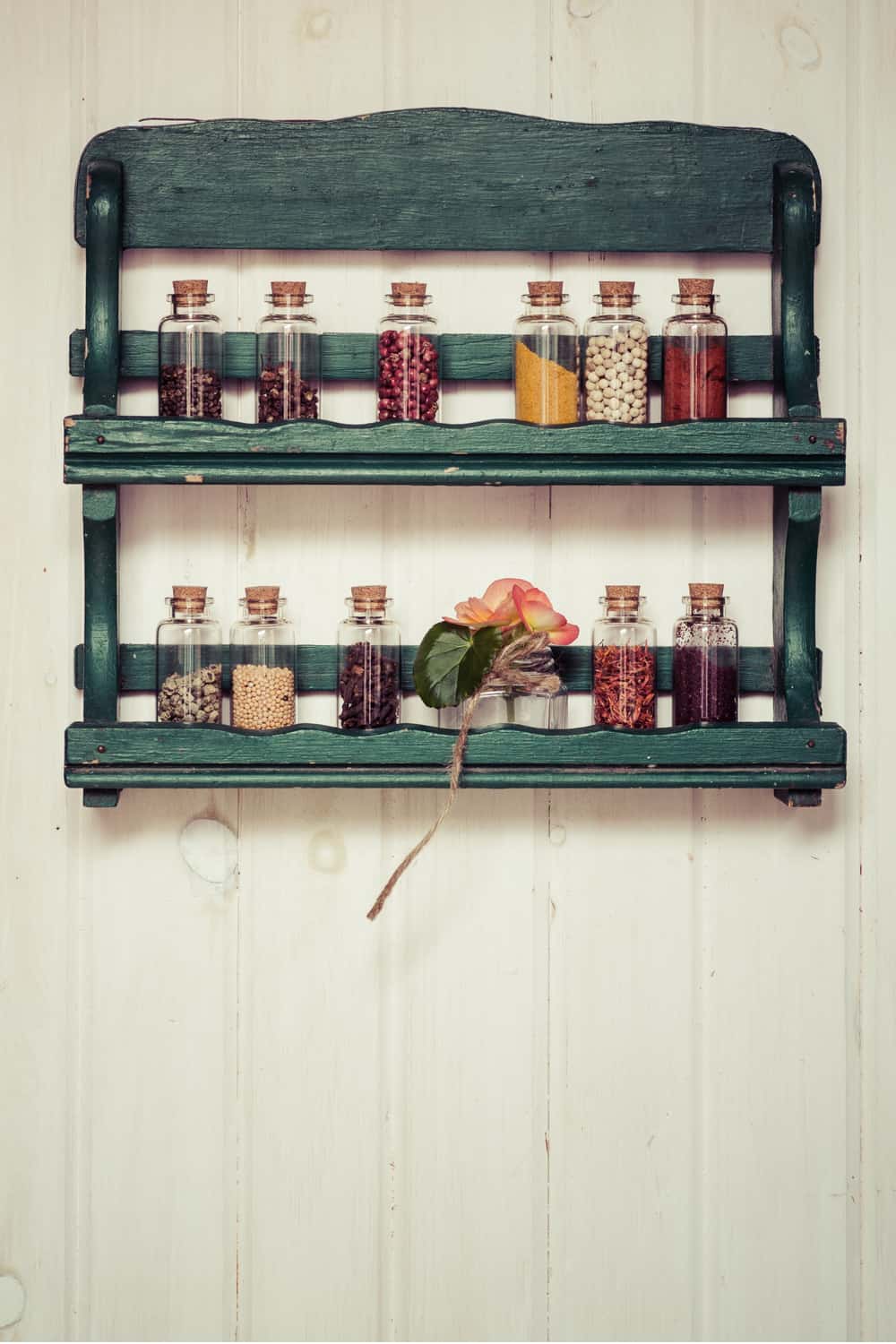 Herbs and spices are a brilliant way to add extra flavor to your food. But all those little jars and bottles can take up a lot of space. So why not create your own DIY spice rack to keep them organized?
We've found some great online plans for spice racks. And there are options anyone can follow, whether you're a master woodworker or a DIY beginner.
Take a look, and see if one of these guides whets your appetite!
1. How to Make a Tiered Spice Rack Without Using Any Tools
This is a great guide for anyone wanting to reach all their spices easily when they're stored in a cupboard. You'll need to get some pieces of wood cut to size – but don't worry if you don't have a saw. Your local hardware store will be able to do it for you. That's the most complicated part of the process! The tiered design can be dropped into place in just one minute.
2. Wooden Spice Rack Build Plans
This guide shows you how to make a gorgeous spice rack to mount on your wall. The back is formed from a chalkboard for a style that would look great in any kitchen. There's a useful list of tools and materials, then directions broken down into eight steps. You'll need some DIY knowledge for this – for example, knowing how to make pocket holes – but it's not a difficult project.
3. Making a Spice Rack
More experienced woodworkers will enjoy this spice rack project. It makes use of a planer, table saw, router, finger joint jig, mitre saw and metal bender. It's not the right choice of plan if you don't have access to this equipment. But it's a simple design that looks great and is very practical. And you can see every aspect of the build in the video.
4. DIY Floating Spice Rack
This plan uses a series of floating shelves to form a minimalist spice rack. There's a list of supplies at the beginning, complete with links to places you can buy them online. The directions are broken down into four easy steps, with lots of photographs. These break up the text to make it an easier read. And they're nice and big too, so you can see exactly what's being done at every stage.
5. DIY Spice rack – How to Make a Spice Rack using Scrap Wood
This attractive design can be made from any bits of scrap wood you have lying around. But the finished product looks anything but cheap! The video shows DIYer Anika taking you through the project step by step. There are detailed plans and technical drawings on her blog. And if you don't have all the tools Anika uses, she suggests helpful alternatives to get the same results.
6. Kitchen Organization – DIY Tiered Spice Drawer Insert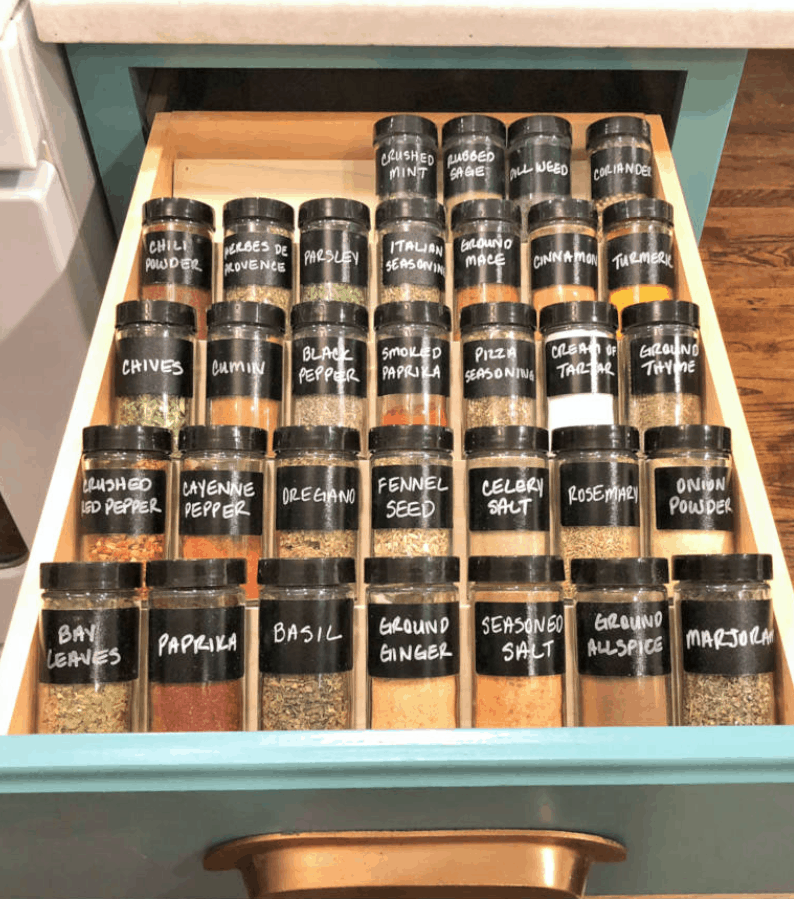 This is a brilliant plan for turning a kitchen drawer into a beautifully organized spice drawer. It uses hobby boards and minimal woodworking skills to create a concertina rack. This sits inside your drawer to keep your spices at an angle, so you can see and grab them easily. It's a clever design and every stage of the build is described clearly and simply.
7. How to Make a Spinning Spice Rack
This brilliant plan shows you how to create a spinning spice rack. It's a great design to conserve cupboard space while allowing you to reach all your spices with ease. And it's attractive enough to sit on your countertop too. The video shows you every step of the build. There's a link to a separate video for more information on how to make the jig that's used in the project. And you can download a template for the design from the link included in the video information.
8. DIY Pallet Spice Rack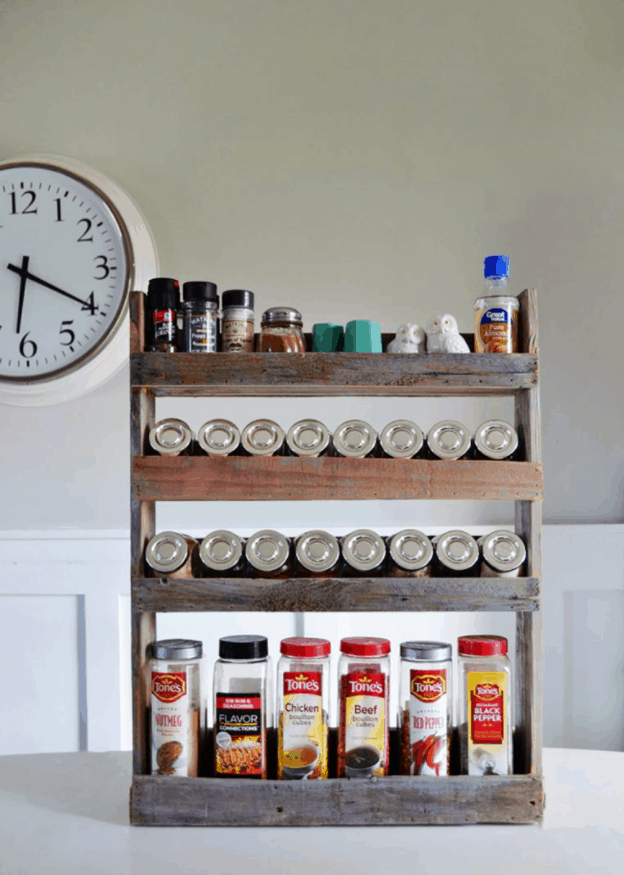 This guide shows you how to make a spice rack from a simple wooden pallet. It has a gorgeous rustic look that would look perfect in a farmhouse or shabby chic kitchen. Blogger Sara provides a list of all the equipment needed, plus a cut list for the wood. The directions are easy to follow, and there are lots of photos to help you see what to do.
9. DIY Spice Rack from Reclaimed Wood and Copper
There's no narration with this video, although there is a laugh-out-loud segment showing the fate of a push stick that almost caused a nasty accident! The video is worth checking out for that alone. There are some serious power tools on display here. And the resulting wall-mounted spice rack looks brilliant. This is a plan best tackled by those with a reasonable level of DIY knowhow.
10. Spice Rack from Cardboard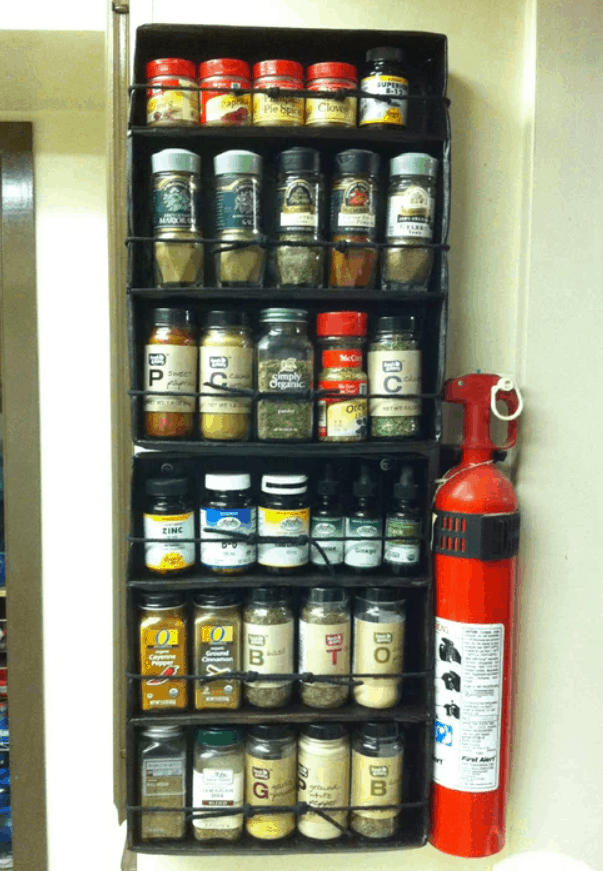 This plan shows how to create a simple but effective wall-mounted spice rack from cardboard boxes. Here they're painted for a smarter finish. This is a plan that's very easy to follow. There's a list of everything you'll need, and simple, clear instructions for every step. There are even directions to help you mount the completed spice rack on different kinds of wall.
11. Spice Organizer for Your Kitchen for $1 with Cardboard
This clever spice organizer costs peanuts. It uses three tiers to allow you to easily see and reach all your spices when they're in your cupboard. And it cleverly uses wood-effect contact paper, so you'd never guess it was made of cardboard! All the materials and equipment you'll need are listed at the beginning. This is a very simple project, but the results are attractive and work perfectly.
12. Chalkboard Spice Cabinet
This cabinet from home and lifestyle guru Jen Woodhouse offers a beautiful storage solution for your spices. The guide walks you through the design and build, with lots of photographs along the way. It doesn't have huge amounts of detail, though. If you're not confident with steps like attaching hinges, you may prefer something easier.
13. #NespressoHack Cardboard Spice Rack
In some parts of the world, Nespresso pods come in long thin boxes. And this project from British vlogger Warren puts them to good use to create a tiered spice rack. All you'll need are a pile of pod boxes and some Sellotape. It really couldn't be easier. And while even Warren admits it's not the prettiest spice rack out there, that hardly matters when it's sitting in your cupboard.
14. Make a DIY Spice Rack for Your Kitchen Wall
This is probably the simplest spice rack plan we've found – but it looks incredibly effective. It uses loop and hook pads stuck to the wall to secure your spice jars at right angles. The guide has short, simple steps, with nice big photos for each stage of the project. And there's a helpful equipment list at the beginning. This is a project anyone can tackle, and the finished results look great.
Check the Tutorial Details
15. DIY Spice Rack: How to Make a Spice Rack From Cardboard
This is another tiered spice rack project that uses cardboard boxes. In this case, you can use any size of box, but you will need to do some measuring and cutting. The resulting spice rack is covered in contact paper, so you can wipe it clean if it gets stained. The video shows you the whole project step by step in under four minutes.
16. DIY Spice Rack
This easy-to-follow guide from American hardware store Home Depot shows you how to make a tiered wooden spice rack. And it looks good enough to be kept on your countertop. All the materials and tools you'll need are listed at the beginning, complete with links to buy them. And there's a cut list, so you can cut all the pieces in one go. Each step is clearly described and accompanied by a photograph showing what's being done.
17. Easy DIY Spice Rack from a Cardboard Box
This video takes a slightly different approach to making a spice rack from a carboard box. Rather than using a tiered design, this has three separate shelves. And it's beautifully decorated too. There's are lists of the equipment and materials you'll need at the beginning of the video. It then goes to show every stage of the process, and it's very easy to follow along. And you can hum along to the jaunty music too!
18. Easy $1 Spice Racks!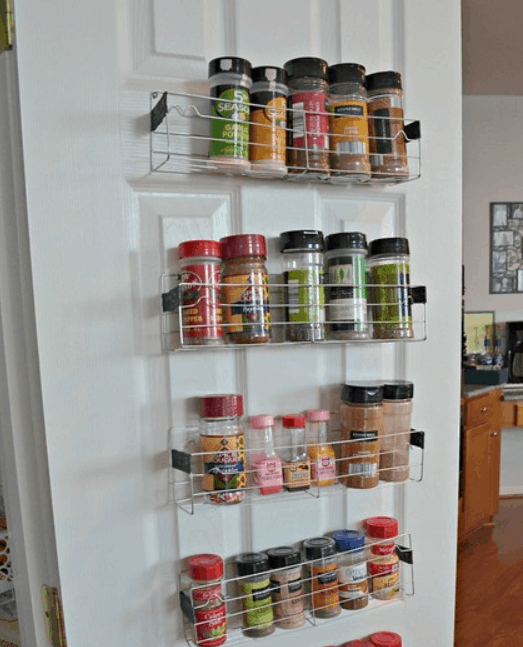 This ingenious plan shows how to use wire cooking racks to create spice racks that are strong and easy to clean. It's very simple to do, and the guide takes you through everything in simple steps. There are plenty of images along the way, so you can see exactly what to do. The finished racks look great mounted on the inside of a cupboard door. And they're seriously cheap to make.
19. Crafts DIY: Cardboard Spice Rack Country Style
This cardboard spice rack is styled to look like a barn, and it's one of the cutest we've found! All the materials you'll need are listed in the video information. And there's a handy cut list for all the cardboard pieces. Everything is demonstrated clearly, and the whole video is less than five minutes long.
Ready to Make Your DIY Spice Rack?
We hope you've enjoyed checking out our range of DIY spice rack plans. Whatever your budget or level of DIY knowhow, there's an option out there that will work beautifully!
So say goodbye to the days of fumbling in cupboards for that pot of chilli powder you just know is there! Create your own spice rack, and you'll have the best organized kitchen in town.
Enjoy your project, and happy cooking!