How boring is it to pour water onto the glass from a water bottle? DIYing a water dispenser serves many purposes, the most important one being that it makes you drink more water.
Just imagine how proud would you be of your creation and that drive itself would motivate you to fill your glass now and then.
In this era where creativity is at its peak, you don't have to buy a water dispenser; you can make one yourself. On top of that, most of the DIY water dispenser that we've listed below for you are insanely cost-effective.
1. DIY Simple Water Dispenser Machine from Cardboard v2
The most exciting thing about this DIY water dispenser is that it makes a perfect project from children as the procedure is effortless. All you need is cardboard, a water bottle, a straw, glue, scissors, and you're good to go.
As soon as you begin to open the lid of the bottle, water starts filling the glass and closing of the lid stops the flow. Science at its best!
2. How to Make Working Water Dispenser – DIY Desk Water Cooler
Wait, don't throw away your empty Pringles cans, Nutella jars, and empty toothpaste tubes. This DIY project makes pretty good use of these items.
With the help of hot glue gun and a straw, this Youtuber created a great DIY water dispenser out of pringles can and Nutella jar.
Make sure to seal the holes as shown in this demonstration since properly unsealed holes results in leakage and uncontrollable water flow rate.
3. How to Make WATER Dispenser Machine from Cardboard DIY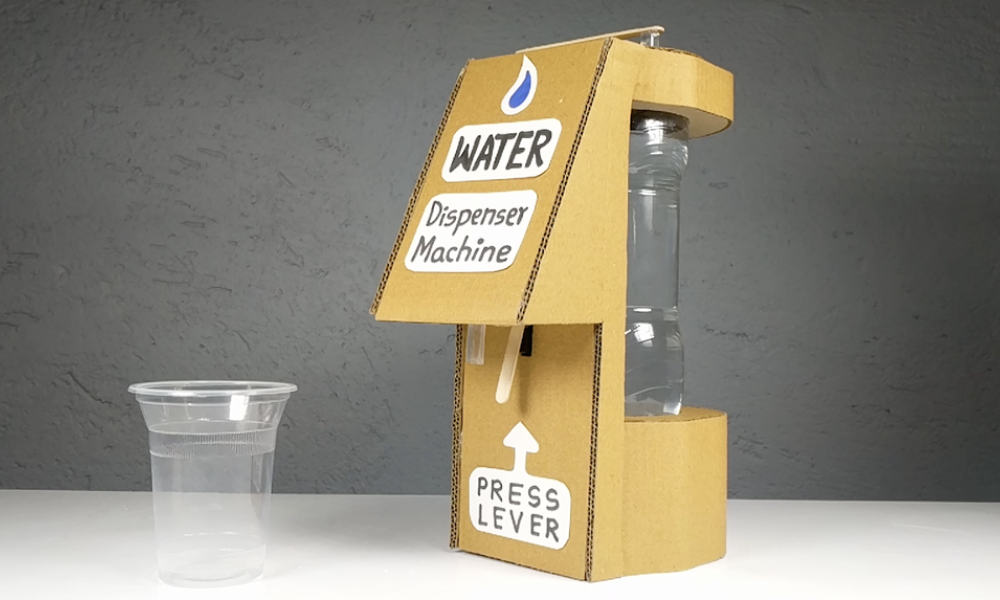 This battery-operated DIY water dispenser design is so cool and is super easy to make.
If you have batteries, cardboard, hot glue gun, cutter, a plastic bottle, water pump motor, flow pipe, cable ties, and candy sticks, you can head over to this site, and make this fantastic water dispenser.
Once you press the cardboard, the dispenser fills the water in the glass. For your convenience, the site has also included a tutorial video.
4. AQUAMATIC Automatic water dispenser | Creative Minds
How cool would it be if the dispenser stops pouring water automatically after filling the glass? If you're intrigued by this idea, watch this YouTube video to make this automatic water dispenser.
A refillable bowl is used as a water holder on the top. Every step is shown very clearly, and the design is awe-inspiring, so if you're looking for convenient tabletop water dispenser, this tutorial might be perfect for you.
5. DIY How to make homemade Water Dispenser?!!
If you were not satisfied by the previous battery-operated DIY water dispenser, here's another alternative for you. In this DIY design, a button on the top of the dispenser is pushed to release water onto the glass.
The best part of this DIY is that the water dispenser looks like a store-bought one as it looks very clean and sharp. If you can install a water pump and batteries as shown in this project, this fun DIY deserves a try!
6. DIY Simple Water Dispenser Machine From Cardboard DIY At Home
This simple water dispenser DIY has amazed many of its viewers. If you don't believe us, you can check the comment section for praises.
A water bottle, cardboards, a small pipe, a cutter, and a glue gun are the only required items for this DIY. It can be a perfect project for children, but it should be done under adult supervision.
7. DIY How to make water dispenser with a 5-gallon water bottle
All of the above DIY dispenser ideas were perfect for your study or work table. However, this idea is excellent if you want to make a water dispenser for your kitchen. A tap is attached simply to a jar, and another water-filled jar is inverted on top of it.
If you wish, you can decorate the jar as per your taste and make this dispenser look more presentable than shown in the video.
8. DIY water dispenser that works! |easy diy| ~ Elim's DIY
It is another extremely easy Pringles can DIY for you. Unlike the one discussed earlier, the water bottle/holder is not visible on top of Pringles can in this DIY as you will have to insert a slim bottle inside the can itself.
When you open the bottle cap, the water looks like it is coming out from the Pringles can. Super cool, isn't it?
9. Build a 5-gallon water dispenser in 5 minutes for $5 with a 5-gallon bucket!
Build this family-pack 5-gallon water dispenser for your kitchen by following this DIY YouTube video under $5. All the necessary materials are mentioned at the beginning of the video.
Though there are only five comments on this video, the fact that each of them is an encouraging one indeed indicates that this design works.
10. How To Make Working Water Dispenser. DIY water cooler
We don't necessarily think that this DIY would make an excellent water dispenser. However, if you have a child in your house, you can make this dispenser with them.
You will have to pull and push syringe every time to release water. But, imagine how fascinating this water dispenser would be to kids and how proud they would be in filling their glass. Adorable, isn't it?
11. How to make a water dispenser
It might be the best and easiest DIY water dispenser tutorial. This DIY dispenser holds around 2-3 liters of water and can be completed in two simple steps; attaching a tap to the lid and attaching a straw as an air inlet.
If you're in no mood for doing extravagant DIYs, this simple DIY might be perfect for you.
12. DIY Automatic Garden Hand Wash Water Dispenser Bottle
Consider this garden hand wash water dispenser tutorial a bonus for you all. We all know how messy can our hands get after gardening and the most annoying part is that we have to open the tap by those same hands.
However, you can make a DIY hand wash water dispenser to solve this issue. All you need is a syringe, cutter, glue, straw, a bottle, and a thin rope to hang the bottle upside down.
13. DIY Simple Water And Candy Dispenser At Home //DIY Cardboard Water Dispenser
All the parents out there, proceeding on this video might be quite risky as this water dispenser also has a candy storage unit on the side. This DIY design is brilliant and yet so simple to make and doesn't require any fancy tools.
The dimensions of the cut cardboard are not mentioned in the video. But for your ease, we've gathered the information from comment section; i.e. 40 cm height and 30 cm width.
14. How to Make Water Dispenser Machine From Cardboard
Nobody will be able to drink water from your DIY water dispenser unless you permit them. Not sure what I meant? This water dispenser requires a card to activate. And only when the dispenser is activated, and the light is on, you can turn the witch on to release the water.
Though the procedure is not very tough, this brilliant DIY idea does require some electronics skill to make so, if you have what it takes, DIY this super cool dispenser and flaunt it.
15. How To Make Cold And Hot Water Dispenser At Home very cheap
The Youtuber of the channel Mr Hacksaw made this incredible hot and cold water dispenser based on pelter module and motherboard heat sink.
You'll be able to complete this DIY hot and cold water dispenser only if you have sufficient knowledge on the principle and materials used.
If you could DIY this dispenser, it would save you hundreds of dollars and also cater you with hot water in winter and cold in summer. Absolutely brilliant!
16. How To Make Simple Water Dispenser – Diy Ideas | Cardboard
Using cardboard, glue gun, cutter, pipe and a water bottle, you can create this water dispenser for your study or work table. The principle behind this DIY is the same old air pressure theory, nothing technical.
The best part is that you can even customize this dispenser to fit a 2-3 liters water bottle. As this DIY is simple, you can also make more of this for every room in your house.
17. How to make water dispenser machine | DIY
If you want to make a double water dispenser that fills two glasses at once, here's the video for you. It can be quite time-consuming and challenging, but the final product will turn out excellent.
All these DIY water dispenser ideas are so incredibly unique and brilliant. The science and technology behind some are equally mind-blowing.
So, instead of buying a water dispenser, opt-out to DIY one. Especially if you have a kid in the house, involving them would be an excellent idea as these projects are very light-hearted and fun to make.