If you love grilling, having a barbecue pit at your home will allow you cook in style, surrounded by your friends and family.
It's not hard to construct one either, and for anyone who wants to try, here are 19 great plans for a DIY BBQ pit that you can build at your home.
1. Step-by-Step Guide to Building a Barbecue Pit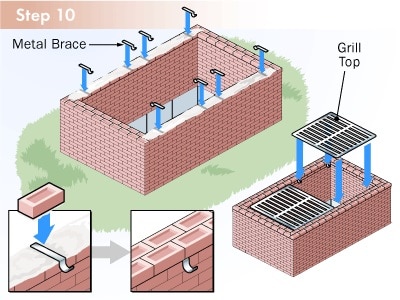 If you want to know about the steps required to build a solid barbecue pit, this tutorial will teach you everything you need to know. Complete with a list of required materials, detailed instructions and helpful diagrams, this is an in-depth plan that will help you get the job done right.
2. How to Build a BBQ Pit
In this video, this YouTuber gives us a "guided tour" of the barbecue pit he built, pointing out all the features he included. As he says, the design is simple, which is perhaps its biggest advantage – he doesn't show you the building process, but from his explanations, you'll have no problems understanding, making it easy for you to copy his ideas.
3. How to Build a Barbecue Pit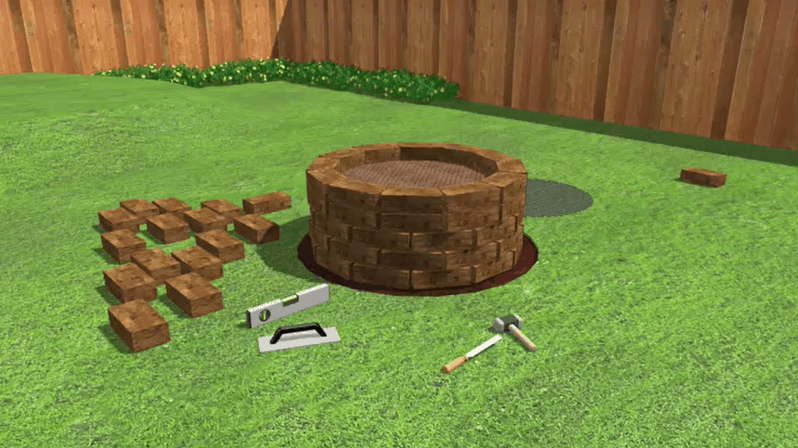 Whenever we want to know how to do just about anything, WikiHow is always one of our first stops. If you don't know the site already, it has a vast collection of how-to guides to for a huge range of topics, including building a barbecue pit. As always, this tutorial includes well-written and logical instructions and plenty of helpful images, making it an invaluable resource if you want to build a barbecue pit of your own.
4. Ultimate DIY Pit Grill Build
Barbecue pits aren't too difficult to build, but you might be looking for a few ideas to make a really special, one. In that case, this plan for the "ultimate DIY pit grill" should be worth a look since it incorporates a few extra features that the most basic versions don't have. It's still not too complicated to construct though, so if you like the look of it, you can have a go at making something just like it yourself.
5. Beginner's Guide to Building a BBQ Pit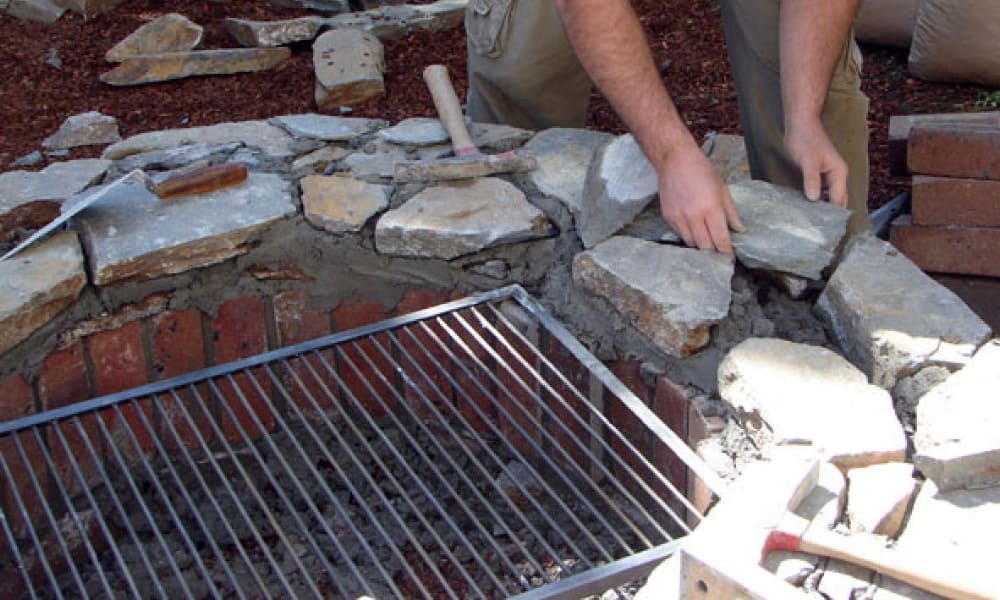 Even if you're a DIY beginner, building a barbecue pit shouldn't be too difficult a task, and if you're looking for a simple plan to follow, this one should be of interest. It explains how to tackle the project in simple terms, explaining each step clearly. There's also a section about how to achieve the best results when cooking over your pit to give you an idea about the kind of thing you can look forward to cooking.
6. DIY Fire Pit/Grill and Patio
Here's a super impressive plan for a fire pit and grill set in the center of a beautiful patio area. What we like about this is the way everything coordinates, and building something like this will give you a place to cook or just sit outside with your family at any time of year. This is the kind of project that will take some time to complete, but we're sure you'll agree that it will be time well spent.
7. The Easy, Cheap Way to Build a Kick-Ass BBQ Pit in Your Backyard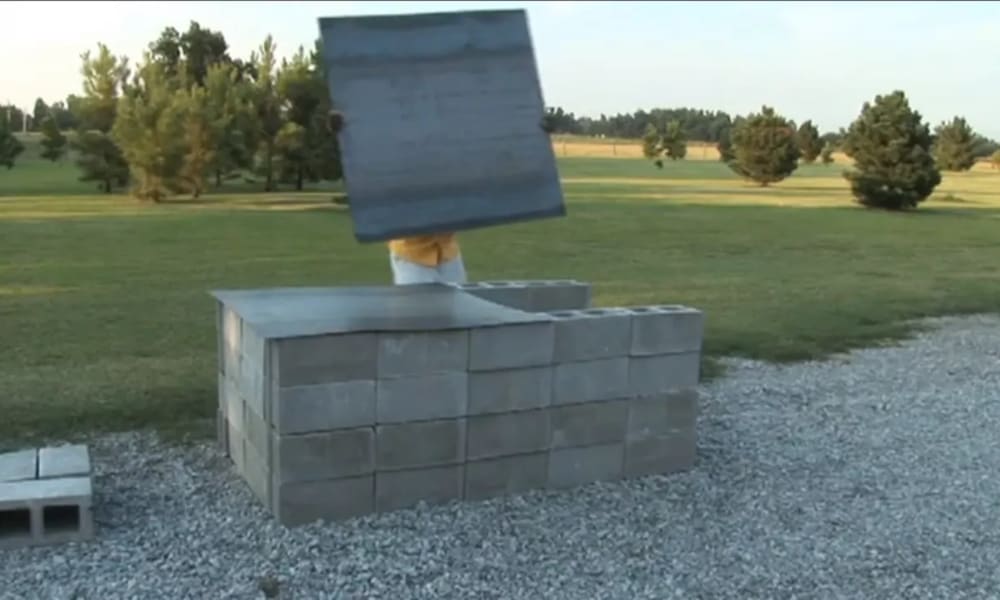 If you don't have the time for a project as ambitious as the one in #6, perhaps something more modest would be a better choice. In that case, this plan could be an option since it teaches you how to build a simple but effective barbecue pit that can be completed in no time. The blogger estimates it only cost around $300 – far less than it would cost to buy a gas grill – and if you like this style, why not see if you can copy their design?
8. How to Build a Homemade BBQ Pit
One of the simplest and least expensive ways to build a barbecue pit is using cinderblocks. They are readily available and easy to work with, and as this YouTuber demonstrates, you can use them to quickly build a sturdy barbecue pit, allowing you to start enjoying your new grill in no time.
9. How to Build Your Own BBQ Pit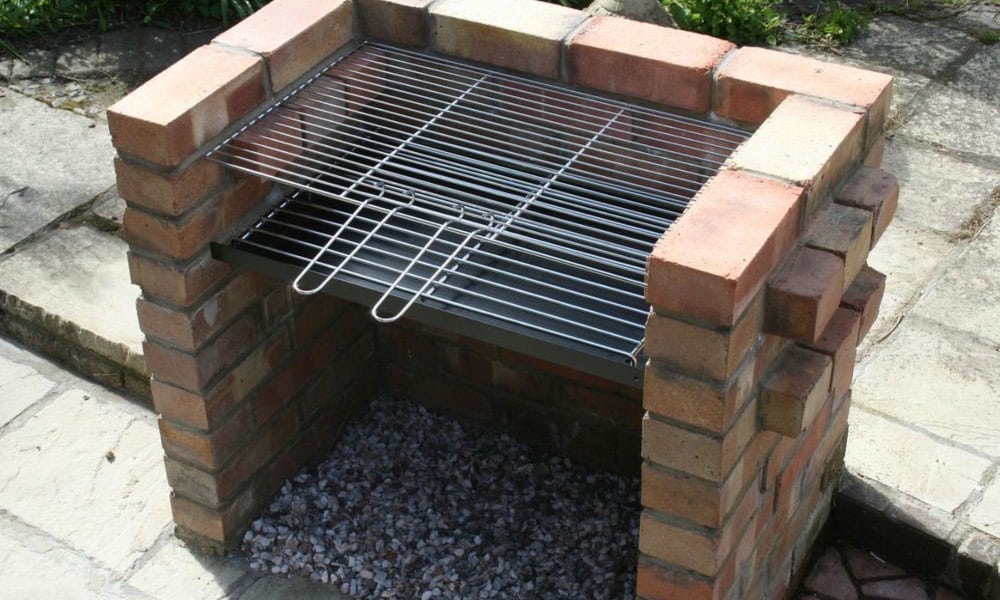 The barbecue pit this tutorial shows you how to make will require a certain amount of time and effort to construct, but as we are told, imagine all the fun times you can have with it once it's built! This is a detailed plan that shows you how to build a sturdy pit you can be proud of – check it out for more details.
10. Building My First BBQ Pit/Smoker
In this video, we get to watch as this YouTuber builds a simple barbecue pit in no time. There's nothing complicated here, making this is a plan that anyone will be able to copy – so if you're looking for an easy way to build a pit of your own, this video is a recommended watch.
11. Instructions for a Huge DIY Rotisserie BBQ Pit for Cheap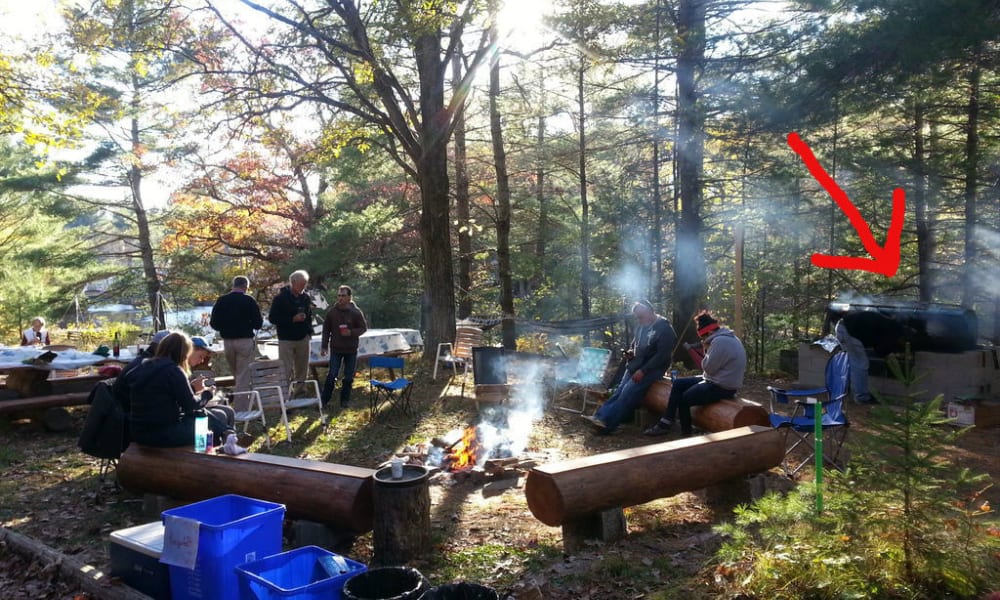 If you have a large family or enjoy inviting lots of people over for food, you'll need a grill that's large enough for you to cook for everyone – in which case this is a plan that should be of interest. In it, you learn how to make a huge barbecue pit with enough capacity for even the largest of gatherings, and the best thing is that it won't even cost you much to make.
12. How to Make a Fire Pit from a Rusty Old Truck Wheel with a $100 eBay Stick Welder
We love DIY plans that repurpose unlikely items and turn them into something new and useful, and that's what we see in this video because in it, this YouTuber makes a fire pit from an old truck wheel. This is an ingenious idea, but it works perfectly. Give it a watch to see how he did it!
13. Backyard Barbecue Pit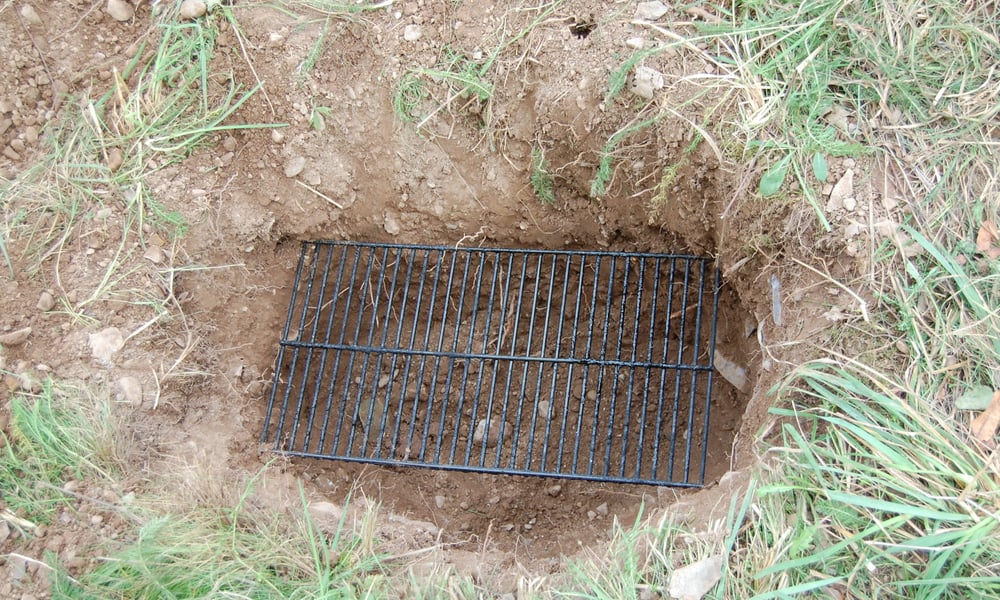 In this well-written and informative plan, we learn how to make a simple, functional barbecue pit that hardly costs a thing to make. As well as teaching you how to make the pit itself, you'll also find a few tips to improve your grilling technique, making this a plan that's well worth a read.
14. Building a Fire Pit/Grill from Scrap Materials
For anyone with a workshop full of scrap, there's no need to spend lots of money on buying stuff to build a barbecue pit because you probably have all the materials you'll need for the job already. And if you need a little guidance for how to put that scrap to use, this video tutorial will show you everything you need to know to start building a barbecue pit of your own.
15. How to Build a Backyard BBQ Pit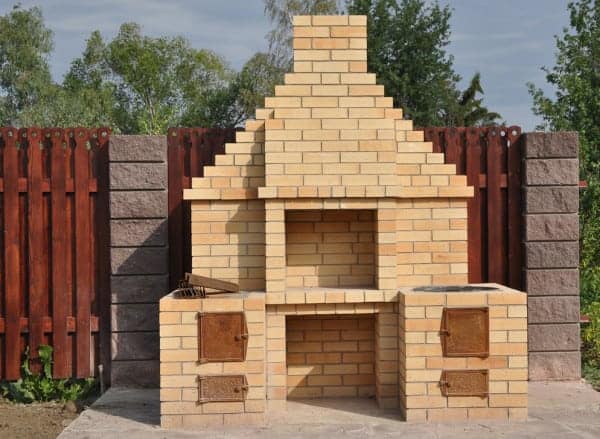 There are lots of ways to build a barbecue pit, and you don't need to follow a plan exactly to build your perfect version. However, there are a few basic principles you need to understand before you get started, and this useful blog post has all the essential information you need.
16. How to Make a Simple Fire Pit and Tie Fighter Grill
This is a plan we loved because the design is so original. Not only does this YouTuber build a solid and functional barbecue pit but he also embellishes it with a tie fighter design on the top. Perhaps not necessary, but something that Star Wars fans will love – and if that includes you, why not try copying his idea?
17. How to Build a Deep BBQ Pit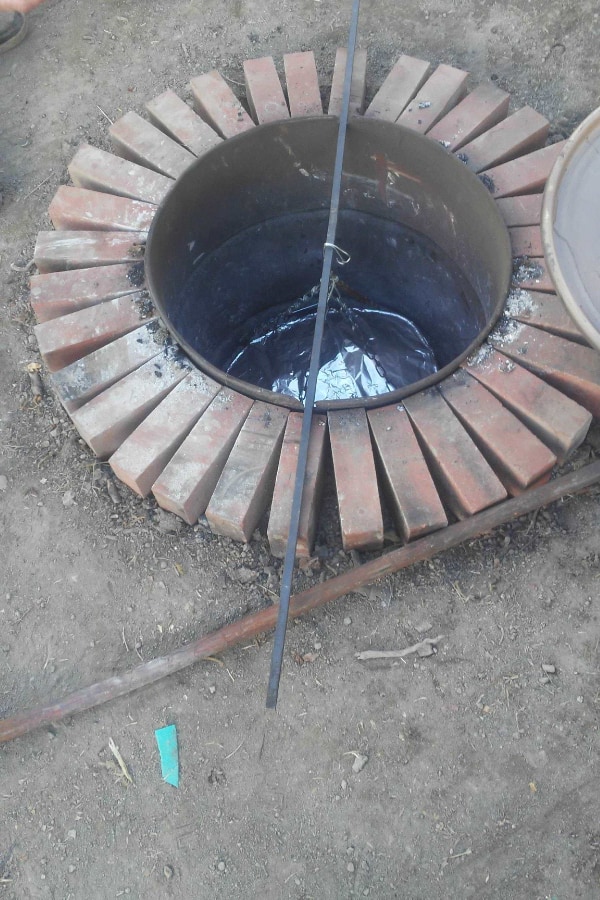 As this plan reminds us, a deep pit barbecue is one of the oldest ways of cooking in existence, and if you want to try grilling in the same way people have been doing it since the dawn of time, this tutorial will show you how.
18. How to Build a Pit BBQ for $250
If you want a barbecue that's big enough to accommodate a whole hog, you're looking at around a $10-15,000 investment, which is something many people won't be able to consider. However, in this video, you learn about a DIY solution that won't cost you more than $250 – that's a huge saving that's hard to turn down, so check out the video for more info.
19. How to Build a Barbecue Pit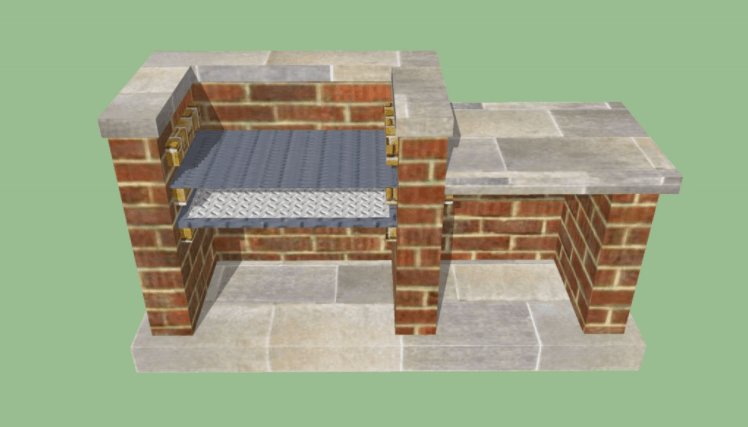 In this plan, you learn how to build a high-quality brick barbecue pit that will last for many years to come. This is a detailed plan complete with lots of useful diagrams, and you'll even find all the measurements you need to recreate it at home. This is one of the most in-depth tutorials we've seen, and it will appeal to the kind of person who wants to know everything about a project before they start – and if that sounds like you, this is a plan you should appreciate.
Plenty of great plans to copy
As you can see, there are plenty of plans for barbecue pits for you to copy, from simple makeshift affairs to elaborate versions that are built to last for years.
We've enjoyed collecting these plans for you, so we hope you've enjoyed reading and watching them all too – and above all, we hope we've helped you find the ideas you needed for building a DIY barbecue pit of your own.