How annoying is it to find an expired and dirty canned food hiding deep into your pantry shelf? What's more frustrating is that most of the time, you weren't even be looking for it in the first place, right?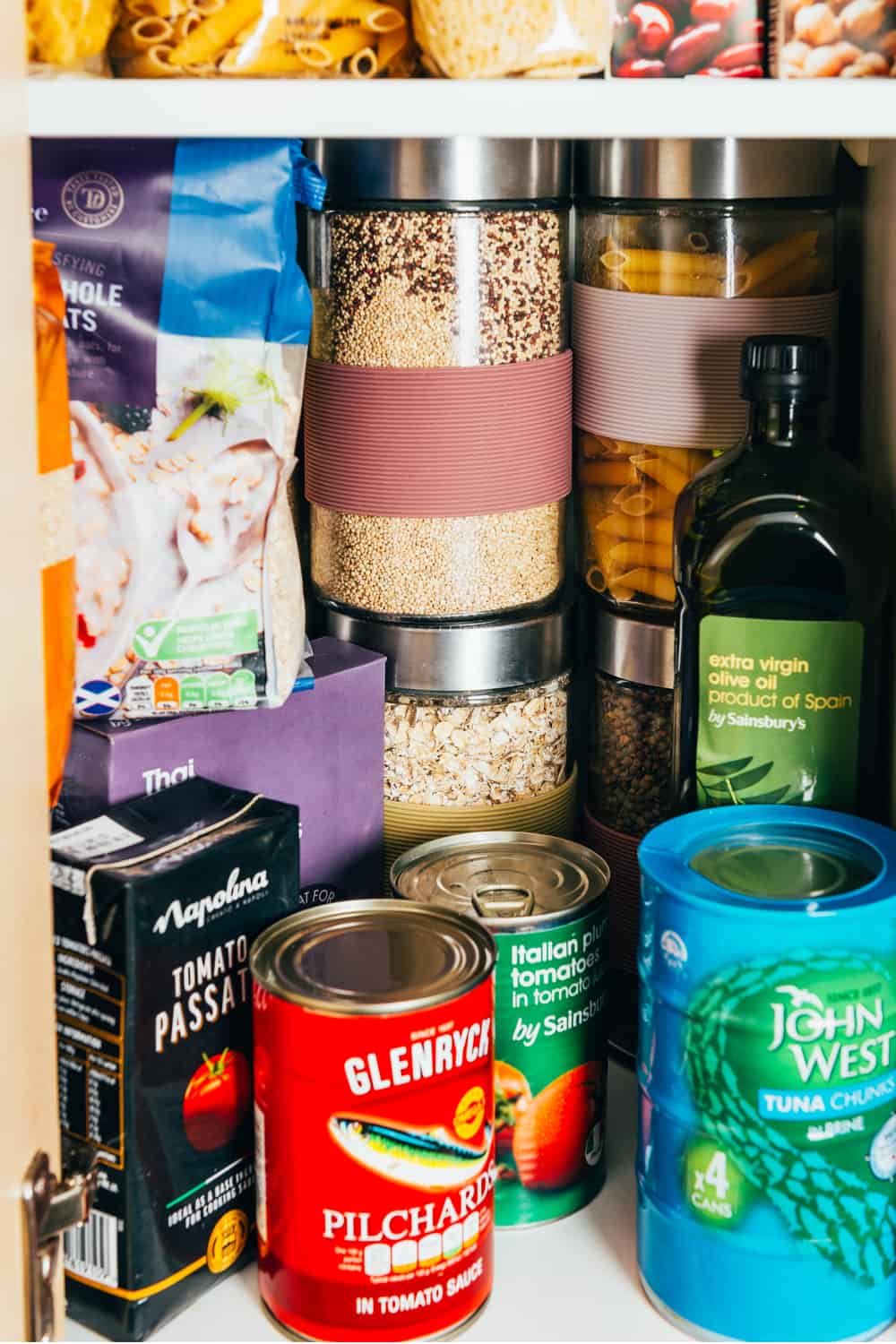 Though canned foods are pantry essentials, it is quite overwhelming to organize and keep track of each one of them.
To your rescue, we've gathered some fun and very helpful DIY canned food storage ideas. From First-In-First-Out (FIFO) dispensers to simple yet effective pantry labeling ideas, we've covered it all.
1. DIY Can Storage System – FIFO – Cheap and Easy to Build!
If you're interested in doing woodworks and have a proper set of tools and skills, you must check this DIY wooden can storage system out.
These 32 inches wide, 16 inches deep, and 3.5 inches tall rack can hold up to 150 cans putting a full stop to all your canned food storage dilemma.
The DIY project costs around $100, and if you have a relatively lesser number of cans in your pantry, you can size down the rack accordingly.
2. Organize Your Pantry with DIY Slide-Out Cabinet Shelves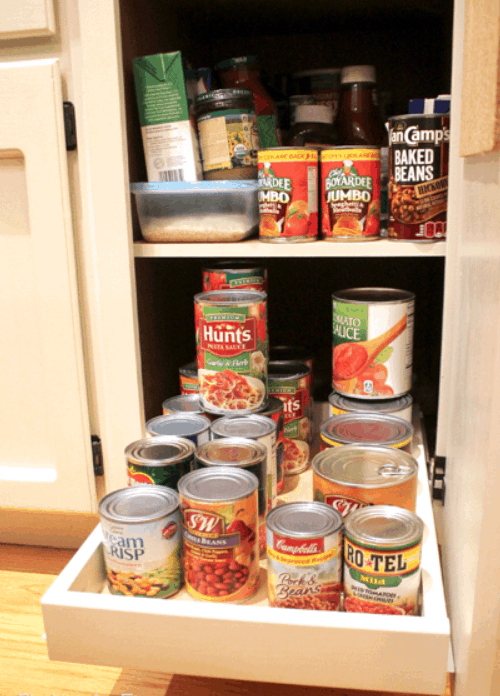 Here's another cool woodworking project for you. If you've a cabinet in your pantry for storing canned foods, it's highly likely that you've been annoyed on how you've to crawl on the floor to take out the can you need.
Check this awesome DIY blog post on how this blogger added drawers to the cabinet, making addition and removal of cans super easy.
3. Dollar Tree Organization | Pantry
This video is more of a comprehensive pantry organizing tutorial. But, just look at how amazingly this Youtuber used dollar tree items to transform her pantry.
Moreover, the idea of using soda cans organizers to organize her pantry; mostly, her canned goods, is very impressive. If you're not an extreme DIY person, we just found out the easiest project for you, didn't we?
4. Standing Rotating Can Rack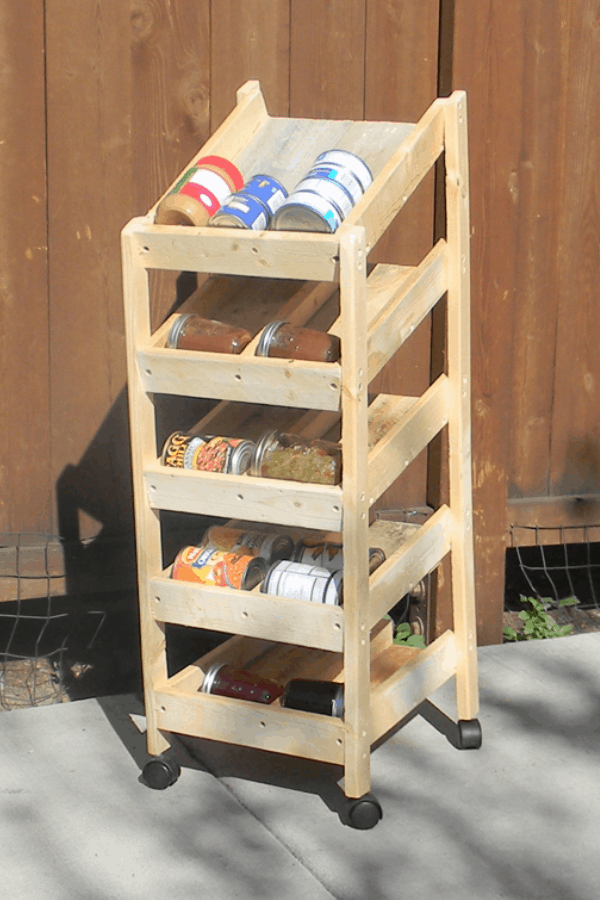 If you want to build a cost-effective and efficient standing rotating can rack, this DIY project is a no brainer. I liked how the blogger made the rack movable by adding wheels at the bottom.
All the items you need to shop for and the price are provided in the post, and the step are also very elaborative, leaving no room for confusion.
5. DIY Food Can Dispenser – with plans
Do you want to build a FIFO can dispenser? If yes, this is the video you might want to see. The favorable reviews on the comment section say it all!
This DIY design holds 42 cans. Most importantly, make sure to match the width of each shelf of the dispenser to can height. As not all cans you buy are of the same height, the width of dispenser shelves can vary accordingly.
6. DIY Canned Food Organizer Tutorial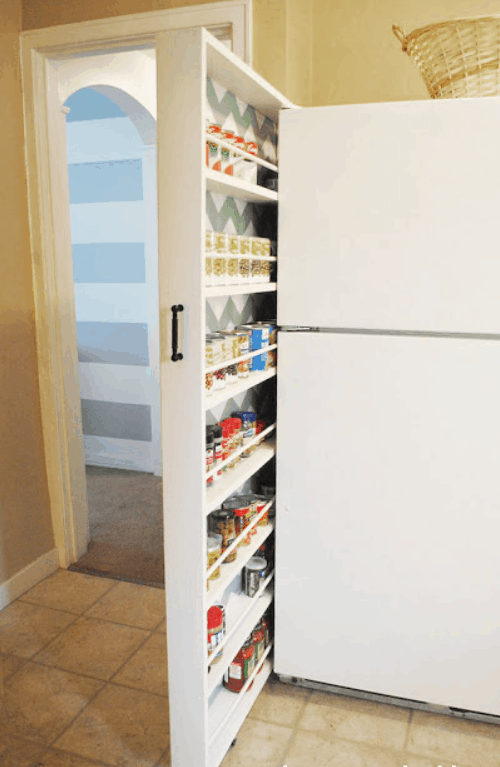 This DIY project might be an all-in-one solution for all your pantry organizational problems. It might seem a bit complicated at first, but it is super easy when you read the directions. You can even customize the rack according to your need.
Not only canned food, but you can also store mini bottles and packaged foods in this rack. Head over to the site to find out how you can create this pantry masterpiece.
7. Easy DIY Canned Food Storage Anyone Can Build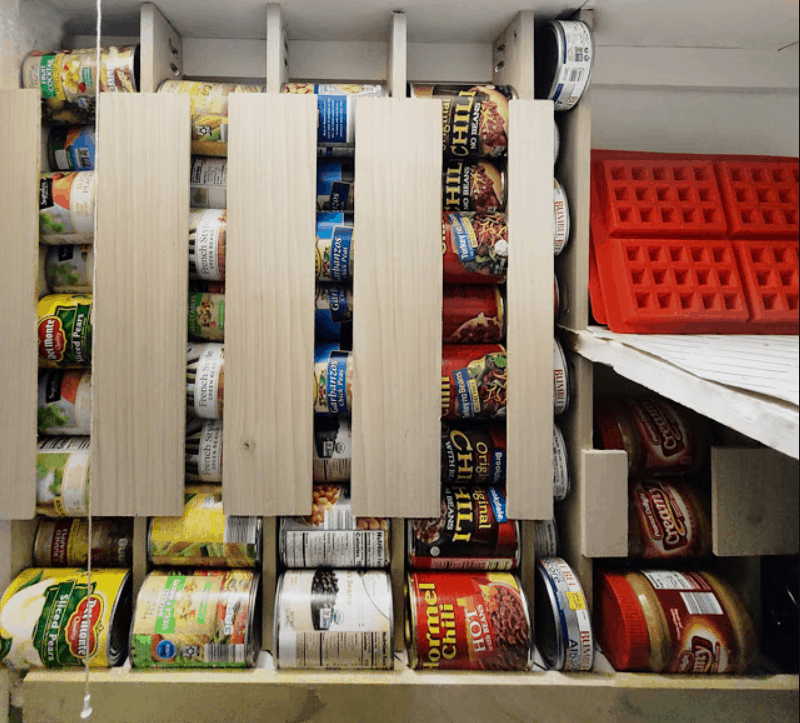 Here, on this site, you'll find out how you can build a 2' X 2' wall-mounted can dispenser with five compartments, among which four of them hold 15oz cans, and the remaining one holds 5oz tuna fish sized cans; holding 39 cans in total.
If your requirements are exactly the same, you can follow the measurements and directions provided in the blog. Else, tweak the sizes accordingly, and build the desired can dispenser for yourself.
8. What are YOU going to do with all those food CANS?!?
Once you build this DIY can rotator for your pantry, we're pretty sure you'll be getting a lot of questions asking where did you buy it. The design is super fancy, and you can add as many shelves as you like.
Make sure to check out the other follow-up video of the same Youtuber, where he talks about dimensions and provides you further details on the can rotator.
9. Fabric Covered DIY Can Organizer for Small or Larger Cans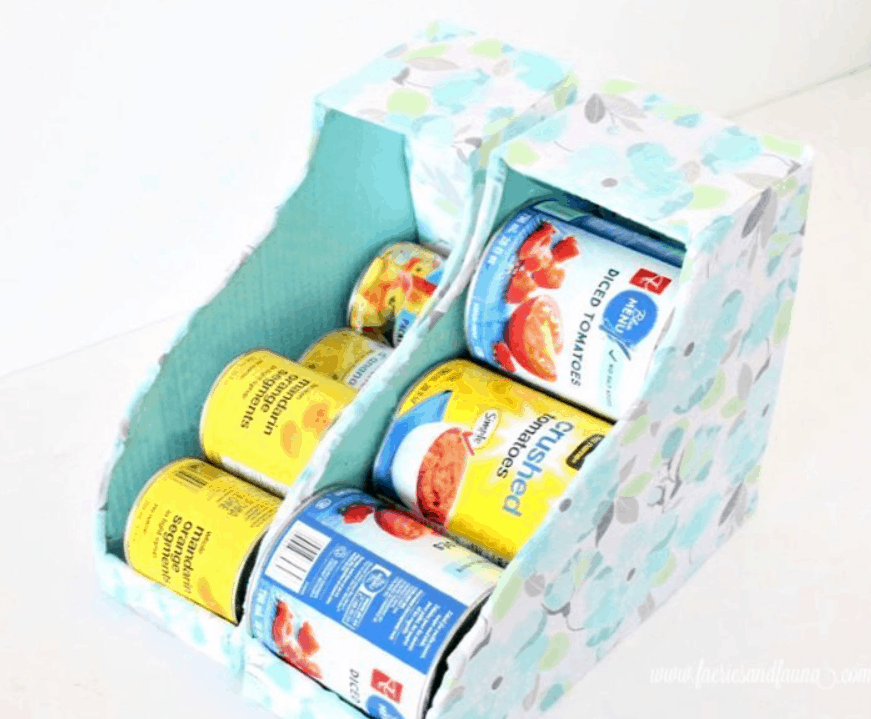 These DIY can organizers will surely catch your eyes. Use fabric that matches the vibe and tone of your kitchen or slabs and cover the magazine or cardboard holders with it.
At the bottom of the blog post, you can find out how you can make your custom holders using cardboards.
This project is super easy to complete, and the end product is convenient can holders that are aesthetically pleasing as well.
10. Make a canned food dispenser. Get organized!
If you want to DIY an extremely convenient two-shelved wooden can storage rack, this idea might be the winner for you. The cans that are first added to the rack lies on the front of the bottom shelf, whereas you add new cans to the top shelf.
The rack is made up of ½ inch and ¼ inch plywood, and you can scale it up or down depending upon your needs.
11. Labeling the Pantry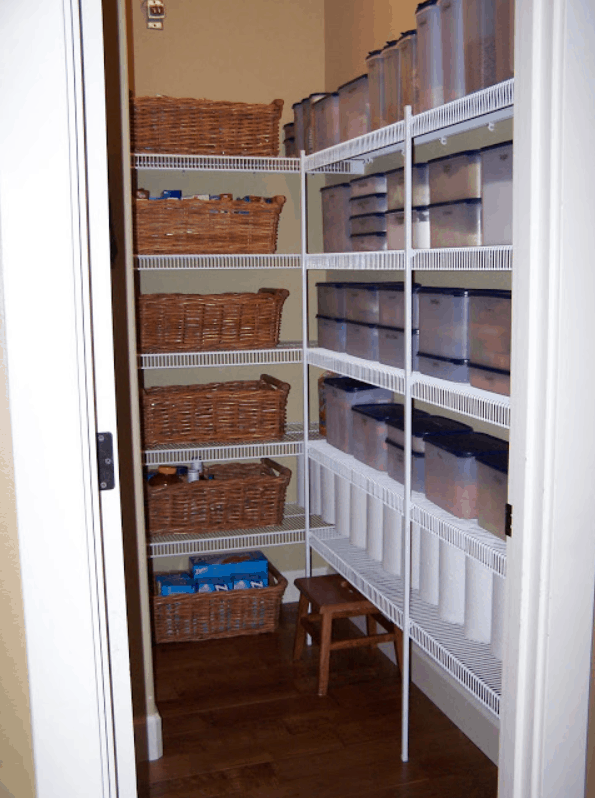 You don't need some fancy stuff to organize your pantry. Head over to this site to see how this blogger used cheap wooden baskets to store canned foods. Pretty simple, right?
On top of that, you'll get amazing ideas on organizing your pantry by using label stickers on pantry items and baskets. So, if you're not that great at DIYs, this project might be perfect for you.
12. Rotating canned food system – diy
This DIY canned food storage can hold up to 126 cans and is super convenient for those families who have varieties of canned food in their pantry as it is a two-tiered FIFO rack.
Once you build a habit of organizing shelves of the rack based on varieties of the canned food, you'll get an added benefit of knowing when you're low on a high use item.
13. Home Made Can Organizer
The fact that this Youtuber kept that not all viewers have woodworking tools and skills in mind and used cardboard instead to make these can organizers are applaudable.
Recycle your old pizza boxes or buy some carboards to make this incredible can organizer, and you'll not regret it. Furthermore, it is relatively easy to make, and the Youtuber has provided all the measurements and details.
14. PANTRY IDEAS – DIY CANNED FOOD STORAGE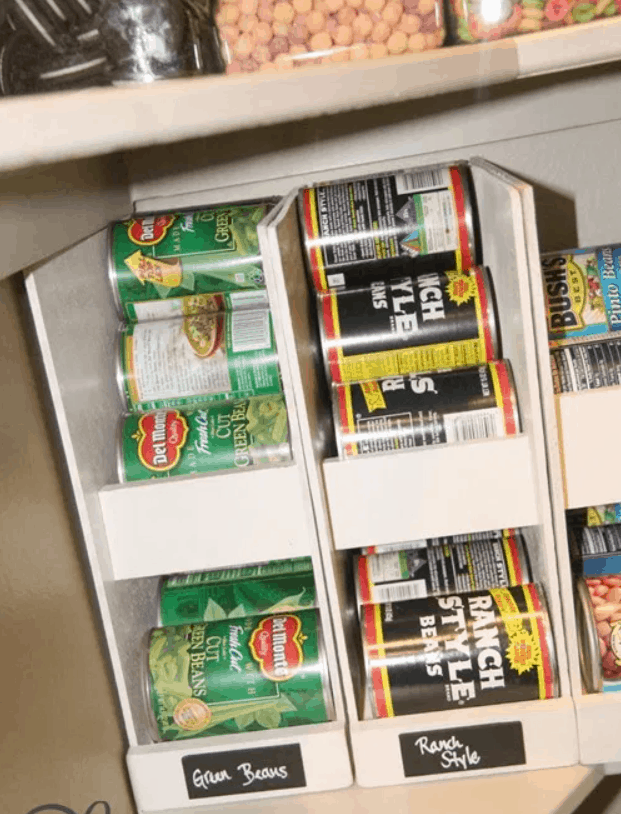 The blogger of 'Shanty 2 chic' had to develop this unique wooden DIY rack solution to tackle her canned food organization problem. With a family of 7 and the number of food cans to feed the family, she had to be extremely creative.
Head over to this site to see how you can DIY a similar can food storage rack. All the measurements and procedural details are provided in the post itself.
15. Can rotation system for FREE!
Though the title seems like an over-exaggeration, you're sure to be surprised to know how you can recycle a cardboard box into a can rotation system. To make the design sturdier, the Youtuber suggests his viewers to use some foam board as dividers in between.
If you have cardboards/ foamboards, scissors, glue, and determination to complete this super easy project, you're good to go!
16. "Soup" er storage idea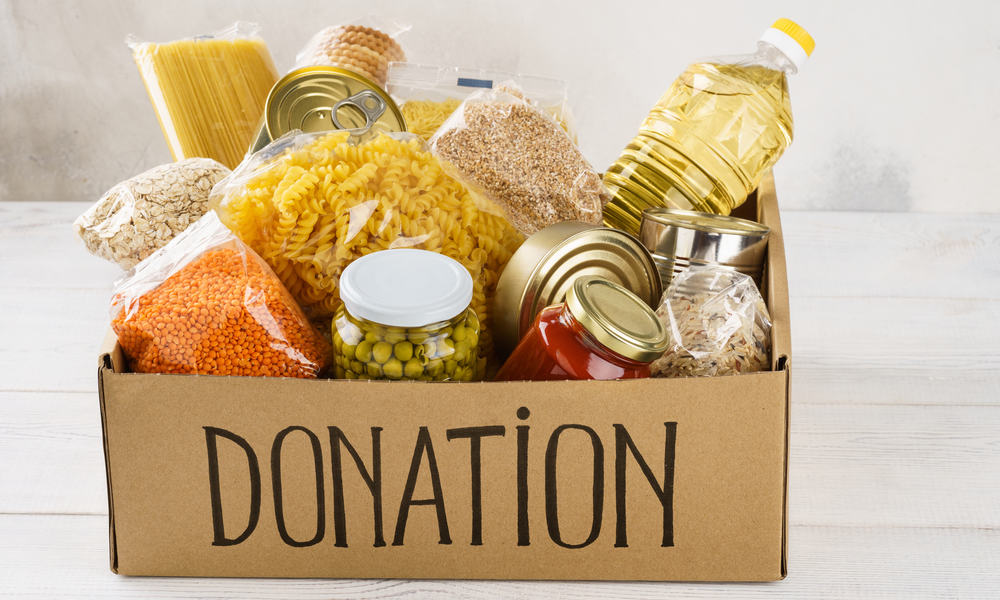 Recycling is the new cool, right? The blogger of the site 'Then She Made' was tired of stacking cans as they never stay in order and always fall over. So, she recycled a fridge pack of soda packaging into a rotating can.
The project is super easy, and if you're someone who isn't a fan of putting a lot of effort into DIYs, this might be the winner for you. Head over to this site, where you'll find all the elaborative procedural steps.
17. Wall Mounted Can Organizer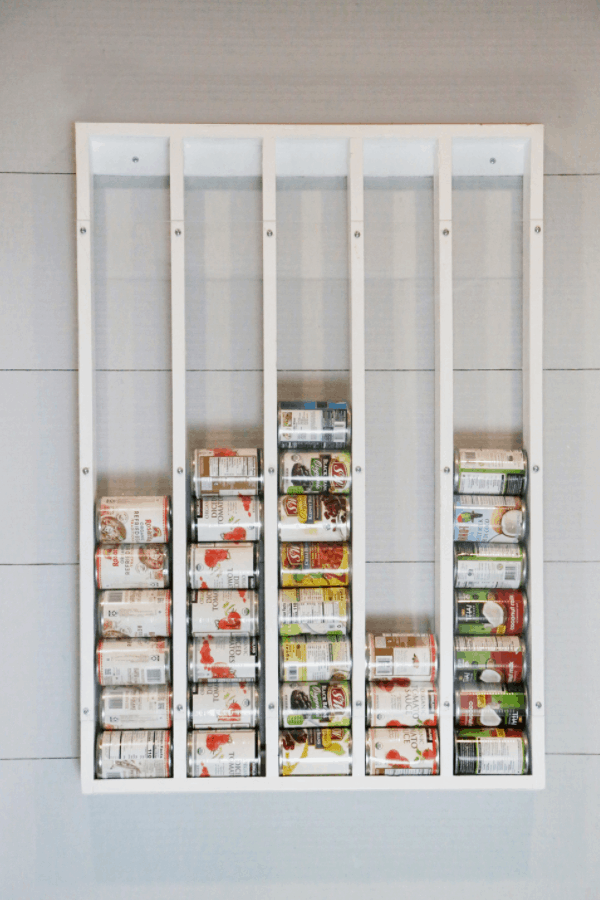 If you're looking forward to making a wall-mounted can organizer, and this post is an all-in-one guide for that purpose. All the features and dimensions of this can organizer in explained in the post.
On top of that, a YouTube video is also embedded in case you need a visual reference.
Unlike other wall-mounted can organizers, she uses acrylic glass to hold the cans in place.
However, if you don't have one, you can always add wooden strips on top of each divider.
Summary
Aren't these some excellent ideas to save your money and organize your pantry at the same time? Most importantly, this DIY list is very diverse, and it has something for all, doesn't it?
You can choose whichever idea you like, keeping your skill level and the tools you require in mind and give it a go! Who knows, you might end up creating a professional-looking and sleek can racks/organizers that will catch the eyes of your guests even years down the line.