What are the cons of DIYing a candy dispenser? Probably none! Candy Dispensers are easy as well as fun to make.
On top of that, when you invite your friends, family, or relatives home, a candy dispenser can be a lifesaver. Your guests will be able to serve candies on their own, saving you from the trouble of distributing candies now and then.
Some of these DIY candy dispensers require adult supervision and help, but most are very easy to make. So, choose any of these super interesting DIY candy dispenser ideas and get started right away.
1. How to Make Candy Vending Machine at Home | DIY Candy Dispenser
Do you have three go-to candies that you love eating every now and then? If yes, this DIY candy vending machine is for you. All you need is cardboard, a few stationary tools, and of course, lots of candies.
Not only candies, but you can also use this DIY vending machine as a mini chocolate bar dispenser. Make sure the hole is big enough for a chocolate bar to slip through, and you're done.
2. Make a Homemade Candy Dispenser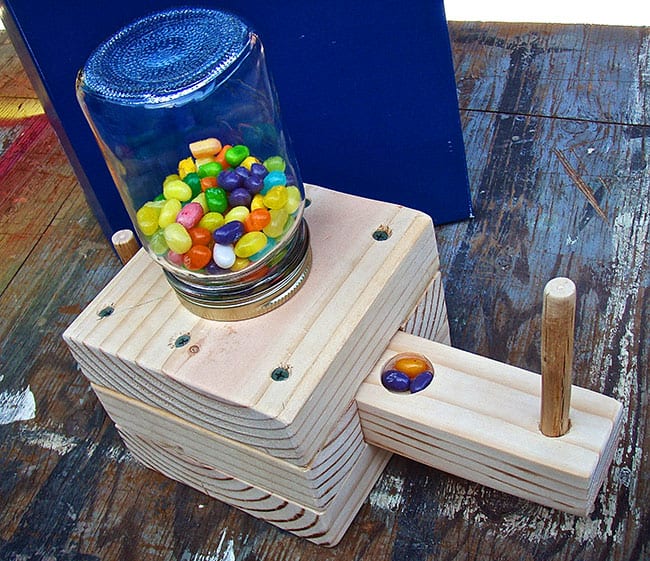 This DIY candy dispenser, unlike the first one, must be performed by an adult who is well skilled at woodworking. You can use it to dispense gumballs, jelly beans, or any candies that fit in the hole at the handle.
All the measurements are provided at the beginning of the blog post, and every procedure is explained clearly using animated images.
3. How to Make a Candy Dispenser | Easy DIY Paper Craft
These mini candy dispensers are super cute. If you love drawing and coloring, that's one more reason to make these DIY candy dispensers. You can download and print the template directly from this Youtuber's website and assemble the pieces as directed in the video.
However, this candy dispenser doesn't dispense candies outside and acts more like candy storage as you will have to take candies out manually.
4. Craft Your Own DIY Candy Dispenser From Cardboard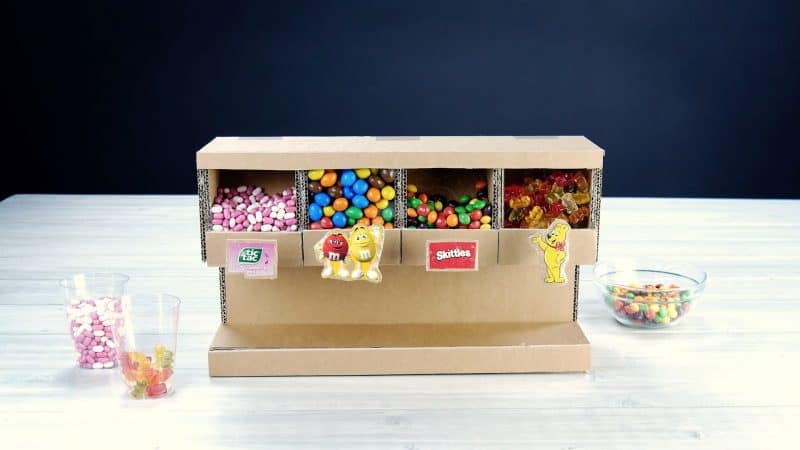 Cleverly is all about DIYs, hacks, and many exciting ideas. On this site, you'll find the material required list, measurements, instructions, as well as illustrative pictures to make a four-chambered DIY candy dispenser.
A tutorial video is also attached at the beginning of the blog post. You can pour gum balls, tic-tac, gummy bears, or any other small candies that fit through the hole into the dispenser.
5. How To Build DIY Cardboard Candy Dispenser Vending Machine | Kids Crafts
This must be the most straightforward DIY candy dispenser tutorial you can ever find. Two kids make a fun candy dispenser using cardboards, scissors, papers, candy boxes, and a hot glue gun.
You don't have to make candy storage in a dispenser as the candy boxes in itself act as a one. You just have to cut a hole in the boxes and use paper sliders to open and close the gap. Amazingly creative idea, isn't it?
6. How to Make Gumball House Vending Machine from Cardboard
This DIY house gumball vending machine must be the most adorable candy dispensers you've ever seen!
You even need a coin to activate the dispenser. So, if your kid has been grabbing and eating a handful of gumballs lately, you must make this vending machine.
This idea will work until they become smart enough to figure out that they can fetch coin from the side of the house and insert anything that fits through the coin hole to dispense gumballs.
7. How to Make Gumball Candy Dispenser Machine From Cardboard DIY at Home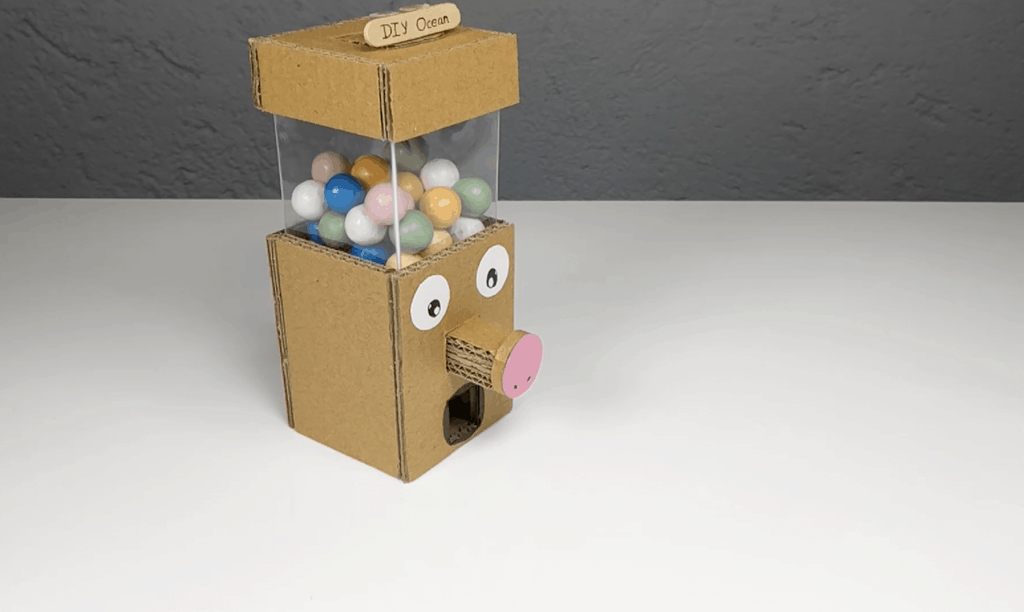 This gumball candy dispenser is very easy to make and is super small and handy. Unlike other DIYs, this DIY method uses rubber instead of spring. Every measurement and procedure are written in detail, and you can also find a YouTube tutorial video on the top.
If you want instruction on other various projects, including cooking, Instructables has it all.
8. How to make CHOCOLATE VENDING MACHINE at home
Do you want to make a casino chocolate vending machine that you can even use to play? If yes, here's the exact video for you.
You can make this fabulous DIY candy dispenser without using any batteries or electricity by following this tutorial. Next time your friends visit you, they are sure to go gaga over this DIY vending machine.
9. Desktop Candy Dispenser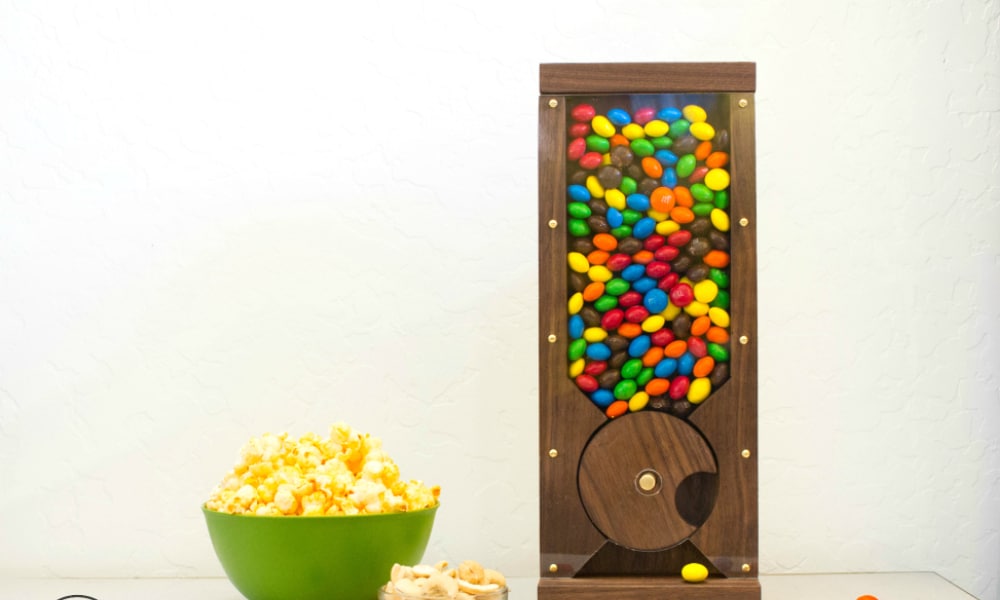 Here's another DIY wooden candy dispenser that requires woodworking skills. The design is very sleek and store-bought, and you can even gift a pair of these to your loved ones.
The guidelines are divided into steps, tools required, materials required, parts/cut list, and extras. The reviews are excellent, and you can even view photos of this candy dispenser built by readers under 'Builds'.
10. DIY Candy Dispenser Using Everyday Objects! Learn How To Make GUMBALL Machine With Nutella Jars!
If you're about to throw the finished Nutella jar away, you'll be throwing a candy dispenser away. You read it right! Wengie created a beautiful candy dispenser using a Nutella jar, cardboards, skewers, ad a few other readily available stationary items.
You can simply paint the dispenser as shown in the video or draw something beautiful on it. Either way, it will look great. And, once you fill the jar with colorful candies, it is sure to brighten your room as well.
11. HOW TO MAKE A DIY CANDY DISPENSER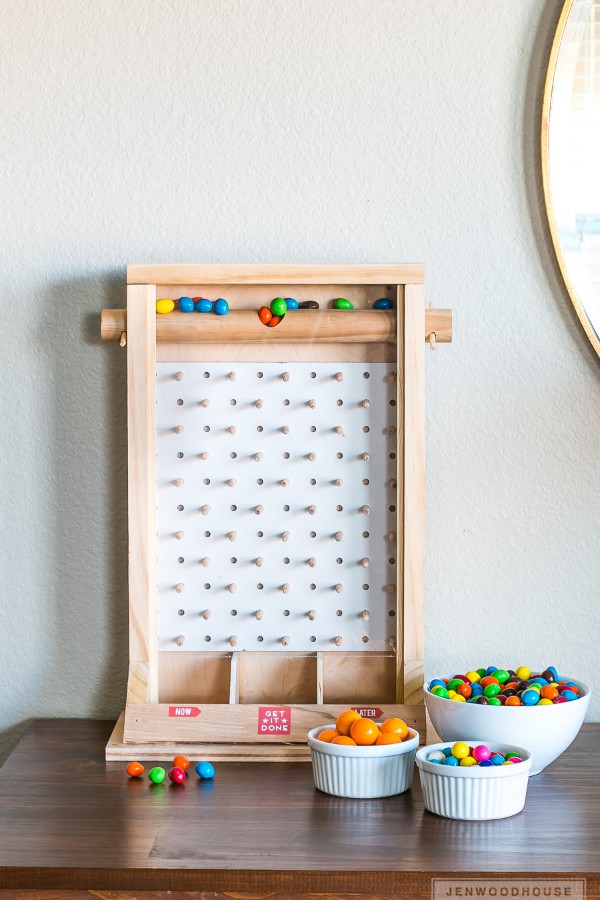 Though difficult to make relatively, you cannot deny the fact that a wooden candy dispenser lasts you longer than the cardboard ones. Here's another wooden candy dispenser DIY idea for you. Fun fact – it is also a fun decision-making board.
Every procedure is detailed in the post. You can also gift this candy dispenser to your loved ones. Moreover, you can add your own twist and make it a dare game board instead; just change the writings on it.
12. Smart Girl Shows How to Build Candy Dispenser
The smart girl made this DIY candy dispenser pretty smartly. Not one, not two, but she made a five-chambered candy dispenser. Now you don't have to choose between your favorite candies, do you?
The primary materials used for this project are cardboards and acrylic glass. If you don't have acrylic glass, you can easily replace it with cardboard. As long as you have chocolate stickers attached to the handle, you will have no problem identifying the chocolates.
13. How To Make a Wood Candy Dispenser!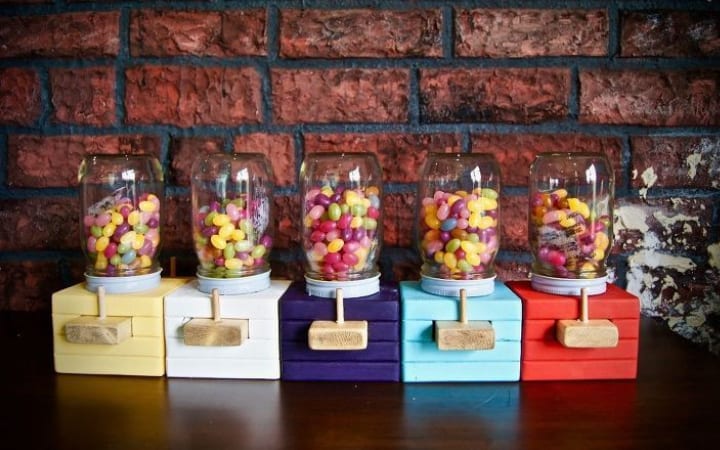 This DIY wooden candy dispensers is a hit! The post is very elaborate, and you'll not have any confusion in any of the steps.
As the blogger showed in the photos, you can also use this candy dispenser as a nuts dispenser or any other item dispenser that fits through the hole. Make sure to read the edited sections carefully if you want to save some time and wood.
14. DIY Functional Gumball Machine or Candy Machine – How To Make Working Candy Dispenser Tutorial
Are you not liking the idea of holding plastic cups to capture dispensed candies? This DIY candy vending machine dispenses candy right into an inbuilt holder.
You don't need to find cardboard and do heavy measurements and cutting as this DIY project is effortless and requires only two plastic bottles and a cup only. All the measurements are written in the description box for your convenience.
15. DIY SPIRAL GUMBALL MACHINE from Cardboard – M&M`s Candies Machine | aPasos Crafts DIY
Why DIY something if it isn't fun, right? With this DIY spiral gumball machine, you'll want to dispense a gumball more than you'd like to eat it. It also has a coin holder at the handle.
The Youtuber hasn't given proper measurements of the DIY project since it all depends upon the bottle you use. But, once you get an idea of what you're doing, you can estimate the measurements pretty well.
16. SPOOKY DIY CANDY DISPENSER FOR HALLOWEEN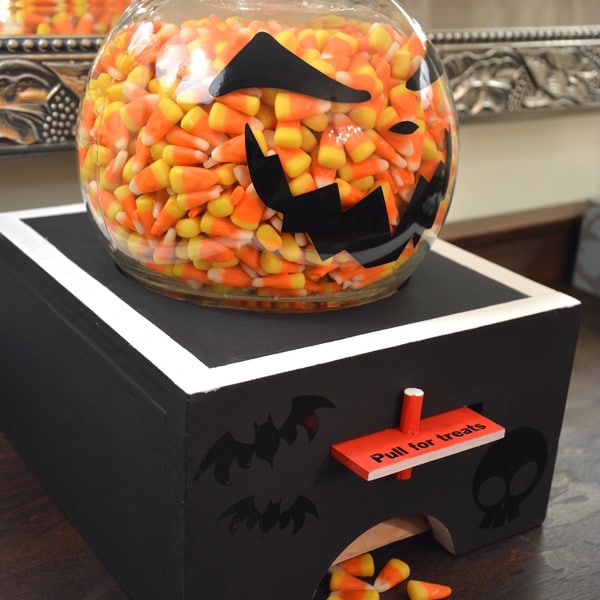 We all know, candy and Halloween are best friends. So, why not make a spooky candy dispenser for trick or treat?
With a whooping number of positive reviews and applaud, this DIY dispenser is sure to be a hit during Halloween. For materials required and project steps, don't forget to click the drop-down lists just below the candy dispenser photos.
Check this plan
17. How to Make Candy Dispenser from Cardboard Easy DIY
If you're not into fancy/painstaking DIYs, this video is for you. This candy dispenser is so easy to make and is super cool as well. There's no risk of screwing up measurements, and in simple words, it is a no-fail DIY candy dispenser.
There's also a candy holding hole at the bottom of the dispenser. All you'll have to do is rotate the pipe on the top and pick up the candy at the bottom.
Summary
Almost all of these 17 DIY candy dispensers are extremely easy to make. So, you must make one for yourself right away. Then you'll realize how relaxing it is to sit back and watch your favorite movie with your friends without getting interrupted by someone asking for candies.