Coffee tables are an important focal point in any room, and finding the right one is an important consideration when planning your interior space.
However sometimes they can be a little expensive, and a cheaper option is simply to make your own – so for anyone who wants to try, here are our top 21 DIY coffee table plans so you can have a go yourself.
1. Farmhouse Coffee Table Under $40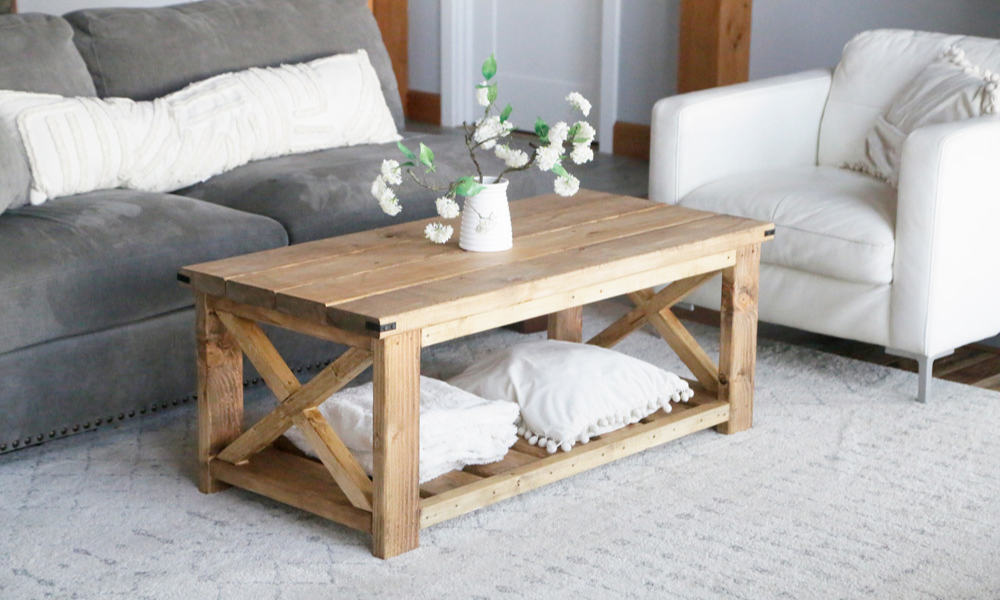 If you're looking for a plan that will allow you to build a high-quality coffee table without spending a fortune on the materials, this one should be a good place to start. You'll find a list of everything you need, clear instructions and videos that show you how it's done, so anyone with even minimal DIY experience will be able to copy it at home.
2. How to Build a Cheap and Easy Coffee Table
This video plan shows you how to build a super-simple and unpretentious coffee table that is more functional than decorative – so if you're interested in making something to place things on rather than creating a work of art, this tutorial is worth a look.
3. How to Build a Coffee Table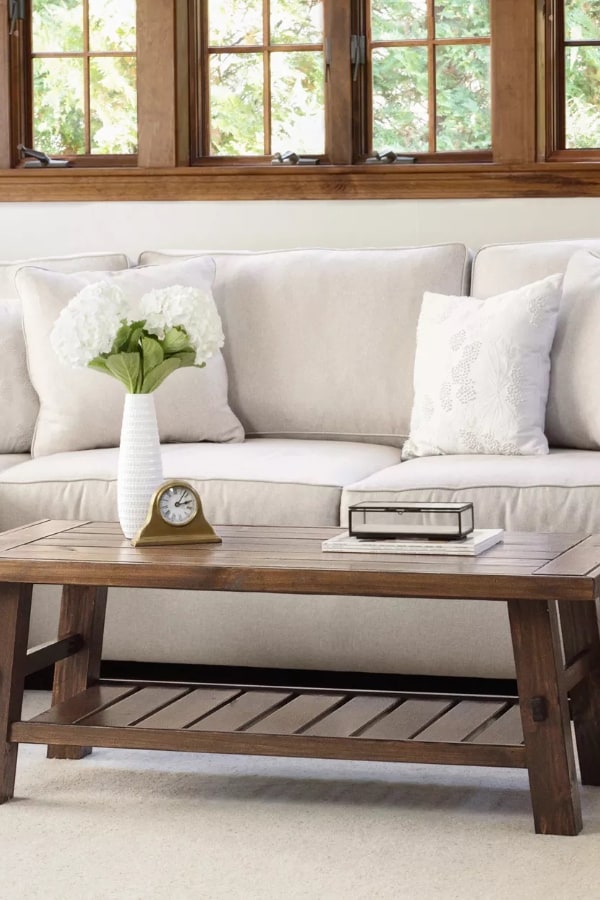 This plan will teach you how to build a classic-style table that will look great in almost any home. We like the way the plan includes plenty of photos to show you what you need to do, and the woodworking skills are relatively easy, making it a project that most people will enjoy trying to reproduce.
4. DIY Coffee Table – Faking High-End Looks on a Budget
One of the great things about DIY is that you can build your own furniture and other home improvements so they look a lot more expensive than they really are. If that sounds like the kind of thing you might be interested in, this plan will show you how to build a stylish coffee table that costs far less than people will guess.
5. DIY Coffee Table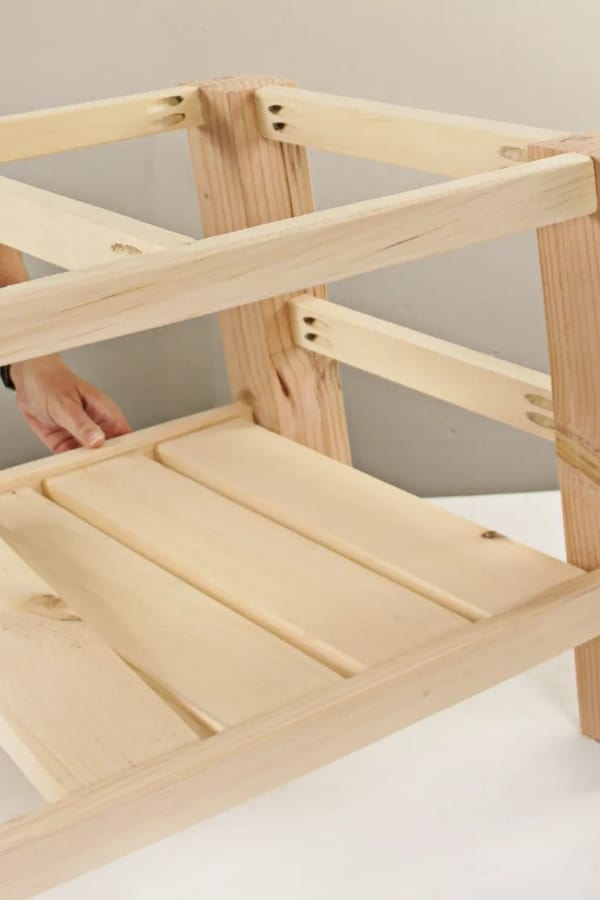 The style of this coffee table is quite similar to the one in #3, and it looks like an ambitious project if you're not an expert woodworker. However, as the blogger reassures us, you don't need to worry about the angles since it's not as hard as it looks to make. All you need to do is follow the clear and logical steps in the plan, and you should have no trouble making one of your own.
6. DIY Modern Outdoor Cedar Coffee Table
If you buy a coffee table from a store, even the simplest models can set you back a lot of money. However, if you have a bit of spare time, you can save yourself some cash by building your own. And for anyone who wants to try, this plan shows you how to do it.
7. DIY Wooden Coffee Table
We love the contemporary style of the coffee table in this plan. It's quite a unique and original design and will look perfect in a more modern type of home. It's also a very simple idea, so if you aren't feeling confident or ambitious enough to try anything more complex, this could be the ideal project for you to try. An interesting DIY plan that we enjoyed reading.
8. Building an Awesome Aquarium Coffee Table
If you're looking to build a coffee table that will be a conversation piece as much as an item of furniture, this plan could be the ultimate choice. It shows you how to build a coffee table that's also a functioning aquarium – complete with live fish swimming inside. This is one of the most amazing DIY projects we've ever seen – check it out and you'll understand what we mean!
9. Industrial Coffee Table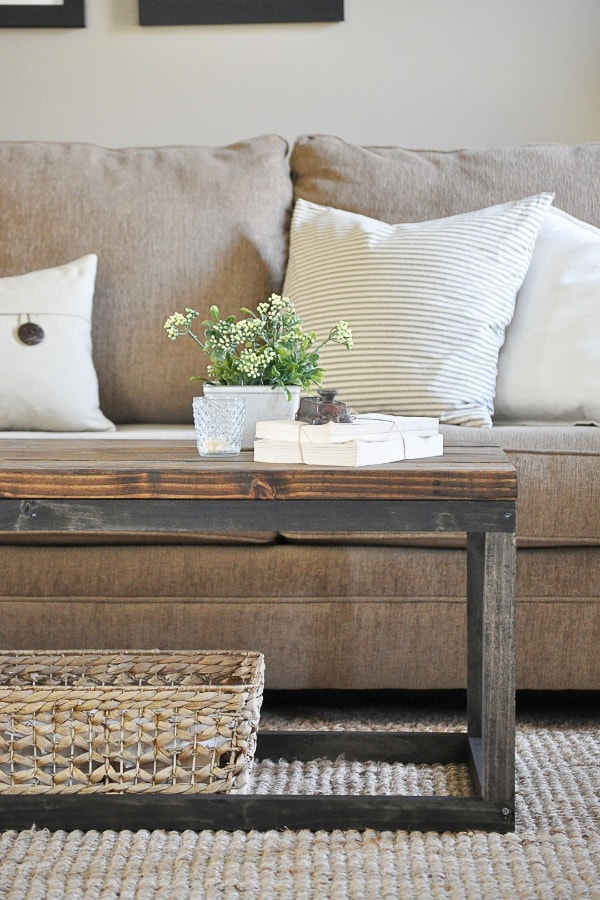 As you can see from the photos, this wood coffee table is a simple model, but it's a highly attractive piece. The secret is the coat of stain that is applied at the end that gives it that classy and sophisticated look. As the blogger tells us, she didn't spend more than $75 on the project either, making this an affordable way to build yourself a beautiful new piece of furniture.
10. DIY Infinity Mirror Coffee Table
Many of the coffee table plans we've seen are variations on the same theme – basic, functional coffee tables that do the job they were designed for without managing to stand out from the crowd. This model, on the other hand, is a striking and highly original coffee table that will instantly become the centerpiece of any room. Incorporating a set of infinity mirrors, this is the kind of piece of furniture that defines a room – and if you want to know how to make one for yourself, this video will give you all the info you need.
11. Chunky Farmhouse Coffee Table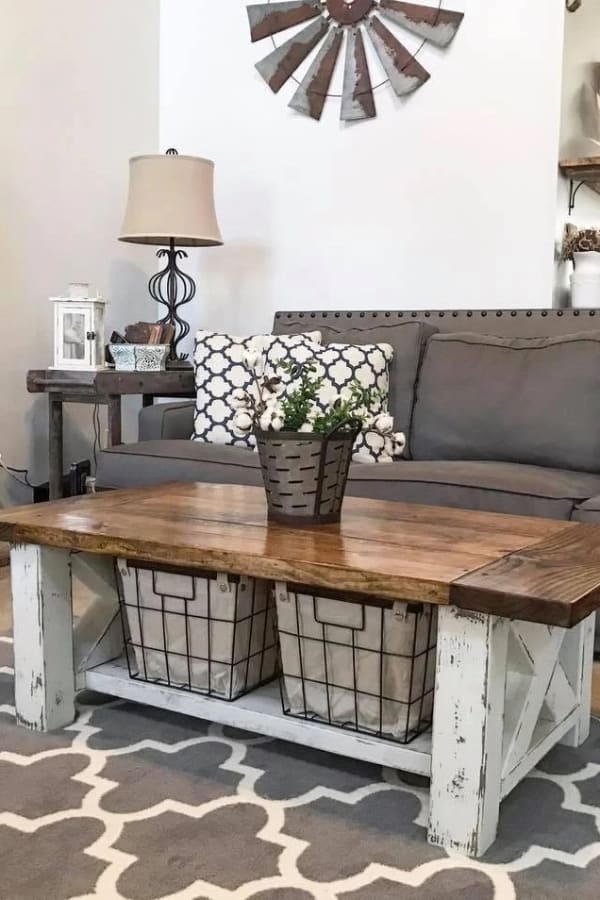 If you're looking for a fairly substantial piece of furniture for a larger room, this could be the option you're looking for. We love the rustic style, and we're sure that it's the kind of thing that will appeal to lots of people. The plan includes detailed diagrams with all the measurements you need along with instructions to make one yourself.
12. How to DIY a High-End Coffee Table on a Budget
This is another great plan that shows you how to make a table that looks expensive but is actually extremely budget-friendly. The table they build is a circular fluted version that would look great in a smaller room. And if that's the kind of thing you want, why not have a go at building your own?
13. DIY Coffee Table Inspired by West Elm
Sometimes you might see a piece of furniture in a store that you fall in love with – but when you see the price tag, you realize that it's way beyond your budget. However, when that happens, you have another option since you can attempt to recreate a similar piece yourself by DIYing it. That's exactly what this plan demonstrates since these bloggers copied a $1000 coffee table while spending less than $50. If that sounds like the kind of thing you might want to try, check out how they did it!
14. The $30 Farmhouse Coffee Table
The couple in this video have uploaded quite a few useful DIY plans, and this is another great addition to their channel. You'll only need to spend around $30 on materials, and following their instructions, you can build a table just like this for your home.
15. DIY Coffee Table with Truss Sides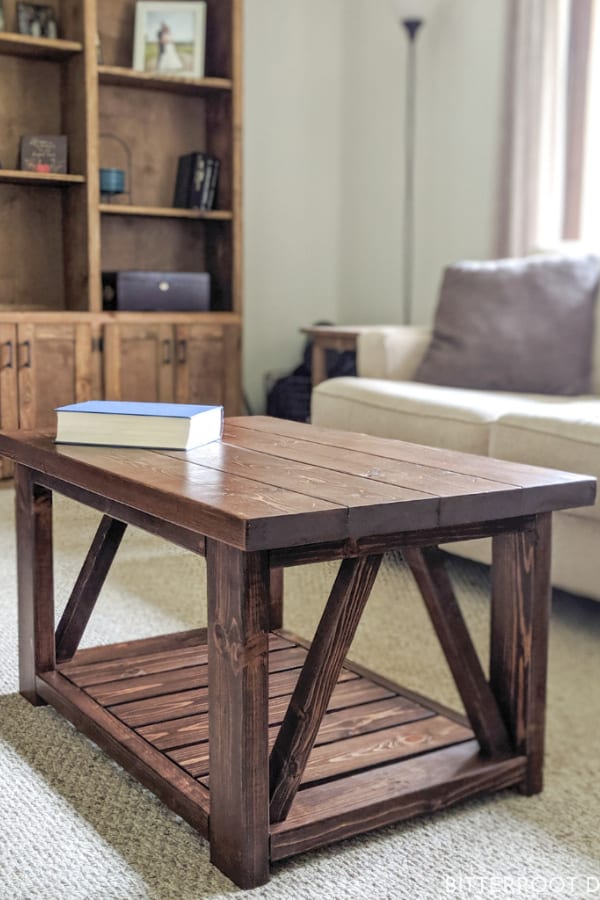 As with all the best plans, this one provides you with all the details – including accurate measurements – you'll need to attempt the project yourself. This tutorial shows you how to construct a small but elegant coffee table with truss sides, and as you'll see from the photos, if you can achieve something similar, the results will be stunning. Certainly a table you'll be proud to have made yourself, and one that's sure to impress your visitors when you tell them it's your work.
16. The Rustic Coffee Table
This is another video from the couple who gave us the plan in #14. As ever, it's clearly explained and you're given all the info you need, making this another video that's worth a watch.
17. DIY Fluted Coffee Table Tutorial
This circular fluted coffee table is slightly different from the majority we've seen. We love the way this style is so versatile and would work well in rooms with a range of different decors. You'll need a few specialist skills, and it's perhaps not the easiest table to build – but if you have the skills and the necessary equipment, it could be fun to try.
18. DIY Retro Inspired Hair Pin Leg Coffee Table
This video is a tutorial for making a simple retro-style table that we really love. There's nothing too complicated about this plan, and it's another one that won't cost you much to copy – so why not have a look and see if you want to have a go?
19. Easy DIY Outdoor Coffee Table Build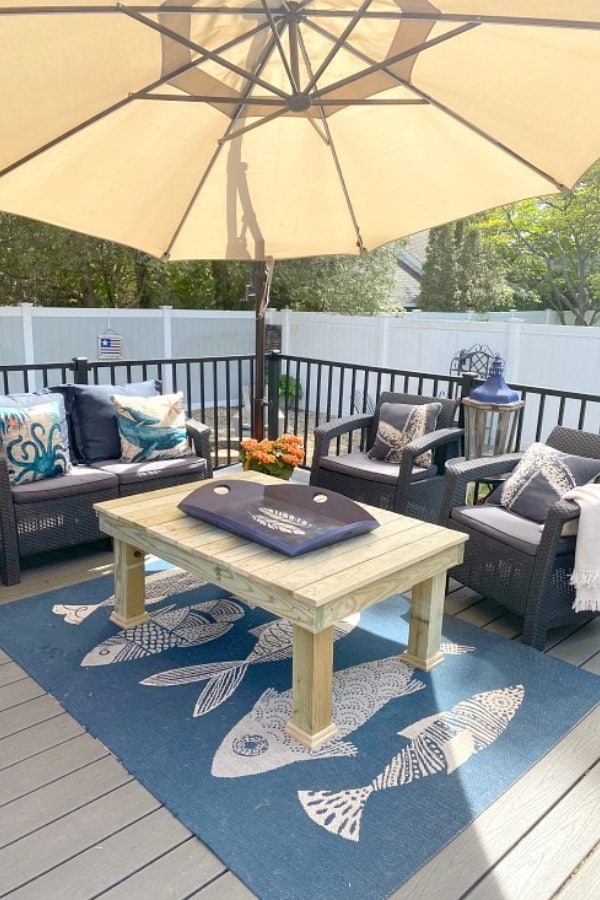 Most of the plans for coffee tables we've seen online are for indoor versions, but if you are looking to build a coffee table for outdoors, perhaps to place on a patio or terrace, this plan should be of interest. It has a rugged, minimalist look that makes it perfect for outdoor use, and this plan has all the information you need to make one of your own.
20. DIY Rustic Pallet Coffee Table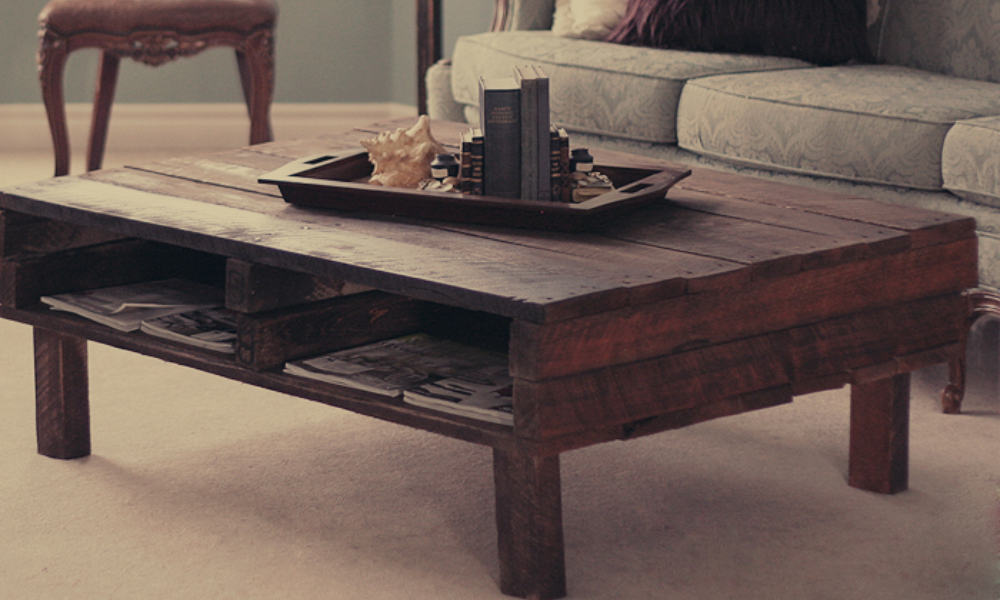 In recent years, making furniture from pallets has become extremely fashionable, with skilled DIYers turning out a whole range of beautiful items from what would otherwise be scrap wood. Here's a plan that shows you how to create a simple but stylish coffee table from a pallet, and we're sure that most people will agree that it looks fantastic!
21.Simple DIY Coffee Table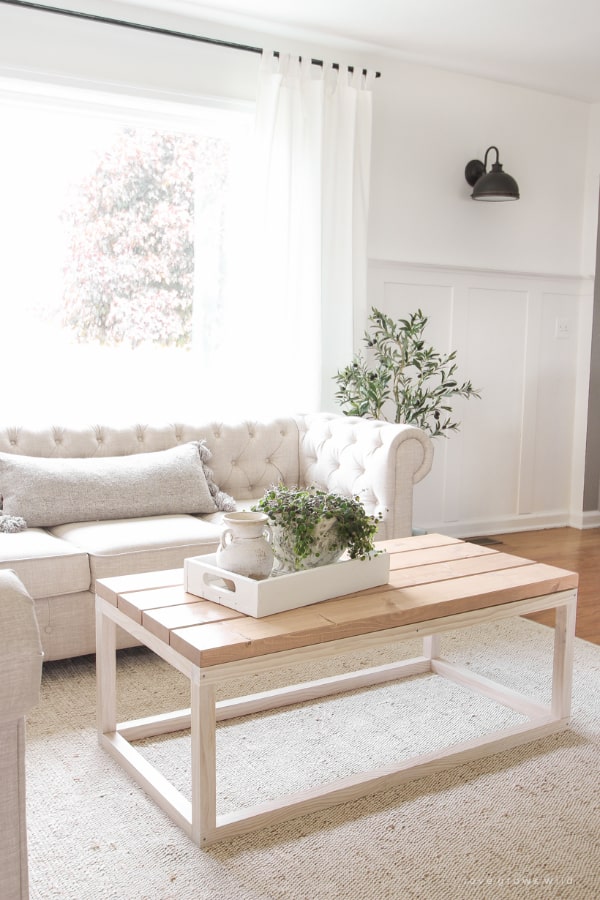 The first thing you'll notice when you open this blog is the high quality of the photos. They're perfect for showing you the kind of thing that's possible and giving you inspiration for projects to try in your home. It's also a relatively simple plan to copy, so you can easily make one yourself too.
So much creativity on display
We always love going online to compile lists of DIY plans because of all the creativity and originality on display – there are so many talented DIYers out there, and it always leaves us feeling inspired to have a go ourselves.
We hope you've enjoyed reading and watching these plans as much as we have finding them for you, and above all, we hope we've helped you find the ideas you needed for your next DIY project.