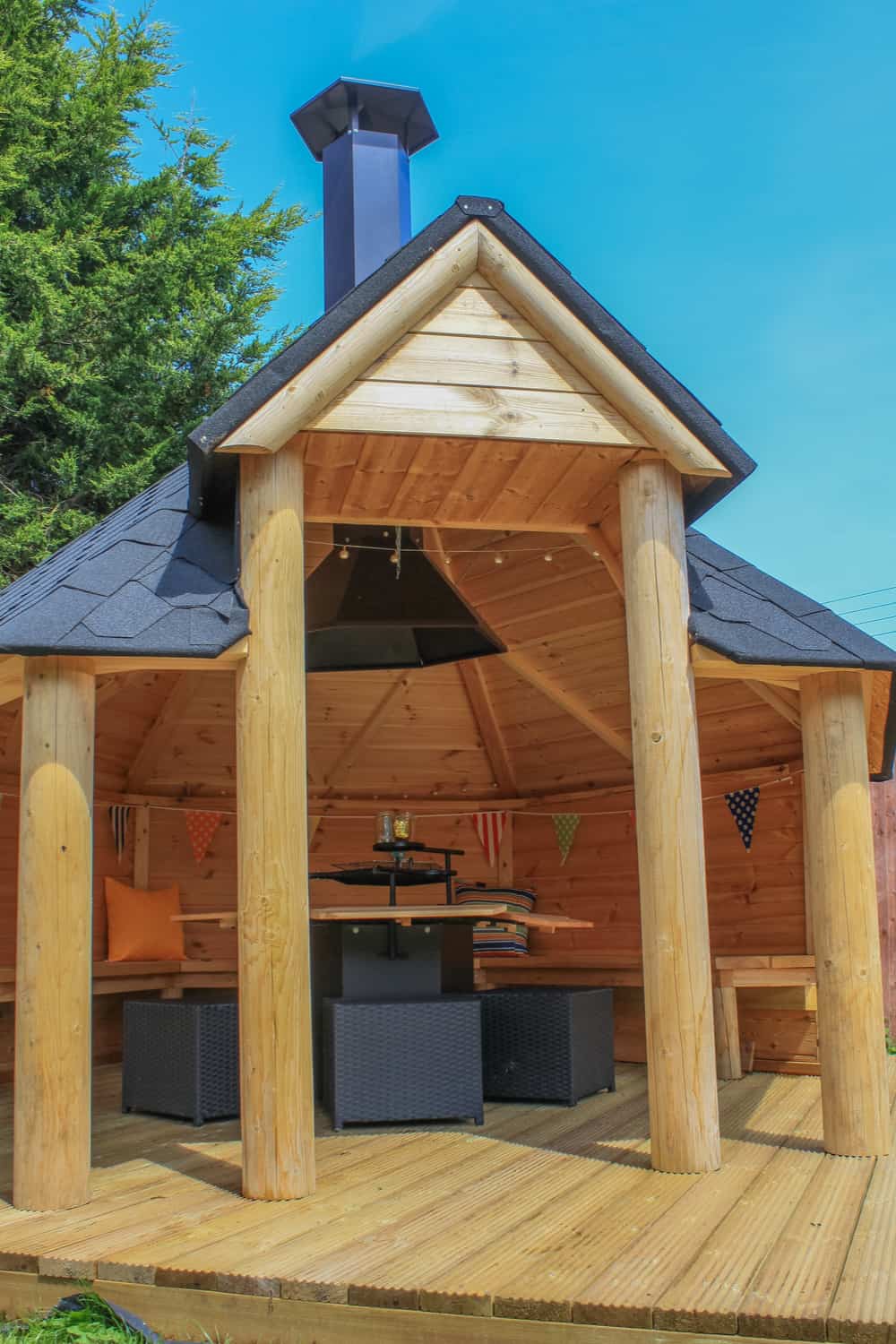 When the weather begins to grow warmer, the arrival of the summer heralds the long-awaited start to the grilling season – and there's nothing like cooking outdoors and enjoying the delicious food you prepare with your family and friends in the fresh air.
However, sometimes the weather has other ideas, and rain can spoil your fun unless you have a sheltered grill area – and if you want to build one, here are 15 plans for a DIY grill gazebo.
1. Grill Gazebo Plan: Make a Grillzebo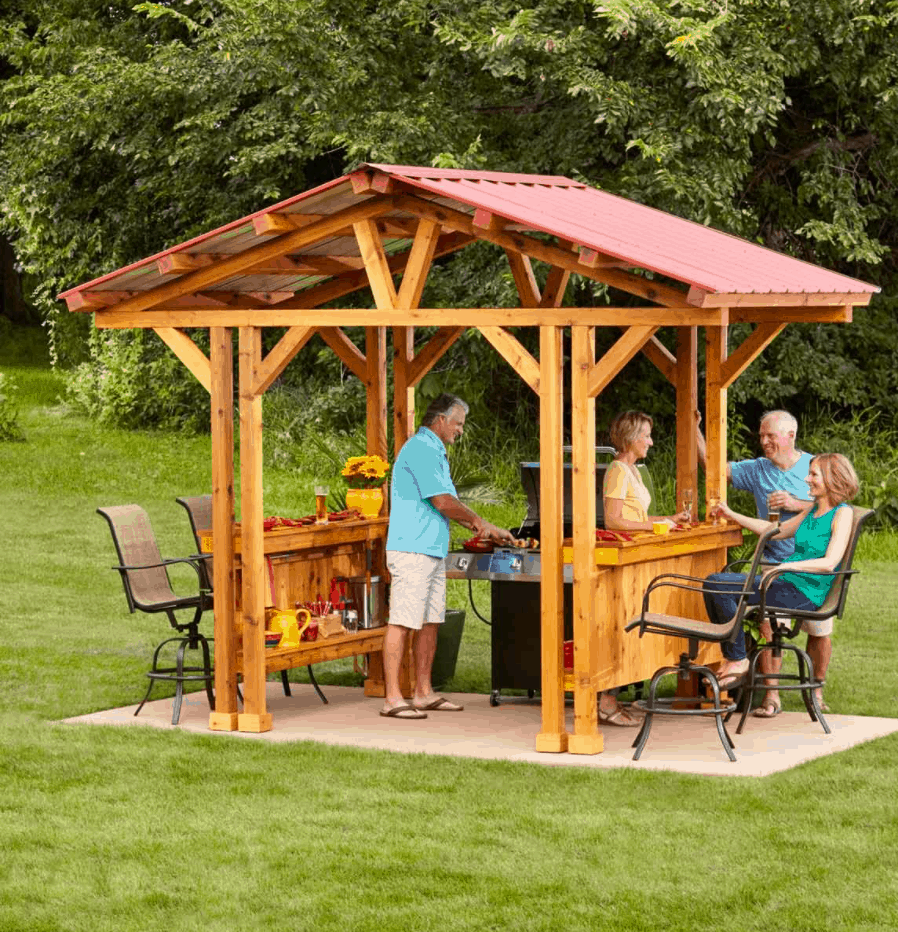 If you love grilling and you don't want to leave yourself at the mercy the capricious weather, you need a "grillzebo" – or a gazebo for grilling. As this blog post tells us, they are perfect for barbecues in all weather and can also double up as an outdoor bar. Sounds great, right? And this plan will tell you how to build one.
2. How to Build a BBQ Shack on a Budget
Another solution for grilling outside whatever the weather is a barbecue shack, like the one this DIYer shows us how to build. It isn't quite the same as a gazebo, but if you live in a place where the weather is unreliable, constructing something like this could be a great idea. And that's something this YouTuber is an expert on since he's from the UK where the weather is notoriously unpredictable
3. Build Your Own Backyard Grill and Gazebo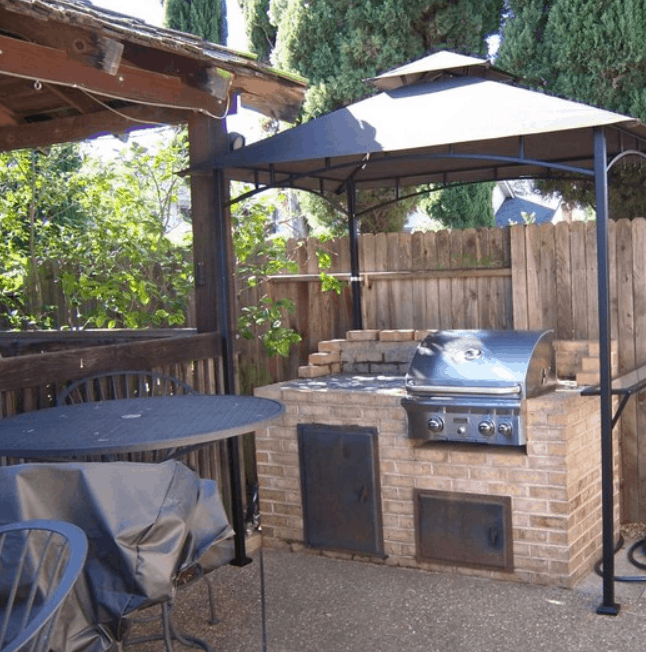 You might like the concept of a grill gazebo, but if you have limited space outside, you may imagine it wouldn't be so practical in your circumstances. However, you'd be wrong, because even those with smaller yards can install a gazebo, and if you're interested in finding out what's possible, this blog has some suggestions. Unfortunately, you won't find detailed plans to build these grill gazebos, but at least it will give you an idea of the kind of thing you can consider trying.
4. New Grill Shed
Here's a fun idea if you're looking for a way to guarantee that your backyard party won't be spoiled by the rain. Like in #2, it isn't quite a gazebo, but it serves the same purpose. Even if the weather is fine, it gives you a convenient place to cook and serve food outdoors – and when the rain starts to fall, it doesn't mean the party has to end!
5. Backyard Gazebo for $500 with Limited Tools
Any gazebo can easily be converted into a grill gazebo, but first you need to get it built – and you're looking for a simple, inexpensive plan to follow this one should be of interest. It teaches you how to build a basic gazebo for only around $500, using only basic tools. And then once it's in place, it's up to you to install a grill and start cooking!
6. How to Build a Slant Roof BBQ Pit Cover with Deck
When planning a grill gazebo, you need to think about what you really need it for. Do you want somewhere for everybody to sit and enjoy the food together? Or are you more concerned with building something that will simply protect you from the elements while you cook during poor weather? If it's the latter, then this is a plan that should be of interest since it shows you how this YouTuber built a simple roof to cover his grill. Building something like this will probably be quicker, easier and less expensive than building a fancy gazebo with seating and more, so this could be an option worth thinking about.
7. How to Build a Gazebo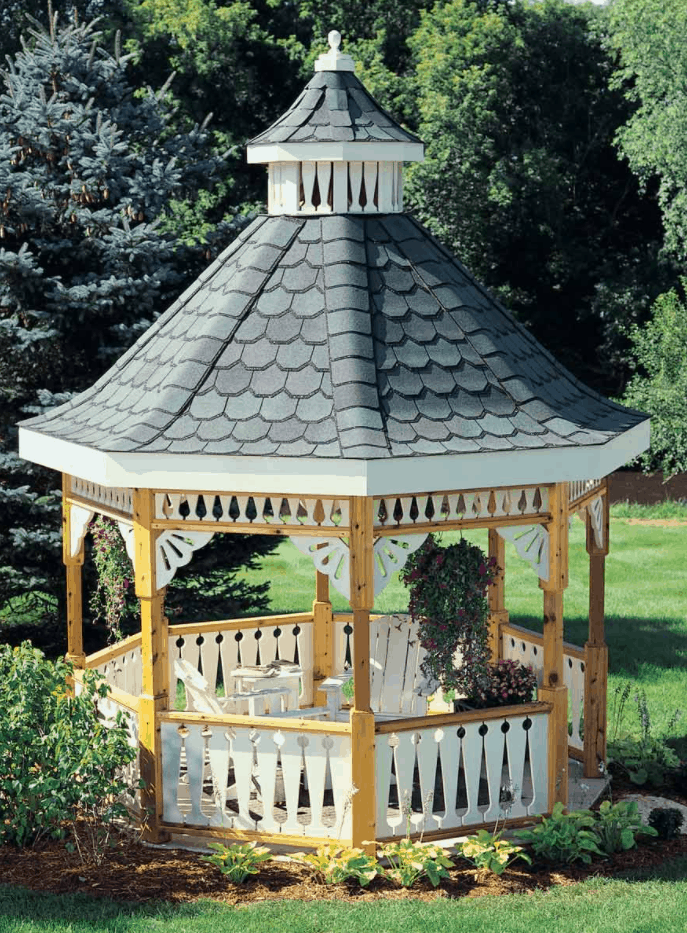 As we mentioned in #5, you can convert any gazebo into a grill gazebo by adding something for cooking food, but the first step is building the gazebo itself. Here's a plan that very simple to copy, and most people with a bit of DIY experience should be able to copy it – it's rated as "intermediate" level and should cost around $500-1000. Of course, you might have to modify the design if you want to add a grill, but at least this plan will give you an idea of where to start.
8. BBQ Station Makeover on a Limited Budget
Here's a plan for another super cute alternative to a true grill gazebo, and this is a design we liked a lot! In this video, this Canadian couple gives their barbecue area a makeover, adding a shelter for the grill itself as well as a cozy seating area and some welcoming décor. They don't speak English in the video except right at the end – we're not sure which language they are speaking – but it's easy enough to follow anyway. And as she tells us at the end, it only cost 100 (presumably Canadian) dollars, so we're sure plenty of others will be keen to try replicating it at home.
9. Upgrade Your Grill with a Gazebo
If you're not afraid to tackle ambitious projects, here's a challenge for you to attempt. In this video, this YouTuber shows us how to build a hugely impressive gazebo to go with his new grill and smoker, and we're sure you'll agree that the results are little short of spectacular. We love his attention to detail, and he's clearly thought the plan through carefully to make it as convenient to grill in as possible. This is a YouTuber with charisma to spare, making his videos a pleasure to watch – check it out to see what we mean!
10. Custom Built Gazebo and Grill
Not every tutorial video needs to be beautifully produced or perfectly executed. Sometimes people uploading stuff to YouTube have far better DIY skills than ability with a camera, but we can still learn a lot from them. That would be an accurate way to describe this video since it consists mainly of a time-lapse video of these guys building their grill gazebo. But if you have the necessary DIY experience, you might not need anything more than that, making this a tutorial that's still worth a look.
11. How We Built a Pergola Over Our Barbecue Grill
You might not want to plan and build a whole grill gazebo in one go. Instead, perhaps you already have a grilling area in your yard, and you think it could be improved by building a gazebo or pergola over it. That's what this tutorial shows you, and as you can see, the project is a great success. And if you want to do something just like it, this video shows you how.
12. How to Build a Pergola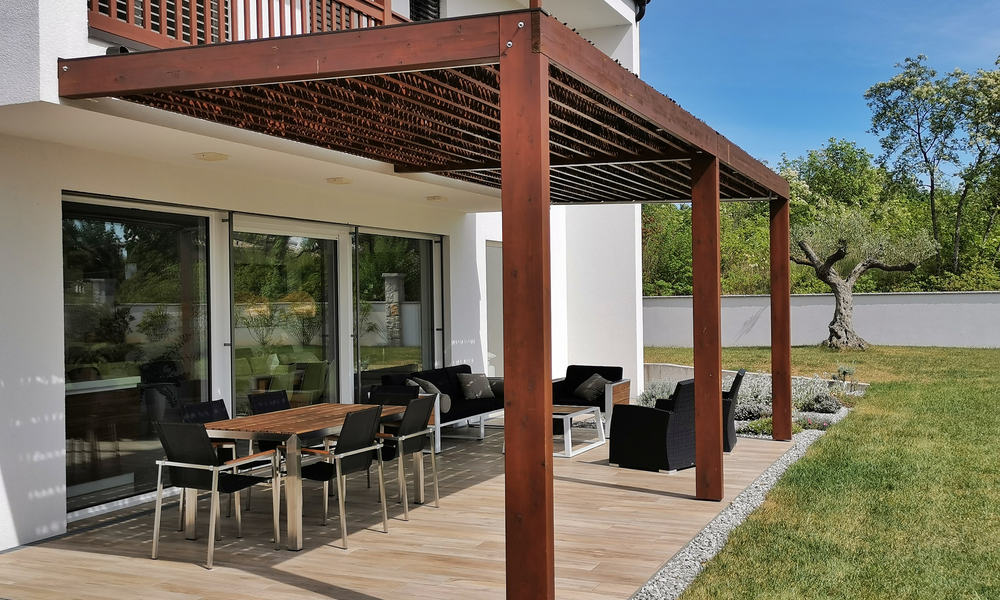 Building a gazebo or a pergola over a grill can instantly give you somewhere to cook food outdoors, even when the weather conditions are less than perfect. You don't necessarily need a plan for a dedicated gazebo designed especially for a grill since you can easily convert any plan to include a cooking area. With this plan, you'll learn how to make the pergola part – and the rest is up to you!
13. How to Make a Gazebo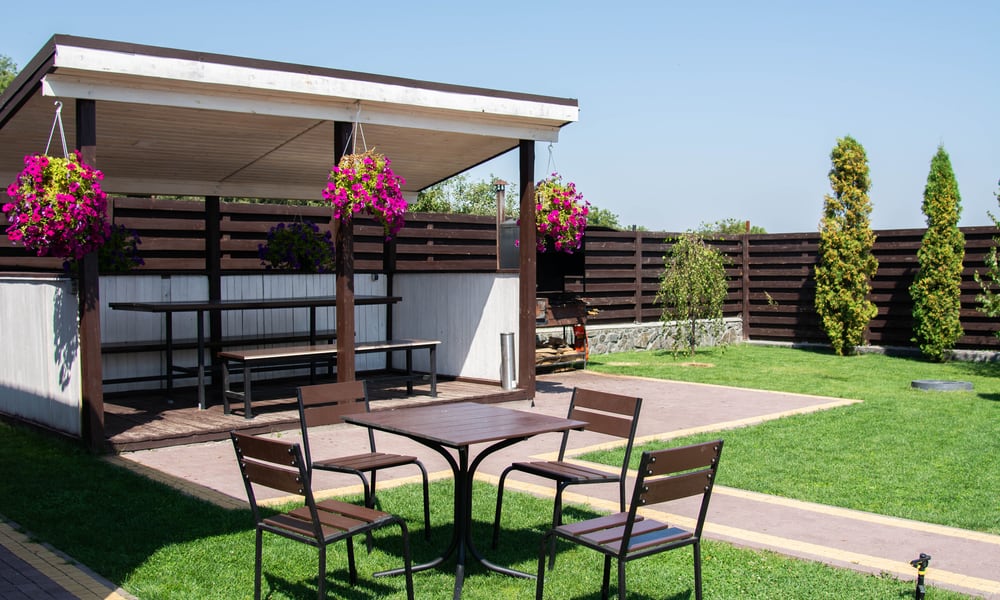 As this tutorial tells us, buying a gazebo can cost upwards of $3000, so you stand to save a lot of cash if you build one yourself. If you're interested in trying, you'll find all the details you need in this plan – and it's easy to adapt these ideas to incorporate a grilling area too. What we like most about this plan – as with all plans from WikiHow – is that the steps are explained clearly and simply so that anyone will be able to understand. There are also plenty of illustrations showing you what to do, so even if you're not an advanced DIYer, this is a plan you should be able to copy.
14. How to Build a Pergola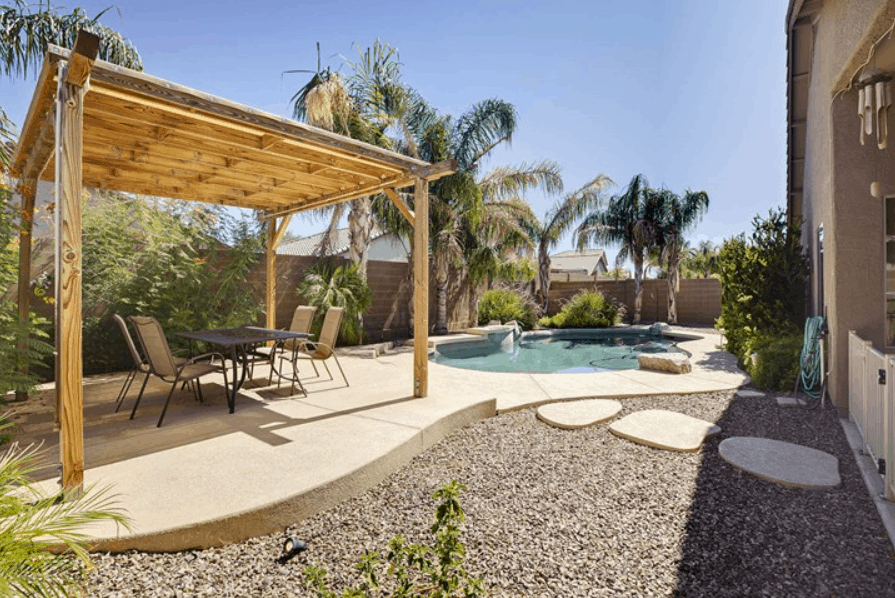 At the start of this plan, we read that building a pergola can be a lot easier than you might imagine. And if you build one over your grill – or put a grill underneath when it's finished – you will have created a perfect spot for outdoor cooking come rain or shine. This blog goes on to provide a few suggestions for the kind of thing that's possible, giving you all the inspiration you need to get started. And then when you're ready to ready to begin the build, you'll also find a plan that tells you how to do it.
15. My Backyard Smoker Kitchen
To finish, here's a video that gives you an idea of the kind of thing you can build if you want to go all-in. This is not technically a gazebo, but if, like this YouTuber, you enjoy grilling and smoking outdoors – as well as eating too – constructing something like this impressive grilling station and eating area could be just the kind of project you want to tackle.
Plenty of ways to grill outside in all weather
As you can see, there are plenty of ways to grill outside when the weather turns bad, whether you decide to build a true grill gazebo or something else that does the same job.
We've enjoyed finding these plans for you, so we hope you've enjoyed reading and watching them too – and above all, we hope we've helped you find the ideas you were looking for to build a grill gazebo of your own.