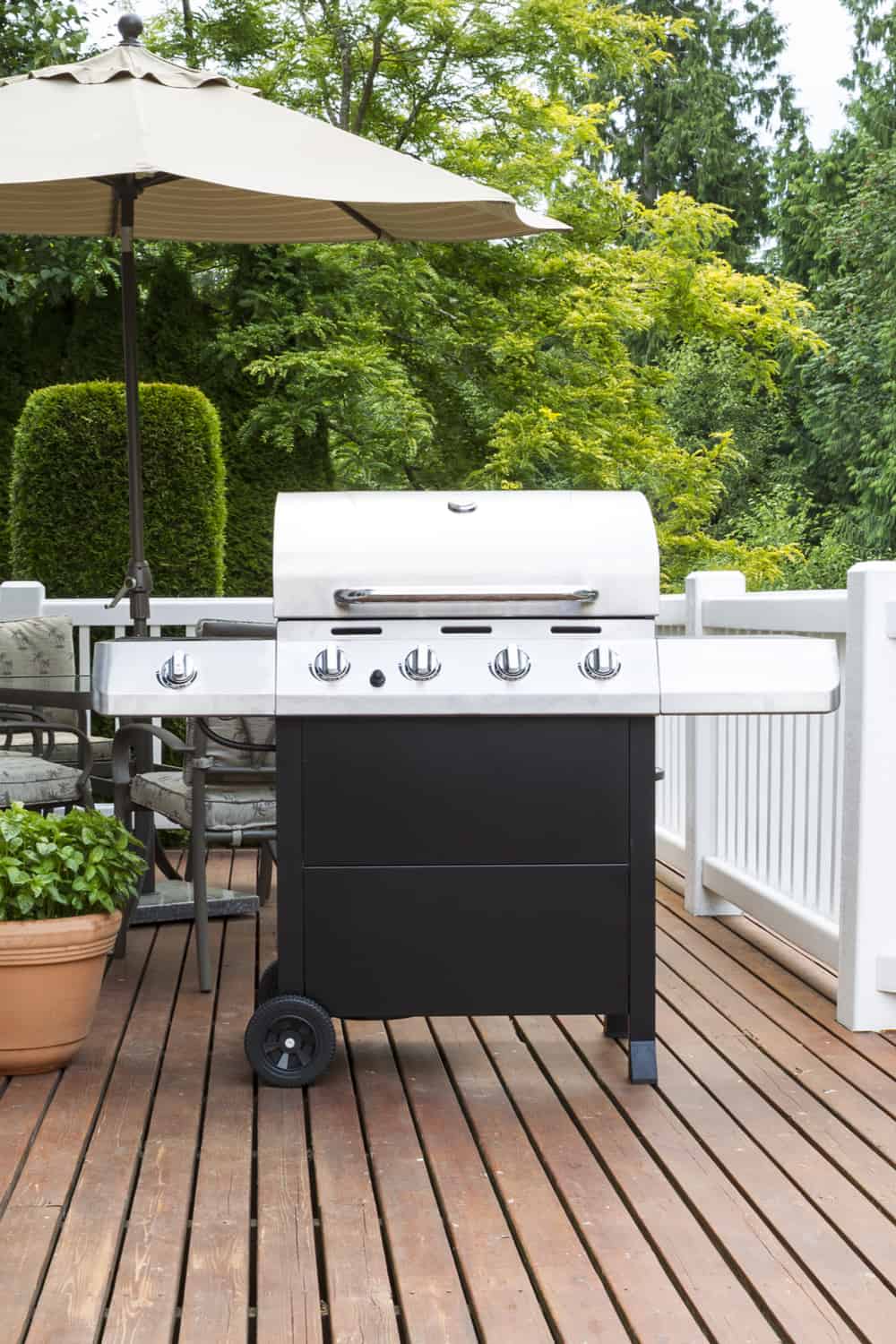 Grilling is most fun when you have all the right equipment, and one important addition is the grill table. Unfortunately, they can be expensive to buy, but you can save lots of money if you're willing to build it yourself – and here are 17 plans for a DIY grill table to show you how.
1. Build a Barbecue Grill Table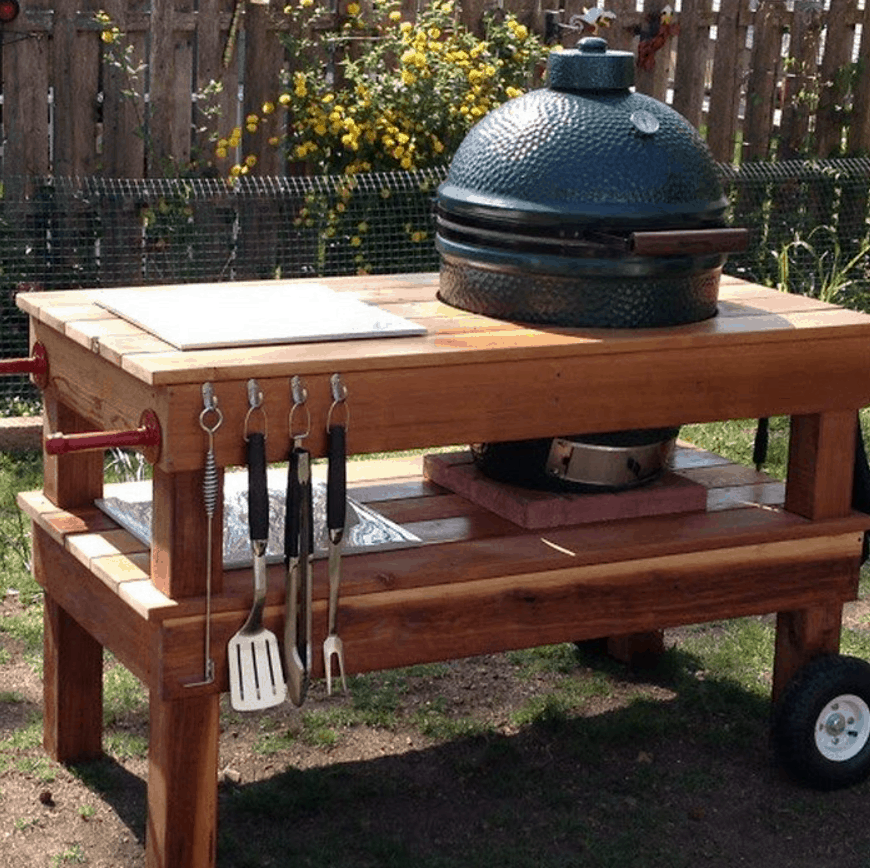 Anyone who loves backyard parties needs a backyard grill table, and this plan shows you how to make one you're sure to love. As this blog mentions, barbecues are far more enjoyable when you're cooking in a proper area, and this tutorial teaches you how to make a moveable grill table for a Big Green Egg grill that will allow you to show off your skills to the max. It looks great too – check out the photos to see if you agree!
2. DIY Barbecue Table
If the thought of cutting and soldering metal doesn't intimidate you, this plan for a highly professional grill table could be just what you're looking for. There isn't much in the way of explanations, but if you're the kind of DIYer who's willing to attempt something like this, you probably won't need them anyway. So if you're looking for a challenging project that will yield hugely impressive results, why not give it a go?
3. DIY Grill Table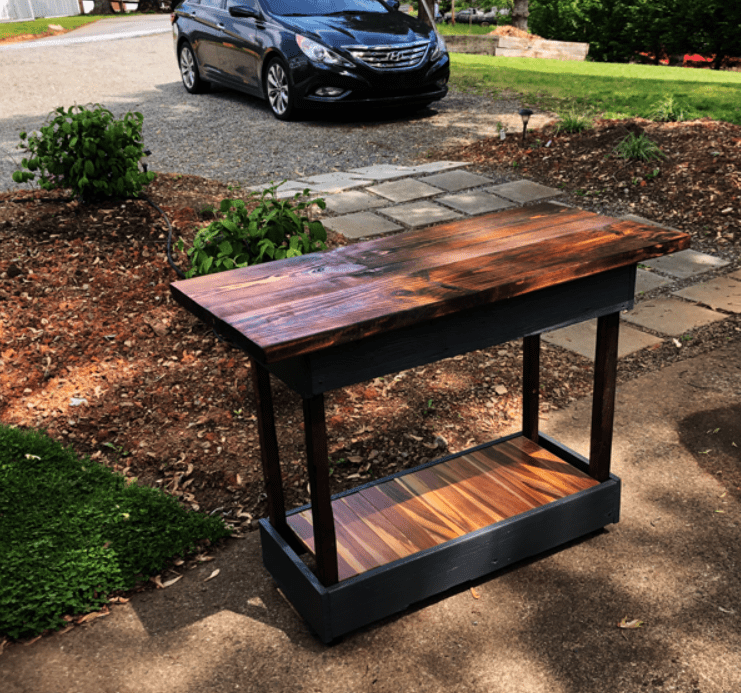 If something like the project in #2 seems a little beyond your current DIY level, the project in this plan might be a little more within reach. Here, we learn how to make a simple table for a grill to stand on, and it also includes a second surface below that will come in handy for storing stuff while you cook. This is the kind of project that even novice DIYers will be able to manage, so if that sounds more like what you need, this is a plan for you.
4. DIY Outdoor Grill Cart
As these YouTubers tell us in their intro, this grill cart is super easy to build, so if you want to make something uncomplicated that will help you enjoy grilling season, this could be the perfect solution. We like the way they show us how they designed it using software before they started working, and they then begin the build using wood left over from a previous job. We also love the final touches like the feet and the bottle opener, and we're sure this is a plan that plenty of DIYers will be keen to copy.
5. Grill Table
The grill table this talented YouTuber teaches us to make is ideal for throwing on the back of your truck and taking it with you to your next tailgate party. It's incredibly easy to make, and the video gives you clear instructions for how to do it. We also love the way she makes everything look so easy, so if you're not sure about your DIY skills, this should help boost your confidence. Another recommended plan.
6. How to Make a Fold-Away BBQ Table and Grilling Cabinet
If the space in your back yard is limited, this is a plan you should appreciate. In it, you learn how to make a folding grill table – so you can pull it down when you need it and fold it back up when it's not in use. It's such a great idea, and it's also extremely easy to make – check it out to see what we mean!
7. DIY Backyard BBQ Table
Here's a plan for a stunning grill table built by two skilled DIYers. In their video, they demonstrate how they built a large and impressive unit for their lucky neighbor. It includes the grill, storage, plenty of space for preparing food, and in short, just about everything else you could ever need to grill like a champion. It's a great story, and the neighbors were super happy with what they received, so why not give it a watch to find out more?
8. Building a Cooking Table for Your Ceramic Grill
If you have a ceramic grill and need a plan for a table to set it on, then look no further. This is a simple yet highly detailed tutorial that gives you all the information you need, including a list of the materials and tools you'll need along with all the measurements. There are plenty of photos to show you what you need to do at each step, and when it's done, it looks perfect. We enjoyed reading this plan – and if you have a ceramic grill, we're sure you will too.
9. How to build a 22″ Weber Kettle BBQ Cart DIY BBQ Table
Weber grills are popular for a reason, and if you have one, you'll already be well aware of what's so great about them. This is a plan for all the Weber owners out there since it teaches you how to make a table for your grill that will hold the grill itself as well as giving you plenty of space to work on. The video is around 30 minutes long, and it goes into plenty of detail – but we think it's worth watching all the way through since the table it teaches you to make is fantastic.
10. How to Build a Rolling Grill Table
Cedar is a wonderful wood to work with since it is rot-resistant and also highly attractive. If you want to make a grill table from this great material, here's a plan that will show you how. One of the things we liked about this plan is the large wheels that were salvaged from a lawnmower – they give this grill table an extra level of mobility, making it easy to set up wherever you like. This would be a rewarding plan for those with moderate DIY skills, and if that includes you, this could be a plan worth trying.
11. How to Make a DIY Grill Table You'll Love
Here's another plan that will be of interest to owners of Weber grills because it teaches you how to build a gorgeous mobile grill table that will be the highlight of your yard, patio or grill island. We love the attention to detail as well as the classy look the finished table has – and if this is a style you appreciate, this blog has all the info you need to build one of your own.
12. DIY Table with Cooking Plate
There's nothing more sociable than the type of meal where you cook the food together at the table – think Korean barbecue or Chinese hotpot, for example. If you know what we're talking about, this is a plan you'll love because it shows you how to make a table with a built-in hotplate for cooking. It's a moderately advanced project, but we think most people will consider it worth the effort. Give the video a watch to see if you agree!
13. BBQ Table DIY
Here's a table design for Big Green Egg- or Kamado Joe-style grills, and as this YouTuber tells us in the intro, it's much easier than you might think. As we watch the time-lapse video of him at work, he also talks us through the project in detail. You can find links to more in-depth plans too if that's what you need, making this a tutorial that's well worth a look.
14. Fold-Up Grill Table
Here's an original plan for a cute grill table that we just adore. The innovation here is that this table can fold up, making it easy to store if your space is limited. We know that some people who love grilling don't have yards large enough to install the grilling setup of their dreams, but if you want to make the most of the space you do have, this is a plan for you.
15. Big Green Egg Table Build
In this video, this YouTuber shows us how to build a large and impressive grill table for a Big Green Egg. What we liked about this plan was the way we see him at work while the voiceover gives us the details of what he's doing and why. The table is also particularly sturdy, so you won't have to worry about it falling over and damaging your grill. It looks amazing too – if you build something this good, your friends won't believe you when you tell them it's your work. And that's another great reason to try, right?
16. Cedar Kamado Grill Table
This plan shows you how to use cedarwood to make a stunning grill table designed for a Kamado grill. We like the clear diagrams this plan includes, telling you the precise measurements and allowing you to copy the plan exactly. It's an easy one to reproduce too, and as long as you have basic DIY skills and the necessary tools, it's a plan that should be fun to attempt.
17. DIY Weber Grill Cart BBQ Station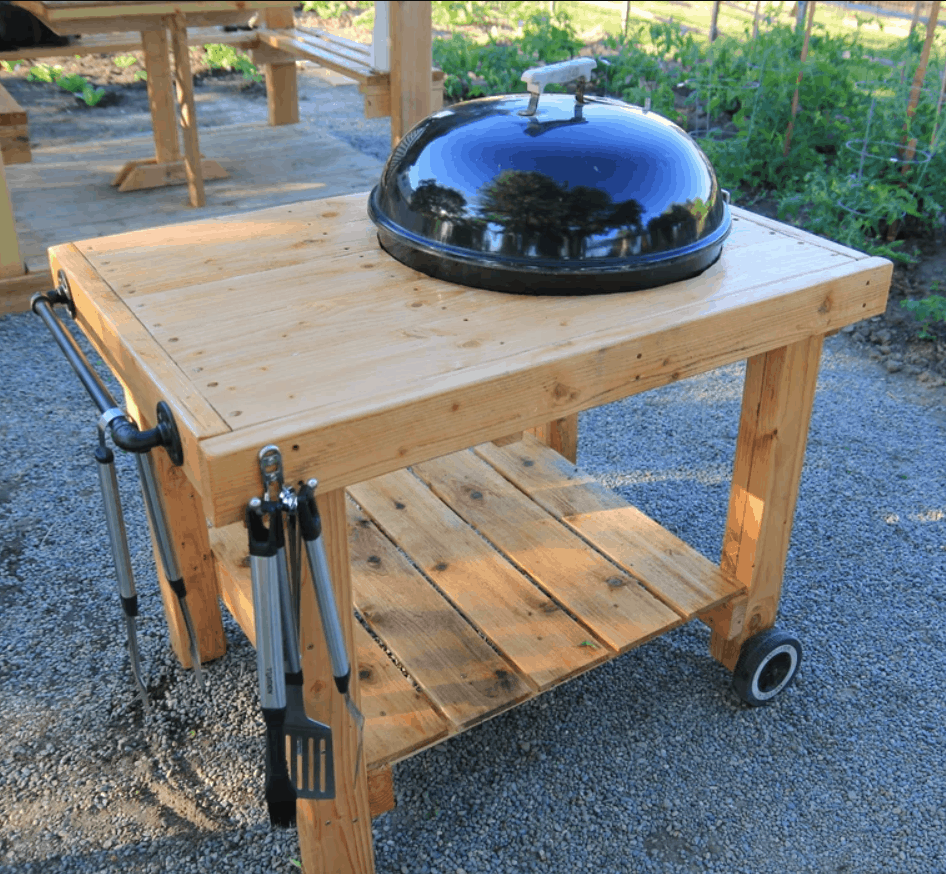 We can hardly bring you a roundup of DIY plans without including one from the Instructables site, so here it is. Instructables is one of our favorite DIY resources since they have a vast collection of high-quality plans for just about anything you can imagine – and this one for a Weber grill cart doesn't disappoint. As usual, you'll find clear instructions and plenty of photos to help you, so if you have a Weber, this is a plan that's worth a look.
Lots of great options
As you can see, when it comes to grill tables, there are so many possibilities, and you can build yours in any style you choose.
We've enjoyed finding these plans for you, so we hoped you've enjoyed reading and watching them too – and above all, we hope we've helped you find the plan you needed to build a DIY grill table of your own.