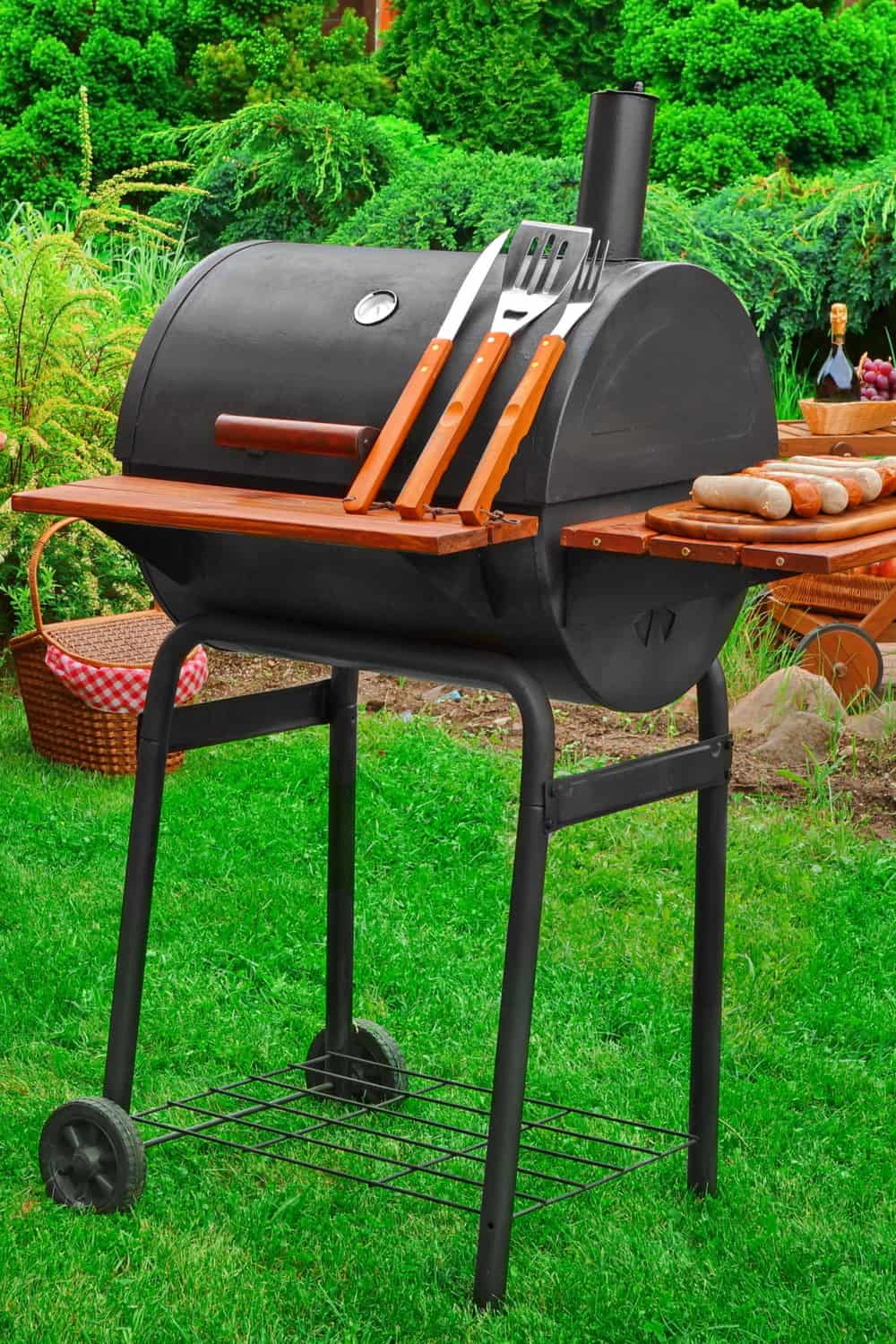 When the summer comes around and the grilling season begins, you need a quality barbecue you can rely on to help you cook up the most delicious food for family and guests every time you throw a yard party – and that's why Weber is among the most popular brands.
However, to get the most out of your Weber, you also need a cart for it, and rather than buy one for lots of money, building one yourself is a great option. And for anyone who wants to try, here are 17 plans for a DIY Weber grill cart that show you how to do it.
1. DIY Weber Grill Cart BBQ Station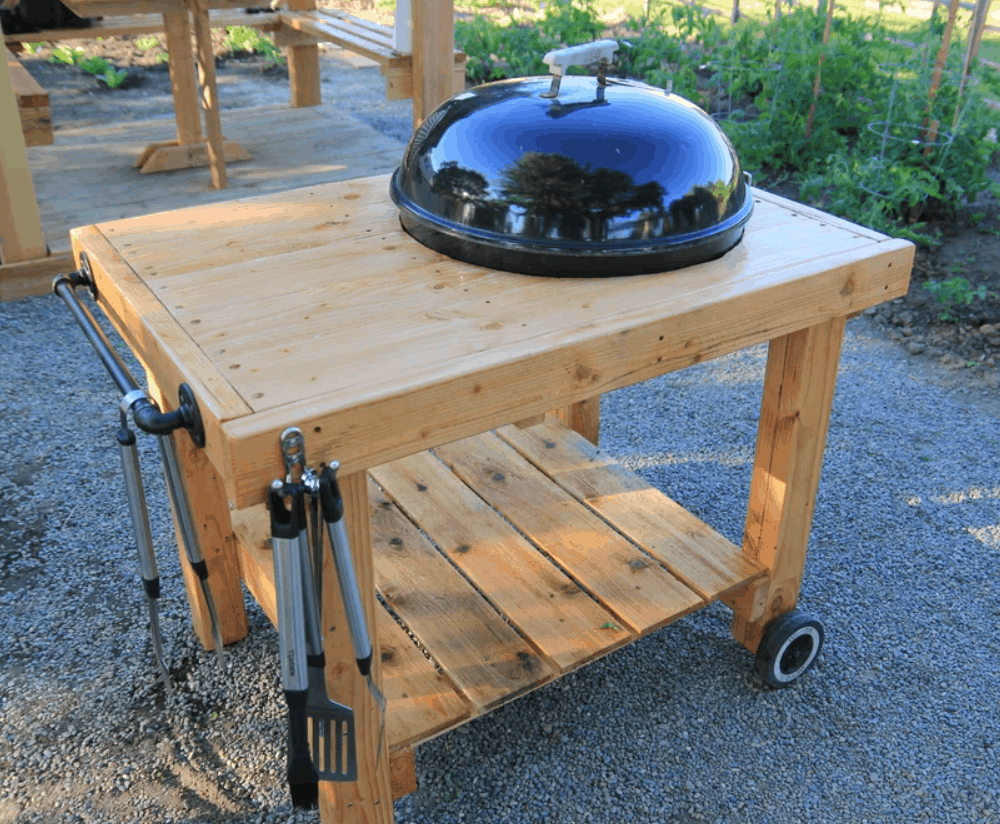 To begin with, here's a great plan for a DIY Weber grill cart from the excellent Instructables site. If you don't know it already, Instructables is a fantastic resource for whenever you need a DIY plan for just about anything you can think of, and this one is another worthy addition to the collection. It gives you clear and easy-to-follow instructions for building the cart along with plenty of useful photos to help you understand what you need to do. A great plan we enjoyed reading and one almost anybody will be able to copy.
2. How to Make a DIY Grill Table You'll Love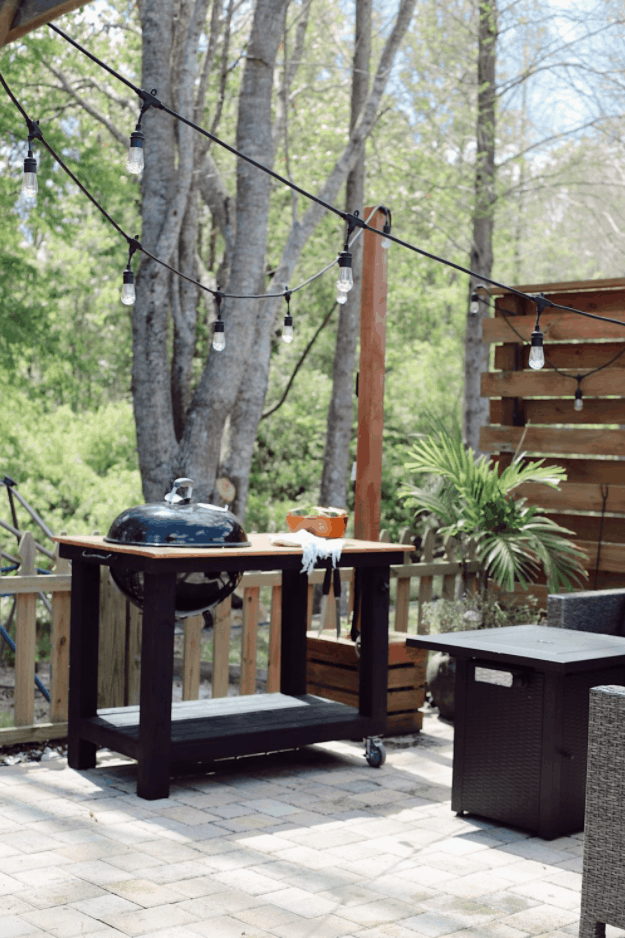 If you like detailed plans with lots of explanations for what you need to do, this is one that should appeal. In it, you'll learn how to make this amazing DIY grill cart for you Weber grill, and as you can see from the photos, it looks stunning. If you're a DIY novice, you might think making something like this looks a bit daunting, but with a quality plan like this, it's easier than you might expect – so why not give it a go?
3. How to Build a BBQ Cart for a 22″ Weber Kettle
The cart this plan teaches you to make is simple to build and won't cost you too much to complete either. In the tutorial, this YouTuber takes you through all the steps for building it, clearly demonstrating everything you need to do. At around 30 minutes, it's quite a long video, but it contains plenty of invaluable information for making a success of your project, and when you've finished watching, you're sure to feel it was time well spent
4. DIY Grill Cart for a Charcoal Kettle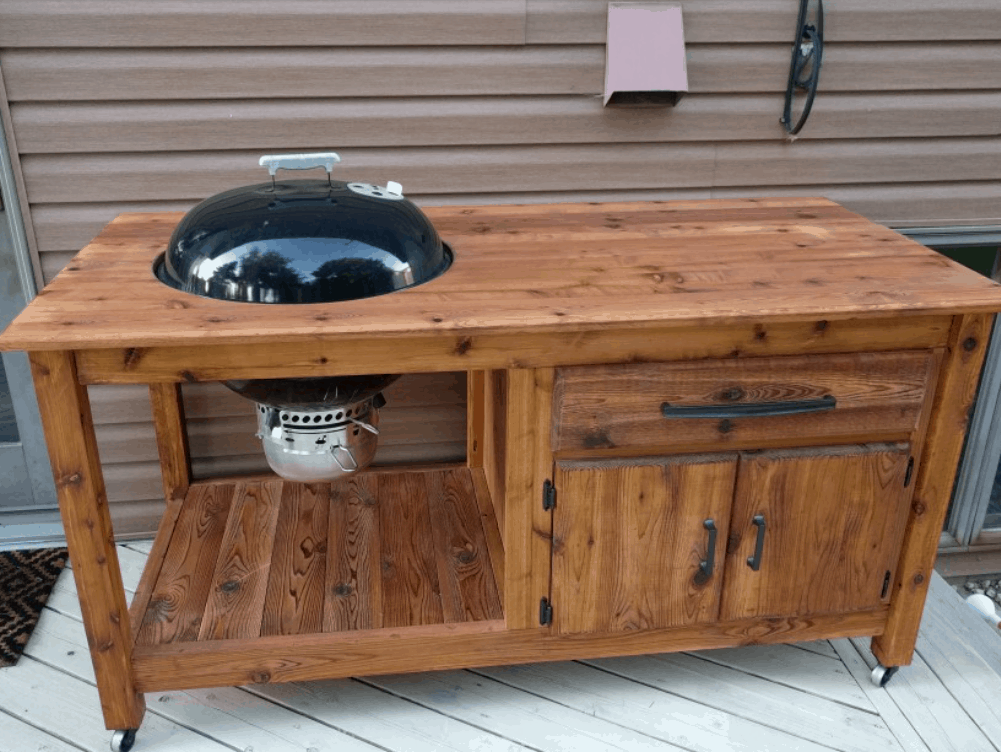 If you have a Weber kettle grill, one issue will be that you need somewhere for food preparation and a place to put everything before it goes onto the grill as well as when it comes off. This blogger solved the problem by DIYing a cart to go with his grill, and as you can see, the result was perfect. It's not a particularly difficult job either, so if you think you would like something similar, this plan will teach you how to do it.
5. How to Build a Weber Grill Cart
As you can read in the introduction to this YouTube tutorial, these DIYers are obsessed with the cart they made for their Weber grill – so it's safe to say they were pleased with the results! Having seen what they built, we have to say we can understand why, because it looks great. We also enjoyed the video since they've obviously taken the time to make it fun to watch. There's also nothing in there that is too difficult to copy, making it a video that's well worth checking out.
6. How to build a 22″ Weber Kettle BBQ Cart DIY BBQ Table
This YouTube channel has to have one of the best names we've ever seen – it's called "View to a Grill!" As you can guess from that, it features videos about everything barbecue-related, and in this tutorial, we learn how to make a highly professional table for a Weber kettle grill. In the video, we watch him as he takes us through the whole project while the voiceover explains everything he's doing. It's fascinating to watch him work, and the result is just perfect. So check it out if you want something similar.
7. Weber Grill and Chill Complete DIY Grill Cart
In this video, this DIYer gives us a "tour" of the cart he made for his Weber grill. It's especially impressive since it's a metal model, and as you can see, he's thought of everything, right down to a bottle opener on a piece of metal he welded on especially. He doesn't give you detailed instructions to copy, but if you have the necessary skills, it should give you something to follow – so if you're not afraid of a bit of metalwork and welding, this is a plan that should be of interest
8. Pimp up your Weber Performer Grill
Here's a different type of plan, because this one doesn't really tell you how to build a complete DIY cart for a Weber – rather, he shows us how to give the Weber Performer grill cart a stylish makeover. The original has plastic surfaces, but this new version has a beautiful wooden finish. You might not have all the tools he uses, but most people will still be able to do something similar, making this a great project for Performer owners to try.
9. My Weber Kettle Custom Work Cart
This video about a Weber grill and a DIY cart is an interesting watch. In it, this DIYer shows the cart he made for his Weber grill and talks at some length about the relative advantages and disadvantages or different grilling setups. He goes a bit off-topic at the end, so you can just ignore that part – but the rest of the video should give you a few ideas about the kind of grill cart it's possible to build.
10. DIY 26" Weber Grill Table
The grill cart this YouTuber has made for his Weber grill is one of our favorites because it looks so professional – you probably wouldn't guess that this was a DIY job at all. He estimates it cost him around $700 to make, but something like this would cost far more if you bought it from a store. So if you want something similar without spending a fortune on it, this is a video you need to watch.
11. DIY Barbecue Grill Cart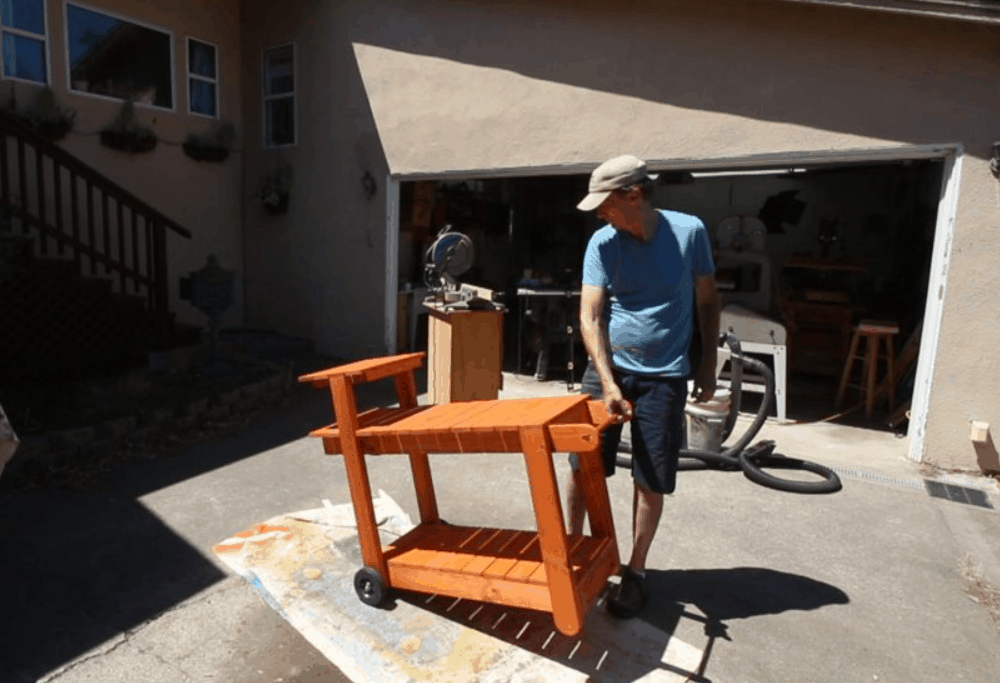 If $700 sounds like too much to spend on a DIY project, this plan should appeal to you. In fact, this YouTuber was unwilling to spend even $100 on a cart, since he thought he could make one for half that price. It's a very simple design, but if you just need something to give your grill a bit of extra mobility and you aren't interested in making anything too fancy, this could be just the plan you're looking for.
12. BBQ Cart/Station with a Concrete Top
For anyone interested in exploring options other than wood grill carts, this is a plan that should be worth a look since it teaches you how to make a cart with a concrete top. Some people might be a little intimidated by the prospect of working with concrete if they haven't done it before, but it's actually a lot easier than you might think. And if you're interested in finding out how, this plan gives you all the info you need.
13. Weber Grill Cart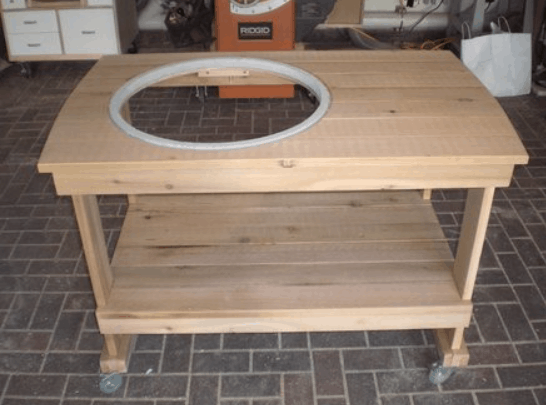 As this blogger writes, he found plenty of plans online for Big Green Egg grills, but not so many for Weber models. Instead, he decided to simply make one himself – and here, you can see the result. There isn't much in the way of detailed instructions, but least the photos should give you something to aim at – and for most moderately-skilled DIYers, that will probably be enough.
14. Weber Charcoal Hanging Grill Table
This is another video that will appeal to the kind of DIYer who is looking for ideas rather than detailed instructions. In it, this YouTuber shows us the cart he built, pointing out some of the more original features he included, like the screws to hold the grill in place and the hook for holding the lid. Although a DIY beginner probably won't be able to copy this, it shouldn't be too hard for anyone with intermediate skills, and if that includes you, why not check it out and see if you feel like trying?
15. How to Build a Weber Grill Table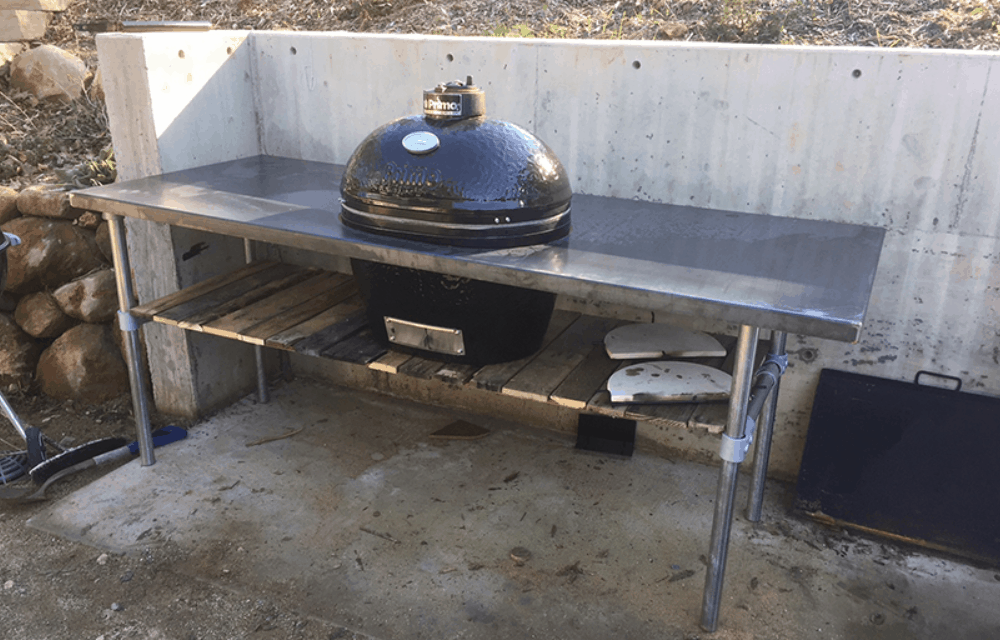 This plan shows you how these DIYers build a grill section for their Weber grill as part of a larger outdoor kitchen that also includes a wood-fired pizza oven and a working sink. The whole thing looks amazing – although perhaps a little "unpolished" – and if you want to copy it, this blog tells you how it was built.
Loads of great plans to copy
As you can see, there are loads of great plans for Weber grills that are suitable for all budgets and skill levels. We hope you've enjoyed reading and watching these plans as much as we have finding them for you – and above all, we hope we've helped you find the plan you needed to build a DIY Weber grill cart of your own.