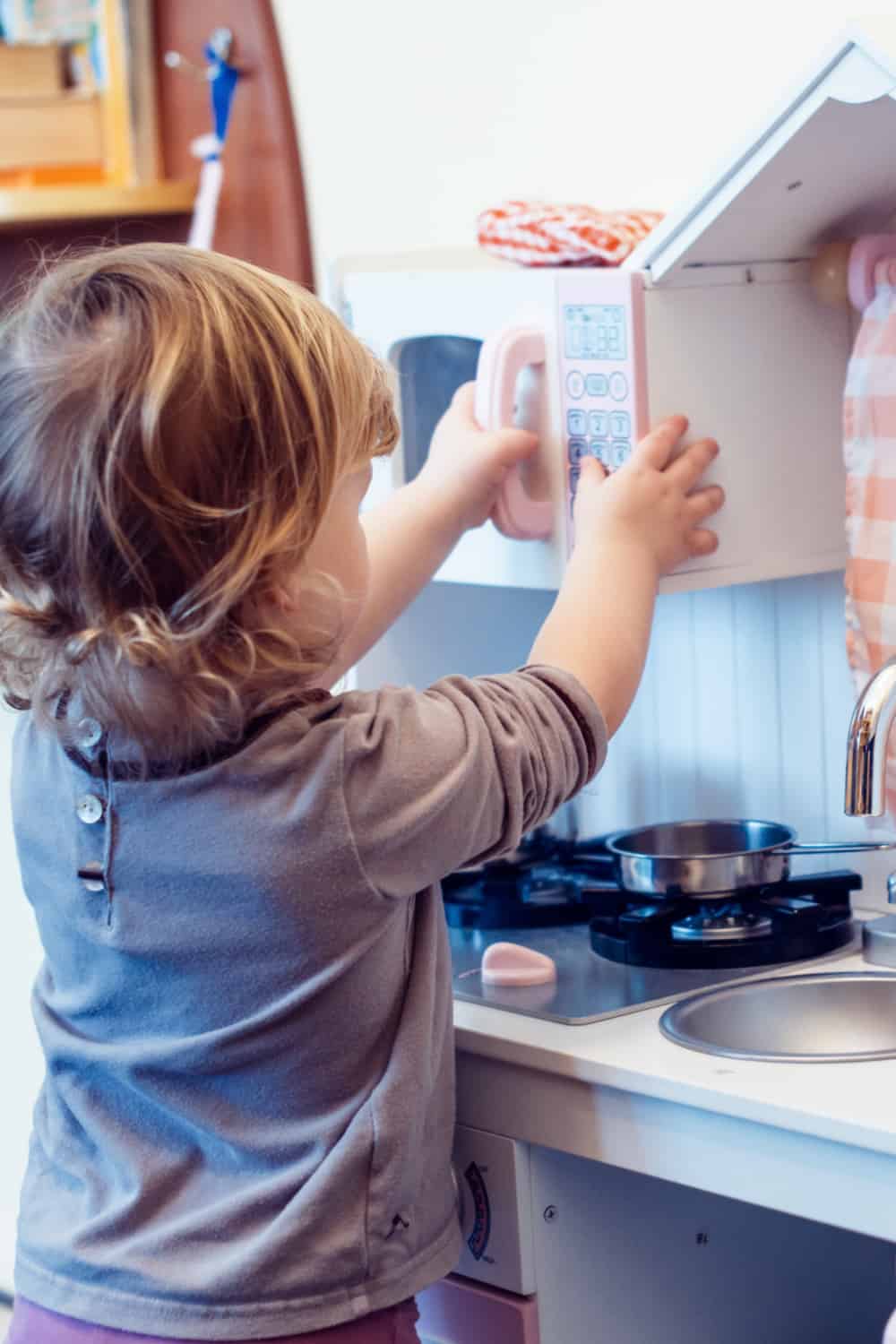 A model kitchen is a great toy for kids. It's a brilliant way to fire their imaginations and teach them about health and nutrition.
But if you want to buy a kids' kitchen off-the-peg, you may need to spend a lot of cash. So why not make one yourself instead? You can get the perfect design for your little one without spending a fortune.
We've scoured the internet for 18 DIY kids' kitchen plans to help you get great results. Why not see if they inspire you to give it a go?
1. How to Make a Play Kitchen
This video from At Home with Ashley shows how to make a play kitchen from an old wooden entertainment center. Everything here is sped up, so the whole build is shown in less than two and a half minutes. But you'll still see every step in enough detail to give it a go yourself. The results are impressive – and the colors will work just as well for girls or boys.
2. The Secrets of How We Built Our DIY Play Kitchen for Under $90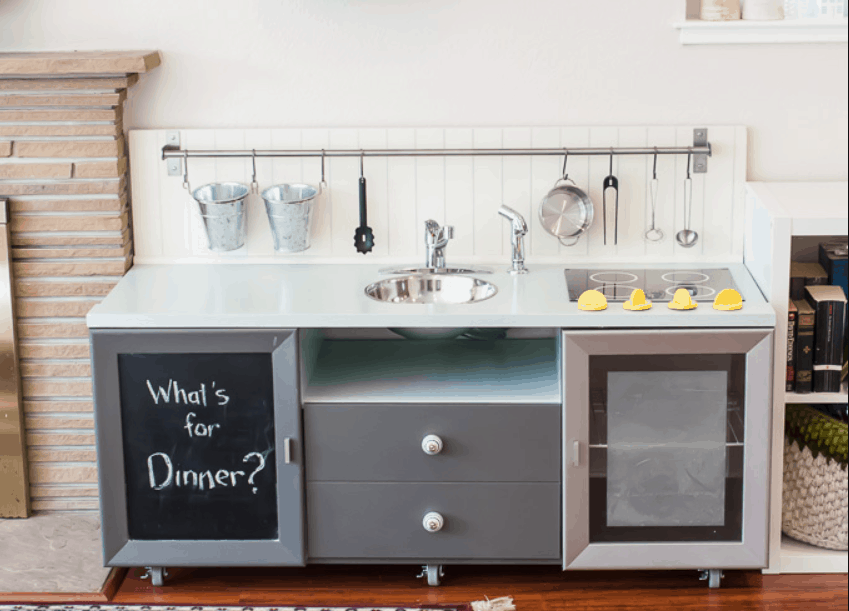 This plan shows how to build a play kitchen that looks a million dollars for a very modest outlay. There are cupboards, drawers, a sink, oven and utensil rail. And while you'll see photos showing the build in progress, there's also lots of help to customize your design. The article takes you through a series of questions to help you decide what your kitchen will look like. It's a great option if you want to end up with something that's completely unique.
3. DIY Play Kitchen for Kids – Woodworking Build Plan
We love the way this play kitchen combines quality wooden construction with lights, sounds and moving parts. Check out the links in the video information for downloadable plans, photographs and detailed instructions. You can also find out where to buy the kids' sink and toy microwave featured in the design. And there are links to online suppliers where you can purchase the necessary tools if you don't have them already.
4. DIY Cardboard Kids' Play Kitchen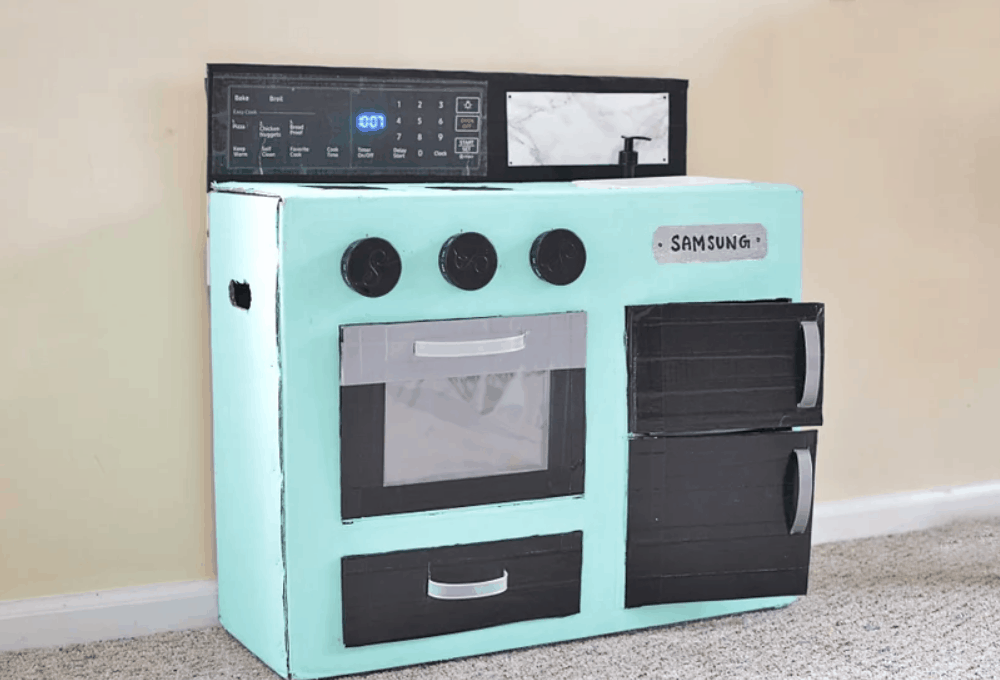 This is a great plan that shows every step in creating a play kitchen from cardboard boxes. There's a helpful list of materials and equipment upfront, so you can see exactly what you need. The directions are clearly described, with photographs to illustrate every step. This is one of the simpler plans to follow, and you won't need any expensive parts either.
5. DIY cardboard kids play kitchen part 1/5
If you want a lighter weight play kitchen, making it from cardboard is a great option. This plan shows you how to do just that. It's one of five linked videos that demonstrate how to make different parts. Together, they take you through constructing a cooker, cupboards, fridge and sink unit, and show how to put everything together. And if you don't want such a large set-up, you can mix and match your favorite components.
6. How To Create A Mini Cardboard Kitchen For Your Toddler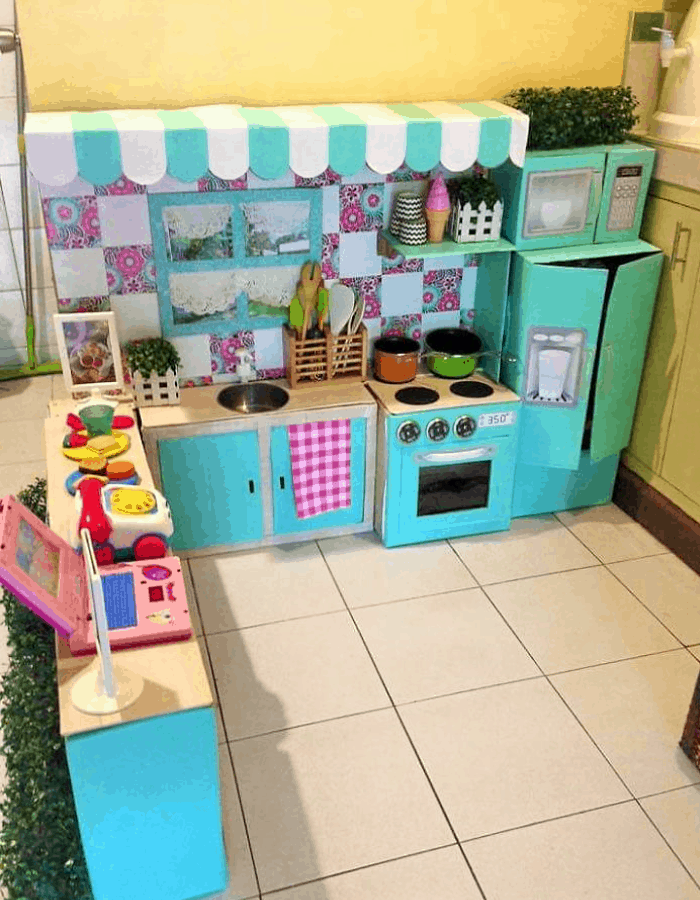 This is another easy plan that doesn't require any carpentry knowhow. All the cupboards and toy appliances here are made from cardboard. There are lots of photographs showing the build in progress, and loads of brilliant ideas for creative accessories. These include a window with net curtains, tiles made from contact paper, and a soap dispenser faucet.
7. CHEAP DIY Play Kitchen
This is a beautiful play kitchen made with minimal woodworking. YouTuber Peach & Bee uses an old TV stand picked up for peanuts at a yard sale as the base. Follow the instructions to see how to turn it into a cute kitchen with sink, cooktop and handy storage. You can also see how much everything cost. Spoiler alert: you won't need to spend a lot of money to get great results.
8. Do-It-Yourself Play Kitchen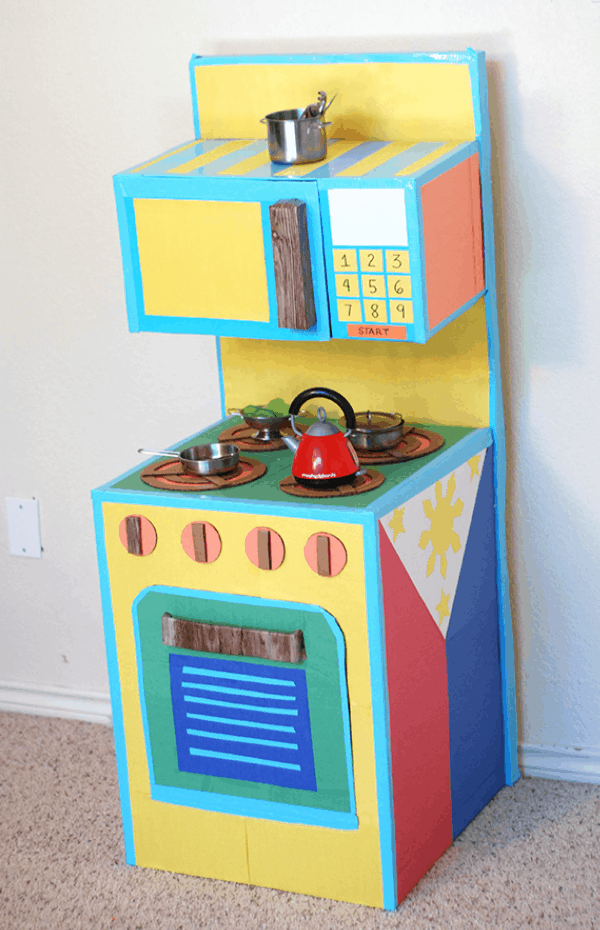 If you're looking for a design that won't take up a lot of space, take a look at this plan. It shows you how to create a compact play kitchen featuring an oven and microwave. There's also a separate section with a countertop and sink. You could make one or both, depending on how much time and room you have to play with. Everything is low cost and easy to put together. The design uses just cardboard boxes, contact paper and duct tape, but the finished result looks fantastic.
Check the tutorial detail
9. Homemade Entertainment Kitchen Play Center
This video is another that shows how to make a kids' kitchen from an entertainment center. Here real kitchen cabinet handles are used for a realistic look. There's a toy fridge, cooker, dishwasher and sink, plus integrated chalkboards for extra fun. The video takes you through each of the component parts and describes how they were made. While you don't see the build in progress, there's enough detail here to replicate the results yourself.
10. How to Build a Play Kitchen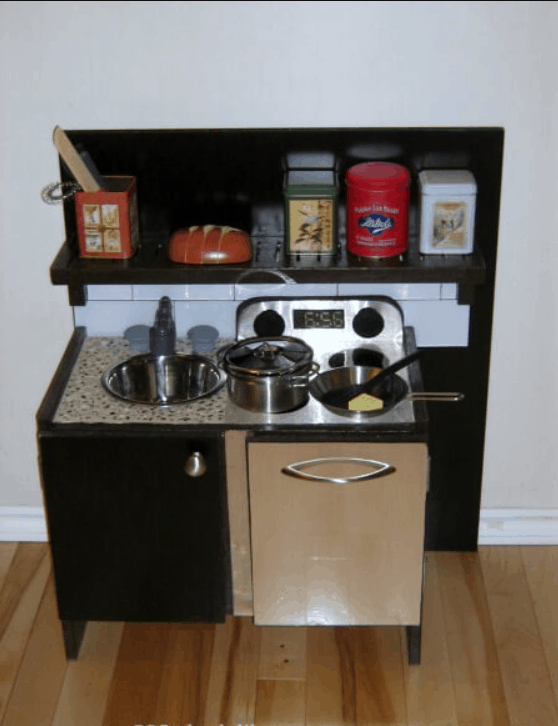 This plan uses a small end table from Ikea to build a great play kitchen. You'll need to do a bit of carpentry with this one, but it's very simple. Just make a cut-out for the sink, add a couple of cupboard doors with handles, and fix a shelf. Each step is clearly described and illustrated. And there are lots of clever ideas to decorate and accessorize the finished product.
11. How to Make a Kids' Play Kitchen: The Frame/Doors/Drawers!
If you've got plenty of room, this plan for a play kitchen could be for you. The build quality here is as impressive as you'll find in many full-sized kitchens! The project starts with constructing a complete 3D model using free software. The finished result incorporates a refrigerator, freezer, oven, microwave, shelves, sink and lots of cupboards and drawers, all made of 0.75-inch plywood. This is a project best tackled by those with at least intermediate DIY skills.
12. Simple Play Kitchen Sink and Stove
This pretty play kitchen can be made with just basic woodworking skills. All you'll need to do is cut the wood and screw or glue it together. The plan is very easy to follow, with a shopping list of materials and lots of scale drawings. There's also a cut list, general tips and step by step instructions, complete with photos.
13. DIY Play Kitchen Made From Old Entertainment Center
This brilliant play kitchen is another one that's made from an old entertainment center. Watch as it's put together step by step – complete with help from an exceptionally cute toddler! The finished product looks amazing and was completed without spending a lot of money. Watch right to the end to see just how well it went down with its recipient!
14. How to Make a Play Kitchen For Your Kids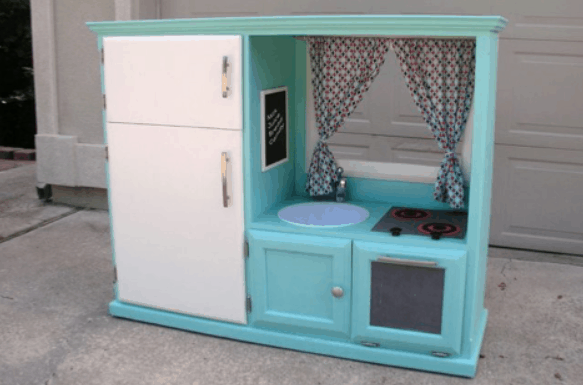 This is another design that's built around an entertainment cabinet. The plan is very easy to follow. There's a comprehensive list of all the materials and tools you'll need at the start. The build is then described in 13 clear steps, covering everything from preparing the cabinet to final decoration. There are even instructions on how to sew a pretty pair of curtains for the play kitchen window.
15. Sustainable Toys: We Made DIY Kitchen Set Out Of Recycled Materials
This is a great plan to make a kitchen entirely from recycled materials. All the cupboards here are made of cardboard boxes, so you won't need carpentry skills or power tools. YouTuber Andi even gets her daughters involved in the build, starting the fun early! This is a quicker project, with the boxes left in their natural state. If you have more time, you could give them a lick of paint for a smarter finish.
16. DIY Play Kitchen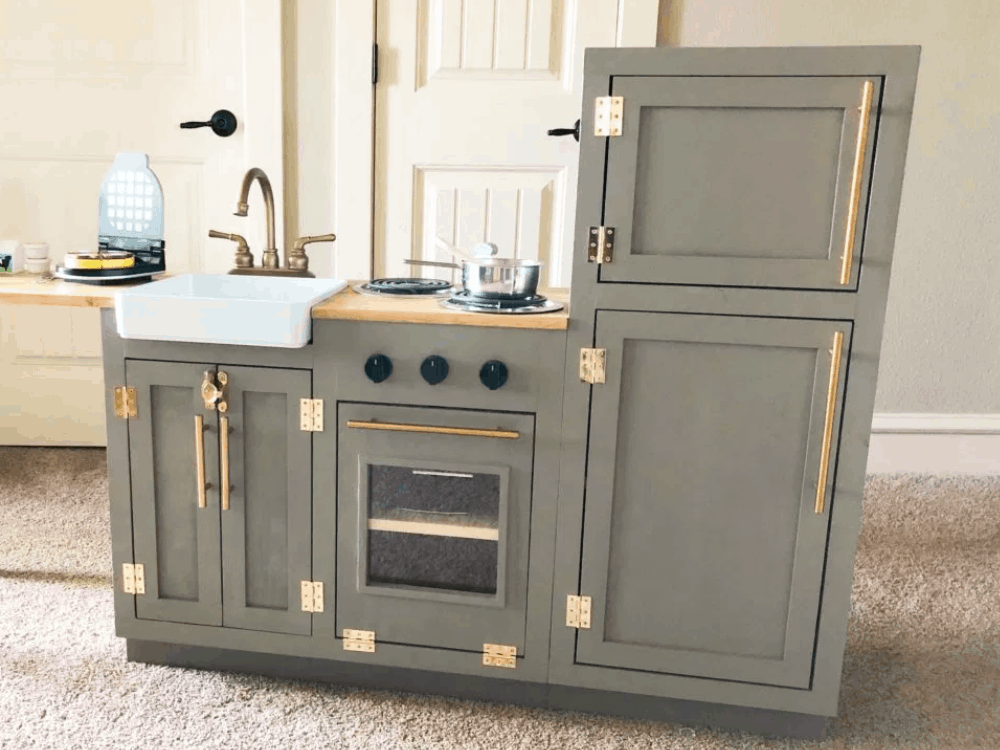 If you want your play kitchen to be as stylish as your real one, check out this great plan! It has everything you need to create a classic Shaker-style kitchen for your kids. There's quite a bit of carpentry involved, but the plans are very detailed. And you don't have to have advanced woodworking skills. Take the time to follow the plan step by step, and even beginners will be amazed at what they can achieve.
17. Pretend Play DIY Kitchen & Market
If you're up for a challenge, this is one of the most sophisticated DIY kids' kitchens we've seen. The video gives you an overview of all the different parts – and there are a lot of them! But most of it shows YouTuber Natalie's two adorable boys playing in the kitchen. If you want some motivation to get out those power tools, this is a great video! But you'll need to work out how to put the design together for yourself.
18. DIY Play Kitchen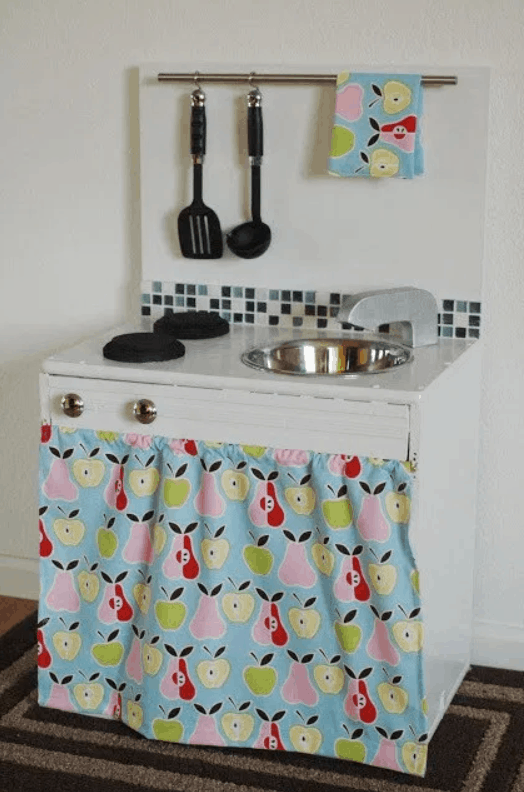 This sweet little play kitchen uses an old nightstand for the base. You won't recognise it by the time you've finished the project! You'll need to do a bit of woodwork, but it's all very simple. As long as you have a drill and a jigsaw and don't mind some sanding, you'll have everything you need. You'll need to read through each step to work out your shopping list. But everything is costed, so you'll have a good idea of how much you'll need to spend.
Ready to Make a Play Kitchen for Your Kids?
With so many excellent plans out there, there's sure to be one that's perfect for your needs.
If you're an experienced woodworker, why not put your skills to good use with a wooden kitchen? Or if you prefer to stay away from power tools, a cardboard version can look every bit as beautiful.
Whichever plan you decide to follow, we hope you enjoy your next project. We're sure the kids will love the results!