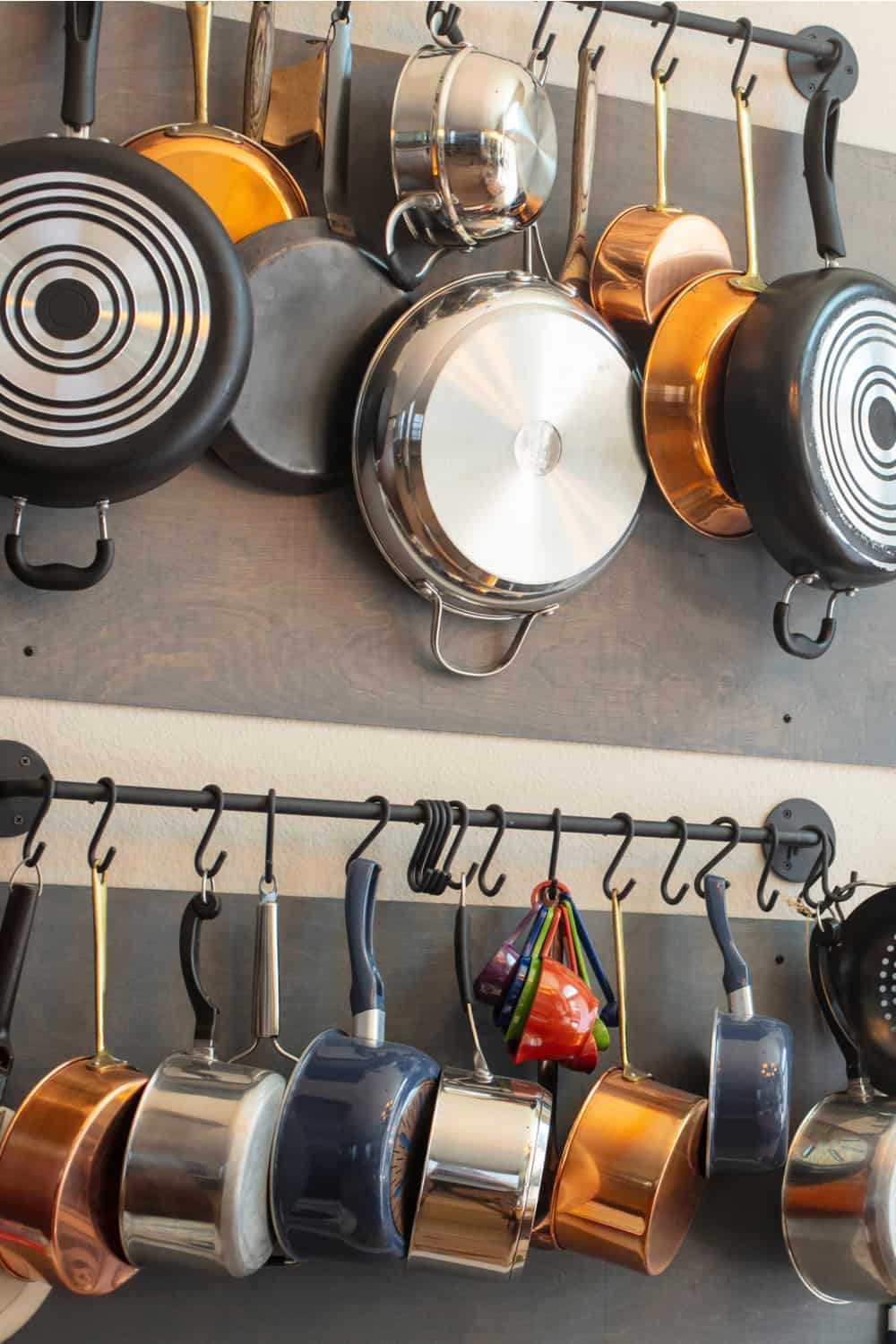 Most people will know how much space pots and pans can take up – they always seem to end up in disorganized piles, and every time you need something, it always manages to be right at the bottom.
However, it doesn't need to be like this if you put just a little bit of effort into proper organization – and if you're interested in trying, here are 21 plans for DIY pot and pan organizer systems that will solve all your problems.
1. Easy-to-Build Pots and Pans Organizer Idea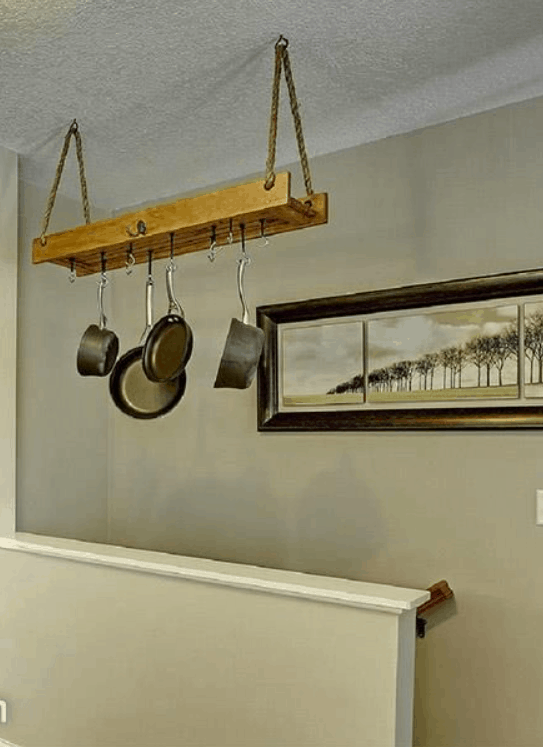 If you have attractive pots and pans, there's no need to hide them away since they can add a decorative element when stored in plain sight. However, they still need to be organized properly, and adding a ceiling rack like the one in this plan can be the perfect solution.
2. DIY Hidden Pull-Out Wooden Pot and Pan Hanger
The hidden sliding pan organizer this YouTuber shows us is an ingenious idea that makes it so easy to gain access to any pan you need without struggling with all the others. It's also super easy to make, and since he uses scrap wood, it costs next to nothing too. Sound interesting? Then check it out to see how he did it!
3. DIY Knock-Off Organization for Pots and Pans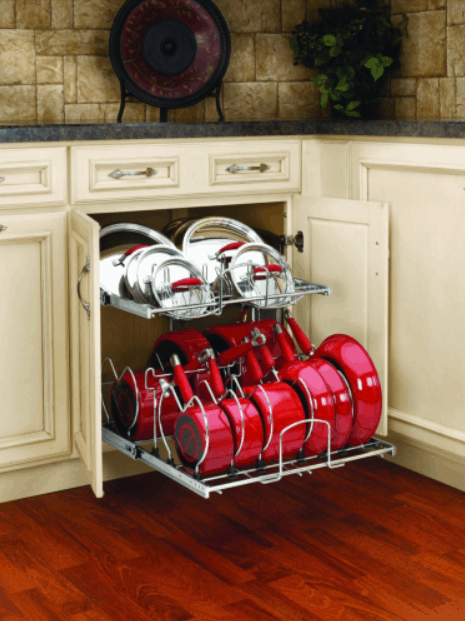 As part of a series of posts on organizing your kitchen for less, this blogger teaches us how to make a knock-off rack that was inspired by a version she thought was perfect for her needs but that unfortunately was out of her budget. Instead, she spent just $26 on her organizer – and it's an idea we love!
4. 8 Kitchen Organization Ideas
For anyone looking for ways of storing their pots and pans more efficiently, you don't necessarily have to spend lots of money or building anything complicated. In fact, there are several simple ideas that can make a big difference but that require only a minimum of effort – and this YouTuber teaches us eight of them.
5. Pull-Out Pot and Pan Organizer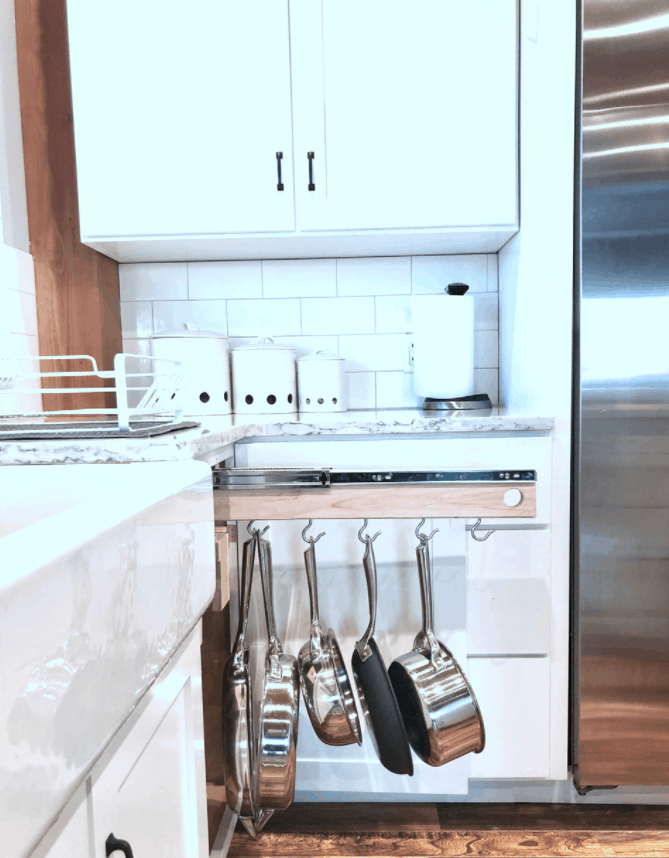 If you prefer a more advanced and elegant solution to storing your pots and pans, this blog post should be of interest. In it, you learn how to make a sliding organizer that holds all your kitchenware and makes it effortless to grab the pot or pan you need each time. It's a slightly more challenging project, but it's a fantastic idea if your skills are up to it.
6. Organize Pots and Pans Under the Cupboard
Most people will be able to relate to this YouTuber's situation at the start of her video as she struggles with a clutter of pots and pans in her cupboard. But she then goes on to show us how she solved the problem using a simple and inexpensive method. Sound interesting? Then watch her tutorial to see how she did it!
7. DIY Pots and Pans Organizer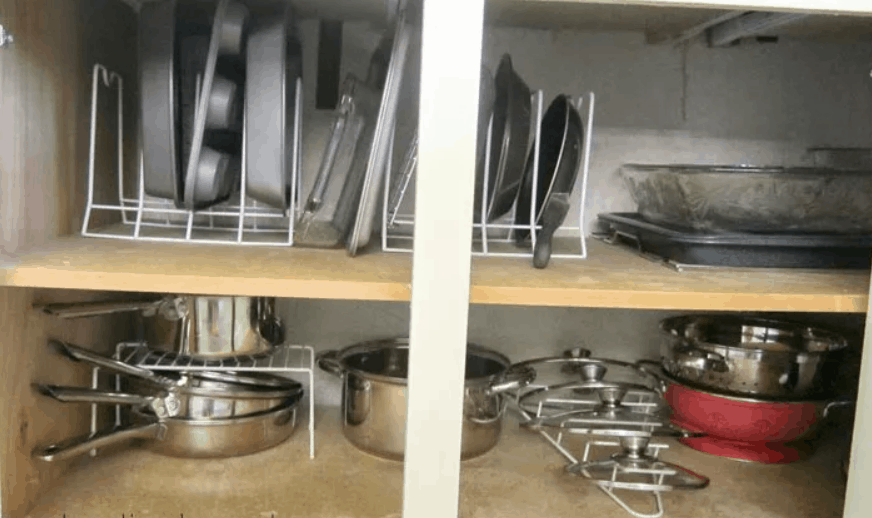 In this blog, we learn about ways to organize pots and pans in a cupboard using nothing more complicated than a few items bought at a dollar store. Everyone's kitchen is different, which means there's no one-size-fits-all solution – but this tutorial gives us a range of tricks, so there are sure to be at least a few ideas you'll be able to copy.
8. 3 Easy DIY Kitchen Organization Projects
Here's a video that teaches you three different ways to increase the order in your kitchen. Each of these three DIY projects requires nothing but simple tools, and none of them requires more than around $10 of lumber. They're all great ideas too – so why not have a go at replicating them at home?
9. DIY Organizing Hacks to Make with Dollar Store Cooling Racks
Here's another video that's full of great ideas that will help you organize your kitchen without spending lots of money on fancy installations. In it, this YouTuber demonstrates some hacks that she came up with using items she found in her local dollar store, and her ideas are easy to adapt to your kitchen to help organize your cupboards better.
10. DIY Bicycle Wheel Pots and Pans Rack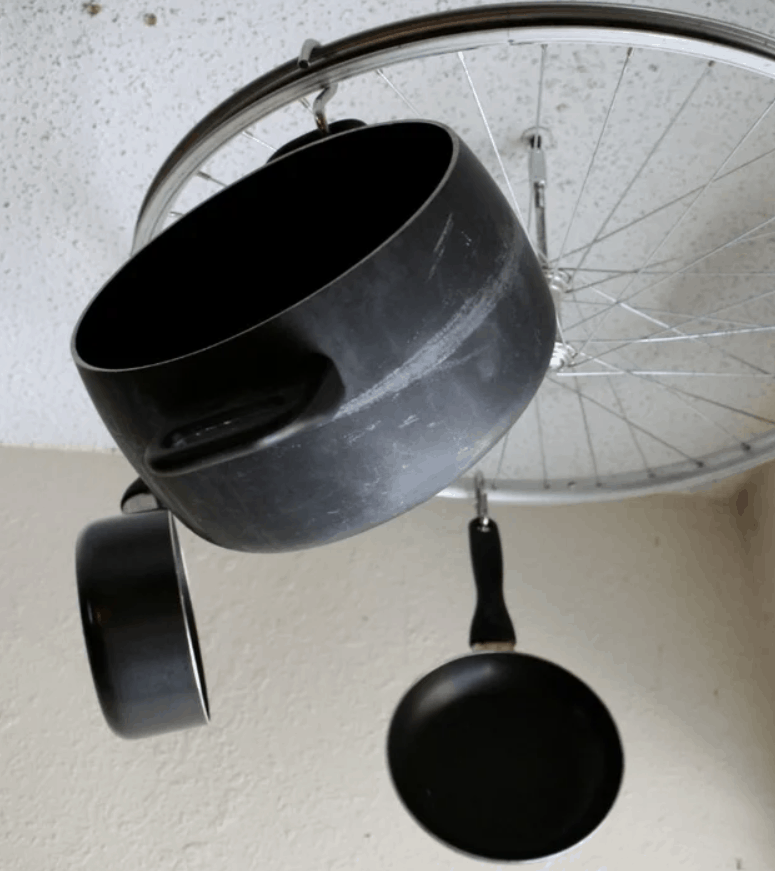 The rack this blogger teaches us to make is a genius idea that will appeal to the kind of person who enjoys repurposing old items and making them into something new and useful. In the tutorial, we learn how to make a ceiling pan rack from an old bicycle wheel – it might not be the kind of style everyone appreciates, but we're sure that lots of people will love it!
11. DIY Sliding Pot and Pan Organizer
This is a fun video to watch, and one that will potentially save you around $80, according to this charismatic YouTuber. In his tutorial, he teaches us how to make a sliding organizer that makes it easy to grab your pans whenever you need them. It's an excellent solution for organizing your kitchenware, and following his plan, you can make one for cheap!
12. 5 Easy Steps That Will Fix Your Most Cluttered Kitchen Cabinet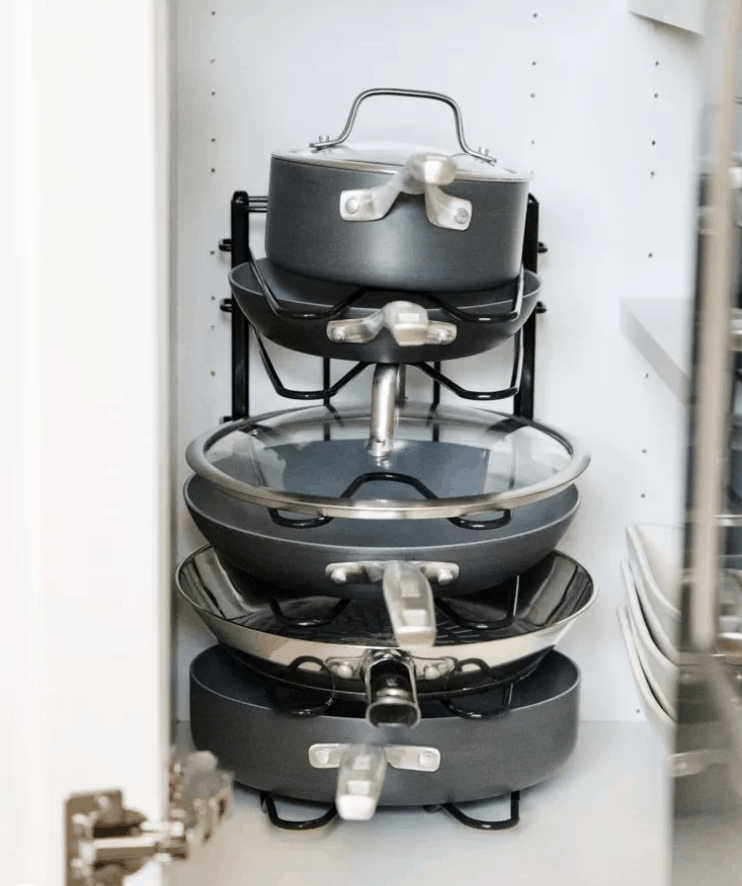 As we've already mentioned, since everyone's kitchen is different, the same solution might not always apply. However, in this blog, we learn about five clever ways to keep your pots and pans in order, so there's a good chance that at least one or two will work for you. None of these ideas will cost you much either, so this is a blog post that's well worth a look.
13. 5 Kitchen Storage Solutions that are Borderline Genius
According to this YouTuber, the average adult spends around three years in the kitchen during their lifetime – so that's a good reason to keep everything well organized and efficient. The video then goes on to teach us five simple hacks that can help you achieve this, making it essential viewing for anyone who faces a daily battle with untidy pots and pans.
14. DIY Hanging Pot Pan Rack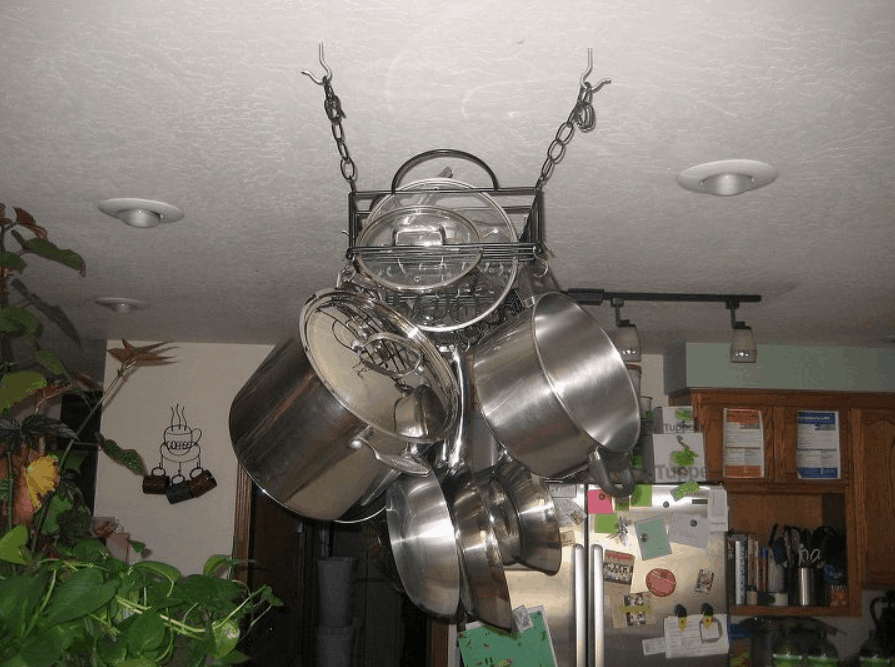 Sometimes the best DIY plans are the simplest ones, and this one certainly qualifies. In it, this blogger shows us how she created elegant ceiling storage using nothing more than a few wire racks. It cost next to nothing, but it looks fantastic – and it also provides some much-needed storage space for her array of pkitchenware.
15. DIY Pots and Pans Rack
In this video, we have another tutorial for making sliding pot organizers. As this YouTuber explains, buying one and having it installed would cost you around $80 per cupboard whereas he does it for under $30 for two. That's a significant saving, and if you want to know how, his plan has all the info you need.
16. DIY Pull-Out Shelves for Pots and Pans Organization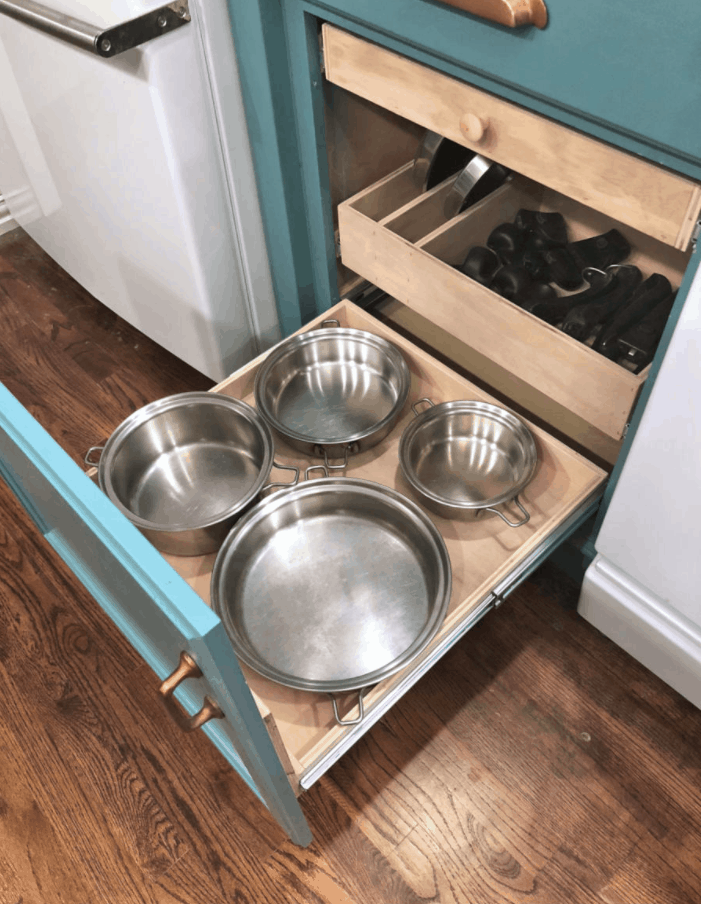 Even for those who aren't particularly good at organizing their kitchens, it can be relatively easy to put everything in order with a few simple modifications to your cabinets. That's the situation that was facing this blogger until she decided enough was enough. She took action, bringing order to the chaos, and in this plan, you'll find out just how she did it.
17. Inexpensive Way to Organize Pots and Pans
The title of this video tells you all you need to know. In it, this YouTuber shows us how she went about rearranging the pots and pans in her cupboard using only inexpensive racks and similar items that cost very little. This is the kind of video that anyone with a small kitchen will be able to relate to, and if you need some tips on maximizing limited space, you'd do well to give it a watch.
18. 10 Organization Tips to Keep Pots and Pans from Being an Unsightly Pile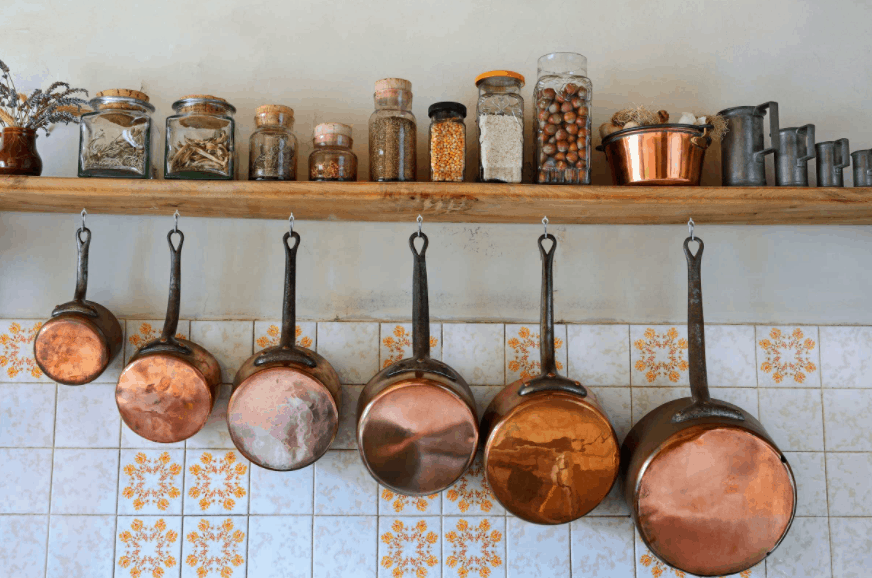 Pots and pans are uniquely awkward to store, and we're guessing that most people keep them piled up in cupboards where they are difficult to reach when they need them (this includes us too!). However, with a few simple tricks, you can do much better – and this blog gives you another 10 ideas that will help you arrange your kitchenware in far more convenient ways.
19. Affordable DIY Small Kitchen Storage hack
This is a video tutorial we enjoyed watching a lot because we love this YouTuber's enthusiasm. In her video, she demonstrates the DIY storage she built for her pots and pans, and we have to say it looks ideal. It's inexpensive to replicate and super easy to complete, so in other words, it's the perfect DIY project. Want to know more? The give her video a watch to see what she did!
20. How I Organize My Pots and Pans
There are so many creative ways to organize pots and pans in your kitchen, and this YouTuber brings you a few more highly useful suggestions. It's all about planning, really – and if you want to know how she does it, her video comes highly recommended.
21. 34 Super Inventive Ways to Organize a Tiny Kitchen
In this final video, you'll learn all about how to organize your pots and pans as well as just about everything in your kitchen. In fact, it offers you no fewer than 34 tips to organize a tiny kitchen, so that's got to be something that's worth a look!
Loads of great ways to get organized
As you can see, there are loads of simple and inexpensive ways to organize your kitchen, and now you're probably wondering why you never did anything about your pots and pans before.
We hope you've enjoyed reading and watching these plans as much as we have finding them for you – and above all, we hope we've helped you find the ideas you needed to get your unruly pots and pans under control