Have you always wanted to start with DIY-project that are useful and easy? Then start with this DIY Trash Can Cabinet! No more physical Trash Cans in the middle of the room or next to the kitchen table. Make your own Trash Cans and attach them to the cabinet.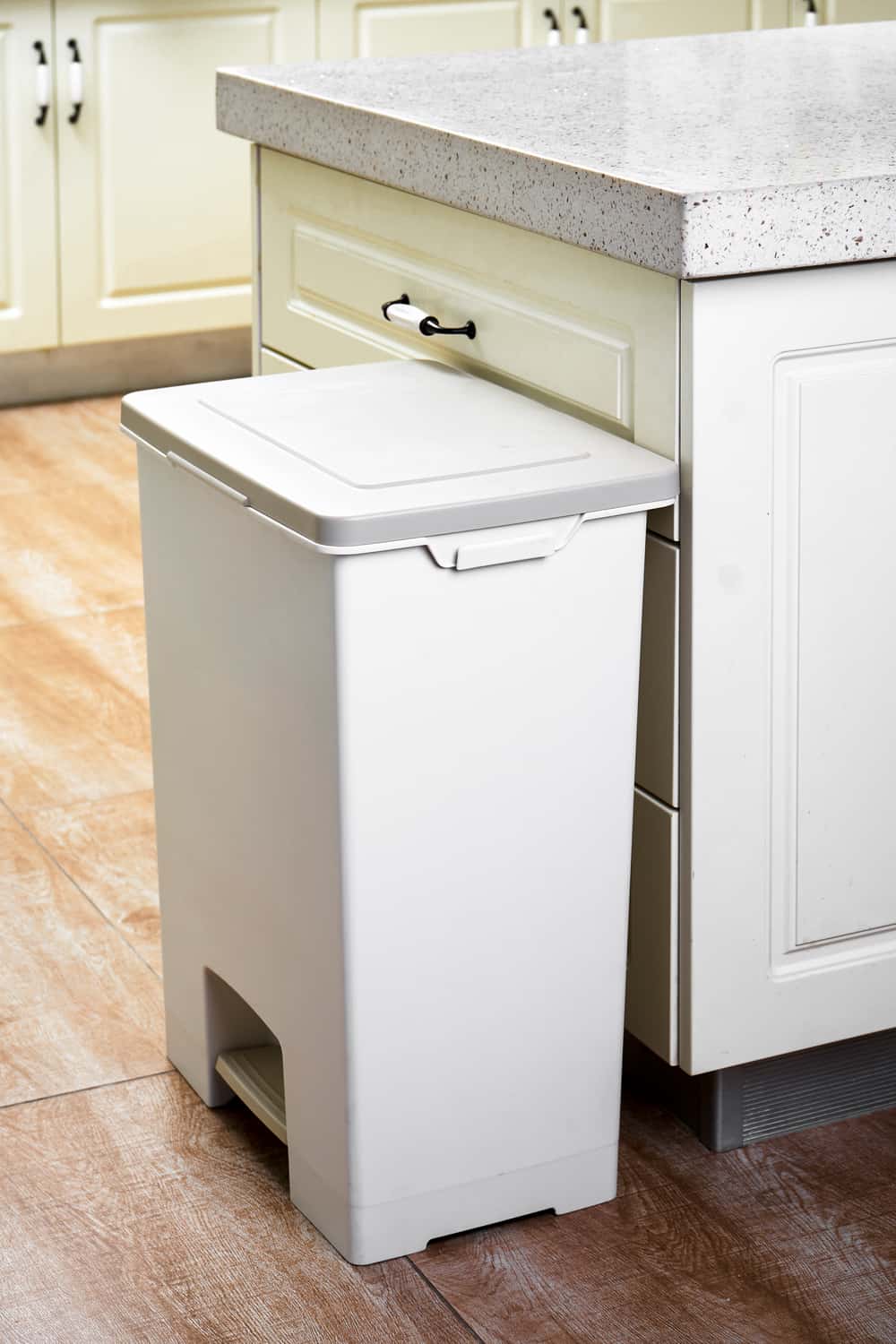 You can even choose to make several smaller bins to separate the waste! With these tips and tricks, you immediately want to start with building your own DIY Trash Can Cabinet!
1. Fix This Build That Pull Out Trash Can
Are you looking for a channel that describes all the DIY-things you can do in and around the house? Then this is the one to go with! In this almost 9-minute video, this man tells you everything you need to know about fixing your own Kitchen Cabinet. He describes what you need, which steps you need to take and how you can fix everything!
2. Justin Built Trash Can Pull Out
The name of this YouTube channel says it all! Justin describes all the steps he takes in order to make his own DIY Trash Can Pull Out. In this 8-minute video, he emphasizes the costs and the work involved. Are you also looking for other projects that you want to fix around the house, then don't look any further! With Justin's channel, you are ready to go and you will have some projects on your hand the coming period.
3. Andrew Reuter Trash can Cabinet
Another YouTube channel, this time by Andrew Reuter. He not only describes how to make one, he also emphasizes the importance of a build-in Trash Can Cabinet. No more children that keep bumping into the trash can or trash cans that are in your way. With the instructions of this build in Trashcan cabinet, you are ready to go!
4. Home Sweep Home DIY Pull Out Trash Cabinet
Home Sweep Home is a YouTube channel with over 50.000 subscribers and we are definitely one of them. This channel gives instructions to all large and little projects around the house. In this video, Regina describes in under 5-minutes how you can make your own pullout Trash Cabinet. Nice and easy with clear instructions!
5. Custom Tilt-Out Trash Cabinet
This blog from Abby Lawson describes everything that you need to know about projects around the house. The Tilt-out Trash Cabinet is one of our favorites. With a clear background story, instructions, and of course a list of necessary tools, this project is easy to go with! Although Elmer's Carpenter sponsors Abby, the tools she uses are common and easily accessible at your local crafts shop.
6. DIY Trash Can Cabinet Project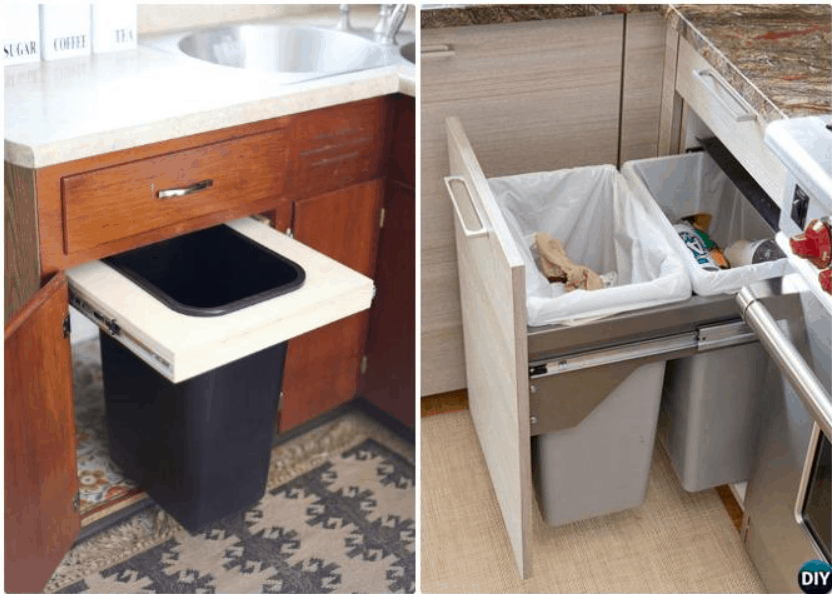 In this blog, you will find not one but five DIY Trash Can Cabinet Projects. It does not matter what kind of cabinet you have at home, in this blog, you will find a solution! The bog makes a distinction between a Pullout cabinet, a door drawer, and even a kitchen island cabinet. Still, looking for a solution for your own trashcan? Here you go!
7. Wood tilt out Trash Cabinet
This wooden tilt out trash cabinet is fancy and easy to make. With clear instructions, dimensions, and tools, this is one of our favorites. It even gives you a list of which types of wood you need to cut in which lengths! It does not get any clearer than this! Even if you do not know the name of all the tools, there are great pictures of the tools provided!
8. How To DIY Pull-out Trash Can Cabinet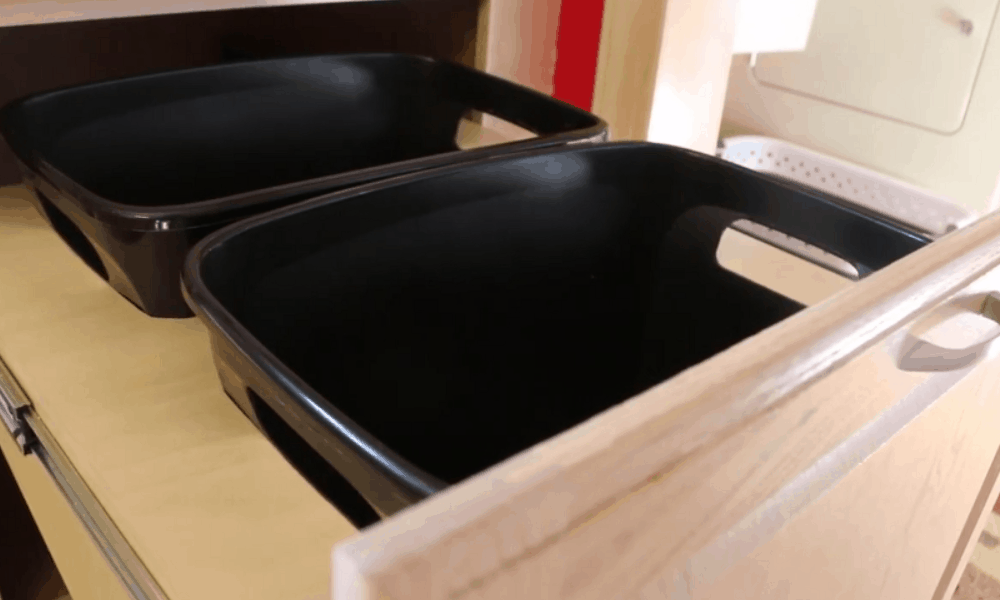 Background of this DIY-project? His toddler-aged son was just starting to walk and grabbed everything that was within reach. This also included grabbing the trashcan every now and then. Now Andrew was sick and tired of this. That is why he started to make his own Trash Can Cabinet. The good thing here is that he even made two trashcans to separate the waste!
9. DIY Pull Out Trash Can Cabinet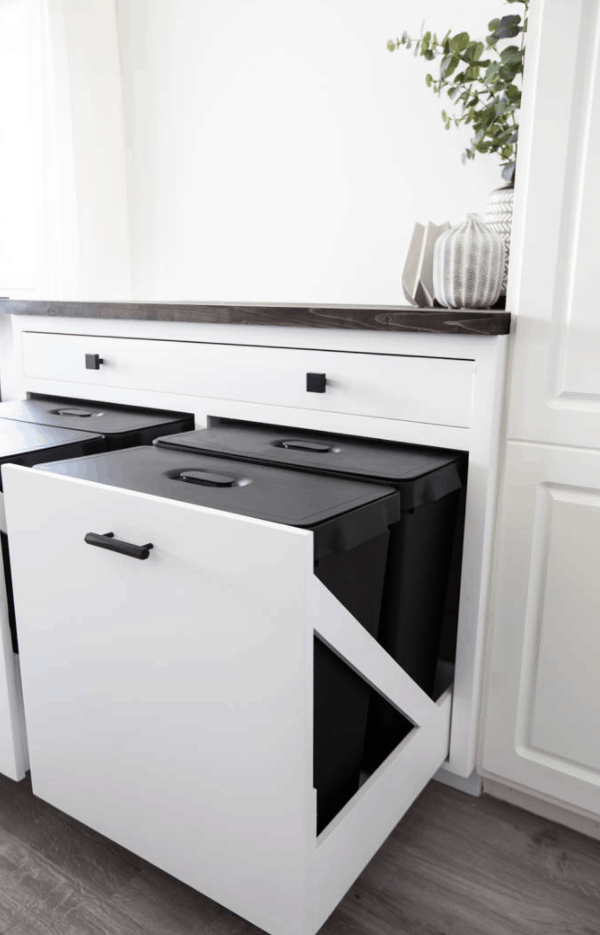 Organizing trash and recycling as much as possible was one of the reasons that she started making those DIY Trash Can Cabinets. She wanted to pay more attention to recycling and wanted to make it easier for her kids to do so. That is why she created four different Pull-out Trash Cans. This makes it way easier for her and her kids to start being conscious about separating waste!
10. Trash Can Cabinet Tutorial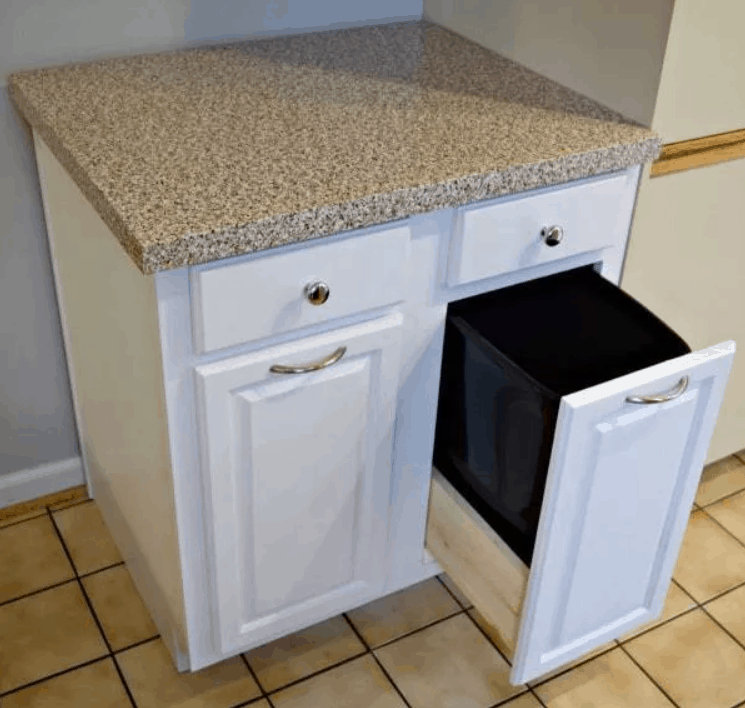 Are you looking for an easy to follow, easy to fabricate, and cheap solution for your own trashcan cabinet? Then stop looking right now! This instruction from The Handyman's Daughter is all you have been looking for! With a clear list of needed supplies, 6 easy to follow steps, and a list of pictures to accompany those steps, you have your own trashcan cabinet within hours!
11. Convert A Cabinet Into A Pull-Out Trash bin
In this tutorial, Mandy Johnson shows us how she converts a cabinet into a pullout trash bin! With some easy to follow steps, a list of the mainly used supplies, and some usable pictures, Mandy describes in 10 steps how she converted her normal cabinet into a pullout trash bin!
12. Build a DIY Cabinet Door Garbage Can
One of our favorite editors Stephanie explains how she made her own garbage can that she mounted to the cabinet door. Besides this project, Stephanie has known for all other DIY projects ranging from woodworking plans to home remodeling and craft projects. Her main focus in these cases is the price that she pays for this remodeling. She wants to make improvements to her house in an affordable way!
13. DIY Pull Out Trash Cabinet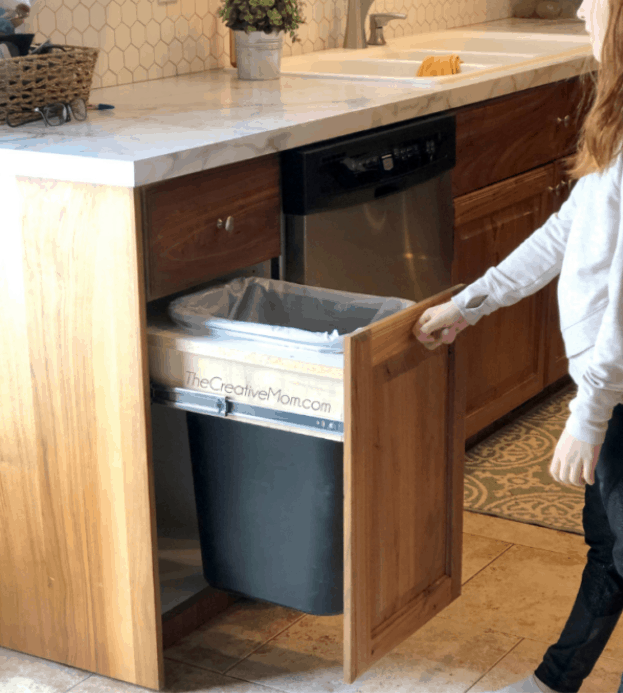 Do you want to make an easy pull out trashcan for your kids? The Creative Mom shows you how to do this. With a small home, she never had a place for the trashcan in her kitchen. She always had to walk to the garage to throw it away. With this DIY pull out trashcan, she has solved this problem in an easy and cheap way!
14. Instructables DIY Pull Out Trash Cabinet
Instructables or commonly known as one of the best websites to check out DIY-projects. With this DIY Pull Out Trash Can, they have not disappointed. In seven easy steps, you can make your own! This starts with a list of supplies that you need to get. Pictures accompany all steps, but if this still is not enough for you, they have their own YouTube channel. There, they also post all the DIY-project they are working on!
15. Trash Cabinet Plans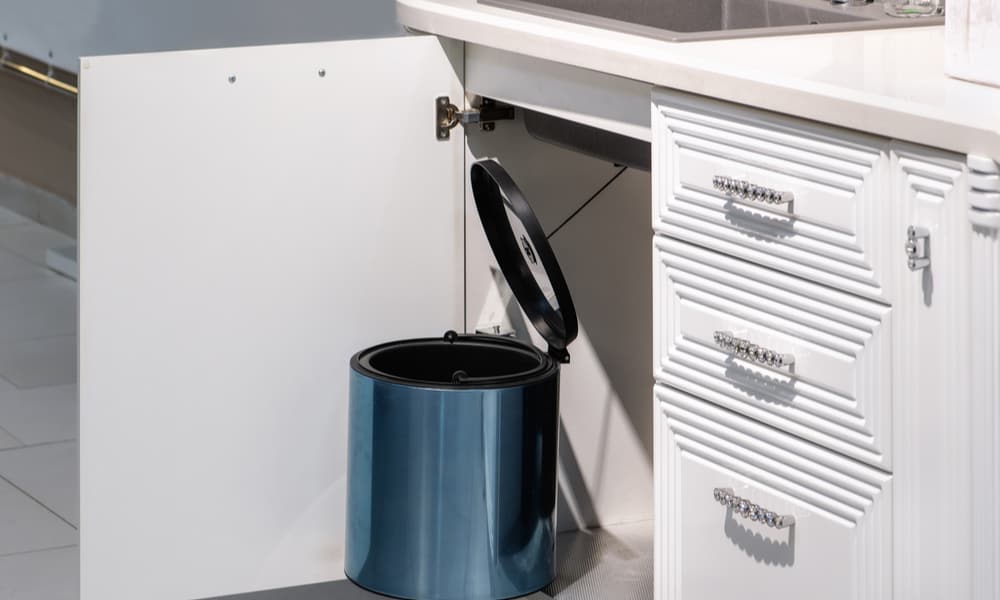 This instruction is unique for its 3D model of all the dimensions that are needed to make your own Trash Can Cabinet. With a list of tools and easy to follow steps, you can make this project in less than one day! What we really like about this project is that all pictures are provided with dimensions. This way, you know exactly where and when you need to saw and how big the wood needs to be! In addition, if you do not like the wood, feel free to paint it!
16. Andiamo DIY Trashcan Cabinet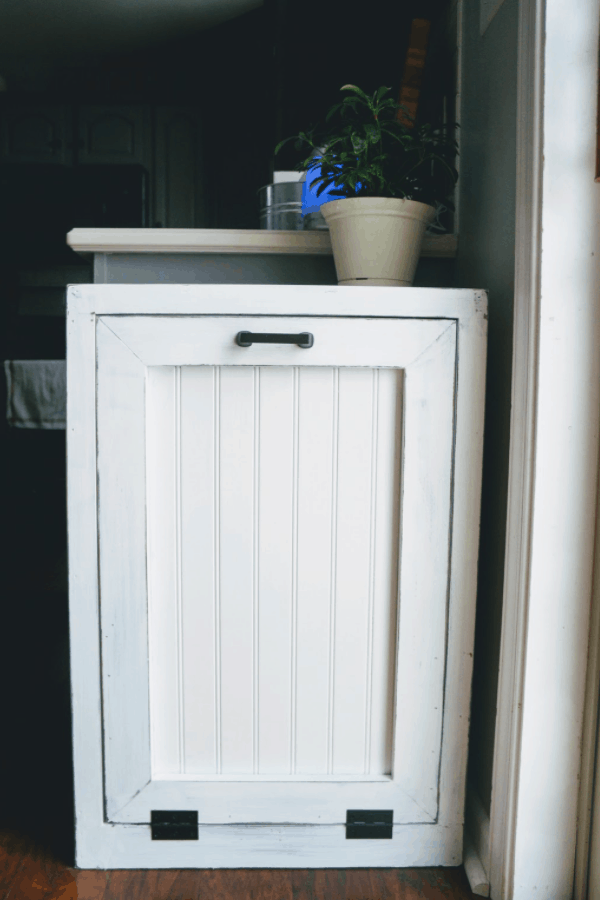 Andiamo knows how to make your own Trashcan Cabinet. With three kids, the family produces a lot of garbage. Andiamo was sick and tired of having to walk to the garbage bin every day. The Trashcan cabinet was the solution they were looking for! In his blog, he shows some nice solutions to this problem! Feel free to check this and other content out!
17. Our DIY Trash Can Cabinet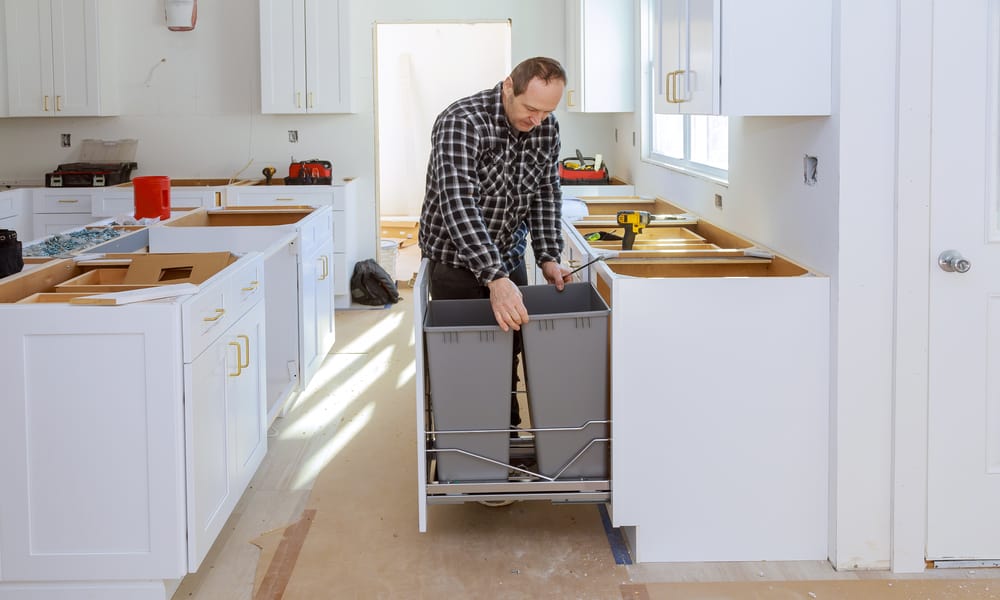 Almost every household has a cabinet that is not used. It is not handy, out of reach, or just not needed. Why not turn this cabinet into a trashcan cabinet? Not only saves it a lot of space in your kitchen, but it also removes your kitchen from nasty smells! In addition, did you know that you could make this all by yourself? With these easy instructions, a DIY Trashcan Cabinet is within reach!
18. Create a DIY Pullout Trash Cabinet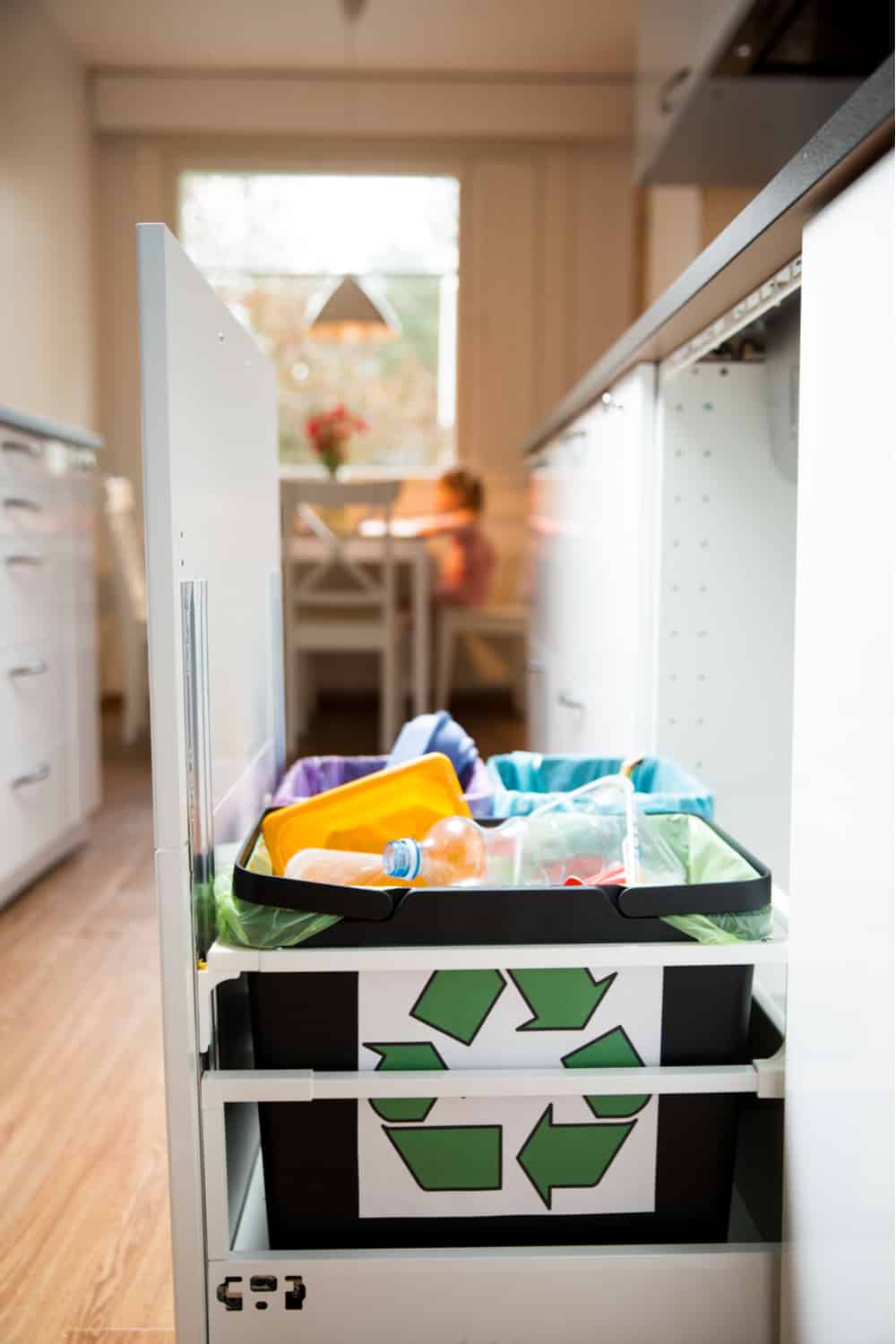 Finally yet importantly is this project from Better Homes & Gardens. In less than three minutes, they show you how you can make your own DIY Trashcan cabinet! This easy video will get you thrilled about making your own trashcan. They even promise that it takes less than two hours to build one!
Summary
So are you ready to take down the monster? Are you saying goodbye to that trashcan in the middle of your kitchen? With these easy to use instructions, you definitely should! In addition, if you still doubt, it will cost you less than a day to make one for yourself!