If you enjoy entertaining – or even just spending time with your family – a bar cart can be an essential addition to your home. However, if you don't want to buy one, they can also be a fun DIY project to tackle – and here are 19 plans for DIY bar carts to help get you started.
1. How to Make a Custom Bar Cart in an Hour, for Less Than a Bar Tab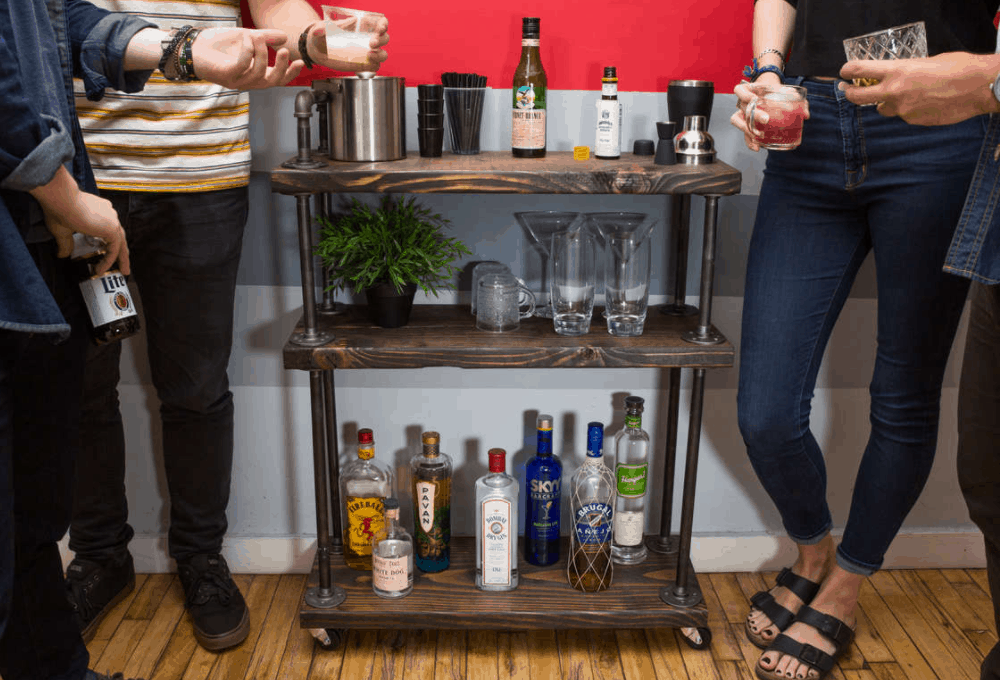 We love the title of this blog entry but we're not sure – perhaps it depends on the size of your bar tab, right? But joking aside, this is a great plan for a practical and cool bar cart that we're sure plenty of people will enjoy making and owning – and of course, using!
2. How to Build A Reclaimed Wood Bar Cart
For us, the essence of DIY is taking old pieces of junk and materials you might have lying around and turning them into something beautiful and new. That's exactly what this plan is all about, so if you want to know how to build an attractive and functional bar cart from nothing but reclaimed wood, this is a video that will show you how to do it.
3. DIY Bar Cart from Shanty 2 Chic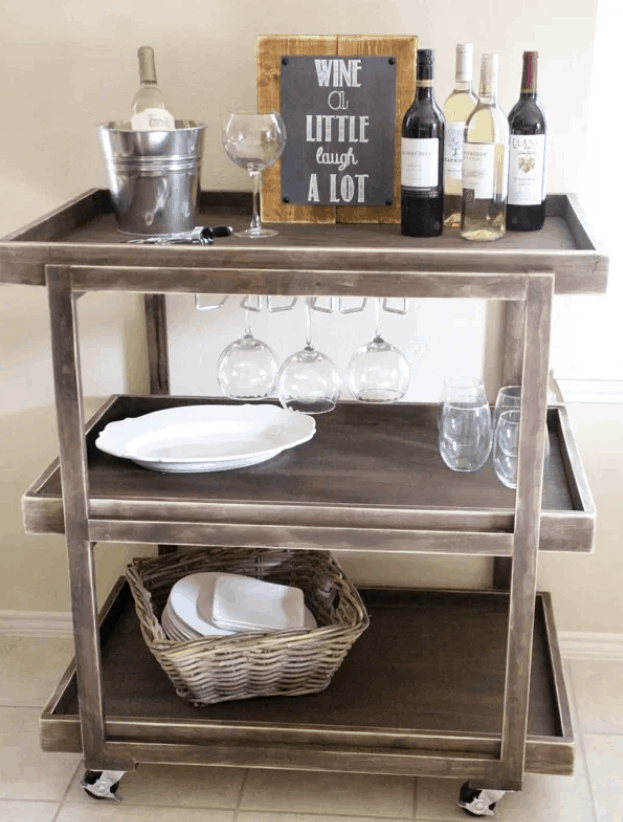 Shanty 2 Chic is one of our favorite DIY resources, and as you can probably guess from the name, they specialize in turning old stuff into beautiful new items that anyone would be proud to have in their home. In this edition, they show us how to build a stylish bar cart from a few bits and pieces they have lying about. We're sure lots of people will be interested in trying something similar – and if you're one of them, check it out for more info.
4. How to Build a Modern Bar Cart
You want to make your DIY project a little more fun? Then you can accept this YouTuber's challenge and take a drink every time she says the word "dowel". It might not help with productivity, but it will certainly make things more interesting – although, on second thoughts, DIY and alcohol probably don't mix, so we think it's a better idea to watch the video and complete the project first and then have a drink afterwards to celebrate.
5. DIY Bar Cart from Handmade Haven
At the top of the page when you open this blog is a photo of a stylish bar car that will look great in any classic-style home. We love the colors and the way the dark wood combines with the white frame. A lovely piece, and if you want one just like it, you'll also find the plans for building one of your own.
6. $10 Blinged-Out DIY Bar Cart
If you don't want to spend loads of money on your bar cart but you want something fancy that people will notice, this is the plan for you. In her video, this YouTuber shows us how she made this totally blinged-out cart for less than $10. It's an easy plan to follow, too, so you'll be able to put one of these together for yourself in no time.
7. DIY Bar Cart from Handmade Weekly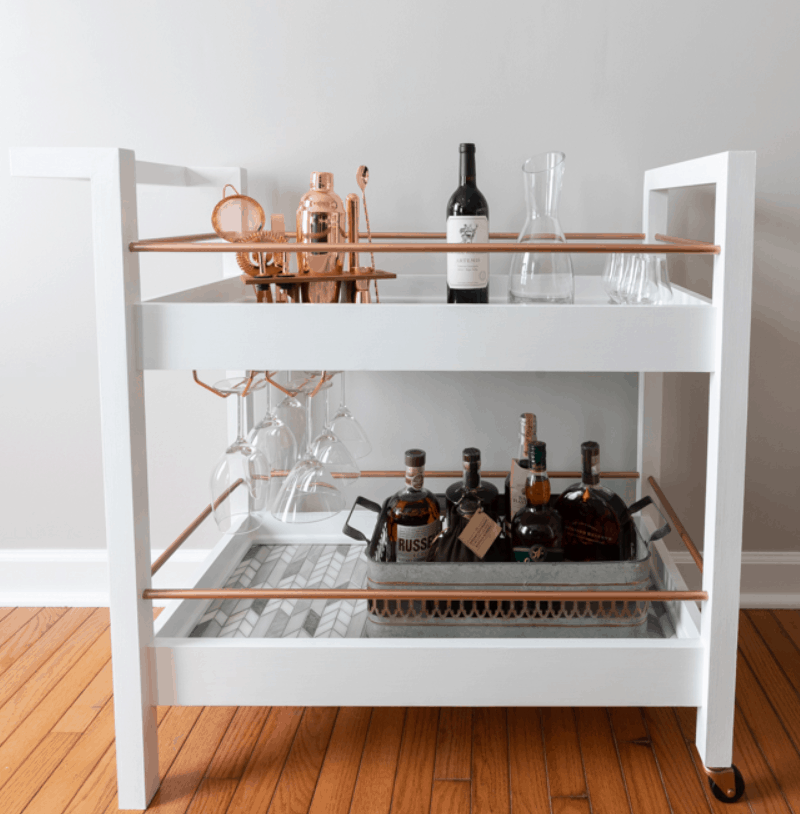 The thing we love most about the bar cart in this plan is that it doesn't look DIY at all – it looks like it came from a store, and it doesn't look cheap either. The plan itself includes a list of materials, all the measurements, diagrams and photos – and in short, everything you'll need to replicate the project at home. So why not get started right away?
8. DIY Bar Cart from The Sorry Girls
In this video tutorial, you can learn how to make a simple but attractive bar cart using only a few simple materials that won't cost too much. It's easy to make, and as you can see, the result is great – so if you want to DIY a bar cart, this is a plan that's worth a watch.
9. Build an Easy DIY Bar Cart for Your Next Holiday Party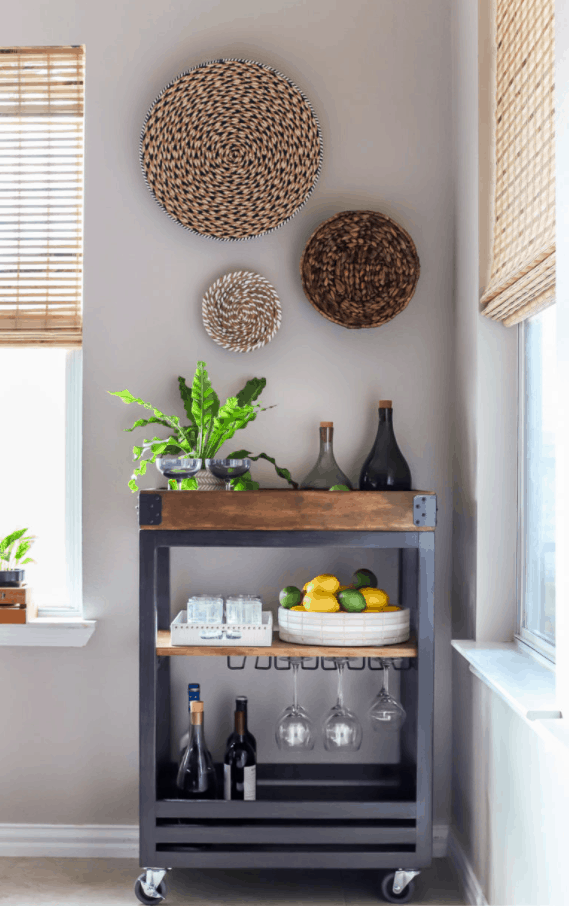 Here's another plan for a DIY cart that looks fantastic. As you can see in the photos, it doesn't look like the kind of thing someone made themselves, and you're sure to wow your friends when you tell them it was your work. A simple plan with clear instructions – and one that most people will be able to attempt, even those with minimal previous DIY experience.
10. DIY Thrifted and Styled Bar Cart
This plan isn't about making the bar cart itself, but rather, it's about how to choose what goes on your bar cart to create the most impressive effect. It gives you details about the types of glasses to use, the bottles to include and so on – so if you want to know how to lay out your bar cart for your party, this is the plan you need.
11. How to Make a Drink Cart with Iron Pipes
We like the look of the bar cart they show us how to make in this video – it has an original style that's quite different from many of the others we've seen, and the materials are also inexpensive and easy to acquire, making this an interesting DIY project to attempt. It's a fun video to watch, too, and you get to see how the cart gradually takes shape. A great tutorial that we enjoyed a lot.
12. How to Build a Bar Cart with Crates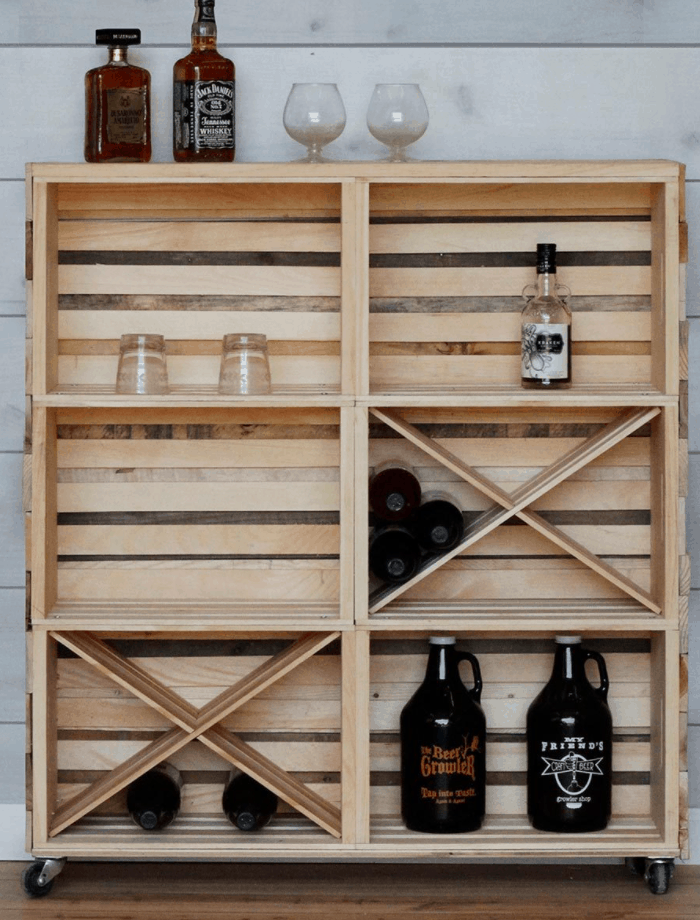 Whatever you want to build, you can be almost sure that there will be a plan somewhere for building it from pallets – and here's your plan for using them to build a bar cart. The reason why pallet wood is such a popular DIY material is that it is so easy to get hold of – either for very little money or even just for free – and it allows you to build a whole range of attractive items. The cart in the photo looks great, too – so if you have a few spare crates lying around, here's an idea for what to do with them.
13. Bar Cart from Make It With Menards
If you're a DIY novice but are interested in taking it up as a hobby, you'll be looking for some simple but rewarding projects to get under your belt before tackling anything more ambitious. In that case, a bar cart is an ideal pick – and here's a plan that will help you get started. It's explained in very simple terms that even beginners will be able to understand, allowing you to create something that you can be proud of.
14. Simple Rolling Bar Cart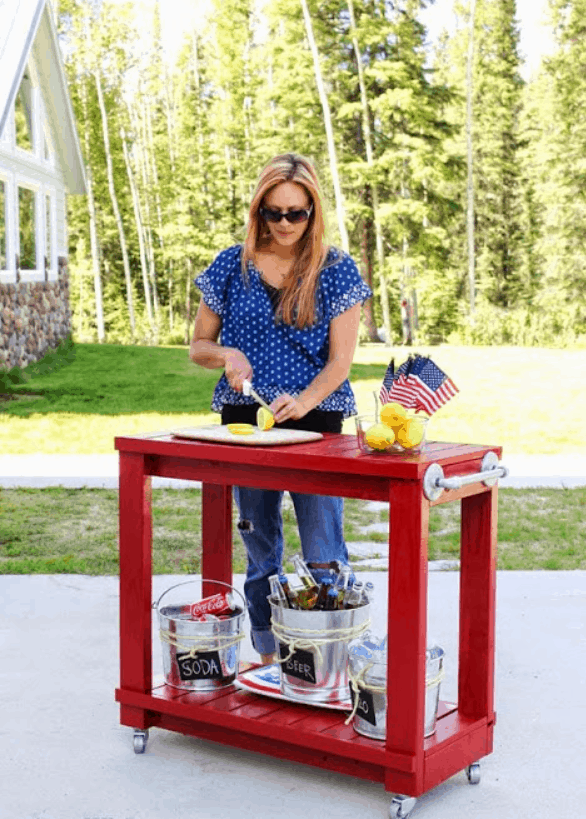 The cart in this plan looks super-cute, and if you want to make something similar, this plan gives you all the info you need to construct one. There's nothing difficult here, so it's another good plan for beginners. We love the red color, but of course, you can paint it how you want, allowing you to add your own personal artistic touch.
15. DIY Bar Cart Ikea Hacks
In recent years, a whole sub-category of DIY seems to have appeared that involves taking old Ikea furniture and giving it a DIY makeover to turn it into something new. We've seen all kinds of takes on the Ikea remake idea, and if you want to create a bar cart from your old Ikea furniture, this is a video you need to see!
16. DIY Zgallerie Inspired Bar Cart
Here's one of the more impressive DIY bar cart plans we've seen. In it, this YouTuber tries to replicate a Zgallerie design she saw, and the result is stunning. There are two things we like about this video. The first is how well her effort turns out, but the second is the way it shows you that, with a little creativity, you can make high-quality replicas of almost anything you see in a store or online – but for much less money.
17. DIY Bar Cart from Little House on the Corner
The cart in this plan is little short of spectacular, and by reading it, you'll get to learn all about how this blogger achieved it. Perhaps our favorite part is where she admits that she was sure that it would all fall apart – she should be more confident because she obviously has plenty of talent.
18. Styling a Bar Cart
Like the video in #10, this tutorial shows you how to choose the items for your bar cart and how to present them rather than showing you how to build the cart itself. However, once you have chosen a plan and built your cart, you'll need to know this too, so we thought this video deserves a place on our list too.
19. DIY Bar Cart Makeover
If you prefer a more minimalist style, this is a plan for you. It's easy to make, won't cost much money and will leave you with a functional yet attractive cart on which to serve your drinks. Another fun plan that warrants a look.
Plenty of options to consider
As you can see, there are many plans for a range of bar carts in a variety of styles. We hope you've enjoyed reading and watching these plans as much as we did finding them for you – and above all, we hope we've helped you find the inspiration for your next DIY project.