If you have something to celebrate, cake is essential – and to decorate the cake properly, you need a cake topper. However, store-bought toppers can be a little dull, so if you want something more personalized, why not have a go at making your own?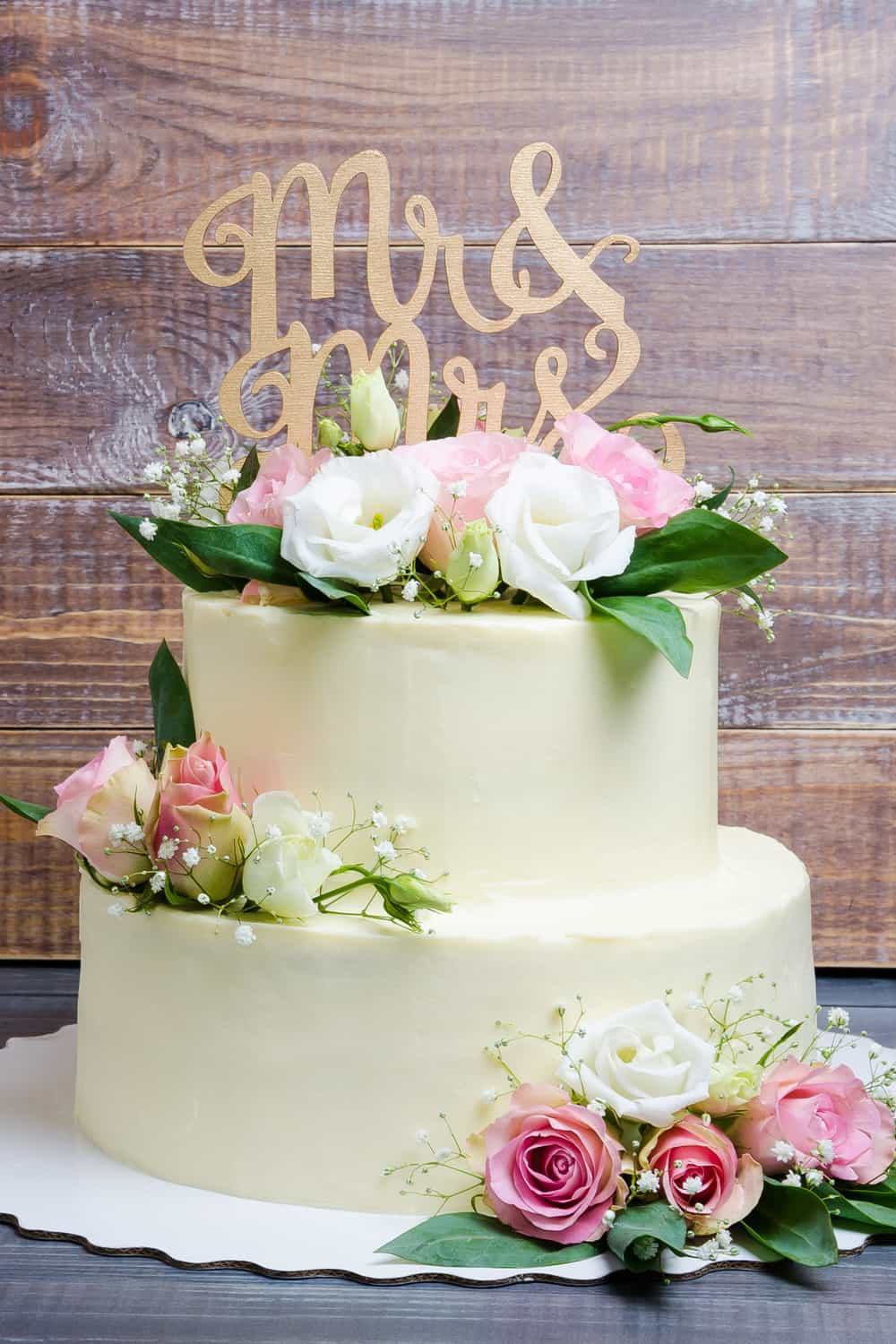 For anyone who's interested in trying, we've had a look online to see what other people have been doing – and as a result, here are our top 17 DIY cake topper plans for you to attempt at home.
1. 3D Baby Shark Cake Topper
To start with, here's a video tutorial that teaches you how to make a super cute 3D baby shark cake topper that younger kids are sure to love. The only material you really need to buy for this is some foam tape of the type this YouTuber uses, and after you have that, the rest is easy. She goes on to demonstrate all the steps you need to follow to recreate something similar at home, and as you can see, the result is fantastic.
2. DIY Cake Topper Using Cricut
If you have a Cricut machine at home, using it to make a cake topper is an obvious project for you to attempt. However, if you don't feel confident just jumping in and having a go yourself, you'll probably appreciate a good plan that can give you some guidance and tips. If that sounds like the kind of thing you're looking for, this one could be just what you need. In it, this YouTuber shares all her experience of how to get the best out of Cricut, giving invaluable advice on the lettering and much more. An excellent tutorial and essential viewing for any Cricut users.
3. DIY Cake Toppers for Birthdays and Weddings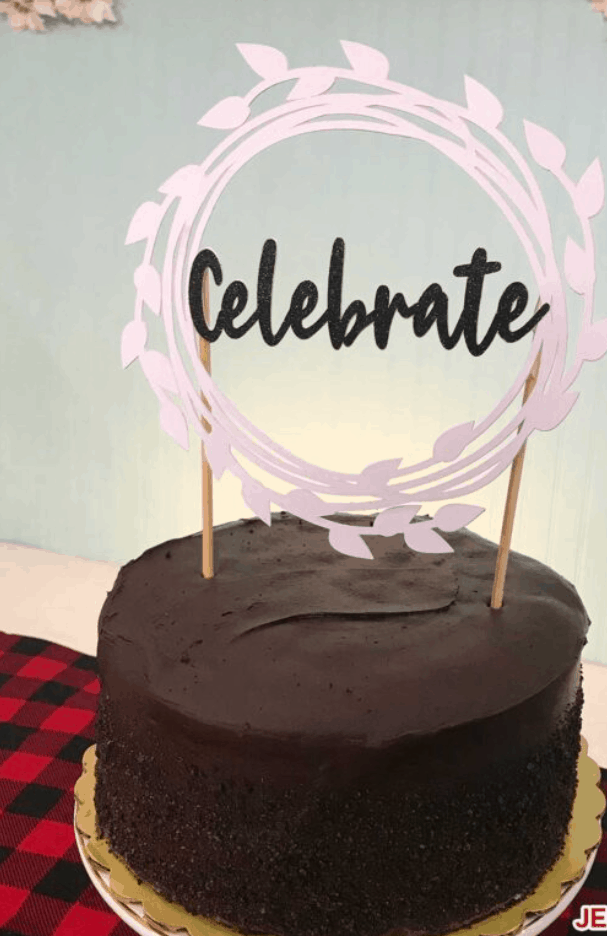 As this blogger tells us, cake toppers bought from stores can be a little boring, so it's much more interesting to make your own personalized versions that will mean something to you and your friends or family. If you want to learn how to do it, this plan is full of all the information you need – and at the same time, it should give you plenty of ideas that will fire your imagination, allowing you to come up with all kinds of creative designs of your own.
4. How to Make a Cake Topper at Home
If you don't have access to a Cricut machine, you might prefer a more lo-tech plan for a cake topper, and in that case, this plan for a simple but beautiful version could be the perfect solution. Using materials no more complicated than card from food packaging and a few other inexpensive supplies from your local craft store, you will be able to create a stunning topper to adorn your cake. This YouTuber is highly talented and her video is well worth checking out.
5. DIY Message Cake Toppers for Every Occasion
Here's another wonderfully simple plan for a cake topper you can try, using nothing more than paper straws, scissors, a glue gun and wood skewers. The instructions are simple and easy to follow, and the blog also includes a few examples to show you the kind of thing you can hope to achieve. A fun plan that will allow you to start creating a whole range of fun cake toppers in no time.
6. DIY Cake Topper
For Cricut owners looking for more tips and ideas about how to make cake toppers, here's another video showing you how to do it. In it, this YouTuber demonstrates the planning process before executing a beautiful message for her cake. The name of her channel is great too – it's called "If You Want It, DIY It" – and if that's something you agree with, why not give it a watch?
7. DIY Rainbow Cake Topper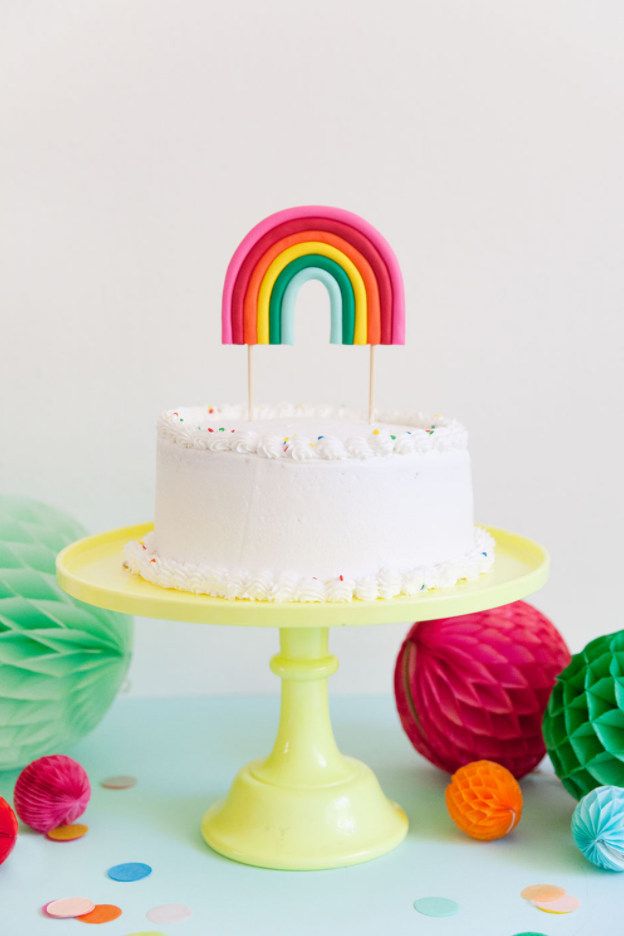 We love this blog because of all the bright colors and the obvious enthusiasm of the writer. The plan shows you how to make a cute rainbow cake topper that looks adorable, and if you want to create something similar, this tutorial will show you how. The main material you need is Sculpey clay, which you can use to form the rainbow itself. You can also use this plan as a guide to making other similar designs, so your imagination is your only limitation!
8. 6 Easy DIY Cake Topper Ideas
If you're looking for some inspiration for making original cake toppers, this video should be of interest since it demonstrates how to make not just one but six different versions. They're all extremely simple and don't require any special equipment or materials – just a few basic bits and pieces you may even already have in your home. They're all adorable and easy to customize, giving you plenty of options for how to decorate the cake for your next party.
9. DIY Party Animal Cake Topper
Here's an innovative plan for a cake topper that essentially consists of a plastic bear dressed for the party in a tutu. That might seem like a slightly bizarre idea, but we think it looks great. The plan is simple, and you can adapt it to your tastes, making it a fun idea for cake decoration that opens up endless possibilities.
10. How to Make Cake Topper Balloon Garland DIY
There are lots of plans for cake toppers out there that recycle the same basic ideas, but this one is a more unique option. In this video tutorial, you learn how to make a garland from mini balloons, something that will make the cake really stand out. The video moves along at a brisk pace, demonstrating clearly what you need to do, and the materials you need aren't expensive either, making this a plan we're sure lots of people will be eager to try out at home.
11. DIY Cake Topper with Cricut
If you're preparing to tie the knot, you'll want to make sure everything is perfect on your big day, right down to the minutest details. One thing that might be on your mind is how to decorate the cake, and if you want a truly personalized one, why not DIY it using a Cricut machine? That way, you will be able to make something that means something special to you – and if you're looking for a plan that will show you how to do it, this could be the one you need.
12. DIY Cake Topper Glitter Sheet Hack
Sometimes, when attempting something like a cake topper, there's no need to reinvent the wheel. It's a simple craft job that doesn't need to be overly complicated, and sometimes the most basic plans can produce the best results. If that's a sentiment you agree with, here's the kind of plan that should appeal to you. In it, you'll learn how to make a DIY cake topper the old-fashioned way using materials like tracing paper, scissors, glue and glitter. However, we're sure you'll agree that the result looks fantastic, which just goes to show you don't always need fancy tools or technology to make something that looks great!
13. DIY Cake Topper from Instructables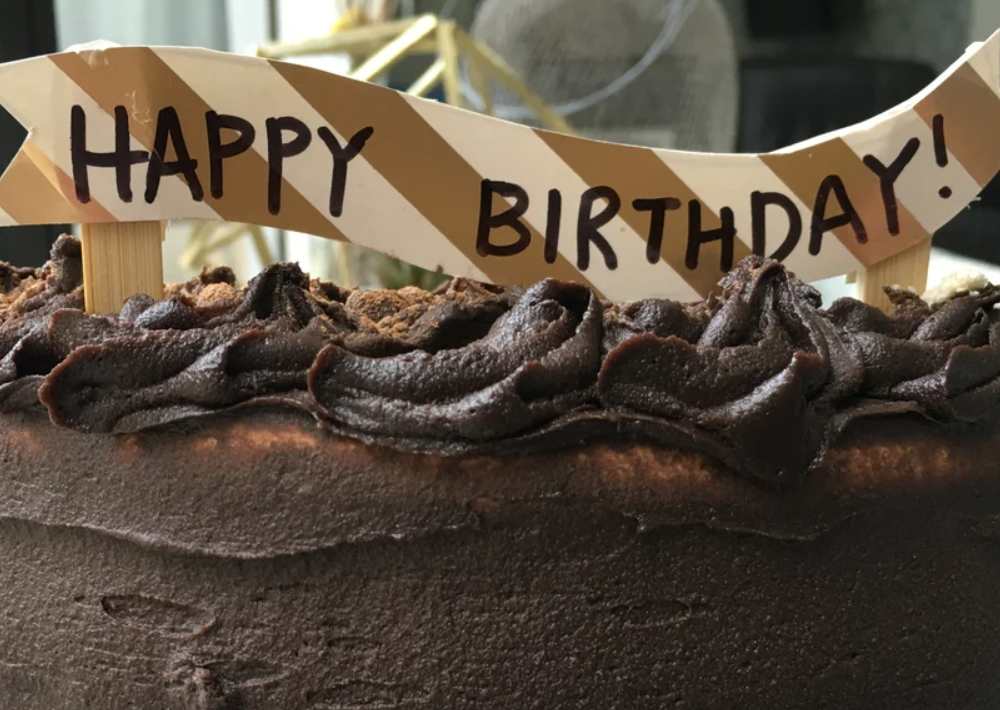 Whenever we need a DIY plan for just about anything, Instructables is always a reliable resource. The site includes hundreds of high-quality tutorials, and this one for cake toppers is another worthy addition to the collection. In it, you'll learn how to make a decoration for your cake using a piece of scrapbook paper, two bamboo sticks, a permanent marker, scissors and a hot glue gun. As always, the plan is easy to follow and there are plenty of photos to show you what you need to do. Another great plan from one of our favorite DIY sites.
14. How to Make a Cake Topper Using Cricut for Beginners
Cricut machines are a great creative outlet for anyone who enjoys making stuff themselves, but when you're first starting out, you'll probably need a bit of help and guidance. If that sounds like you, this plan for a cake topper is a great place to start. It takes you through the basics, explaining how to make everything work – and as you can see, the final product looks highly professional.
15. Sparkly DIY Cake Toppers for Weddings and Birthdays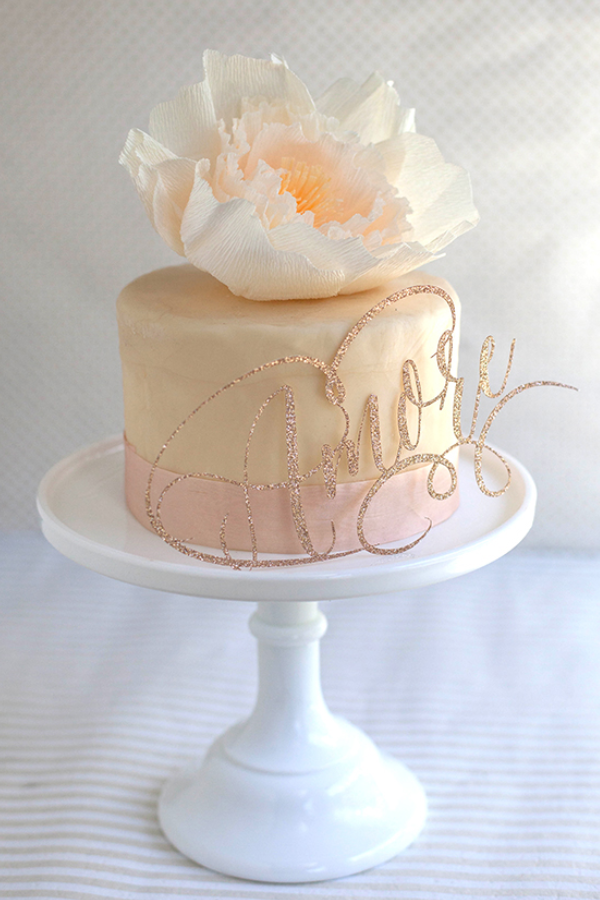 In this plan, you'll find several great ideas for creating sparkly wedding-themed cake toppers that look amazing. Perhaps we would have preferred a few more details on how to make them, but for anyone with basic craft skills, it shouldn't be too hard to recreate these designs, and this blog is well worth a look, even if it's just to give you inspiration for the kind of thing you want to attempt.
16. Happy Birthday Cake Topper
This is a simple plan for making a range of beautiful cake toppers with the aid of computer software. It doesn't have much in the way of explanations, but we don't need it since this YouTuber demonstrates everything he is doing very clearly. It's a fun video to watch, and we love the toppers he creates – and if you want to try doing something similar, it's a highly recommended watch.
17. A DIY Cake Topper Made with Cricut Joy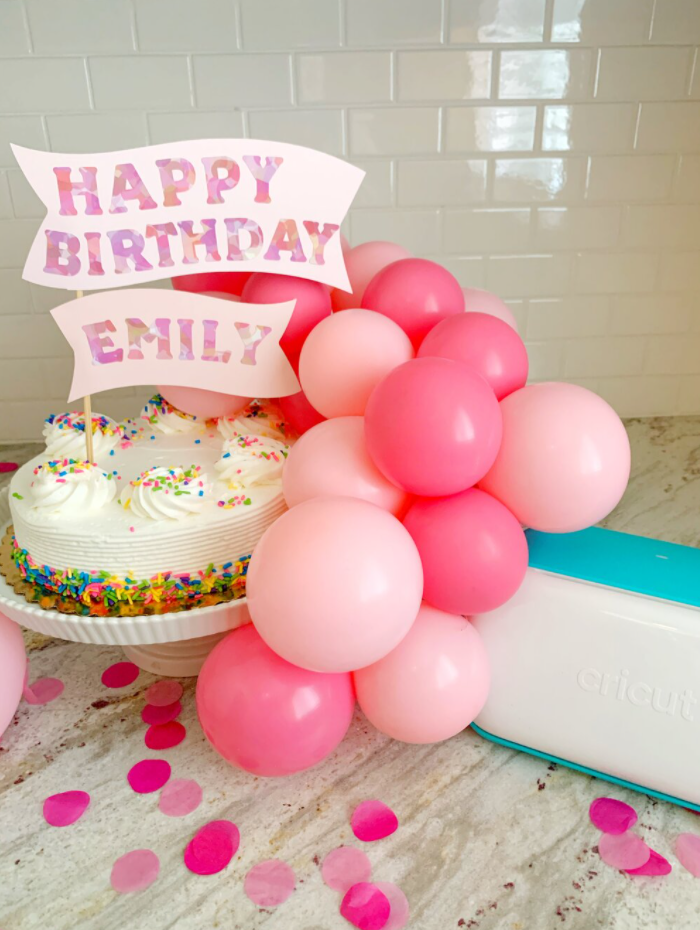 If you own a Cricut Joy machine and want to use it to make a cake topper, this is the plan for you. It's easy to follow and will allow you to produce beautiful cake toppers in minutes. Want to know how? Then check it out!
Loads of great creative ideas
As you can see, when it comes to cake toppers, the possibilities are almost endless. We've enjoyed collecting these plans for you because the creativity and inventiveness on display are so inspiring.
We hope we've helped you get inspired too – and we hope that you now have all the ideas you need for making one of your own.