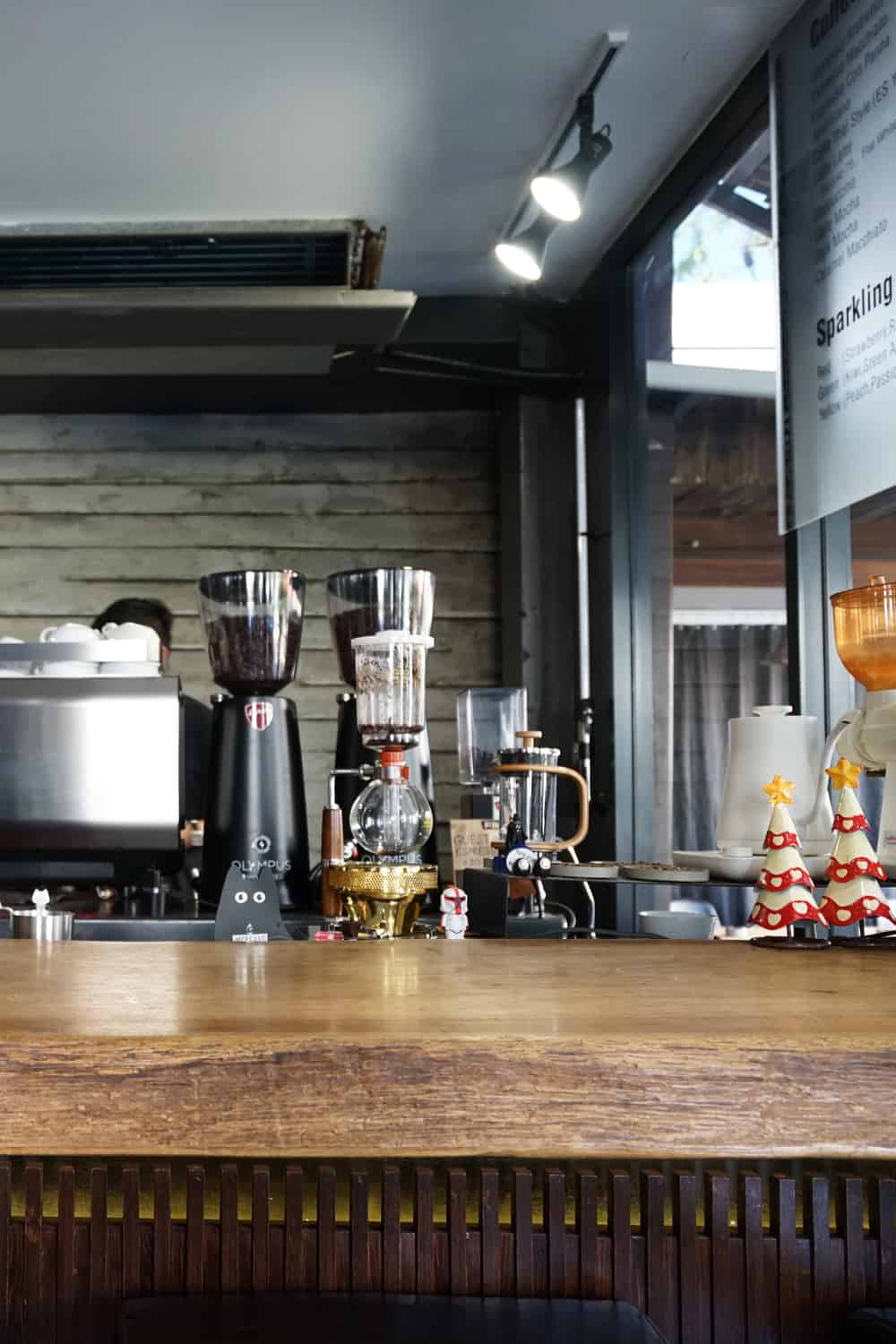 If you want to recreate that cozy coffee shop feel in your home, building a DIY coffee bar is a simple project that anyone can manage. And for anyone who feels like having a go, here are 17 great plans we found that will give you all the information you need to do it.
1. Four Easy Steps to Create Your Own Coffee Bar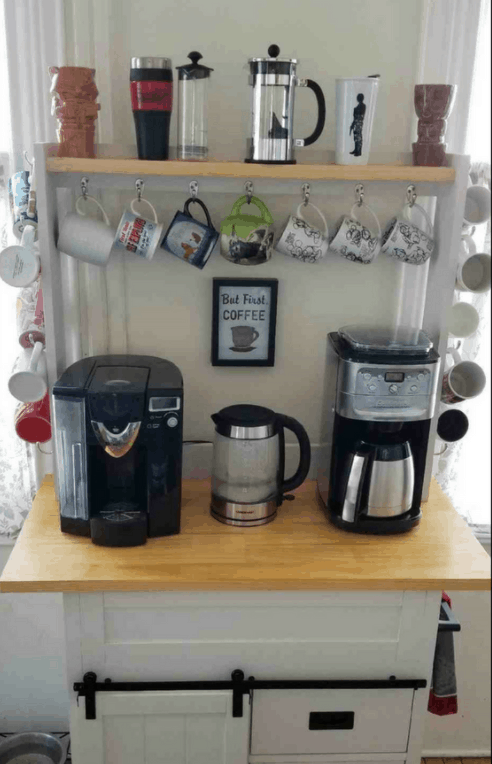 As these bloggers explain, when they began to acquire too much coffee-making equipment, they needed somewhere to store it all – and their solution was to make a simple but attractive DIY coffee bar. This is a great plan because it could hardly be easier to copy, allowing you to build something just like it in your home too.
2. DIY Coffee Bar/Mini Fridge Table
In this video, this YouTuber shows us how he recreated a coffee bar and mini-fridge table from a design he found online. As he explains, this is an easy plan that's suitable for woodworking beginners – but some of his tools are a bit more advanced, and not everyone will have access to them. However, even if you don't have them, there are ways to work around it by using other tools, so this is a plan that just about anyone will be able to recreate at home.
3. DIY Black Pipe Coffee Bar Station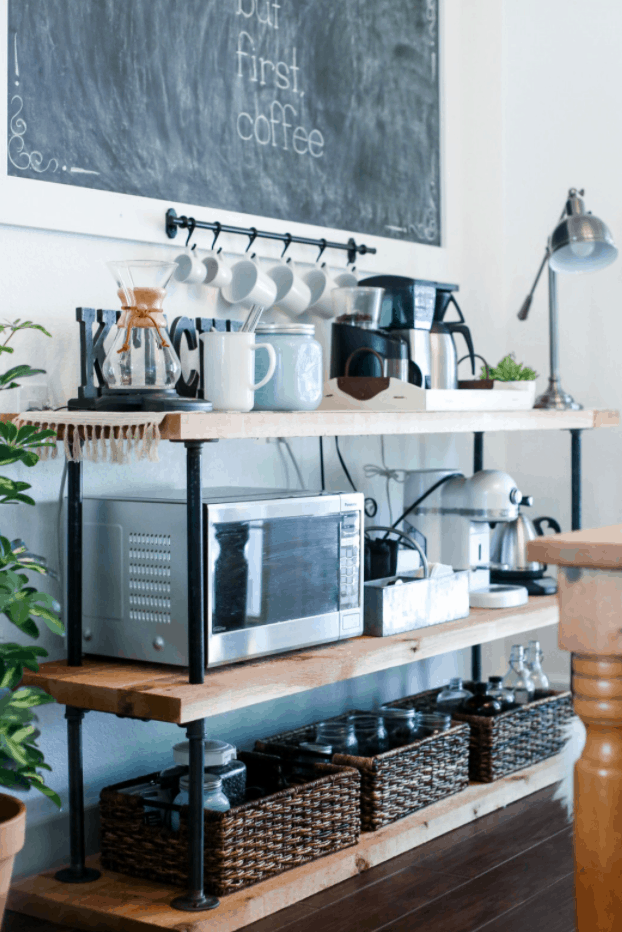 If you're like this blogger and have several coffee makers for brewing different styles and quantities of coffee, a coffee bar is a must. You could go out and buy something from a store, but if you prefer to make one yourself, this plan for a stylish version using black pipe could be worth checking out. We love the classy look – this is a coffee bar that will become a focal point of your interior space – and if you want to make one yourself, this blog has all the info you need.
4. How to Make a Home Coffee Bar
For people who don't enjoy reading long and detailed plans, this video tutorial could be the ideal alternative. Rather than bore you with lots of instructions, this YouTuber shows you how she built her coffee bar, giving you hints, tips and advice as she goes along, making it very easy for you to copy her plan at home. Her coffee bar looks stunning too, and we're lots of people will be keen to try copying her ideas themselves.
5. DIY Coffee Bar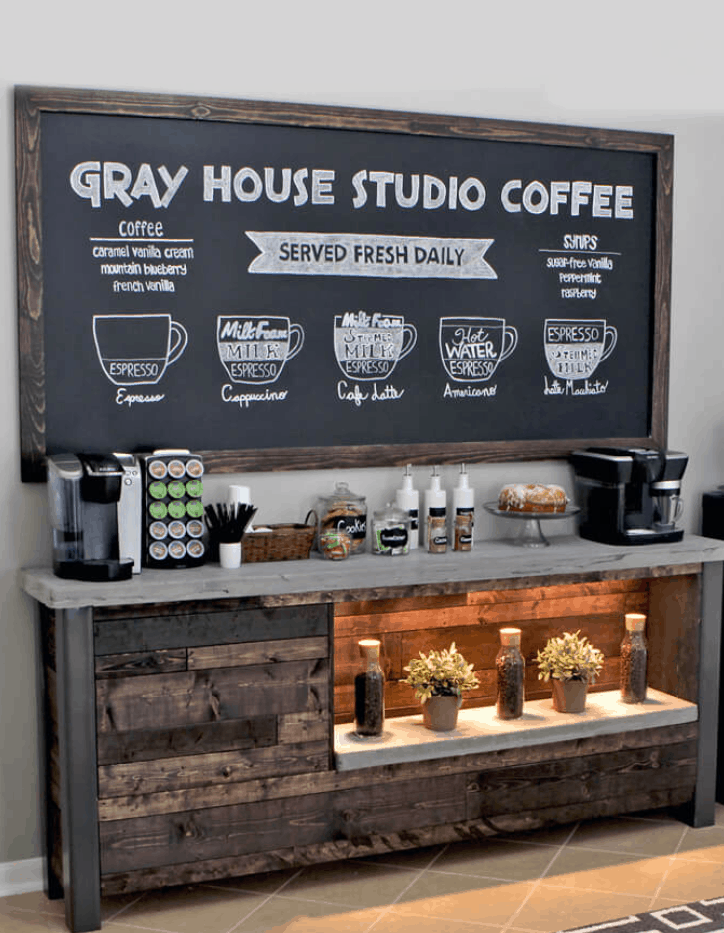 Everybody loves going for a brew at their favorite coffee shop, but the problem is, if you go several times a week, the cost soon adds up. However, if you love that coffee shop vibe but also want to save yourself a bit of money, there is another option – you can replicate the feel of a coffee shop in your home by building a DIY coffee bar. In this plan, these bloggers explain how they did just that by converting an unused breakfast nook, and if you want to try something similar, this blog will give you all the ideas you need.
6. DIY Coffee Station at Home
In this video, these YouTubers teach us how to make a super easy coffee bar that anyone can manage to build and that will even make your coffee taste better (or so they claim!). Each step in the process is clearly demonstrated, making the plan easy to copy. The result looks great too, and if you want something similar, why not give it a go?
7. DIY Coffee Bar – Armoire Makeover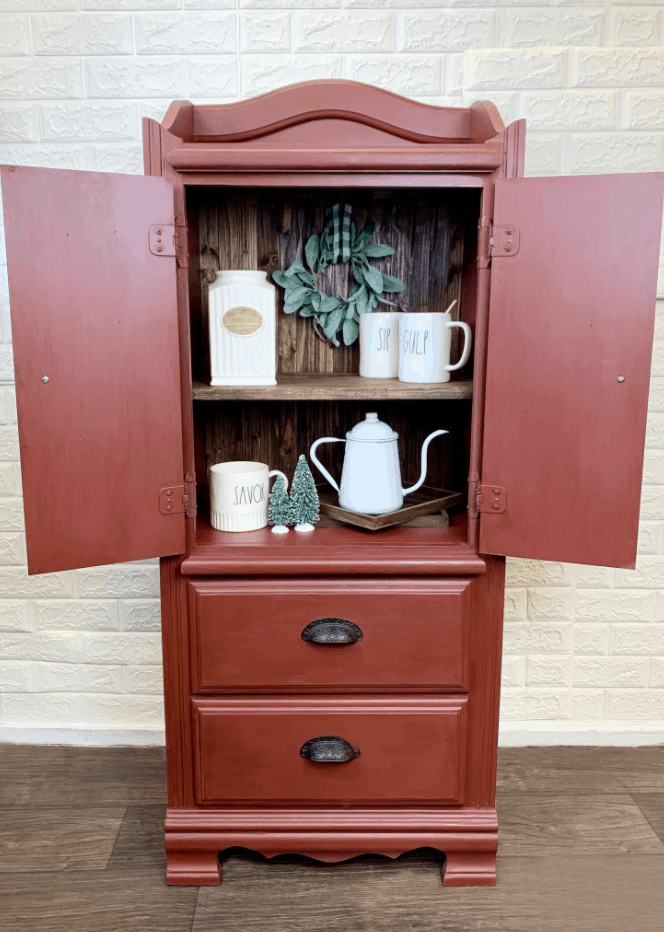 For us, the essence of true DIY is recycling and reusing old furniture and other materials to create something new and attractive from stuff that would otherwise end up being thrown out. That's what this plan is all about since this blogger shows how she saved an old armoire and repurposed it into a cute but functional coffee bar. This is a great idea for anyone to try, even DIY novices, so if you're looking for a project to get stuck into, this could be the one for you.
8. The Ultimate DIY Coffee Bar
When deciding to DIY something like a coffee bar, you don't always need to start from scratch – sometimes it can be easier to buy ready-made items and incorporate them into something more impressive. That's what this YouTuber did, and in her video, she shows us all the different elements of her delightful homemade coffee bar. This is the kind of plan that's simple to copy – as long as you have the time to spend on it – and if that's not a problem, you can easily build something like this too.
9. How to Setup a DIY Coffee Bar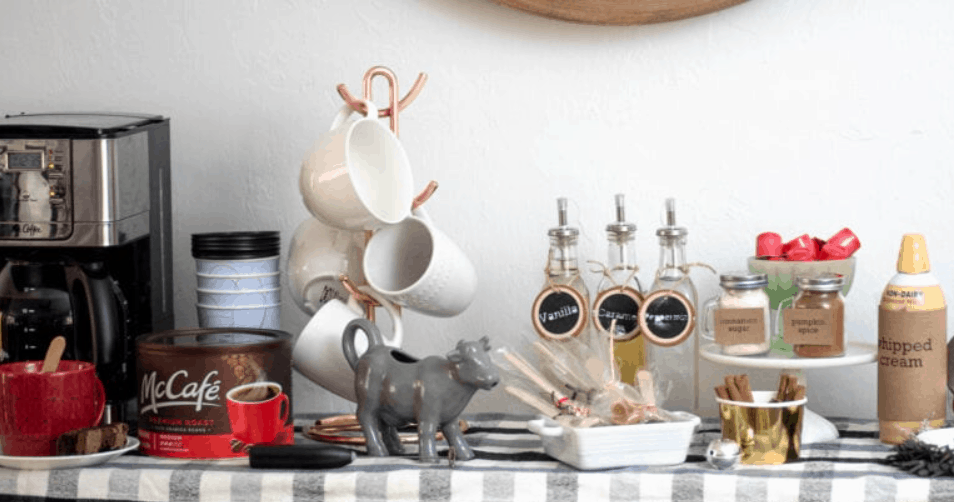 As this blogger writes, setting up an impromptu coffee bar is a great way to show hospitality and wow your guests – and you won't even need to spend lots of money to do it. This coffee bar is more about the presentation, and the coffee bar itself doesn't need to be anything more than a regular table. This is a great idea if you want something you can put together quickly and take down when it's no longer needed, and if that sounds like the kind of thing you want, this blog is recommended reading.
10. Coffee Bar Makeover for Less Than $25
Here's another coffee bar idea for those on a limited budget. It doesn't show you how to make a coffee bar from scratch, but rather, it demonstrates how this YouTuber gave her ugly old coffee bar a makeover without spending more than $25. Unfortunately, we don't really get to see what the old one looked like – but the upgrade looks amazing, and we're sure plenty of DIYers will be itching to have a go themselves when they see it.
11. DIY Coffee Bar Table (With Step-by-Step Plans)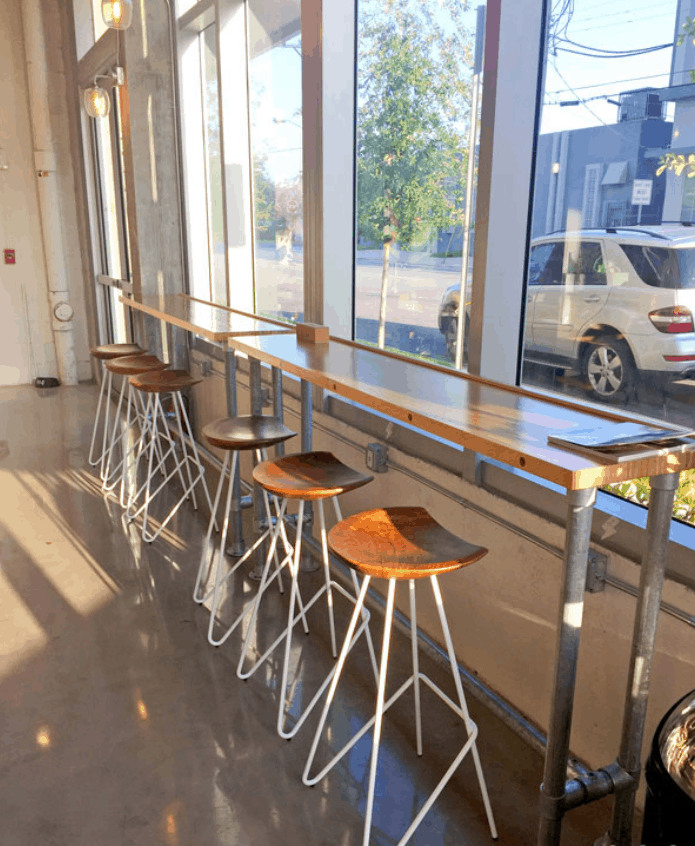 The coffee bar in this plan is a little different from a lot of the others we've seen because it doesn't show you how to make a coffee station for your home. Instead, this plan is for a coffee bar that was destined for a real coffee shop, and the owner shows us how it was done. If you want to recreate that coffee shop feel in your home and you have enough space for something this large, this could be a fun project to undertake.
12. How to Build a Coffee Bar
In this video, we get to watch as this skilled DIYer shows us how to construct a coffee bar. He starts right at the beginning with the planning stage and takes us through preparing the parts and finally constructing the bar itself. Most of the tutorial consists of a time-lapse video, and it's fascinating to watch as the bar takes shape. We love the way it looks when it's finished too, and we're sure anyone else would agree!
13. Coffee Bar DIY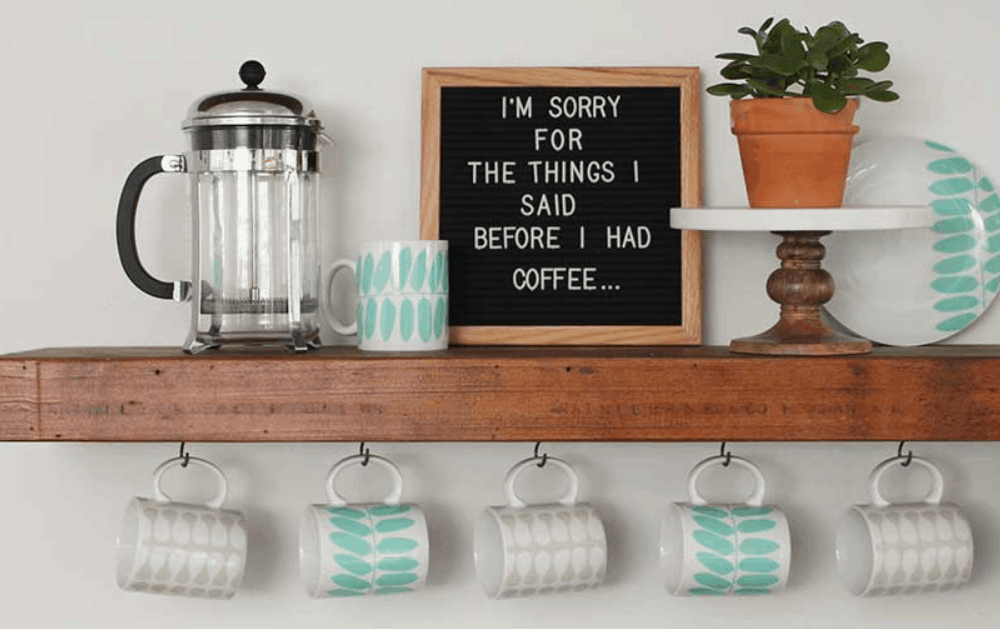 We've seen some plans for elaborate coffee bars that might be a bit beyond DIY beginners to attempt. But as this blog explains, building a coffee bar doesn't need to be a complicated undertaking, and if you want something a little less involved, this is a plan that you'll appreciate. It gives you simple suggestions for how to present and decorate your coffee bar, and you can easily adapt the ideas in this plan to your own needs. Another recommended blog that's well worth a read.
14. How to Build Your Own DIY Coffee Bar
In this coffee bar tutorial from daytime TV show Cityline, you'll learn how to make a simple but attractive coffee bar that shouldn't take more than a weekend to complete. The concept here is more about decorating a table and setting out useful items rather than DIYing anything advanced, so if you're more interested in achieving great results than constructing anything too challenging, this plan could be just the thing.
15. Genius Coffee Bar Ideas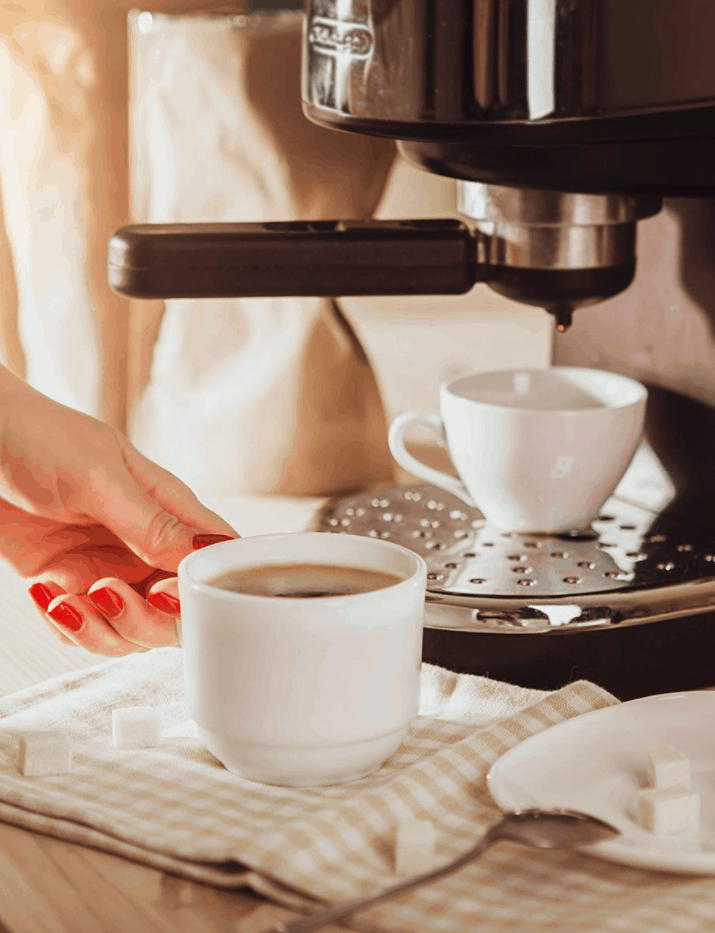 Some people might not need to follow a plan to the letter, and being given a few ideas to fire their imagination is enough. If that sounds more like you, this is a blog that should interest you since it provides plenty of suggestions that will give you the inspiration you need when the time comes to build a coffee bar of your own.
16. Custom Coffee Bar Build
The impressive coffee bar they build in this video is made of pallet wood and steel. It requires some metalwork to complete, so it might be beyond the capabilities of some novice DIYers, but it's fun to watch all the same. And if you have the necessary skills, it could be a rewarding project to try – check it out to see what you think!
17. DIY Coffee Bar Table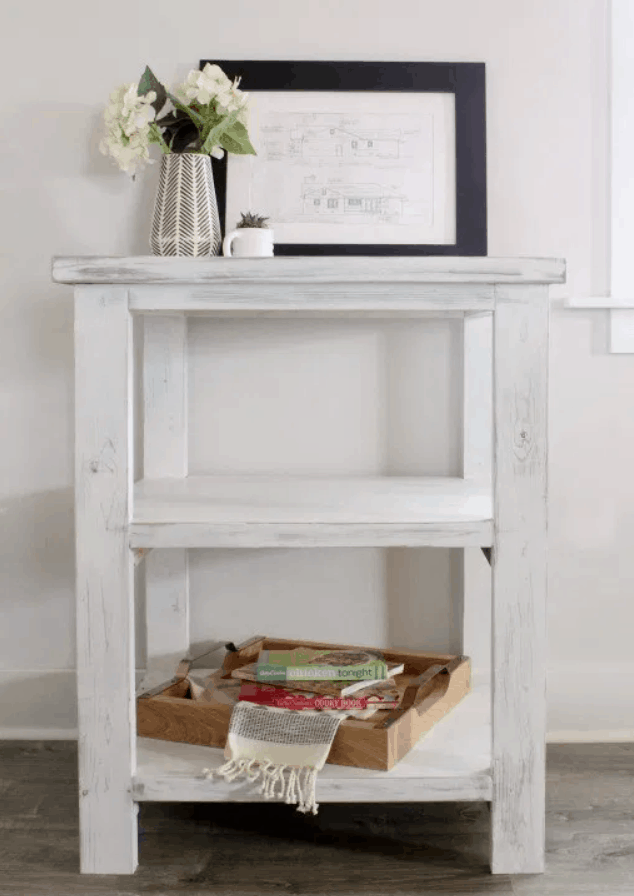 Here's another super simple coffee bar project that anyone will be able to try. You'll find a list of materials, detailed drawings with measurements and a step-by-step guide telling you exactly what you need to do. The farmhouse-style coffee bar it produces is gorgeous, and plenty of people are sure to want to own something similar in their homes too!
Plenty of great ideas to try
As you can see, there are plenty of ideas for you to try at home, from simple and inexpensive options to more elaborate and complicated versions.
We've enjoyed finding these plans for you, so we hope you've enjoyed reading and watching them too – and above all, we hope you've found the inspiration you needed to get started on a DIY coffee bar of your own.