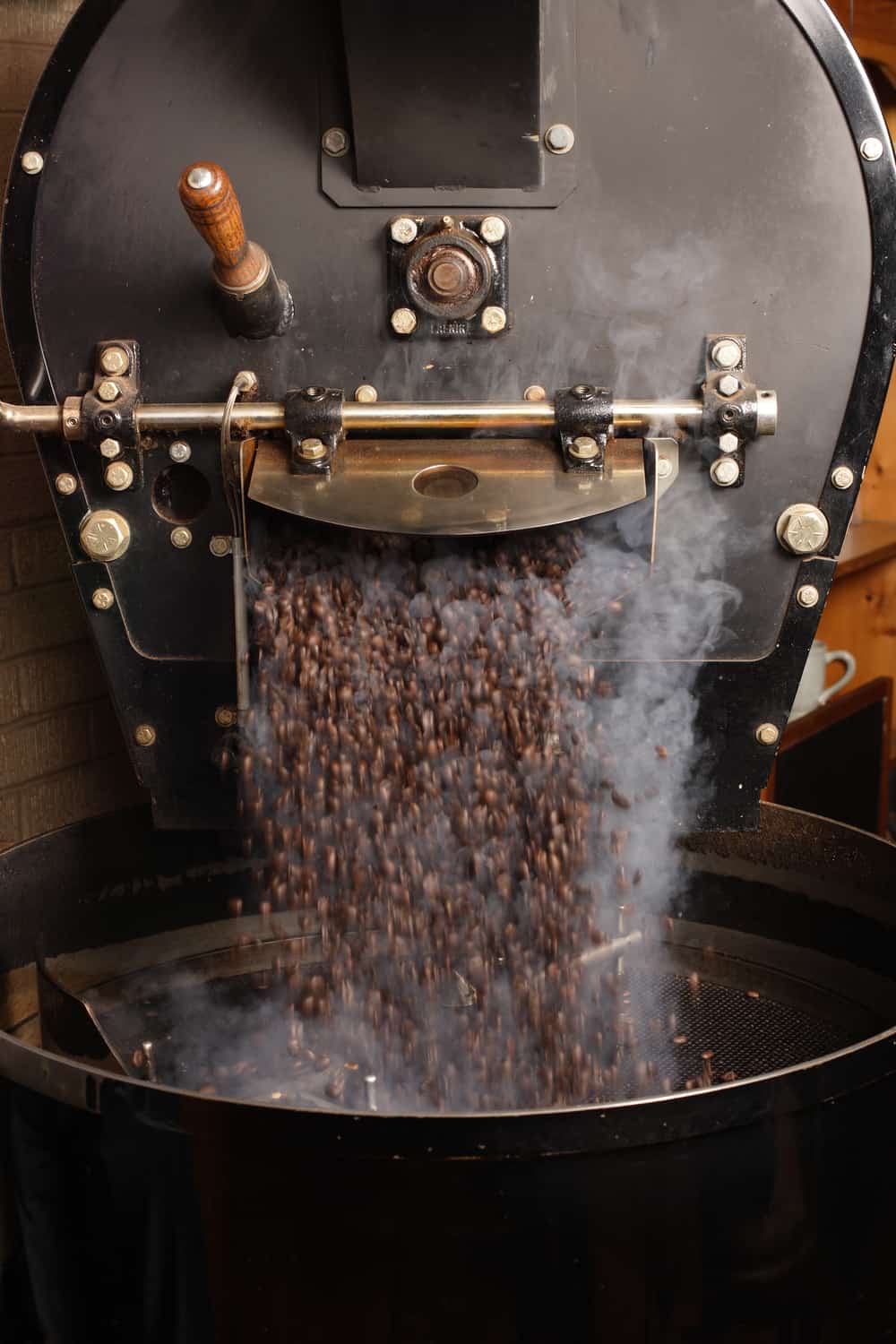 When you develop a passion for coffee, there will probably come a day when you decide you need to roast your own beans. Unfortunately, coffee roasters can be prohibitively expensive, quickly putting many amateurs off the idea.
However, with a few basic skills and a good dose of determination, you can easily rig up your own machine – and for anyone interested in trying, here are 17 great plans we found for how to build a DIY coffee roaster.
1. How to Build a Traditional Drum Coffee Roaster
To begin with, here's a great DIY plan from Instructables. This site is one of our favorite resources for all kinds of DIY tutorials, and this one teaches you how to make a traditional drum coffee roaster that's large enough to roast up to 1.2kg of green beans. It's quite a complicated project, but the tutorial gives you a detailed list of everything you'll need and explains the procedure in a way that's easy to follow. This may seem like an ambitious undertaking, but if you're looking for a challenge, it could be fun to try!
2. DIY Coffee Roaster from a Copper Drum
In this video tutorial, you learn how to make a coffee roaster with a copper drum. With this plan, there are no detailed explanations – what you get instead is a demonstration of everything you need to do to construct the roaster. Some people prefer watching what to do rather than reading complicated instructions, and if that sounds like you, this is a plan that should appeal. The design is relatively simple too, so this is a design that most keen DIYers will be able to replicate at home.
3. Simple Sifter Coffee Roaster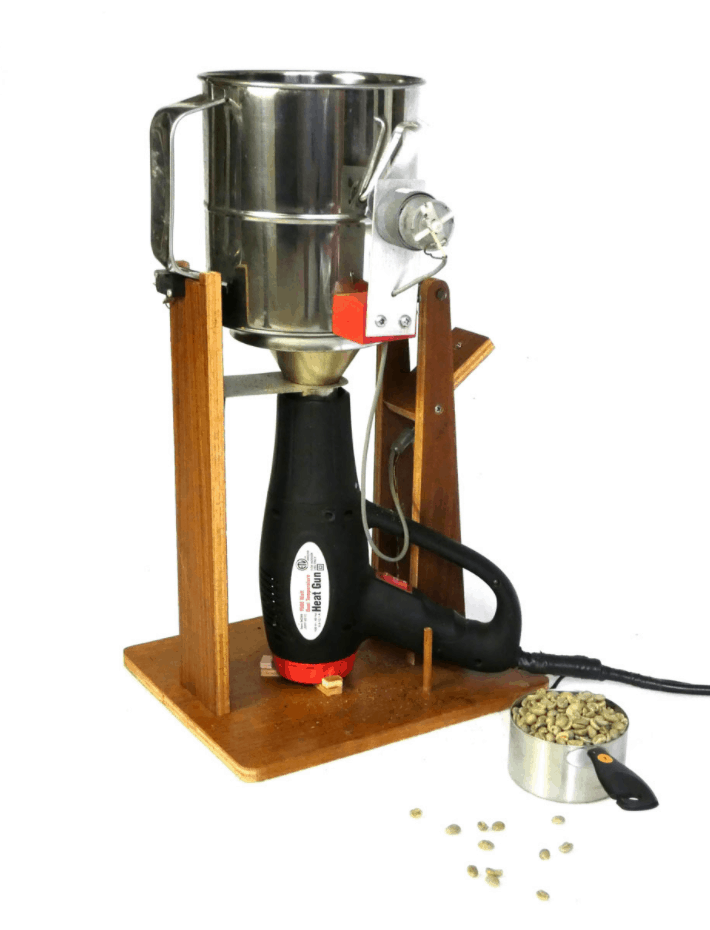 DIY roasters come in all shapes and sizes, and this version is particularly creative. The heat comes from a heat gun that's placed under a modified flour sifter, and one advantage is that this design allows you to see the beans throughout the roasting process. The plan is also incredibly detailed, telling exactly what you need to do to recreate it – so if you want something similar, you should be able to build your own version without too many problems.
4. DIY Coffee Roaster Build
The coffee roaster this DIYer is attempting to build is a large and complicated machine, so if you're looking for a simple solution, it might not be something you can copy. However, it's still fascinating to see what's possible with the right skills and equipment, and if you think you're up to building something similar, why not copy his idea?
5. Want to Build Your Own Small Coffee Roaster? Here's a Rough Blueprint
If you're a DIY novice, you'll probably need a plan that tells you exactly how to build a coffee roaster, giving you detailed information for what to do at each step. However, if you're more experienced, you might just need a few basic ideas – and after that, you'll be able to work out the details for yourself. If that sounds more like you, this blog is just the kind of thing you need. It gives you enough info to get started, and you can then modify the plan to build something that meets your own requirements.
6. Homemade Coffee Roaster Build
Like many coffee lovers, this YouTuber started roasting green beans in a popcorn popper, and then over time, he began to customize his popper for better results. This was a process that took a long time, but if you want a shortcut, his tutorial has all the information you'll need to build the most recent iteration of his roaster without going through the lengthy process of experimentation yourself.
7. Homemade Coffee Roaster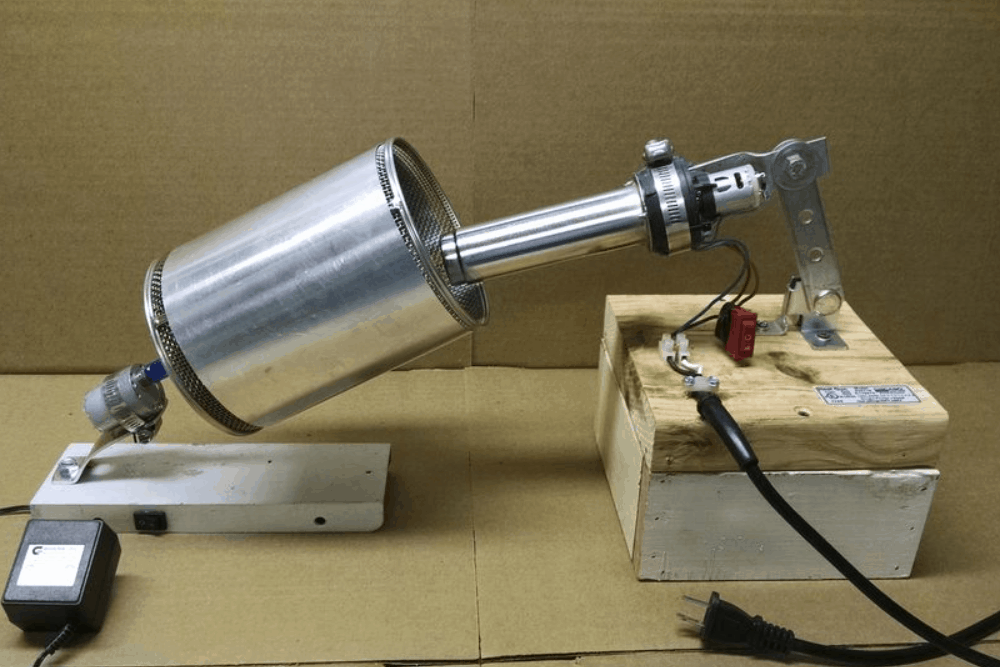 This blog entry demonstrates what happens when an experienced DIYer realizes they need to roast coffee in small batches for optimum flavor. As you can guess, rather than heading out to buy an expensive roaster from a store, he rigged up one of his own. The heat source is a heat gun, and the roaster he made allows him to roast batches of coffee that last him about two weeks, so he always has a constant supply of coffee in optimum condition. Sound interesting? Then check it out to see how he did it!
8. $15 DIY Coffee Roaster in Action
Here's a video tutorial that proves you can start roasting coffee at home without needing to invest a fortune. In the video, this YouTuber shows us how he made a simple but effective roaster that didn't cost him any more than just $15. It's a simple technique, but you can see from the video that it works – and we're willing to bet the coffee he brewed with these beans tasted fantastic too.
9. DIY Coffee Roaster for Under $100
The coffee roaster in this blog cost a little more than the one we just looked at in #8, but at only $100, it's still not a model that will break the bank. It also provides a much more sophisticated way of roasting coffee, so if you're looking for an inexpensive way to get into roasting beans yourself, copying the ideas in this plan could be just the solution you need.
10. Transparent Fluid Bed Coffee Roaster
The roaster demonstrated in this video looks totally pro, and it's definitely one of our favorites. It consists of two canisters, one that holds the beans as they roast and another to collect the chaff as it comes off the beans. We also like the way you can see the beans as they roast, allowing you to judge how dark they are becoming. It looks like a challenging project to replicate, but if you feel like trying, you'll find detailed plans along with the video, so if you want one too, you can have a go at building one yourself.
11. Insanely Simple Homemade Coffee Roaster in Under 30 Minutes
If the roaster in #10 looks too complicated and too much like hard work, this plan could be of more interest. In it, this YouTuber shows us how to build a lo-tech version for next to nothing in only 30 minutes. As he says, if you want something fancy, this might not be for you – but if you want something simple and unpretentious, check it out to see what he came up with!
12. DIY Custom-Built Coffee Roaster
This short video shows you a prototype homemade coffee roaster that's controlled by an app the DIYer developed himself especially for this machine! There aren't many details, so you won't be able to copy it yourself – but it's worth checking out just to see the impressive machine that someone designed and built himself!
13. How to Roast Coffee Beans in a Modified Frying Pan
If we had to award a prize for DIY ingenuity, this effort would win hands-down. In this video, this YouTuber demonstrates a coffee roaster he put together using a frying pan, a bicycle chain and a USB-powered motor. This is DIY at its very best, and it works perfectly too. Great job, we love it so much!
14. 1kg DIY Coffee Roaster
The coffee roaster this YouTuber demonstrates in his video looks amazing. It's the result of his own original design that he has worked on and improved over time, and the result is nothing short of spectacular. You'll need to have a high level of DIY competence to recreate anything anywhere near this professional at home, but check it out anyway to see the kind of thing that's possible if you really know what you're doing.
15. Wobble Disk Coffee Roaster
There are so many ways to build coffee roasters, and with a little lateral thinking, it's possible to come up with all kinds of original designs. The one in this video uses a heat gun, a modified flour sifter and a "wobble disk" mounted on a shaft to stir the beans as they're roasted. Curious to see what that might look like? Then check out the video to find out.
16. 5 Kinds of DIY Coffee Roaster
If you're thinking of building a coffee roaster yourself, you'll want to learn about the different types before deciding which to attempt. In that case, this video is a great resource since it introduces five different models to help you decide which one to go for – so be sure to check it out before you start building.
17. We Tried Roasting Our Own Coffee – Learn from Us!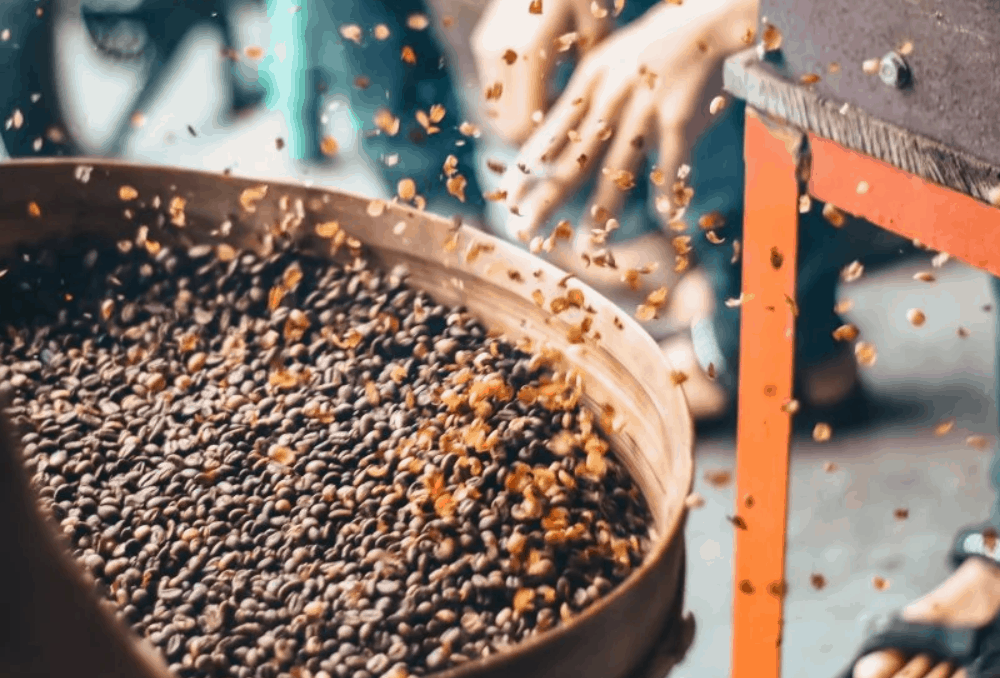 Before you even think about building a roaster, you'll need to learn about the basics of roasting coffee beans – things like why we roast them, how long we roast them, the difference between light and dark roasts and how long they last after roasting. For anyone new to the art and alchemy of roasting coffee, this blog has all the answers you need, and it also gives you some suggestions for inexpensive techniques you can try at home.
Plenty of impressive (and sometimes crazy) ideas to try at home
As you can see, there's no shortage of plans for you to copy, from the cheap and easy to the highly sophisticated.
It's been a lot of fun finding these plans, so we hope you've enjoyed watching and reading them too – and above all, we hope we've helped you find the inspiration you needed for building a DIY coffee roaster of your own.