If you throw a party, one of the most important considerations is serving drinks – so you'll need an attractive way to present them while keeping them nicely chilled.
You can buy an ice bucket from a store, but making one yourself can be a fun project that can also save you a bit of cash – and if you think you might like to have a go, here are 19 plans for a DIY ice bucket that show you how to do it.
1. DIY Ice Bucket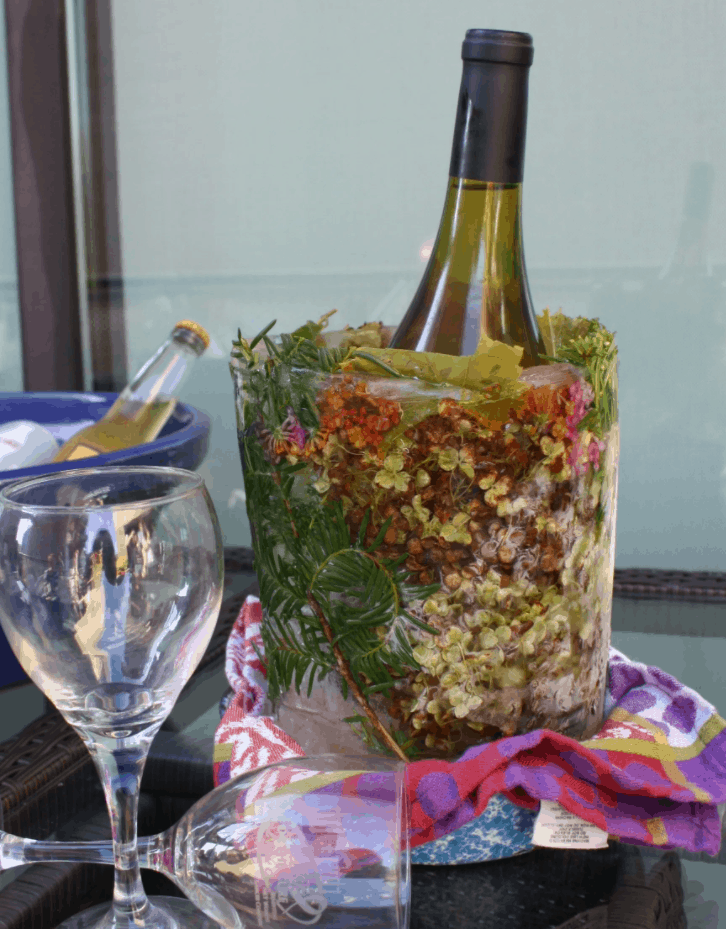 Ice buckets made of ice are an ingenious idea, and even better, you can give them any decorative twist you desire. In this plan, you learn the basics of making an ice bucket – and this blogger's idea of making an ice sculpture that incorporates pretty seasonal fall foliage should give you an idea of the kind of thing that's possible.
2. DIY Frozen Ice Bucket… Add Fruit, Flowers and Leaves
Here's another stunning take on the concept of a frozen ice bucket, this time using leaves and strawberries. Frozen ice buckets like this are so easy to make – as long as you have access to the basic materials – and as this YouTuber mentions, they're extremely versatile because you can decorate them with whatever you want.
3. DIY Confetti Ice Bucket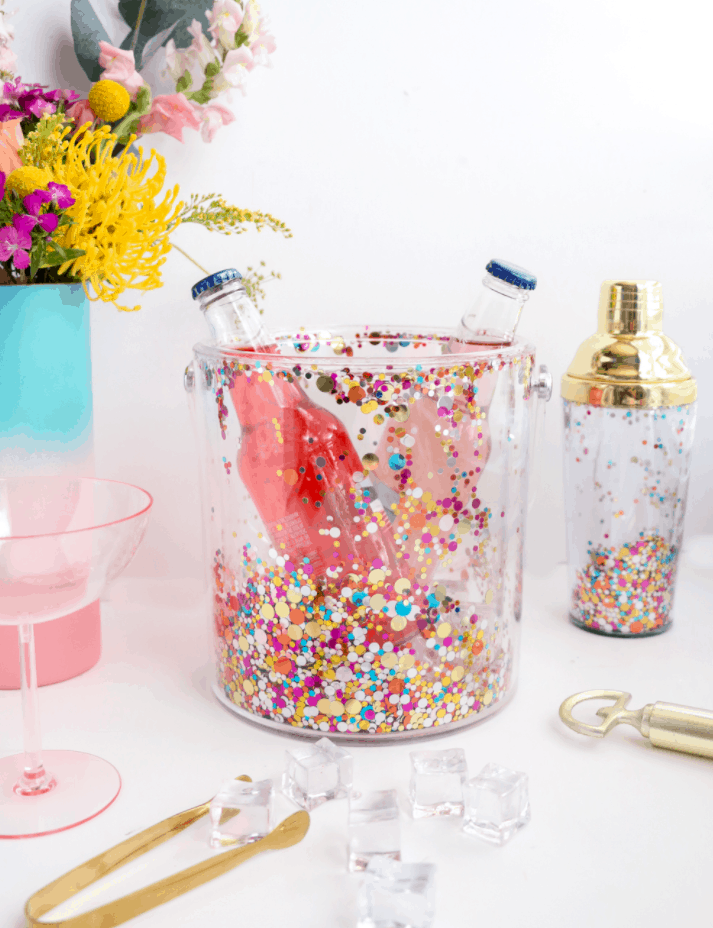 In this blog, we read about a super fun and incredibly easy DIY project to create a homemade ice bucket filled with confetti. We love the way it looks when it's done, and as you can see, this blogger also did something similar with a cocktail shaker, so now she has a matching set. And if you think you might like to copy her idea, check out her plan to see how she did it!
4. Make a Party Ice Bucket – Easy DIY
If you want to know how easy it can be to make a practical yet attractive bucket from ice to display at your party, this video is worth a look. In it, this YouTuber demonstrates the simple technique you should follow to make one of your own, allowing you to keep your wine or champagne cool while also presenting it in a way that's sure to impress your guests.
5. How to Turn Your Ice Bucket into a Stunning Centerpiece this Festive Season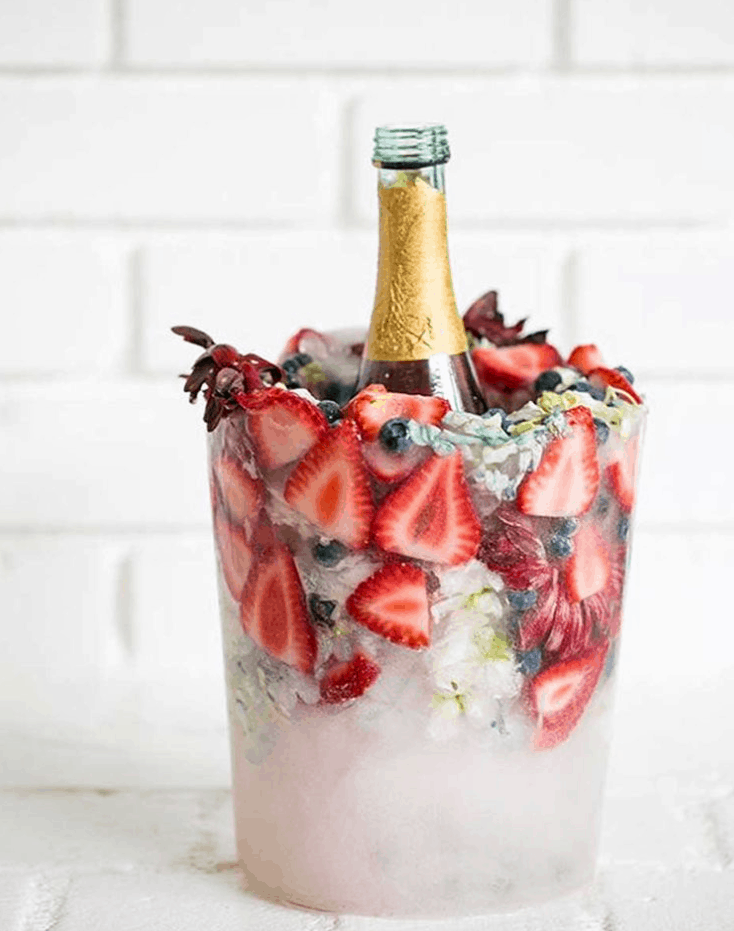 There are plenty of tutorials online that teach you how to make a bucket made of ice to keep your drinks cool, but it's a good idea to check out a few plans to see what creations other people have been coming up with. That's why this blog post is so interesting – because there are plenty of photos of various possibilities, so have a look to see which you prefer!
6. DIY Dollar Tree Glam Ice Bucket
Here's a fun video to watch that might save you a bit of cash. In it, we learn how to make an ostentatious glam ice bucket using nothing but supplies you can pick up for cheap at the Dollar Tree. It's so easy to make and the result looks great, so if this is a style you like, why not see if you can copy the design?
7. Floral Ice Bucket DIY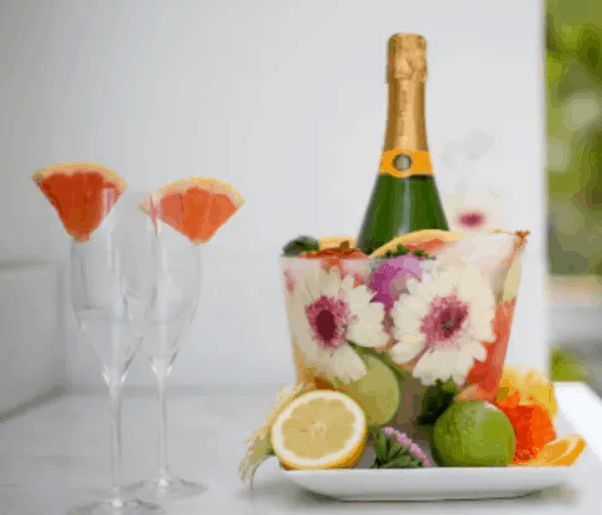 We've already seen a few plans for drinks buckets made from ice, but here's another one that's worth checking out because the photo at the top of the page is one of the most stunning versions we've seen. Creating something like this is easy – the trick is just in what you use to decorate it, and the one you see in this tutorial is sure to give you plenty of ideas.
8. Wayfair $300 Ice Bucket to DIY $20 Glam Ice Bucket
This video is a little strange to watch – but if you get past that, it tells you how to make a glam ice bucket for next to nothing. As the video explains, if you're going to throw a party, you need an ice bucket that fits the occasion, but buying one worthy of your event can cost you upwards of $200. The solution, of course, is to DIY one, and this tutorial explains how it's done.
9. Floral Festive Ice Bucket Made of Ice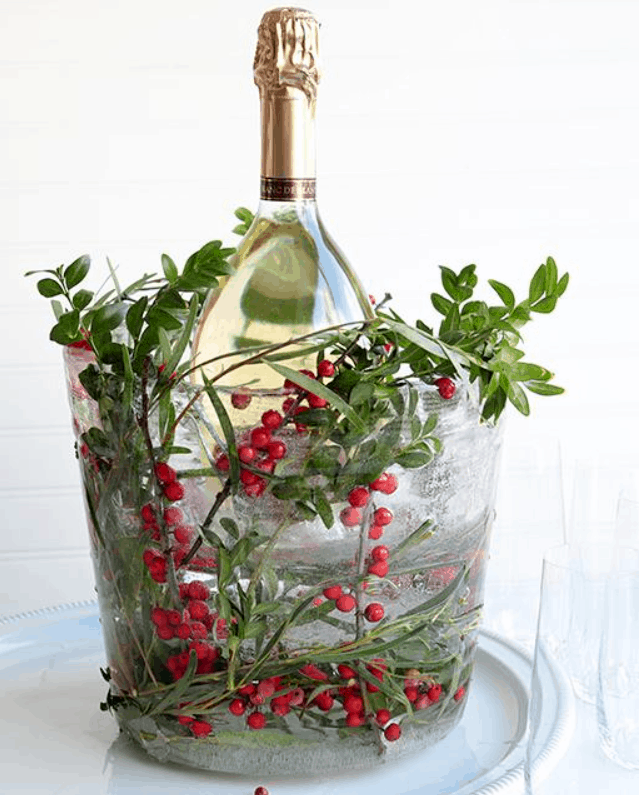 If you're looking for a plan for an ice bucket that will be ideal for the festive season, then this post could be exactly what you'll need. In it, you'll learn how to make one using nothing more than a few leftover clippings to create an ice bucket that's sure to become a conversation piece at your Christmas party. Want to know how? Then check out the post for details.
Click for More Details
10. How to Create an Ice Bucket for Entertaining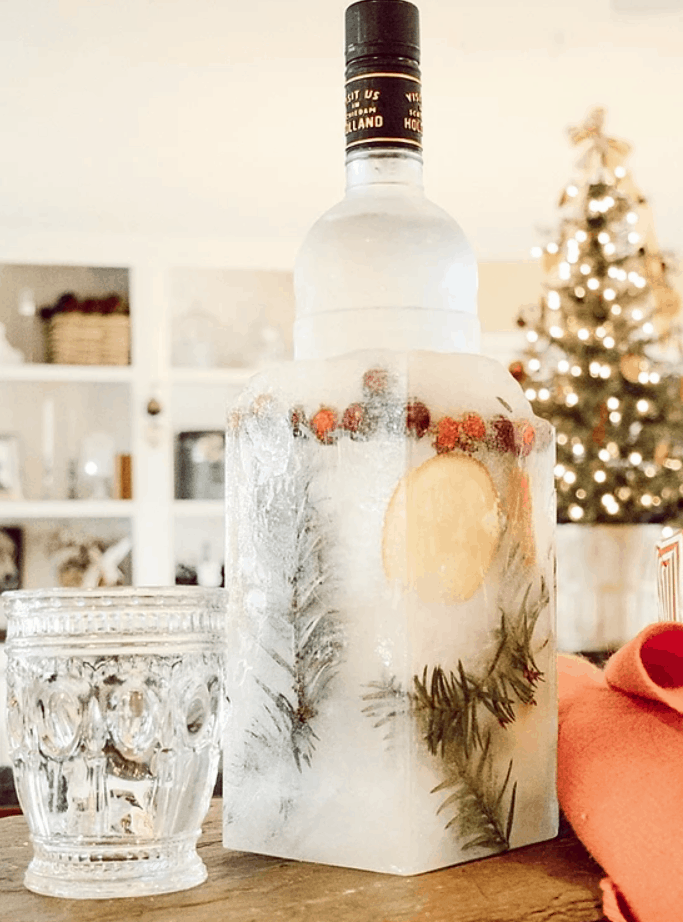 In this blog post, you'll learn about a variation on how to make an bucket from ice, this time by using an empty fruit juice carton. If anything, this version is even easier to copy than those requiring the use of buckets, and we're sure lots of people will enjoy trying!
11. 3 Ways to DIY Your Own Ice Bucket
For anyone who just wants a simple decorative ice bucket to keep drinks chilled, here's a great plan that shows you exactly how to do it without overcomplicating things. It's so easy to do, and we love the cute results too. And if this is a style you like, it will be no problem to make something like it at home.
12. Flower Ice Bucket DIY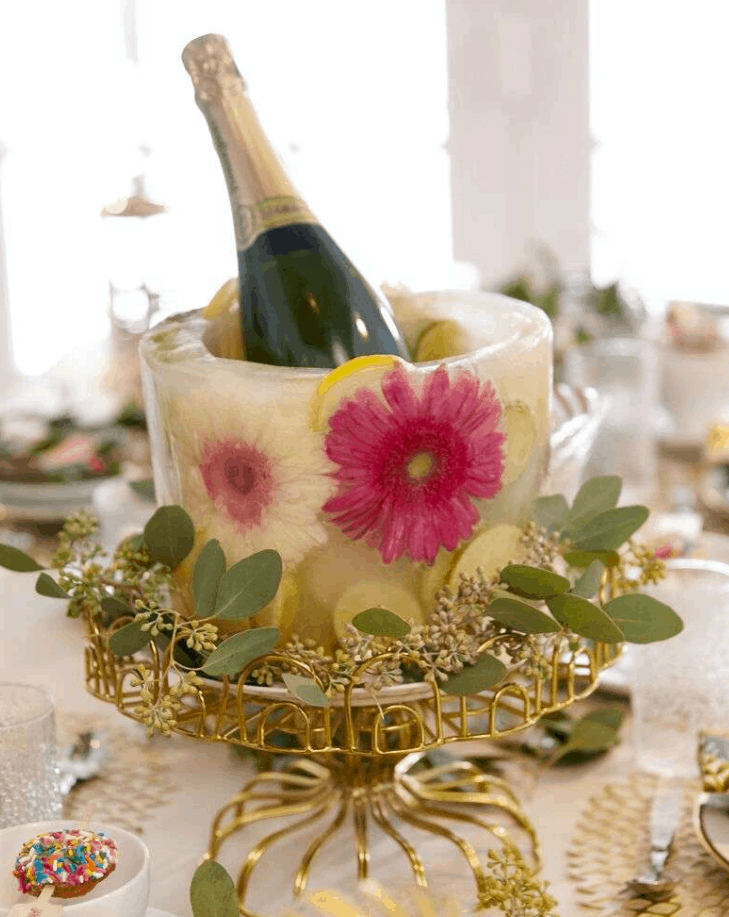 In this tutorial for a drinks bucket made of ice, this blogger uses two buckets and an assortment of fruit and flowers to create a stunning example of this technique. As we've already mentioned, the most important part of making one of these is what you choose to decorate it, and this post shows you how great it can look when done well.
13. Ice Bucket Bling
Here's another great example of the kind of thing you can create with a bit of imagination and some basic supplies that will cost you hardly anything. As you can see, this ice bucket looks fabulous, but since most of the items came from the Dollar Tree, it's also an extremely affordable option that we're sure lots of people will be eager to copy.
14. Charming DIY Wine Chiller Bucket with Flowers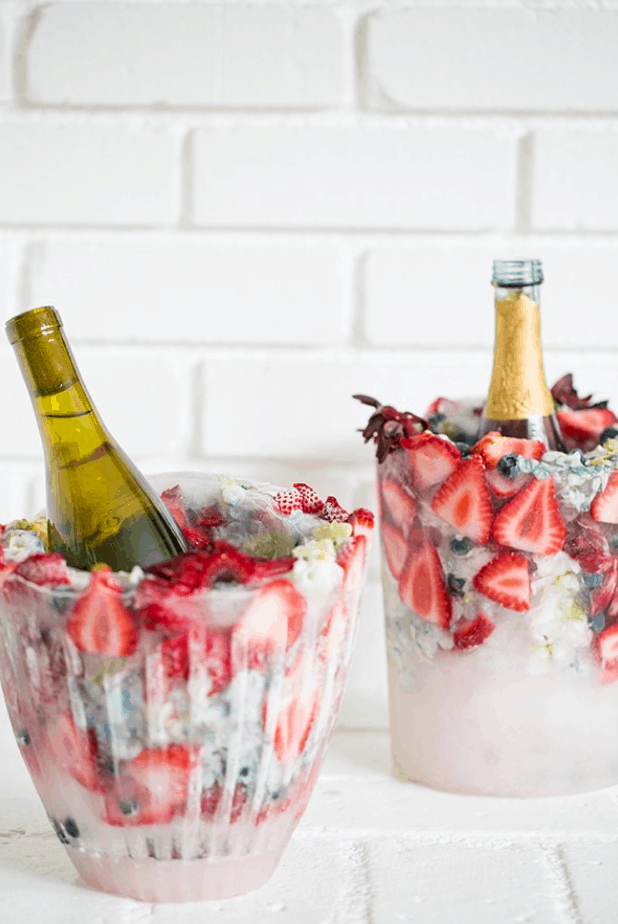 As this blog tells us, drink coolers made of ice can be ideal for any occasion, whether it's a wedding anniversary, Valentine's Day, Christmas – or anything else. And if you're in need of a simple guide to making them as well as suggestions for how to decorate yours, this blog has all the details you're looking for.
15. DIY Glowing LED Ice Bucket
This is an original design we liked a lot – it consists of a regular drink bucket livened up with the addition of a colored LED strip, and the whole thing is inexpensive and easy to make. Keeping drinks cool is no problem, but presenting them like this makes much more of a statement, and if you want to see how this YouTuber did it, give his video a watch!
16. Inexpensive DIY Ice Bucket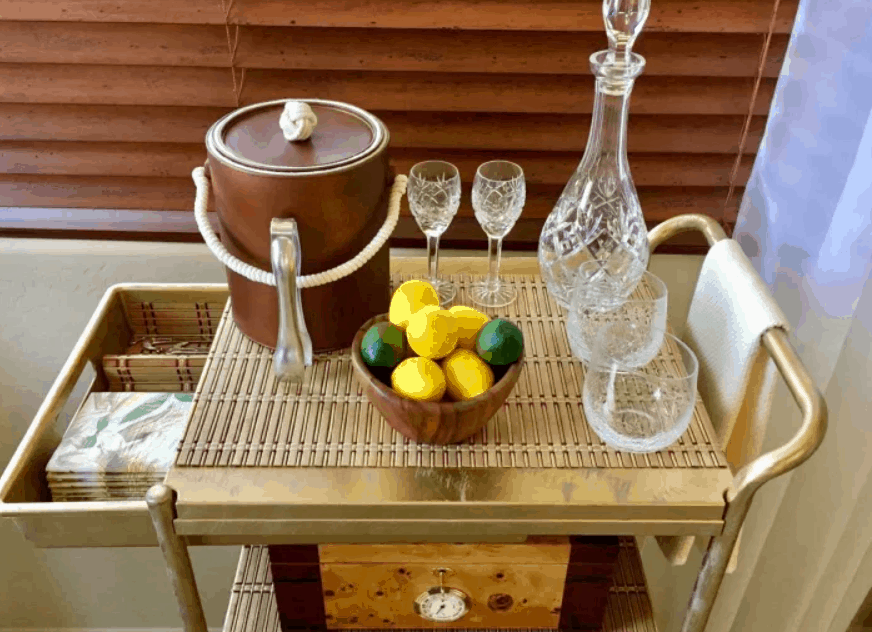 For us, some of the best DIY plans are the ones that take old items most people probably have lying around at home and turn them into something new and useful – and that's what this plan shows you how to do. In it, you'll learn how to make an attractive ice bucket from nothing more than an old paint tin and some rope. Give it a read to find out more!
17. Dollar Tree DIY Chanel Ice Bucket
If you like designer fashion but don't have the budget to buy the real thing, this is a plan that's sure to appeal. In it, this YouTuber shows us how she made a Chanel ice bucket from a few cheap bits and pieces she bought in the Dollar Tree. That way, you can save yourself some cash and spend it on champagne instead.
18. How to Make a Floral Ice Bucket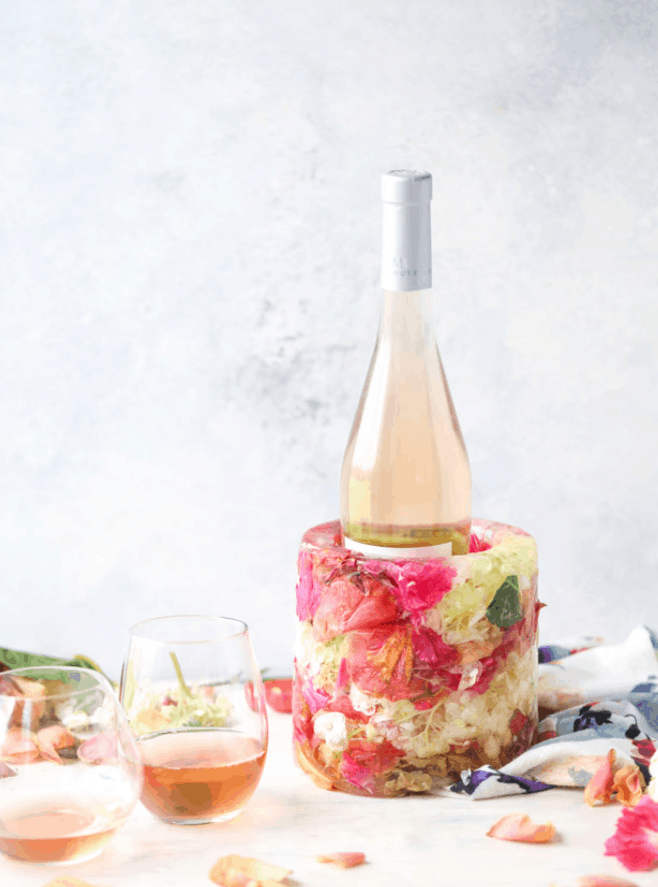 Most of the plans we've seen for buckets made from ice go the 100% DIY route and use a pair of buckets as a mold. However, this blogger found she achieved better results using a specially designed version to create hers, and we have to say, the result is amazing. It's up to you whether you use regular buckets or buy a mold – but perhaps this blog will help you decide.
19. DIY Party Ice Buckets
To finish, here's another method for making ice buckets for your parties, this time using old plastic bottles. As with all our other favorite designs, these ice buckets will keep your drinks perfectly chilled – and will also give you a striking way to present them when you serve them.
Plenty of great ideas to inspire you
As you can see, there are loads of great ideas that should help you get inspired, whether you want to make an ice bucket made of ice or a more traditional version.
We've enjoyed collecting these plans for you, so we hope you've enjoyed reading and watching them too – and above all, we hope we've helped you find the ideas you needed for making a DIY ice bucket of your own.