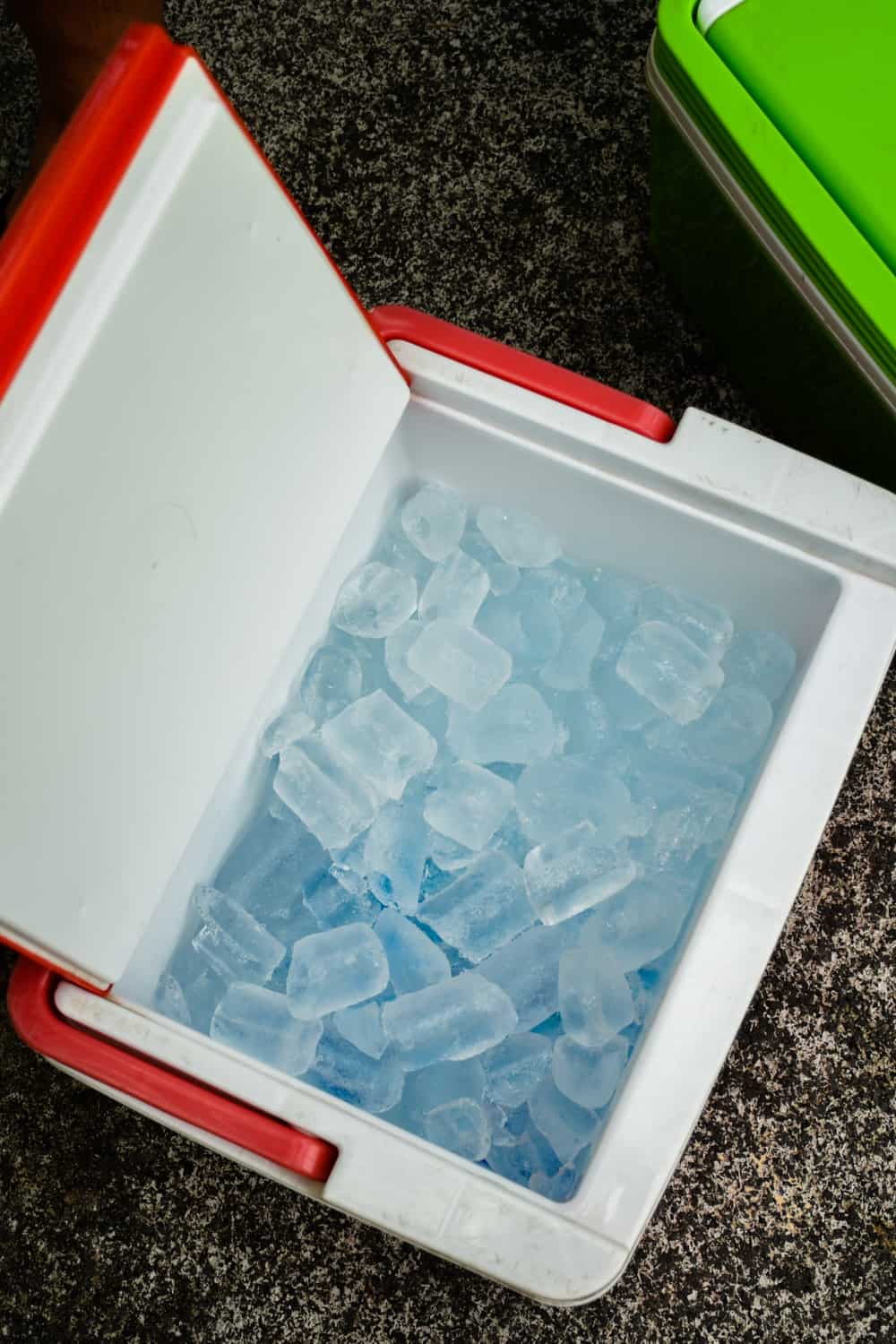 When the summer arrives, you'll need somewhere to keep your drinks cold, but top-end coolers can be expensive.
The obvious solution, however, is to make one yourself, and if you want to have a go, here are 19 plans for a DIY ice chest you can make at home.
1. How to Build a Patio Cooler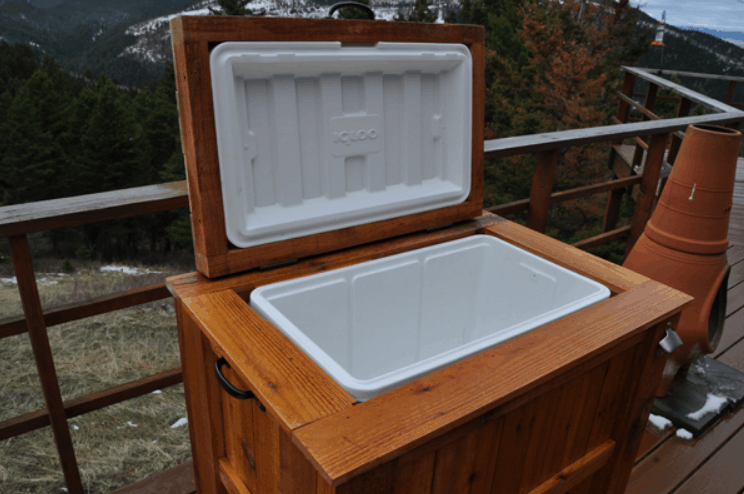 In this plan from DIY Pete, we learn how to make an attractive wood cooler that will look great on any patio. It's an ideal place to store drinks or food whenever you are having a party with family or friends, and with the detailed instructions in this blog, it's an easy design to copy too.
2. $70 DIY Yeti Style "Super Cooler"
As this YouTuber tells us at the start of his video, Yeti coolers start at $500 for a small one and can reach $1000 or more for a large one. For sure, they can keep stuff chilled inside for days, but if you don't need anything that extreme, you can DIY something that will still do a respectable job – and here we learn how to make one for just $70, allowing you to make big savings.
3. How to Build a Cedar Ice Chest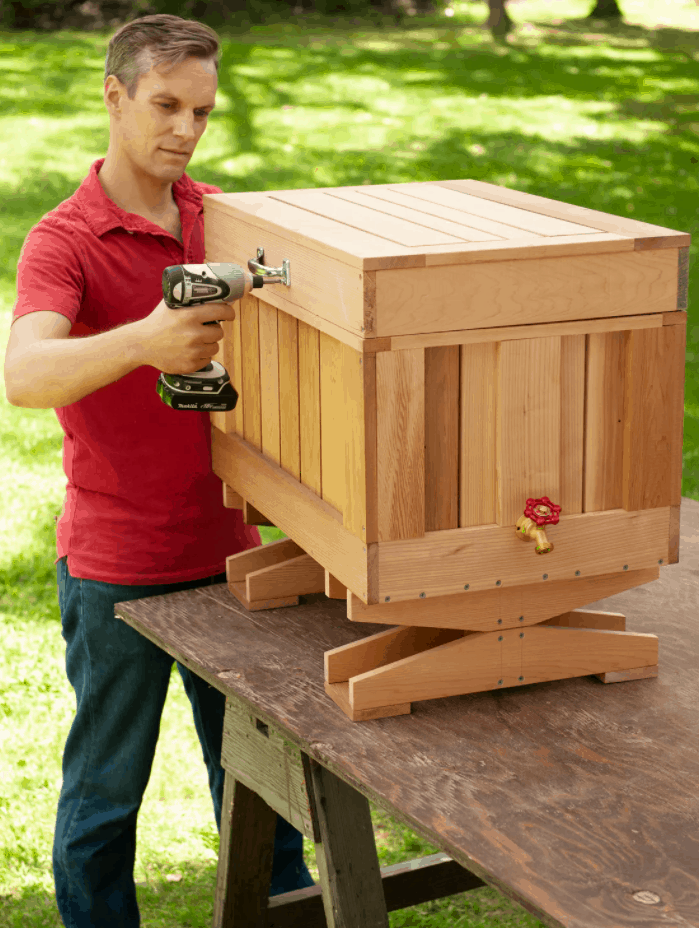 It's easy enough to buy a cooler for your outdoor parties, and some of them are quite reasonably priced – but let's face it, most of them look like large ugly lumps of plastic that nobody wants to see. However, with some basic DIY skills, it's not hard to make a more appealing version, and in this plan, you'll learn how to make an attractive ice chest from cedar.
4. $10 Home Built Super Cooler
If you want an ice chest to keep your stuff cool but you don't want to spend more than necessary on it, this is a plan for you. In it, this resourceful YouTuber shows us how he made a "super cooler" using just an old tub he already had plus an insulation sheet he picked up for $10. We love the design, and it's simple to copy – so check it out if you think you might like to try!
5. Portable Deck Cooler Bar and Stand
In this plan, we see how these YouTubers built an amazing cooler bar and stand for their ice chest, giving them somewhere attractive as well as practical and convenient to store their drinks. The cooler itself was bought from a store, and the rest was then built around it – we think this is a fantastic piece of DIY, and we're sure lots of others will agree.
6. Outdoor Ice Chest
We always love watching time-lapse videos like this because it's fascinating to see how the project takes shape. There isn't much in the way of detailed instructions here, but you probably won't need them because everything is demonstrated clearly enough for most people to copy. So if you want something similar, why not give it a go?
7. DIY Outdoor Patio Cooler Ice Chest Made Using Basic Tools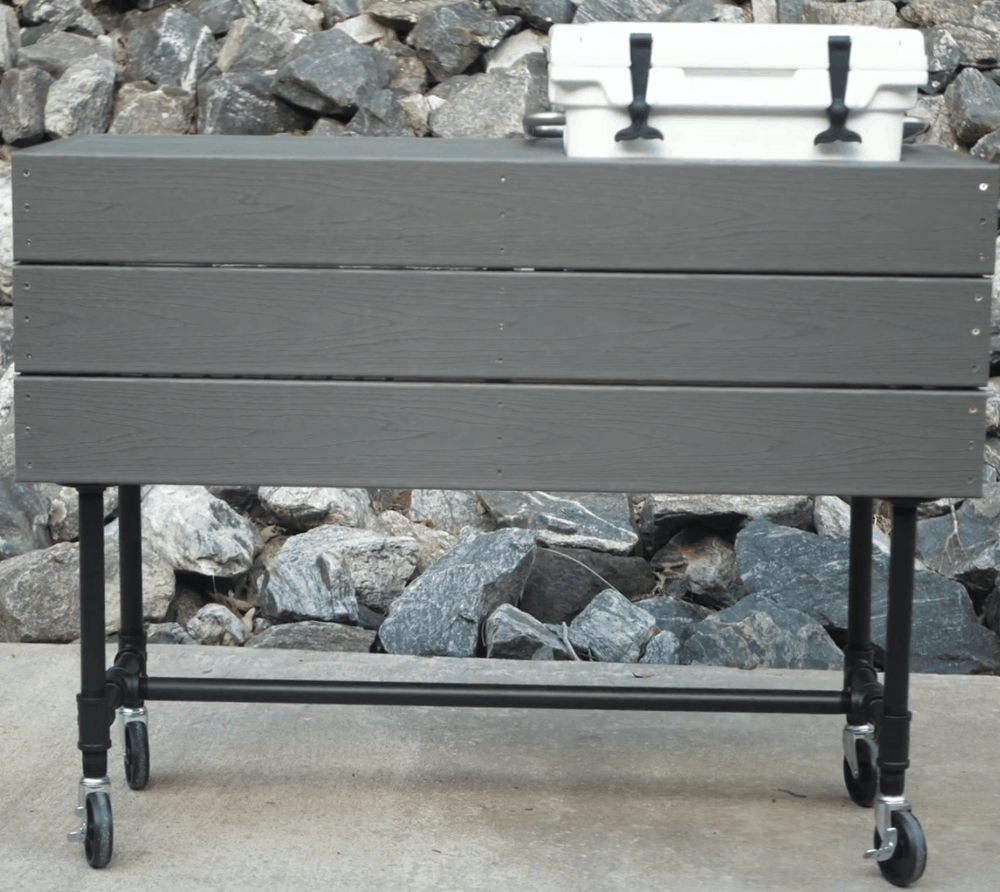 Sometimes when you look online to find plans, many of them require the use of advanced tools that most amateur DIYers just don't have access to. However, this plan teaches you how to make an ice chest using just a few basic tools that most casual woodworkers will already own, making this a project that just about anyone can attempt.
8. DIY Yeti Cooler
Most people know how much you need to pay to get your hands on a genuine Yeti cooler, and coolers from most of the company's direct competitors don't cost a whole lot less. However, for high-end performance, you don't need to spend anything near that much money since you can achieve similar results by simply modifying a basic cooler from a thrift shop. Want to know how to do it? Then check out this video for the secrets!
9. How to Make a Colorful Hanging Ice Chest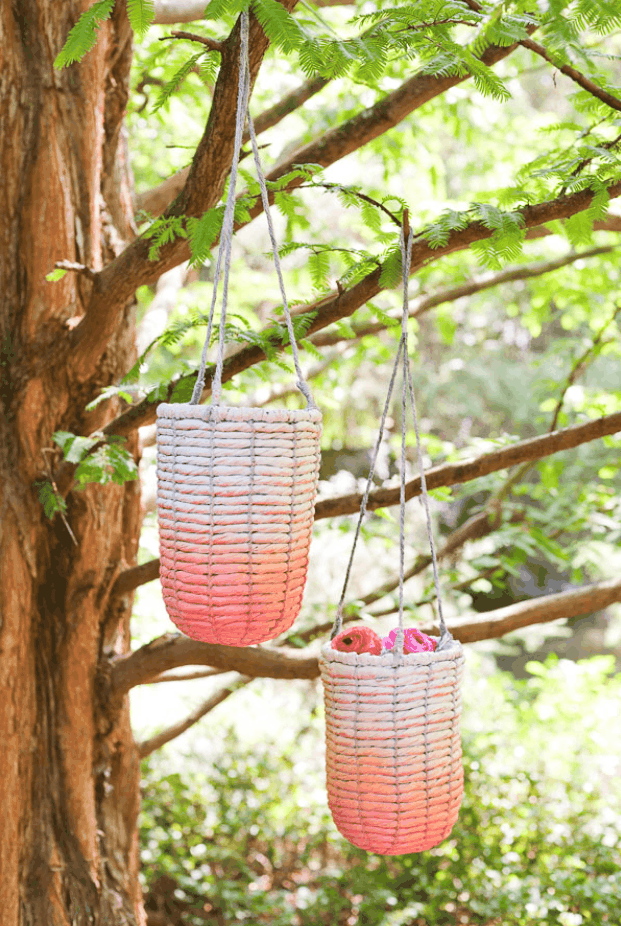 Broadly speaking, there are two types of plans for ice chests – those teaching you how to make something functional and those showing you how to create something beautiful. This plan for a hanging ice chest falls firmly in the latter category – so if you're looking for a decorative way to present drinks for your outdoor party, this plan should be of interest.
10. Improvised Ice Box Using Insulator Foam and Plastic Box
For those more interested in a makeshift way of keeping drinks cold on a hot afternoon and who care less about aesthetics, this plan will be more like the kind of thing you need. In it, we see how this YouTuber created an improvised icebox from insulator foam and a plastic box. It's cheap and it works well – and if that's all you need, why complicated things further?
11. How to Make a Wooden Ice Chest Cooler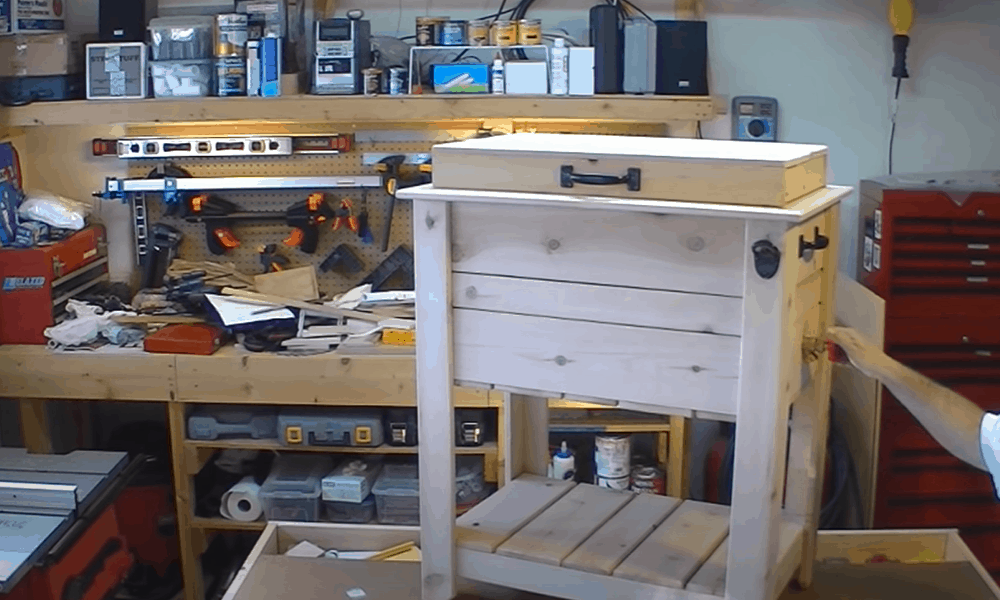 If you want to take your existing cooler and give it a classy makeover, this plan is for you. In it, we learn how to make wooden casing for a plastic ice chest using nothing but inexpensive materials and a few basic tools. As the blogger writes, this kind of project is ideal for novice DIYers, and if that includes you, this is a job you might enjoy trying.
12. Backyard Cooler Cart Project
Here's a great design we liked a lot. This ice chest will keep your drinks cold, it doubles as a serving station, it includes wheels to make it easy to move (important since coolers can be heavy when full), and it looks great. It's inexpensive to make and will look perfect on any patio – so if you want one like it, check out the video to see how it was made.
13. Cooler Box
In this video tutorial, we see this talented woodworker demonstrate to us how he built two ice cooler boxes. There are no explanations because he shows us everything he does so clearly, but if you need further information, there's also a link to his woodworking blog. It's fun to watch as the project progresses, and he tells us at the end that he's proud of the result – and you can be too if you copy his idea and make one of your own.
14. Our DIY Cooler Project: The Making of a Yeti-style Cooler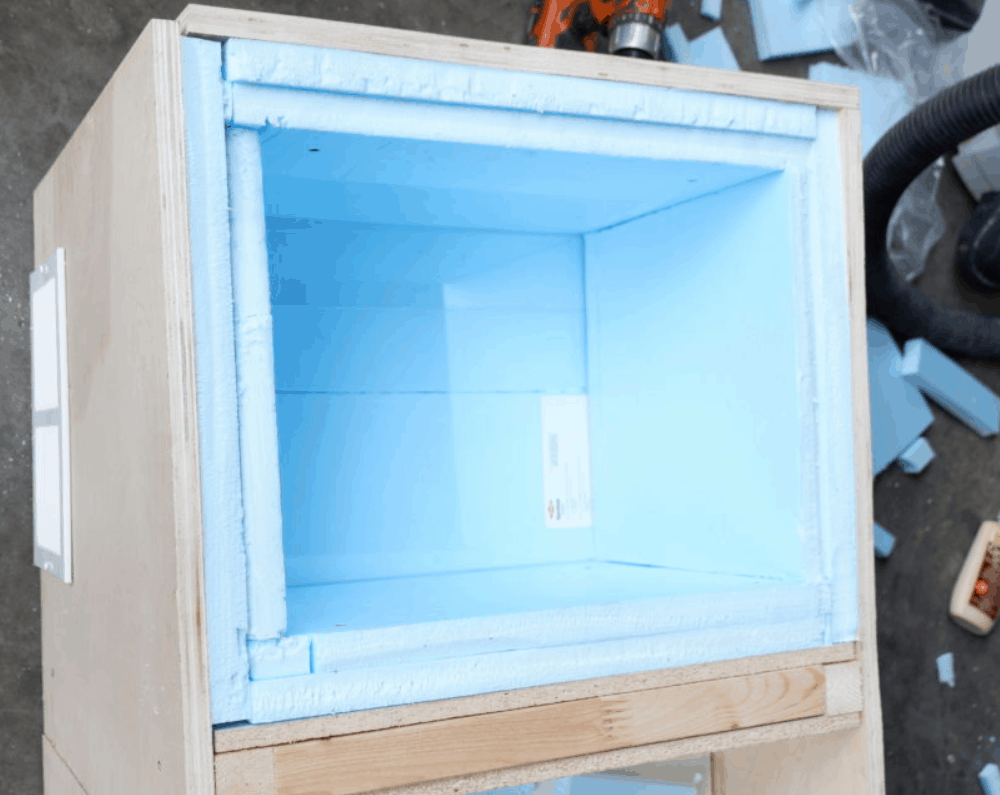 The main reason Yeti coolers are so expensive is that they are supposed to keep food and drinks cold for up to 10 days, and for such high-end performance, you might think a DIY solution is out of the question. This blogger disagrees, however, and in his plan, he shows us how he made something just as good for only $100. That sounds like a great way to save a lot of money – give it a read to see how he did it!
15. Cedar Cooler
If you want a heavy-duty cooler that you can leave outside and that will last for years, this is a plan that should be of interest. In it, we learn how to make a beautiful ice chest from cedarwood, and for us, this is one of the most attractive designs we've seen. It's not an especially difficult project either, so why not see if you can make something similar?
16. DIY Cooler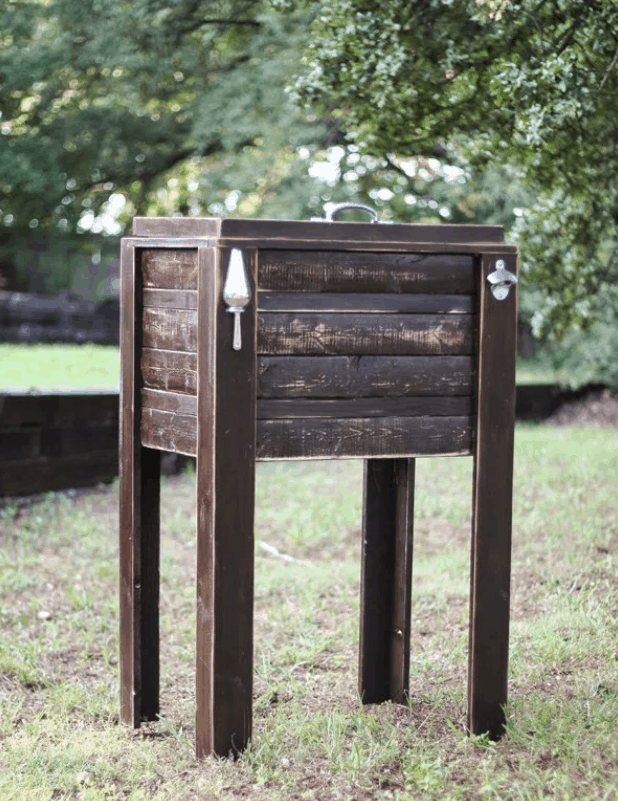 The ice chest they make in this plan has an attractive rustic look that's sure to appeal to lots of people. It's easy to make and cost very little, so if you're looking for a plan for an inexpensive cooler and you like this style, you can easily copy this plan and make one for yourself.
17. Wood Cooler Box
If you're a more experienced woodworker and are looking for ideas rather than a detailed plan, this video should help inspire you. We love the details this DIYer has added to his ice chest like the side serving table, the bottle opener and the hook for a cloth. This great design we liked a lot – a big thumbs-up from us.
18. Vintage Ice Chest from Wood Pallets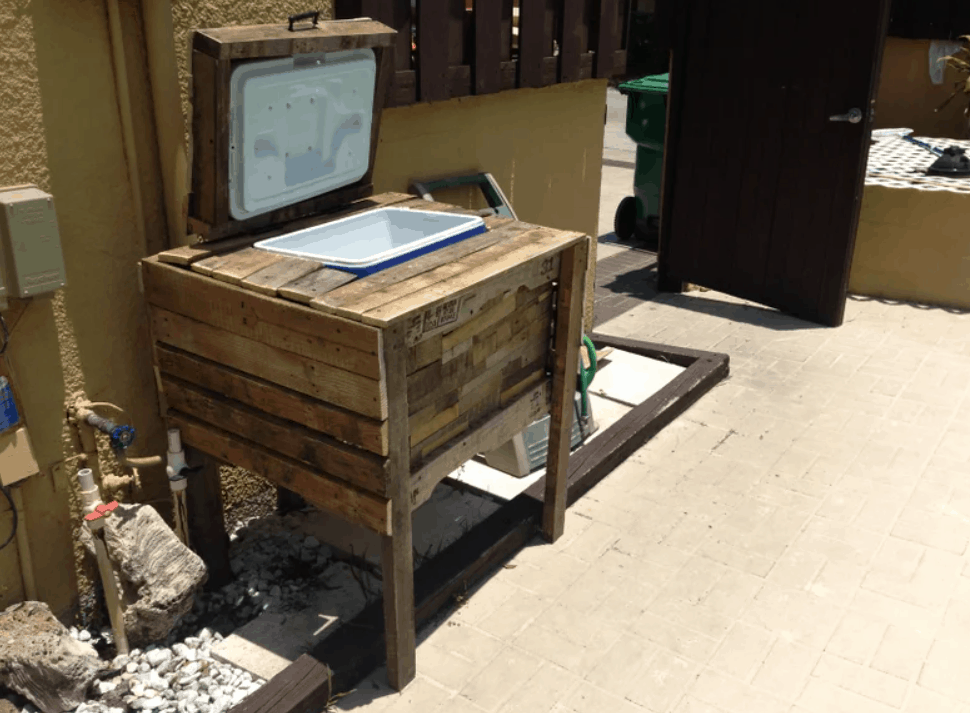 Pallet wood is such a great material to work with because it's extremely versatile and costs next to nothing to buy – if you need to pay for it at all. In this plan, you can find out how to build a vintage-style ice chest from pallets in a few simple steps and using only basic tools most people will have access to. It looks fantastic – and the plan's author writes that it only cost around $20 to make, so this is an ideal option for anyone on a tight budget.
19. How to Build a Rustic Cooler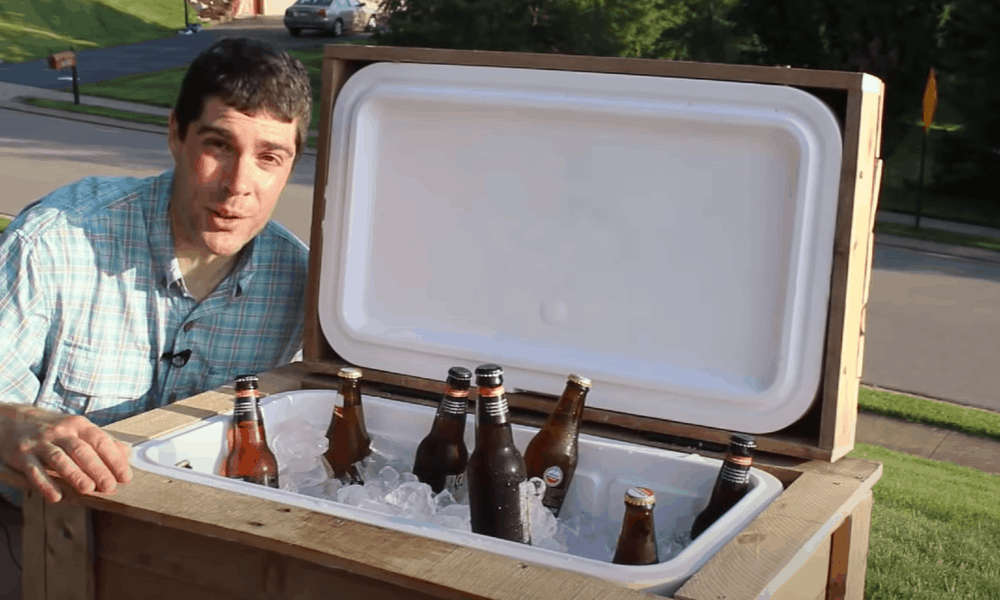 Like #18, this is another plan for building an ice chest from wood pallets. It includes detailed instructions along with plenty of photos to show you what you need to do, and there's also a video to help you if you're not sure. A great plan that anyone can follow – so why not see if you can copy their idea?
Plenty of creative ideas to inspire you
As you can see, there are lots of great ideas for ice chests in a range of styles, from functional, inexpensive models to elaborate and attractive versions.
We've enjoyed finding these plans for you, so we hope you've enjoyed reading and watching them all too – and above all, we hope we've helped you find the plan you needed for building a DIY ice chest of your own.