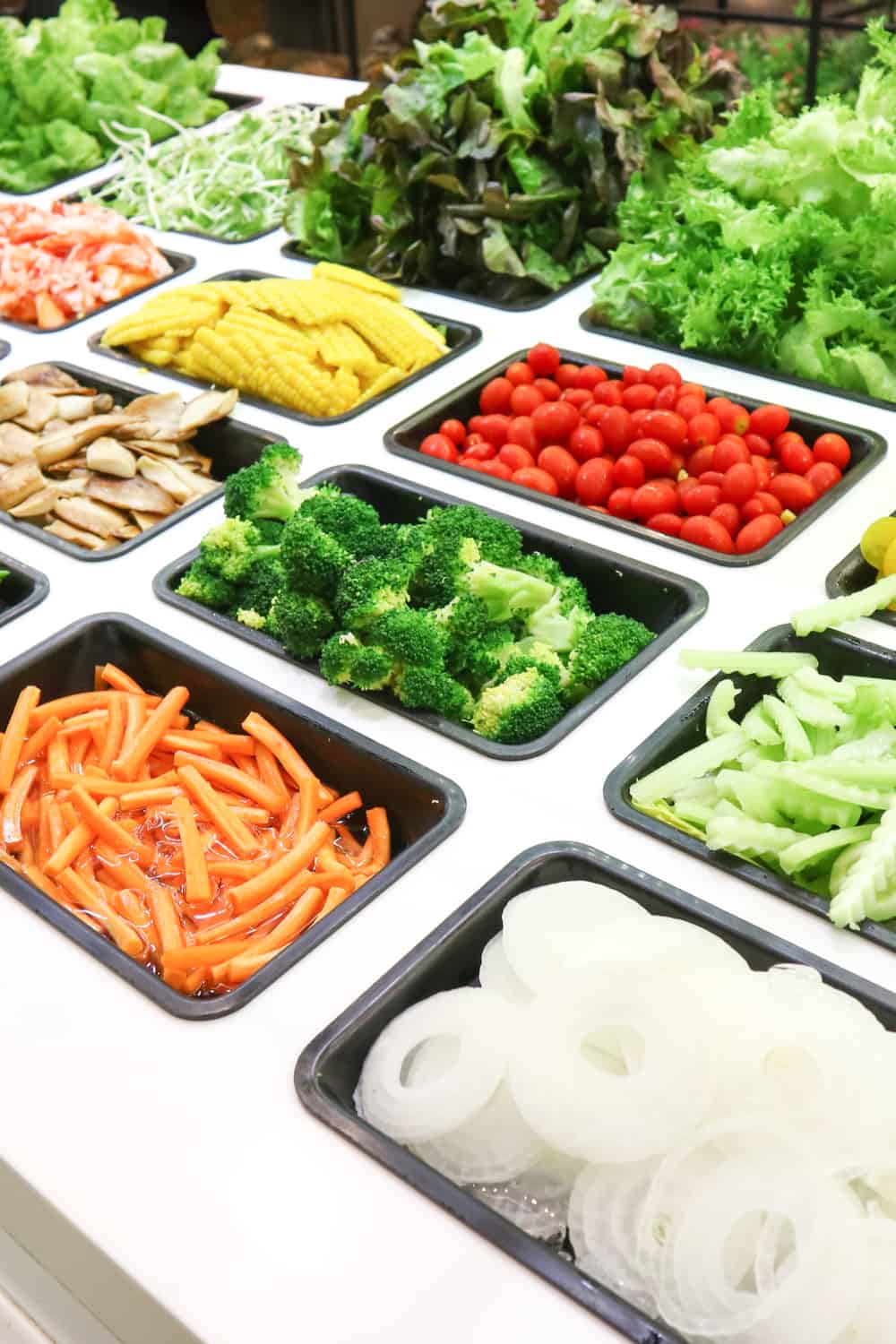 Salad bars are great for so many reasons. You can make food in advance, saving you time later, and they offer you and your family a way of eating a varied, healthy diet every day of the week.
They're also super easy to prepare, although you may need a few pointers and suggestions to help you get started – so here are 19 plans for a DIY salad bar that should give you all the inspiration you need.
1. DIY Salad Bar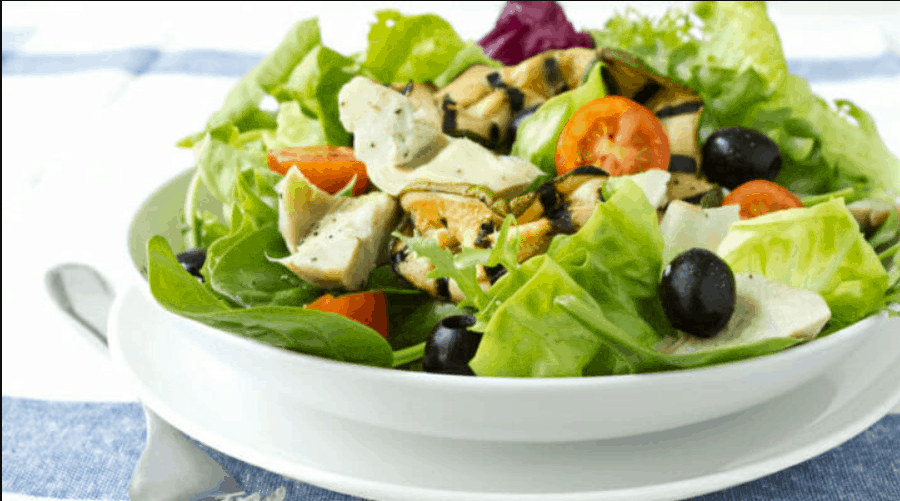 To begin, here's a super simple idea for creating a salad bar that your whole family will love. This blogger wrote this at the start of the New Year, and unsurprisingly, her focus was on emptying the fridge and using up all the food she had left over from Christmas. However, it's a great idea for any time of year when you have stuff to finish up, so check it out to see what she did.
2. How to Meal Prep for Spring – DIY Salad Bar
In this video, we find ideas for a springtime salad bar, and the first piece of advice this YouTuber gives us is to choose all the things that everyone in your family loves most. After that, you'll need a few airtight containers – and then it's up to you to get creative. The video also gives us a few suggestions for more unusual ingredients to help make your salad bar more exciting.
3. Make Your Own Salad Bar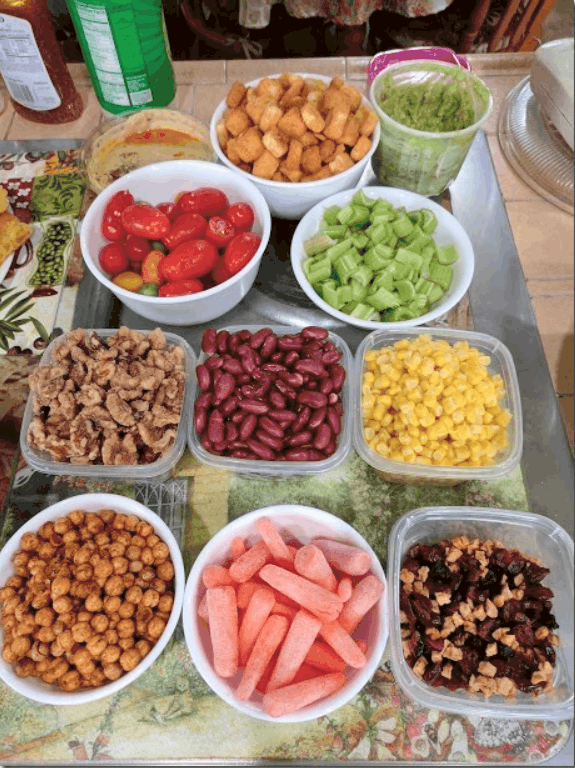 Making a salad bar is all about finding interesting items to include, and this blog is full of great ideas for you to try. We love the thought of the candied walnuts, but there's lots more to discover – so head over to the blog and see which options appeal the most.
4. 4 steps to the Best Salad Bar Ever
This YouTuber starts her video by telling us about the fours ingredients that any salad should include – greens, vegetables, proteins and toppings. There are a few basic items on there like chopped tomatoes and cucumber as well as some more adventurous items, but everything looks delicious, making this another great source of salad bar inspiration and well worth a watch.
5. DIY Salad Bar Tutorial Video
If you're looking for something a little more exotic than your average salad bar, this video should be of interest. Unfortunately, most of it is not in English, but you don't really need to understand what they're saying because everything is in the images – and that should be enough to give you plenty of more unusual ideas for a salad bar that will surprise your guests.
6. DIY Salad Bars at Home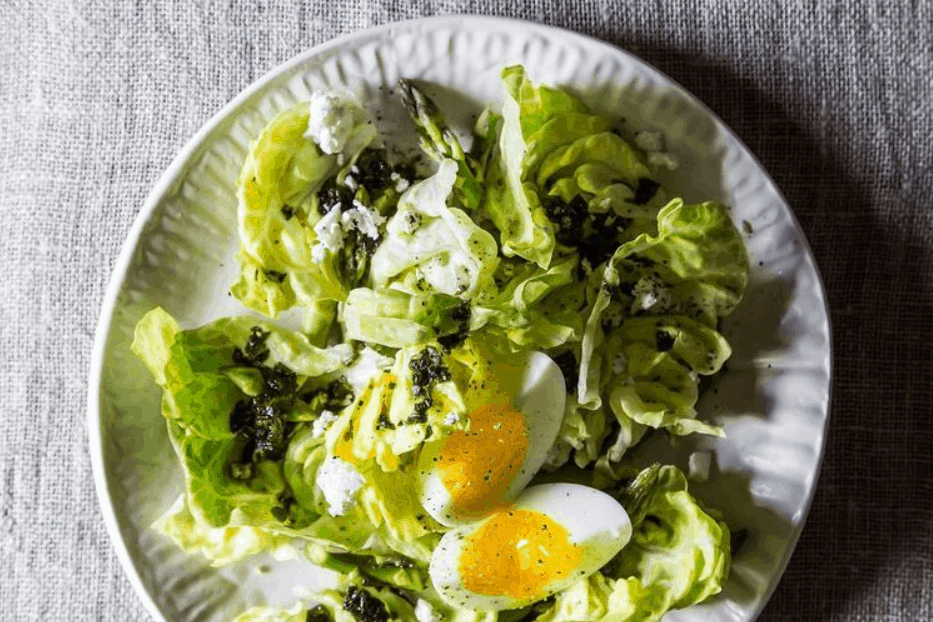 As this blogger writes, salad bars can sometimes have a bad name since we tend to associate them with college cafeterias and all-you-can-eat buffets where the food on offer is often less than appetizing. However, it doesn't have to be that way, and this guide tells you how to make the most of your leftovers to create a varied salad bar that will keep you fed all week.
7. Make Your Own In-the-Fridge Salad Bar
Many people's reason (excuse?) for not eating healthy food is that it can be time-consuming to prepare fresh vegetables. But in truth, it doesn't require that much time to organize a fridge salad bar full of healthy and delicious ingredients, allowing you to enjoy a more wholesome diet. Want to know how? Then this video has all the details you need.
8. 4 Tips for Setting Up a Salad Bar Buffet for a Party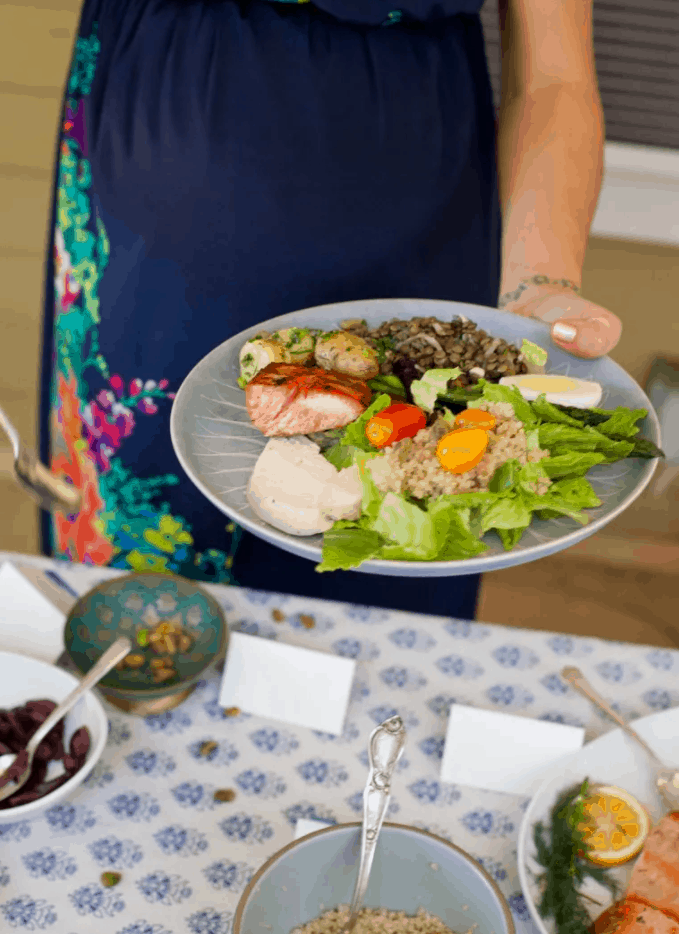 Salad bars are a great way to feed your family, but they are also a perfect option for parties – and much more original than the usual taco or sandwich bars that we're all used to. They allow your guests to choose whatever they enjoy most, and the food will be fresh and healthy too. This blog gives you an example of the kind of thing it would be suitable to serve – although you can add anything else you feel like including as well.
Check the Tutorial Details
9. 6 Steps to Mastering the Salad Bar
At the most basic level, setting up a salad bar requires nothing more than laying out a few dishes and bowls of vegetables. However, if you want your salad bar to be a bit more sophisticated than that, there are some rules you need to follow – and this video teaches you everything you need to know.
10. Naturally Delicious – DIY Salad Bar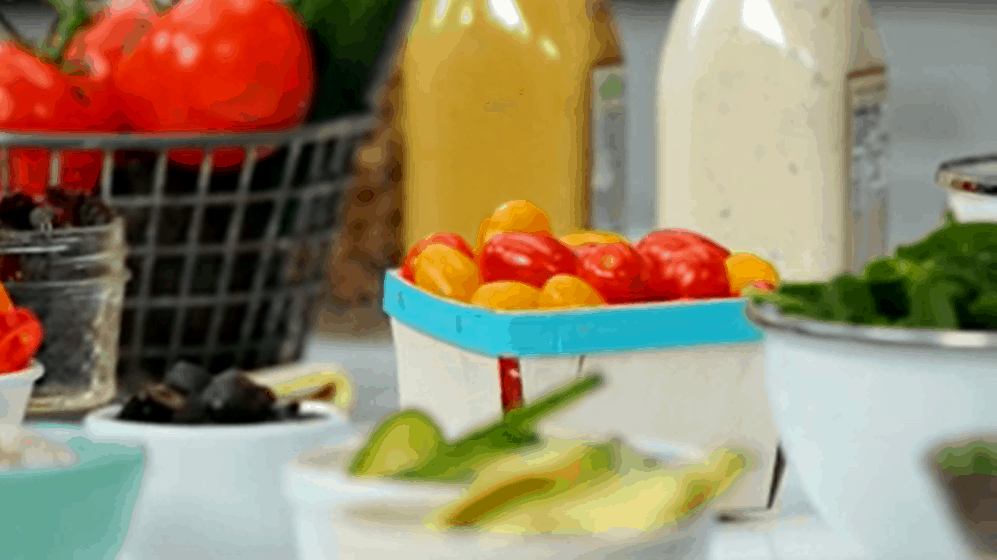 Apart from the fact that salad bars offer a range of healthy foods for the whole family to enjoy, they can also be quick and easy to prepare – and they make the food look irresistible. In the video on this blog, you can see how enticing all the tasty morsels and dishes look, which could be a great way to encourage children to eat a more balanced diet if usually they prefer unhealthier options.
11. Salad Bar Idea – Create Your Own Salad Box
If you make up a salad box or salad bar in your fridge, all you then need to do when it's time to eat is serve it. This will save you the time of preparing food every mealtime, which means you will have a better chance of eating healthily more often. And if you need to know how to do it, this short and simple video will point you in the right direction.
12. Dole DIY Salad Bar Party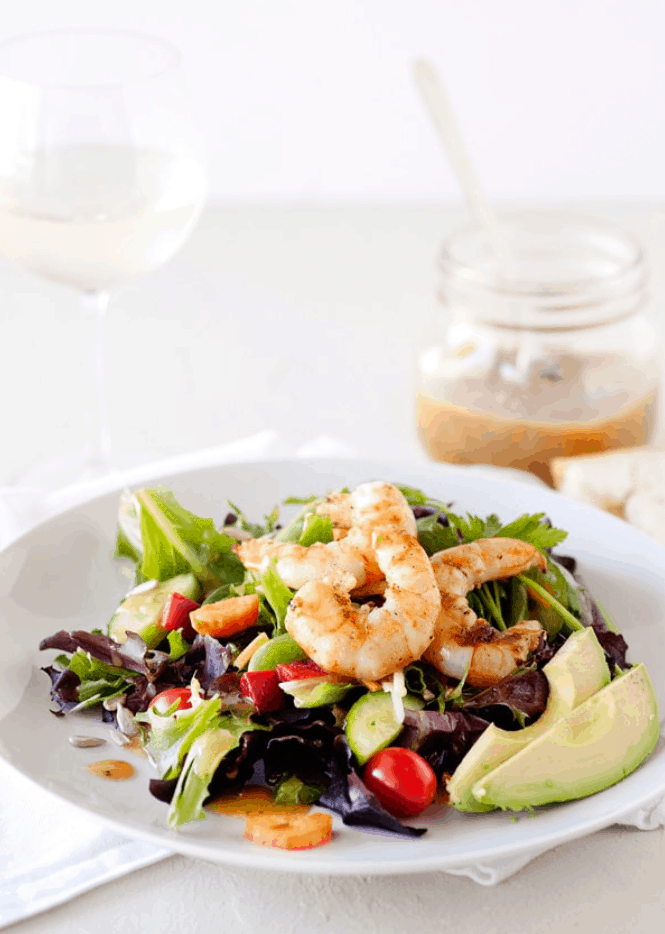 Another big advantage of laying out a salad bar when you throw a party is that you can prepare everything ahead of time. You don't need to worry about cooking, so you can just enjoy the moment with your friends rather than fussing about the food. This blog has loads of great ideas for how to do it too, and we're sure the suggestions and photos will give you plenty to think about.
13. DIY Summer Salad Bar
There's nothing complicated about laying out a salad bar. We've already mentioned that there are rules to follow if you want it to be well balanced, but beyond that, it's all about the food you choose to serve and how you present it. And if you want inspiration for how great it can look, this video delivers – in no more than 18 seconds!
14. Building a DIY Salad Bar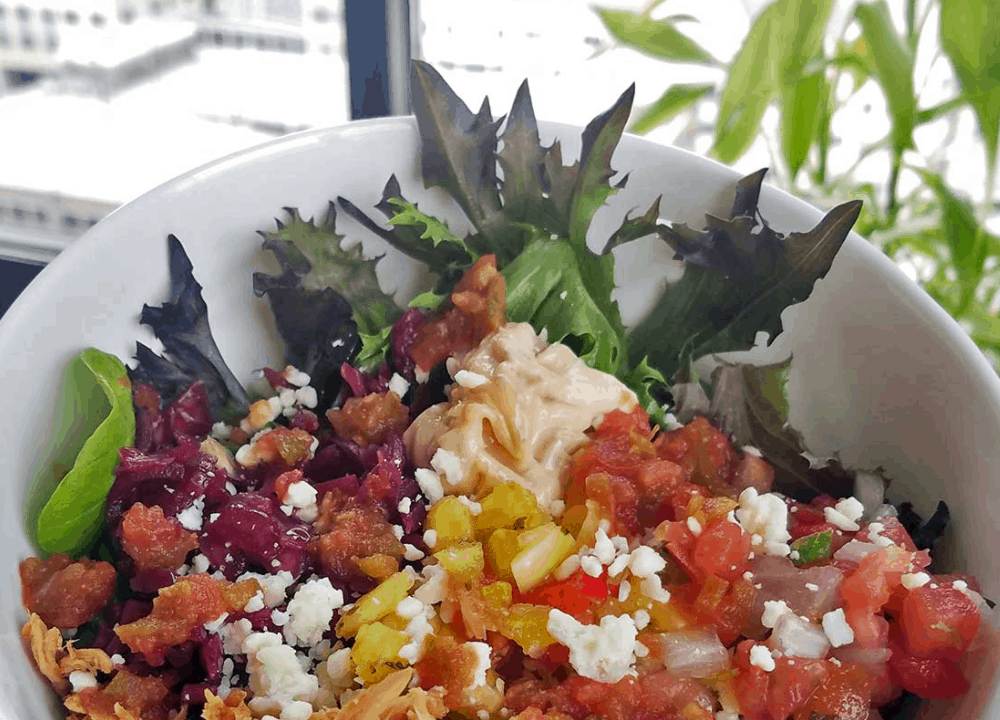 A salad bar is a great option for anyone concerned with eating healthy food because it allows you to incorporate a range of ingredients into your diet, all of which can be prepared ahead of time, saving you the hassle of doing it every time you want to serve a meal. And to make it even more successful, this blog has a range of tips that will help you do it right.
15. Homemade Salad Bar
Here's a video showing you just how simple and efficient it can be to make a salad bar. In it, this YouTuber demonstrates how she prepared a selection of her favorite veggies and put them in a tray for serving whenever she needs them – and for everyday eating, there's no need to make it more complicated than that.
16. How to Build the Ultimate Salad Bar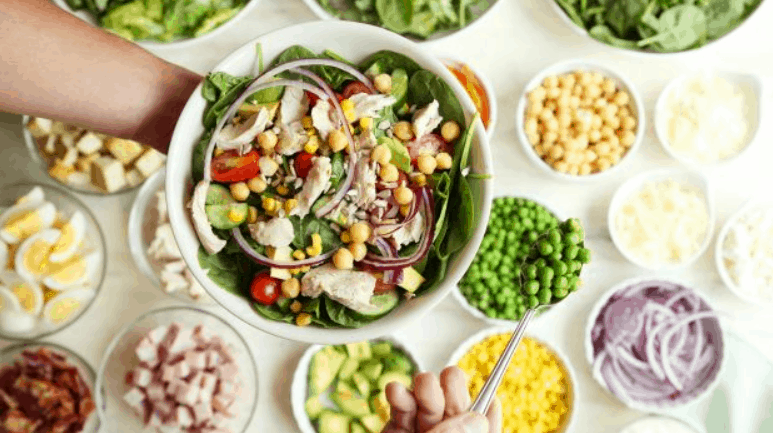 Greens, protein, variations of veggies, cheese, extra toppings, vinaigrette and other dressings – with a range of ingredients like this, it's starting to sound like the claim in the title might be justified. And if you want to see what else to include in the ultimate salad bar, head over to this blog to see.
17. How to Make an At-Home Salad Bar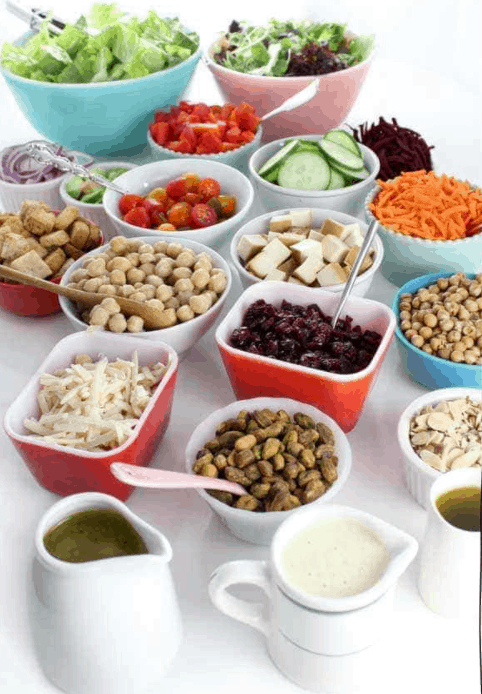 If you're serving salad, how do you know what everyone likes? For example, do you add raw onions or leave them out? Either way, someone will be unhappy – unless you set out a salad bar and let them help themselves. Of course, you can offer much more than simply raw onions, and this blog has plenty of great ideas to help you get started.
18. Salad Bar at Home
A fridge fully stocked with delicious salad ready to serve, allowing you to choose which healthy ingredients you eat every day, and giving the option of varying your diet at the same time. That's the simple idea behind this home salad bar, and in this video, this YouTuber shows us how she prepares it.
19. DIY Salad Bar Grazing Board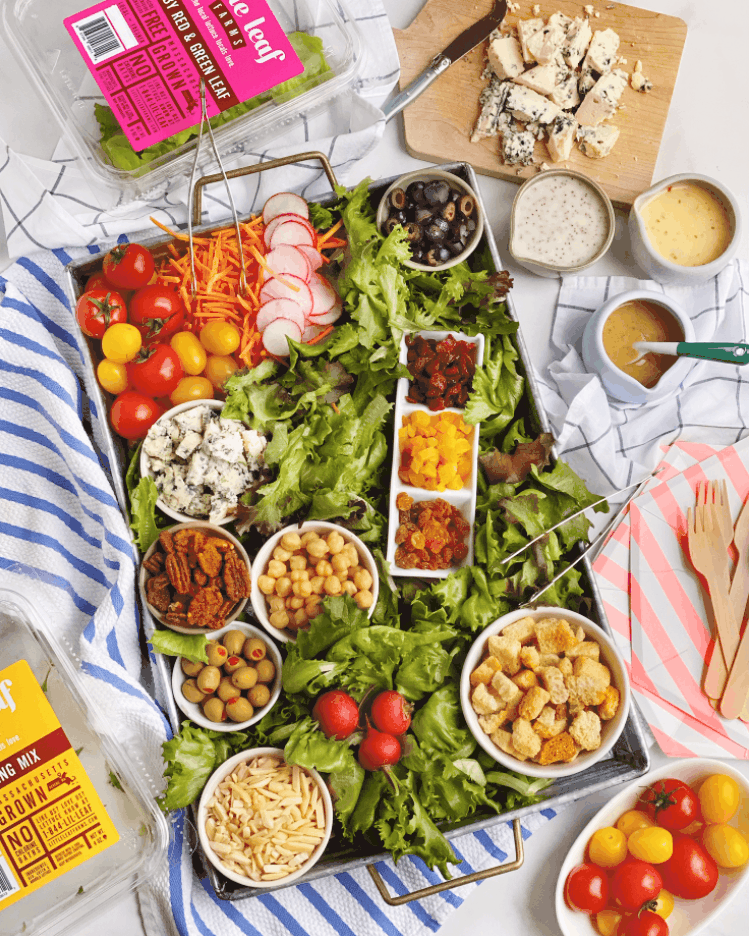 We like the concept of a "grazing board", a tray of delicious yet healthy morsels to which you can help yourself whenever you feel like a quick snack. And even better, none of this food is fattening, so it's ideal for those who are watching their weight. With all the different colors and the attractive presentation, it looks amazing – and we're sure lots of people will be keen to copy these ideas too. Have a look to see if you're one of them!
A whole range of delicious possibilities
As you can see, there's a whole range of delicious yet healthy ways to create your salad bar. We've enjoyed collecting these plans for you, so we hope you've enjoyed reading and watching them too. And above all, we hope we've helped you find the ideas you needed to set up a DIY salad bar of your own.