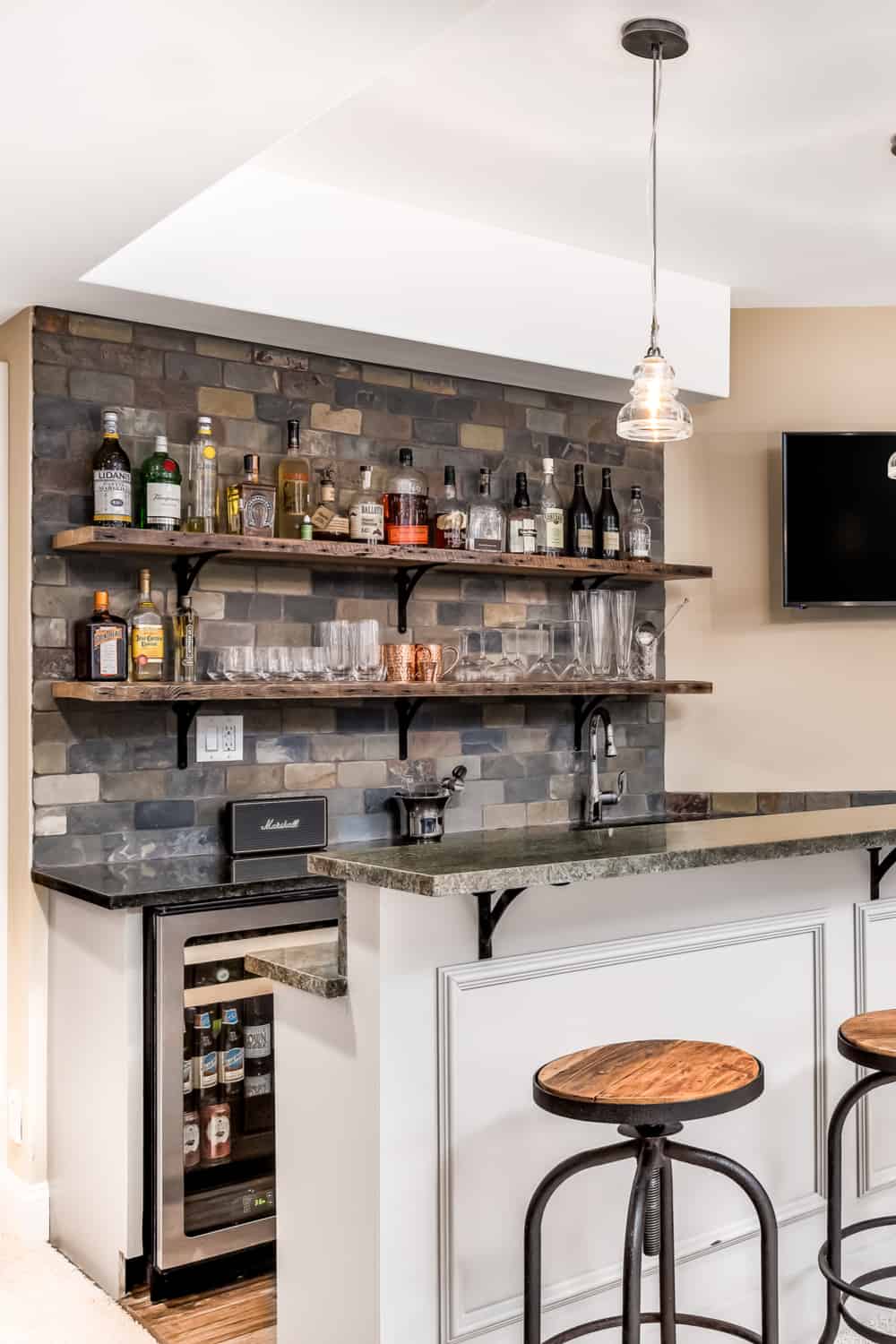 Basement bars can be a cozy hideaway, providing an oasis of calm and somewhere to escape the stress of the daily grind. They can also be fun to build, and if you're interested in taking on a challenging but rewarding project, here are 17 plans for DIY basement bars to show you how.
1. How to Build a Basement Bar with Man Cave Advisor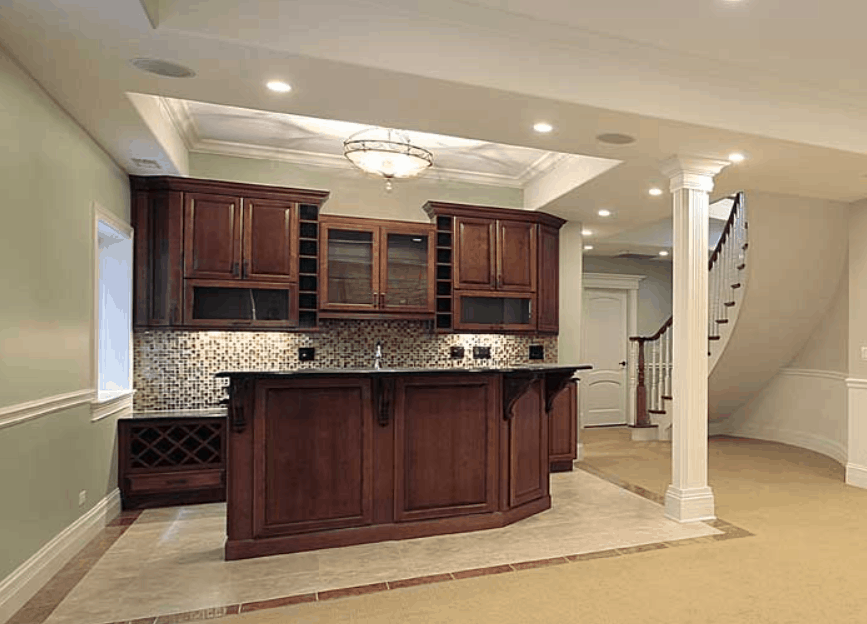 To begin with, here's a detailed blog post with all the information you need about installing a bar in your basement. Building a bar can be a large and challenging project but one that's worth all the effort, and in this plan, you'll find details of everything from choosing the layout and deciding on a theme to buying furniture and constructing the bar itself. When it comes to basement bars, the possibilities are endless – so reading this blog will help you get your ideas together before you start working on yours.
2. Custom Basement Bar Build DIY
If you're looking for inspiration for the kind of basement bar you want to construct, this video is well worth a watch. It takes you through the building process from start to finish – which was almost 100% DIY apart from setting the granite – so you get to see as the bar takes shape. We love the way it looks when it's finished, and we're sure lots of people will want to build something similar – check it out to see if you're one of them!
3. How to Build a Basement Bar with This Old House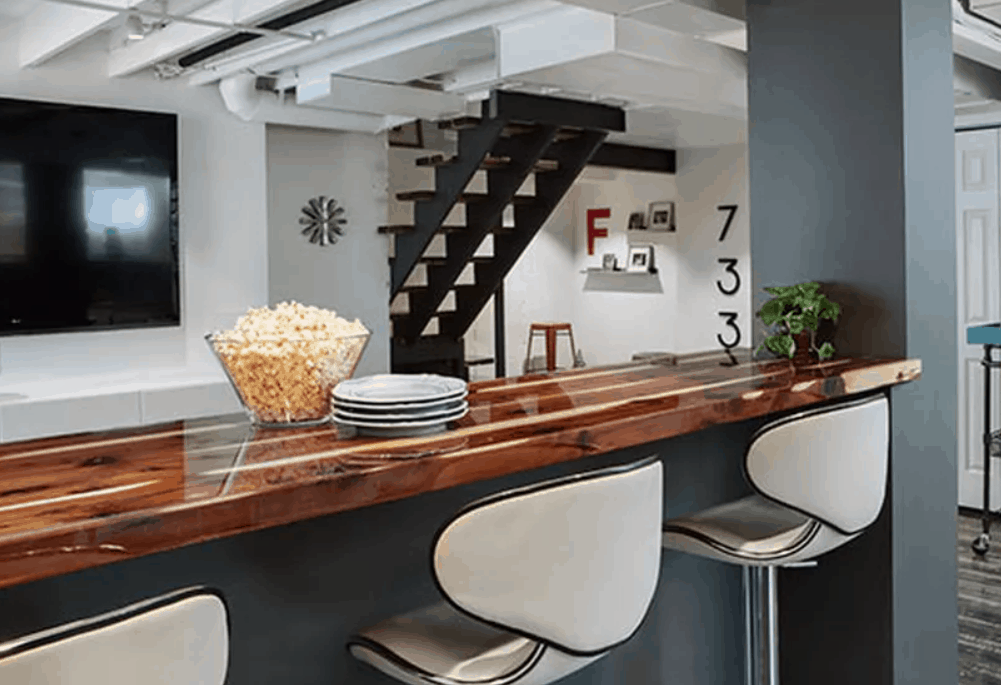 If you have a basement, instead of letting the space go to waste and not using it for anything other than storage, why not turn it into your perfect bar? If that sounds like something you might be interested in, this blog will help you get started. What we like about this tutorial is that it goes into lots of detail about the planning stage – so that when you come to building your bar, you can avoid making mistakes. It includes a guide to budgeting too, so this is a plan that will also help you avoid spending more than you can afford.
4. Our DIY Basement Bar
If you're fortunate enough to have a large basement like these YouTubers, you can really let your imagination run wild about the kind of bar you can turn it into. These guys decided to go for an old-fashioned gentleman's club-style décor, and the result looks fantastic. This is the kind of basement bar that anyone would be thrilled to own, and if you want to build one yourself, their plan will show you how.
5. How to Build an Epic Basement Bar
Here's a high-quality basement bar plan from The Spruce that is essential reading if you are considering building one yourself. It discusses all the major decisions you'll have to make, including things like having a wet or a dry bar, the type of lighting you're going to install and the theme you choose. The plan also has a section containing useful tips for ensuring your project is a success, making it a valuable resource for anyone thinking of building a bar of their own.
6. Homemade Bar for Your Mancave
Not every basement bar needs to be complicated or expensive, and building a simpler, more affordable option can also be a great choice if your space or budget is limited. That's the kind of bar this YouTuber builds, and using only basic DIY techniques, he constructs a functional bar that forms the centerpiece of his mancave. We especially like the way he demonstrates everything clearly, making it easy to copy. This is the first video in a series of three – so check out the other two to see what it looks like when it's completed.
7. How to Build a Home Bar – DIY Step by Step Guide
As this blogger writes, she couldn't afford to pay someone to build her bar for her, so she decided to make one herself. We think she made the right decision too because what she created looks amazing. There's loads of useful information about how to plan your basement bar, so it's worth reading before you start building your own – and if you want to build one exactly the same as hers, you'll find the detailed plans and diagrams on the site too.
8. DIY Budget Bar Build – Under $100$
If you read the plan in #1, they told you the magic number for a basement bar is $20,000, and if you have that much money to spend, you can expect to be able to build something incredible. However, not everyone has that kind of cash to spend, and if your budget is more modest, this is a plan that should appeal. In it, this YouTuber shows us how he built his bar for less than $100. Sound interesting? Then give it a watch to see how he did it!
9. DIY – How to Build Your Own Oak Home Bar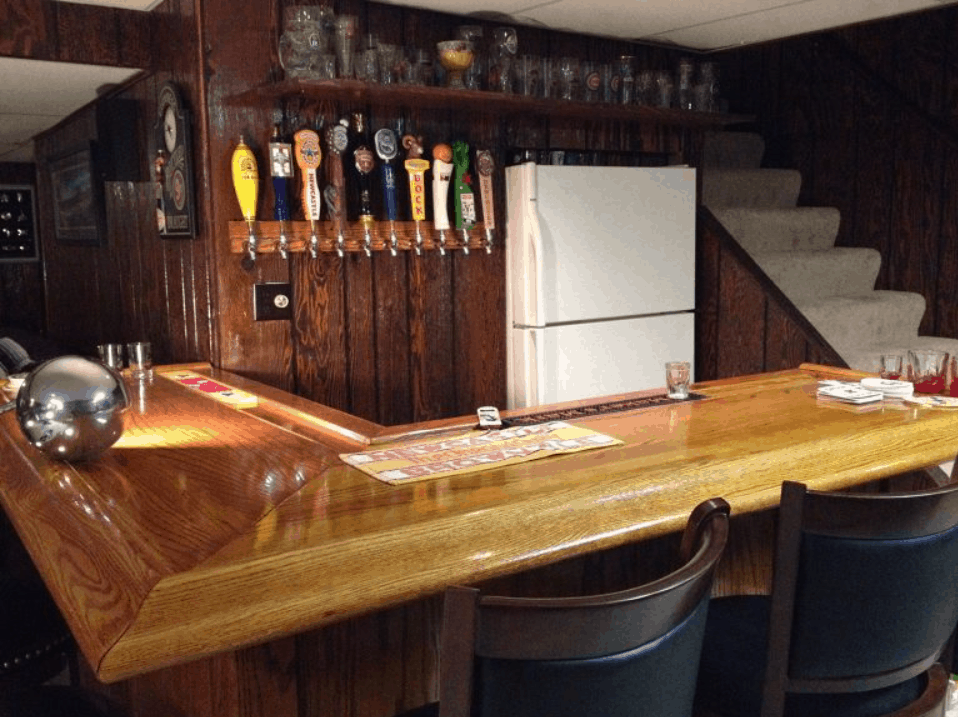 The bar in this plan is one of our favorites because it looks just like the real thing, which just goes to show what's possible if you have the vision, the skills and the dedication to see the project through to the end. And for anyone who wants to copy, this plan also includes detailed instructions for how to recreate something similar in your home. This is a highly impressive plan that we enjoyed reading a lot – why not check it out to see if you agree?
10. Building a Bar from Scratch Using Epoxy for the Countertop
There are lots of different styles you can choose for your basement bar, but this is one we particularly like. It features a stylish epoxy bar top along with lights that change color to match your mood. The bar is also relatively small, so you won't need loads of space to build one of your own. A great option for anyone who wants to build a classy modern-style in their basement – we approve!
11. How to Build a Basement Bar with Hunker
As this plan explains, depending on the scope of your project, building a basement bar can be a major undertaking. If your plan is to convert a large basement into an authentic bar-style area, there is a lot you'll need to think about before you even start buying materials or begin construction. However, to make sure you don't get in over your head, this tutorial has all the information you need to make sure you do things right. It gives you a simple and logical plan to follow, and if you do it right, you may be able to build something similar to the lavish basement bar in the photo at the top of the page.
12. How to Build Your Own Basement Bar at Home
Here's a plan for anyone looking to build a complete bar in their home. As the blog explains, the budget you're looking at for a major project like this will be in the $10k-30k range, so this is not a plan for people looking to do things on the cheap. However, if you want to go all in, you'll find plenty of information about everything you need to think about during the planning stage to ensure you end up with the basement bar of your dreams.
13. 4 Tips to Build Your Own Bar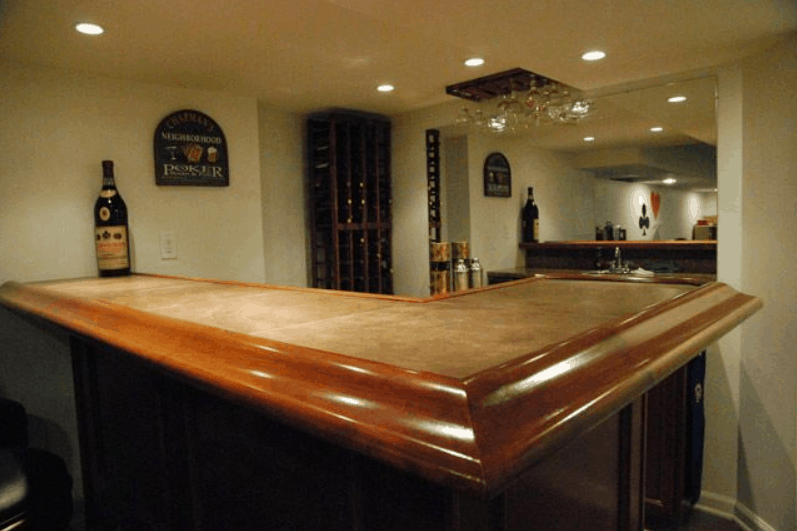 As you have probably realized, building a basement bar is no simple task, and since there are so many options for customizing the bar to exactly the way you want it, there's a lot of things to think about before you get started. This means that any hints and tips before you begin your project are sure to be welcome, and this blog gives you advice about four important aspects – bar molding, refrigeration, lighting and the back bar – so check it out before you build yours.
14. How to Build a Bar – With Woodworking Plans
Here's a useful video that teaches about constructing the actual bar. It consists of a time-lapse video demonstrating the process, and it also includes downloadable pdf for the build. A valuable resource for anyone who wants to try anything similar.
15. Building a Basic Home Bar
This is another great plan for anyone who wants to build an inexpensive bar in their home. It comes from the Instructables website, a veritable treasure trove of DIY plans for just about anything you can imagine, and this one doesn't disappoint. You'll find a list of materials, simple instructions and lots of useful photos, all of which will help you reproduce this plan in your own home.
16. DIY Home Bar in 8 Easy Steps
If you are looking for a detailed plan you can follow to build a bar in your home, this one should be worth a look. It teaches you how to build a compact regular bar with one difference – it has an aquarium built into the front. We think this is a fantastic idea, and we're sure lots of people will agree. And if you like it too, why not have a go at building one yourself?
17. Ultimate Mini DIY Mancave
This video is not so much a plan as a source of ideas. In it, this YouTuber shows us round the mini home bar that he built, and what he created is spectacular. The thing we love most is his attention to detail – everything is just perfect – and if you want something similar, this is a video that's sure to give you plenty of inspiration.
Plenty of basement bar options
As you can see, there are loads of ways to build a basement bar, with plans for budgets ranging from just $100 to $30,000 and more. We hope you've enjoyed reading and watching these plans as much as we have finding them for you – and above all, we hope you've found the inspiration you needed to build a basement bar of your own.