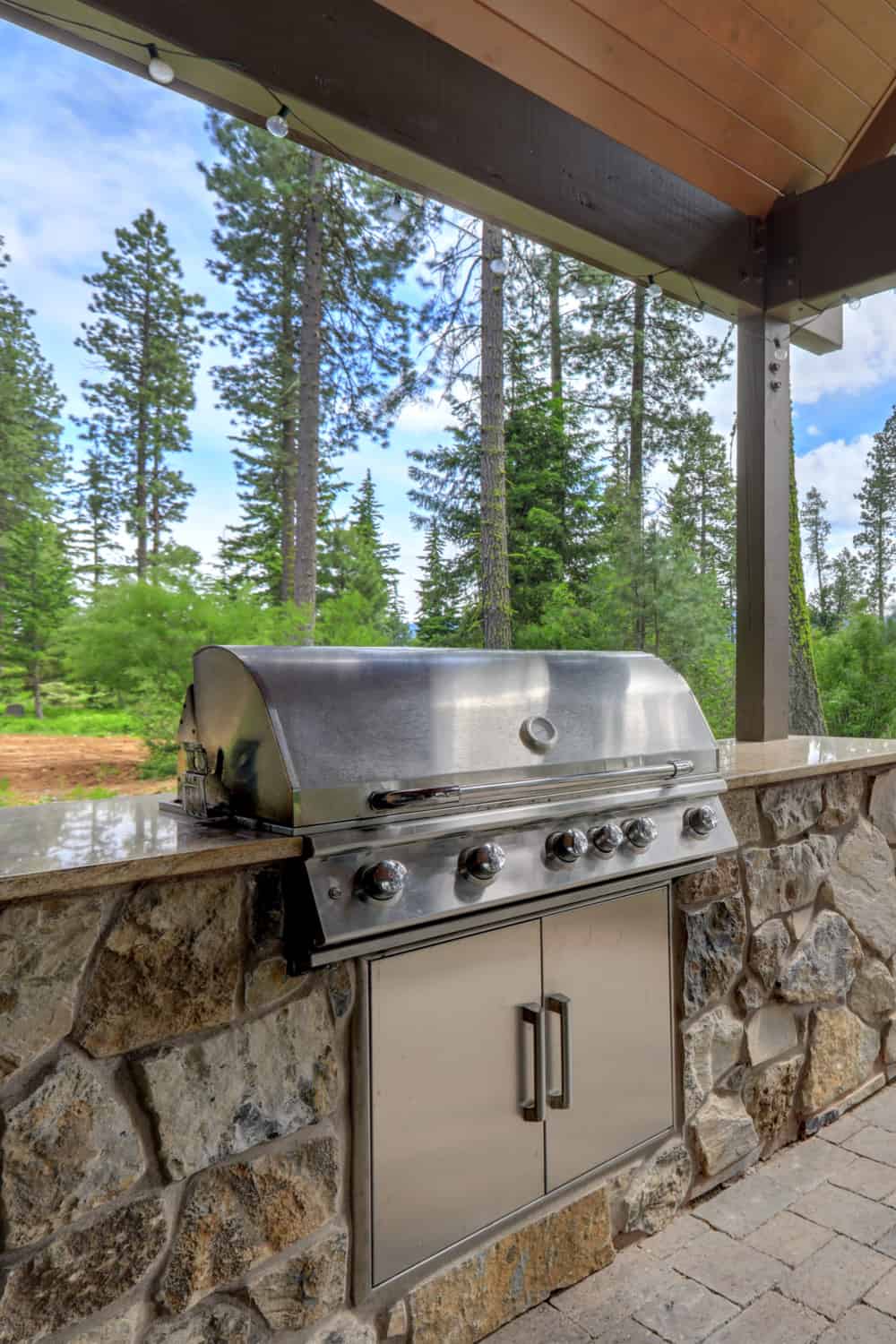 If you love grilling, building a surround for your barbecue will make it even more enjoyable, giving you somewhere to work while producing the most delicious outdoor meals.
Building a surround can be quick and easy or it can be a large and complicated job, depending on how ambitious your design is – and if you want to try, here are 19 plans for a DIY BBQ surround that you can copy at home.
1. How to Build a Stone Grill Surround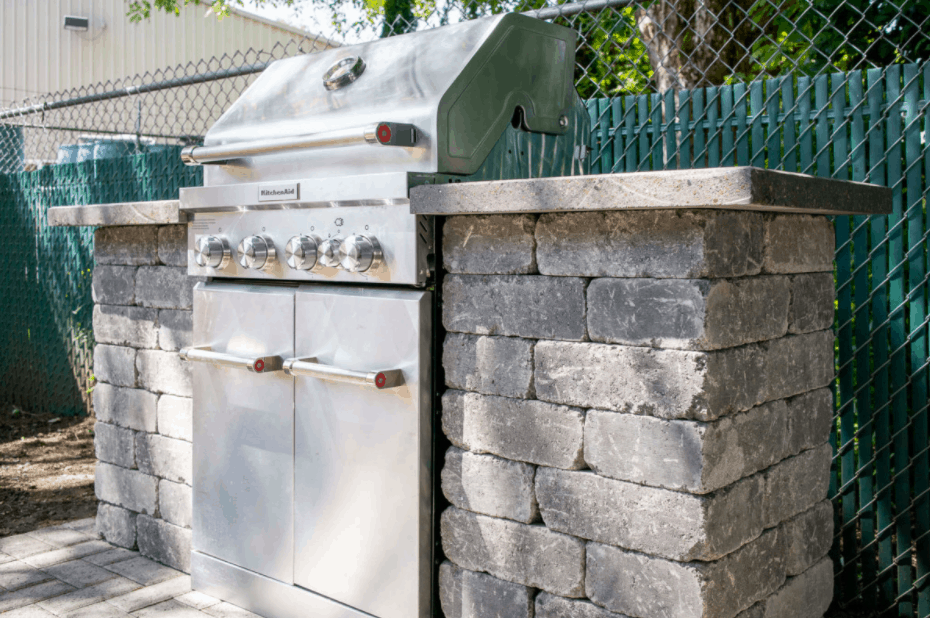 If you're looking for a simple plan for building a barbecue surround, this one should be worth a look. Rated as "easy" and taking only a couple of hours to complete, this is a tutorial that will show you everything you need to know to build an attractive surround with a minimum of fuss and effort.
2. How to Make a Stone BBQ Island on a Budget
The barbecue surround this YouTuber shows us looks highly impressive – and yet, as he tells us, it was simple to build and cost a lot less than you might imagine. That means if you want an easy and affordable plan for a barbecue surround that's sure to impress your friends, this is an option that's well worth a look.
3. How to Build a BBQ Grilling Station
Building a barbecue surround can be a relatively easy project to tackle, but if you prefer to have detailed instructions before you start work, this is the kind of plan that should appeal to you. There are only a few steps to follow, but each one is well explained and accompanied by useful diagrams, helping ensure you achieve perfect results.
4. How to Build an Outdoor Kitchen Island
Here's a video we found that was uploaded by a professional company offering outdoor kitchen islands and grill surrounds, but we think their video is worth checking out because it should give you a few ideas about the kind of thing that's possible. It doesn't give you detailed explanations for how to copy it, but if you're an experienced DIYer, it should still be possible – so have a look and see if you're up to the challenge!
5. Building a Grill Station
In this video, you get to see how this YouTuber made a grill station with concrete countertops. We're not sure if it quite qualifies as a "grill surround", but it's a simple design that gives you surfaces to work on while you're grilling, so we thought it warranted a place on our list all the same. Check it out and see what you think!
6. Amazing DIY Outdoor Kitchen with Grill and Sink
This plan shows you how this YouTuber made a fantastic outdoor kitchen with embedded grill and built-in sink. This is an ambitious project, so for some people, this might be a little too much to attempt – but if you want to go all-in, this is the type of plan you might wish to consider copying.
7. How to Build a BBQ Grilling Station or Grill Surround
If you prefer simple and to-the-point plans with no frills, this is a video tutorial that you should enjoy. It starts with a detailed list of all the materials you'll need before you start work, and we love the useful graphics that help you understand what you need to do. As the narration tells us, building a grilling station is easy and fun – and this is a plan that will tell you everything you need to know to do it.
8. DIY Outdoor Kitchen with Built-in Grill Station
In this video, this YouTuber shows us how he took an old an ugly grilling station and incorporated it into an outdoor kitchen complete will barbecue surround and pergola. It's not a particularly difficult idea to copy if you have a few basic DIY skills, but it does show you what's possible if you know how to do it. This is a plan we enjoyed a lot!
9. Build a Backyard Barbecue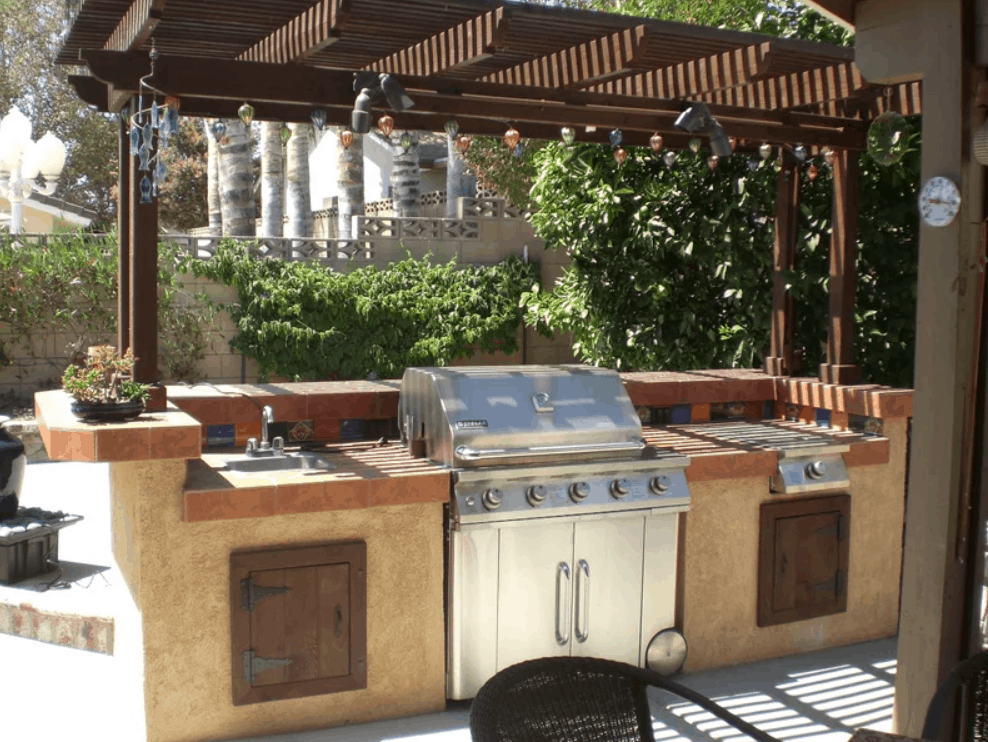 When planning your backyard barbecue, if you're willing to invest a certain amount of time and money in the project, why not think big? You can build a simple barbecue surround in a day, but if you want something more substantial, the options are almost limitless. For example, this plan shows you how to build a grilling area with barbecue surround and fitted outdoor kitchen, the kind of thing almost anybody would be proud to own.
10. DIY Barbecue Island Project
Here's a video we enjoyed watching. In it, we get to see how this YouTuber created a surround for his grill, starting with a metal frame and finishing with an attractive barbecue station with tiles around the outside and large work surfaces on either side. We think he did a great job – and his pizza looks amazing too – so why not have a go and see if you can make something similar?
11. How to Build an Outdoor Rumblestone Surround Paver Grill
The surround this YouTuber shows us is a great idea. As she tells us, she made it using around 75 Rumblestones – and she chose not to use any glue or cement because that way, she can easily move her grill later if she wants too. This is the kind of plan that shows you how easy building a barbecue surround can be – and we're sure lots of people will be eager to copy her ideas.
12. Brick Grill Surround
Here's another video we found that was uploaded by professionals – but again, we think it's well worth watching since it shows you the kind of thing you can achieve if you put your mind to it. This design is extremely simple too, so anyone with the necessary skills will be able to copy it without too many problems.
13. DIY Modern Outdoor Kitchen and Bar
If you want to see what you'll need to do to build an outdoor kitchen with an attached bar, this video should be of interest. We like the way they explain everything so almost anybody will be able to copy it, and when they finish, their work looks fantastic. Great job guys!
14. How to Build a Willard Grill Station with Kamado Pad
For anyone who lacks confidence in their DIY abilities, this is a video that should help since it walks you through everything in simple steps that anyone will be able to understand. This is a plan for building a grill station with a kamado pad, and as the YouTuber says at the beginning, when it's done, it's something you'll be proud of.
15. DIY BBQ Grill Station
This video shows you a more ambitious kind of build for a barbecue surround and outdoor kitchen, but if you're not afraid to tackle a big DIY project, something like this could be worth considering. You'll find details of everything you'll need to replicate the plan at home, so if you're looking for a challenge, perhaps this could be an option that interests you.
16. Homemade Built-In BBQ
If you're in search of ideas and suggestions rather than detailed instructions for your build, this video should be worth a look. It consists of a slideshow taking you through the construction process for a homemade barbecue and surround. This video is a little basic – it doesn't even have sound – but the work they did is impressive, and it might inspire you to try something similar.
17. How to Build an All-In-One Grilling Station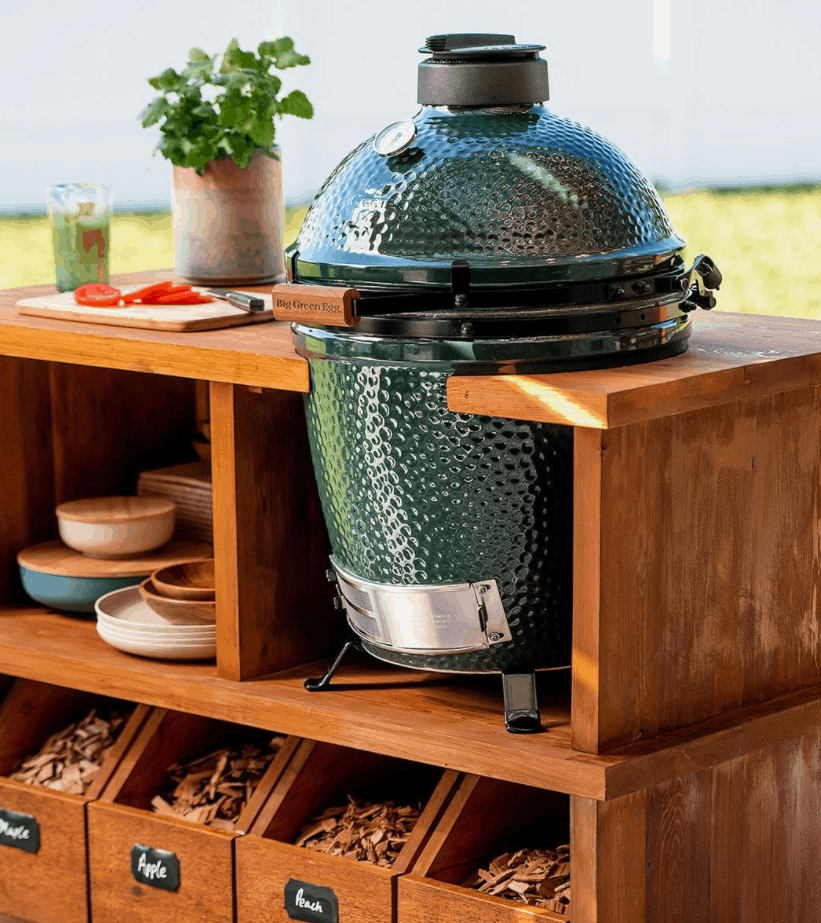 For those who prefer more detail explanations, this plan might be a better option. In it, we learn how to make a gorgeous wooden surround and barbecue station that will be the envy of your guests. The plan includes detailed diagrams with measurements, a list of all the tools and materials you'll need and clear instructions to follow to ensure you can recreate the design easily.
18. Blackstone Grill Station
This is a fun tutorial to watch because in it, we see how these YouTubers work together to create their own grill surround. The plan consists of a time-lapse video of the team at work, and it's fascinating to watch as the project takes shape. We also get to see the grill in action – and seeing the food they cook at the end is making us feel hungry!
19. Easy Outdoor Kitchen DIY with Built-In Weber Propane Grill
If you have a Weber propane grill and are looking for ideas for how to incorporate it into an outdoor kitchen, this is a video that might inspire you. This is an impressive project, but it's also one that any keen DIYer should be able to tackle – so if you feel up to the challenge, why not try to build one just like it?
Lots of great ideas to try
As you can see, there are lots of great plans to copy, from simple and affordable options to designs that require a significant investment of time and money.
We've enjoyed finding these plans for you so we hope you've enjoyed reading and watching them too – and above all, we hope we've helped you find the ideas you needed for building a DIY BBQ surround of your own.