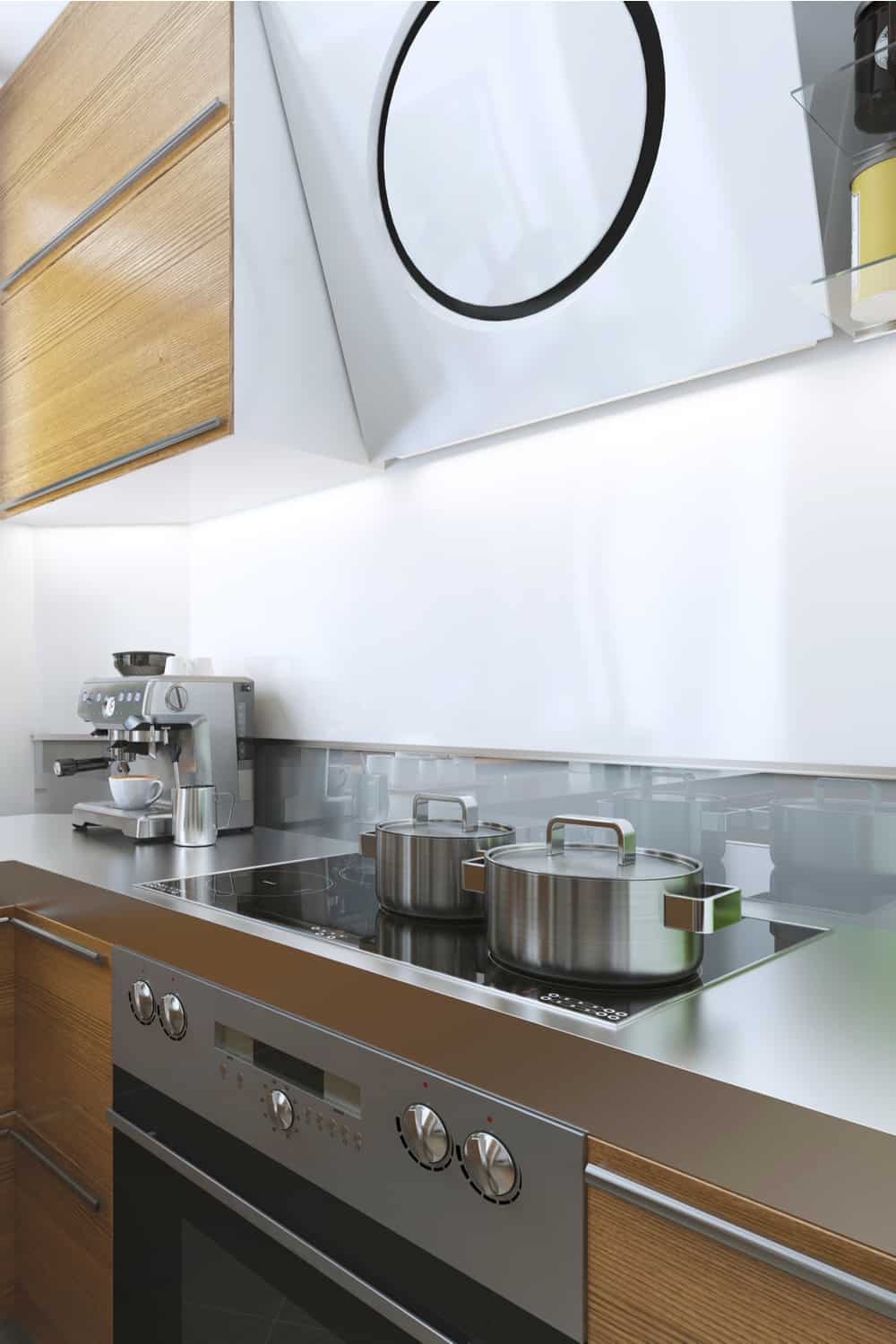 Metal countertops have a sleek look, are stain-resistant, and almost all of them are antibacterial. What's more, cleaning metal countertops are also super easy. As long as you polish your metal countertop timely to keep them pristine, it will keep rewarding your kitchen.
But once you decide you want a metal countertop for your kitchen, the major question arises – 'Shall I hire a professional?'. Well, we'd say don't!
Here, we've gathered some DIY metal countertop ideas to guide you on how you can create a stunning metal countertop yourself. Have fun throughout the process, and save some money along the way.
1. How to make a Copper Bar Top, Counter Top or Table Top
If you want your countertop to have a stunning rosy-gold shine, a copper countertop is a way to go.
In this YouTube tutorial video by Basic Copper, you'll learn how to laminate a piece of a copper sheet on an MDF board. The Youtuber also shows you how you should treat these sheets around the corner to get that perfect finish.
2. AFFORDABLE STAINLESS STEEL COUNTERTOPS; DIY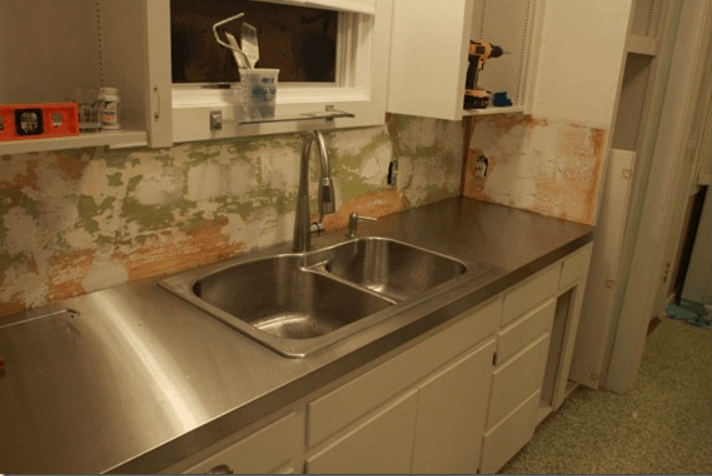 Remember when we said that you'd be saving money if you DIYed your metal counter? You'll find the proof in this blog.
The blogger from Remodelaholic has mentioned that she laminated her countertop with stainless steel sheet for $400 whereas, the countertop would have cost them $3000 on Home Depot. To see how they transformed, they countertop, head over to their blog.
3. Zinc Counter Top Job With Undermount Sinks – PART 1
When it comes to metal countertops, zinc countertops have not received enough attention they deserve. If you're someone who decided to opt for zinc countertops, here's the video you must watch.
The Youtuber of channel hffcom made three zinc countertops in this video, two of which have under-mount sinks. In this Part 1 video, he cuts raw materials and prepares the first counter without the sink. To make a countertop with under-mount sinks, watch Part 2 and Part 3 as well.
4. YOUR DIY STAINLESS STEEL COUNTERTOP FABRICATION GUIDE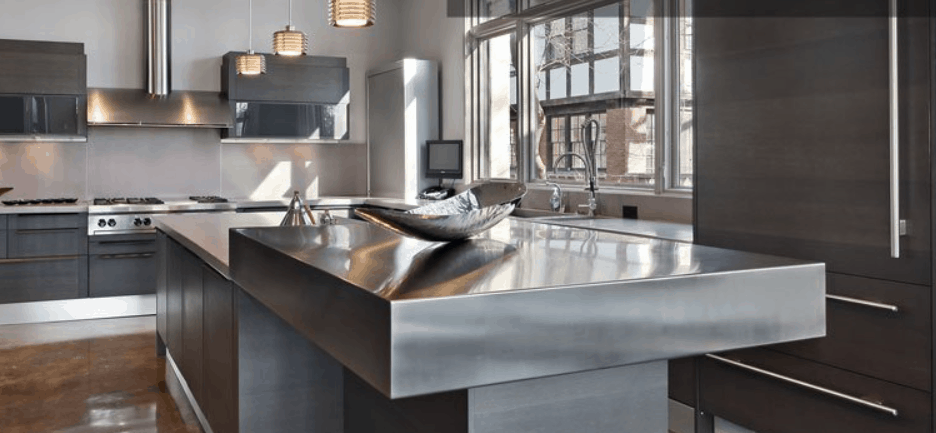 The blogger from Countertop Investigator has mentioned that by following this DIY tutorial, you can make a stainless steel countertop for $500-$700 when the commercial cost for these countertops is around $4000.
The steps are pretty simple, and you'll be done in three such steps. Moreover, different fabrication and custom options you can choose from are also mentioned in this post.
5. Kitchen Remodel – PART 3 – Zinc Counter Top with Backsplash
Do you love the idea of matching countertop and backsplash? Well, if the answer is a yes, here's the perfect tutorial for you.
The Youtuber uses Advantech and zinc sheets primarily, but if you want to know all the supplies and tools used, he has specifically addressed that part at the beginning of the video.
Though the Youtuber doesn't give many verbal instructions, you'll get a clear idea of the process once you see the full video.
6. DIY Zinc Countertop
Many people seem to love the patina that forms on zinc. You'd be surprised to know that many even try to patina their zinc countertop on their own. If you're one of such people, you'll love this DIY project.
On this DIY zinc countertop tutorial on hunker, you'll find straightforward instructions for the project. If you have any confusion about bending the zinc sheet edges or how to solder the corner, this tutorial will guide you in detail.
7. How to Make Custom Copper Countertops
If you love furniture DIYs, especially those that include woodworking, you'll love Got It Made YouTube channel. This DIY tutorial on making custom countertops is equally admirable. If you don't believe us, check the comment section yourself.
The video is very detailed and easy to follow. They used a copper sheet infused with a blue patina for this project and lacquer spray to finish their final countertop. You could do the same if you loved the result.
8. EXPENSIVE Kitchen Countertop for CHEAP!
If you don't like working with metals or if you don't have appropriate tools, it seems like you can even contact a sheet metal fabricator to make a metal shell for your table. All you have to do is give them the dimensions.
In this video, the Youtuber prepares a plywood base for his stainless-steel metal shell. If you've decided to make your metal countertop in a similar way, watch this video to understand how he attaches the plywood and the ready-made metal shell together.
9. The Ultimate Guide To Metal Countertops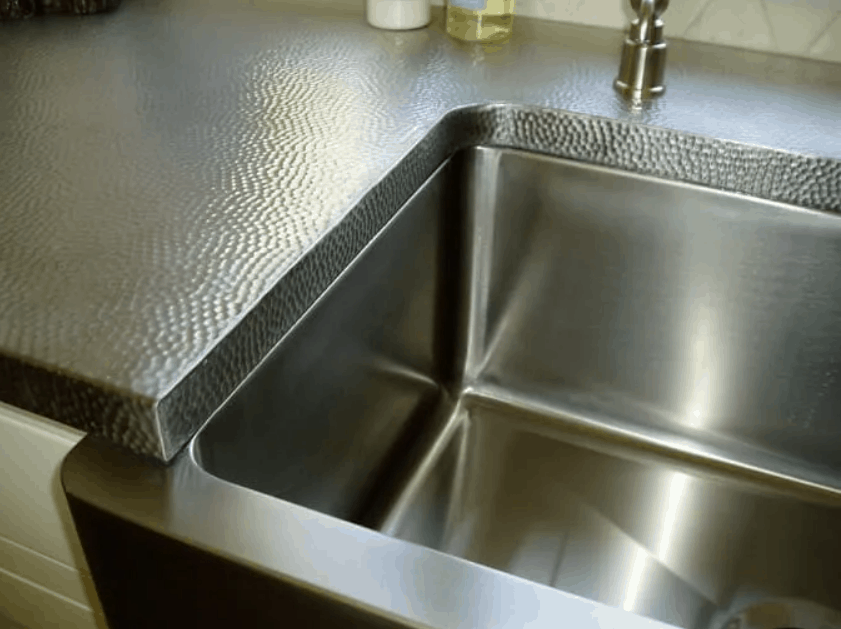 Before DIYing a metal countertop, it is a must to know all the details, from what type of metal countertops are available to which type serves your purpose the best.
Though not a DIY, this blog post will help you in many ways if you're planning on DIYing a metal countertop. From cleaning and maintenance to the cost of each metal countertops, this elaborate guide will help you make the best decision for your kitchen.
10. How to make zinc countertops Part 1 of 3
This tutorial video is Part 1 of the three-part 'How to make zinc countertops' series. The Youtuber explains the process in detail, and you'll not have a hard time following the process.
Don't forget to check out Part 2 and Part 3 of the series unless you want to leave your countertops incomplete. Moreover, if you're willing to purchase zinc material, you can check out the link mentioned on Buyzincsheets.com's video descriptions.
11. Make me pretty – zinc countertop diy
Though stainless steel is almost everyone's heavy favorite when it comes to the metal countertop, other metals such as zinc are no-less when taken good care of.
Are you tired of watching tutorials that use professional tools you don't own? If yes, here's the perfect tutorial for you to follow. The blogger also bends the zinc sheets using his hands.
On top of that, the blogger from Darling Octopus even applied antiquing solution on top of the brand-new zinc countertop to give a rustic look.
12. Making a Copper Top
Unlike some people who want their copper countertops to oxidize naturally, some might not love it. However, there are ways to prevent copper countertops from oxidizing, and even if it does, the cleaning process is not challenging as well.
So, what's preventing you from DIYing a copper countertop for your kitchen? If your answer is that you don't know how to make one, this DIY copper top tutorial from hffcom will take care of your problem.
13. Making Zinc Counter Tops
Youtuber of the channel hffcom in this video made a zinc countertop from scratch. If you want to start from the beginning, you can even screenshot the dimensions shown at the beginning of the video for reference.
This Youtuber is highly praised for his corner folds, and his channel has many such impeccable counter tops DIYs, some of which have made it to our list.
14. DIY Copper Countertop
Learn which copper sheet to use, what material to use as backing, and what products to use to finish the countertop on this post. Two 72- and 77-years old DIY lovers DIYed their own copper countertop and emphasized that anybody can do it.
They also gave an excellent tip to bring back the shine to your copper countertop. You can even buy copper sheets from The Metal Press if you're in need.
15. Zinc Sheet Countertop Install on Laminate Table
In this YouTube tutorial video, the Youtuber from Rotometals will demonstrate you on how to attach a zinc sheet to a laminate table. If you have a laminate countertop, you can follow the same procedure as shown in the video.
No over-the-top tools are used, and the DIY is pretty easy comparatively. If you want more metal DIYs or information, you'll love this YouTube channel.
16. Zinc Counter Top Corner Fold Detail Tutorial
We understand that most of you find folding the corners very difficult while laminating your countertops using metal sheets. To address that specific problem, we've added this tutorial to our list.
Learn how to fold zinc copper tops from this Youtuber. Many have thanked him in the comment section; you might be the next one to do so!
17. Faux Stainless Steel Countertop. Bancada de Aço Inoxidável Falso.
Working with metal can be challenging and tough if you don't have the proper skills or tools. What to do when you want a stainless-steel countertop, don't have skills for it, and don't want to pay a hefty sum to commercial stores either?
It's simple – DIY a faux stainless-steel countertop. If you're intrigued by the idea, head over to this short tutorial video right now!
Summary
We've left you with plenty of DIY metal countertops options to choose from, including a tutorial for a faux stainless-steel countertop.
Now, a little work from your side – be determined to do a little hard work and get that metal countertop that you've always desired. Give yourself a little push, and you'll make yourself a fabulous metal countertop.