Glassware can take up lots of space, but when properly displayed, wine glasses can be used as a decorative element that will add a touch of class to your room. Alternatively, there are also lots of ways of storing glasses that will help maximize the space available to you.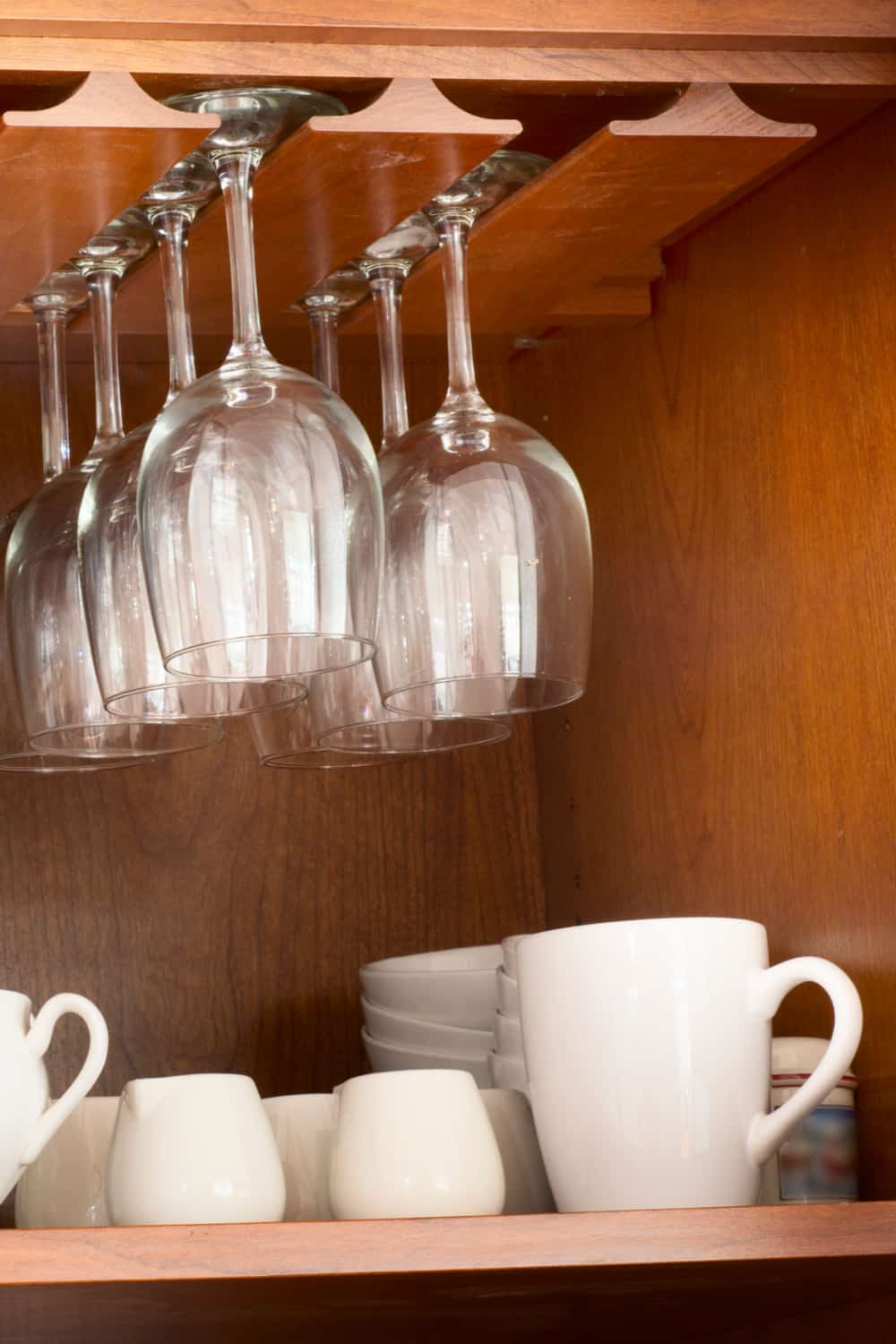 Building a wine glass rack can be a simple DIY job that almost anyone will be able to tackle – and if you need ideas or guidance, here are 17 plans for a DIY wine glass rack that you can try at home.
1. DIY Hanging Wine Glass Rack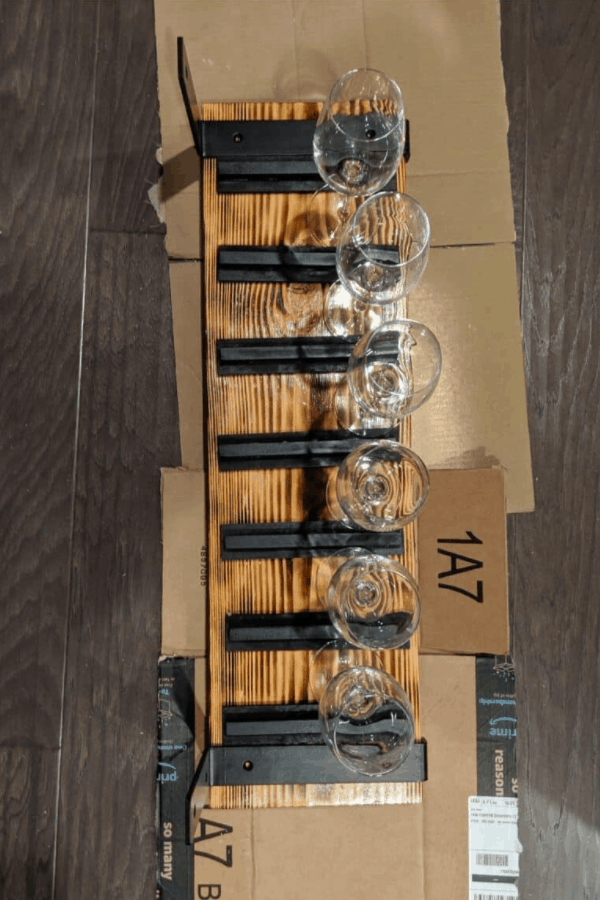 According to this blogger, you can construct this wine glass rack in under four hours while spending less than $25. She rates it as an easy project, but as you can see from the photos, the result looks great. You'll find a list of the materials you'll require and clear instructions for what you need to do, making this a plan anyone can attempt – even DIY novices!
2. Wine Glass Rack DIY
Adding a wine glass rack to your kitchen can be among the easiest DIY projects you can attempt, as this YouTuber demonstrates. This might not be the most elegant version, but it adds a certain rustic charm to the space. It's also extremely inexpensive to replicate, so if you like the way it looks, why not have a go at building one of your own?
3. Did You Know You Could DIY a Hanging Wine Glass Rack with Floor Molding?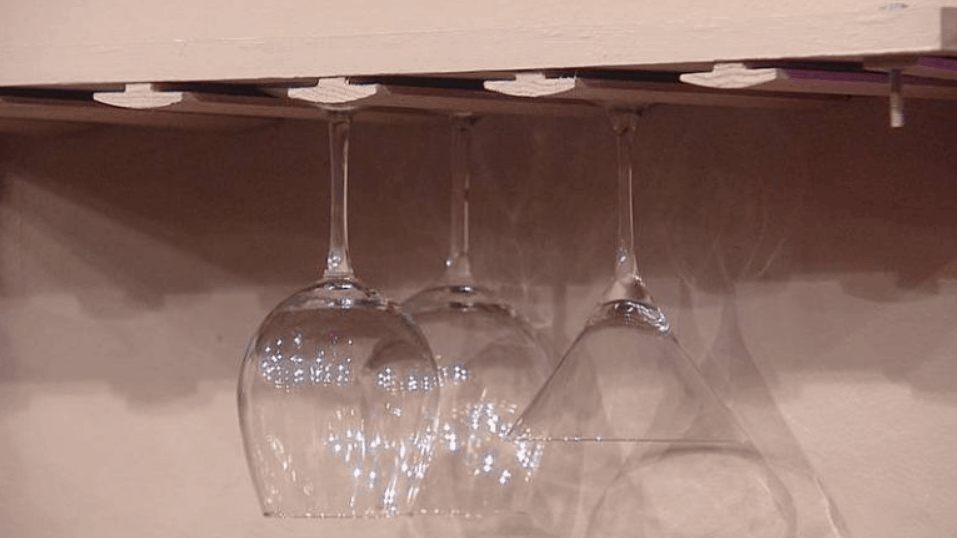 We always love DIY plans that take scrap materials and repurpose them, turning them into something attractive or functional rather than just throwing them out. This plan does just that, using floor molding to create a wine rack that will allow you to hang your wine glasses, freeing up valuable space in your cupboards. For anyone who has spare floor molding available, copying this plan will cost nothing – so check it out to see how to do it.
4. Build Your Own DIY Wine Glass Rack for Kitchen Cabinets
As this DIYer explains, wine glasses are attractive items, and sometimes the best storage option is to hide them in plain sight. In other words, rather than shutting your wine glasses away in a cupboard, why not use them as a decorative element in your kitchen? And if that's something you're interested in attempting, give this video a watch to see how he does it using only inexpensive materials and some very simple DIY techniques.
5. How to Make a Wine Glass Holder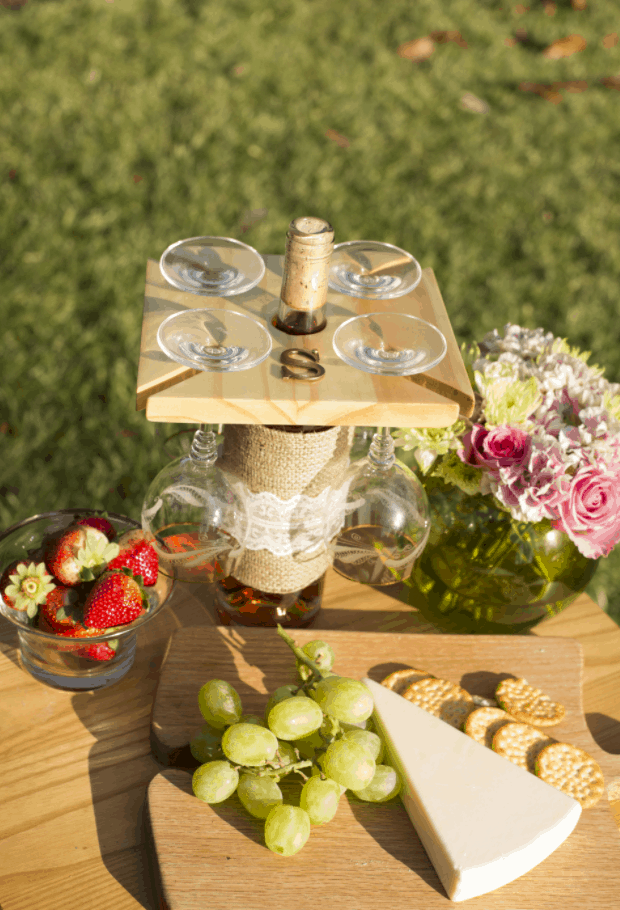 Here's an easy plan to follow that shows you how to make a rack for four wine glasses that you place on top of the wine bottle on the table. All you need is a wooden board for the rack as well as a couple of basic power tools, and as you can see, the result is a beautiful piece that is perfect for decorating your table – especially outside in the summer when the weather is nice.
6. How to Make a Wine Bottle/Glass Rack
For anyone who wants somewhere to store wine bottles as well as glasses, this is a plan that should be of interest. The rack is made of nothing but old pallet wood, so it won't cost you much to make, and we love the rustic style of the finished item that will help you avoid clutter in your home while adding an attractive decorative element to your interior space.
7. DIY Wooden Wine Glass Rack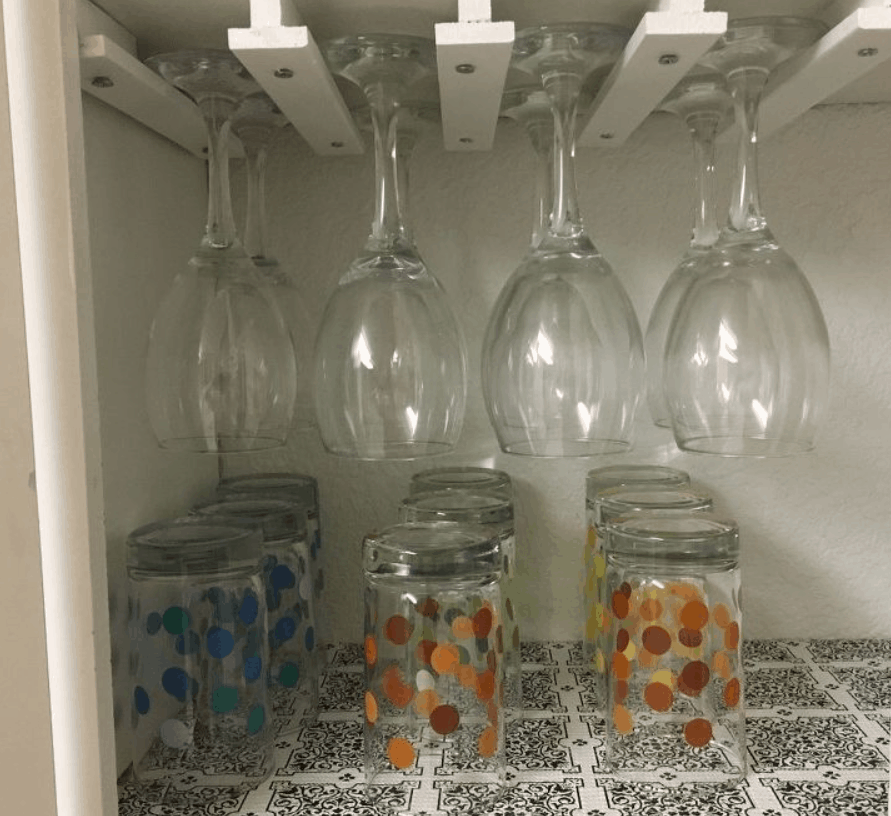 If you own lots of glasses in different shapes and sizes, you're sure to have realized they tend to take up a lot of space – and if you only have a small house, you might have trouble finding places to store them all. The solution is making the best use of any vertical storage you have available, and that means hanging glasses from the top of shelves as well as standing them on the bottom. This means you will effectively double the amount of storage – and doing it could hardly be easier or less expensive. Sound interesting? Then check out this blog for more info.
8. Hanging Wine Glass Rack
In this video, this YouTuber teaches us how to make an awesome hanging wine glass holder from nothing more than a piece of wood and some rope. We like the way she explains everything so clearly and demonstrates exactly what to do, making this a great project for DIY rookies who are looking to develop their skills.
9. DIY Wine and Stemware Rack Tutorial
Racks for wine bottles and wine glasses come in all shapes and sizes, and this compact version is sure to appeal to lots of people. You only need some inexpensive materials and a few basic power tools, but the result looks fantastic. This is an item that would make a perfect gift for any wine lover – but once you finish it, you might decide you prefer to keep it yourself instead!
10. Building a Wine Glass Rack for My Favorite Brewery
We're big fans of videos that simply show you the DIYer at work. It's clear enough what's happening without any unnecessary explanations or extra details, and it's always fascinating to watch as the project slowly takes shape. That's exactly what you get here, and we get to see as he moves from the first cuts to finally installing the rack in the brewery. If you're a DIY beginner, you might need a few more guidelines, but for anyone who knows what they're doing, this plan should be a great source of ideas. Well worth a watch.
11. How to Make a DIY Holder for a Wine Bottle and Glasses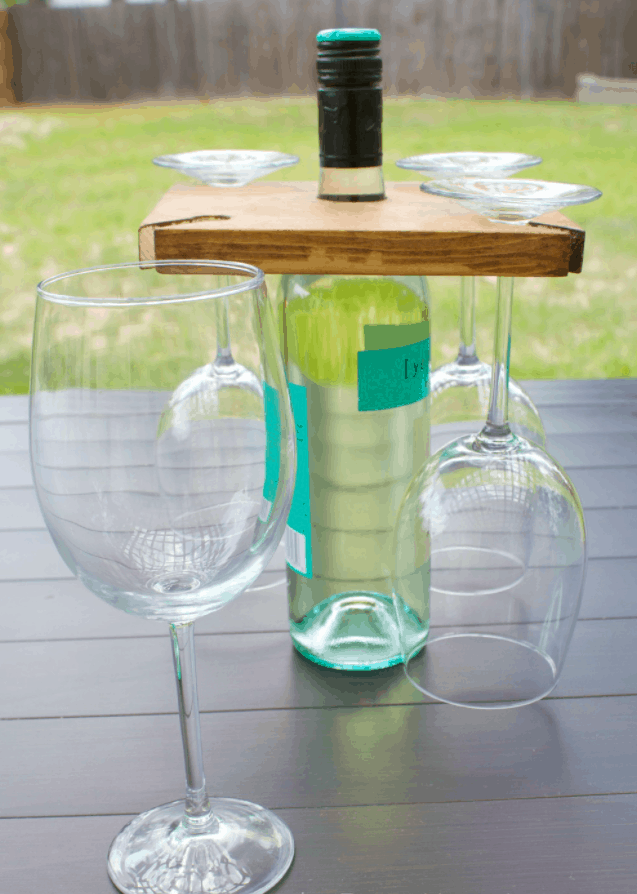 The wine glass holder in this plan is so simple to make, and you could easily finish it in just a few hours. It's the kind that sits on top of the bottle and holds four glasses, making it perfect for serving wine outside, and it's a plan that anyone will be able to manage.
12. Making A Rustic Pallet Wood Wine Rack
Making stuff from pallets has become a popular sub-genre of DIY in recent years, and here's a great plan that will show you how to use one to make a rustic wine glass rack. Other than the pallet, you'll mainly need a few basic power tools that most people have access to, and as you can see from the video, the result is highly impressive.
13. DIY Wooden Wine Glass Rack to fit the Ikea Ivar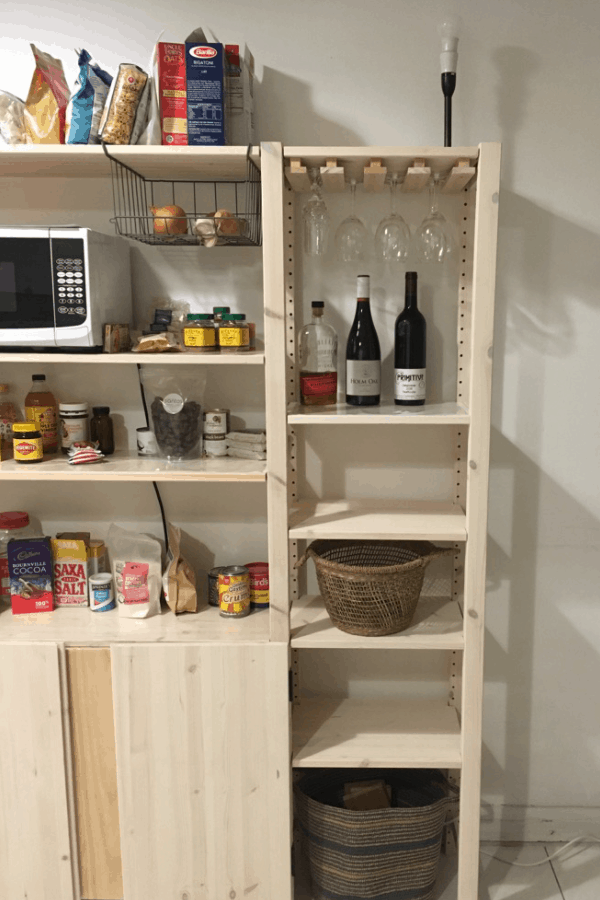 Another sub-genre of DIY that has appeared recently is repurposing old Ikea furniture, turning items that were destined to be thrown out into something original and new. Here's a great plan we found for a wine glass rack using an Ikea "Ivar". It's so simple that anyone will be able to copy it, and it will give you somewhere convenient to store your glasses, helping save you some space. Give it a read to find out how!
14. The Woodpecker Ep 17 Wine Rack for Bottles and Glasses
For confirmed DIYers looking for an ambitious project to get stuck into, this video could be just what you need. In it, you will learn how to make a sizeable, highly professional rack that holds a large number of both wine bottles and glasses. Our only problem with this plan is that we don't get to see what it looks like when it's finished – but it's still a great video to watch since we can all learn so much from skilled woodworkers like this one.
15. How to Make a Wine Glass Rack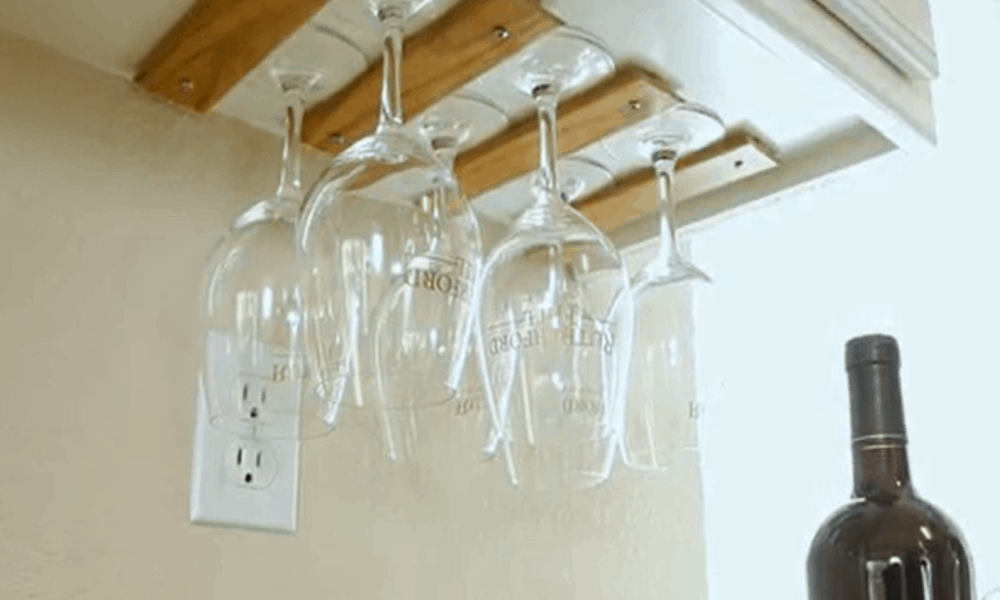 In his plan, this blogger teaches us how to make an extremely simple yet practical solution for storing wine glasses. If you need to create extra space in your home, the key is utilizing the space available in the most efficient way, and here you'll learn a simple hack for making better use of your space by building a hanging wine glass rack.
Check this plan
16. How to Make A Wine Glass Rack
Here's another video that demonstrates how to build a wine glass rack, and what we appreciate most here is his great attention to detail. For example, he even goes to the trouble of measuring the glasses he intends to use with it to make sure they fit. We also appreciate the relaxing music that makes it a pleasure to watch – check it out to see what we mean!
17. Scrap Wood Wine Glass Rack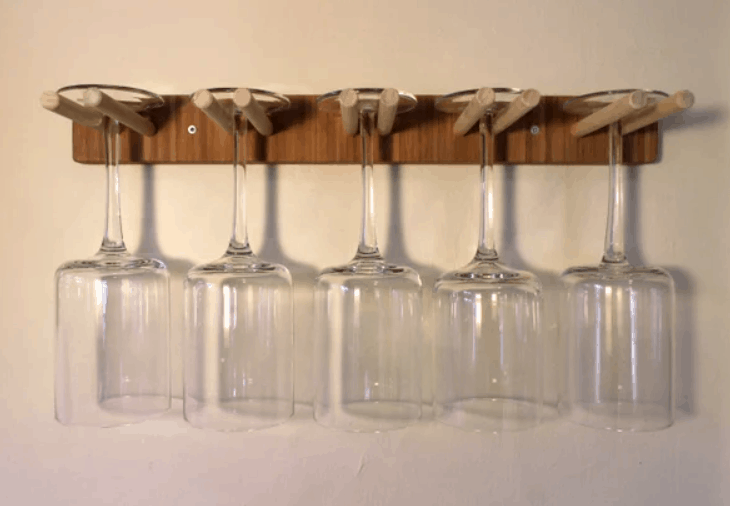 For us, the best DIY plans are usually the ones that take scrap materials and turn them into something useful. That way, you reduce waste while creating something new without spending any money. That's what this plan is all about, so if you have some scrap wood lying about, why not turn copy this plan and turn it into a wine glass rack rather than throwing it out?
Plenty of options for storing your glasses
Whether you want to display your glassware or hide it away, there are plenty of options for DIY wine glass racks that will help you maximize your kitchen space.
We hope you've enjoyed reading and watching these plans as much as we have finding them for you – and above all, we hope we've helped you find the plan you were looking for to build a DIY wine glass rack of your own.