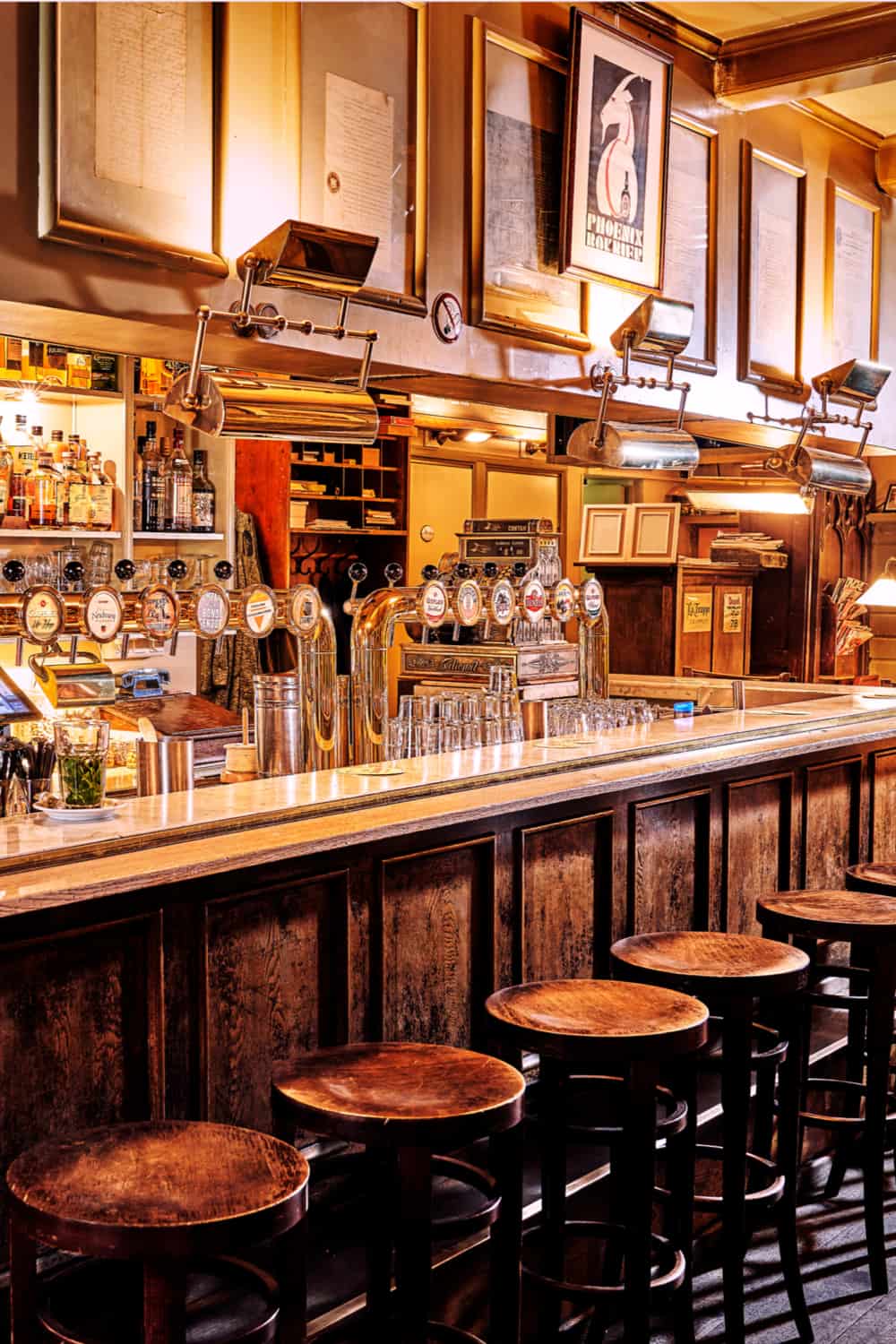 Barstools are functional yet attractive pieces of furniture with an enduring appeal. They also make an easy yet rewarding DIY project that even beginners can manage – and if you want to try, here are 17 great plans for DIY barstools that will show you how to do it.
1. Make Your Own Barstools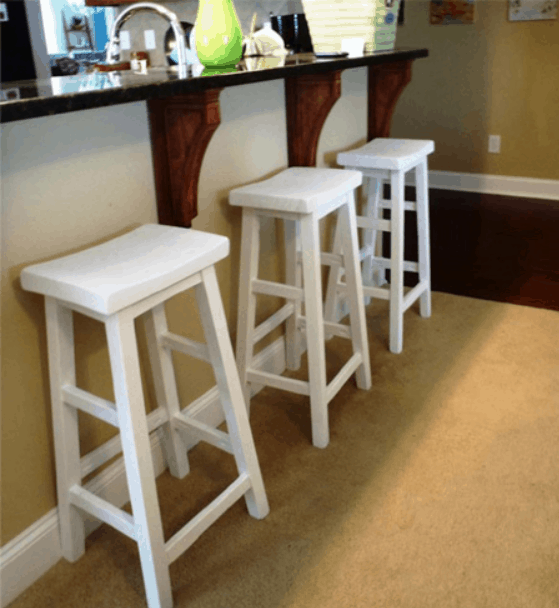 Making basic barstools is an easy DIY project that anyone can attempt, even novices with very little experience, and if you're looking for an uncomplicated plan that will allow you to develop your skills, this one could be a great option. You'll find a list of the tools and materials required for the project along with the detailed measurements you'll need to use. So in short, this plan has all the information you need to make a set of simple yet attractive barstools that will look perfect almost anywhere.
2. The $20 Barstool – Easy DIY Project
Creating barstools is a great project for DIYers of any ability level to attempt because they're super easy to make and can also be extremely inexpensive. The stools you'll learn to make in this tutorial can be built for under $20 each, and we love the classic style of the finished items. If you like the look of them too, this video tutorial demonstrates everything you need to do to build a set of your own, so if you're looking for a fun project to attempt, why not give it a watch?
3. Easiest Stools Ever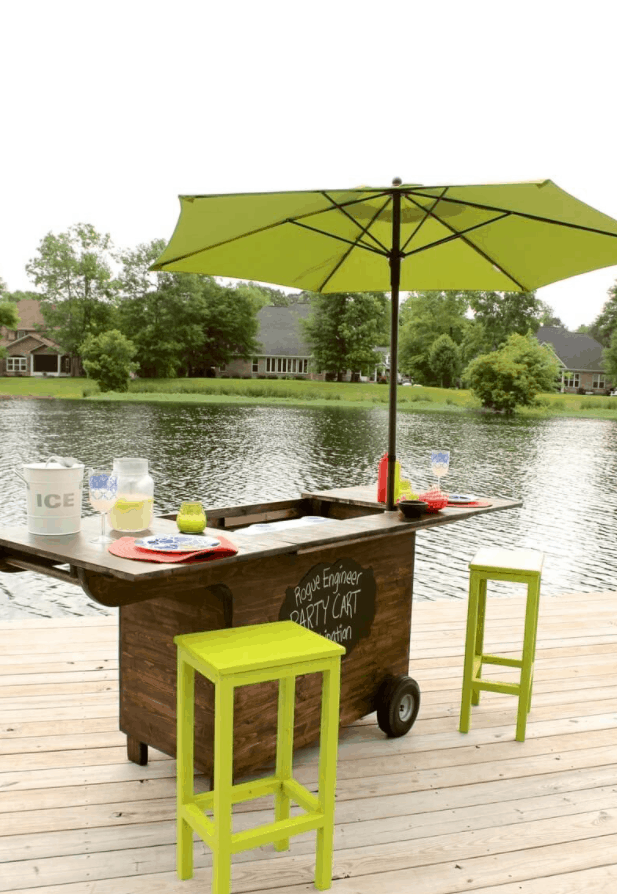 As this blogger writes, barstools are simple and functional pieces of furniture – but that doesn't mean they don't have an undeniable charm. There's something timeless about barstools, and they're extremely easy to construct – and this tutorial claims to teach you how to make the easiest version ever. You won't need to spend much either since you can make a pair of them for only around $20. And if that sounds like something you'd like to have a go at, this plan has all the information you need to get started.
4. How to Build a Counter Height Barstool with a Curved Seat for $10
This video is from the same blogger who wrote the plan for #3, but here, he shows you how to make a slightly more advanced type of barstool with a curved seat. However, this tweak in the shape won't make the project any more difficult or expensive, so this a great video to check out if you're looking to build something similar.
5. How to Make Barstools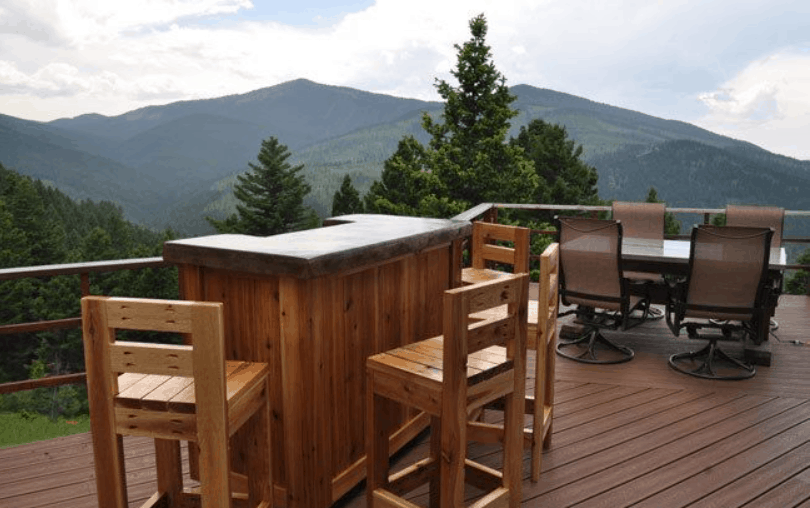 In this plan, you'll learn how to make super easy barstools with a raised back. This simple addition helps make the barstools that bit more comfortable since you'll have something to lean against while you're sitting on it, and it also adds something to their aesthetic appeal. However, there's nothing complicated about making barstools like this, and if you want to learn, this is a blog that will teach you how it's done.
6. Chevron Pattern Barstool
We've seen lots of plans for barstools online, but many are unoriginal and uninspiring – they all just seem to be clones of the same tired design. That's fine if you don't want anything fancy, but the barstool in this tutorial incorporates an attractive chevron pattern in the seat that makes it stand out from the crowd. We think these barstools would look great in any contemporary home – and if that's the kind of style you appreciate, this is a plan you're sure to enjoy.
7. Barstool with Red Hot Building
In this lively video, this talented DIYer shows us a quick and easy method for building barstools. We enjoyed the brisk pace of this tutorial as well as the no-nonsense style. The YouTuber explains in simple terms exactly what you need to do and then demonstrates everything in a way that's easy for anyone to understand. It's also great fun watching the project shape up, and we're sure you'll agree the result looks fantastic – so if you want to try making some barstools of your own, this is another recommended watch.
8. How to Make a Barstool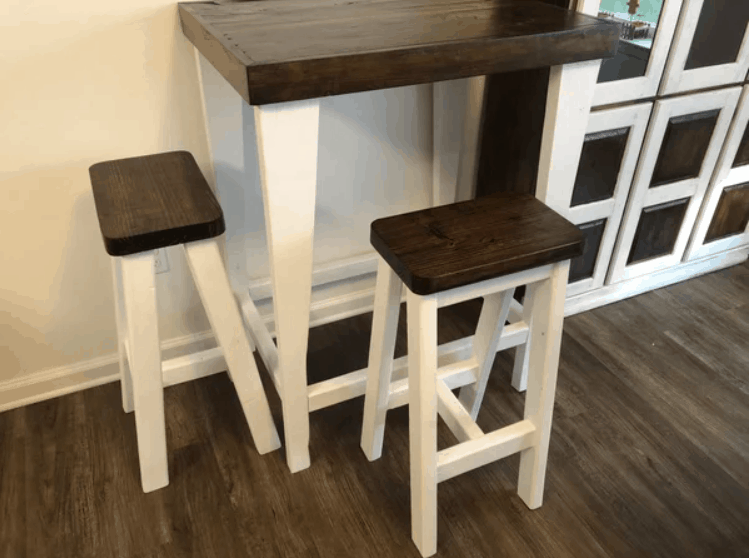 This plan comes from the Instructables site, one of our favorite resources when we need inspiration for just about any DIY project we can think of – and this is a tutorial that doesn't disappoint. Like all the plans on this site, it includes clear instructions and plenty of photos to help you see what you're supposed to be doing at each step. We also love the way they've chosen to combine a dark stained seat with white legs, which gives the stools a striking appearance. Check it out to see what we mean!
9. Build a Barstool Using Only 2x4s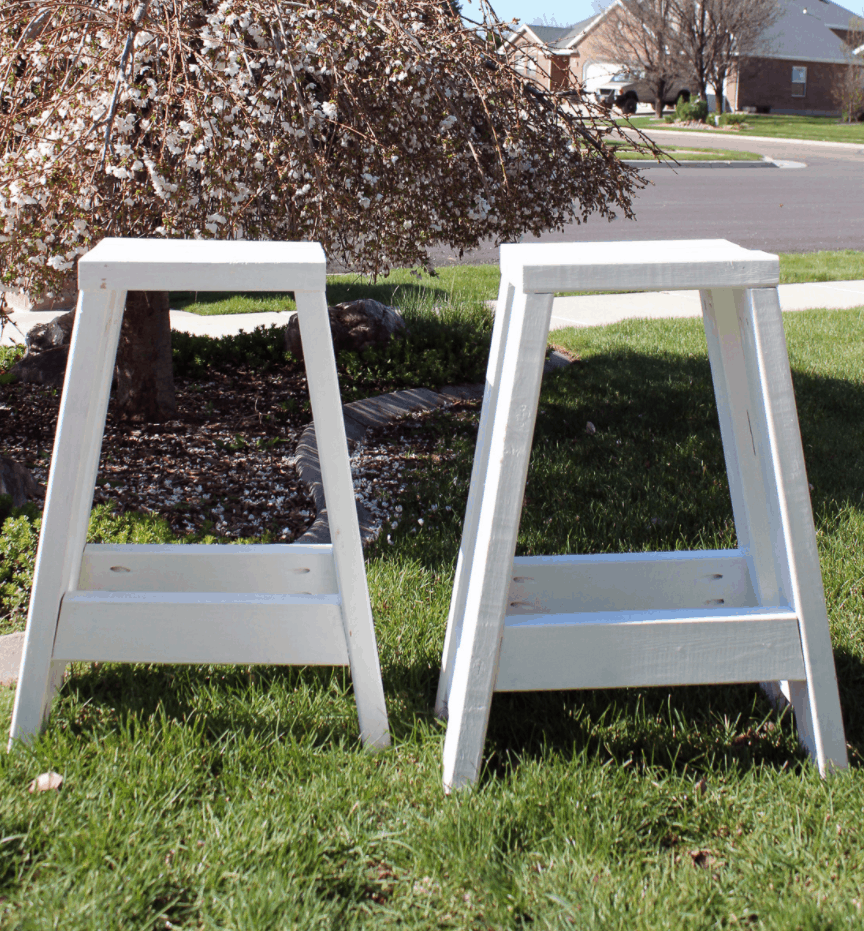 Did you know that there's a difference between "barstools" and "counter stools"? Apparently, as this blogger explains, it's a question of height, so the stools in this plan are technically the latter. However, semantics aside, we think they look great, and we're sure lots of DIY enthusiasts will be keen on making a set for themselves. And if you want them to be a little taller, just change the measurements!
10. DIY Barstool with Esteban Castano
Here's a video that proves just how inexpensive it can be to construct a barstool – because, as you can read in the introduction to the video, this YouTuber made one for the price of a 2x4x8 board – and the rest of the material, he salvaged from a pallet. His tutorial consists mainly of him demonstrating the project, explaining what you need to do as he goes. When it's finished, it looks highly professional too, just showing what's possible with the right skills and a bit of creativity.
11. Barstools with Ana White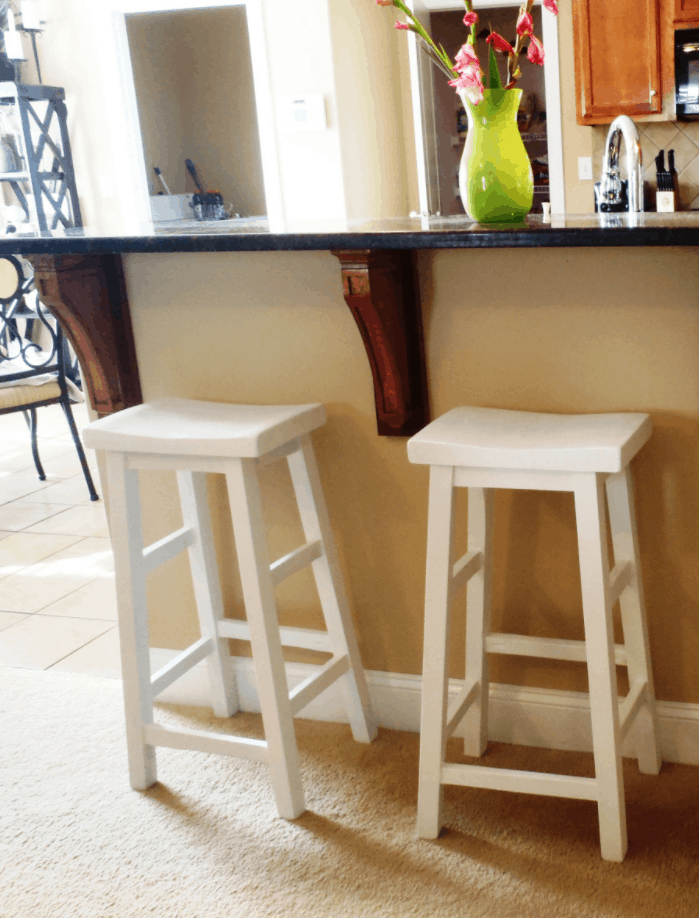 The stools this blogger teaches us how to make are a little more expensive than some of the others we've seen – but at only $40-60, they'll hardly break the bank. She rates this project as being suitable for beginners, and it can be completed in only a few hours, so it could be something fun to attempt if you have a free afternoon to fill. We love the photo of the finished stools next to the stylish bar top – and if you want to build some yourself, the link on the blog takes you to the full plan.
12. DIY $3 Barstool from a 2×4
This plan teaches you how to make perhaps the cheapest barstools possible because each one costs no more than $3 to make. In the video, he shows you how to cut the wood and then demonstrates the finishing process, which he did using polyurethane. These stools might not be works of art, but if you just want something basic and functional that will cost you next to nothing, this is a plan that's sure to appeal.
13. How to Make a Barstool from Reclaimed Material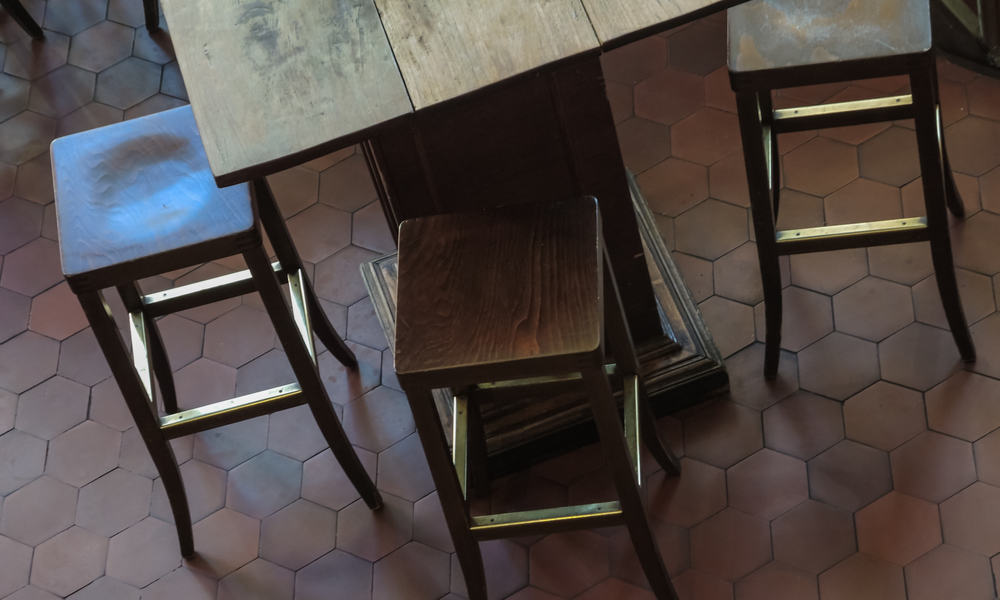 For anyone unwilling to spend even $3 on making a barstool, this is a plan aimed at you since it teaches you how to make barstools from reclaimed material – meaning potentially, you won't need to spend any money at all. The tutorial offers several options, all of which allow you to build attractive and sometimes quirky barstools, so if the idea of making some fun, free furniture sounds interesting, why not give it a read?
14. DIY Barstool with Plans
If you want to make DIY barstools, you can do it using nothing more than some 2x4s – and this plan gives you all the information you need to do it. Something else we like about this plan is the way it doesn't require any advanced tools – you only need the kind of stuff most people have in their garage already, so this is a plan anyone can try, even those who are only occasional dabblers in DIY.
15. DIY Barstools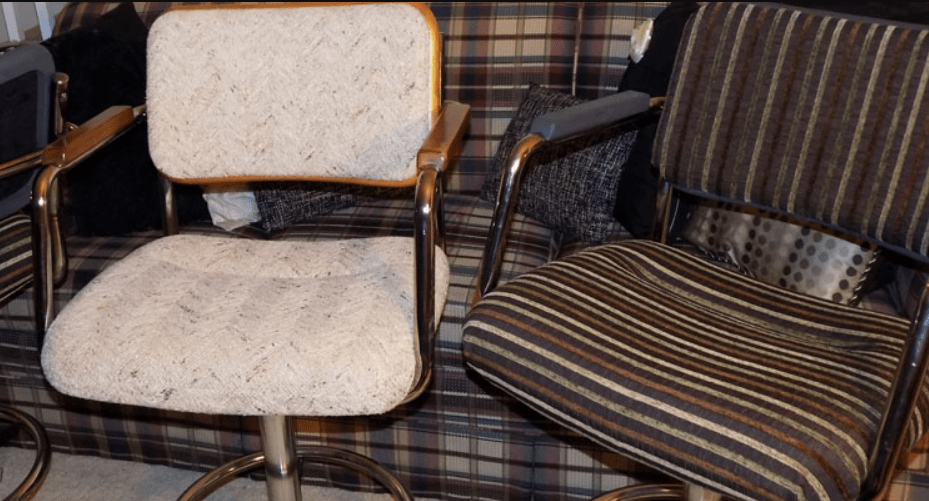 For those who don't want to build DIY barstools from scratch, another option is to salvage some old barstools that were otherwise destined for the scrapheap and turn them into something useful and attractive. The advantage of this is that you'll probably be able to find some old barstools that will cost you very little, and you'll also only need a few basic supplies for the renovation job. Check out the blog to see the kind of thing that's possible – and if you like the idea, you can have a go yourself.
16. 3 Levels of Barstools – DIY to Pro Build
Here's an interesting concept for a tutorial. In it, these YouTubers show us how to build three types of barstool, a "DIY" model, an "amateur" model and a "pro" version. The idea is to show you how you can level-up your skills while building something a little more advanced than the kind of thing most basic plans show you how to make. Which of the three is your favorite? Give it a watch and decide!
17. DIY High-End-Looking Barstools for $20
To finish, here's a clever plan for making barstools that look like they cost a lot more than they really did. As this YouTuber tells us, she made a pair of them for around $40 – this might sound like a lot compared to some of the others we've seen, but these fancy stools wouldn't look out of place in a swanky hotel bar. This means if you like expensive, chic looks but don't want to spend the cash, this is a plan that's well worth checking out.
Lots of plans to copy
As you can see, there are plenty of great plans for barstools to copy in a range of different styles. We hope you've enjoyed reading and watching these plans as much as we did finding them for you – and most of all, we hope we've helped you find the plan you needed for your next DIY project.