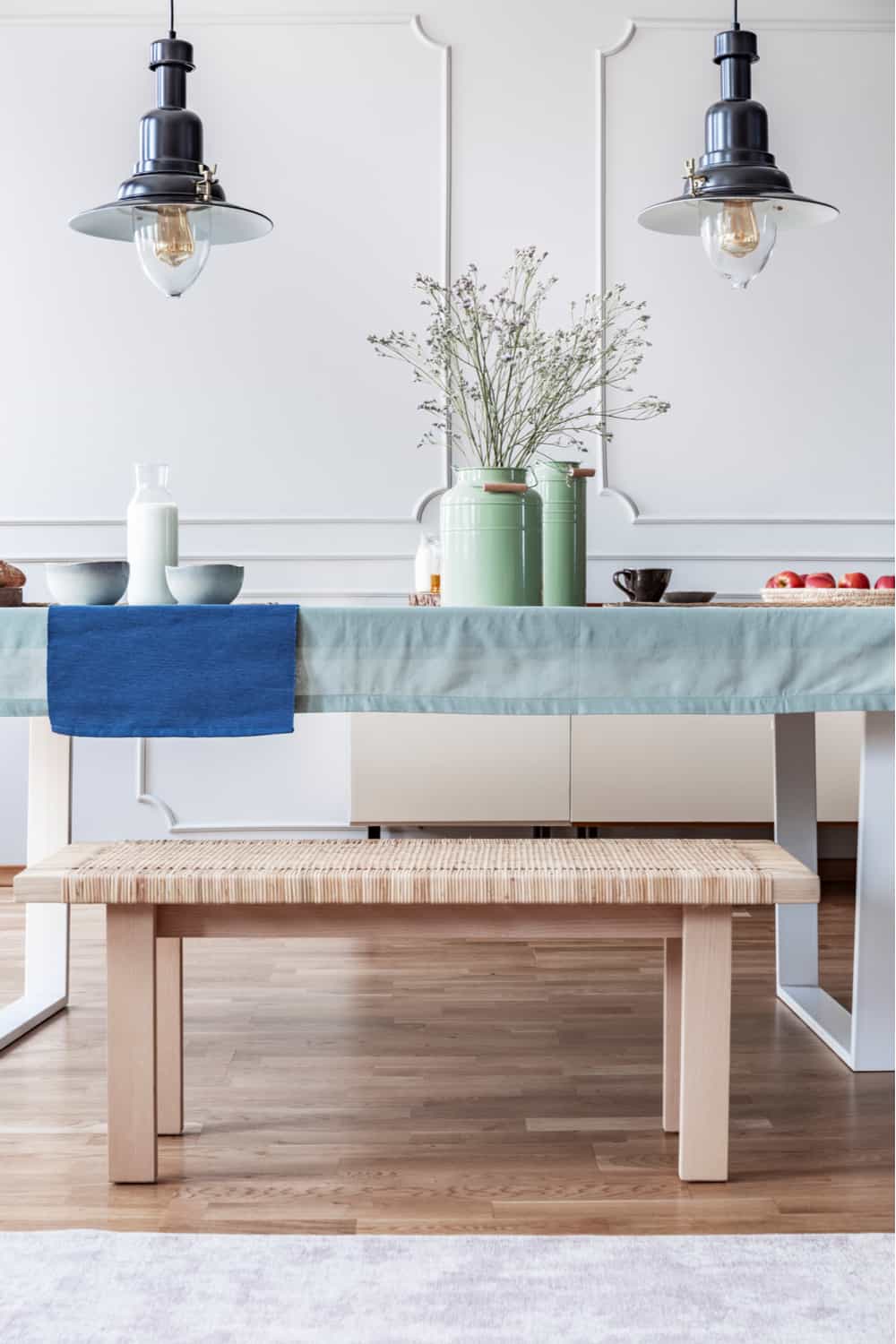 When all of our family members or friends gather together, needless to say, our kitchen chairs are not enough. That's why you must have at least one or a few dining benches at your home.
You can take a relaxed deep breath as you don't have to spend your dollars on these benches. By following one of these super awesome DIY dining bench tutorials, you can make one yourself.
1. The $15 Fifteen Minute Bench – Easy DIY Project
Fifteen minutes of hard work, and you'll make yourself a fantastic wooden bench to rest afterward. What's more, it costs you only around $15 to create one.
You can find each step along with the wooden pieces' measurements in the video, whereas the tools and materials required are written on the description box. This DIY wooden bench is 17'' tall, 48'' long, whereas the width of the bench seat is 14.5''.
2. DIY WOOD BENCH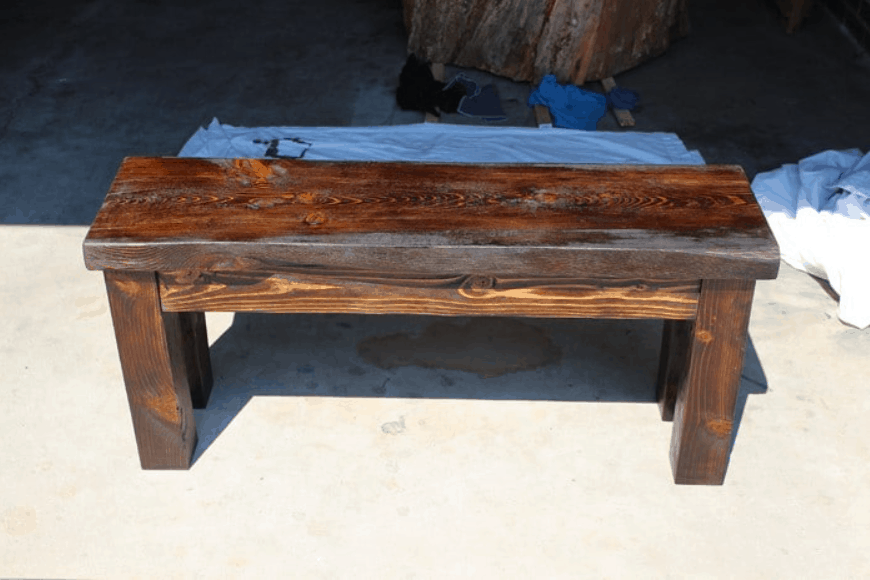 You can make an 18'' tall, 41''long, and 12'' wide bench by following this simple DIY tutorial. You can find all the supplies and tools you need for this project along with step-by-step instructions in this blog post.
If you're more into a wooden DIY project, Two Feet First has a range of such interesting projects, including DIY wooden gates and various excellent closet DIYs.
3. DIY Dining Table Bench – ONLY $32 IN LUMBER!
Make an incredibly sturdy and comfortable dining table bench by following this video tutorial. The Youtuber makes the base of the bench quite heavy and strong, which ensures that this bench will last you a long time.
You can find a plan and cut list for this project along with the links for the products used on the description box.
4. Rustic Bench DIY Home Decor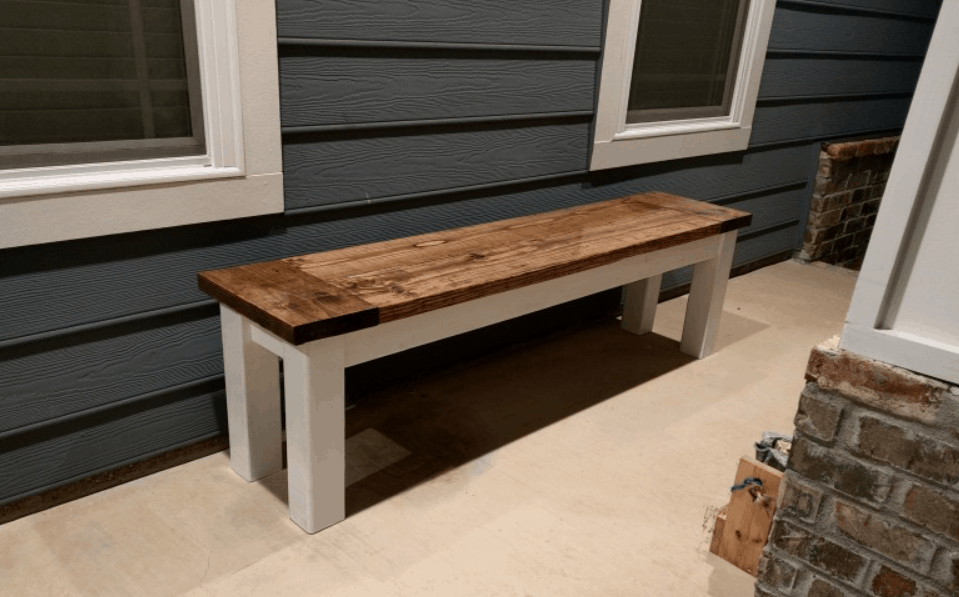 This plain rustic bench will be a perfect addition to your outdoor dining table. The bench in itself will also be an excellent place to sit and relax. The tools, materials, and the cut list are very clearly mentioned in the post.
If you get stuck while doing this project, the comment section might help you as it contains many advises and tricks along with a ton of admiration and positive reviews.
5. How to Build a DIY Built-In Dining Room Bench with Storage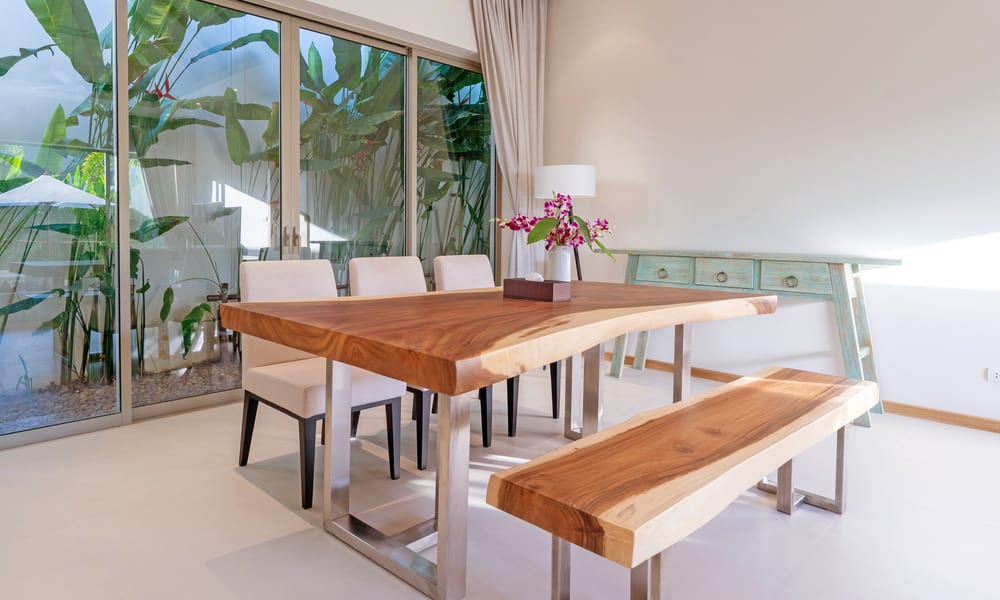 For all the 2-in-1 item lovers, here's an exciting DIY project for you. Make a dining room bench with storage by following this detailed post. If you don't have enough space to make an in-built bench, you can opt to make a separate one by closing the ends of the bench.
A cut list is clearly mentioned in this post but if you're planning to make an in-built bench for your kitchen, remember that the measurements might vary.
6. Industrial Farmhouse Bench | ShantyHouseCrash
This farmhouse bench costs you only $35, and the tutorial is very straightforward and easy to follow as well. If you decide to follow this tutorial, remember that there's a free thorough plan for this project on the description box.
In case you're interested, Shanty2chic has a bunch of such fantastic furniture DIY on their YouTube channel and the website.
7. Beginner Farm Table Benches (2 Tools + $20 in Lumber)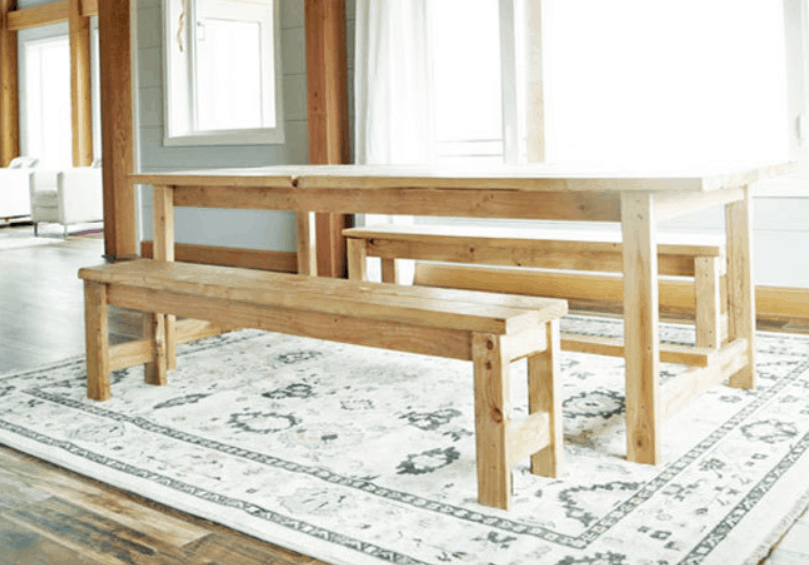 If you want to make a more extended bench, follow this 72'' long wooden bench DIY project. A tutorial video is also embedded in this blog post.
You might want to increase the width of this bench as the total width of the bench is only 11'' which might not be comfortable enough to sit. For detailed improvement advice, you can check the comment section of this post.
8. The $20 Farmhouse Bench – Easy DIY Project
Along with The Rehab Life's $15 fifteen-minute bench, their 20$ farmhouse bench has also made it to our list. This tutorial is relatively quite complicated than the first one. There's also a leg rest on this bench.
This farmhouse bench is 72'' long, 14.5'' wide, and 18'' tall. Both the tools and material list, along with their amazon links, are mentioned in the description box.
9. Scrap Wood Outdoor Bench Seat | DIY garden bench plans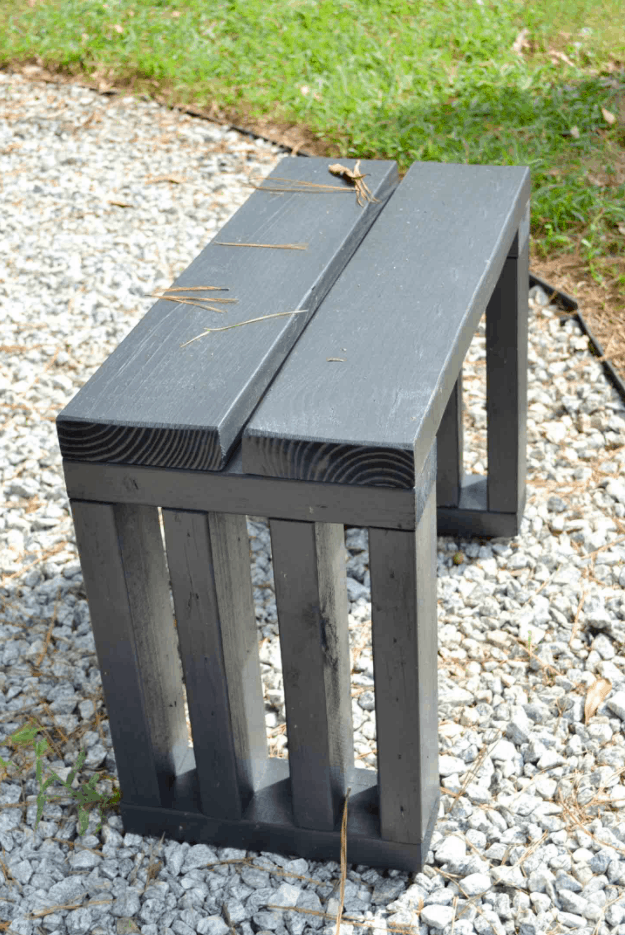 This garden bench is incredibly small and unique. The blogger used leftover lumber from her DIY floating deck build project. But you can always opt to make a longer bench if you loved the design and have enough wood.
As soon as you see the two gifs that demonstrate how the wooden pieces assemble to form the bench, you'll get a crystal-clear idea of what needs to be done.
10. DIY Modern Outdoor Bench | Modern Builds | EP. 30
If you're looking for a fancy and unique DIY bench idea, this might be the winner for you. The link to the written article on which you can find all the dimensions is given in the description box.
Modern Builds has an unbelievable collection of fascinating DIYs. The most interesting one you might want to watch even if you're not planning to do the DIY is the conversion of a school bus into a tiny house.
11. How to Build a Bench in 60 Seconds – Cheater Method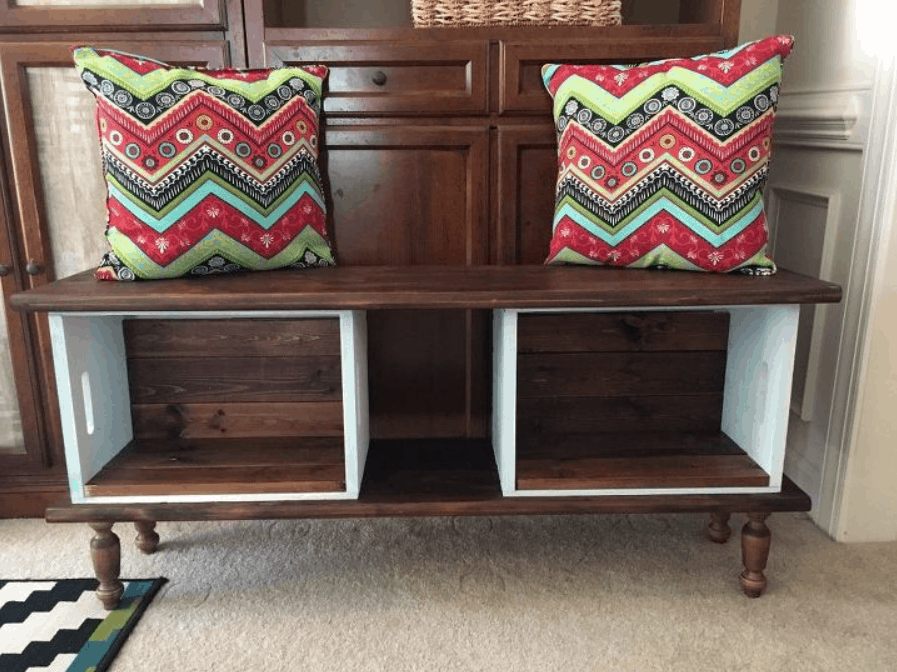 Though the title seems like a scam, it is not. You can genuinely build a DIY bench in 60 seconds. If you're intrigued how, check this blog post for details.
Most importantly, you have to be equipped with the right materials. Since not all the crates are created equal or can tolerate human weight, make sure to select sturdy and equal ones. You can also add screws to secure the bench properly.
12. How to Build a DIY Dining Table & Benches
Not only the benches, in this DIY tutorial, but you can also learn how to make a dining table as well. The computerized visuals in this video help you understand the process and steps pretty well. Moreover, the project procedure is also elaborated on in the description box.
For a comprehensive guide, you can follow the written tutorial on Lowe's Home Improvement's website, the link to which is also mentioned right below the channel's name.
13. Modern Park Bench
If you're not a fan of backless benches, we've considered your preference as well. You can make a simple yet comfortable park bench by following this DIY blog post by Ana White.
With separate shopping, cut and tools list along with illustrative figures with dimensions, and straightforward instructions, this written tutorial is very convenient and easy to follow.
14. IKEA HACK – The Shiplap-style Storage Bench
If you love getting compliments, you must make this amazing storage bench. All you need is an IKEA Kallax shelf, few supplies, woodworking tools, and a little bit of patience and determination to complete the project.
With this easy DIY project, along with building a comfortable dining bench, you'll also be creating a valuable storage space to store any kitchen item that doesn't get used too often.
15. Step-by-Step DIY Dining Bench Plans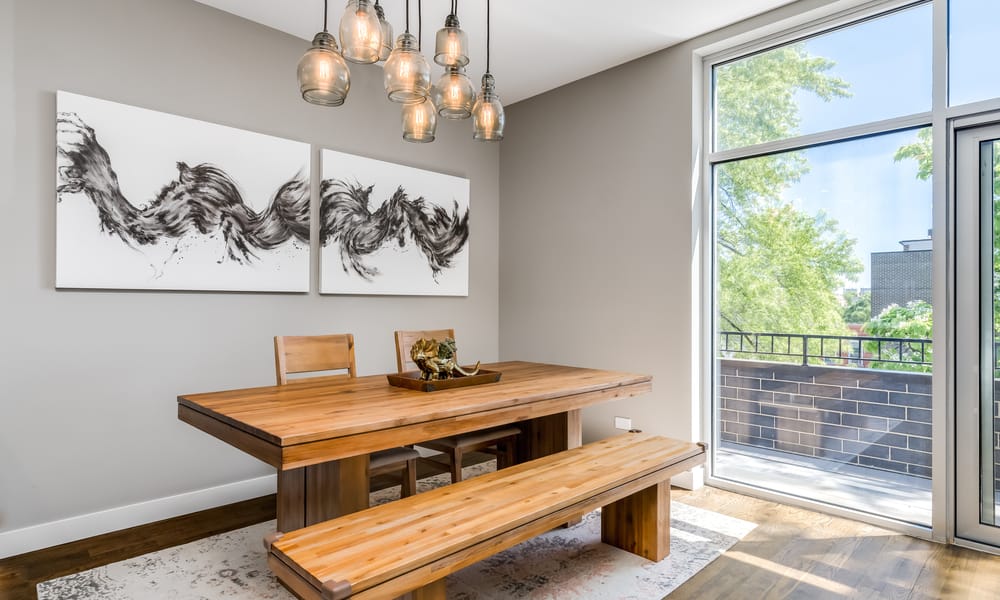 Though the compact paragraphs might look overwhelming at first, the tutorial is quite easy to follow once you figure out dimensions, supplies, and cut list of the project. The steps and the figures in the plan are very synchronized, and thus, easy to follow.
If you're looking forward to making a whole dining set, you can also find a tutorial on DIYing a dining table that matches these benches on Little green bow.
16. Super Easy DIY Outdoor Benches
Youtuber Maura Houston, made two short benches instead of a long one as it makes it easier for people to get in and out.
You can find the cut list at the beginning of the video, but a proper supplies and tools list is not mentioned anywhere. However, she does explain the project and steps quite elaboratively, leaving no room for confusion.
17. EASY DIY Farmhouse Bench
PMK Woodworking is all about wooden DIY projects. Using only nine 2X4's wooden boards, you can make an antique looking DIY bench by yourself.
However, along with standard woodworking tools, you might need a few advanced woodworking tools, including a table saw and milter saw, to complete this project.
18. EASIEST DIY BENCH EVER!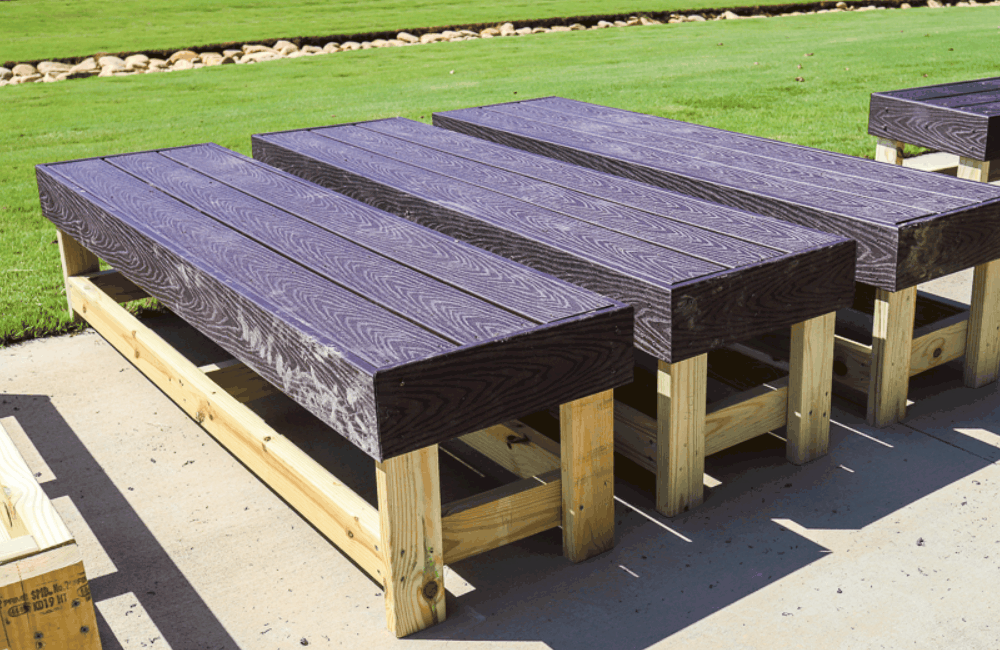 It might not be the easiest bench DIY ever, but it indeed is one of the fanciest DIY benches. This DIY bench is 71.5'' long, 18.5'' wide, and 18'' tall. You might want to increase the height if you're planning to make a dining bench.
You can find the link to download the descriptive printable pdf plan for this project somewhere around the middle of this blog post.
Summary
DIY dining benches are also great in case you have an outdoor dining table. Or, if you want just to keep a few benches outdoor, that's great as well. These make up a great space for spending time with your loved ones.
Moreover, the warmth of the stories you share squeezed with friends or family on a bench is unparalleled. So, select a tutorial, grab your tools, and start making awesome DIY dining benches right away!