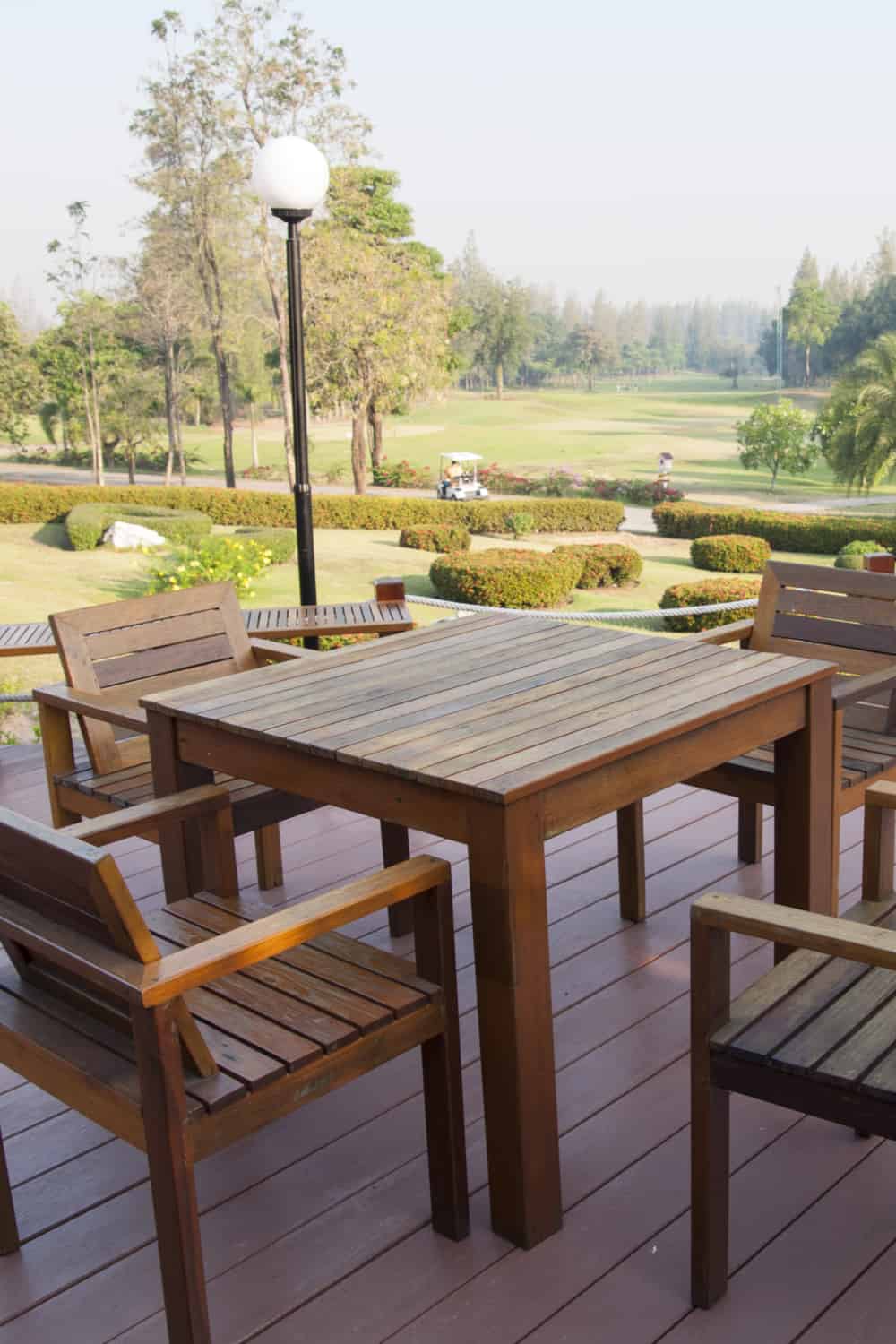 Outdoor dining tables are a great place to hang out and have meals with your family or friends. Having a meal outside also gives you a picnicky vibe.
A DIY outdoor dining table is an incredible addition to your patio. But your budget might not agree with you, right?
To your rescue, we've compiled some fantastic DIY outdoor dining table ideas you can find on the internet. If you're into woodworking, you'll for sure have a lot of fun doing these projects.
1. Pinterest Inspired Outdoor Dining Table
It took an hour and a half for this Youtuber couple to complete this project. This outdoor patio table looks quite fancy, and if you build some matching benches on top of that, the set is sure to spice up your patio.
The link to a detailed plan and instructions is provided in the description box. If you want to build matching benches, the tutorial link is embedded at the beginning of the blog.
2. $60 DIY Outdoor Dining Table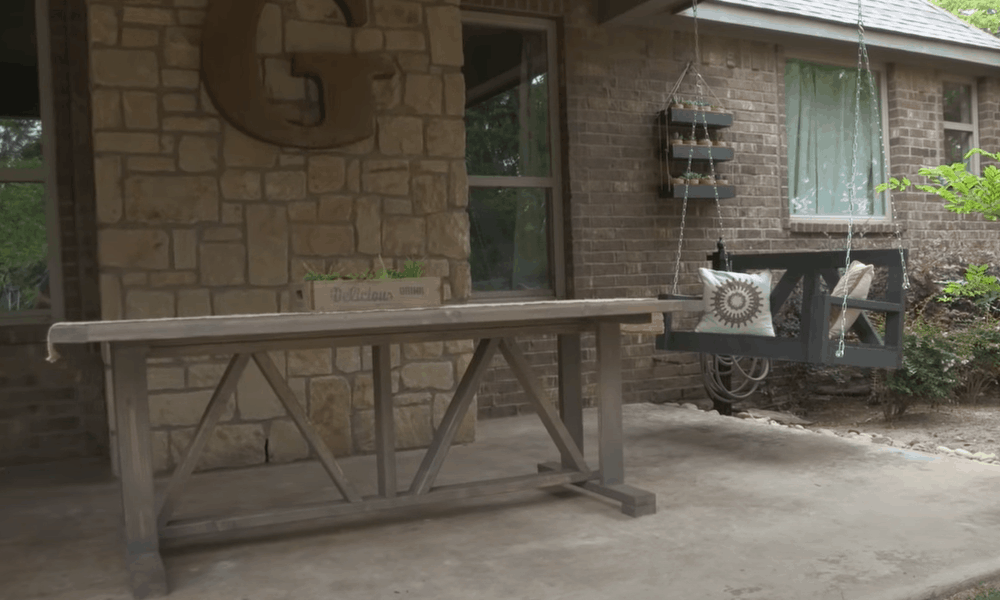 Make a rustic and farmhouse outdoor dining table that only costs you around $60. The table is built using only 2X4 studs. There's also a free plan for you to download and print attached to the blog.
Two major instructions are written on the post. But if you found this DIY interesting, you'd have a better idea and clarity if you watched the tutorial video attached on the blog instead.
3. DIY Modern Outdoor Dining Table
It looks like 2X4s in DIY table projects are one of the primary supplies. Here's another outdoor dining table DIY built using 2X4s.
This DIY table has a soft modern touch to it and looks like a store-bought one. All the table dimensions, materials, and supplies are written in the video's description.
4. DIY Outdoor Dining Table
If your taste and budget are in constant conflict with each other, we've found a DIY that suits both your taste and the budget. You can DIY this gorgeous outdoor table that will cost you thousands in stores.
This project requires more effort comparatively, but the end product is worth all the energy. The blogger shared that she spent around $200 on this project and is happy that she saved a pretty decent amount.
5. Built-In Cooler Patio Table
This patio table is relatively small and short to be a dining table. But you don't need to be a woodworking expert to scale the table up.
The best thing about this table is you can keep a cooler in the middle to cool your drinks. Or, if drinks are not your thing, you can also add decorative flowers, pebbles, or plants, as shown in a few glimpses on this video.
6. HOW TO BUILD AN OUTDOOR DINING TABLE
If you love having a meal in your garden, this DIY outdoor table is a no-brainer for you. There's also a small hole in the middle of the table for an umbrella.
The blogger saw an absolutely gorgeous teak patio set, but the cost was too high – $4000. So, her husband built the set using white cedar instead. If you're eager to create your own, follow the instructions on the blog post.
7. DIY Outdoor Dining Table | Affordable 10 Foot Table
Everybody loves having a comfortable space while eating. But if you have too many friends or family members, common commercial sizes of an outdoor table might not fulfill your requirement.
The Youtubers from the channel Reno Ready made an affordable 10-foot table that can serve 8-10 people comfortably. However, dimensions and measurements are not mentioned in this tutorial as it varies on the size of the table you're looking forward to building.
8. DIY OUTDOOR DINING TABLE FROM WOOD PALLETS
It seems like outdoor pallet tables are everybody's favorite. The blogger from This Worthy Life picked three wood pallets for free from a local hardware store and made this simple and authentic DIY dining table for under $100.
Moreover, she has also mentioned all the calculations and budget details in this blog, including chairs and decorative items. You can find more kitchen, furniture, and homemaking DIYs, creative ideas, tips, and hacks on this site.
9. DIY OUTDOOR DINING TABLE | with aluminum inlay
The DIY outdoor dining table the Youtuber built on this tutorial is extremely stunning. The two shiny aluminum strips used on the table makes the table look very modern and unique.
The link to DIY creators' every DIY plan along with the materials and tools used links are provided in the description section. However, you might have to purchase the plan beforehand to start this DIY.
10. Outdoor Dining Table Plans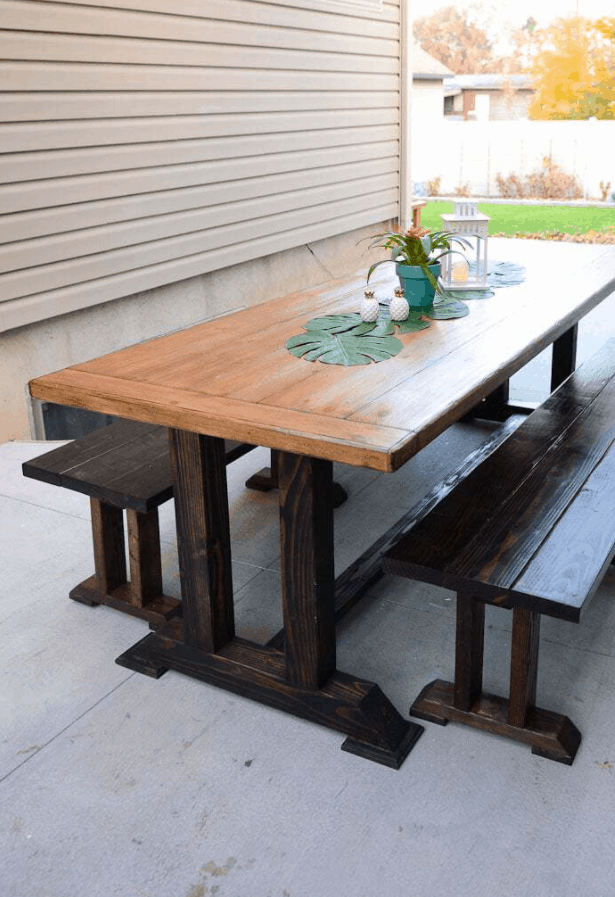 If you love minimalistic and rustic outdoor tables, this DIY outdoor dining table project is for you. As shown in the photos on this blog, you can also decorate your table using mini plant pots and other decorative items.
The tools, supplies, and cut lists are addressed in individualized sectioned, and the step-by-step instructions are accompanied by illustrative figures making this written tutorial very easy to follow.
11. Build A Patio Table ! | DIY DINING TABLE BUILD
The Youtuber of channel Sean The Maker has added step-by-step instructions on the video instead of talking, making it easier for his viewers to understand the process.
Every measurement is clearly shown in the video using computerized diagrams, whereas the tools and supplies used are mentioned in the description box. The praises in the comment section itself prove the caliber of the Youtuber and the incredibility of the DIY.
12. DIY OUTDOOR DINING TABLE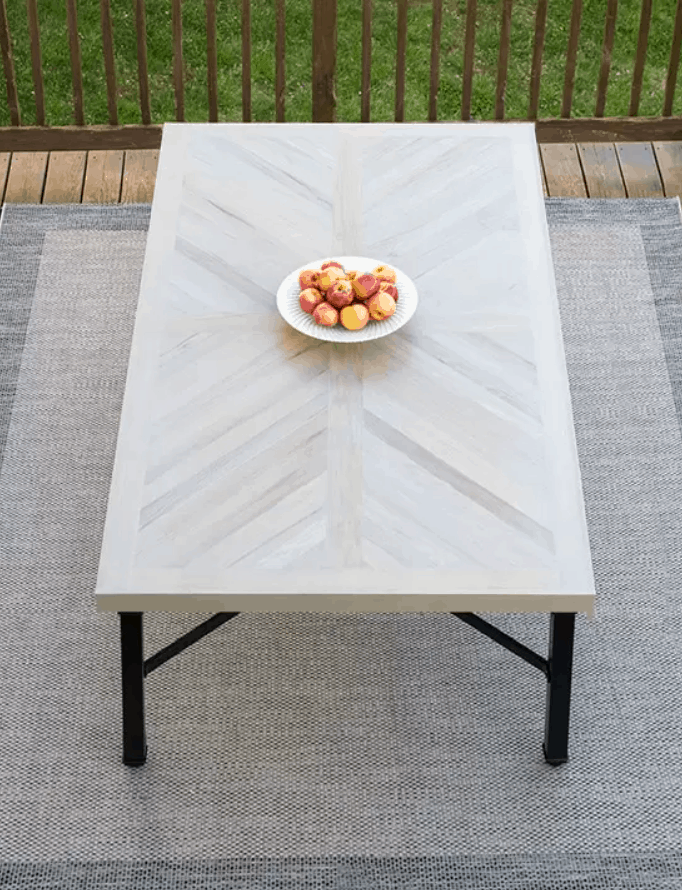 Now, brace yourselves as some fancy stuff is coming your way. This DIY outdoor dining table looks extremely expensive and unique. The bloggers used reclaimed white oak hardwood floors, which resulted in being a major cost saver for the project.
The comparable commercial table costs $1499, whereas the cost of this DIY is $240.  The table top and underside frame dimensions are given, which can then be attached to any table legs you prefer.
13. Modern Outdoor Dining Table and Pergola Build // How To – Woodworking
Using Ipe 3X3s, the Youtuber from Crafted Workshop built an impressive modern outdoor dining table. As Ipe is a heavy and dense wood, it makes an excellent wood choice for outdoor furniture.
As the tutorial is quite elaborate, and the dimensions are mentioned in the video, you don't need any plans for this project. If you want to know more about the tools and materials used in this tutorial, check the description box out.
14. DIY Outdoor Table | Free Plans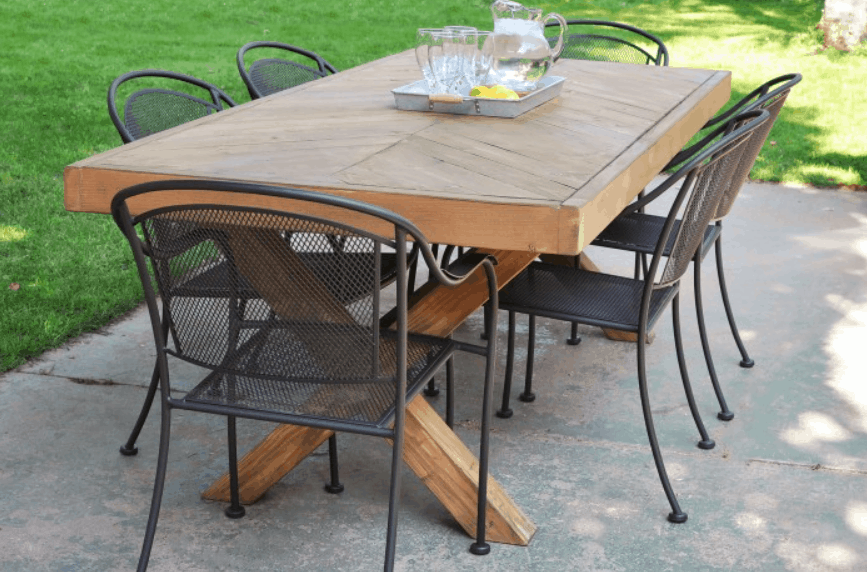 This DIY X-legged outdoor table might catch your eye if you love authentic items. The blogger has explained all the steps in a simple way.
But if you're sure this is the DIY idea you want to follow, there's a downloadable plan for you that consists of all the supplies and tools required along with the cut list for this wooden project.
15. How to Build an Outdoor Farmhouse Table for Under $100 | Woodworking DIY Project
With a whooping number of positive reviews on the comment section, this DIY outdoor farmhouse table tutorial by A Glimpse Inside looks like it is one of the favorites among DIY lovers.
The Youtuber completed this project for $81 only. He mentions all the materials used and measurements in the video but has listed tools used in the video's description.
16. DIY X LEG PATIO TABLE WITH PIPE TRESTLE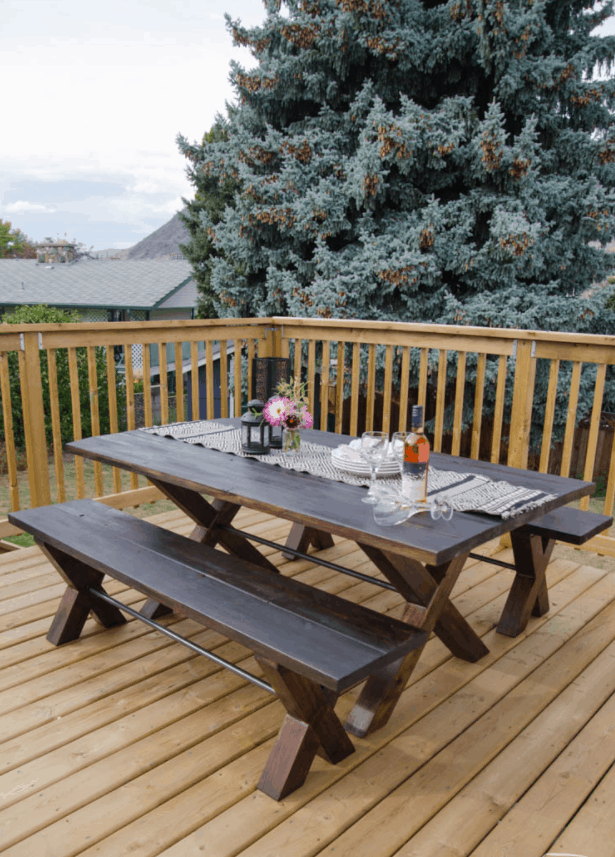 Though X-legged table is quite bulky and heavy, you cannot deny that they are incredibly sturdy.
This written tutorial might feel quite overwhelming at first as the steps are not clearly divided and written in bulky paragraphs instead. But if your heart is really set at this table, you can quickly figure out the procedure once you give this blog a good read.
17. Making Picnic Tables with Built In Grills // Woodworking & Outdoors | I Like To Make Stuff
For all those DIY lovers who love to attempt unique DIYs every time, here's an outdoor table with built-in grills DIY tutorial for you. You can share talks with your family/friends and grill the sausages at the same time. How cool is that?
Even if you don't want to add the grills, you can substitute it with a small herb garden or any decoration items. For more such creative DIYs, you can check out I Like To Make Stuff channel on YouTube.
Summary
Woodworking can be challenging, but if you do it with a proper plan and at a comfortable pace, these DIYs are definitely worth the energy.
One other significant advantage of DIYing an outdoor dining table is that you can design the size on your own, and you don't have to settle with commercial sizes that barely cater to your need.
With all these fantastic DIY outdoor dining table ideas and detailed plans, you can make an incredible table for your patio. Moreover, you can also shift these tables to the garden and have a small family picnic often.