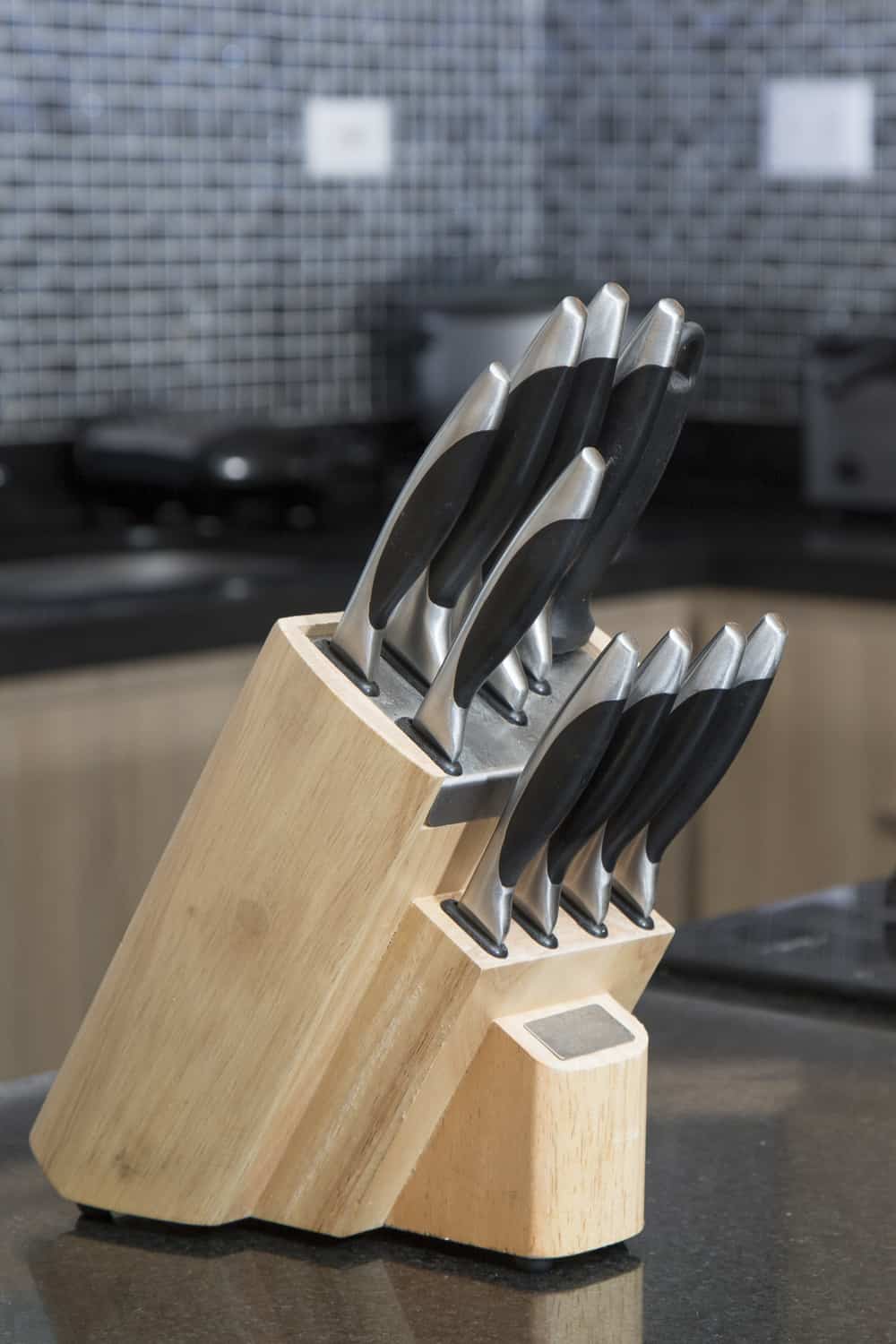 If you've got a great collection of kitchen knives, you need somewhere safe and convenient to store them. A knife block is the perfect solution – and if you make your own, you can customize it too.
These 18 DIY knife block plans show you how to do just that. And whether you're an expert woodworker or just starting out, there's an option to fit your needs.
So if you want an exciting new project, take a look at these sites to help you on your way.
1. How to make a knife block (that can hold your cookbook)
This brilliant design from YouTuber I Like To Make Stuff incorporates something extra in the knife block. A ledge on the back makes a perfect holder for your recipe book. It's a clever idea to save space on your worktop. A lot of tools are used in this build, so if you're new to woodworking this isn't the easiest project to start with. To check what you'll need, take a look at the list in the video details. There are useful links to online suppliers there too.
2. DIY Wooden Knife Block Set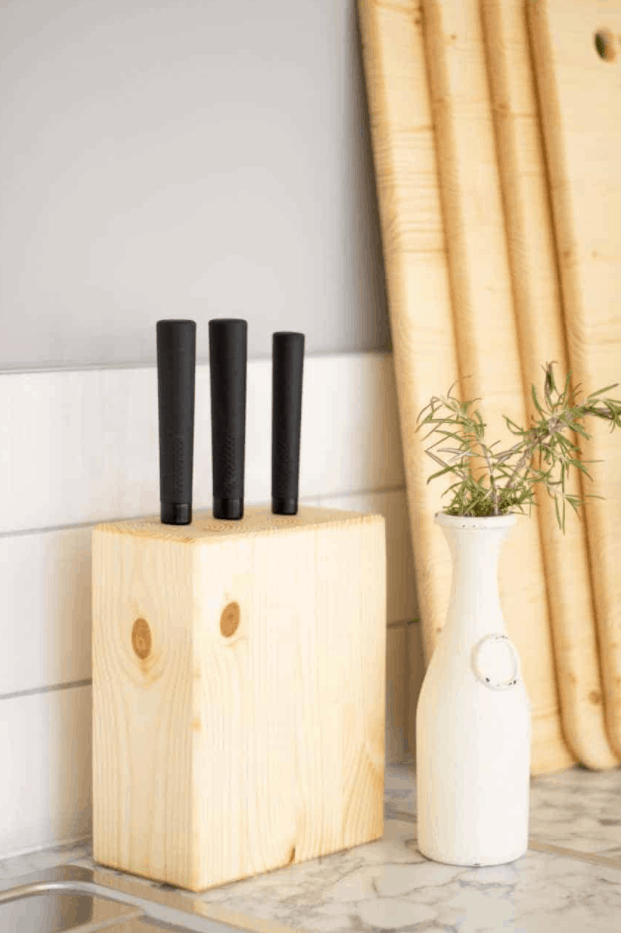 This post from blogger The Carpenter's Daughter, aka Vikkie Lee, takes you through a knife block project step by step. At the end of it, you'll get a simple, attractive block, perfectly customized for your chosen knives. All the tools and equipment you'll need are laid out at the beginning. And UK-based carpenters can take advantage of links to the hardware store where Vikkie bought her supplies. Every stage of the project is illustrated with photos, and there are plenty of handy hints to avoid mistakes.
3. Woodworking – Making a Knife Block (Easy)
This is the perfect project for beginners at woodwork. You won't need lots of expensive tools, and it's very easy to follow. And if you want to challenge yourself, you can choose from one of three different finishes. These get progressively more difficult, so even advanced woodworkers will have an option to suit their skill level.
4. How to Make Your Own Knife Block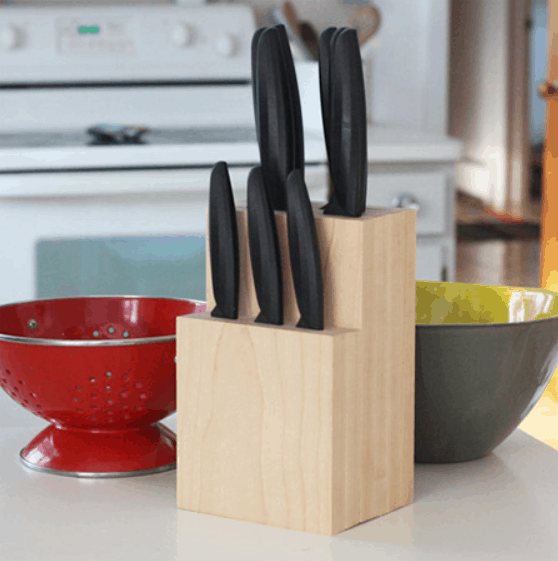 Follow this plan to create a two-layer knife block, perfect for organising small and larger knives. There's a helpful list of all the materials and tools you'll need up front. That's followed by photographs and simple text to show you what to do each step of the way. And there's advice on how to modify the design to get the perfect fit for your knives.
5. How to Make a Solid Wood Knife Block
This video is worth watching for its comedy introduction alone! This is another project that uses some very impressive power tools, so if you're just starting out it may not be for you. But even if that's the case, it's still worth watching for the entertainment value. And you can pick up useful techniques for your own project, like how to apply spray lacquer for a great finish.
6. Project: Simple Knife Block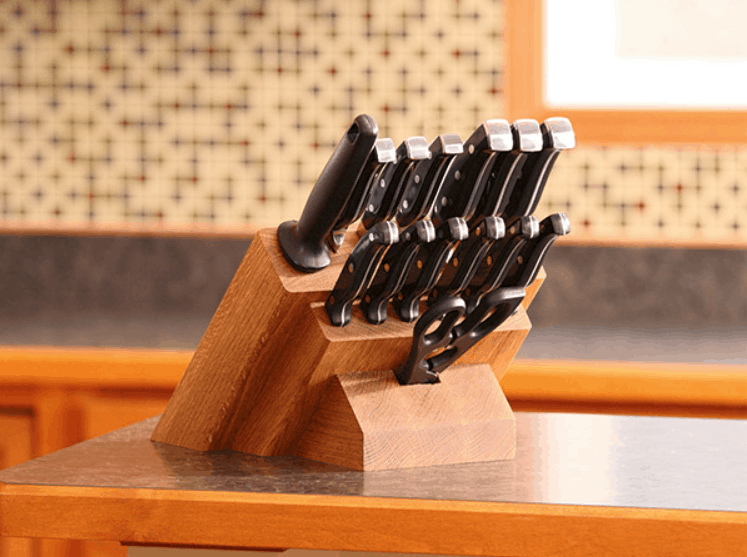 This gorgeous knife block has separate tiers for long and short knives, plus a holder for scissors. The plan has quite a lot of text, so you'll need to read it carefully. There are plenty of photographs along the way to help you see what to do. And you can download the detailed technical drawings to make following the instructions easier.
7. DIY In-Drawer Knife Block
A knife block inside your drawer is a great way to organise your knives without taking up countertop space. Here, YouTuber Ana White shows you how to make a design that will work with almost any kitchen drawer. You can customize it to get a perfect fit. And watch to the end for more suggestions on how to tweak the design. The information below the video includes a link to detailed plans that make it easy to create this yourself.
8. DIY: Acrylic Knife Block
This stylish knife block will look brilliant in any modern kitchen. The knives sit behind a sheet of clear acrylic. The design means you can show off the blades and keep them safe at the same time. This one is also exceptionally easy to make. If you don't have a planer, jointer or other woodworking tools, it's a great choice. You can simply repurpose an existing wooden chopping board for the back of the block. There's a handy tools and materials list, and clear instructions complete with photographs.
9. Making a Knife Block
This video from Pilot's Workshop shows you how to build a neat knife block for around 8 knives. And unlike other plans, you won't have to cut grooves for each knife. Instead the clever design uses bamboo skewers to hold the knives in place. It makes this a very quick and easy project. The smart sloping design looks great and also means it's very stable.
10. 4-Tier Knife Block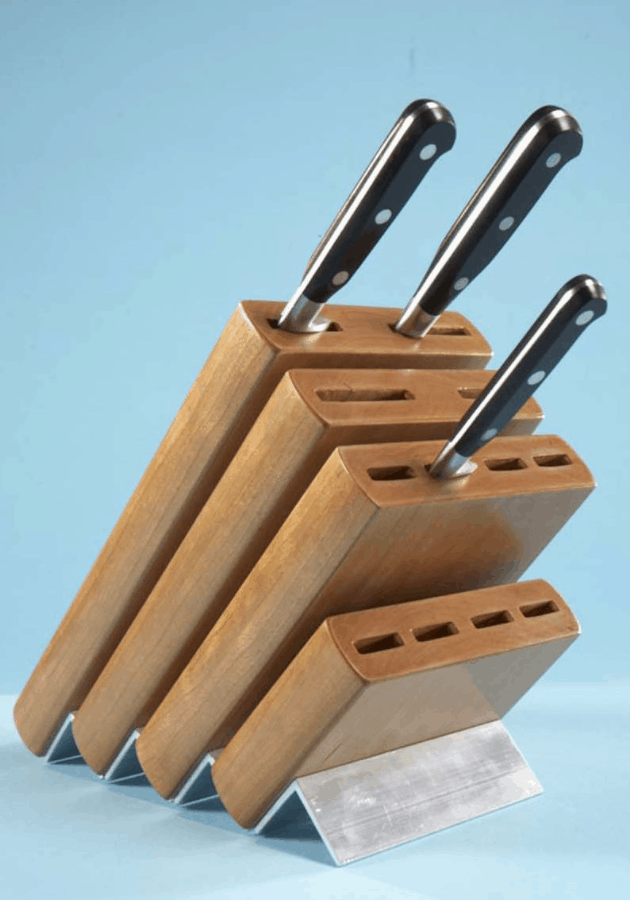 This brilliantly detailed plan includes everything you need to make a spectacular 4-tier knife block. This version uses both metal and wood to give a traditional design a modern edge. The plan includes detailed drawings, complete with measurements, and a full cut list. And every stage of the project is broken down with clear descriptions and photographs to show you what to do. Go right to the bottom, and you'll find some handy product recommendations too.
11. The Best DIY Knife Block EVER!
This knife block is designed to keep blades sharp and away from little fingers. It's another one with a slanted design so it's comfortable to use. And there are rubber feet on the bottom to keep the base away from any moisture on your worktop. We love the color of the wood here too – this uses Australian salmon gum, and it's as pretty as a picture.
12. Kitchen Ideas: Quick and Simple Knife Block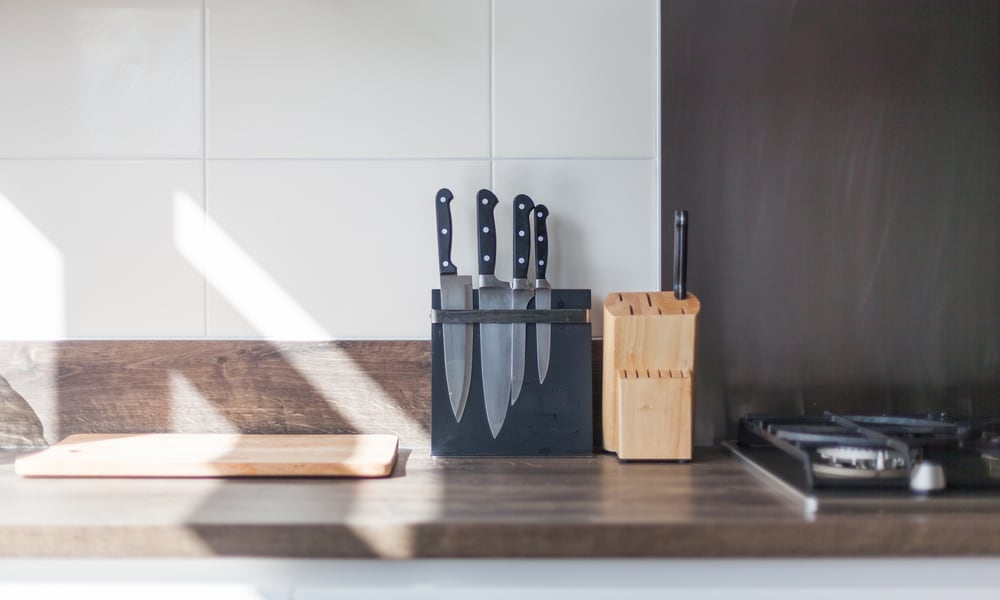 If you want a project that can be completed quickly with just a few tools, check out this plan. It uses only some scrap wood and a table saw. And according to the author, the whole thing can be finished in less than an hour. The instructions aren't particularly detailed though. If you don't know what a "kerf" is, you'll need to spend some extra time looking it up. And there aren't any photos to help either. But if you don't mind a voyage into the unknown, this could be a fun project!
13. Quarantine Project: Make a Magnetic Knife Block
We love this ingenious take on a knife block. Here, strong magnets inside the block allow your knives to stick to the outer surface. It makes it very quick and easy to grab your knives. And you won't have to cut grooves for each blade. The magnets used here are super strong neodymium, so they'll hold your knives firmly in place. They're not cheap, so this isn't a budget project. But you'll be getting a magnetic knife block at a fraction of the price of a ready-made version.
14. DIY Knife Holder: Flea Market Inspired
Want a DIY knife holder that requires no power tools and no woodworking skills? And that you can complete in just a few minutes? And that will look amazing too? Then this is the plan for you! It uses books picked up for a song at second-hand bookshops to create a gorgeous, vintage-look knife holder. The knives are held in place by the pages of the books. It's an inspired idea, and couldn't be simpler to make.
15. Knife Tower
This beautiful knife tower has a distinctive curving design and different layers of wood. The blades aren't covered up, so if you have small children, this won't be the safest knife block for them. But if your home is a kid-free zone, this is a work of art. Watch every step as it's put together. You can even see how the design was modified as the project progressed.
16. How to Make a Rice Knife Block – Building Plans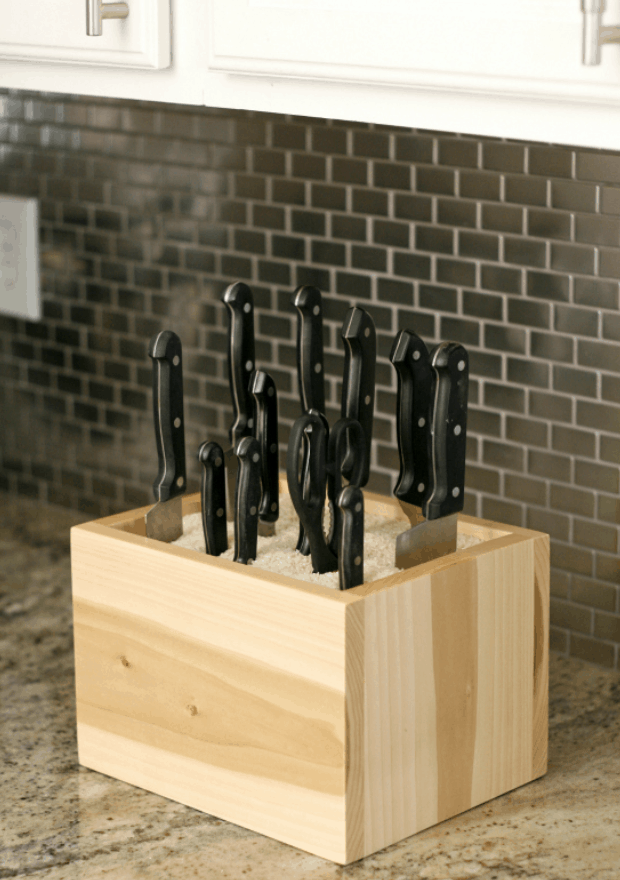 This plan offers a bigger version of a knife block using bamboo skewers to hold the knives in place. It's got loads of detail, with scale drawings and photographs. And there's a materials list and cut list, so you can keep track of everything easily. At the end of the project, you'll get enough space for plenty of knives. The whole thing is cheap as chips to build too.
17. 187 How to Build a Knife Block
This is a great plan for anyone looking to develop their woodworking skills while they make a practical knife block. You'll only need simple tools, and you'll learn some fundamental joinery techniques. With this project, you'll discover how to make interlocking finger joints – a more basic version of dovetail joints. You'll also find out how to mill boards that are too wide for your jointer.
18. Home project: Make a Knife Block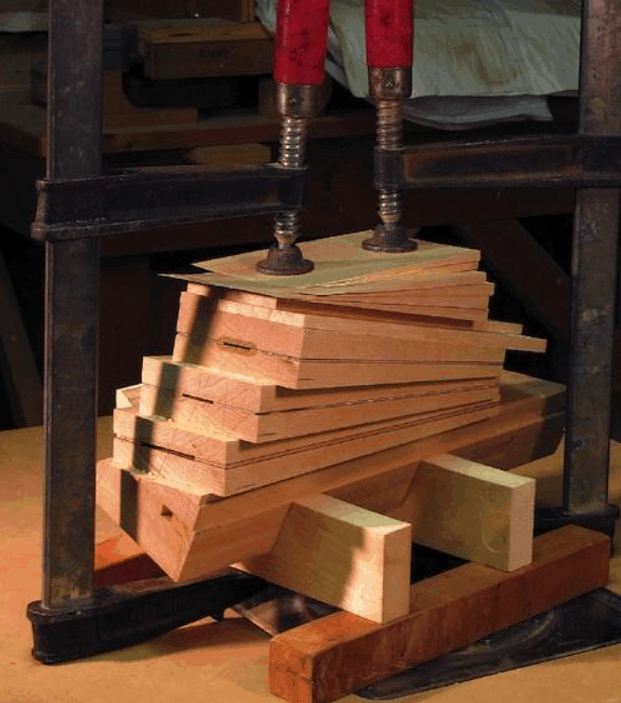 This plan will give you a stunning knife block with an unusual curving design. There's even a witty inscription carved into the side in runes! It's not for the faint hearted though – you'll need a lot of time and skill to create it. If you're up for the challenge, you'll find everything you need in this plan. There are detailed drawings, a materials list, photos and lots of description of what to do at every step.
Ready to Make Your Knife Block?
We hope you've found a plan here to whet your appetite for making your own DIY knife block! There's an amazing range of designs out there.
A knife block is something that can be made by anyone, whatever their level of DIY competence. One of our favorite designs doesn't require any tools at all! But there are also challenging options to show off advanced woodworking skills.
We hope one of these has inspired you to try making your own knife block!