Knives can be awkward to store, and if you don't have somewhere proper to keep them, they can be dangerous too, so it's important to have a suitable place to put them.
It's easy enough to buy knife holders, but the more stylish models can cost a lot. However, a much more affordable option is to make something yourself, and if you want some ideas, here are 19 plans for a DIY knife holder that will show you how.
1. DIY Best Wooden Magnetic Knife Holder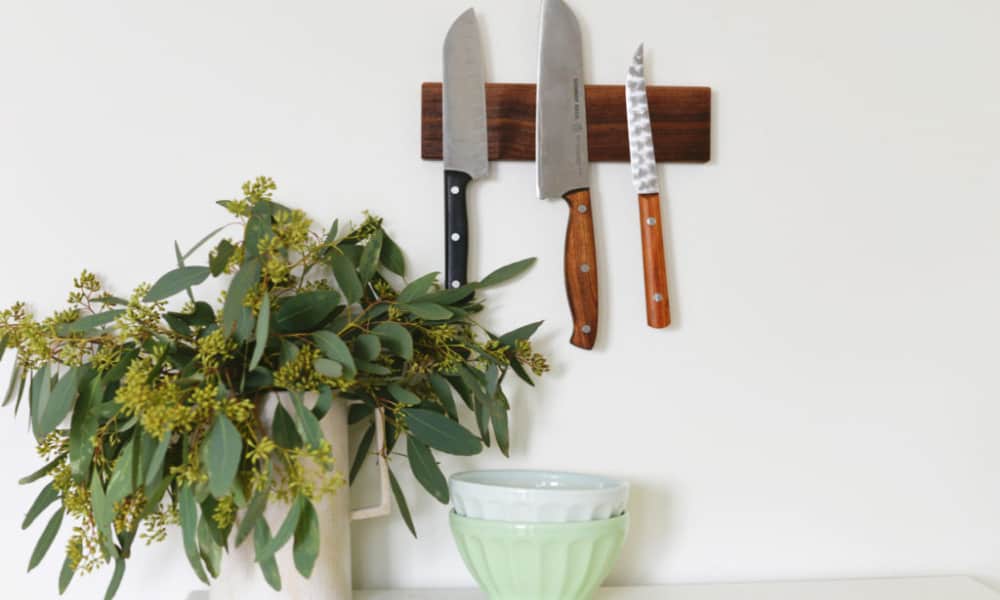 As the introduction to this plans tells us, having a magnetic knife holder in your kitchen is a double win because it gives you a convenient way to keep your knives in order and at the same time, it adds an attractive decorative element to the room. It's a simple and inexpensive project too, so check it out if you think you might be interested in trying.
2. How to Make a Knife Block that can Hold Your Cookbook
We love this plan because we're big fans of anything that's useful at the same time as being pleasing on the eye. That's certainly the case with this knife block since it's also designed to hold your cookbook. We think this is a genius idea, and we're sure it will appeal to lots of others too – especially those who have limited space in their kitchens. Want to know how to make one? Then give this video a watch!
3. DIY or Buy Kitchen Knife Holder
If you haven't seen anything like this before, you'll think it's a fantastic idea – and you'll probably wonder how you never thought of anything like this yourself. In this post, you'll find a plan for building a knife holder that keeps your knives safely stored in a box full of bamboo skewers. Even better, this idea is super easy and inexpensive to replicate, and if you like the design as much as we do, why not give it a try?
4. Kitchen Organization Ideas – How to Make a Knife Block
https://www.youtube.com/watch?v=zMziEeFFsdU
Here's a simple plan for making a knife block that anyone will be able to copy. There are no complicated explanations, just a demonstration of what you need to produce something similar yourself – and as you can see at the end, the result works perfectly. Sometimes, there's no need to overcomplicate things, and if that's something you agree with, this is a tutorial you'll enjoy.
5. DIY Knife Holder – Flea Market Inspired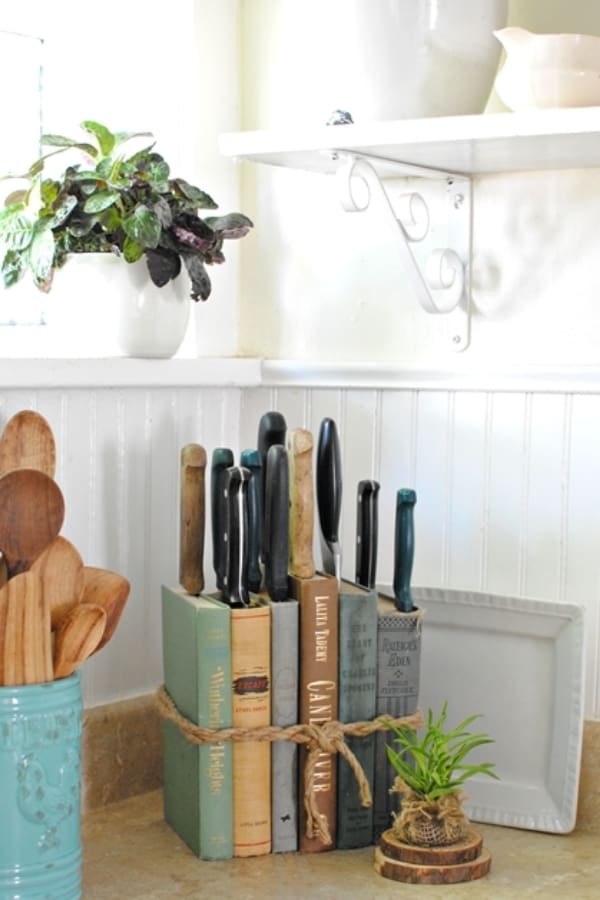 If we had to choose our favorite idea in terms of creativity, this one would probably be our top pick – just ahead of the knife holder in #3. As you can see from the photo, a regular store-bought block is unoriginal and might not even accommodate all your knives – but this blogger's solution is ingenious. We won't spoil the surprise and tell you what she did though – you can head over to her site and see for yourself!
6. Top 5 Knife Storage Solutions
There are several different ways of storing knives, and depending on your kitchen, some may be more suitable for you than others. That's why this tutorial is so useful – because it tells you about five different options. That way, you're sure to find a solution that works for you, so give it a watch and see which is your favorite.
7. How to Make Your Own DIY Knife Holder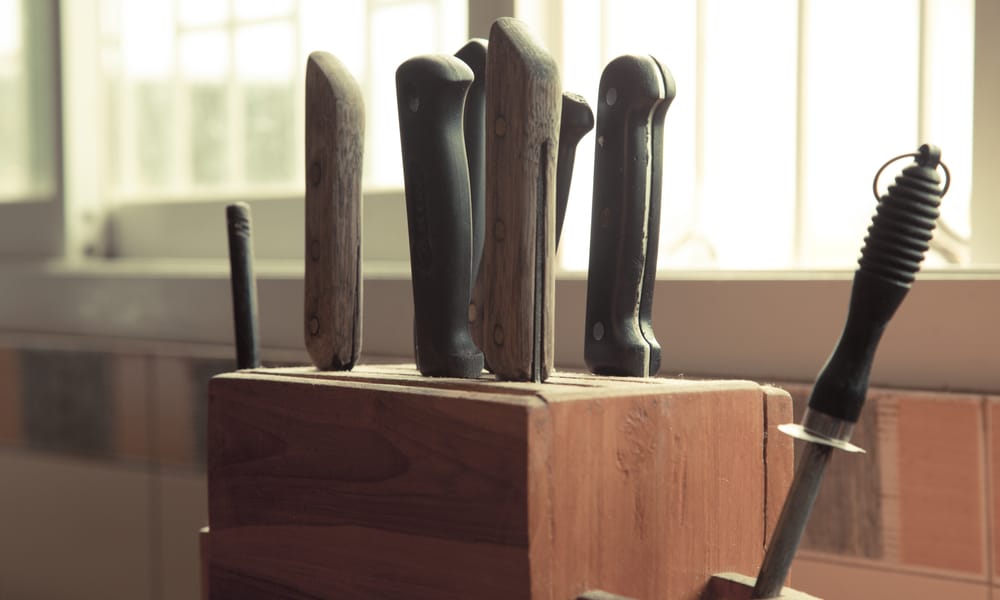 When it comes to knife storage, there are two classic options – a magnetic wall-mounted rack or a knife block. In this blog, we learn about the pros and cons of each type, and then we are also given a simple plan for making a wall-mounted version that will help solve all your knife storage problems.
8. DIY Knife Holder
This video shows you a couple of variations of the idea we saw in #3, but here, rather than using bamboo skewers, this YouTuber demonstrates the same concept with things like spaghetti and rice. Other suggestions include coffee beans, and you can also use any container you choose, so this is a plan that should give you plenty of ideas for getting creative with simple knife holders that will cost you next to nothing to make.
9. How to Make a Knife Rack for Inside Your Cabinet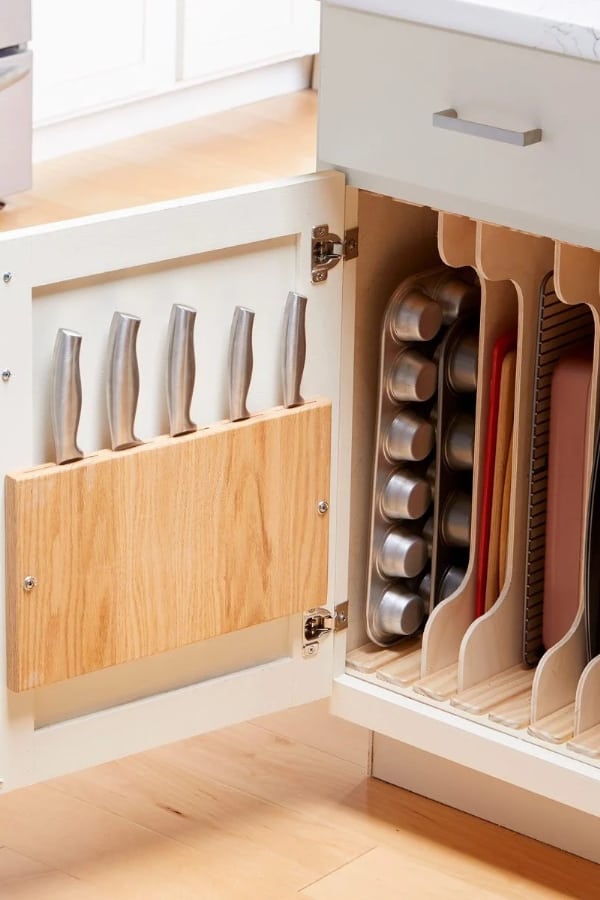 If you don't want to store your knives where they can be seen, this is an idea that should appeal. In this tutorial, we learn how to make a simple DIY knife rack that sits on the inside of your cupboard door. That way, knives are kept out of sight, but they are easily accessible whenever you need them. Another ingenious idea that we liked a lot.
10. DIY Knife Block – $1.50 to Make
For anyone who has lots of knives but very little space to store them, this plan could be a great solution. In it, these charismatic YouTubers teach us how to make a convenient but extremely inexpensive knife block that fits inside your drawer. That way, you keep them stored away safely, but you be able to find them easily whenever you need to use them.
11. Magnetic Knife Holder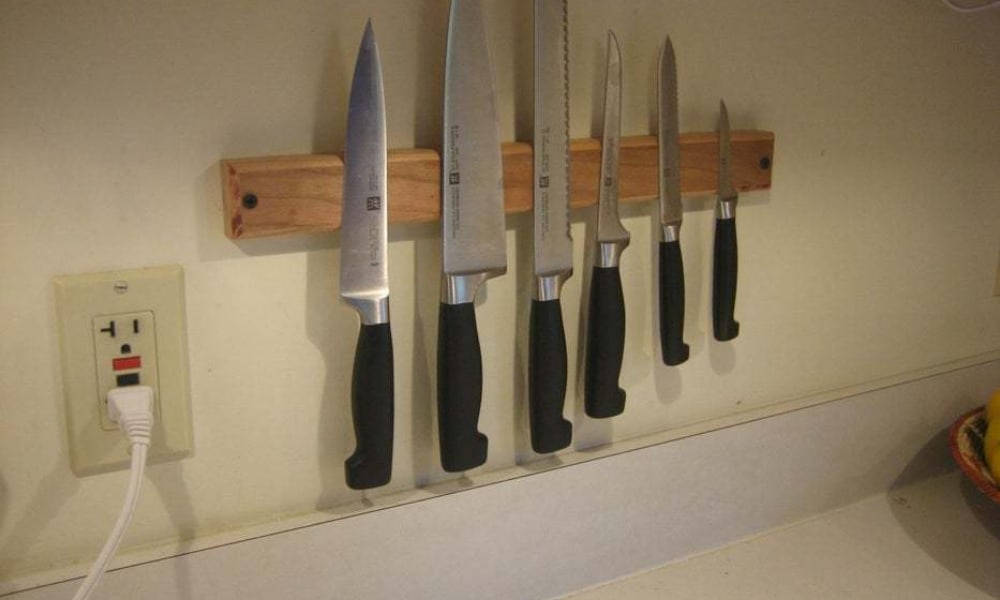 Perhaps the most fashionable way of storing knives in recent years has been the magnetic wall rack, but these can be expensive if you buy one from a store. However, if you have even a minimum of basic DIY skills, it's no big job to make one yourself – and this great plan from the Instructables site that shows you exactly how to do it.
12. How to Make a Simple Magnetic Knife Board
In this video, we learn how to make another version of a wall-mounted knife rack. The design is extremely simple, but if you have attractive knives, a rack like this will give you a way of showing them off, turning them from merely utilitarian objects into a decorative element in their own right.
13. Easy Marbled Knife Holder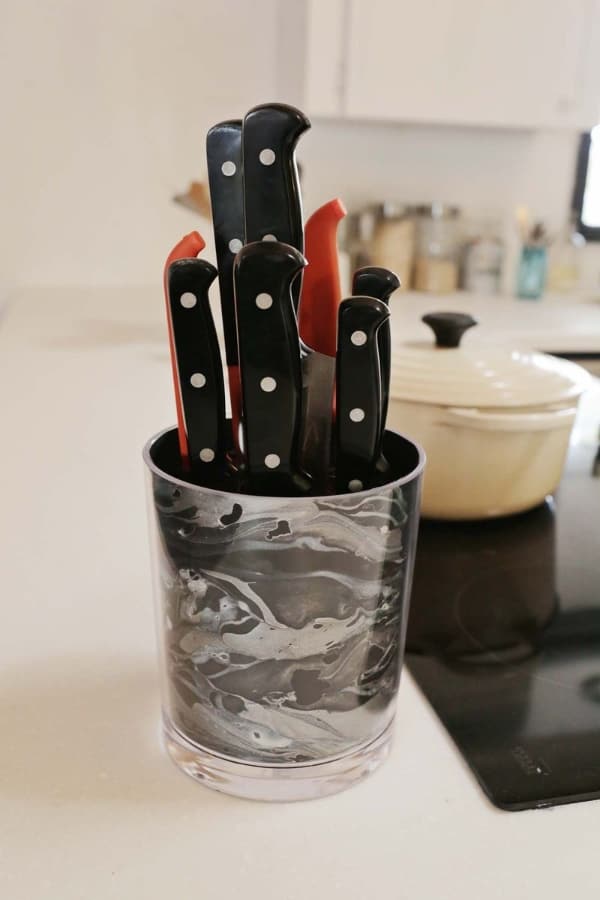 Here's a plan that combines ideas from some of the other plans we've seen with a stylish marbled container to make something that's both striking and practical. The jar is filled with rice to hold the knives in place – and you can check out the tutorial for details of how they created the pattern for the container.
14. DIY Wall Mounted Knife Block
This YouTuber shows us how he took a piece of scrap walnut wood and turned it into a "show-stopping" knife rack – his words! It just goes to show that even offcuts of wood can be turned into something useful and attractive, and if you'd like to try something similar, give this tutorial a watch!
15. DIY Knife Holder Made from Upcycled Books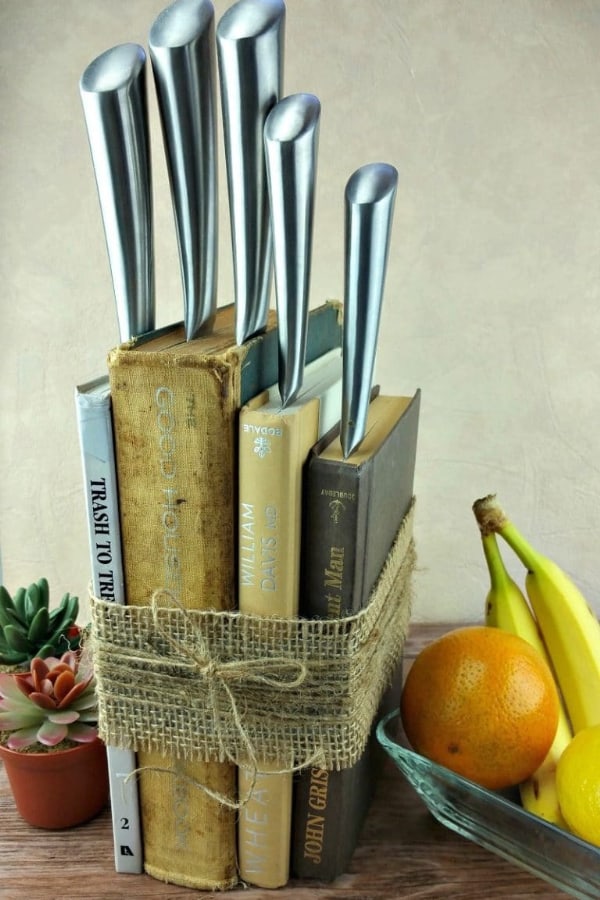 This plan is along the same lines as the one we saw in #5 in that it uses books as a way to store knives and keep them safe. However, comparing these two similar plans should help get your creativity flowing, allowing you to come up with a design that incorporates parts of both plans while also representing your ideas too.
16. Make a Magnetic Knife Holder in 3 Different Ways
If you're only an occasional DIYer, you might not have the full range of skills or tools to tackle every project. But in that case, this video will be worth a look because it teaches you three techniques for making knife holders using three different sets of tools – so that way, you're sure to find a plan you can manage. They all look fantastic too, so whichever version you choose, you'll be able to feel rightly proud of your work once you've finished.
17. DIY Knife Garden – A Universal Knife Holder
Here's another version of the spaghetti knife holder idea, but this time with a twist – because this plan teaches you how to dye the spaghetti, allowing you to choose any vibrant colors you choose. For example, the green spaghetti in the photo looks ideal for a modern-style home, but of course, you can pick any color you prefer!
18. Making a Magnetic Knife Holder Using Plum Tree Wood and Epoxy Resin
Of all the wall-mounted knife racks we've come across, this is, without doubt, our favorite. It's made from a handsome piece of wood, but it's brought to life by a vivid stripe of blue epoxy down the middle that makes it look nothing short of stunning. We love this YouTuber's bone-dry humor too – this is a video we enjoyed a lot.
19. DIY Dollar Tree Rustic Knife Holder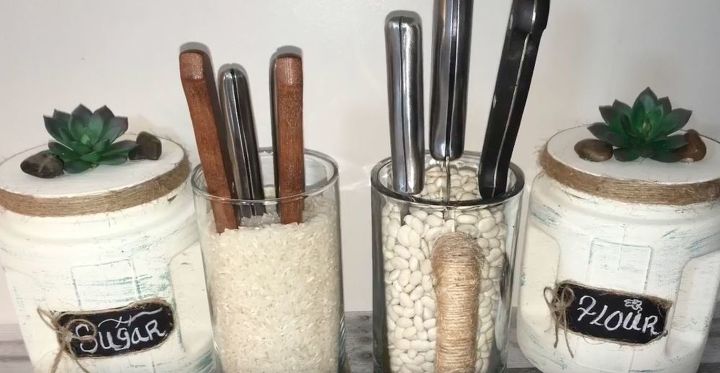 To finish, we have one more version of a knife holder that consists of a container filled with some kind of grain to hold your knives in place. Here, the innovation is the use of brown twine wrapped around the handle to give the holders an adorable rustic look. Everything in this plan can be picked up at the Dollar Tree too, so it will hardly cost you anything to replicate.
Lots of creative ideas to inspire you
As you can see, there are plenty of creative ideas out there to give you all the inspiration you need.
We've enjoyed collecting these plans for you, so we hope you've enjoyed reading and watching them too – and above all, we hope we've helped you find the ideas you were looking for to make a DIY knife holder of your own.