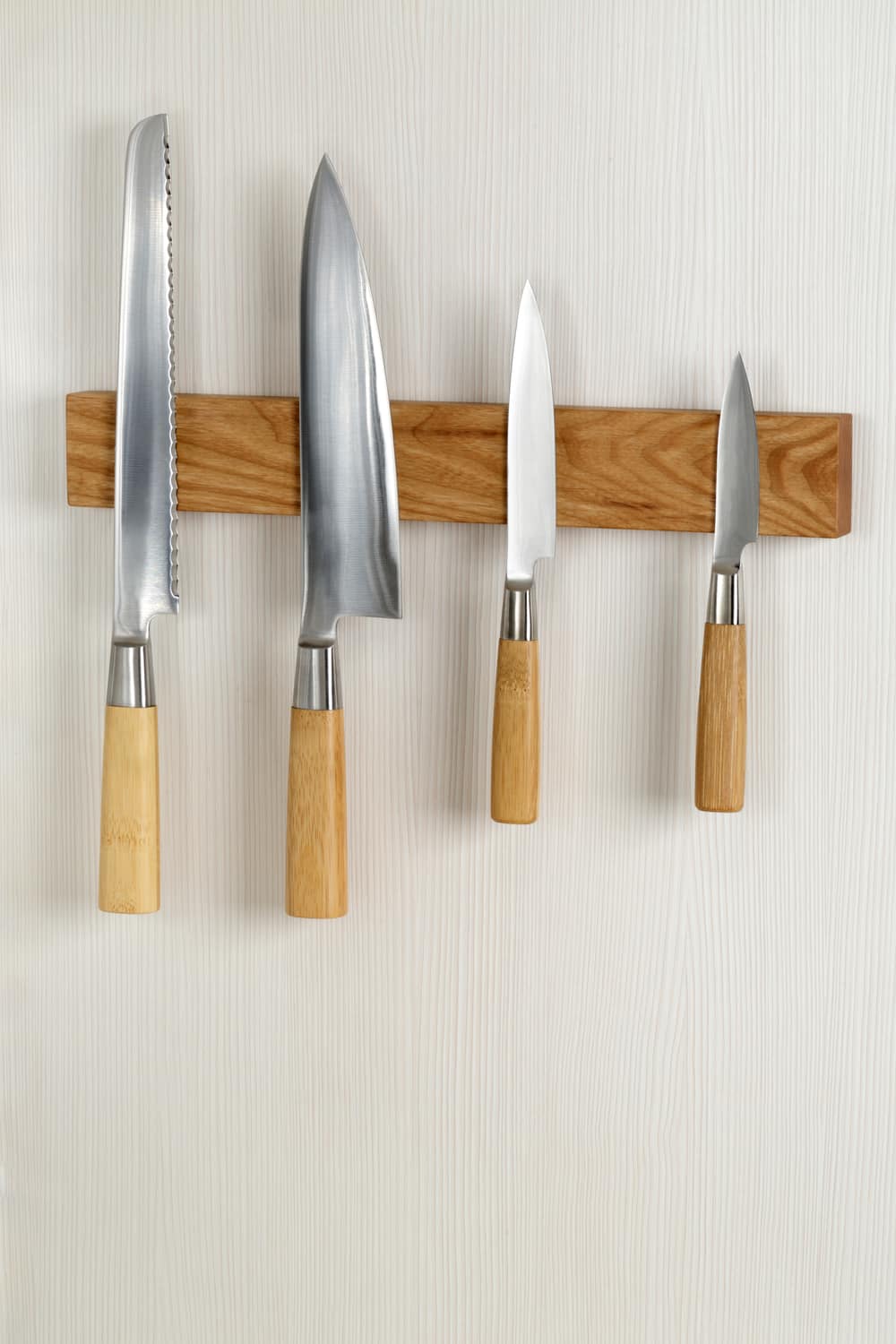 Magnetic knife racks have become increasingly popular in recent years, which is easy to understand since they give you a convenient place to store your knives while also adding a stylish decorative element to your kitchen.
They can be expensive to buy, but they're easy enough to make yourself – and if you want to try, here are 17 plans for a DIY magnetic knife holder you can have a go at making at home.
1. DIY Best Wooden Magnetic Knife Holder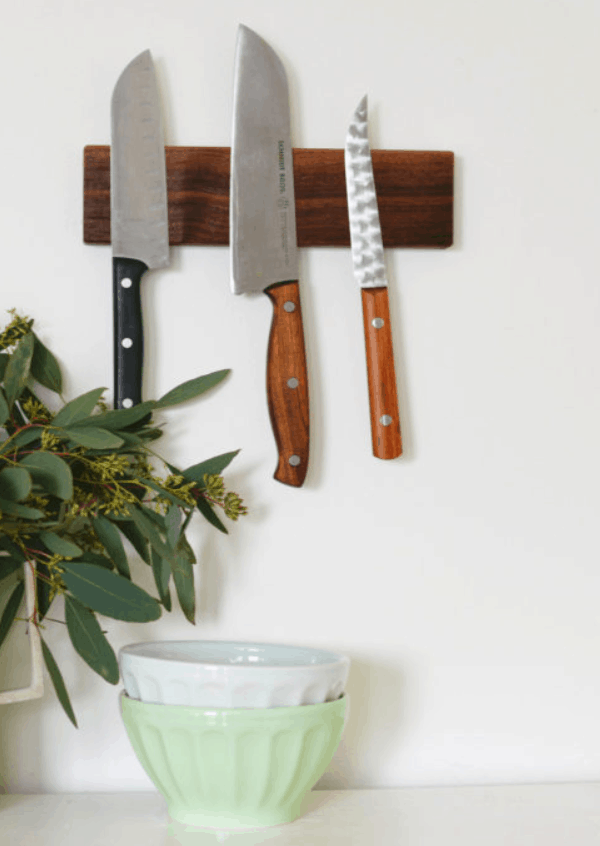 As this blogger writes, making this wooden magnetic knife holder is a double win because it looks great and also gives you somewhere practical and convenient to store your knives. Furthermore, it also makes a fun project to attempt and will cost you a lot less than buying something similar from a store – so with all these advantages, the real question is, why wouldn't you want to try?
2. Make a Magnetic Knife Holder 3 Different Ways
There are lots of way of making magnetic knife holders, and in this video tutorial, you learn about three of them. Each method uses different tools, so you're sure to find one you can copy, and the materials required are all inexpensive too, so this is a job that won't cost you a fortune. These knife holders will look great in your kitchen or could make a great idea for a gift – check it out to see how he did it!
3. Magnetic Knife Holder
Here's a great plan from the Instructables site, one of our favorite resources for DIY plans whenever we want to make just about anything we can think of. It includes clear instructions and lots of photos to help you, and there's also a discussion about which magnets to choose, one of the most important aspects when making a knife holder. The plans on this site are always well-written and easy to follow, and this is another worthy addition to their collection.
4. How to Make a Simple Magnetic Knife Board
The introduction to this tutorial tells you that this is one of the easiest ways of making a knife board, and as you can see from the video, this is probably true. There are no detailed explanations because they're not needed – we just watch as the YouTuber shows us how it's done, and it's so simple that anyone will be able to copy it. Sometimes in DIY, there's no need to overcomplicate things, and if that's a sentiment you agree with, this is a plan you should enjoy.
5. Designer Magnetic Knife Block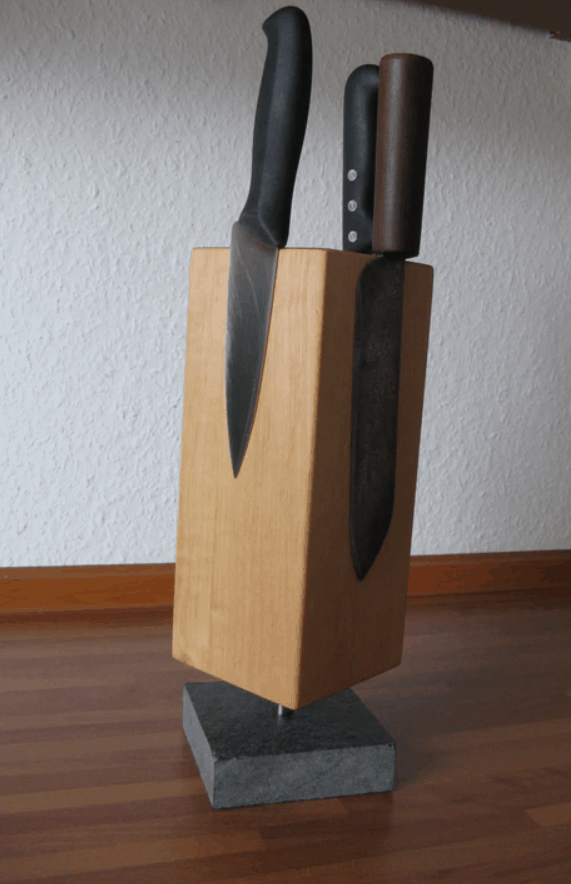 The designs for knife blocks in this tutorial are some of our favorites because they're so original. They're quite different from most of the other plans for wall-mounted versions that we've seen. So if you're looking for a free-standing knife holder that will give you somewhere to store your knives while also adding a striking decorative element to your kitchen, this is a plan that comes highly recommended.
6. DIY Wall-Mounted Knife Block
For us, true DIY is all about taking old pieces of scrap and turning them into something useful or attractive – and that's what this tutorial shows us how to do. In it, this YouTuber demonstrates how he made a beautiful wall-mounted knife block from an old piece of walnut tree wood. After cutting it to shape and inserting the magnets, he then covered it in epoxy resin to finish the job. This is an easy plan for anyone to copy, and we think the result looks great – give it a watch to see if you agree!
7. How to Build A Magnetic Knife Strip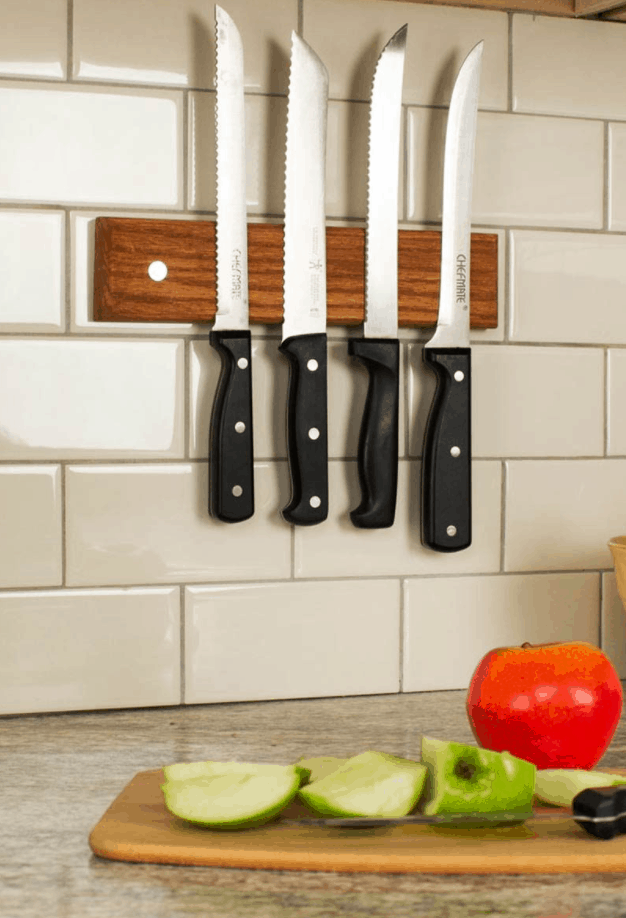 If you are a novice DIYer, you are probably looking for some simple jobs that will allow you to develop your skills while creating something useful for your home, and in that case, making this magnetic knife strip is a great choice. It's a project that's rated as being suitable for beginners, costs very little to do and can be finished in only about an hour. It doesn't require any advanced tools either, and the result will be something you can be rightly proud of having made yourself.
8. DIY Magnetic Knife Holder
Here's a fascinating tutorial that uses magnets harvested from old computer parts to build a functional kitchen knife block. Not everyone would have thought of looking in an old computer for the magnets, but they're extremely powerful, making them perfectly suited to the job. We also love the way he patterns the faceplate – this is a talented and creative DIYer, and his video is well worth a look.
9. Making a Magnetic Knife Holder
Building a knife holder is an extremely simple project that almost anybody will be able to manage, and one of the key aspects is choosing the right magnets themselves. This plan goes into some detail on the topic, ensuring you find the most suitable type, and then gives you the instructions you need to complete the rest of the job. We liked this plan because it's clear and to-the-point – and if that's the kind of thing you appreciate, you're sure to find it interesting.
10. How to Make a Magnetic Kitchen Knife Holder from Bamboo Wood
Bamboo is such a great material for DIY projects because it's inexpensive, easy to use and has a light and attractive color that looks wonderful in modern contemporary settings. In this plan, you learn how to make a simple yet stylish knife holder from this highly versatile wood – give it a watch if you think you might like to try.
11. DIY Magnetic Knife Rack from a Vintage Ruler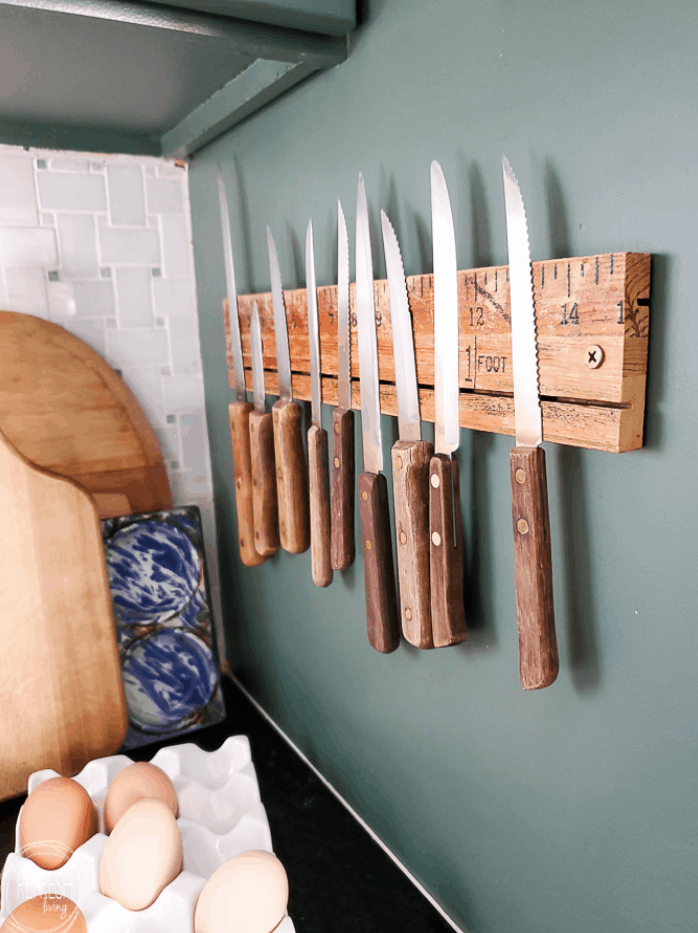 The knife rack this blogger created has a striking rustic look due to the fact that it was crafted from an old vintage ruler. It looks perfect in this classic-style kitchen with some old-fashioned knives stuck to it, and we know this is a look that is likely to appeal to lots of people. And if you're one of them, why not see if you can replicate the design at home?
12. How to Build A Magnetic Knife Block with Rare Earth Neodymium Magnets
The knife rack we learn to make in this video was created using rough cut pine. As this YouTuber explains, he was given it by a friend – and as a way of thanking his friend, he decided to make a knife rack to show his gratitude. The rack incorporates powerful neodymium magnets that will keep the knives fixed firmly in place, so we're sure his friend appreciated the gift. And if you want to make something similar as a gift or for yourself, this video shows you how to do it.
13. How to Make a Wooden Magnetic Knife Strip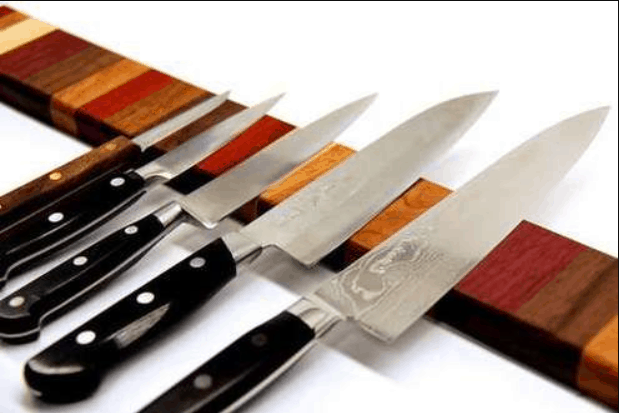 With a little creativity, it's easy to come up with ideas for original knife racks that look far more interesting than the kind you can buy in a store. The one in this tutorial incorporates a rainbow pattern that comes from using a range of different colored woods. It's not difficult to copy, but the result looks striking – and as the blogger writes, it's far more decorative than something you can pick up at somewhere like Ikea.
14. DIY Wall-Hanging Magnetic Knife Racks
Since making a knife rack is not such a complicated operation, you might not feel like you need extensive explanations. Rather, just by seeing what someone else does, you may feel confident copying their work. If that sounds like you, this video should appeal since it consists of a talented YouTuber demonstrating how he build a rack from scratch. However, if you do prefer more detailed plans, you can find a link below the video – so this is a tutorial that most people should find useful.
15. Weekend Workshop: How to Build a Magnetic Knife Rack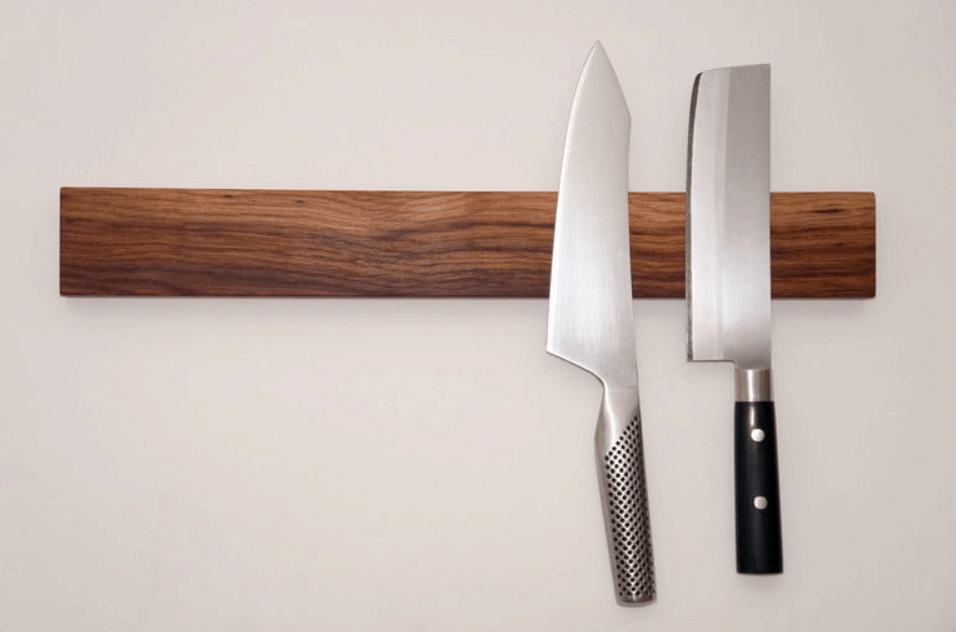 This blog suggests that building a knife rack is a perfect project to work on over a weekend, so if you need something to fill a few spare hours, then look no further. Magnetic knife blocks have become popular and fashionable features of modern kitchens, and if you want to make one yourself, this plan teaches you how.
16. Making a Magnetic Knife Holder with Epoxy Resin and Plum Tree Wood
If we had to choose our favorite design for a knife block from all the plans we've seen, it would probably have to be this one. That's thanks to the tiny epoxy "river" that runs through it, giving it an unusual and original look. It's not an especially difficult project to complete, you just need to have the kind of creative mind to think of it. This YouTuber certainly does, and if you want to copy his idea, his video shows you what to do.
17. Making a Magnetic Knife Strip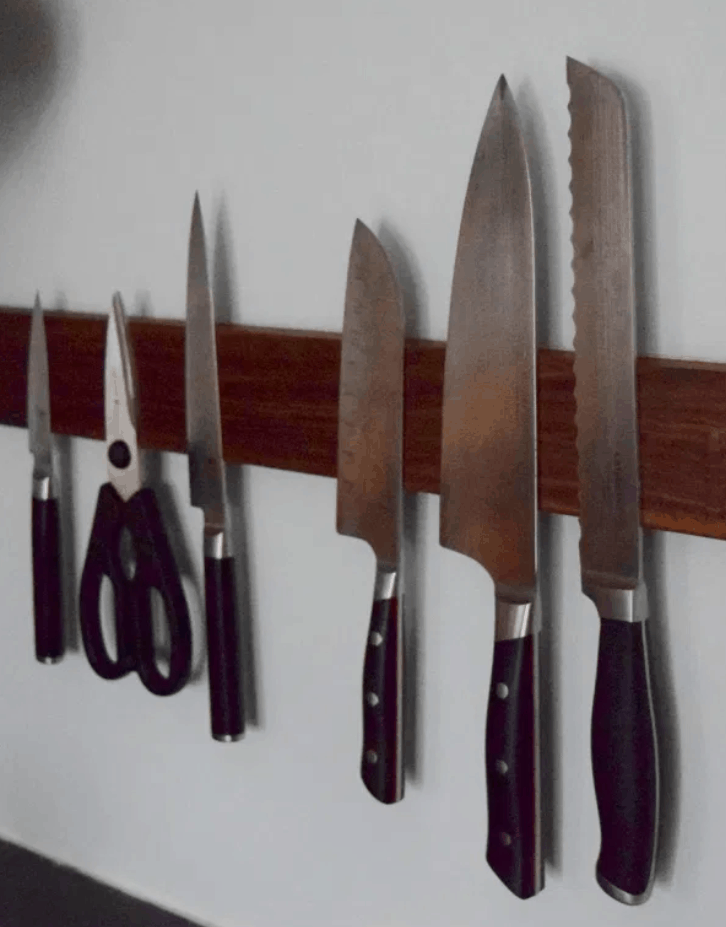 We love the honesty of this blog – in the introduction, we read that this was a project that should have been extremely simple but that ended up being a lot more complicated than expected. It's always good to learn from mistakes though – whether they are our own or those of others – and if that's something you agree with, this plan should be worth reading.
Plenty of interesting plans to copy
Making a knife rack is a simple yet rewarding project to attempt, and as you can see, there are plenty of plans showing you how do it.
We've enjoyed collecting these plans for you, so we hope you've enjoyed watching and reading them too – and above all, we hope you've found the inspiration you needed to start work on a DIY magnetic knife holder of your own.