DIYs are an excellent way of unleashing your inner creativity. If you're an avid mug collector and thinking of creative ways on how to store them, you're at the right place.
Here, we've gathered you some fun and creative DIY mug rack ideas that you can attempt at home. These DIYs tricks will not only solve your mugs storage problems but also are so crafty and beautiful that it'll enhance the aesthetics of your kitchen as well.
1. DOLLAR TREE COFFEE BAR SIGN/ MUG RACK
The lady in this video creates a gorgeous faux shiplap farmhouse coffee bar sign with a mug rack. She uses a few items from dollar tree, stencil, paint, hot glue, and makes a beautiful mug rack.
What's more, you can design your own color palette on how you want to design your mug rack and create a different-themed mug rack for yourself.
2. DIY Mug Rack for Wall
If your mug collection is surprisingly large, making a DIY mug rack for the wall might be the best option for you. In this YouTube video, the Youtuber creates an amazing wall mug rack with spare woods lying around her house.
She uses three wood slabs as mug holders, and customizes the topmost wood slab with chalkboard paint and writes an interesting coffee caption on it. However, if you decide to make one, you can personalize the number of wood slabs to use depending upon your need.
3. DIY: Coffee Mug Holder Wall Hanging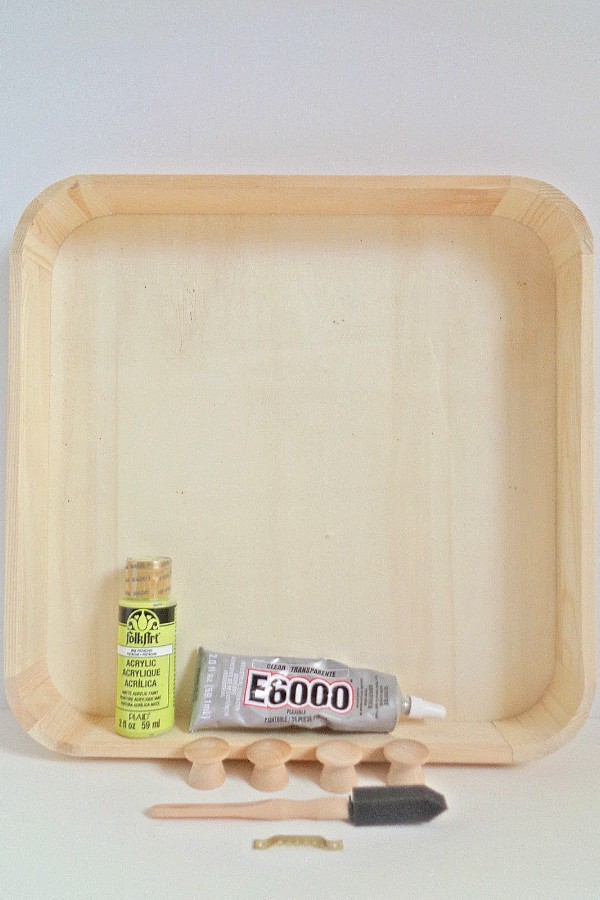 This DIY also results in a hanging mug rack, but is slightly different and lies on the cuter side than the previous one. Here, the blogger uses a wooden tray and wooden knob to create a mug rack.
The wooden knob used as the mug holder creates a buttony-look that looks incredibly cute.
You can always personalize the wooden tray by using the color of your choice to create a nice contrast.
4. Our Summer DIY Home Improvement Projects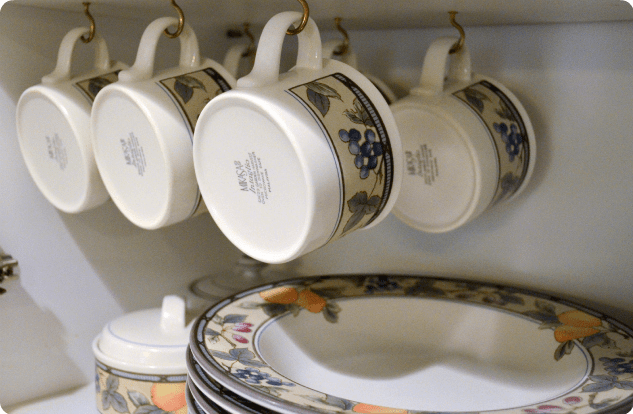 In this family blog, you might not exactly learn how to make a DIY mug rack, but you'll get to know an impressive tip on how to hang your mugs on your kitchen self.
If you're looking forward to decluttering and organizing your kitchen, but you do not want to put in the effort to make DIY mug racks, this might be an absolute best idea for you.
5. DIY Coffee Mug Rack build
This Youtuber teaches you how to make a wall mug rack using wood slabs, a few screws, and hooks. He also uses 'Coffee' stencil to decorate the top part of the shelf, which you can customize according to your own taste.
This video contains a detailed guide from measurements to the spacing of the hooks; follow the video, and you'll end with one amazing mug rack.
6. HOUSE SHAPED SHELF DIY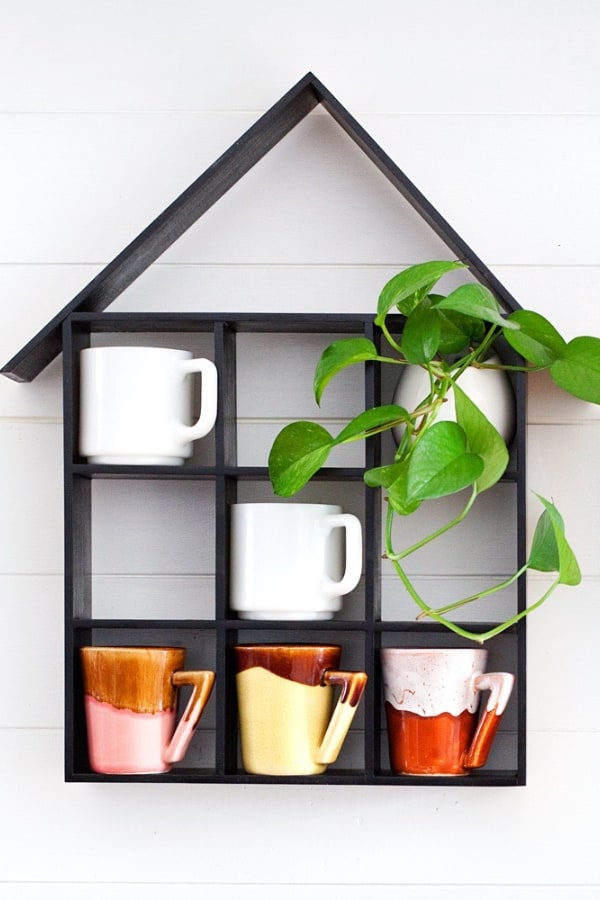 Brace yourself as this might be the most adorable mug shelf you'll ever see. In this blog post, you'll see a step-by-step guide to make a house-shaped self DIY that accommodates nine mugs.
If you counted the number of mugs you own and now are wondering that the rack might be a bit larger for you, we've got you covered. You'll find the DIY instructions for a similar mug shelf in another blog post, which holds 6 cups instead.
7. DIY Coffee Mug Holder | HOLIDAY GIFT IDEA
In this YouTube video, two sisters make a fantastic mug holder for under 10$. Furthermore, if you're planning to save some space in your cupboard, this DIY should be a no-brainer for you.
Unlike other racks and wall hangers, they prepare a tabletop mug holder. If you have a hot glue gun, drill, wooden boards, hooks, and a decorative knob lying around your house, give this DIY a try; you'll love it!
8. $8 TREE MUG RACK ORGANIZER DIY WAL-MART WOOD
This mug rack design is so minimalistic yet beautiful that it's bound to catch your eye. The Youtuber designs and creates a mug rack using dollar tree items and wood pieces from Walmart.
What's more, this design is also great as jewelry, scarves, or even a hat holder.
If you'd be creating an 8$ classy as well as a decorative mug rack that also solves some other purposes, you would give it a try, wouldn't you?
9. "But First, Coffee" Mug Holder/ DIY Wooden Sign
The Youtuber in this video makes a simple pallet "But First, Coffee" mug holder, where you can write your quote or caption as long as you have a paint and a brush.
With this design of a mug holder, you can hold up to 4 mugs. But does it limit your creativity? Of course not! You can use longer woods to make the rack, or you can even add shelves if you need to accommodate more mugs into the rack.
10. DIY Mug Rack with K-Cup® Storage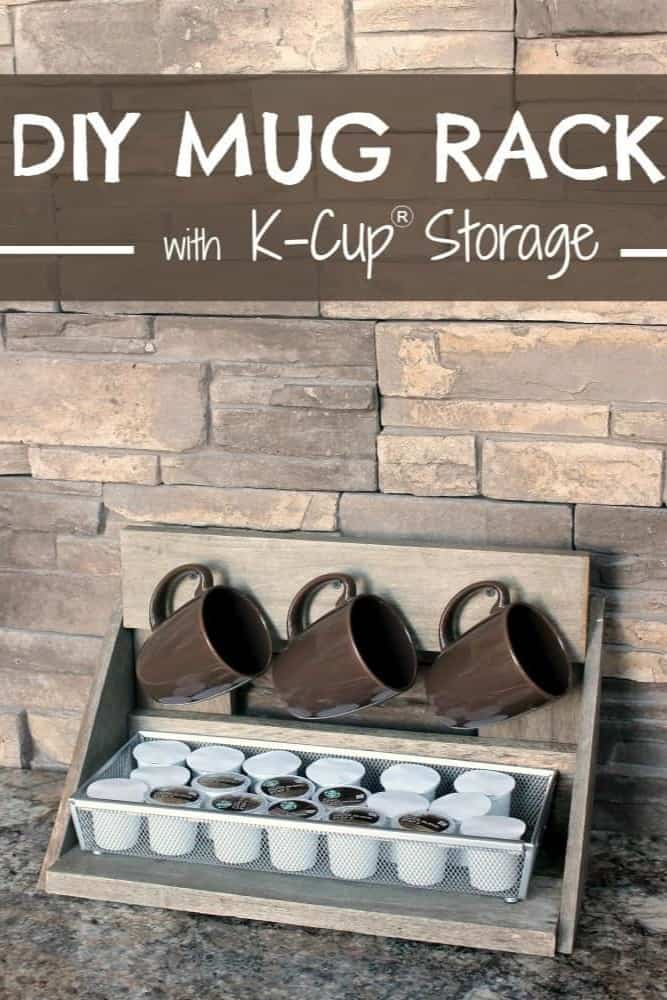 W2ho doesn't love 2-in-1 items? In this blog post, you'll learn how to make a mug rack with a shelf where you can store your K-cup at the bottom. I must say, I found this mug rack very creative and unique.
On top of that, you can easily keep the rack at some corner of your kitchen since hanging the rack isn't necessary at all.
11. Industrial pipe and reclaimed wood mini coffee station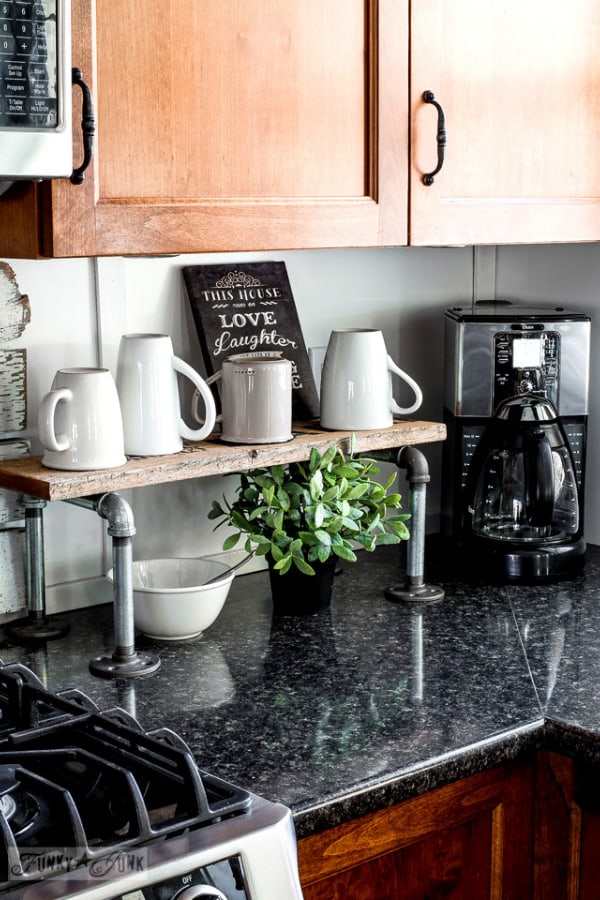 If you want an easy DIY method to make a simple yet amazing mug rack, this blog post has the exact instructions for you.
You wouldn't believe how this blogger DIYed pipe fittings and a wooden slab into a mini coffee station. If you're not able to strike the imagination, have a look by yourself!
12. DIY Dollar Tree Mug Holder | $3 PROJECT
It only gets better, doesn't it? You can now make a mug holder under 3$ by following this simple tutorial on YouTube.
This Youtuber creates a cute tabletop mug tree by just using a dollar tree cutting board, a rolling pin, a few screws, and hooks.
13. COFFEE STATION FROM A REPURPOSED CABLE SPOOL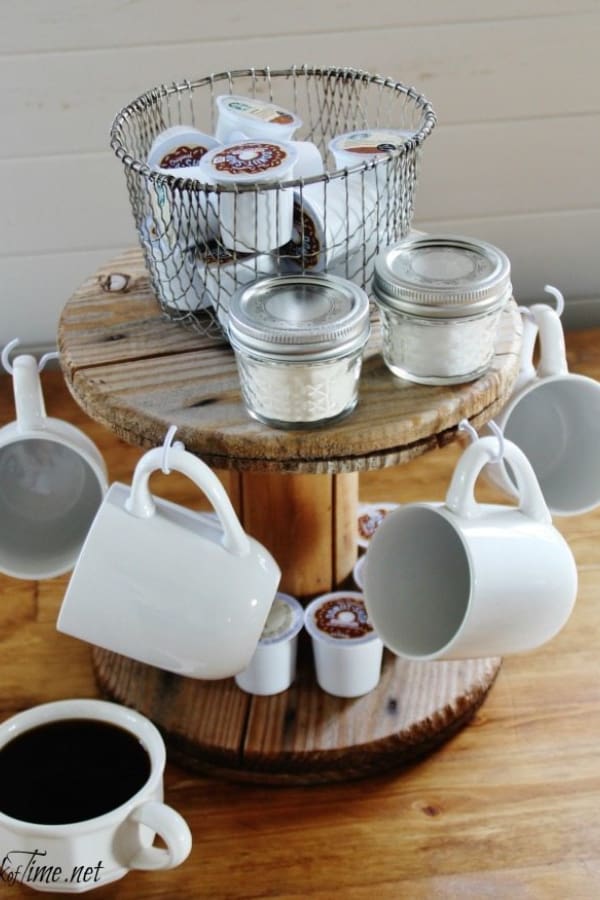 It's certainly true that there are no limits to DIYs. This blog gives you directions on how to convert an old cable spool into a mug holder.
Just a few hooks attached to the top layer of the spool, and you're done. What's more, you can even use the base area to store K-cups and the area on the top to hold some baskets and jars.
14. DIY Coffee Mug Holder Wall Mounted Rack
This DIY requires some serious work. If you've collected so many mugs that all of the above ideas have proven to be insufficient for you, then might be the best DIY tutorial you could possibly get.
The mug rack you create by following this tutorial holds up to 45 mugs, and the size of the rack cabinets can be customized according to the size of your cups. It might look intimidating at first, but where there's a will, there's always a way!
15. 3 ways to use a reclaimed wood salvaged junk heart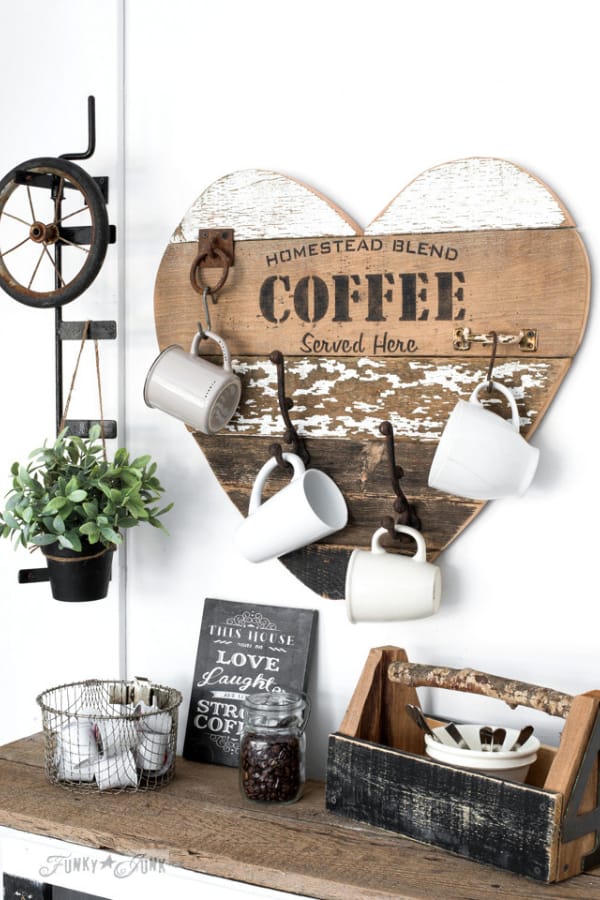 If you want to create a beautiful heart-shaped mug holder, this DIY is for you. You can follow the guidelines provided in this blog to create a heart-shaped wooden piece on which you can attach some hooks to hold your mugs.
Finally, you can give your own touch to the piece using paints and stencils. You'll also find two other ways to use reclaimed woods in this blog.
16. DIY Dollar Tree Mug Rack
No fancy equipment to cut the wood or drill the nails? This DIY dollar tree mug rack doesn't require any wood at all!
This amazing Youtuber creates a mug rack using a lobby dustpan, over the door hanging, some zip ties, and a glue. This DIY, once you have the materials, is so easy that you'll be shocked.
17. PALLET COFFEE MUG HOLDER WITH SPOON HOOKS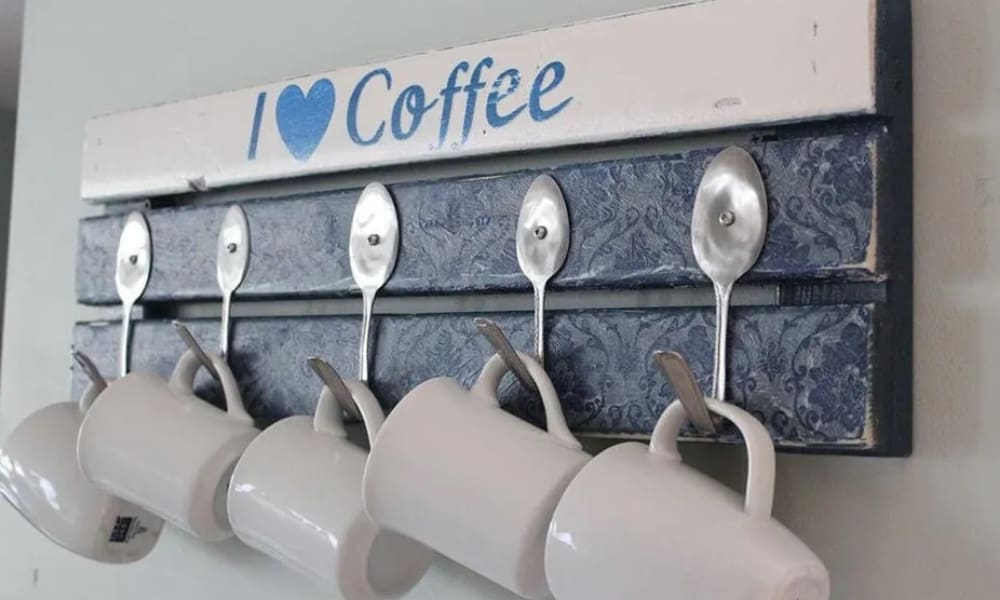 After reading this blog post, I was surprised at how much knowledge the internet offers us. The blogger uses spoons and bends it into a hook to hold mugs in the mug rack instead of actual hooks.
Yes, it does take some extra time and effort comparatively, but just imagine how cool the final mug rack would look.
However, this blog is just an idea and does not contain step-by-step instructions on how to complete the project. But if you like the idea, you can watch plenty of other YouTube videos on how to make a pallet mug rack.
18. Easy DIY Coffee Mug Display
As the title suggests, this DIY is straightforward to follow along. If you're not in the mood of working hard on your mug rack, this display is an excellent and effective way to declutter your cupboard.
Summary
The most exciting part of DIYs is that you can personalize it with ease. Using these fun and crafty ideas, create the DIY mug rack that most matches your taste and need and save a few bucks along the way.